Patriots Needed A Spark To Re-Ignite The Engine, Public Interest Forces The Sun To Shine – Ep. 3060
Podcast: Download (Duration: 1:18:53 — 34.6MB)
Watch The X22 Report On Video
The [WEF] is now pushing the food shortages, but they are not food shortages, they are trying to force us to eat bugs. The people in the EU are now pushing back saying we are not going to eat bugs or go along with the GND.  The currency battle has been accelerated, the BRICS and the Private Western Central bank, the [CBDC] will fail in the end. The [DS] has miscalculated, Trump turned the tables on them and decided to take the long way around. He has all the time in the world, the [DS] does not. The people just needed a spark to wake up. Once the people see all the evidence public interest forces the sun to shine. The [DS] is trapped and now they are desperate which means they begin to do stupid things.
---
Economy
Fears UK faces new chicken shortage as experts warn industry is 'at breaking point' due to soaring costs
The UK is facing a looming chicken crisis and potentially even more fruit and vegetable shortages due to prolonged cold weather, industry experts have warned.
Rising costs are pushing poultry farms to the brink as many owners are now having to decide between cutting the size of their flocks or not continuing altogether.

The National Farmer's Union (NFU) also warns of fruit and vegetable shortages

The British Poultry Council warned: 'Without a fair price for product, British poultry is at breaking point.
'The price consumers pay for food does not reflect the cost of producing it. Such a system is unsustainable.'
Source: dailymail.co.uk
There is a major gulf between a willingness to return to what might be considered traditional living if it benefits the environment — only eating in-season fruit and vegetables, giving up 'single use' plastics and the like — and drastic civilisational change like not having children and giving up eating meat, research finds.
Commissioned by The Guardian, a poll of 9,000 residents in European nations the United Kingdom, Germany, France, Italy, Spain, Sweden, and Denmark finds people want to do more to live in a good environment, but overwhelmingly reject extremist positions adopted by green zealots.
Source: breitbart.com
U.S. layoffs have hit their highest level in two years
U.S. job openings fell for a third straight month in March and layoffs increased to the highest level in more than two years,
Source: cbc.com
NEW: Biden has restored an Obama-era HUD rule expanding Fair Housing Act violations to include racially neutral policies that have a "disparate impact," or disproportionate burden on minorities. Now virtually every lender can be sued for using non-discriminatory credit standards

— Paul Sperry (@paulsperry_) May 1, 2023
Picking up where Obama left off, the Biden administration is criminalizing credit standards used to qualify borrowers for home loans in an attempt to "level the playing field" for minorities with poor credit and lock in more minority voters

— Paul Sperry (@paulsperry_) May 1, 2023
In total, 19 nations have expressed interest in joining the emerging-markets bloc of Brazil, Russia, India, China, and South Africa, according to Anil Sooklal, South Africa's ambassador to the group.
"What will be discussed is the expansion of BRICS and the modalities of how this will happen… Thirteen countries have formally asked to join, and another six have asked informally. We are getting applications to join every day," the South African official told Bloomberg earlier this week.
BRICS will hold its annual summit in Cape Town during the first week of June. The foreign ministers from all five member states have confirmed their attendance.
Earlier this month, Bloomberg revealed that BRICS is expected to soon surpass the US-led G7 states in economic growth expectations.
BRICS member states account for over 40 percent of the global population and around a quarter of the global GDP.
The greenback has become more unreliable for dollarized economies due to rising interest rates regulated by the US Federal Reserve (FED) and the bank's weaponization of the dollar through financial sanctions.
Source: zerohedge.com
Joe Biden finally caved and agreed to meet with House Speaker Kevin McCarthy to discuss the debt limit.
 McCarthy's plan will destroy most of Joe Biden's agenda.
The Speaker's plan will eliminate Biden's unconstitutional student loan bailout plan and slash the funds set aside for the army of IRS agents.
White House spokeswoman Karine Jean-Pierre on Monday couldn't name a single thing Joe Biden has done to reach out to Speaker McCarthy to discuss the debt limit.
However, according to Punchbowl News, Joe Biden called McCarthy to discuss the debt ceiling.
McCarthy is currently in Israel.
Biden reportedly invited all four congressional leaders to the White House May 9 to discuss the debt ceiling.
Source: thegatewaypundit.com
Good Morning Everyone! Is PacWest Bancorp the next regional bank to fail? Deposits were down almost 20% during Q1. Stock chart looks like it's about to jump off the diving board. pic.twitter.com/JVDFufPJp6

— Genevieve Roch-Decter, CFA (@GRDecter) May 2, 2023
FDIC Floats Proposal of Higher Insurance for Business Bank Accounts
The FDIC released a report Monday outlining options for changing the deposit insurance system to guard against the bank run that brought down Silicon Valley Bank in March. The regulator favored raising the current insurance limit for certain accounts, including business payment accounts. It also laid out the pros and cons of leaving the current system essentially in place while raising the $250,000 limit on insured deposits or offering unlimited insurance for all deposits.

1

The decision on whether, and how, to change the deposit insurance system ultimately lies with Congress, not the FDIC itself. Monday's report advises lawmakers on what the FDIC sees as the benefits and risks of each potential approach. Changing the deposit insurance system would affect how stable the banking system is and who would be left holding the bag when a bank fails.
 By now, 46% of all bank deposits are uninsured, the highest proportion since 1949, the FDIC said in the report.Eliminating the $250,000 cap on insured deposits, as some lawmakers have called for, would eliminate the threat of bank runs, but would carry risks of its own, in the FDIC's analysis.
Source:  investopedia.com
There is no other way to look at the combined policy without seeing a Central Bank Digital Currency (CBDC) in the future.
All of these combined policies are creating a self-fulfilling prophecy.
Stop energy production. [Jan 2021]
Supply side inflation begins.
♦Raise interest rates. [April 2022]
Economic activity slows (but not enough).
♦Continue raising interest rates.
Banks destabilize. [Q1 2023]
Inflation continues.
♦Continue raising interest rates.
Economic activity slows (but not enough).
Banks continue destabilizing. [Q2 2023]
♦Continue raising interest rates.
Evaluate banking pressure. [We are Here]
Banks cannot withstand pressure.
Create CBDC
Source: theconservativetreehouse.com
Central bank digital currencies, also called CBDCs, are the future, according to a leader at the International Monetary Fund, but certain types could pose threats that are thus far unknown.
Georgieva made a distinction between what she called retail CBDCs — ones that can be held and used by individuals — and wholesale CBDCs, which would be designed only for certain financial institutions.
"We think that wholesale CBDCs can be put in place with fairly little space for undesirable surprises, whereas retail CBDCs completely transform the financial system in a way that we don't quite know what consequences it could bring," she explained.
The comments came after an IMF report published last year called CBDCs "uncharted territory" that raises both challenges and opportunities. The report noted that information sharing between countries conducting CBDC projects will be critical.
R
Source:blockworks.co
---
Political/Rights
First week after Dylan Mulvaney, Bud Light in-store sales down 11%. Next week 21%. Now 26%. Continued losses of such size will be catastrophic. https://t.co/EULoES1EPh pic.twitter.com/UX06gjFHb4

— Byron York (@ByronYork) May 2, 2023
— Pop Base (@PopBase) May 2, 2023
Leak campaign against Tucker Carlson begins with a misfire that damages Fox, not Carlson 
Source: americanthinker.com
Vice Media Preparing To File For Bankruptcy
Source: deadline.com
It seems like Soros' money also rans out 😂 https://t.co/SAcjuLKsZl

— Nayib Bukele (@nayibbukele) May 2, 2023
Hunter slept on Dad's cot in Ireland 
Porsche repossessed 
Only income is from art sales 
These are the arguments made by his lawyers yesterday for why he can't pay more child support. Hilarious.
— Rosie Memos (@almostjingo) May 2, 2023
The Jury usually looks up to the judge, if they are in this case they'll see that Kaplan has accepted every single objection from Jeans lawyer and has harassed Trumps lawyers, it's really bad. https://t.co/WIW8nTdlrJ

— Rosie Memos (@almostjingo) May 1, 2023
Prince Andrew faces another Jeffrey Epstein case just days before the Coronation
Source: thesun.com
Judge says JPMorgan could be liable for Epstein sex trafficking if Staley knew about it
 JPMorgan Chase & Co (JPM.N) could be liable to women who accused Jeffrey Epstein of sexual abuse if they can show that former executive Jes Staley had first-hand knowledge that the financier ran a sex-trafficking venture, a U.S. judge said on Monday.
U.S. District Judge Jed Rakoff in Manhattan discussed Staley's alleged role, which Staley denies, in a decision explaining why he refused to dismiss lawsuits accusing JPMorgan and Deutsche Bank AG (DBKGn.DE) of enabling Epstein's sex trafficking.
"If the allegations in plaintiffs' complaints are taken as true, Mr. Staley had actual first-hand knowledge that Epstein conducted a sex-trafficking venture," Rakoff wrote.
B
Alan Dershowitz says Epstein had a special area of his house that nobody was allowed near.
You mean like the dungeon beneath Epstein Island that was posted on Rachel Chandler's Instagram?
It is remarkable that the White House would attempt to make this false claim on the same day the US Border Patrol Chief reported over 22,000 apprehensions at the border in 72 hours, not counting gotaways. https://t.co/ZSe73uDGQH

— Bill Melugin (@BillFOXLA) May 2, 2023
Joe Biden is lifting Title 42 – Already, 700,000 to One Million illegals have assembled at the border ready to surge across the US southern border. Joe Biden has opened the borders to millions of illegal invaders.
Title 42 is expected to be lifted on May 10th.
Joe Biden is sending 1,500 US troops to the border to process the hundreds of thousands of illegals ready to invade.
The New York Post reported:
Source: thegatewaypundit.com
More troops being sent to the Southern Border to stop the attempted Invasion of Illegals, through large Caravans, into our Country. We have stopped the previous Caravans, and we will stop these also. With a Wall it would be soooo much easier and less expensive. Being Built!

— Donald J. Trump (@realDonaldTrump) January 31, 2019
With Mexico being one of the highest crime Nations in the world, we must have THE WALL. Mexico will pay for it through reimbursement/other.

— Donald J. Trump (@realDonaldTrump) August 27, 2017
---
War
The State Department has reaffirmed that an attack on a Philippine vessel in the South China Sea will invoke the US-Philippine Mutual Defense Treaty following a near miss between Chinese and Philippine coast guard vessels in the disputed waters.
The stand-off took place on April 23 when Manila says a larger Chinese ship blocked a Philippine patrol vessel after warning it to leave the area near Second Thomas Shoal, a Philippine-controlled reef in the Spratly Islands also claimed by China, Taiwan, and Vietnam.
"The United States stands with our Philippine allies in upholding the rules-based international maritime order and reaffirms that an armed attack in the Pacific, which includes the South China Sea, on Philippine armed forces, public vessels, or aircraft, including those of the Coast Guard, would invoke US mutual defense commitments under Article IV of the 1951 US Philippines Mutual Defense Treaty," the statement said.
Source: zerohedge.com
German Chancellor Warns Ukraine Not to Attack Russian Territory with NATO Weapons
Chancellor Olaf Scholz said   that Ukraine must not use weapons supplied by Germany to attack Russian territory, so that a war between NATO and Moscow can be avoided.
"Everything must be done to prevent a war between Russia and NATO," was the message to Ukraine from German Chancellor Olaf Scholz as he appeared at a town hall meeting with the public in the town of Bendorf on Monday.
 
Germany has previously supplied Ukraine with 34 Gepard anti-aircraft guns with with six thousand rounds of ammunition, however, it now plans on sending at least three more guns alongside 300,000 rounds of ammo.
Source: breitbart.com
1) Judge Napolitano had Colonel Douglas MacGregor on to talk about the "spring offensive", to which MacGregor reports that his sources indicate "90%" of the "Over 6,000 heavy weapons systems" are currently being destroyed, and Ukraine lacks missile defense capabilities. pic.twitter.com/U4qnDo6mIm

— Clandestine (@WarClandestine) May 1, 2023
3) General Cavoli, Head of US European Command:

Just confirmed that "much of the Russian Military has not been affected negatively by this conflict".

In conclusion, the "spring counter offensive" is over before it began, and Ukraine are about to lose all defensive capabilities. pic.twitter.com/sOaxI4DXek

— Clandestine (@WarClandestine) May 1, 2023
---
False Flags
🧵THREAD: Dr. Scott Jensen tells Jordan Peterson that the CDC artificially inflated COVID death numbers.@drscottjensen @jordanbpeterson pic.twitter.com/WF0E3oS57c

— KanekoaTheGreat (@KanekoaTheGreat) May 1, 2023
#3 Two days later, on March 26, 2020, the Department of Health and Human Services financially incentivized healthcare providers, hospitals, and doctors to diagnose patients with COVID-19. pic.twitter.com/Tejg6iVlIG

— KanekoaTheGreat (@KanekoaTheGreat) May 1, 2023
#5 In July 2020, Dr. Anthony Fauci admitted that PCR tests set at 35 cycles or higher produced mostly false positives or "dead nucleotides."

So why was the entire country using PCR tests set at 35 cycles or higher? pic.twitter.com/uFdWAqiRou

— KanekoaTheGreat (@KanekoaTheGreat) May 1, 2023
#7 In Sept. 2020, CNN's Andrew Cuomo reported that PCR tests were "too sensitive."

"In three sets of testing data that include cycle thresholds, compiled by officials in Massachusetts, New York, and Nevada, up to 90% of people testing positive carried barely any virus…" pic.twitter.com/ulXz2g6LxP

— KanekoaTheGreat (@KanekoaTheGreat) May 1, 2023
The Biden-⁠Harris Administration Will End COVID-⁠19 Vaccination Requirements for Federal Employees, Contractors, International Travelers, Head Start Educators, and CMS-Certified Facilities
The end of the federal vaccine mandate for international travelers and federal employees is a good time to remind everyone that the people pushing for a vaccine mandate in 2021 were always wrong and the reasoning behind it was ridiculoushttps://t.co/IKZ3PDLq9j

— PoIiMath (@politicalmath) May 1, 2023
May 02, 2020 6:34:06 PM EDT
What would have happened if POTUS challenged the COVID-19 narrative from the beginning?
Sometimes you can't TELL the public the truth. YOU MUST SHOW THEM.
Who benefits the most?
WHY ARE [D]'S SOLELY FOCUSED ON CLOSURE [RETAINING] AND VOTE-BY-MAIL?
They do not care about your well-being.
You are simply in the way.
This is about regaining POWER.
Self-preservation.
Every asset deployed.
Win by any means necessary.
WIN OR DIE.
Q
🧵Trump was no friend to Fauci who had civil service protections keeping him from being fired. https://t.co/T8msDze6tw

— Phenomenology (@BerryRazi) April 22, 2023
What is executive order 13957 Schedule F?
Executive Order 13957: Creating Schedule F in the Excepted Service was a presidential executive order issued by President Donald Trump (R) on October 21, 2020, that directed agencies to reclassify federal civil service employees in the competitive service who serve in policy-related roles as members of the excepted …
Schedule F (Protecting the Civil Service from Political Corruption) Schedule F stems from a Trump Executive Order (no longer in effect) in which tens of thousands of civil servants who serve in roles deemed to have some influence over policy would be reassigned as "Schedule F" employees.
Judicial Watch: Records Show D.C. Schools Pushed Racial Segregation in Employee 'Affinity Spaces'
 Judicial Watch announced today that it received 194 pages of records from District of Columbia Public Schools (DCPS) which show DC officials pushed segregated "Affinity Spaces" on the basis of race and sexual identity.
Judicial Watch obtained the records in response to a June 24, 2021, Freedom of Information Act (FOIA) request for:
Records identifying the number of affinity spaces hosted by District of Columbia Public Schools from August 31, 2020 to June 24, 2021.
Records identifying the topics discussed during any affinity spaces hosted by District of Columbia Public Schools from August 31, 2020 to June 24, 2021.
Records inviting students, faculty, and staff to affinity spaces hosted by District of Columbia Public Schools from August 31, 2020 to June 24, 2021.
Records, including policies and procedures, regarding the creation and use of "affinity spaces."
One way to process in a safe space is through affinity. Affinity spaces are gathering opportunities for people who share a common identity. This space will be organized based on the racial identities represented in Central Office as we aim to lean into the Courageous Conversation condition of isolating race.
DCPS staff is asked to select "Which racial affinity group(s) do you plan to join via Teams? (Select all that apply to you and your racial identities. A separate calendar/Teams invite will come from the DCPS Equity calendar.):"
Asian American Pacific Islander
Black/African American, Hispanic/Latinx
Indigenous/Native American, Multi-Racial, White
I am not represented by any of these options and want to recommend another group.
Source: judicialwatch.com
A Chicago area high school has come under fire after it was discovered the school is offering segregated mathematics classes.
Evanston Township High School District 202 (ETHS) is providing courses in calculus, pre-calculus, and algebra, which are only accessible to students who identify as Black or "Latinx". ETHS's math curriculum for the next school year suggests that the segregated classes will persist. One of ETHS's pre-calculus courses describes, "[t]he course is restricted to students who identify as Black male students." While another pre-calculus course mentions that it is only for "Latinx" students, and a third course does not have any restrictions based on gender or race.
Source: beckernews.com
Ari Drennen, LGBTQ activist and program director for Media Matters, accidentally admits that schools are giving kids porn https://t.co/GlC9vnKeIg

— Libs of TikTok (@libsoftiktok) May 1, 2023
You know what? There was a time where I "felt pretty" too. Glad my parents didn't jump to any rash conclusions! Well said, @PaulStanleyLive https://t.co/G80uNyzD7M

— Dee Snider🇺🇸🎤 (@deesnider) May 1, 2023
---
Q
Poll: 58% of GOP Primary Voters Support Trump, Another 14% Considering Backing Him
Nealy 60 percent of likely Republican primary voters support former President Donald J. Trump for the Republican presidential nomination, while another 14 percent are considering voting for him, according to a poll.
The YouGov poll commissioned by CBS News asked likely Republican primary voters who they are considering supporting in the Republican primary, finding that 73 percent of the populace is thinking about voting for Trump — this includes 24 percent of the  
May 03, 2020 1:09:22 PM EDT
Never in our history has this been attempted. Patriots WW simply needed a 'spark' to re-ignite the engine.
For humanity.
WWG1WGA!!!
Q
May 03, 2020 4:32:28 PM EDT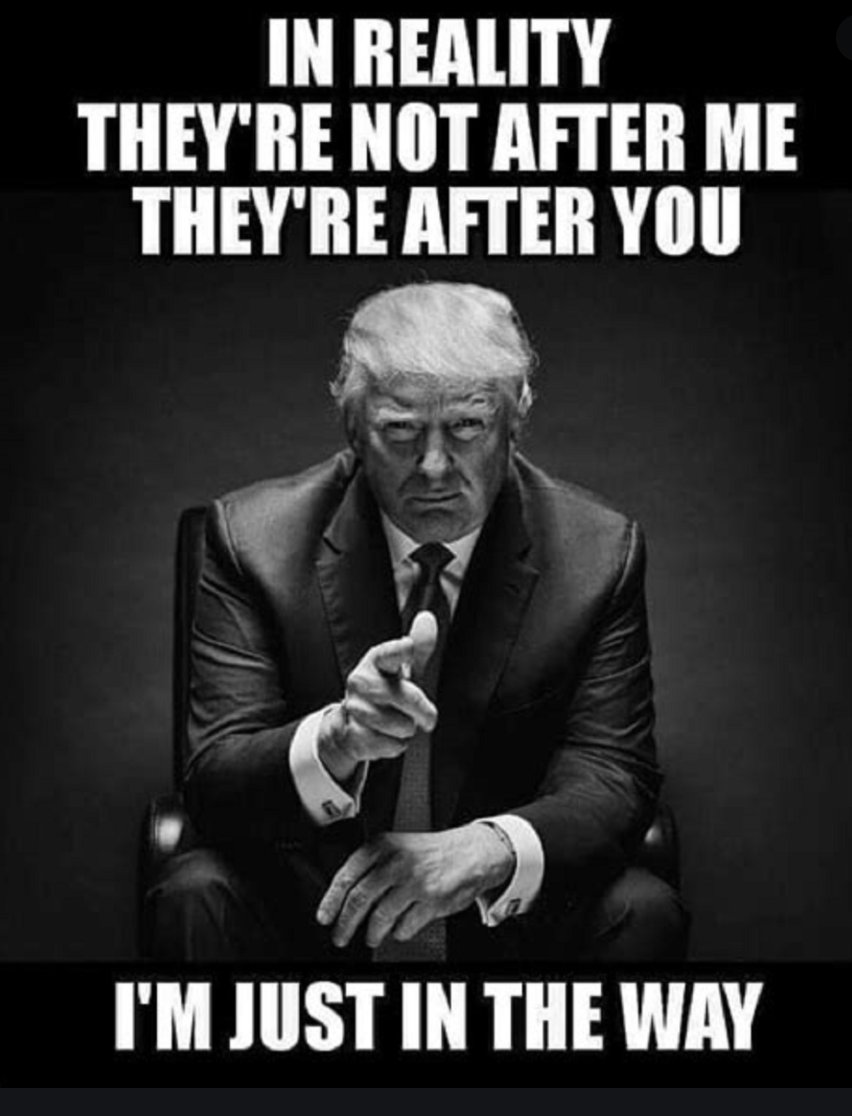 People [an informed free-thinking pubic] awake is their greatest fear.
United we stand.
Q