People Must Digest & Accept Factual Events, People Must Unite To Clean Out The [DS] – Ep. 2566
Watch The X22 Report On Video
The inflation has now appeared out in the EU. Soon the world will see the inflation and the [CB] will not be able to stop it. They are exposed. The US is now saying that SS is going to run out a lot sooner than everyone thinks. JP Morgan is now fighting tax fraud. The entire banking system is corrupt. The [CB] is now panicking, nothing can stop this. The [DS] during Trump presidency projected everything they have done and will do onto Trump. Now the boomerang is come back at them, they are feeling the pain. The patriots need to show the people, it must be easy to digest and accept. This will unite the people. The people must be untied to remove the [DS]. The [DS] is now preparing for zero day, FB is now changing its algorithm so it filters out political news. More is on the way, sometimes the truth takes a while to show up, but once it does, nothing can stop it.
---
Economy
Consumer prices spiked higher than expected in Europe in August, boosted in large part by more expensive fuel. Economists say the jump is temporary, but it could raise questions about how persistent higher inflation might turn out to be.
The 19 countries that use the euro currency saw inflation spike to an annual 3.0% in August, up from 2.2% in July, according to figures released Tuesday by European Union statistics agency Eurostat.
Source: breitbart.com
Quietly, JPMorgan Chase Has Been Battling Another Felony Charge – This Time for Tax Fraud in France. Its Defense Is Its "Human Rights" Have Been Violated.
JPMorgan Chase is the bank that gambled with the bank deposits of moms and pops across America in 2012 by trading exotic derivatives in London and losing $6.2 billion in the process. It's also the bank that admitted to two felony counts in 2014 for its role in facilitating Bernie Madoff ripping off the life savings of thousands of more moms and pops across America. Its rap sheet of ripping off the little guy reads like that of an entrenched crime family.
But when the bank was indicted in France on April 16, 2015 for being complicit in tax fraud, it had the temerity to appeal the charges on the basis that its "human rights" had been violated, along with various codes of criminal procedure. Its argument boiled down to this: it hadn't been advised that it had the right to remain silent during an interrogation.
JPMorgan is an international bank that has been in existence for more than a century. It has legions of international lawyers on its payroll, employed at the most sophisticated law firms in the world. After a century of court battles, shouldn't the bank and its lawyers know it has the right to remain silent?
Amazingly, on September 26, 2018, the criminal chamber of the Court of Cassation in France bought into this argument and not only annulled the indictment but ordered that all references to the bank, including its attorneys' names, be removed from the indictment.
Court records show that there are emails implicating JPMorgan Chase in the scheme.
Making the case even more politically sensitive here in the United States, (which may explain why you are not reading about it in the mainstream business press), some of the emails involve advice from a lawyer at the law firm, Debevoise & Plimpton. As the myriad court appeals were playing out in France, Mary Jo White was the Chair of the Securities and Exchange Commission in the United States, the top cop for Wall Street.
Source:  wallstreetonparade.com
Crypto has 'no border or boundaries,' SEC's Gensler tells European regulators
 Gensler said some crypto platforms harbor 'fraud scams and abuse'
U.S. Securities and Exchange Chairman Gary Gensler reached out to European lawmakers Wednesday with a request for collaboration on issues ranging from cryptocurrency regulations to disclosure rules on risks related to climate change, during a European Parliament committee hearing on economic and monetary affairs.
"Our global markets are inextricably linked, with money flowing between them in
microseconds," he said. "New financial technologies continue to change the face of finance for investors and businesses."
---
Political/Rights
Rose McGowan said Oprah Winfrey is "as fake as they come" as she pointed to the host's support of disgraced movie mogul Harvey Weinstein and accused her of supporting a "sick power structure."
I am glad more are seeing the ugly truth of @Oprah. I wish she were real, but she isn't. From being pals with Weinstein to abandoning & destroying Russell Simmon's victims, she is about supporting a sick power structure for personal gain, she is as fake as they come. #lizard pic.twitter.com/RCuXNpWCU0

— Rose 🌊McGowan (@rosemcgowan) August 29, 2021
Chase's Aug. 20 letter reads, in part, "we decided to close your credit cards on September 18, 2021 because continuing the relationship creates possible reputational risk to our company."
Image source: Telegram
Chase Bank says that "we made an error" in reference to the cancellation letter.
Why the change of heart, well think about what the digital solder
Flynn on Sunday posted on Telegram the above image of the Chase letter with the addressee text crossed out — as well as a stinging retort directed at the bank:
Flynn sent the following message Monday to his 282,000 Telegram followers:
Source: theblaze.com
  The New York Times published a hit piece targeting popular Trump-supporter Rep. Matt Gaetz (R-FL) saying the Florida Congressman was under investigation for dating a 17-year-old girl.
 
Rep. Gaetz told Axios "the allegations were as searing as they are false."
 Remember when Gaetz put on this statement
"Over the past several weeks my family and I have been victims of an organized criminal extortion involving a former DOJ official seeking $25 million while threatening to smear my name. We have been cooperating with federal authorities in this matter and my father has even been wearing a wire at the FBI's direction to catch these criminals. The planted leak to the New York Times tonight was intended to thwart that investigation. No part of the allegations against me are true, and the people pushing these lies are targets of the ongoing extortion investigation. I demand the DOJ immediately release the tapes, made at their direction, which implicate their former colleague in crimes against me based on false allegations." -Rep. Matt Gaetz
Matt Gaetz was right.
On Tuesday federal prosecutors accused Stephen Alford of trying to defraud US Rep. Matt Gaetz's father Don Gaetz out of $25 million.
Reuters reported
Federal prosecutors on Tuesday accused a Florida man of trying to defraud U.S. Representative Matt Gaetz's father Don Gaetz out of $25 million, in a scheme allegedly linked to a criminal investigation targeting the Republican congressman.

In a newly unsealed indictment, prosecutors accused Stephen Alford, 62, of contacting Gaetz's father and demanding $25 million. The congressman is currently under criminal investigation over an allegation that he sex trafficked a minor and, prosecutors alleged that Alford falsely claimed he could help Gaetz obtain a pardon from former President Donald Trump.

The indictment does not refer directly to the embattled pro-Trump lawmaker or his father, a former healthcare executive who also served as president of Florida's state senate. But the alleged plot was widely reported this year after Gaetz released documents he said showed an extortion plot against him.
Source: thegatewaypundit.com
Truth will always destroy propaganda, sometimes it takes a while for the truth to be revealed, remember propaganda is shiny and sounds good but it lacks facts
Leesburg Elementary School physical education teacher Tanner Cross was suspended for voicing opposition to the district's gender policy 8040 that "requires all faculty and students, regardless of their beliefs about biological sex and gender, to use the pronouns that students demand regardless of their biological sex," 
Cross had said at the May 25 school board meeting that he would not "affirm that a biological boy can be a girl and vice versa."
The Virginia Supreme Court ruled to reinstate a Loudoun County Public Schools (LCPS) gym teacher, affirming a lower court's ruling that the school board's removal of the teacher was "likely unconstitutional,"
WATCH:
Source: dailycaller.com
---
War
Twenty-nine California students are reportedly stranded in Afghanistan at the hands of President Joe Biden's administration — five more than initially reported on Tuesday — days after the administration withdrew the last U.S. troops from the country to meet the Taliban-approved deadline.
Raj Rai, director of communication for the Sacramento area's San Juan Unified School District, affirmed on Tuesday that 29 students remain stranded in the country.
"We can confirm that we currently have 29 students, from 19 families, in Afghanistan," Rai said. "We stand ready to support these students and families in whatever way that we can."
Almost every place that made the list taking in refugees were swing states or swing congressional districts… Democrats are playing for keeps https://t.co/IoKpMFHLG5

— Ryan James Girdusky (@RyanGirdusky) September 1, 2021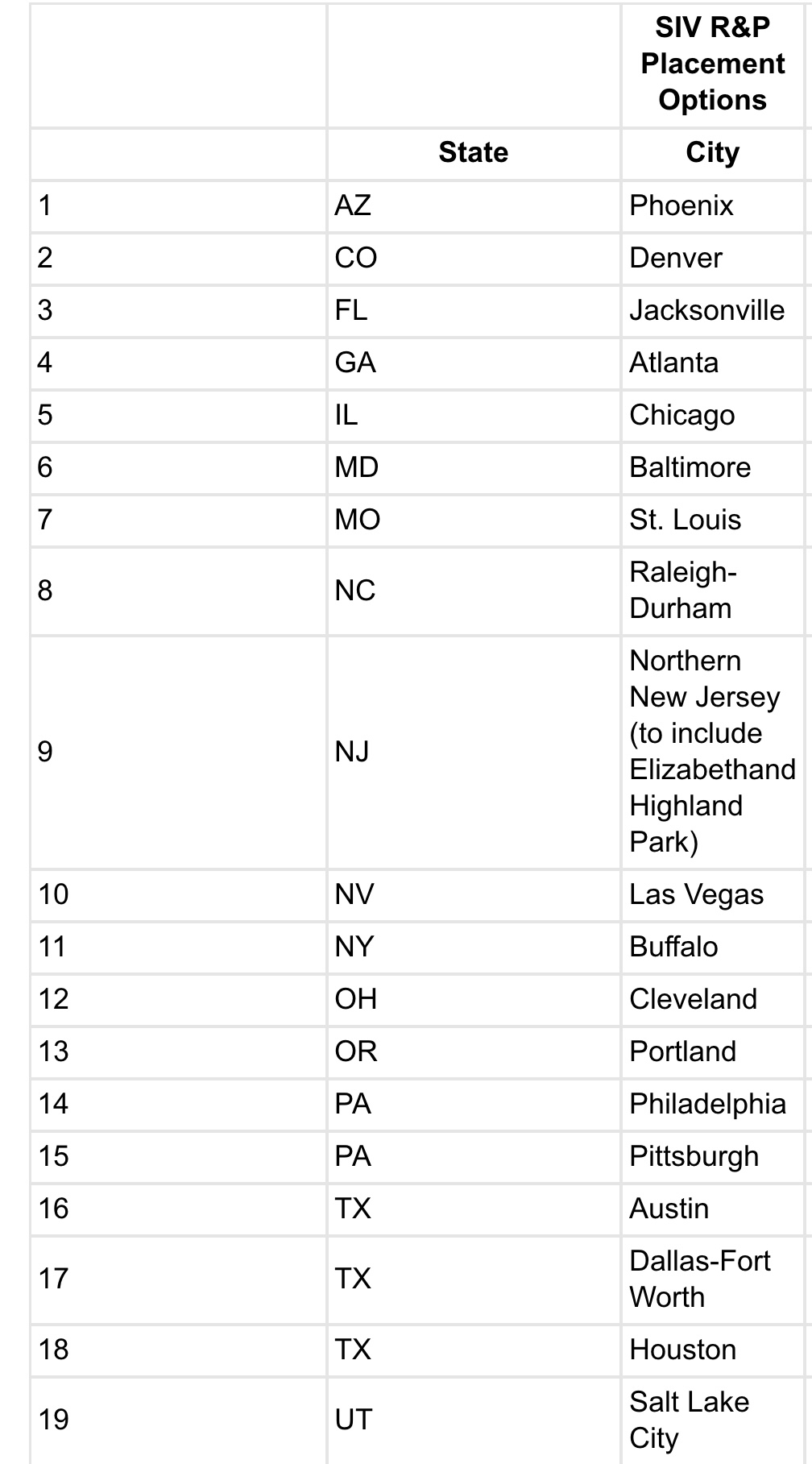 According to an admission obtained from the State Department, Biden officials recently directed federal agencies to scrub their websites of official reports detailing the $82.9 billion in military equipment and training provided to the Afghan security forces since 2001.
The scrubbed audits and reports included detailed accounting of what the U.S. had provided to Afghan forces, down to the number of night vision devices, hand grenades, Black Hawk helicopters, and armored vehicles.
 I
Source: forbes.com
During their conversation, Pardo-Maurer told Ramos the Department of Defense had foreknowledge of the Kabul Airport suicide bomber but denied permission to fire a Predator Drone missile once they had a lock on him.
13 US servicemen and women were killed in the blast along with over 100 Afghans.
The US Department of Defense allowed the bomber to murder 13 Americans.
Source: thegatewaypundit.com
 
After Joe Biden delivered his speech to the nation claiming no-one saw the collapse of the Afghan government coming, the intel group leak the transcript and recording of a July 23rd phone call between Biden and Afghan President Ashraf Ghani showing everything Biden said today was a lie.
 
[…] In much of the call, Biden focused on what he called the Afghan government's "perception" problem. "I need not tell you the perception around the world and in parts of Afghanistan, I believe, is that things are not going well in terms of the fight against the Taliban," Biden said. "And there is a need, whether it is true or not, there is a need to project a different picture."
[…] In a follow-up call later that day that did not include the U.S. president, Biden's National Security Advisor Jake Sullivan, General Mark Milley and U.S. Central Command commander General Frank McKenzie spoke to Ghani. Reuters also obtained a transcript of that call.
In this call, too, an area of focus was the global perception of events on the ground in Afghanistan. Milley, chairman of the Joint Chiefs of Staff, told Ghani "the perception in the United States, in Europe and the media sort of thing is a narrative of Taliban momentum, and a narrative of Taliban victory. And we need to collectively demonstrate and try to turn that perception, that narrative around."
"I do not believe time is our friend here. We need to move quickly," McKenzie added.
 Whoops…
Source: theconservativetreehouse.com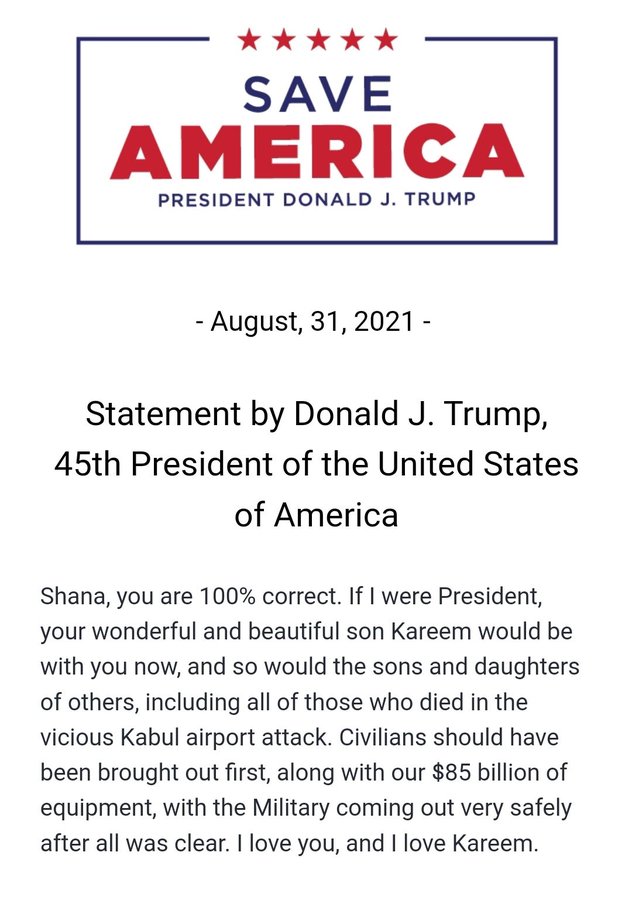 Pelosi Blocks Names of 13 US Service Members From Being Read on House Floor
House Speaker Nancy Pelosi (D-CA)  blocked the names of the 13 US service members killed in the Kabul blast from being read after a moment of silence on the House floor.
Source: thegatewaypundit.com
---
Cyber Attacks
---
False Flags
This reminds of Cuomo, didn't he get an emmy for his covid presentation, Trump put him out there on purpose, it's all going to boomerang on him, wait for it, the truth is coming, how do you think the people are going to respond, just take a look at biden and multiply that by 1000
In case there was any doubt that new waves of hackers wreaking havoc around the world are often working in China's best interest, look no further than Australia.
After the country's relationship with China recently soured, it suffered from "wave after wave" of cyberattack, according to a new Bloomberg report.
The incidents started in April 2020 when Chinese bots "swarmed" Australian government networks after Prime Minister Scott Morrison called for an independent investigation into Covid's origins. The bots undertook a "massive and noisy attack" with little attempt to hide what they were doing.
"It was just a door knock, like someone walking up and ringing your doorbell," said Robert Potter, chief executive officer of Internet 2.0, an Australian cybersecurity firm.
Following Morrison's call, Australia dealt with "months of active hacks" at places like the parliamentary email network, the Bureau of Meteorology and the departments of defense and health.
Beijing denied involvement but experts tracked much of the activity to "systems used by China-based advanced persistent threat groups", Bloomberg reported.
Potter continued: "China's cyber reach is detectable on almost every government server. It isn't subtle and it increases and decreases in a way that correlates to our overall relationship." 
Source: zerohedge.com
CDC asks unvaccinated Americans — nearly 80 million of them — to stay home for Labor Day weekend
The Centers for Disease Control and Prevention is imploring Americans to stay home and avoid travel during Labor Day weekend if they are unvaccinated.
Source: theblaze.com
Do you see the playbook, the are about to use the children
Have they been using the children for gun control, think about parkland, sand hook
North Carolina High School on Lockdown After Shooting on Campus – One Student Injured – Suspect at Large
Mount Tabor High School in Winston-Salem, North Carolina went on lockdown Wednesday afternoon after shots were fired on campus.
"Mount Tabor High School is on lockdown. There has been a shooting on school property. We and the WSPD have secured the campus and are doing everything possible to keep students safe. We are actively investigating what happened and will share confirmed information when available," the Winston-Salem Police Department tweeted.
Source: thegatewaypundit.com
Since the start of the COVID-19 pandemic, the American people have been told to "follow the science." Yet for a year and a half, they've heard contradicting messages from self-appointed prophets of "the science" like Dr. Anthony Fauci and the Centers for Disease Control and Prevention (CDC).
We learned that politicians who claimed their decisions were science-driven often ignored scientific findings that didn't fit certain political narratives. We discovered that scientists are fallible human beings, and some would let personal interests and political views cloud their judgment.
Source: thefederalist.com
The Los Angeles County Board of Supervisors approved a settlement to Grace Community Church in Sun Valley, who kept their doors open throughout the COVID-19 pandemic despite L.A. County's health order.
The county settled for $400,000, which will come from the county Health Department's budget and will go to pay the church's legal fees. The state will reportedly pay an additional $400,000 under the agreement.
"It appears that the county wants to settle this because they do not want a trial," the church's pastor, John MacArthur, said from the pulpit in a video posted on Aug. 30.
Source: theepochtimes.com
Dr. Anthony Fauci said during a recent panel discussion streamed online that whether school students "are vaccinated or not, they need to wear a mask."
A new study by the CDC, which not surprisingly was largely ignored by the anti-Free-Press corporate media, found no evidence that school mask mandates have been effective.
The study, which analyzed some 90,000 elementary students in 169 Georgia schools from Nov. 16 to Dec. 11, found no statistically significant difference of virus spread in schools that required students to wear masks compared to schools where masks were optional.
CDC statistics show children generally do no spread Covid-19 and have little risk of any adverse effects to the virus. The seasonal flu is more deadly among children than Covid.
 Source: worldtribune.com
North Korea rejects offer of almost 3 million Covid-19 jabs
North Korea has asked that almost three million Covid-19 jabs offered to it be redirected elsewhere, the UN says.
A spokesperson said the country had asked that the shots be relocated to harder hit nations in view of global vaccine shortages.
Source: yahoo.com
So will the entire country die, will half, a quarter, or are we going to find out that nothing happened.
The world has been fighting a virus from China with a public health policy from China that transforms the world into China.
---
Q
John Pierce has been unreachable and missing court dates since early last week
John Pierce, the attorney defending 17 clients charged with storming the U.S. Capitol on Jan. 6, has gone missing.
His missed an Aug. 24 court hearing for one of his clients, and nobody has seen him since.
Source: justthenews.com
Stop me if you've heard this before.

Big protest at Michigan Capitol. FBI asset calls handler. Suddenly cops stand down, let armed protesters wearing military garb in the building. They yell politician's name. Photogs inside capture all the action: https://t.co/tc8qw4qZeK

— Julie Kelly 🇺🇸 (@julie_kelly2) August 31, 2021
Whitmer prosecutor:

"As the Capitol riots demonstrated, an inchoate conspiracy can turn into a grave substantive offense on short notice. Such accelerationist groups are widespread and proliferating."

Especially with help by a dozen FBI assets, right? https://t.co/tc8qw4qZeK

— Julie Kelly 🇺🇸 (@julie_kelly2) August 31, 2021
"The Watchmen, meanwhile, had worked their way toward an office they thought was Whitmer's and were banging hard on the door. Photojournalists began snapping pictures. The shocking spectacle of the militants occupying the Capitol grabbed the media's attention." 🤔

— Julie Kelly 🇺🇸 (@julie_kelly2) August 31, 2021
The Texas legislature   passed the GOP election integrity bill after Democrats fled to DC in a failed stunt.
The bill will add new ID requirements for mail-in voting and ban some early voting.
The bill will head over to Governor Abbott's desk for a signature in the next few days.
Source: thegatewaypundit.com
Everything is boomeranging on Biden
'Joe Biden deserves to be impeached'

Men – 57%
Women – 62%
18-39 – 54%
40-64 – 63%
65+ – 61%
White – 60%
Black – 56%
Oth Non-White – 61%
Dem – 40%
Unaff – 58%
GOP – 83%
All Voters – 60% https://t.co/FpWGpdi8h8

— Rasmussen Reports (@Rasmussen_Poll) September 1, 2021
Resign now: 52% want Biden out but fear worse under Harris
But, as other polls have shown, likely voters surveyed do not want Vice President Kamala Harris to step in, viewing her as unqualified.
Source: washingtonexaminer.com
2472
Q
!!mG7VJxZNCI
11/10/2018 13:56:59
 ID:
Archive Bread/Post Links: 440 / 446
Direct Link: 446
America will be united again. 
People are witnessing the stark contrast between Trump (America first) and Biden (Globalist).
1916
Q
!!mG7VJxZNCI
08/16/2018 16:08:05
 ID: b8219a
Archive Bread/Post Links: 2630868 / 2631586
Direct Link: 2631586
3966
Q
!!Hs1Jq13jV6
04/15/2020 13:59:20
 ID: 77f610
Archive Bread/Post Links: 8801840 / 8802359
Direct Link: 8802359
You have to sense the tension building, Q!
>>8802315
Facebook will adjust its algorithm to reduce the visibility of political posts,
Facebook plans to announce that it will de-emphasize political posts and current events content in the News Feed based on negative user feedback, Axios has learned. It also plans to expand tests to limit the amount of political content that people see in their News Feeds to more countries outside of the U.S.

Why it matters: The changes could reduce traffic to some news publishers, particularly companies that post a lot of political content.

 
Source: breitbart.com
Twitter Rolls Out Feature That Will Automatically Block Accounts for 'Harassing Behavior or Harmful Language'
"Safety Mode is a feature that temporarily blocks accounts for seven days for using potentially harmful language — such as insults or hateful remarks — or sending repetitive and uninvited replies or mentions. When the feature is turned on in your Settings, our systems will assess the likelihood of a negative engagement by considering both the Tweet's content and the relationship between the Tweet author and replier," the post said. "Our technology takes existing relationships into account, so accounts you follow or frequently interact with will not be autoblocked."