Ratcliffe Coordinating With Durham To Declassify More Docs, [Knowingly] – Episode 2263
The economy is recovering, those areas where the Gov and Mayors are making difficult for people to go back to work is now in focus, these states are in trouble. NJ is raising their gas tax by 22.5%. Retail stats coming, all they need to do is show an improvement. The IRS has now given guidance on how not to pay tax. The people are catching on, police/fire pension move into gold. The [DS]/MSM have now trapped themselves, they didn't even see it coming, they walked right into it. Ratcliffe is now working with Durham and he will be sending him declassified information, panic. The events are now falling apart, the CDC quietly changed their information, the death rate from CV19 is ~9,000. The riots are not working, people are waking up, they see clearly and the [DS]/MSM and corrupt politicians [knowingly] destroyed peoples lives to hide the fact that [knowingly] committed treason,sedition and crimes against humanity. Law and Order, Justice is coming.
Check Out The X22 Report Spotlight YouTube Channel X22Report Spotlight
Please check Newzsentinel.com for the latest news on the economic collapse. The Sentinel Alerts are updated throughout the day.
---
Current News – 08.30.2020
Watch The X22 Report On Video
---
Economy
 New Jersey just made life for all of its residents, including lower and middle classes, more expensive when it quietly decided on Friday to hike the state's fuel tax.
Drivers filling up gas in New Jersey will pay 9.3 cents more per gallon, or a 22.5% increase, after the state announced a fuel tax increase that will take effect October 1,
The NJ Treasury Department explained Friday that the decision was necessary because tax revenue has fallen with fewer people on the road during the coronavirus pandemic. And so, in all its brilliance, the Garden State plans to make gas even more expensive and guarantee that there will be even fewer people on the road because even before covid, New Jersey was the state with the most foreclosures not because its residents are swimming in money but, well, the opposite. So why not make everyone even poorer?
The last time the New Jersey tax was increased was in 2018, when Gov. Phil Murphy raised the rate by 4.3 cents per gallon. When the latest increase takes effect, the fuel tax in New Jersey will have increased by more than 250% since the TTF was established in 2016.
Source: zerohedge.com
Macy's Q2 Report Could Offer Insight to Retail's Back Half: The Week Ahead
 Back in July when the company posted a staggering $3.58 billion first-quarter loss and a 45.2 percent drop in sales due…
Source: sourcingjournal.com
The deferral is available with respect to any employee whose wages or compensation during any bi-weekly pay period generally are less than $4,000, calculated on a pre-tax basis, or the equivalent amount with respect to other pay cycles.
View the notice.
Source: justherealnews.com
The letter from the Mayors  

"Lifelong politicians like Joe Biden are out of touch with the working class, out of touch with what the country needs, and out of touch with those of us here on the Iron Range and in small towns like ours across our nation. In this election, there is a lot at stake, but the biggest risk is our jobs, our economy, and our way of life. President Trump delivered the best economy in our nation's history, and President Trump will deliver for us again. He will continue to fight for every American, regardless of party affiliation and continue to stand up for the working class."
Source: thegatewaypundit.com
Ohio's $16 billion Police & Fire Pension Fund made a big statement about owning gold. It has approved a 5% allocation to gold to help diversify the fund's portfolio and to "hedge against the risk of inflation"
  Additionally, the fund plans on adding the gold stake by borrowing; the fund is reportedly increasing its leverage from 20% to 25% to make the change.
"Buffett is now of the opinion that inflation is going to be so high that gold is going to be particularly important to own, rather than just owning businesses,"
Source: zerohedge.com
---
Political/Rights
#Election2020 @DNI_Ratcliffe on scaling back election security briefings "…within minutes of one of those briefings ending, a number of members of congress went to a number of different publications + leaked classified information again, for political purposes to create a…

— Catherine Herridge (@CBS_Herridge) August 30, 2020
narrative that simply isn't true, that somehow Russia is a greater national security threat than China. So I'm going to continue to keep the promises that I made. I'm going to continue to follow the law + continue to keep congress informed" he told @MariaBartiromo "I don't mean

— Catherine Herridge (@CBS_Herridge) August 30, 2020
to minimize Russia. They are a serious national security threat, but day in day out, the threats that we face from China, are significantly greater + I think that's clear + anyone that sees intelligence knows that + anyone who says otherwise, is just politicizing intelligence…

— Catherine Herridge (@CBS_Herridge) August 30, 2020
for their own narrative." @CBSNews

— Catherine Herridge (@CBS_Herridge) August 30, 2020
Ratcliffe, decided shift election security briefings from in-person to in writing over concerns about leaks and politicization  
"There are investigations" into potentially illegal leaks and that "I know that because I've made a number of what are called crimes reports in connection since I've been the DNI," Ratcliffe said. "When I become aware of intelligence community information that is disclosed unlawfully, I do what's called a crimes report — I've done that now on a number of occasions, and so those investigations are moving forward."
A letter from Ratcliffe to congressional leaders, stated that "in order to ensure clarity and consistency across the Office of the Director of National Intelligence's engagements with Congress on elections, the ODNI will primarily meet its obligation to keep Congress fully and currently informed leading into the Presidential election through written finished intelligence products."
Democrats have roundly condemned Ratcliffe's decision, warning of a dangerous lack of transparency less than 70 days before Election Day.
"This is a shocking abdication of its lawful responsibility to keep the Congress currently informed, and a betrayal of the public's right to know how foreign powers are trying to subvert our democracy," House Speaker Nancy Pelosi and House Intelligence Committee Chairman Adam Schiff said in a joint statement.
"
Richard Grenell, who was acting director of national intelligence before Ratcliffe was confirmed to the role, argued that partial leaks to achieve political ends have been a consistent problem.
"I think that he's reading exactly the problem and trying to find the solution. When I was there for a short time, I had career intelligence officials come to me and say, 'I don't really want to brief Congress anymore, because they manipulate my words, they manipulate and leak out partial information, and they're ruining my career.' This happened on more than one occasion. Now, think about that — career intelligence officials are saying they don't want to brief the Hill because the Hill and Congress is politicizing their work,"
Source: washingtonexaminer.com
John Ratcliffe, the director of national intelligence, has been coordinating with U.S. Attorney John Durham and plans to soon declassify more documents related to the Trump-Russia probe 
"The question now is did the FBI have a proper predicate to begin a counterintelligence investigation at all, and that's the issue that John Durham is looking at, and also the issue that I'm continuing to look at," Ratcliffe said
Ratcliffe said that he is not privy to Durham's findings, but that he has provided the prosecutor access to intelligence documents needed for the investigation.
"I'm coordinating with him to make sure that he has the intelligence documents that he needs to do his work, and what I don't want to do is declassify something that might prejudice his work so we're going to have to coordinate as we go forward," said Ratcliffe, a former U.S. congressman from Texas.
Source: dailycaller.com
---
War
Netanyahu Welcomes UAE Cancellation of Anti-Israel Boycott
 "The Decree comes as part of the UAE's efforts to expand diplomatic and commercial cooperation with Israel."
Source:  algemeiner.com
U.S. planning to cut military presence in Iraq – https://t.co/d1MGNQ2QsA

— Donald J. Trump (@realDonaldTrump) August 30, 2020
The United States is planning to decrease its military presence in Iraq. According to military officials, the U.S. will reduce its number of troops from 5,200 to 3,500 in the region.
Source: oann.com
---
False Flags
Live screenshot of a protest against mandatory flu shots happening right now in Boston.https://t.co/YK0tVC7w8S pic.twitter.com/vzQ0FNdmfC

— Jordan Sather (@Jordan_Sather_) August 30, 2020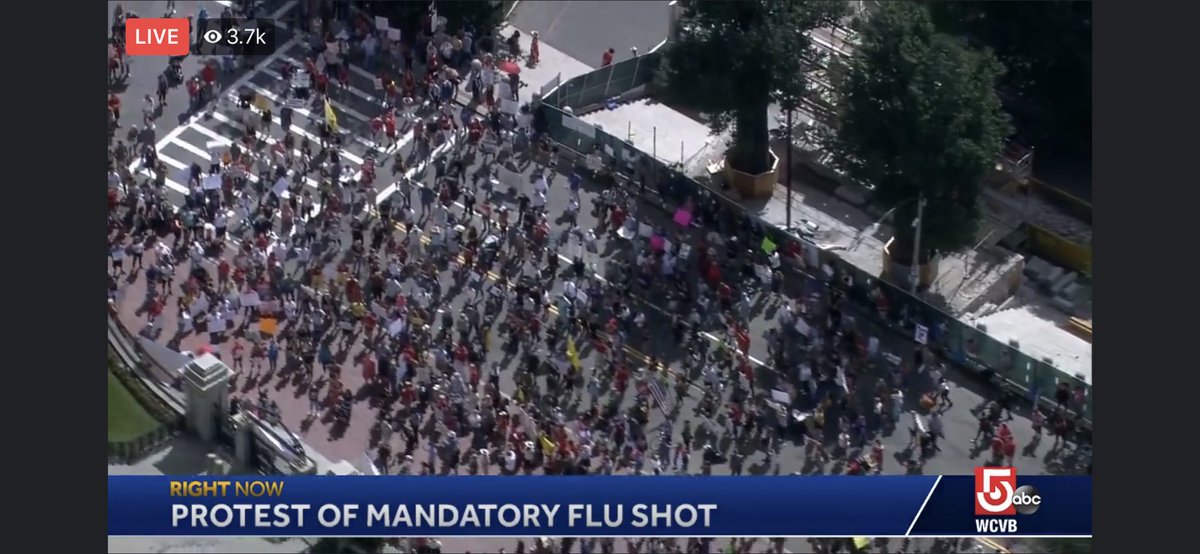 Today we now have empirical evidence that the WHO, Dr. Fauci and Dr. Birx were all wrong.   
The CDC silently updated their numbers this week to show that only 6% of all coronavirus deaths were related to the coronavirus alone.  The rest of the deaths pinned to the China coronavirus are attributed to individuals who had other serious issues going on.  Also, most of the deaths are related to very old Americans.
"This week the CDC quietly updated the Covid number to admit that only 6% of all the 153,504 deaths recorded actually died from Covid

That's 9,210 deaths

The other 94% had 2-3 other serious illnesses & the overwhelming majority were of very advanced age"https://t.co/WEZxsfcnhW pic.twitter.com/e2jPEgit1o

— Mel Q 🐸 (@littllemel) August 29, 2020
Not only are the number of deaths related to the China coronavirus minuscule, the virus is naturally dying out.
Retweet please to let people know what's happening all over Europe, and in many other parts of the world.

The #Casedemic is escalating – and societal restrictions are coming in fast based on it.

Just a few examples here – but nearly all of Europe has the same shocking story 🤨 pic.twitter.com/lacFjdyx6C

— Ivor Cummins (@FatEmperor) August 18, 2020
Okay just added in approx trend for testing rate per thousand people for each country
– shown in red at top of graphs
– this thing is insane pic.twitter.com/lifmNuvfcI

— Ivor Cummins (@FatEmperor) August 18, 2020
The data above from Europe shows that the number of cases has little correlation to the number of deaths.
 
Source: thegatewaypundit.com
What this means is that someone with flu, pneumonia,   Sepsis and a heart attack, motorcycle accident they were all counted in COVID-19 death totals just because they tested positive, even though there were no symptoms, they didn't die from it  9,684 deaths is 0.16% of "confirmed" COVID case
COVID-19 will go down in history as one of the scams on the American people.  Lives ruined, job losses, emotional health, suicides, business forced out of business, But one thing will come out of this, the MSM will loose all trust, the people that [knowingly] continued to push this on the American people and the world will be held accountable, this event has pushed all these people into the light , optics are important.  
The truth takes time, but once people see the facts, learn the truth, people are awake
The [DS] players are panicking, their events are not working, more and more people are waking up around the world and they can't stop it,
MSM admits the polls are not looking good
BIDEN and other now acknowledging the riots, but its to late for the shift in narrative, Trump trappped them 
The Russian story is dead in the water nobody cares, but Schiff is still pushing this, this is what panic looks like
Adam Schiff to CNN: "We need to make sure [protests] are peaceful, as they largely have been, and there aren't these incidents of violence. In terms of what the Russians are doing … four years ago [they] exploited black lives matter. They set up their own false flags online."

— Joe Concha (@JoeConchaTV) August 30, 2020
If the narrative is to push "the Russians are exploiting BLM" – this is arguably a profoundly ludicrous strategy.

— Joe Concha (@JoeConchaTV) August 30, 2020
Should have added this for context: https://t.co/hE91451Btm

— Joe Concha (@JoeConchaTV) August 30, 2020
A recent CNN poll asked respondents to describe one issue that would be the most important to them for their 2020 vote.

The Russia investigation didn't register in the results, getting 0 percent, according to @ForecasterEnten. https://t.co/9hceiqvBud pic.twitter.com/OuSCOVqVUc

— New Day (@NewDay) March 26, 2019
Hours after @tedwheeler  sent a "I Don't Want Trump's Help" letter, his city is in chaos.
BREAKING: Activists occupy Portland mayor Ted Wheeler's apartment and aren't leaving until he: resigns, abolishes the police by 2022 with no tech or private replacement, and allots saved resources to BIPOC communities and city services. #TearGasTed #AbolishPPB #WheelerResign pic.twitter.com/V5NsRG9tH3

— Rising Tide NA (@RisingTideNA) August 29, 2020
Head Of NY Police Union Gives de Blasio Until 'Sundown' To Resign
Cuomo under investigation for nursing home deaths
Ted Wheeler apartment overtaken by Rioters demanding he resign
2020 – the year of the boomerang
Trump trapped them, this is what he tweeted out again
The National Guard is Ready, Willing and Able. All the Governor has to do is call! https://t.co/iRe5ExgRGO

— Donald J. Trump (@realDonaldTrump) August 30, 2020
He has been saying this since the riots started, this was part of the plan, he needed to show the people
MSM/Corrupt Politicians, protests are peaceful, there are no riots
Trump if you need my help just ask
We don't need your help, there are no riots
Trump if you need my help just ask
Some Gov/Mayors asked, the riots stopped immediately 
We don't need your help, there are no riots
MSM/Corrupt Politicians, ok there are riots, but its Trumps fault
Trump if you need my help to control the riots just ask
Whos fault is it, everyone can see clearly now. 
Now people are seeing the true agenda of these individuals, 
A Trump supporter who participated in the Portland caravan rally was shot & killed in downtown Portland. Antifa & BLM extremists physically blocked them on the road & threw projectiles. After the man's death was known, antifa celebrated & danced. https://t.co/Pk3QpjMbeQ

— Andy Ngô (@MrAndyNgo) August 30, 2020
Black Lives Matter activists at Black Lives Matter Plaza in Washington DC threaten to burn down the White House.
This is the modern day left in America — violent, unhinged and totalitarian.
These are Joe Biden voters.
BLM Speaker: "I'm at the point where I'm going to put the police in a f*cking grave. I'm at the point where I want to burn the f*cking White House down!"
They got a new song, "Hey,hey, f*ck Donald Trump!"
Source: thegatewaypundit.com
The thugs who accosted Senator @RandPaul and his wonderful wife, Kelly, together with those who made threats to many other people who had just attended the Republican National Convention at the White House, must be sought out and immediately arrested. Well documented evidence!

— Donald J. Trump (@realDonaldTrump) August 30, 2020
fascism
a political philosophy, movement, or regime   that exalts nation and often race above the individual and that stands for a centralized autocratic government headed by a dictatorial leader, severe economic and social regimentation, and forcible suppression of opposition
The president plans to meet with law enforcement and survey damage from the recent riots after the police shooting of Jacob Blake.
"If the Democrat Party wants to stand with anarchists, agitators, rioters, looters, and flag burners, that is up to them," Trump said during his speech. "But I, as your president, will not be part of it."
source: breitbart.com
There is going to be a wave of law and order Republican mayors in major cities across America. It's coming.  
Democrats are not just letting their cities burn–they are destroying their own party. Good riddance.
---
Q
O

ver 46 days in the summer of 2017, two computer viruses ripped through the western world. The global economic costs were estimated at about $4bn and $10bn respectively. Both attacks spiralled well beyond the intention of the attackers.
The first, known as WannaCry, was an attempt by North Korea-backed hackers to extort money out of victims by encrypting their data. Its unintended victims included the system that provides platform announcements at German railway stations and parts of the UK's NHS IT systems. The second, called NotPetya, was a Russian attack targeting Ukrainian business and hit a variety of completely unintended targets. NotPetya damaged, among other things, the Danish shipping giant Maersk and a chocolate factory in Australia.
A few months earlier, the Queen had officially
A shot from the anti-lockdown protests happening in Berlin, Germany. pic.twitter.com/XOWrLMoBZG

— Jordan Sather (@Jordan_Sather_) August 29, 2020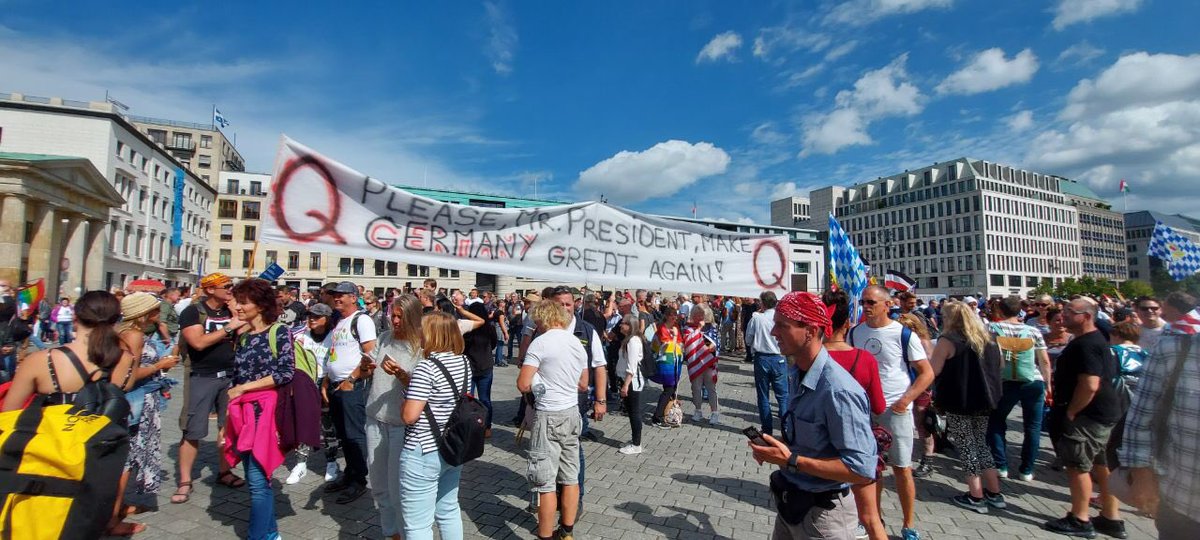 You have a choice.
The choice has always been yours.
POWER TO THE PEOPLE.
THEY WANT YOU DIVIDED.
THEY WANT RACE WARS.
THEY WANT CLASS WARS.
THEY WANT RELIGIOUS WARS.
THEY WANT POLITICAL WARS.
THEY USE THE MEDIA.
THEY USE HOLLYWOOD.
THEY USE POLITICAL LEADERS.
THEY ARE LOUD.
GROUP THINK.
PUBLIC SHAME AGAINST THOSE WHO CHALLENGE.
SLAVERY.
THEY KNOW WHAT IS COMING.
IT IS NOW MORE CLEAR THAN EVER.
NEVER IN OUR HISTORY HAVE THEY BEEN THIS EXPOSED.
NEVER IN OUR HISTORY HAVE THEY COME OUT FROM THE SHADOWS TO FIGHT.
THE TRUTH IS CLEARLY VISIBLE.
DEFEND MS-13?
DEFEND THE DESTRUCTION OF OUR BORDERS?
PROMOTE THE FEAR NUCLEAR WAR IF POTUS REMAINS IN OFFICE?
NUCLEAR ALERTS MALFUNCTION?
COMPARE TO HITLER/NAZIS?
PROMOTE VIOLENCE?
PROMOTE HATE?
PROMOTE WAR?
PROMOTE ECONOMIC DECLINE?
PROMOTE NK TO END TALKS W/ POTUS?
PROMOTE IMPEACHMENT FOR NO REASON?
PROMOTE RACISM?
PROMOTE
FACISM
?
PROMOTE RIOTS?
FORM ANTIFA – VIOLENT GROUP DESIGNED TO INSTILL FEAR IN FREE SPEECH.
HATRED FOR AMERICA.
SHEEP FOLLOW BLINDLY.
THEY ARE SCARED.
THEY ARE LOSING CONTROL.
WE KNEW THIS DAY WOULD COME.
https://www.youtube.com/watch?v=G2qIXXafxCQ
📁
WE PLANNED.
WE TOOK CONTROL OVER KEY ELEMENTS.
WE STAND AT THE READY.
WE FIGHT.
DARK TO LIGHT.
GOD BLESS AMERICA.
GOD BLESS PATRIOTS AROUND THE WORLD.
THINK FOR YOURSELF.
TRUST YOURSELF.
COURAGE.
TOGETHER.
"We hold these truths to be self-evident, that all men are created equal, that they are endowed by their Creator with certain unalienable Rights, that among these are Life, Liberty and the pursuit of Happiness.–That to secure these rights, Governments are instituted among Men, deriving their just powers from the consent of the governed, –That whenever any Form of Government becomes destructive of these ends, it is the Right of the People to alter or to abolish it, and to institute new Government, laying its foundation on such principles and organizing its powers in such form, as to them shall seem most likely to effect their Safety and Happiness. Prudence, indeed, will dictate that Governments long established should not be changed for light and transient causes; and accordingly all experience hath shewn, that mankind are more disposed to suffer, while evils are sufferable, than to right themselves by abolishing the forms to which they are accustomed. But when a long train of abuses and usurpations, pursuing invariably the same Object evinces a design to reduce them under absolute Despotism, it is their right, it is their duty, to throw off such Government, and to provide new Guards for their future security."
"Be on your guard; stand firm in the faith; be courageous; be strong."
Q
The Masque of Anarchy (or The Mask of Anarchy) is a British political poem written in 1819  following the Peterloo Massacre of that year. In his call for freedom, it is perhaps the first modern statement of the principle of nonviolent resistance.
"Stand ye calm and resolute,
Like a forest close and mute,
With folded arms and looks which are
Weapons of unvanquished war.

And if then the tyrants dare,
Let them ride among you there;
Slash, and stab, and maim and hew;
What they like, that let them do.

With folded arms and steady eyes,
And little fear, and less surprise,
Look upon them as they slay,
Till their rage has died away:

Then they will return with shame,
To the place from which they came,
And the blood thus shed will speak
In hot blushes on their cheek:

Rise, like lions after slumber
In unvanquishable number!
Shake your chains to earth like dew
Which in sleep had fallen on you:
Ye are many—they are few!"[4]
---
As the lockdowns and riots continue the MSM/[DS]/Corrupt Politicians are exposed, across the world the people are becoming angry as they learn the truth, who are they angry at, the MSM/Corrupt Politicians the [DS], as the people see the truth and understand what is happening who will they focus their anger on, , the MSM/CP/[DS]. Why is this important? How do you prevent a civil war when indictments are unsealed, it had to be this way, it was planned from the beginning, this is not about a 4 year election, its about returning the power to people.   
There will be no civil war.
Q
LAW & ORDER!!!

— Donald J. Trump (@realDonaldTrump) August 30, 2020