Red/Green Castle Ready, Clock Activated, Stage Is Set – Episode 2124
Podcast: Download (Duration: 42:25 — 43.2MB)
What we are witnessing is the great transition, the entire economic system is shifting, supply chains are changing, the push to remove and expose the [CB] is now in process. Trump and the patriots are helping as many business and people to get thru the transition, a big shift is coming, but in the end the economy is going to be amazing. The [DS] is pushing their agenda, the [V] has been neutralized but the MSM/[DS] and others can not deviate from the script. Trump and the patriots are using this to their benefit, why interfere with your enemy while they are destroying themselves. Trump mentions we are fighting an invisible enemy that is upon us. The stage is set, clock activated.
Check Out The X22 Report Spotlight YouTube Channel X22Report Spotlight
Please check Newzsentinel.com for the latest news on the economic collapse. The Sentinel Alerts are updated throughout the day.
---
Current News – 03.17.2020
Watch The X22 Report On Video
---
Economy
The global economy was rocking on a precipice – the coronavirus pushed it over
With America's screeching to a halt, the intervention may need to be faster and even more extreme than the action taken during the financial crisis. In 2008, Congress passed the now-infamous $700 billion TARP package to bail out the banks. This time around, Trump is clearly hoping to make a statement by spending $850 billion – a larger number than TARP – to bail out Main Street.
Source: zerohedge.com
 White House Will Send Checks To Americans Within 2 Weeks, Mnuchin Says
While the figure of $1000 checks has been mentioned  Mnuchin said the amount may be more.
Mnuchin also made other announcements regarding tax extensions and deferments, however he urged Americans due for refunds to file as soon as possible so they can get their returns processed and over-payments refunded quickly.
Politico reported Trump and Mnuchin will be consulting with Congress to seek to exempt high earners from the emergency checks.
"I think it's clear we don't need to send people who make $1 million a year checks," Mnuchin said. "That's one of the ideas that we like. We're going to preview that today, and then we'll be talking about details afterwards."

President Donald Trump added that checks for everyone "may not be an accurate way of doing it because obviously some people shouldn't be getting checks for $1,000."

"We'll have a pretty good idea by the end of the day what we're gonna be doing," he said.

Mnuchin: Individuals will be able to defer up to $1M in tax payments due to coronavirus

Treasury Secretary Steven Mnuchin on Tuesday said that individuals will be able to defer up to $1 million in tax payments to the IRS for 90 days in light of the coronavirus outbreak.
Gas Prices Could Hit 99 Cents In Some States Due To Coronavirus, Expert Says
Five states — Iowa, Arkansas, Kansas, Louisiana and Tennessee — have already dropped below $2.
The prices are falling in part due to a recent increase in production in Saudi Arabia and Russia. Markets worldwide have dropped partly because oil prices plunged as producers squabbled over production and supply.
Source: thegatewaypundit.com
Trump will ask Congress for more than $800 billion in economic stimulus: $500 bil in payroll tax cut, $250 bil in Small Business Association loans, $58 billion for the airlines, and a smattering of other items.
✅USMCA ratified by ALL 3 member countries

✅Set for June 1st enforcement

✅Promise MADE, promise KEPT! pic.twitter.com/lDZSI1jnqu

— GOP (@GOP) March 16, 2020
---
Political/Rights
 Former Vice President Joe Biden's son Hunter Biden cost taxpayers nearly $200,000 as he toured the globe during his father's time in office.
According to USASpending.gov, a database that collects and reports unclassified government expenditures, Biden's trips cost taxpayers $193,696 for Secret Service protection. The Washington Free Beacon, which was first to report on the matter, noted;
That amount is nearly four times the recorded security bill of the four adult Trump children—combined.
Biden visited more than 10 countries during his father's term, including China, Qatar, and South Africa, according to the database. Throughout his travels, Biden received multiple bills, which involved taxpayer payments to a "miscellaneous foreign contractor" or a "miscellaneous foreign awardee."
Most obvious throughout the records in the database was Biden's cost of Secret Service protection.
Source: breitbart.com
DOJ Files To Drop Charges Against Russian 'Bot Farms' That Fought Mueller Indictment
Wow.

The DOJ moves to dismiss the charges against the Russian Company (Concord) who conducted the alleged "information warfare against the US"

The troll case will be dismissed w/ prejudice.

How embarrassing for Team Mueller. pic.twitter.com/wfZ78EWgKc

— Techno Fog (@Techno_Fog) March 16, 2020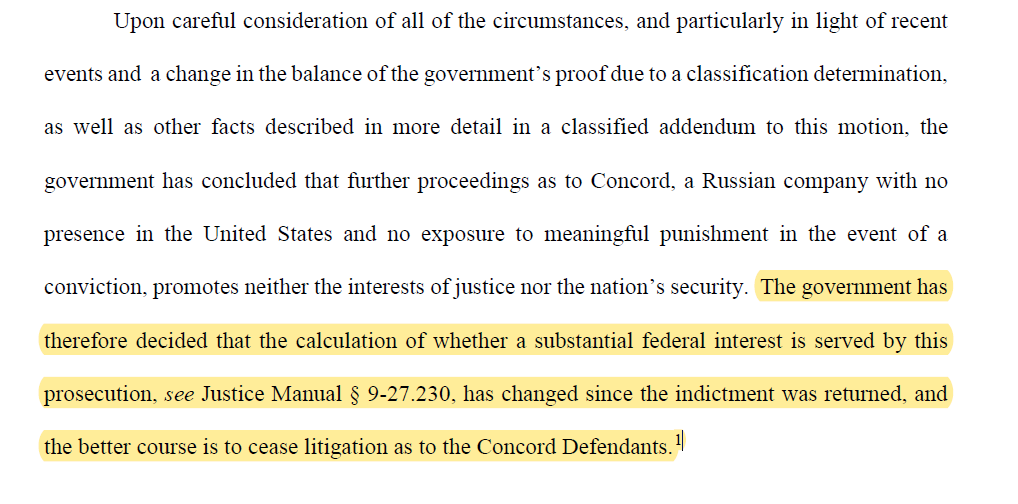 You can read the full Motion here:https://t.co/gdObHEzBCe

This case has been quite entertaining. Concord attorney Eric Dubelier has, at time, run circles around Special Counsel and DOJ lawyers.

Starting with his claim that the DOJ "indicted the proverbial ham sandwich." pic.twitter.com/9zh5t8L29M

— Techno Fog (@Techno_Fog) March 16, 2020
Because it's quarantine time, here are Dubelier's greatest hits in the Concord case.

In which Dubelier calls Special Counsel Jeannie Rhee a liar. pic.twitter.com/dJbkBmFw8c

— Techno Fog (@Techno_Fog) March 16, 2020
Concord lawyer Dubelier returns the Concord summons to Special Counsel Rhee because it doesn't comply with the Federal Rules.

Dubelier: I find it disturbing that "you are already behaving in a manner that is inconsistent with the practices of the DOJ" pic.twitter.com/4xHALDpqya

— Techno Fog (@Techno_Fog) March 16, 2020
Sidebar: the Concord case was EXCEEDINGLY dangerous because the DOJ twisted the law to fit these defendants.

The alleged illegal activities: Concord interfered with the FEC's ability to determine whether "statutes were violated." pic.twitter.com/WXcrj0TlYU

— Techno Fog (@Techno_Fog) March 16, 2020
@USAttyHuber "No amount of bank accounts, shell companies, burner phones, or the transfer of millions of dollars to foreign countries will stop us from tracking down money stolen from the government and holding criminals responsible for their wrongdoing." https://t.co/AwBJ07CL9A

— US Attorney Utah (@DUTnews) March 16, 2020
John Durham Charges Man with Threatening to Assault and Murder Adam Schiff
John H. Durham, United States Attorney for the District of Connecticut, and David Sundberg, Special Agent in Charge of the New Haven Division of the Federal Bureau of Investigation, today announced that ROBERT M. PHELPS, 62, of Torrington, has been charged by federal criminal complaint with threatening to murder U.S. Representative Adam Schiff of California.

Phelps was arrested on March 13. Following his arrest, he appeared before U.S. Magistrate Judge William I. Garfinkel in Bridgeport and was released on a $25,000 bond.

As alleged in court documents and statements made in court, on November 12, 2019, the office of U.S. Representative Adam Schiff received a threatening communication through a Meeting Request entry form on Congressman Schiff's official website. The meeting request included the statement "…I want to kill you with my bare hands and smash your…face in." In addition, in response to the preferred days of the week for the meeting request, Phelps wrote "Measure your Coffin day."
Source: thegatewaypundit.com
---
False Flags
Cuomo wants "all states to be treated the same." But all states aren't the same. Some are being hit hard by the Chinese Virus, some are being hit practically not at all. New York is a very big "hotspot", West Virginia has, thus far, zero cases. Andrew, keep politics out of it….

— Donald J. Trump (@realDonaldTrump) March 17, 2020
David Rothschild responded to Trump
President Trump seems to be saying he wants to murder all of the people in New York as some partisan gotcha against NY's Democratic government. As a person in New York, I am really against this plan from our President.

— David Rothschild (@DavMicRot) March 17, 2020
I agree with Chelsea: We all have a real responsibility to protect each other right now. https://t.co/7C8K5crz0V

— Hillary Clinton (@HillaryClinton) March 17, 2020
Many reporters and pundits, for example, seem to think states are almost entirely dependent on the federal government in emergency situations like this.
But here's the thing: the president of the United States doesn't have the power to order these things. For as much as we might think of the federal government as all-powerful, it really isn't. The founders wisely chose a federal republic for our form of government, which means sovereignty is divided between states and the federal government.
The powers of the federal government are limited and enumerated, while all powers not granted to the feds are reserved for the states, including emergency police powers of the kind we're seeing states and localities use now. Local governments, as creations of the states, can exercise state police powers as well. 
Source: thefederalist.com
---
Q
Walker County Sheriff's Office recently kicked off an effort dubbed "Operation March Madness" that has resulted in 122 arrests for the month so far including the capture of U.S. Marshal's Fugitive Joshua Wayne Burnett.

— U.S. Marshals (@USMarshalsHQ) March 16, 2020
It Begins – San Francisco Initiates Forced Quarantine of all Residents, All Hours, Effective Midnight…
San Francisco has skipped the interim mitigation efforts and has announced a forced quarantine of all residents inside their homes 24-hours-a-day for the next three weeks.
CALIFORNIA – [….] Mayor London Breed announced what she calls a "defining moment" in U.S. response to the pandemic. Beginning at 12 AM, all residents within the city can only leave home for doctor's appointments or runs to the grocery store.

It's the strictest new policy enacted in the nation, and matches the current rules in Italy … which has been the 2nd hardest-hit country in the world.
The Mayor says the rule will remain in effect for at least the next 3 weeks.
Source: theconservativetreehouse.com
Q

 

!!mG7VJxZNCI

 

ID: fe07c6

 No.574060


>>5739531
What day is today?
How much more obvious can we make it?
Q
Capture.png

>>5740605

Look what POTUS retweeted and what's in the upper left corner. Hmmmm

>>5740687

Retweet 'many' for plausible deniability?

March (17) – message to?

Q
Q

 

!UW.yye1fxo

 

ID: b02328

 No.701978


Next week.
BOOM.
BOOM.
BOOM.
Q
Q

 

!UW.yye1fxo

 

ID: b02328

 No.702000

Q

 

!UW.yye1fxo

 

ID: b02328

 No.701978


Next week.
BOOM.
BOOM.
BOOM.
Q
>>701978
USMC activated.
US (3). US Marine Corp Activated in 3 US Cities
Q
Trump during his presser said "It wasn't their fault that this thing was all of a sudden upon us."
 Trump said: "We need to take down/get rid of this ENEMY, it's an INVISIBLE ENEMY." Enemy. NOT Virus!
The world is at war with a hidden enemy. WE WILL WIN!

— Donald J. Trump (@realDonaldTrump) March 17, 2020
Wow. Cross reference @potus tweet "hidden enemy" with Q 1432. 1432 = 2:32 pm time stamp of tweet. Q post quotes Ephesians 6:10-18…we are fighting against a hidden enemy!! Not flesh and blood! #Qanon https://t.co/0aOmY12pGK pic.twitter.com/teU5GS3R1P

— Sun_Q_Tzu (@Sun_Q_Tzu) March 17, 2020
Look to Twitter:
Exactly this: "My fellow Americans, the Storm is upon us……."
God bless.
How do you bring a country together?
How do you have the people of the US look at China instead of Russia?
How do you show the people that you are fighting for them?
How do you get the MSM on your side?
How do you shutdown the [DS] operation once the operation is complete
Trump retweeted