Release Of Twitter Files Is Just The Warmup Act,Declass, Pain,Treason,Sedition,Justice – Ep. 2945
Podcast: Download (Duration: 1:20:15 — 36.1MB)
Watch The X22 Report On Video
The [WEF] is moving forward with their plan, as they do it is going to backfire on them. John Kerry wants the American taxpayer to pay for other countries climate. Elon comes out and points the finger at the Fed. The Twitter files are being released, the public is starting to see the infiltration, this is the open act. The people must be told the truth slowly so they can digest the information. Once the public digests the information the other facts with documents will be released. The [DS] is feeling pain every step of the way. They [DS] panic is real and they might try to shut down communications. This will not work, Trump and the patriots have all the leverage. Nothing can stop this, nothing.
---
Economy
Kerry said, "it would be great if there were some" U.S. taxpayer money to pay other countries climate reparations.
 
"Is there going to have to be US taxpayer money that helps the United States, presumably the United States is going to have to be one of the nations that contributes to…" Washington Post editor Sally Buzbee asked John Kerry.
Source: thegatewaypundit.com
Roughly 78% of federal land auctioned by the Biden administration for offshore wind developments along California's coast went to five large foreign energy companies.
Equinor, a Norwegian energy giant, purchased more than 80,062 acres of leased land for $130 million while Central California Offshore Wind LLC, a joint venture between France's Engie and Portuguese company EDP Renewables, bought 80,418 acres for $150 million, according to a Wednesday Interior Department press release. California North Floating LLC, a subsidiary of Denmark's Copenhagen Infrastructure Partners spent nearly $174 million purchasing 69,031 acres of land for wind power development and RWE Offshore Wind Holdings, a German company, bought 63,338 acres, spending almost $158 million.
In total, the Interior Department leased 292,850 out of a possible 373,268 acres (78%) of federal waters

 to European firms for wind turbine construction. 

Invenergy California Offshore LLC, a division of the Chicago-based renewable developer Invenergy LLC, was the only U.S. company among the five competitors to secure a lease.
Source: dailycaller.com
If the Fed raises rates again next week, the recession will be greatly amplified

— Elon Musk (@elonmusk) December 9, 2022
---
Political/Rights
Marine veteran Paul Whelan, who was issued a 16-year sentence in 2020 on charges of espionage – which the US government condemned as false and unfair – told CNN this week that the Biden administration has actually done little to in attempting to secure his release.
"I am greatly disappointed that more has not been done to secure my release, especially as the four year anniversary of my arrest is coming up," he said in the phone interview from a remote Russian penal colony. "I was arrested for a crime that never occurred," he added, before saying:
"I don't understand why I'm still sitting here."
"I was led to believe that things were moving in the right direction, and that the governments were negotiating and that something would happen fairly soon," Whelan continued. 
Source: theconservativetreehouse.com
·

The Trump Administration got 58 hostages released from various hostile countries without paying any money, or giving up anything. That is something, both in numbers and lack of remuneration, that has never been done before in any other administration. The America hating basketball player for the "Merchant of Death," especially when the former Marine is not even included, is a one-sided disaster, and a BIG WIN FOR RUSSIA. If I made that deal the Dems would chant, RUSSIA, RUSSIA, RUSSIA!
---
Geopolitical/Police State
Twitter is working on a software update that will show your true account status, so you know clearly if you've been shadowbanned, the reason why and how to appeal

— Elon Musk (@elonmusk) December 9, 2022
PANIC
Elon Musk responded to Schiff and called him out for his lies.
"False, hate speech impressions are actually down by 1/3 for Twitter now vs prior acquisition," Musk said.
It gets better.
Adam Schiff was fact-checked after Elon Musk called him out.
Crazy Adam Schiff attacked Elon Musk again.
This time Schiff claimed, again, without offering up any evidence, that QAnon is attacking him on Twitter.
 
Source: thegatewaypundit.com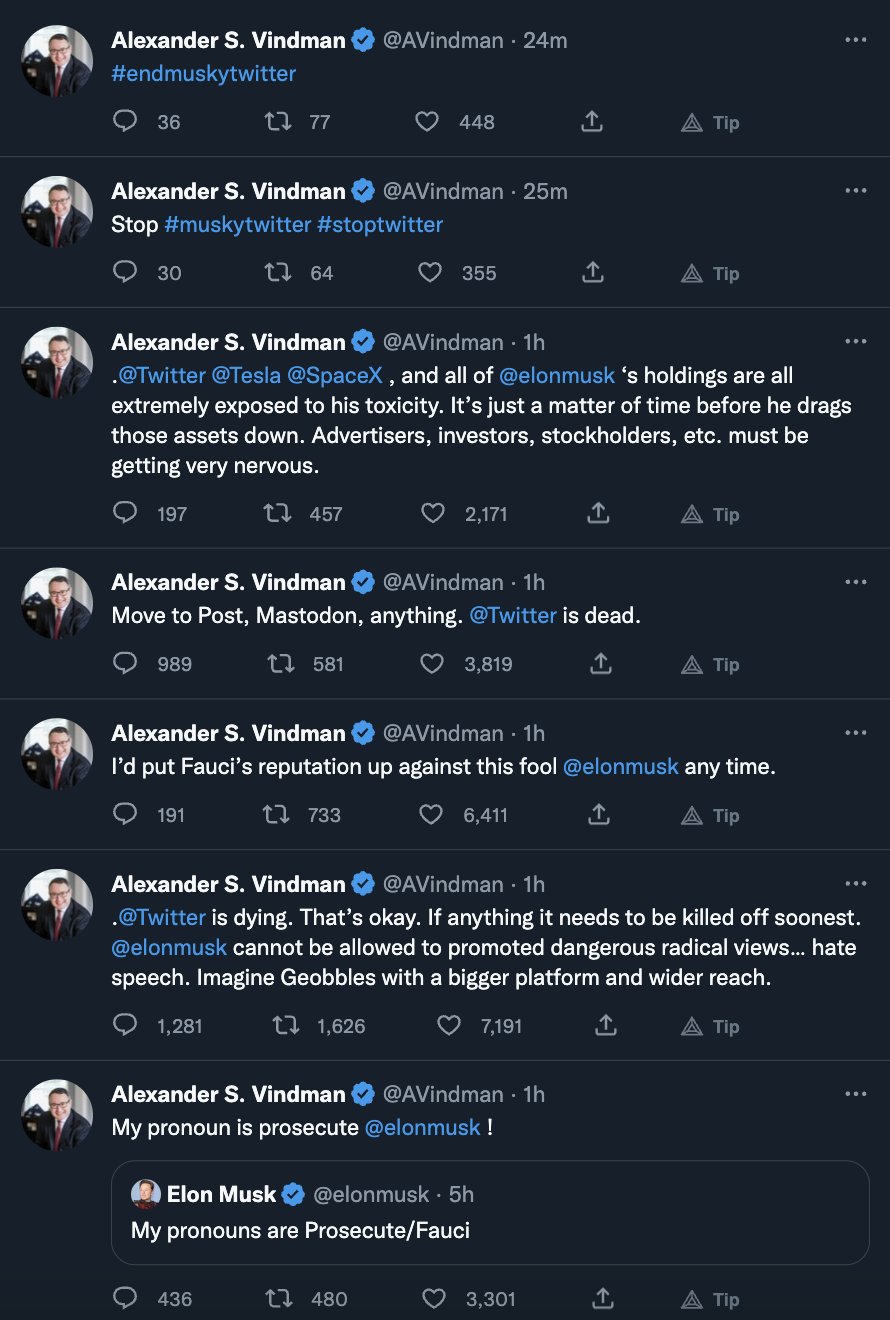 FLASHBACK –

TAKE A LISTEN
Following tonight's release of the Twitter Files Pt. 2, Twitter owner Elon Musk went online to comment on the findings.
Elon took a veiled shot at his former head of censorship, radical leftist Yoel Roth.
And he also fired a tweet out on his former top censor Vijaya Gadde who openly lied to the public while she was censoring conservatives.
Twitter lied relentlessly to the American public.
1. TWITTER FILES, PART 4
The Removal of Donald Trump: January 7
As the pressure builds, Twitter executives build the case for a permanent ban 
On Jan 7, senior Twitter execs:
– create justifications to ban Trump
– seek a change of policy for Trump alone, distinct from other political leaders
– express no concern for the free speech or democracy implications of a ban
This #TwitterFiles is reported with @lwoodhouse 
For those catching up, please see:
Part 1, where @mtaibbi documents how senior Twitter executives violated their own policies to prevent the spread of accurate information about Hunter Biden's laptop;
Part 2, where @bariweiss shows how senior Twitter execs created secret blacklists to "de-amplify" disfavored Twitter users, not just specific tweets;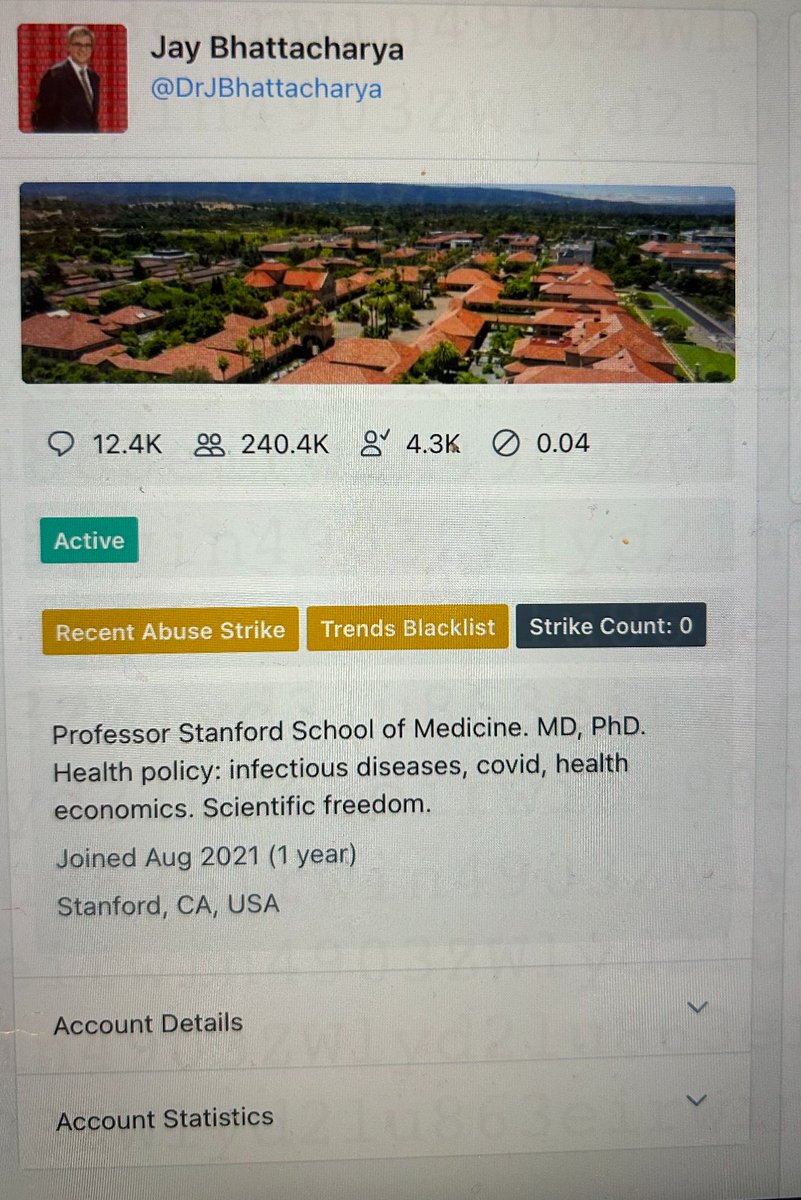 Or consider the popular right-wing talk show host, Dan Bongino (@dbongino), who at one point was slapped with a "Search Blacklist."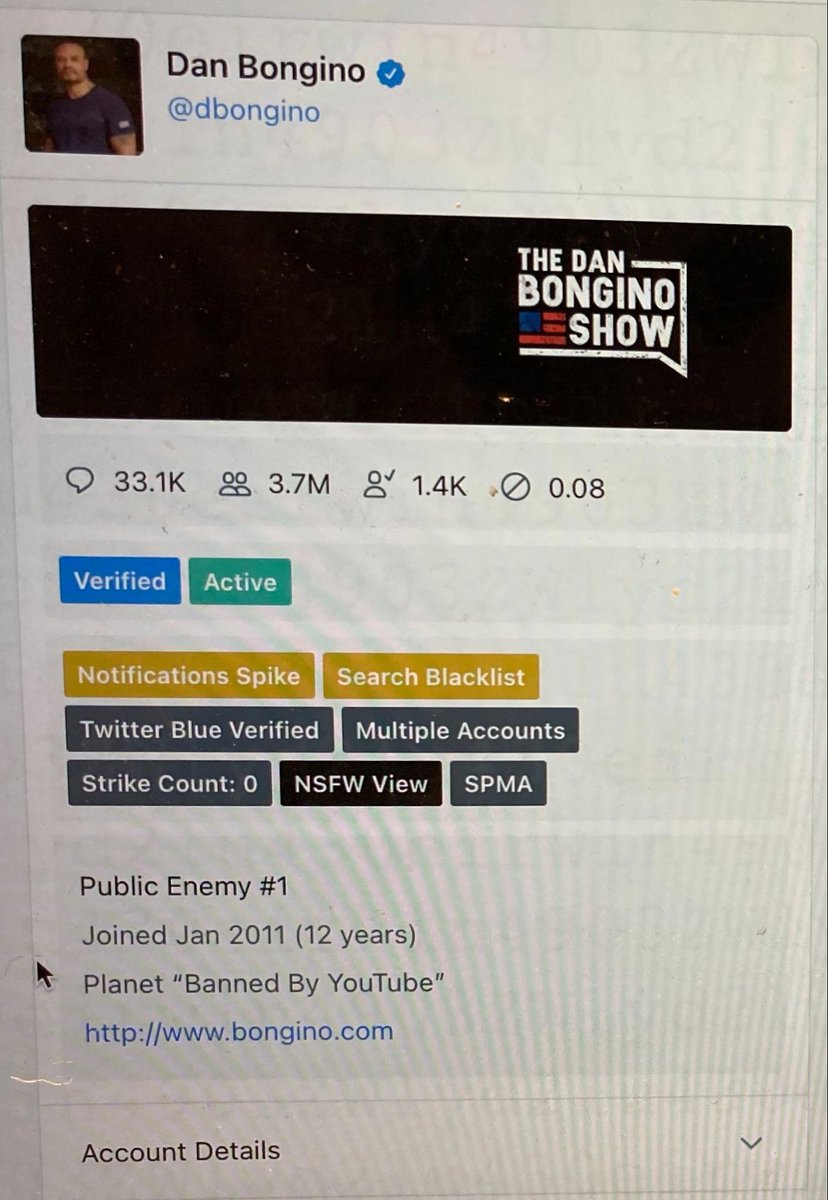 5. Twitter set the account of conservative activist Charlie Kirk (@charliekirk11
) to "Do Not Amplify."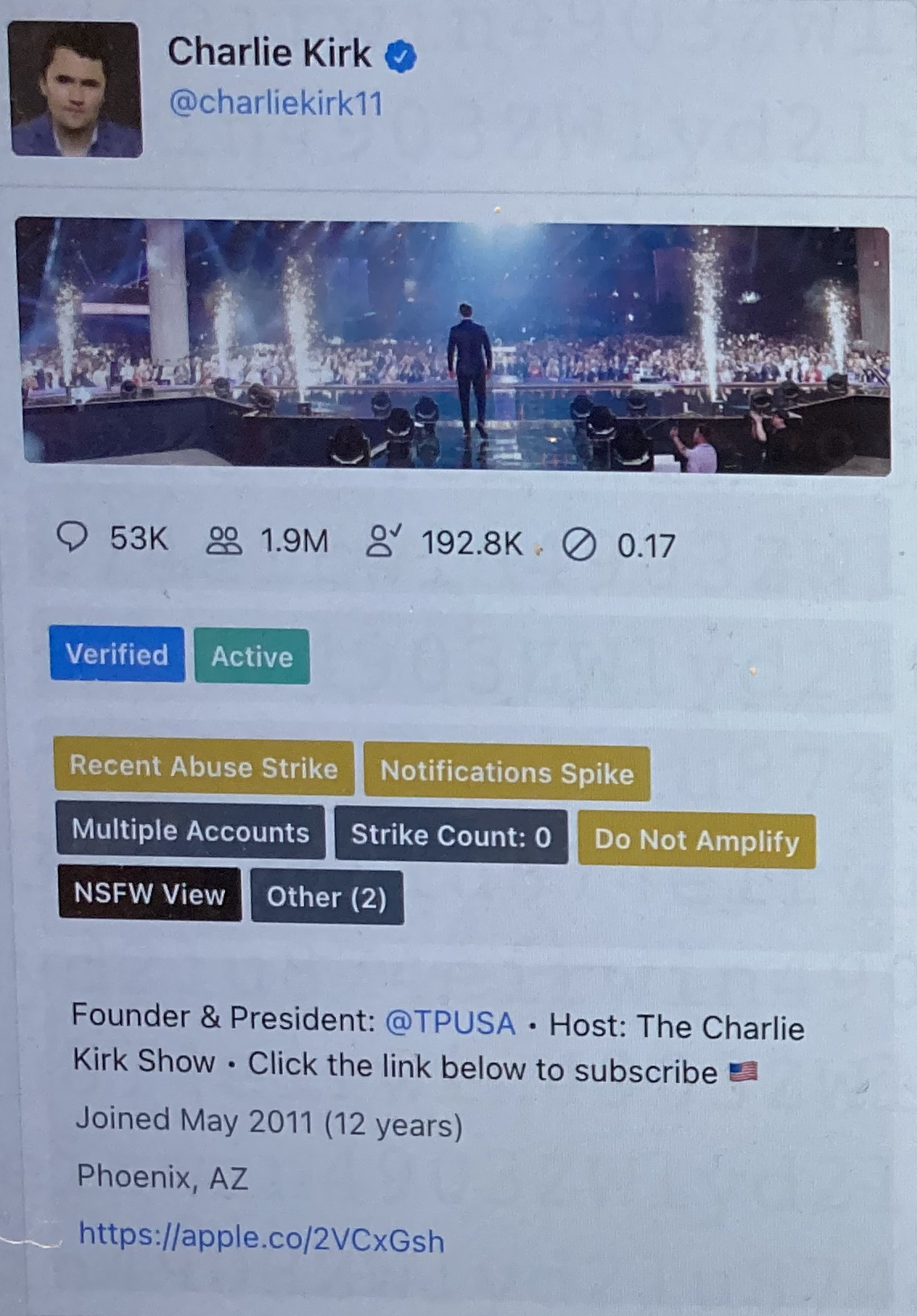 Twitter denied that it does such things. In 2018, Twitter's Vijaya Gadde (then Head of Legal Policy and Trust) and Kayvon Beykpour (Head of Product) said: "We do not shadow ban." They added: "And we certainly don't shadow ban based on political viewpoints or ideology."
What many people call "shadow banning," Twitter executives and employees call "Visibility Filtering" or "VF." Multiple high-level sources confirmed its meaning. "Think about visibility filtering as being a way for us to suppress what people see to different levels. It's a very powerful tool," one senior Twitter employee told us.
 
All without users' knowledge.
Source: beckernews.com
Twitter put "threat tags" on conservative accounts, like the FBI put "threat tags" on parents protesting at school board meetings and just like the IRS.

— Rep. Jim Jordan (@Jim_Jordan) December 9, 2022
And Part 3, where @mtaibbi documents how senior Twitter execs censored tweets by Trump in the run-up to the Nov 2020 election while regularly engaging with representatives of U.S. government law enforcement agencies.
On Oct. 8, 2020, Twitter executives opened a Slack channel dedicated to election-related account removals, with a particular focus on "Very Important Tweeters" or "VITs," according to Taibbi. There was some level of friction between Safety Operations, a larger department within Twitter with a more rules-oriented approach to content moderation, and high-ranking executives like Roth and then-head of legal, policy and trust Vijaya Gadde, as the latter group often made moderation decisions "only the fly, often in minutes and based on guesses, gut calls, even Google searches, even in cases involving the President," Taibbi reported.
In response to a member of Twitter's marketing team asking if they can say Twitter detects misinformation through "partnerships with outside experts," Policy Director Nick Pickles asked for the unidentified employee to simply say "partnerships," according to Taibbi.
"Can we just say 'partnerships' … not sure we'd describe the FBI/DHS as experts or some [Non Governmental Organizations] that aren't academic," Pickles replied, according to Taibbi.
On Dec. 10, 2020, Twitter executive Patrick Conlon, announced internally that Twitter would be launching a new mode of suppression known as "L3 deamplification," according to Taibbi. This mode, which was announced the same day Trump tweeted or retweeted roughly 20 posts challenging the outcome of the 2020 presidential election, was a label that came with an automatic "deamplification" of the tweet in question, limiting its ability to be shared, Taibbi reported.
While some team members asked whether to deploy the new tool right away, Conlon opted to wait until the following day, when the policy was slated to officially go live, according to Taibbi. The team had also applied several "bots" to Trump's account, monitoring both his claims and the claims of connected entities, such as right-wing news outlet Breitbart, Taibbi reported.
Source: beckernews.com
For years, Twitter had resisted calls to ban Trump.
"Blocking a world leader from Twitter," it wrote in 2018, "would hide important info… [and] hamper necessary discussion around their words and actions."
But after the events of Jan 6, the internal and external pressure on Twitter CEO @jack grows.
Former First Lady @MichelleObama , tech journalist @karaswisher , @ADL , high-tech VC @ChrisSacca , and many others, publicly call on Twitter to permanently ban Trump.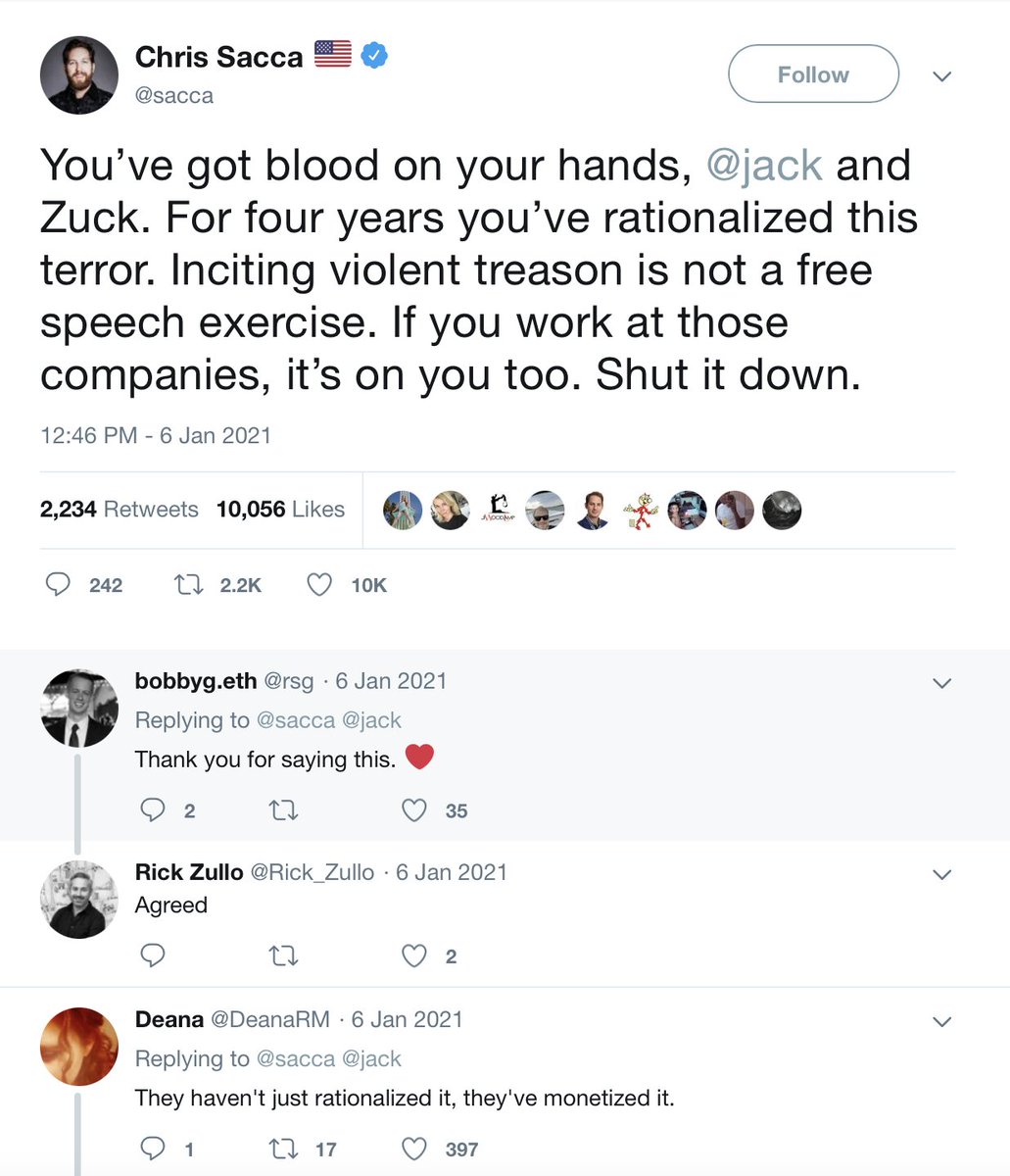 The employee notes, later in the day, "And Will Oremus noticed the inconsistency too…," linking to an article for OneZero at Medium called, "Facebook Chucked Its Own Rulebook to Ban Trump."
"The underlying problem," writes 
@WillOremus
 , is that "the dominant platforms have always been loath to own up to their subjectivity, because it highlights the extraordinary, unfettered power they wield over the global public square… 
"… and places the responsibility for that power on their own shoulders… So they hide behind an ever-changing rulebook, alternately pointing to it when it's convenient and shoving it under the nearest rug when it isn't."
"Facebook's suspension of Trump now puts Twitter in an awkward position. If Trump does indeed return to Twitter, the pressure on Twitter will ramp up to find a pretext on which to ban him as well."
Indeed. And as @bariweiss will show tomorrow, that's exactly what happened.
/END 
Source: thegatewaypundit.com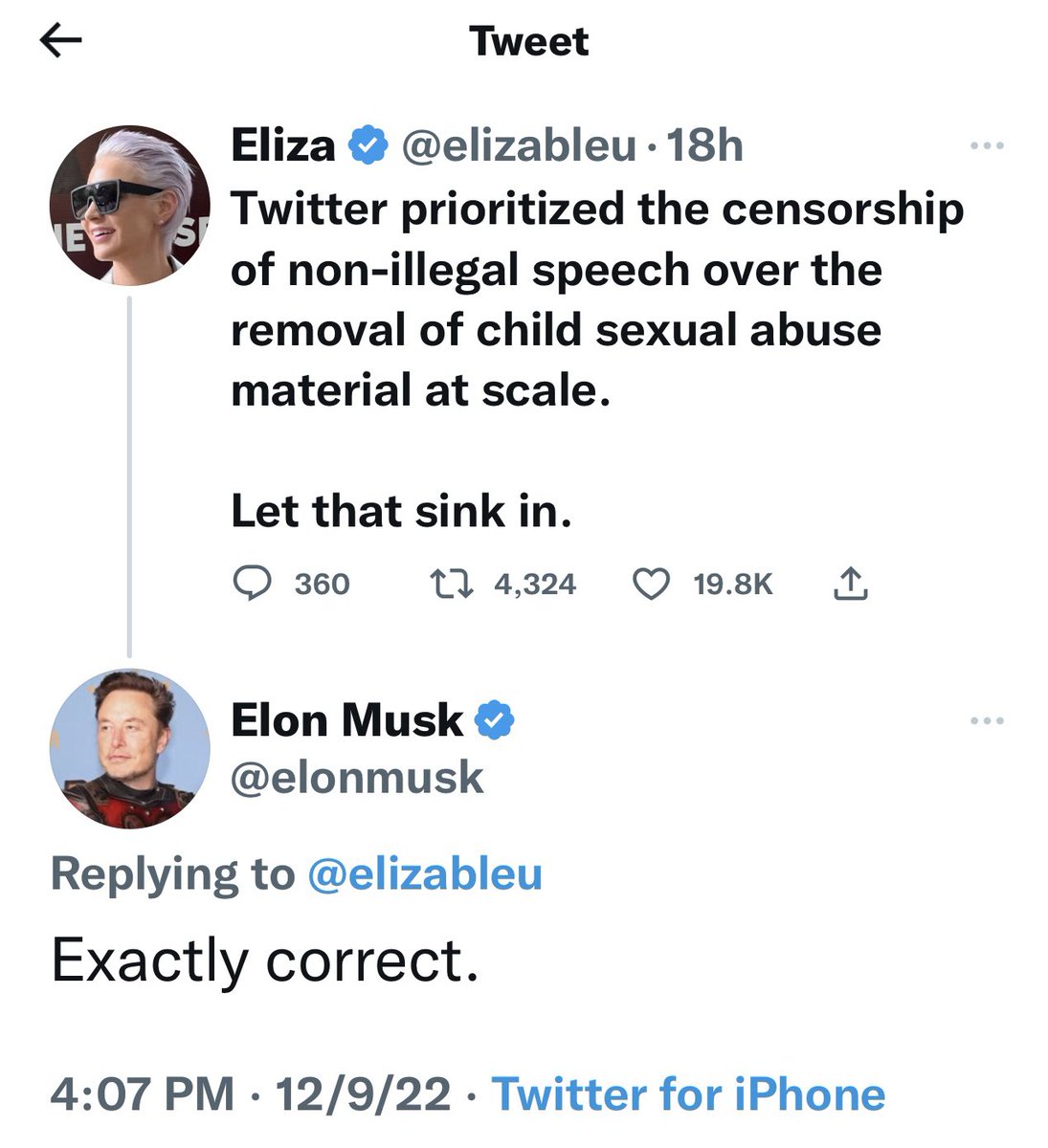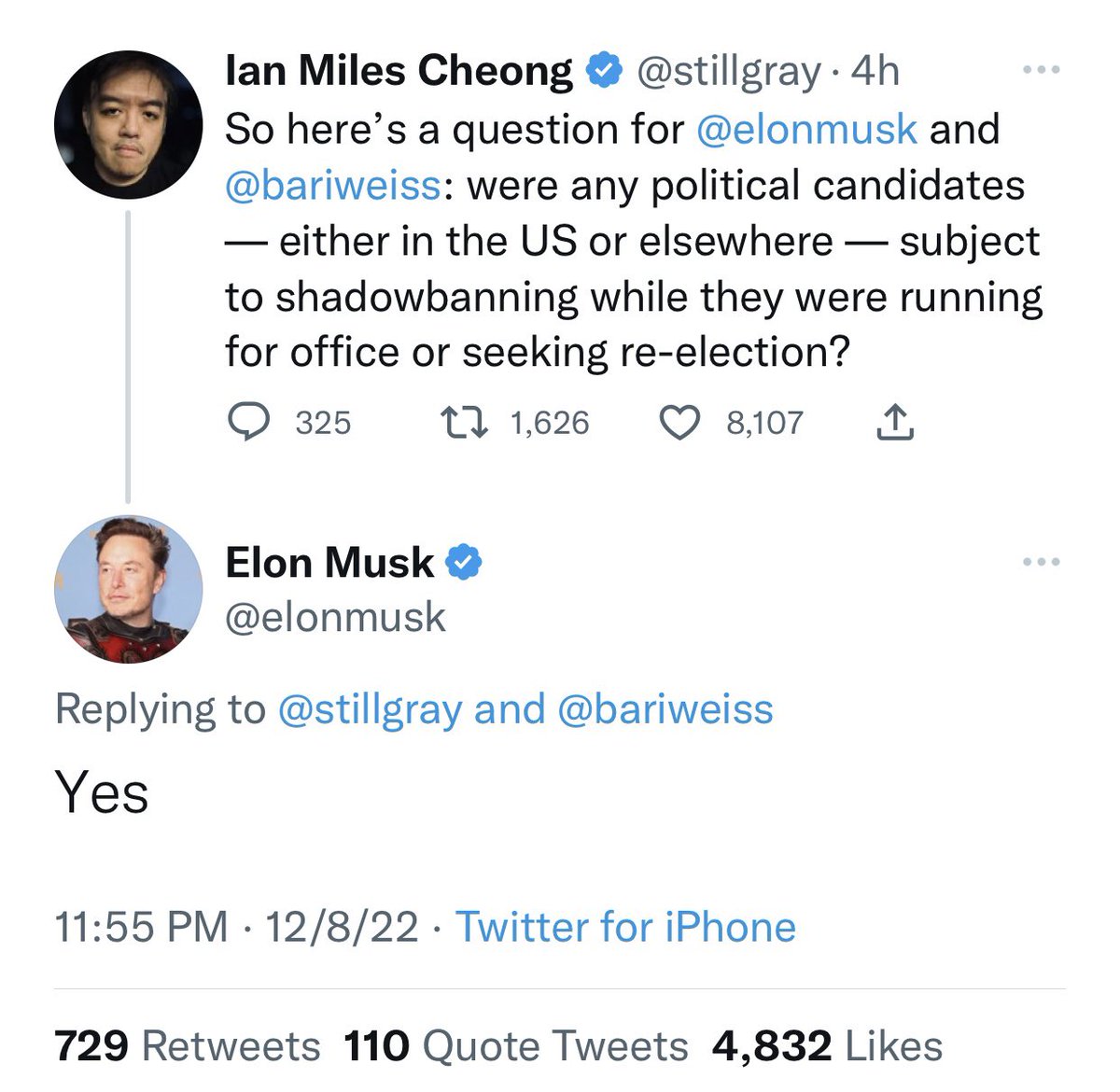 "Donald Trump was shadow-banned" one week before the 2020 election.
Journalist Matt Taibbi tweeted that Trump was "visibility filtered" as a late as a "week before the election." "Visibility filtered" was a Twitter euphemism for "shadowban," as was explained in the Twitter Files 2 drop.
"VERY WELL DONE ON SPEED" Trump was being "visibility filtered" as late as a week before the election. Here, senior execs didn't appear to have a particular violation, but still worked fast to make sure a fairly anodyne Trump tweet couldn't be "replied to, shared, or liked":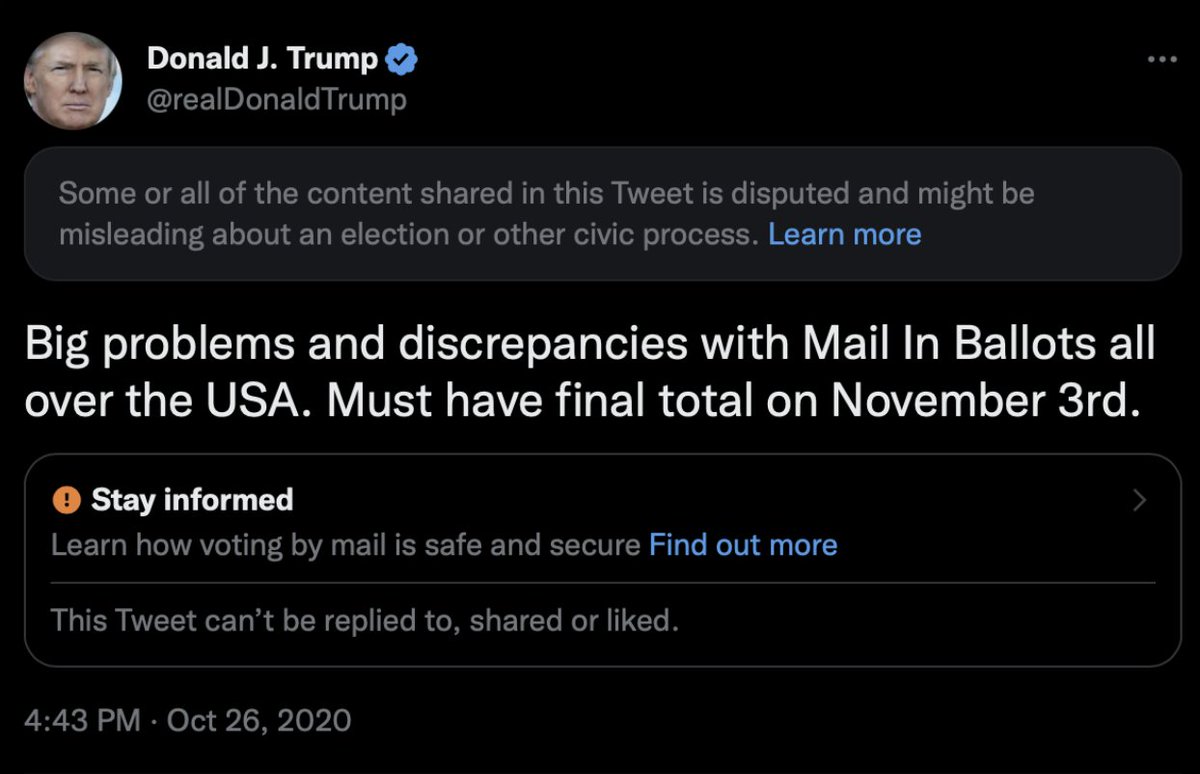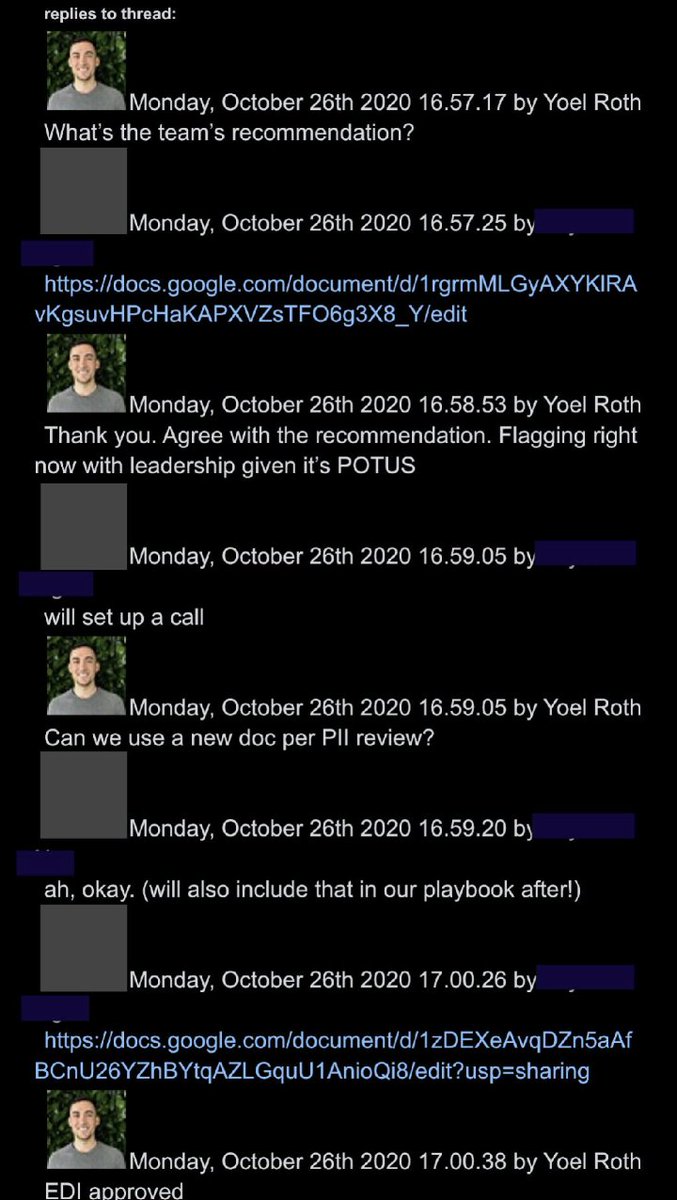 Source:beckernews.com
Twitter isn't using Perkins Coie. No company should use them until they make amends for Sussman's attempt to corrupt a Presidential election.

— Elon Musk (@elonmusk) December 9, 2022
ELON: The Twitter releases are a revelation in that they show, in a very powerful fashion, the FBI and "Justice" illegally colluding, proving conclusively, in one more very powerful way, that the 2020 Presidential Election was Rigged & Stolen. What everyone is REALLY waiting to see, however, is the Twitter information and thought process leading up to the time of the so-called "Election," and ultimately the "Deplatforming" of the President of the United States. Big moment in history. Thank you!
The biggest thing to come out of the Twitter Targeting Hoax is that the Presidential Election was RIGGED – And that's as big as it can get!!!
Twitter is both a social media company and a crime scene

— Elon Musk (@elonmusk) December 10, 2022
Elon is letting us know they are going to be releasing information on Fauci and Covid
My pronouns are Prosecute/Fauci

— Elon Musk (@elonmusk) December 11, 2022
John Brennan chided Elon Musk following his tweet today.
Brennan is upset that he will be remembered always for being an anti-American liar.
Source: thegatewaypundit.com
The bots are in for a surprise tomorrow

— Elon Musk (@elonmusk) December 11, 2022
Cool, the bots are so far unable to swarm to the top of my replies!

— Elon Musk (@elonmusk) December 11, 2022
Bots deactivated upon arrival.
Keep up the good fight.
It's spreading.
Q
Now things get spicy 🌶️

— Elon Musk (@elonmusk) December 11, 2022
This thread proves 3 things:

1) Twitter execs were regularly meeting with FBI over what to censor.

2) Twitter's censorship was almost 100% aligned with the Dem Party.

3) Twitter's chief censors were deranged ideologues abusing their power over our discourse to silence dissent. https://t.co/G6fHfgLHtU

— Glenn Greenwald (@ggreenwald) December 10, 2022
So the question is, is DHS is in the background of Twitter ?
So what is happening here, Elon is the opening act, the normies need to be brought into the fold, they needed to see  the following
How Government worked with twitter and how the government helped with who was censored and who was not,
How the government only wanted their narrative, their information and classified anything that countered it as disinformation
How the Twitter organization was working on its own to shape the narrative and control who says what
How the Twitter employees were not for America, they are the exention of the DS
How The Twitter employees are groomers and how they are going after the children
Those who scream the loudest have the most to lose
We are witnessing the opening act, the normies will take what elon has provided  and will now see how all of this connects to the declassified documents. Well known names will be attached to these actions, some are serving in DC right now.
---
False Flags
"Racism, xenophobia, and discrimination exist in every modern society causing avoidable disease and premature death among groups who are often already disadvantaged," the Lancet contends in this latest issue.
Source: breitbart.com
— Elon Musk (@elonmusk) December 11, 2022
Oh it is coming bigtime …

— Elon Musk (@elonmusk) December 11, 2022
---
Q
As an independent in the Senate, not much will really change as far as the voting and caucusing is concerned. However, from the standpoint of having to gain votes for reelection in Arizona and accepting the complete chaos that is now Arizona voting, the strategy will likely play well.
Source: theconservativetreehouse.com
Special Counsel Jack Smith issued subpoenas to secretaries of state in Michigan and Arizona as he expands his fishing expedition.
The subpoenas were issued to Jocelyn Benson and Katie Hobbs as part of Jack Smith's investigation into Trump's effort to contest the 2020 election.
ABC News reported:
Earlier this week it was reported that Jack Smith subpoenaed Arizona, Michigan and Wisconsin officials for their communications with Trump in his effort to contest the 2020 election.
Source: thegatewaypundit.com
The Department of Justice suffered an embarrassing defeat in the Mar-a-Lago documents case against former President Donald Trump on Friday.
On Thursday, the Washington Post reported that the U.S. Justice Department had asked a federal judge to hold Trump and his legal team in contempt of court for not complying with a subpoena ordering him to turn over all classified documents.
The Washington Post has provided an update on that request: Motion has been denied.
"A federal judge on Friday declined to hold former president Donald Trump's office in contempt for not fully complying with a May subpoena to return all classified documents in his possession, according to people familiar with the proceedings," the Post reported.
The Department of Justice is clearly attempting to ensnare Donald Trump in process crimes like "obstruction of justice" and "contempt of court." On Friday, the judge saw through the charade and has again turned it away empty-handed.
Source: beckernews.com
Secretary of State @katiehobbs directs Arizonans to monitor election-related speech and suppress conspiracies. Fascinating timing given the recent discovery that Hobbs' office effectively controlled election-related speech online. pic.twitter.com/W7nskWV63s

— Corinne Murdock (@CorinneMurdock) December 6, 2022
Trump-Endorsed Arizona Attorney General Nominee Abe Hamadeh filed a lawsuit on Friday, contesting the fraudulent Midterm Election in Arizona.

It was revealed by a Runbeck whistleblower in Lake's filing that HUNDREDS OF THOUSANDS of ballots did not have any chain of custody documentation.

This finding of over 300,000 ballots lacking chain of custody documentation renders the election irredeemably compromised. This includes every single race in Maricopa County.
 Hamadeh's lawsuit names the Recorders and Boards of Supervisors of all fifteen Arizona counties, as well as Katie Hobbs and Kris Mayes.

The lawsuit states, "The Recorders and Boards of Supervisors of the fifteen counties (collectively, the "County Defendants") have, in at least seven respects, caused the unlawful denial of the franchise to certain qualified electors, erroneously tallied certain ballots, and included for tabulation in the canvass certain illegal votes in connection with the election for the office of Arizona Attorney General."
Source: thegatewaypundit.com
Republican Kari Lake on Friday filed a lawsuit to nullify the 2022 midterm election results for the governor's race in the state of Arizona. 
More from the filing: Maricopa County's public statements concerning remaining ballots to be counted on November 9, 2022, and November 10, 2022, show an increase of approximately 25,000 votes with no explanation of why the number of remaining ballots could increase.
Maricopa County officials also permitted the counting of tens of thousands of mail-in and drop-box ballots that did not satisfy signature verification requirements.
Here is an example of a certified signature on an Arizona mail-in ballot from the filing.
The remedy for illegal absentee ballots is either to set aside the election under Miller, 179 Ariz. at 180, or proportionately to reduce each candidate's share of mail-in ballots under Grounds, 67 Ariz. at 183-85.
As set forth above, the Maricopa County election board and the election officers in Maricopa County engaged in misconduct that nullifies the results of the 2022 election in Maricopa County, by failing to prevent the entirely foreseeable problems that afflicted the voting at Vote Centers on Election Day; and by failing to follow Arizona law with respect to signature verification and chain of custody.

Kari Lake's team of expert attorneys have gathered evidence from signed witness testimony, Dominion and Runbeck whistleblowers, and Maricopa County whistleblowers to craft a 68-page lawsuit against Maricopa County and Secretary of State Katie Hobbs.
They even got screenshots of text messages between IT workers hired by Maricopa County to fix election day problems.
Source: thegatewaypundit.com
🚨🚨Kari Lake vs. Katie Hobbs🚨🚨

"The number of illegal votes cast in Arizona's general election on November 8, 2022 far exceeds the 17,117 vote margin…

"Witnesses who were present…show hundreds of thousands of illegal ballots infected the election in Maricopa County." pic.twitter.com/D4e4KAghRM

— Liz Harrington (@realLizUSA) December 10, 2022
Download this from my media section and blast it please.