Setting The Stage, 18 US Code 2385, Knowingly Advocating Overthrow Of The Gov – Ep. 2946
Podcast: Download (Duration: 1:15:17 — 32.9MB)
Watch The X22 Report On Video
As the [WEF]/[JB] pushes  US into the Green New Deal, people are watching how more manufactures are being moved out of this country because it is to expensive to manufacture the electric vehicles. Romney is pushing the carbon tax, Trump responds, the dumbest of all taxes. Elon Musk is now setting the stage, the information is being released and the people are now seeing how the US Gov (FBI,DHS etc.) worked with big tech to overthrow the US Gov. They made up rules to to remove the sitting President of the US off of Twitter. The fake news, corrupt politicians were all for it. Those who knowingly worked with the [DS] to overthrow the US gov are now caught in their own lies. Justice is coming and the stage has now been set. Elon is the opening act, Trump is the closing act. Enjoy the show.
---
Economy
Stellantis is a multinational automaker contracted for the electric version of the Jeep Cherokee.  Citing high costs to produce electric vehicles, on Friday Stellantis announced a decision to idle the Belvedere, Illinois plant starting on Feb. 28, 2023, and notified 1,350 workers of the layoffs.
(Via Fox) […] "This difficult but necessary action will result in indefinite layoffs, which are expected to exceed six months and may constitute a job loss under the Worker Adjustment and Retraining Notification (WARN) Act. As a result, WARN notices have been issued to both hourly and salaried employees," it said. "The company will make every effort to place indefinitely laid off employees in open full-time positions as they become available."
Today The Daily Mail is reporting that production of the electric Jeep will take place in Mexico.
 
Source: theconservativetreehouse.com
I'm sure Utah voters strongly believe in this…
Mitt Romney Comes Out in Favor of a Carbon Tax

Now that Kyrsten Sinema has become an independent, it is time for Mitt Romney to finally come out of the closet. Not as non-binary, although at this point, why not? I mean as a Democrat. Or at the ver…

pjmedia.com
Trump responded
---
Political/Rights
Despite critical acclaim and the support of big-name stars, Jordan E. Cooper's Broadway production of Ain't No Mo' is closing less than three weeks after its opening day.
The woke comedic play follows a slate of black characters, some of them drag queens, who are part of the first wave of black Americans given free passage to Africa by the U.S. government as part of a package for slavery reparations, the Hollywood Reporter revealed.
As Vulture noted, the show "grossed $120,901 last week, which is 'well below' the production's weekly running costs, and had the lowest average ticket price on Broadway."
Playwright and star, Jordan E. Cooper, posted a notice to Twitter saying that his show is being "evicted."
Source: breitbart.com
 A licensed psychtherapist who testified against laws banning so-called conversion therapy says he warned Americans about Sam Brinton, the non-binary Biden administration nuclear official who is facing charges for allegedly stealing two pieces of luggage at two separate airports.
"My colleagues and I warned lawmakers in California and Massachusetts, and the LGBT activist groups which were sponsoring him, about Sam Brinton's ever-changing story about abuse he allegedly underwent in therapy because of his LGBT attractions," Dr. Joseph Nicolosi, Jr., the therapist and founder of the Reintegrative Therapy Association, said in a statement first reported by The Daily Signal. "But nobody cared, so Brinton's testimony about his alleged experience played a key role in banning legitimate practices across the nation."
Source: dailysignal.com
Source: thegatewaypundit.com
I turned down a deal with Russia for a one on one swap of the so-called Merchant of Death for Paul Whelan. I wouldn't have made the deal for a hundred people in exchange for someone that has killed untold numbers of people with his arms deals. I would have gotten Paul out, however, just as I did with a record number of other hostages. The deal for Griner is crazy and bad. The taking wouldn't have even happened during my Administration, but if it did, I would have gotten her out , fast!
President Joe Biden's administration has drastically cut the number of illegal aliens being deported from towns and cities across the United States — some by more than 90 percent.
Twice last year, Biden's Department of Homeland Security (DHS) issued so-called "sanctuary country" orders — now being challenged in court — that ensured most of the nation's 11 to 22 million illegal aliens were not eligible for arrest and deportation by the Immigration and Customs Enforcement (ICE) agency.
Public records obtained by the Center for Immigration Studies, though, show that the Biden administration has cut deportations of illegal aliens in all but two of the nation's highest volume counties when comparing months in 2021 to the same period in 2019.
Most significantly, Biden's DHS cut deportations by more than 90 percent in four of these 50 highest volume counties: Gwinnett County, Georgia; Plymouth County, Massachusetts; Bergen County, New Jersey; and Kankakee County, Illinois. Massachusetts, New Jersey, and Illinois are all sanctuary states.
The decline in deportations for criminal illegal aliens has dropped in all local crime categories, records reveal, including a 57 percent decline in deportations for illegal aliens accused of murder, a 75 percent decline for those accused of kidnapping, a 91 percent decline for those accused of sex crimes, a 60 percent decline for those accused of sexual assault, and an 86 percent decline for those accused of burglary.
Source: breitbart.com
Wow

— Elon Musk (@elonmusk) December 12, 2022
---
Geopolitical/Police State
Barack Obama put in place many laws that changed America for the worse. 
Back in 2013, Obama changed the law that made it legal to propagandize Americans.  He was able to do this with the help of GOP RINOs.
 
Ben Swan shared this in 2018 in his Reality Check.
Obama did this through – H.R.5736 – Smith-Mundt Modernization Act of 2012.
This insane piece of legislature was backed by GOP Members in the House and Senate.  Representative Mac Thornberry from Texas helped sponsor the bill.  He was from one of the most conservative districts in the country.
In May 2022 the Libertarian Institute reported on this act.
It is also true, however, that in 2013 President Barack Obama signed into law the Smith-Mundt Modernization Act (H.R. 5736), making it legal for government-produced media—such as was broadcast overseas by Voice of America, Radio Free Europe, and other outlets throughout the Cold War—to be directed toward U.S. citizens themselves. Needless to say, such government-penned narratives spin the news so as to reflect favorably upon the United States. To understand the sheer power of the Smith-Mundt Modernization Act, it suffices to do a quick Google of the name of this piece of legislation to see how it has generated a logical quandary befitting of Orwell's Nineteen Eigthy-Four. For if it is true that the American people are being propagandized by the U.S. government through its control of the major media outlets and tech giants, then any assertion to that effect will be countered—and ultimately defeated—by yet more government propaganda.

For with the Smith-Mundt Modernization Act already in place, there are only two short steps to the complete squelching of dissent. First, the government controls the media through injecting many pro-government texts into the marketplace of ideas. This is obviously already being done, and has been unabashedly pursued since the ratification of the Act. (To dispel any doubts that this is happening, it suffices to turn on the mainstream network news.) Second, among the government-promoted ideas will now be the claim that the newly established Disinformation Governance Board does not violate the Constitution of the United States. Once lawmakers have been persuaded to believe this, then the DGB will have the power to eliminate what they themselves have identified as disinformation, including the very claim that the DGB is illegitimate. After that will follow the censorship of the texts of anyone who disagrees with the government and, ultimately, the criminalization of those who "persist" in promulgating ideas deemed "threatening" by the powers that be. The danger of all of this to free people is very real, as the plight of whistleblowers in recent years has already revealed.
Tyranny is when the government pushes propaganda on its people.  We are seeing it today.  
Source: thegatewaypundit.com
·

2018 Narrative: Far-right conspiracy theorists falsely claim Twitter shadow bans conservatives.
2022 Narrative: Of course Twitter shadow bans conservatives – it's called "content moderation."
People with active Twitter accounts while Twitter head shed was criminally engaged in rigging an election with the FBI n IC:
1. The Ayatollah
2. Child molesters
3. Drug Dealers
4. ChiComms
5. Russian FSB
Just think- if roth, vijaya, dorsey, n thr FBI had focused all their censorship efforts on combatting actual criminals- how much safer America and our children would be: #FWK
PANIC
Hey stop gaslighting me!

— Elon Musk (@elonmusk) December 10, 2022
Interesting, how so?

— Elon Musk (@elonmusk) December 10, 2022
Your house is glass

— Elon Musk (@elonmusk) December 12, 2022
I do. https://t.co/AmI1u863Si pic.twitter.com/kRgHK1tqGI

— Robert Gouveia Esq. (@RobGouveiaEsq) December 10, 2022
18 U.S. Code § 2385

 

Anonymous

 No.20

DzxUUNUWwAAqoyy.jpg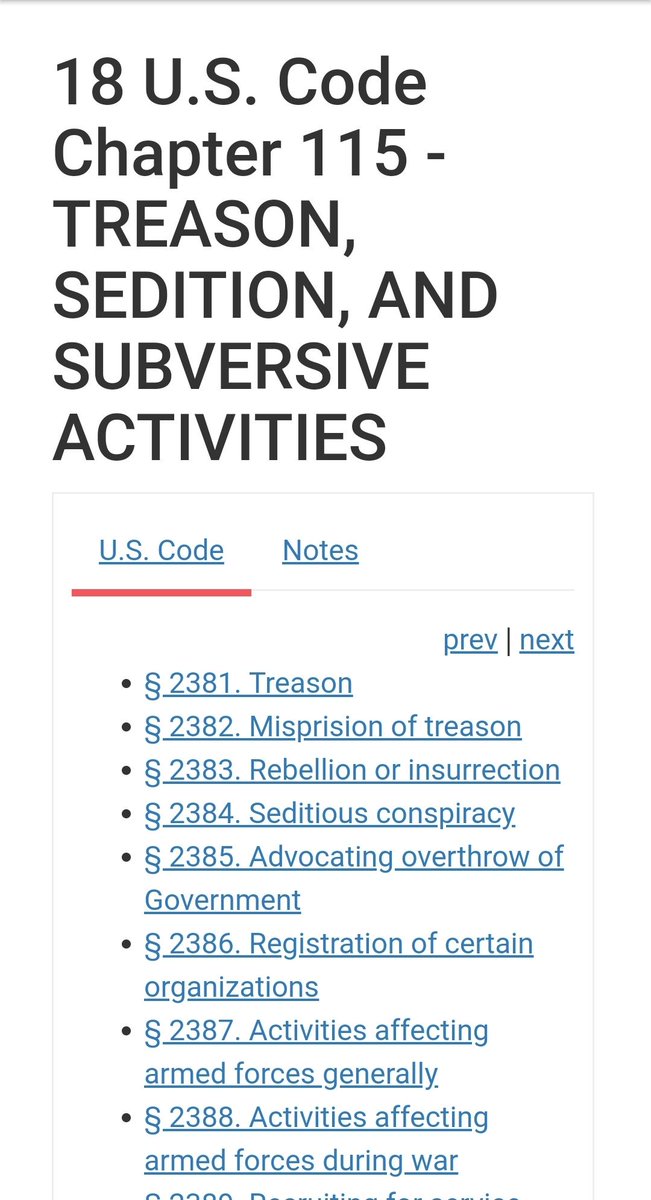 18 U.S. Code § 2385. Advocating overthrow of Government.
Whoever knowingly or willfully advocates, abets, advises, or teaches the duty, necessity, desirability, or propriety of overthrowing or destroying the government of the United States or the government of any State, Territory, District or Possession thereof, or the government of any political subdivision therein, by force or violence, or by the assassination of any officer of any such government; or
Whoever, with intent to cause the overthrow or destruction of any such government, prints, publishes, edits, issues, circulates, sells, distributes, or publicly displays any written or printed matter advocating, advising, or teaching the duty, necessity, desirability, or propriety of overthrowing or destroying any government in the United States by force or violence, or attempts to do so; or
Whoever organizes or helps or attempts to organize any society, group, or assembly of persons who teach, advocate, or encourage the overthrow or destruction of any such government by force or violence; or becomes or is a member of, or affiliates with, any such society, group, or assembly of persons, knowing the purposes thereof—
Shall be fined under this title or imprisoned not more than twenty years, or both, and shall be ineligible for employment by the United States or any department or agency thereof, for the five years next following his conviction.
If two or more persons conspire to commit any offense named in this section, each shall be fined under this title or imprisoned not more than twenty years, or both, and shall be ineligible for employment by the United States or any department or agency thereof, for the five years next following his conviction.
As used in this section, the terms "organizes" and "organize", with respect to any society, group, or assembly of persons, include the recruiting of new members, the forming of new units, and the regrouping or expansion of existing clubs, classes, and other units of such society, group, or assembly of persons.
15. #RubyFiles pic.twitter.com/gB184um8rB

— Kristen Ruby (@sparklingruby) December 12, 2022
2. 6:46 am: "The 75,000,000 great American Patriots who voted for me, AMERICA FIRST, and MAKE AMERICA GREAT AGAIN, will have a GIANT VOICE long into the future. They will not be disrespected or treated unfairly in any way, shape or form!!!" pic.twitter.com/7L252fqqK6

— Bari Weiss (@bariweiss) December 12, 2022
Under pressure from hundreds of activist employees, Twitter deplatforms Trump, a sitting US President, even though they themselves acknowledge that he didn't violate the rules: https://t.co/60PplztV4k

— Elon Musk (@elonmusk) December 12, 2022
He doesn't need to right now.
He's pushing all the anon themes directly into the forefront and if he reinstated "Qanon" before his own version of declass, this might taint the effectiveness of his red pills.
To put it simply:
When our time to shine comes, I'm sure it will be made abundantly clear.
But for the meantime, it's best to enjoy the show and stay comfy af.
We're witnessing the stage being set in ways we never dreamed of.
Let me add to this, think of the optics, if Elon brought everyone back on the Twitter platform the fake news, corrupt politicians would clog the news cycle with Qanon conspiracy theory, by keeping those who were banned off of the platform he removed all this, this has nothing to do with Q or conspiracy.
Gun rights advocates warned that a new change to the credit card industry to add a firearm and ammunition-specific Merchant Category Code (MCC) for gun stores wasn't about tracking guns necessarily, but could lead to the denial of lawful firearms purchases by law-abiding citizens.
In September, Visa, Mastercard, and American Express all said they would adopt the MCC code to categorize sales at gun shops; months later, several social media posts of alleged gun stores and customers claim they experienced card issues.
Twitter account "Battlecock Tactical" tweeted, "Federal Firearms License [gun shop] in a Facebook group shared this. Looks like the doomers accurately called how that new firearms merchant code would go down."
Battlecock Tactical's images show what appears to be a retail POS system at an FFL that reads $913.70 transaction was "declined." The error code on the merchant's computer read:
"Transaction declined: Charge declined RESTRICTED CARD Customer bank does not allow this card to be used at this type of merchant."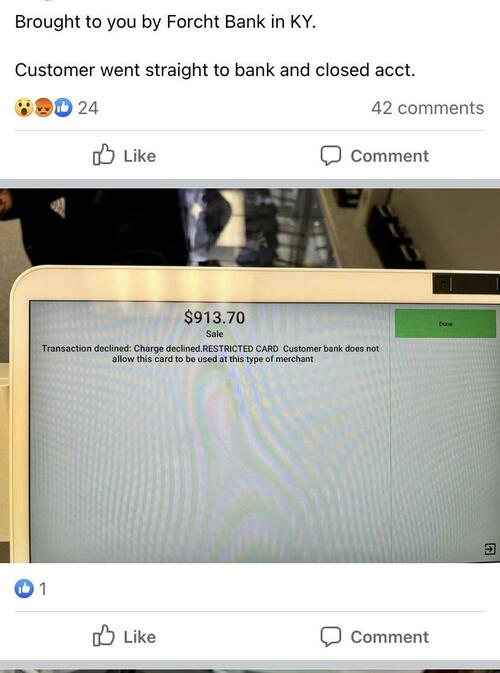 Another picture from the customer's view had the same error message.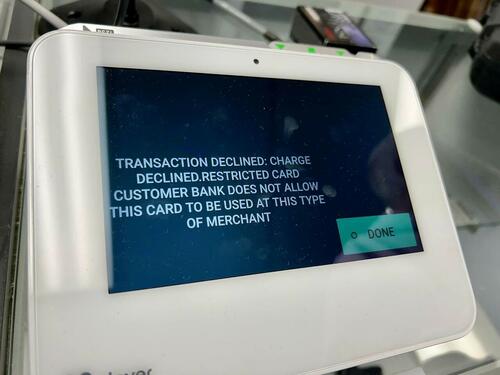 Source: zerohedge.com
---
War
North Korea preparing to test nuke – Seoul
If true, the launch would be the first nuclear test conducted by Pyongyang since 2017
North Korea is "ready" and likely to test a nuclear weapon, South Korean Prime Minister Han Duck-soo told Sky News on Monday, while acknowledging it was "hard to know exactly when" the test might occur. Still, he said, "we gather they are prepared."
While Pyongyang has not conducted any nuclear tests in years – the last took place in 2017, and to conduct one now would be viewed as a major escalation in tensions – it has launched more missiles in the last year than any other period since leader Kim Jong-un took over from his father in 2011.
Source: rt.com
---
Cyber Attacks
---
False Flags
Nassau Community College (NCC) officials briefly reinstated an indoor mask mandate for all individuals regardless of vaccination status to combat an increase in reported COVID-9 cases, according to NBC New York. Currently, the Center for Disease Control and Prevention (CDC) recommends individuals in Nassau County wear a face mask while indoors based on its "high" community level.
However, the policy was reversed after school officials held a meeting with County Executive Bruce Blakeman who argued that the mandate would have "little value.
"At this time we are monitoring the spike in COVID diagnoses and have importantly not seen a spike in hospitalizations," Blakeman tweeted on Friday. "As we have seen in the past, there is very little value in mandating masks to prevent the spread of COVID."
"After strong evidence-based discussions with the President of the College, they are withdrawing their premature decision to mandate masks,"
Source: dailycaller.com
— Clown World ™ 🤡 (@ClownWorld_) December 12, 2022
COVID Booster Mandates for Young Adults Will Cause 'Net Harm,' BMJ Study Says
Any potential benefits of the COVID-19 booster fail to outweigh the harms for young people ages 18-29, according to a peer-reviewed study published Monday in The BMJ Journal of Medical Ethics.
Researchers performed a risk-benefit assessment and ethical analysis using data from Pfizer, Moderna and the Centers for Disease Control and Prevention (CDC). They concluded that "booster mandates in young adults are expected to cause a net harm."
More than 1,000 U.S. universities and colleges mandate the COVID-19 vaccine for residential students and more than 300 mandate the booster. Students who do not comply risk disenrollment.
The authors of the BMJ study concluded universities should not enforce booster vaccine mandates.
The researchers estimated that over a six-month period, 31,207 to 42,836 young adults ages 18-29, previously uninfected with COVID-19, would have to receive a third mRNA vaccine — a booster — in order to prevent a single hospitalization.
They also anticipated there would be at least 18.5 serious adverse events among the boosted group during that time, including in males, 1.5-4.6 booster-associated cases of myopericarditis, typically requiring hospitalization.
Source:  childrenshealthdefense.org/
Dr. Death Tony Fauci says he felt very uncomfortable when Trump put him on the spot during COVID pressers, but that he felt obligated in order to correct claims that Trump was making. He also, incredibly, doubles down against HCQ.
"I couldn't stand there and be complicit in saying hydroxychloroquine works, when it doesn't."
This is exactly why Trump put Fauci there. To pull him from the shadows and into the light so that everyone could see firsthand how corrupt our health institutions were.
.@elonmusk Elon, please don't mock and promote hate toward already marginalized and at-risk-of-violence members of the #LGBTQ+ community. They are real people with real feelings. Furthermore, Dr Fauci is a dedicated public servant whose sole motivation was saving lives. https://t.co/Vgu04XMGeZ

— Scott Kelly (@StationCDRKelly) December 12, 2022
Perfectly said

— Elon Musk (@elonmusk) December 12, 2022
---
Q
HOW CAN THE JANUARY 6TH UNSELECT COMMITTEE MAKE CRIMINAL REFERRALS WHEN THEY HAVE'NT SPOKEN ABOUT, OR STUDIED, THOSE THAT RIGGED THE 2020 ELECTION, THE TROOPS NOT BEING BROUGHT IN BY PELOSI, OR NOW, THE ELECTION FRAUD DETERMINATIVELY REVEALED BY TWITTER? THESE ARE THE REAL CRIMINALS!!!
 after remaining silent for 40 days, and with increased national sentiment in strong opposition to the election fraud that happened, Jair Bolsonaro spoke to a massive crowd telling them the military would follow the constitution and determine the outcome. The certification of the election is scheduled for Monday.
It appears that Bolsonaro is telling the people of Brazil that whatever the people do, they will not suffer at the hand of the Brazilian military – it appears Bolsonaro has the word of the generals within the military to support the people and not conduct violence against them.  WATCH:
.
Source: theconservativetreehouse.com
A majority of Americans said in a new CNBC All-America Economic Survey that they don't want President Biden to run for a second term in 2024.
The survey, published on Friday, found that 70 percent of those polled said they don't want Biden to run, largely citing his age. Nineteen percent of respondents said they would support a Biden reelection bid.
Source: thehill.com
Rich Baris: Maricopa Had A "Heat Map" of Expected Republican Voters
Source: uncoverdc.com
25,000 ballots were added to Maricopa County's totals after election day.

Do you think that might explain this?

"Following Election Day, Democrat candidates won more than 50% of the votes despite only recording 17% of the turnout on Election Day."

– @ConradsonJordan https://t.co/7hubeZYEr4

— Kari Lake War Room (@KariLakeWarRoom) December 11, 2022
@KariLake has whistleblowers in her lawsuit who were part of the verification process, and they say about 300,000 votes with no chain of custody were run through the system, as well as more than 130,000 votes that have terrible voter verification.
"We believe there were hundreds of thousands of illegal votes counted and we believe our lawsuit proves it." 
Now let's just hope she gets her fair shot in court 
"This was ELECTION INTERFERENCE. THE DISINFORMATION WAS COMING FROM THE FBI AND FACEBOOK. IT WAS COMING FROM ADAM SCHIFF AND DEMOCRAT OPERATIVES. THIS WAS A VERY DAMAGING STORY TO BIDEN BEFORE THE ELECTION, AND THEY WERE GOING TO KILL IT." BOTTOM LINE: THE ELECTION WAS RIGGED & STOLEN! MIRANDA DEVINE AS INTERVIEWED BY MARK LEVIN. AMAZING!!!
The woke mind virus is either defeated or nothing else matters

— Elon Musk (@elonmusk) December 12, 2022
Exactly

— Elon Musk (@elonmusk) December 12, 2022
Easy to fool people, but it is almost impossible to convince people that they have been fooled

— Elon Musk (@elonmusk) December 12, 2022
What's scaring the hell out of the left about Elon Musk taking over Twitter is obvious. 
But the real reason that the left fears Musk taking over Twitter is that the communist left fears the American people and the world will realize that they are the major majority. 
MAGA rocks. 
 
We saw this with President Trump's record-setting election results in 2020.  He was the first President to receive over 70 million legitimate votes breaking his record for the most votes by a GOP nominee by 11 million votes.
The left doesn't want us to know that no one buys their crap. 
America loves MAGA.  The left doesn't want us to know that we are the huge majority. 
Source: thegatewaypundit.com