Setup Is Complete, Ukraine Comes Into Full View, Indictments Coming – Episode 2026
Podcast: Download (Duration: 52:00 — 55.7MB)
The elite are trying the trick in the UK, they are using polling numbers to show that Corbyn is very close to Boris Johnson. This will not work the people understand that BJ is going to hand them a BREXIT, with Corbyn they will get the same as what they had before. The key to removing the establishment is the economy, this is why Trump and the patriots are controlling the economic narrative. The [DS] fake impeachment is getting worse with each passing day, it is actually benefitting the patriots, all part of the plan. Sondland testified and he gave his opinion and what he believed, but let everyone know there was no quid pro quo, no bribery and no crime, he has no evidence that he can produce. Q dropped more bread. Ukraine unsealed indictments against certain individuals with ties to Dems. Ukraine is coming into full view, the setup is complete.
Check Out The X22 Report Spotlight YouTube Channel X22Report Spotlight
Please check Newzsentinel.com for the latest news on the economic collapse. The Sentinel Alerts are updated throughout the day. If you haven't already, go to "The People" and join the community of people who are helping each through the economic collapse.
---
Current News – 11.20.2019
Watch The X22 Report On Video
---
Economy
Though it probably wasn't convincing enough to spoil the conservatives' lead in most pre-election polling, some polls taken after Tuesday night's debate between Prime Minister Boris Johnson and Labour leader Jeremy Corbyn showed Corbyn, with a promising upswing, polling almost neck-and-neck with the PM.
According to Bloomberg, the YouGov/Sky News poll of 1,600 people gave Johnson a narrow victory, with 51% saying he won the ITV debate, while 49% said Corbyn performed best.  
Source: zerohedge.com
---
Political/Rights
The [DS] fake impeachment is a flop, the American people are now seeing it for what it is, but as Q has been telling us timing is everything, through the impeachment process people have been hearing about, Burisma, quid pro quo, Hunter Biden on the board of the directors, do you think this is a coincidence, it is not, it was the setup, it was to educate the American people, it was to show how all of those involved in Ukraine were covering up the real crime that occurred in Ukraine, today Ukraine head of burisma was indicted and the democratic party was mentioned  and others, by the way do remember the DNA test Hunter had to take because a women said he was the father of her baby, it looks like Hunter is the father
we will be talking about this a little later in this report but first lets talk about book deals, let go back to Qs post 
Q

 

!!mG7VJxZNCI

 

ID: b88760

 No.6970952

Disguised under book deals?
Q
Now we have 
Former Baltimore Mayor Catherine Pugh has been indicted on federal charges of wire fraud, tax evasion, and conspiracy to defraud the US,  
Pugh has been in hiding for 7 to 8 months, is expected to surrender to US Marshals Service in the next 24 hours before her hearing in US District Court in Baltimore on Nov. 21 at 1 pm. est.
Pugh went missing in Apr. after the FBI and IRS raided her home amid speculation, she was involved in a brazen kickback scheme involving sales of her "Healthy Holly" book series.
The former mayor of Baltimore was accused of using her position to secure agreements worth hundreds of thousands of dollars from the University of Maryland Medical System and managed-care consortium KaiserPermanente. The contracts were arrangements to purchase thousands of copies of Pugh's "Healthy Holly" books, a series written by Pugh.
AS we all know there are many others with Book deals. 
Now the fake impeachment is continuing and today Sondland testified, remember he was not on the call and he is no longer handling Ukraine, he is the Ambassador to the EU nations. And alot of what he said was his belief, his opinion etc.  Just like the other individuals that testified, but he did share some real facts that going against what the [DS] wanted.  So far the only witnesses that count are Morrison and Volker both Spoke with Trump – Were on Ukraine call – Both have firsthand knowledge of Ukraine decisions BOTH TESTIFY UNDER OATH: – No bribery/quid pro quo 
Schiff is trying to change the rules again, remember Rep Ratcliffe showed that bribery was not mentioned in 3500 pages of testimony, correction is was mentioned once, but not for Trump for Biden.  Since quid pro quo, whistleblower did not work they just swept thsoe under the rug, even though there isn't bribery they will create the idea that there was, but once again this will fail.
.@RepAdamSchiff tries to define a White House meeting as an "official act" so he can meet the elements of "bribery." It's ridiculous. If that's bribery, indict every Democrat and Republican donor who maxed out to get invited to the White House Christmas party. #ImpeachmentInquiry

— Joel B. Pollak (@joelpollak) November 20, 2019
Sean Davis responded to Joel Pollak
If a meeting is an official act, then every member of Congress should immediately self-deport to prison. Every last one of them regularly grants access—and even legislative privileges—based on campaign contributions. https://t.co/pgnl7trIHl

— Sean Davis (@seanmdav) November 20, 2019
Sean Davis continues
The phone call, the defense appropriation, the "whistleblower"—they've all been flushed down the memory hole by Democrats. Their entire case now is "Trump didn't give a foreigner a meeting." The original goalposts aren't even in the same hemisphere today. https://t.co/Abm6QZg0A0

— Sean Davis (@seanmdav) November 20, 2019
During Sonlands testimony tesified about Pence, RG and Sec Perry actions with RG and it seems these people are not agreeing with he said,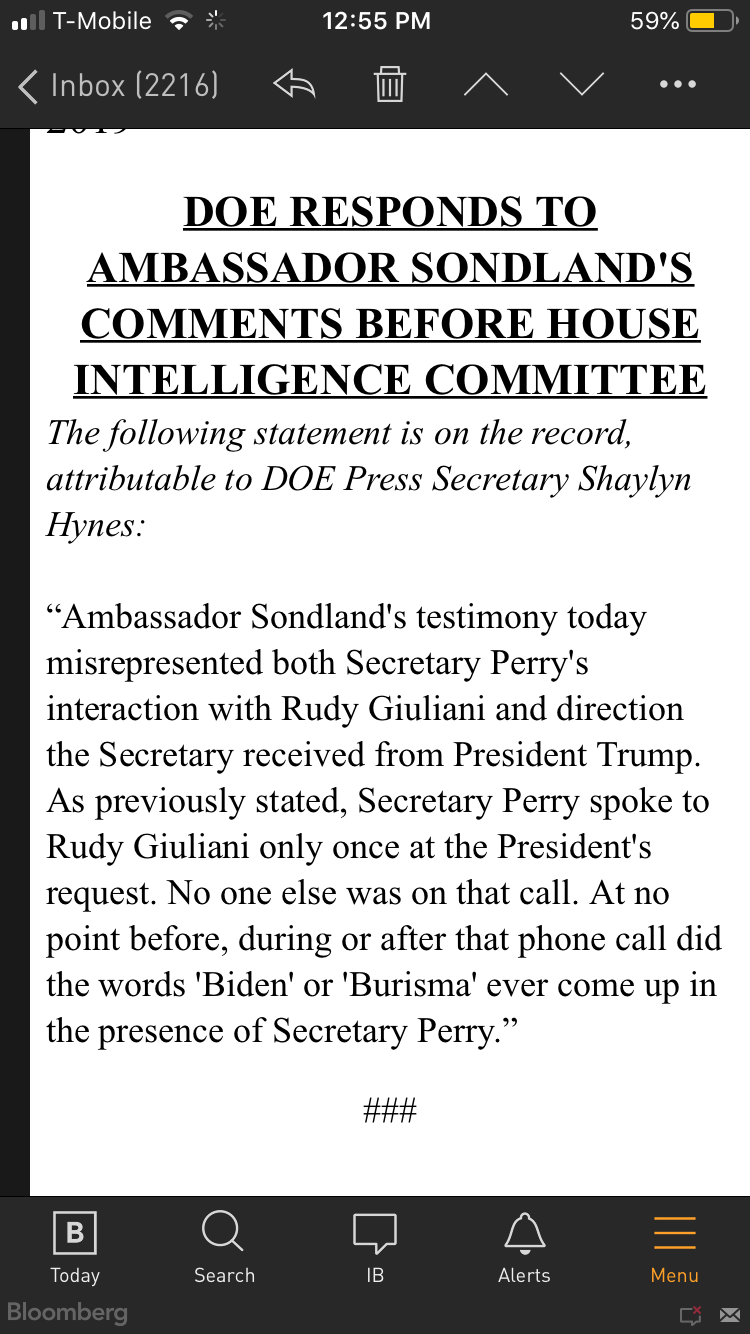 Pence chimed in
"The vice president never had a conversation with Gordon Sondland about investigating the Bidens, Burisma, or the conditional release of financial aid to Ukraine based upon potential investigations," Pence's chief of staff, Marc Short, said  "This alleged discussion recalled by Ambassador Sondland never happened."
Sondland told lawmakers in a public hearing before the House Intelligence Committee that he discussed the matter with Pence in a Sept. 1 meeting that took place in Poland.
Short said Sondland "was never alone" with Pence during the trip and added other witnesses who have testified during the impeachment proceedings said Biden never raised the investigations President Trump wanted Ukraine to undertake involving the former vice president or the effort by 2016 Democrats to dig up dirt on Trump's 2016 presidential campaign. 
Source: washingtonexaminer.com
I came into this at Volker's request. Sondland is speculating based on VERY little contact. I never met him and had very few calls with him, mostly with Volker.

Volker testified I answered their questions and described them as my opinions, NOT demands. I.E., no quid pro quo!

— Rudy Giuliani (@RudyGiuliani) November 20, 2019
And then we have the bombshell
This is the all you need, the look on the goldmans face is priceless, take a listen.
The President never told him to make a deal of any kind, right there the entire hoax falls apart. 
🔥TRUMP HITS BACK HARD 🔥

The President just walked up to the WH press with his handwritten notes from the call with Amb. Sondland:

"I want nothing.
I want nothing.
I want no quid-pro-quo.
Tell [Ukraine] to do the right thing."

"It's all over!" Trump declares on Impeachment pic.twitter.com/ca85YE5eUu

— Benny (@bennyjohnson) November 20, 2019
Take a listen to what Trump told the American people 
Boom!
Now while all of this is going on the MSM was pushing fake stories, the AP put out a tweet, this is from Trump war room
UPDATE: The Associated Press has deleted this false tweet https://t.co/AWZxMa1Axg pic.twitter.com/TRX1TvZHEZ

— Trump War Room (Text TRUMP to 88022) (@TrumpWarRoom) November 20, 2019
Remember Assumptions, beliefs, opinions, conclusions, and the ridiculous math problems of 2+2=4, do not matter, there needs to facts, evidence, they don't have any.  This is what is looks like when the MSM/DS are no longer in control, they are not the ones controlling the narrative, they can't push propaganda.  
Now we found out something very interesting today,  Devin Nunes lets the American people know that  the person who can testify about the real reason that aid was held up and the person who testified was behind closed doors and there is no transcript that has been released, this person is  Mark Sandy the worst 
Now during the testimony of Sondland Schiff took time to go to talk to the MSM, 
Shifty Schiff thinks he hasn't gotten enough camera time. So during a brief break, he's doing a press conference.

New hoax. Same swamp.

— The White House (@WhiteHouse) November 20, 2019
Wow.. this is TELLING… @RepAdamSchiff is speaking to the media in the middle of the hearing.
He would only do that if he felt he needed to do acute damage control.
If they were crushing it, Schiff wouldn't risk derailing the train.
Again…Very telling.

— Eric Bolling🇺🇸 (@ericbolling) November 20, 2019
BREAKING: DOJ OIG Releases Report Showing FBI Spends $42 Million a Year on Secret Informants – And At Least One Was a Child Sex Offender!
A report released yesterday by the DOJ IG shows that the FBI is corrupt, mismanaged and sick.  The level of FBI mismanagement under the past three FBI Directors (Mueller, Comey and Wray) is atrocious.  The FBI spends on average $42 million a year on secret informants with at least one being a child sex offender.
The Department of Justice Inspector General released a report yesterday that covered FBI activities with special informants.  The report entitled, "Audit of Federal Bureau of Investigation's Management of It's Confidential Human Source Validation Processes".
The results of the report are simply shocking!
The FBI was led by crooked cops Robert Mueller and James Comey.  Andrew McCabe was the interim FBI Director before the current FBI Director, Chris Wray, took the helm.  It is no wonder with such corrupt leadership that the FBI is in such a mess.
The IG report states that the FBI has spent nearly $300 million between 2012 and 2018 on payments to Confidential Human Sources (CHSs).
We also know that the FBI was not properly validating its CHSs.  The FBI didn't comply with its own policies and procedures for managing long-term CHSs.   
One has to wonder if the child sex  offender was the 'star witness' from the Mueller investigation that we pointed out in July, by the name of George Nader? 
 Nader was charged earlier in July for possessing child pornography and for traveling with a minor to engage in illegal sexual acts.

Nader is accused of transporting a 14-year-old European boy to the United States for sex in the year 2000….
Source: thegatewaypundit.com
Lets head down to the border
#BREAKING More than 100,000 children in migration-related US detention: UN pic.twitter.com/67PEWc4KFi

— AFP news agency (@AFP) November 18, 2019
AFP is withdrawing this story.

The author of the report has clarified that his figures do not represent the number of children currently in migration-related US detention, but the total number of children in migration-related US detention in 2015.

We will delete the story. https://t.co/p30UjEWl7u

— AFP news agency (@AFP) November 19, 2019
The realized that this was against Trump it was against Obama, can't have people seeing this.
Jeffrey Epstein Was Alone In Prison Cell Night Of Death, Feds Say, Citing Video
Federal prosecutors said Tuesday that convicted pedophile Jeffrey Epstein was alone in his prison cell the night of his death.

The prosecutors said their is video from a security camera that shows Epstein was alone the night officials said he killed himself. Epstein, 66, was found dead in his Manhattan cell in August.
"Prosecutors said Tuesday in announcing a case against two guards accused of falsifying records that video surveillance shows no one entered the area in which Epstein was housed,"
Source: thegatewaypundit.com
Didn't  they report the cameras were not working, but now there are cameras, looks like someone is panicking
Another small detail from the indictment the guards used the internet on the night JE died, they were searching for motorcycles and furniture, was this pay off money they were going to use
And then we have this. 
Prince Andrew to step down from public life amid Epstein scandal
Prince Andrew says he will be stepping down from public duties "for the foreseeable future."
"It has become clear to me over the last few days that the circumstances relating to my former association with Jeffrey Epstein has become a major disruption to my family's work and the valuable work going on in the many organisations and charities that I am proud to support," he said in a statement on Wednesday.
"Therefore, I have asked Her Majesty if I may step back from public duties for the foreseeable future, and she has given her permission."
Source: globalnews.ca
---
War
We join families of Kevin King & Tim Weeks in celebrating their release from Taliban captivity. Thanks to President Ghani for his courageous support. Let's hope this leads to more good things on the peace front like a ceasefire that will help end this long war. Proud of my team!

— Donald J. Trump (@realDonaldTrump) November 20, 2019
---
Q
1/ Did you know the Pope is in Bangkok until Friday?

I'm about to blow your mind. #Qanon pic.twitter.com/0s4fLwLt0x

— Julian's Rum 🥃 (@JuliansRum) November 20, 2019
2/ "He will speak publicly at two Masses, one of them at a stadium before a projected crowd of 50,000 where he will talk about human trafficking and the sexual exploitation of women and children"

Hmm how bout that…

— Julian's Rum 🥃 (@JuliansRum) November 20, 2019
3/ "The Pope will hold the second Holy Mass for youths at 5pm at Assumption Cathedral, with an estimated crowd of at least 7,000."

This is Assumption Cathedral: pic.twitter.com/50hTYz4EeE

— Julian's Rum 🥃 (@JuliansRum) November 20, 2019
4/ Now, remember these Q drops from Feb of last year? Q heavily implied at least 2 of the buildings in the image were clown sites.

"Clown black ops sites. Asia. Goodbye."

I did some Google mapping and finally figured out this pic was taken from The Peninsula Hotel. pic.twitter.com/EapecxHQtw

— Julian's Rum 🥃 (@JuliansRum) November 20, 2019
5/ This way I was able to get a better view of buildings that may have been cropped out of the pic Q shared. And oh…waddya know….

THE ASSUMPTION CATHEDRAL

Pic I found is on the left. Q's is on the right. Holy shit. pic.twitter.com/ZwDCgLsueE

— Julian's Rum 🥃 (@JuliansRum) November 20, 2019
6/ "What's going on in Asia?" What's the Pope REALLY doing there?

His schedule is loaded with secret meetings with royalty and local Jesuits. He leaves Saturday for Japan to continue his Asia tour.

Whatever Francis is doing, Q knows. He's obviously known for a while. #Qanon pic.twitter.com/eqDzm5mDcx

— Julian's Rum 🥃 (@JuliansRum) November 20, 2019
Btw, Assumption College, which you can see in both pics, is associated with the Cathedral. But here's what you really need to know:

It's not a university. It's a Catholic boys school for ages 2-13. Some of Thailand's richest people went to school there.

The cult. Sick yet? pic.twitter.com/lcU5nUt3VD

— Julian's Rum 🥃 (@JuliansRum) November 20, 2019
Something else to note: Prince Andrew was in Bangkok earlier this month. He was holding an awards ceremony for his "pitch@palace" org for young entrepreneurs. It was held at the Icon IMAX theatre.

Ive circled the IMAX in green below. Note the proximity to Assumption Cathedral. pic.twitter.com/bU8wIMXo9G

— Julian's Rum 🥃 (@JuliansRum) November 20, 2019
Lets move onto post 3604, Q mentions Feb 11, 2019
Back in Feb Adam Schiff tweeted the following
Step One: Hype an invented threat of an invasion of terrorists, murderers, and rapists.

Step Two: Send troops to border to address the imaginary threat.

Step Three: Justify the WALL as necessary to protect troops sent to meet the nonexistent threat.

Step Four: Executive Time!

— Adam Schiff (@RepAdamSchiff) February 11, 2019
The same month Q took the steps that Adam Schiff layed out and changed them into steps of how Schiff was going to try to remove Trump
https://twitter.com/RepAdamSchiff/status/1095051195658522625📁

Let's actually use 'FACTS':

Step One: Hype an invented threat of POTUS working w/ the RUSSIANS (disinformation campaign). Step Two: Send FBI/DOJ/CONGRESS/SENATE/C_A/NSA/INTEL/FVEY/etc… to address and investigate the IMAGINARY THREAT. Step Three: Justify the 'SPECIAL COUNSEL' and MILLIONS OF TAXPAYER DOLLARS SPENT as necessary to protect the public and our election process against an imaginary, made-up, non-existent threat (which really is) designed to protect the illegal activities of many elected officials. Step Four: Open 'new' Fake & False investigations as CHAIRMAN of the House Intel Comm to retain disinformation campaign designed to keep liberal/D Americans onboard to regain POWER & PREVENT prosecution – Executive Time!

Q
[Feb 11 2019]
"Step Four: Open 'new' Fake & False investigations as CHAIRMAN of the House Intel Comm to retain disinformation campaign designed to keep liberal/D Americans onboard to regain POWER & PREVENT prosecution – Executive Time!" – Q
Pre_public_awareness?
LIKE CLOCKWORK.
[D][1-6]
Enjoy the show!
Q
Q predicted this and it came true,  Schiff opened the investigation with the help of the DS and congress swampers, the fake impeachment  is happening in 6 House Committees led by who, the Democrats. [D][1-6]
The Clinton Foundation has lost $49.6 million since 2016.

PAY-FOR-PLAY only works when you hold a position of POWER.

It's only a matter of time.

Q
There is no STEP FIVE.
-END-
Q
Q is letting us know they only planned up to step 4 there is no step 5 to their plan. 
MPs demand Zelensky, Trump investigate suspicion of U.S.-Ukraine corruption involving $7.4 bln

Ukrainian members of parliament have demanded the presidents of Ukraine and the United States, Volodymyr Zelensky and Donald Trump, investigate suspicions of the legalization of $7.4 billion by the "family" of ex-President Viktor Yanukovych through the American investment fund Franklin Templeton Investments, which they said has ties to the U.S. Democratic Party.

At a press conference at the Interfax-Ukraine agency on Wednesday, MP Andriy Derkach announced that deputies have received new materials from investigative journalists about international corruption and the participation of Ukrainian officials in it.

"Last week, November 14, the Prosecutor General's Office (PGO), unnoticed by the media, announced a new suspicion to the notorious owner of Burisma, ex-Ecology Minister Zlochevsky. According to the suspicion, the Yanukovych family is suspected, in particular, with legalizing (laundering) of criminally obtained income through Franklin Templeton Investments, an investment fund carrying out purchases of external government loan bonds totaling $7.4 billion," Derkach said.

With reference to the investigation, he emphasized: it was money criminally obtained by the "family" of Yanukovych and invested in the purchase of Ukrainian debt in 2013-2014.

For his part, MP Oleksandr Dubinsky from the Servant of the People faction said that according to investigators, "the Yanukovych 'family' illegally obtained $7.4 billion and laundered the funds through an investment fund close to some representatives of the U.S. Democratic Party in the form of external government loan bonds."

Meanwhile, Derkach said that several facts indicate Franklin Templeton Investments' relationship with the U.S. Democratic Party.

"The son of Templeton's founder, John Templeton Jr., was one of President Obama's major campaign donors. Another fund-related character is Thomas Donilon. Managing Director of BlackRock Investment Institute, shareholder Franklin Templeton Investments, which has the largest share in the fund. It is noteworthy that he previously was Obama's national security advisor," Derkach said.

The MP said that the presidents of Ukraine and the United States should combine the efforts of the two countries to establish facts of corruption and money laundering with the participation of citizens of both countries.

What happens when the PUBLIC discovers the TRUTH [magnitude] re: [D] party corruption?
What happens when the PUBLIC discovers the TRUTH re: [FAKE NEWS] coordination w: [D] party to conceal, shelter, and protect those criminally responsible?
Define 'Projection'.
THE GREAT AWAKENING
SHEEP NO MORE
WWG1WGA!!!
Q
Q

 

!ITPb.qbhqo

 

ID: be6798

 No.70055


Blunt & Direct Time.
Adam Schiff is a traitor to our country.
Leaker.
NAT SEC.
EVIL.
Tick Tock.
Hope the $7.8mm was worth it.
Enjoy the show.
Q
Q
is saying that Schiff received some of that money, this is why Schiff is pushing to impeach Trump, this is about their crimes, they are panicking, they know whats coming
All assets

[F (foreign)+ D (domestic)]

being deployed.

by the [DS]

[Some]

who once supported POTUS

[sleepers]

have/will turn

[puppets & puppet masters]

.

A sleeper is a person who is placed in Trump's administration  who pretends to support his administration, but behind the scenes they are working against him, they are activated at the right moment to do real harm to the administration
Control of narrative = control of public opinion
Control of public opinion = power
EVERYTHING IS AT STAKE.
OLD GUARD POWER STRUCTURE BEING DESTROYED.
WASHINGTON CIVIL WAR [CONTROL THE NARRATIVE].
PREV EXPOSURE OF TRUTH.
[SELF PRESERVATION]
FIGHTING FOR SURVIVAL.
INFORMATION WARFARE.
Q
Q

 

!!mG7VJxZNCI

 

ID: fce708

 No.7243904

>>7243859
Wray is a sleeper
>>7243889
Future marker.
Q
Are you following the news today?
WHAT A BIG NEWS DAY.
These people are REALLY stupid.
This will be the END of the D party.
This will be the path forward (w/ public outrage) to JAIL many so-called 'untouchables'.
You, THE PEOPLE, have the POWER.
DOWN SHE GOES.
Q
Its funny how they never mention this during the fake impeachment hearing
@BreakingNLive just got their account suspended after posting this story: about how Ukraine is investigating Burisma and how it is linked the democratic party

Control of narrative = control of public opinion

Control of public opinion = power

How do you control the narrative?

Information warfare.

Q
A reminder: None of these hearings would have happened if organizers, volunteers, and voters hadn't worked together to win back the House majority for Democrats last year.

Let's keep working together in 2020 to hold power to account.

— Hillary Clinton (@HillaryClinton) November 20, 2019