Sleeper In Process Of Being Removed, US Military Prepares For Subterranean Combat – Episode 2280
The corrupt politicians and the [DS] are trying to stop the BREXIT, JB and NP are already projecting they will not approve a trade deal. Trump has now reached the highest job approval rating, the chaos that was created has now shown the people that Trump knows how to rebuild an economy. The Fed is now under the control of the patriots, they are doing the exact opposite of what they wanted.  The [DS] is a panic like never seen before. The Durham investigation is real, if it weren't the corrupt politicians wouldn't be trying to stop it. The virus cure is coming but vaccines will not be mandatory. Trump has now made the [DS] players anti-vaxxers and don't believe the science organization, brilliant. The US military has now ramped up its training for subterranean missions, what they are hunting.
Check Out The X22 Report Spotlight YouTube Channel X22Report Spotlight
Please check Newzsentinel.com for the latest news on the economic collapse. The Sentinel Alerts are updated throughout the day.
---
Current News – 09.18.2020
Watch The X22 Report On Video
---
Economy
Prime Minister Boris Johnson has suggested   Joe Biden does not understand Britain's negotiations with the European Union, after the Democrat intervened on Brexit on the EU's side.
 U.S. vice president butted into the Brexit talks to threaten he would block a British-American trade deal if the United Kingdom undermines the Belfast or Good Friday Agreement which brokered peace between the British state and the Provisional Irish Republican Army (IRA) terror organisation in Northern Ireland, which is part of the United Kingdom.
Source: breitbart.com
President Donald Trump reached a 53 percent job approval rating on Friday — a figure not seen since House Speaker Nancy Pelosi (D-CA) announced the impeachment inquiry last September, Rasmussen Reports revealed. Trump has not experienced a job approval percentage that high since September 24, 2019, the same day Pelosi announced the House's formal impeachment inquiry — an effort that ultimately failed:
Source: breitbart.com
Unemployment rates: Florida: 7.4 Texas: 6.8 New York: 12.5 California: 11.4 Democrats are destroying their state economies to "own Trump."
The Federal Reserve is Now the Largest Holder of the U.S. Debt, Overtaking All Other Central Banks Combined 
The US Federal Reserve has become the nation's largest holder of debt, overtaking all the world's central banks in Treasury bonds,  The amount of debt owned by the Federal Reserve is close to $4 trillion.
---
Political/Rights
"We write to ask that you open an emergency investigation into whether U.S. Attorney General William Barr, U.S. Attorney John Durham, and other Department of Justice political appointees are following DOJ's longstanding policy to avoid taking official actions or other steps that could improperly influence the upcoming presidential election," the Democrats wrote to Michael Horowitz, the Justice Department inspector general.
  Did any Republicans during the  the MUELLAR investigation do anything like this?  If they did wouldn't the Ds say it was obstruction, aren't they obstructing the investigation, this is panic
But Chris, you don't see any activity from China, even though it is a FAR greater threat than Russia, Russia, Russia. They will both, plus others, be able to interfere in our 2020 Election with our totally vulnerable Unsolicited (Counterfeit?) Ballot Scam. Check it out! https://t.co/mH3vrHWvS8

— Donald J. Trump (@realDonaldTrump) September 18, 2020
BREAKING: The White House is preparing a shortlist of candidates to replace Christopher Wray as FBI Director. came out news max
Sidney Powell is supposedly on the short list, patriots making the [DS] sweat
Q

 

!!mG7VJxZNCI

 

ID: fce708

 No.7243904

>>7243859
Wray is a sleeper
>>7243889
Future marker.
Q
Untitled.png

>>10016273
>>10016273
>>10016299
— Dumbbell33 (@dumbbell33) September 18, 2020
After Trumps presser today, not one reporter mentioned wray
In Virginia people were at the polls voting in person, 
---
Geopolitical/Police State
Greek Minister for Migration and Asylum  has claimed that people traffickers have lost as much as €100 million due to the reduction in migrants flowing into Greece.
The Migration and Asylum minister stated that Greece has seen just 12,000 migrants arrive this year, compared to 74,000 in 2019. This, he said he estimated, would have cost illegal people traffickers €100 million.
Source: breitbart.com
---
War
BREAKING: White House announces surprise meeting with Head of State from Kuwait, 11:45am EST. Followed by Press Briefing from President Trump.
---
False Flags
Biden claims Trump is responsible for every single person who has died from COVID-19:   Just look at the data. Look at the data."
During Covid 19 Donald Trump has saved over 327,802,000 lives in the United States.
CNN & rest of MSM preparing the US hitting   200k COVID deaths.  So they are celebrating when certain markers are hit.
Remember 6% of COVID deaths can be directly attributed to SARS-CoV-2 positivity,
198,000 deaths coincidentally related to COVID
vs.
11,880 deaths directly related to COVID
Watch: Joe Biden Violates Social Distancing When He Thinks He's Off Camera 
Joe Biden emphasized social distancing during his CNN town hall meeting  but when he thought he was off camera, he violated his own rule.
Biden and moderator Anderson Cooper were positioned a significant distance apart on the outdoor stage i
As Cooper went to a break, the camera panned out to show the crowd, and Biden could be seen approaching Cooper – closer than six feet – and appeared to be close enough to whisper in his ear.
Source: breitbart.com
What the MSM fail to tell you is that Biden's coronavirus adviser is the brother of Obama's old chief of staff Rahm Emanuel. Ezekiel "Dr. Death Panels" Emanuel is hardly a neutral scientist. He's a political operative. Take what he says with an antibiotic!

— Paul Sperry (@paulsperry_) September 18, 2020
Meadows calls masks a "mitigating effort" and CNN dings him for "suggesting that masks aren't designed to slow the spread of coronavirus." Not even sure what to do with this one. https://t.co/ZCidHePGAk

— Ben Williamson (@_WilliamsonBen) September 18, 2020
The Centers for Disease Control and Prevention now says that close contacts of people with Covid-19 should be tested, regardless of whether they have symptoms — reversing controversial recommendations it made last month, reportedly over the advice of agency scientists.
CDC's testing guidelines now bluntly counsel people who have been within six feet of a person "with documented SARS-CoV-2 infection" for at least 15 minutes to get screened. "You need a test," reads the latest version of the document, released Friday.
"
CALL A COP: War on Police/Blue Lives Matter Laws

Most voters believe there is a war on police in America today and want to make attacks on cops punishable as a hate crime. Blacks worry most that these attacks will make their communities less safe.

Marked crosstabs & Story Below https://t.co/q4c9ymDeX9 pic.twitter.com/ZlwcPOZ8yT

— Rasmussen Reports (@Rasmussen_Poll) September 18, 2020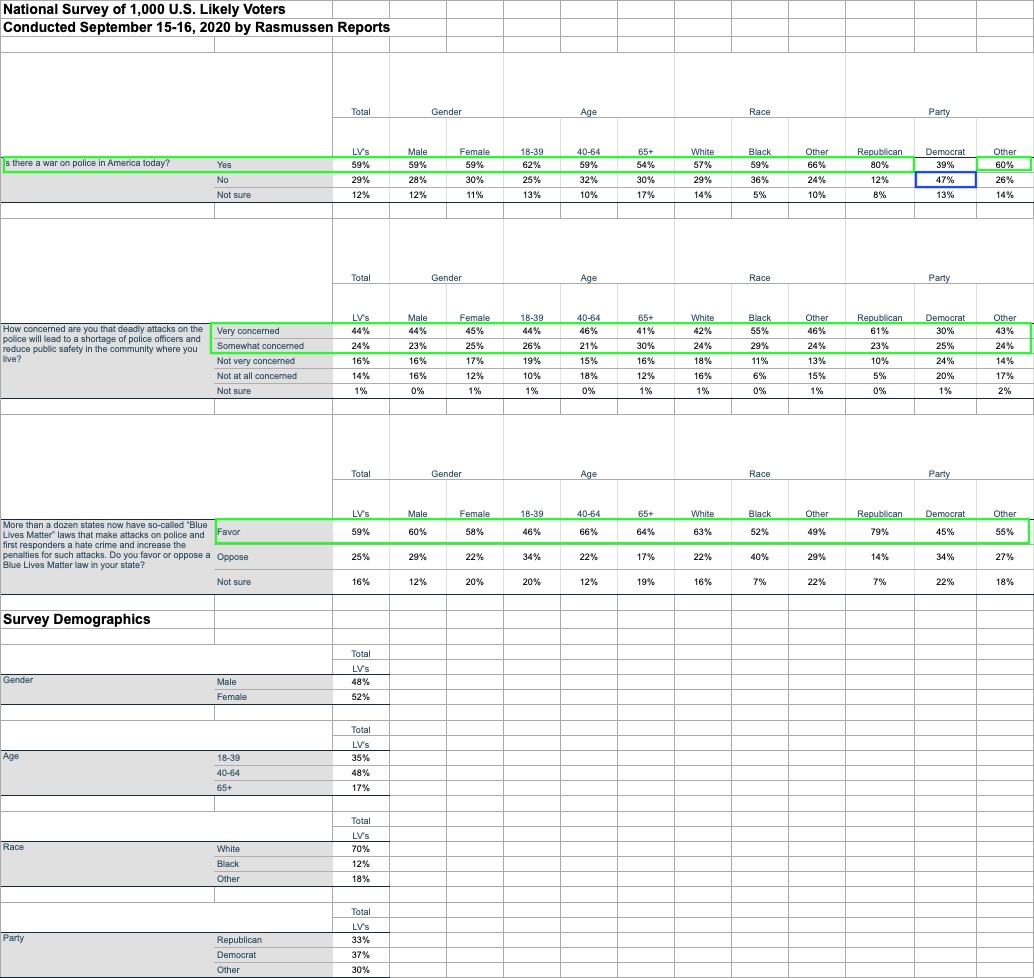 The Department of Education has informed Princeton University that it is under investigation following the school president's declaration that racism was "embedded" in the institution.
President Christopher Eisgruber published an open letter earlier this month claiming that "racism and the damage it does to people of color persist at Princeton" and that "racist assumptions" are "embedded in structures of the University itself."
Now, the Education Department has sent a formal records request as it pursues its investigation. Its main point of contention is whether Princeton has lied to the public with its marketing and to the department in its promise not to uphold racist standards, in accordance with receiving federal funds.
"Based on its admitted racism, the U.S. Department of Education ("Department") is concerned Princeton's nondiscrimination and equal opportunity assurances in its Program Participation Agreements from at least 2013 to the present may have been false," the letter reads. "The Department is further concerned Princeton perhaps knew, or should have known, these assurances were false at the time they were made. Finally, the Department is further concerned Princeton's many nondiscrimination and equal opportunity claims to students, parents, and consumers in the market for education certificates may have been false, misleading, and actionable substantial misrepresentations in violation of 20 U.S.C. § 1094(c)(3)(B) and 34 CFR 668.71(c). Therefore, the Department's Office of Postsecondary Education, in consultation with the Department's Office of the General Counsel, is opening this investigation."
source: washingtonexaminer.com
"An enemy underground site can turn the tide of battle," Pentagon official said. "We're making sure it doesn't happen to us." 
While the U.S. military continues to focus on traditional above-ground combat domains, defense officials have ramped up efforts to address the murky and increasingly threatening realm of subterranean warfare.
"Our adversaries have adapted their capabilities against our weaknesses by expanding their use of underground facilities," Army officials wrote in a November publication on subterranean operations, noting that more than 10,000 "tactical tunnels" exist around the world. 
The underground sites will be encountered more frequently during armed conflict, according to two modern war experts. 
During the Vietnam War, Viet Cong guerrillas built sophisticated, wide-ranging and multilevel tunnels that included decoy sections designed to fool the enemy. During the Cold War, North Korea built a tunnel that could allow 30,000 troops per hour to swarm into South Korea.
Pentagon official said the following – Those types of structures, are growing more prevalent and complex. And, despite being out of sight, they do not remain out of war planners' minds.
"
Source: justthenews.com
---
Q
"Hold out baits to entice the enemy. Feign disorder, and crush him."