Temps Can Be Very Dangerous To Those Who Are Targeted, Trump Just Made An Important Move
Podcast: Download (Duration: 1:33:48 — 41.4MB)
Watch The X22 Report On Video
Germany's economy is failing, this GR and GND are falling apart and the people are seeing it. The people are realizing that the [CB] is now working and they have worse off than their parents, the plan is working. The indicators are now pointing to a 2024 crash, could this be right before the election?  The [DS] and the establishment are struggling right now. Matt Gaetz did something that the people of this country haven't seen in a very long time. Everything is about to change. Trump said he is opened to being the House Secretary only if he has to. Trump is will most likely negotiate a temporary speaker until they elect the permanent speaker. The temp can be very dangerous. Trump just made an important move. The Uniparty is now exposed.
---
Economy
NEW – Germany's construction sector continued to deteriorate in September. Construction PMI falls from August's 41.5 to 39.3 amid a near-record drop in new orders. pic.twitter.com/cP2zLaucW3

— Disclose.tv (@disclosetv) October 5, 2023
Los Angeles by 2030 will be a 'Private car driven free' and then will be able to turn highways into parks…

What? Even if this were true, where would the robo taxis drive? How does this help anything if you dont own a car and there are no highways?

I dont know about you but I… https://t.co/zeyrVJd7tm

— AlphaFo𝕏 (@Alphafox78) October 4, 2023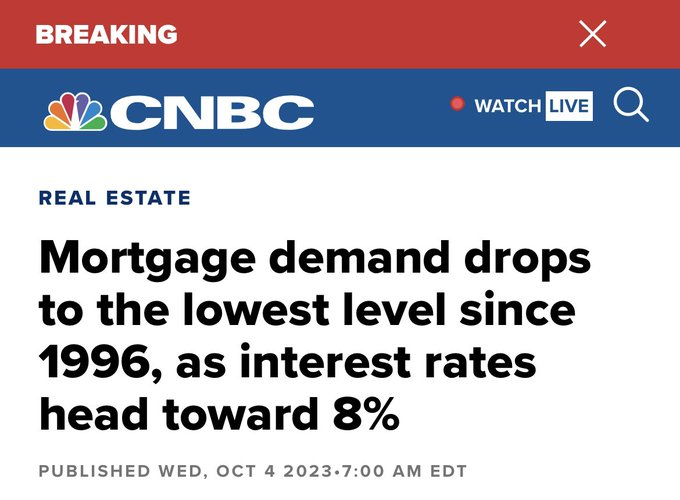 How high could interest rates go for 30 year mortgages? 10% … 12%?

Back during the 1970s they went even higher. All of the major buyers of US debt are stopped buying, and in fact, many are selling. Even our central bank, the Fed (gross), is selling US debt right now. This… https://t.co/bHko0chITN

— Declaration of Memes (@LibertyCappy) October 5, 2023
She has two parents, both public school teachers, and points out what they were able to afford in the 1990s.

Compared to what the typical incomes are today and the cost of housing, there is just no comparison. The massive inflation of the real estate market (hard assets)… pic.twitter.com/0dNYi53WnR

— Wall Street Silver (@WallStreetSilv) October 3, 2023
🚨Filling empty offices with new furniture to the tune of $3 billion is another example of why Americans are frustrated with Washington's spending problem.

Instead of buying furniture, the Biden admin should be focused on getting the federal workforce back to the office.

Read👇 https://t.co/kx8qBr08Pd

— Rep. James Comer (@RepJamesComer) October 5, 2023
Good Morning Everyone! I can't believe I am saying this but the slump in 10-year and 30-year bonds is approaching the epic drops we saw in stocks during the 2008 financial crisis and the dot-com bubble bust:

📉 10-year bonds are down 46% (vs. 49% for dot-com stocks)
📉 30-year… pic.twitter.com/2eLKqXp9Zk

— Genevieve Roch-Decter, CFA (@GRDecter) October 5, 2023
bonds are down 53% (vs. 57% for 2008 stocks) Bonds are facing their own crisis now
New data reveals a crash not seen since Great Depression could hit in 2024
If White House and Congress don't cut spending soon, the results could be catastrophic
As the White House continues to tout the alleged achievements of the president's "Bidenomics" agenda, a growing amount of data indicates that a gigantic economic crisis could be right around the corner.
Most disturbingly, one important economic indicator that's currently flashing hasn't appeared since the 1930s, during the height of the Great Depression.
Historical Context
The latest economic data shows the annual M2 money supply growth rate has been negative for the past three quarters, meaning the amount of money available is shrinking rapidly.

In the past 110 years, the only other time Americans have seen the money supply drop this sharply was in the early 1930s, during the height of the Great Depression.

There is a significant difference this time around, however. In the '30s, when the money supply annual rate turned negative, prices dropped as well. In our current situation, prices are still going up despite the collapse in the money supply. To the extent we're seeing it today, this has never occurred before.
---
Political/Rights
"According to a Judicial Watch source, President Biden has mistreated his dogs. Judicial Watch has learned he has punched and kicked his dogs."

Judicial Watch Sues Secret Service for Records of Attacks by Biden German Shepherd 'Commander' – https://t.co/cwrc0mTqsV

— Rasmussen Reports (@Rasmussen_Poll) October 5, 2023
Meet Tyler Cherry, one of the radical leftists in the Biden admin.

Tyler is the Principal Deputy Communications Director for Secretary of Interior Deb Haaland.

In 2015, Tyler posted, "Police = slave patrols."

In 2018, Tyler posted: "Abolish ICE." pic.twitter.com/YolhSN06t7

— Steve Guest (@SteveGuest) October 5, 2023
Is this the "return to normalcy" we keep hearing about from the Biden admin? pic.twitter.com/jkddZepGpm

— Libs of TikTok (@libsoftiktok) October 5, 2023
Special Counsel David Weiss dropped one of the gun charges count against Hunter Biden on Wednesday.
The move is apparently a procedural step, according to the Associated Press:
The procedural step removes a charge alleging he broke a law against drug users having guns when he bought a gun in 2018, during a period he has acknowledged struggling with addiction.

The president's son is now facing a three-count indictment focused on the same purchase that includes both gun possession and false statement charges. No new tax counts have yet been filed by special counsel David Weiss, who is overseeing the case.
Source: breitbart.com
What a waste of time and our money. What "facts" do you need to find @NYCMayor? You know the cause – Joe Biden! He opened the border. Tell him to close it and deport the illegals. https://t.co/1b6MaiBBY8

— Miranda Devine (@mirandadevine) October 5, 2023
Eric Adams in Mexico City: Would-Be Illegal Aliens Face 'Nightmare' in NYC, 
Is he going to each country to send the message that when you come into the US do go anywhere else except NYC/NY
Over the summer, the Biden administration reportedly sold off $300 million worth of wall parts for just $2 million.

Leading up to the 2020 election, Biden vowed to not build "another foot" of wall, mostly because Trump wanted one.

Yesterday, the Biden administration announced… pic.twitter.com/9icTysOj69

— Collin Rugg (@CollinRugg) October 5, 2023
 they needed to build the wall and waive federal regulations to solve the migrant crisis. Yes: wokeism is a mind virus that takes away all common sense. Yes: the government is the most inefficient and incompetent organization in the world.
President Joe Biden's White House repeatedly insists that the invasion at the U.S. Southern border is "not a crisis" but waived 26 federal laws this week so that it can resume construction of former President Donald Trump's border wall and curb the millions of illegal migrants inundating border officials.
Mere weeks after the Department of Defense was caught "quietly" auctioning off millions of dollars of barrier parts, Biden's Department of Homeland Security announced plans to rebuild a portion of the fortification separating the U.S. and Mexico.
The Biden administration's decision to simply waive more than two dozen laws without scrutiny is a slap in the face to Republicans like Trump who had to jump through judiciary hoops every time he tried to secure the Southern border.
It's also yet another major flip-flop for Biden who, even before he was elected, swore off of physical barriers as an effective illegal immigration deterrent.
Source: thefederalist.com
The regime spent a year and a half ridiculing the idea of Trump's wall.

They spent four years blocking the border wall any way they could.

When Joe Biden entered the White House, one of his first acts was immediately halting all border wall construction.

Over the summer, the…

— Charlie Kirk (@charliekirk11) October 5, 2023
 Biden administration sold off border wall materials at bargain-bin prices, just to make sure they couldn't be used. Now, Joe Biden admits that we need a border wall—as quickly as possible—waving dozens of "environmental" laws in the process. Don't expect them to give Trump any credit.
It took @JoeBiden one invasion, three years, and 7 million illegal entries to acknowledge what America First has known all along.

President Trump is right.

The border wall works.

And If we're going to protect our families, it needs to be completed. https://t.co/NXtku5KrEP

— Kari Lake (@KariLake) October 5, 2023
  immigrants, from places unknown. I will await his apology
---
Geopolitical/Police State
I'd be for that…and I'd know right where to begin.@elonmusk @TuckerCarlson @BarackObama isn't it interesting that Elon has now picked up on this. The ticks you buried inside the FBI are now visible and still out of control, but can definitely be reformed. https://t.co/XxCFCB114m

— General Mike Flynn (@GenFlynn) October 5, 2023
---
War
There are emerging reports that Turkey just attempted a drone attack on a US-occupied oil field in northern Syria on Thursday. "A U.S. jet fighter shot down a Turkish drone on Thursday after it was deemed a threat to U.S. forces in northeast Syria,
Turkey immediately claimed the drone wasn't operated by its forces, "But one American official described it as an armed Turkish drone and said that the U.S. was aware of that before it acted," WSJ continues. Unverified footage of the drone shootdown is widely circulating:
The Turkish attack was reportedly in response to a bombing in Ankara claimed by Kurdish militias. The Turkish air force then launched a series of attacks on Syria's Hasakah governorate, which has for years been held by US-backed Syrian Democratic Forces (SDF). But Turkey has long seen the SDF, which is dominated by the Syrian Kurdish YPG, as an extension of the PKK, considered by Ankara to be a terror organization.
Turkey also confirmed it conducted cross-border operations, but rejected responsibility for the drone attack:
Source: zerohedge.com
---
False Flags
The medical system in New York City is straining under the weight of the constant flow of illegals.
Hospitals and medical centers are being overwhelmed by the sheer number of people seeking treatment and it's not surprising. When you suddenly add tens of thousands more people than a system was designed for, this is what you get.
Have the people of New York had enough yet?
Inside a New York City hospital on the front lines of the migrant crisis

In the past year alone, medical centers across the five boroughs have received nearly 30,000 visits from undocumented migrants seeking medical care, according to data from New York City Health + Hospitals, which operates the city's public hospitals and clinics. About 300 new babies have been born to migrant moms during that period, most at Bellevue Hospital in Manhattan, which has seen one-quarter of the overall migrant visits.

"This has been the hardest work I've ever done," said Dr. Ted Long, a senior vice president for New York City Health + Hospitals who helps oversee the city's health response to the migrants…

source: thegatewaypundit.com
The U.S. Centers for Disease Control and Prevention (CDC) is phasing out its COVID-19 vaccination cards, according to an Oct. 4 update on the agency's website.
Considered a controversial relic of the pandemic era, the white cards once determined who could and could not participate in society, such as by barring or allowing entry to businesses, schools, and workplaces, based on whether someone had received the COVID-19 jab or not.
Now, the CDC has stopped printing the cards because the federal government is no longer in charge of COVID-19 vaccine distribution.  
"CDC no longer distributes the white CDC COVID-19 Vaccination cards and does not maintain vaccination records," the CDC states in its updated frequently asked questions.

"Contact your state health department's immunization information system (IIS). Your state's IIS cannot issue you a vaccination card, but they can provide a digital or paper copy of your full vaccination record, including your COVID-19 vaccinations."
Source: zerohedge.com
Meanwhile in the Democrat hellhole of San Francisco…
Starbucks is closing 7 San Francisco locations this month but they refuse to admit rampant crime is the reason for this decision.
The following Starbucks locations will be closed down:
— Mission and Main
— Geary and Taylor
— 425 Battery
— 398 Market
— 4th and Market
— 555 California
— Bush and Van Ness
SF Gate reported:
Starbucks' decision to close 7 San Fran stores comes after a new survey from the Golden Gate Restaurant Association found that only three percent of San Francisco restaurants say they were not victims of vandalism or property crime in the last month.
The organization spoke to 74 restaurants for the survey.
Earlier this year Nordstrom announced it is closing down its brick and mortar stores in downtown San Francisco due to high crime and lack of law enforcement thanks to Democrat policies.
Nordstrom closed both of its downtown San Fran stores.
Source: thegatewaypundit.com
---
Q
"Republicans in Arizona say problems with the 2022 election in Maricopa County prevented many people from voting. How likely is it that these problems affected the outcome of the election in Arizona?"
It's Likely-
DEM: 32%
IND: 51%
GOP: 76%
All: 55%

Link https://t.co/Vs9fj5lIBW https://t.co/RsiT4iMqAT

— Rasmussen Reports (@Rasmussen_Poll) October 5, 2023
TAKE A LISTEN
Far-left Manhattan Supreme Court Judge Arthur Engoron barred Trump and Trump's family members from transferring assets or creating new entities without notifying an appointed court monitor on day 4 of Letitia James' Stalinist show trial.
The independent court monitor, Barbara Jones, is a former federal judge appointed by Bill Clinton.
Nothing to see here, move along.
ABC News reported:
As the questioning of witnesses continues, Judge Engoron has issued an order outlining the next steps to dissolve Trump's companies in New York.

Engoron last week found that Trump and his adult sons used fraudulent documents to conduct business, and ordered the cancellation of his business certificates in the state. Trump appealed that ruling yesterday.

In today's order, Engoron asks the defendants to provide a list of "entities controlled or beneficially owned by Donald J. Trump" — and the other co-defendants — to the Hon. Barbara S. Jones, the independent monitor overseeing Trump's business activities.

Trump is also required to notify Jones of any new business applications or changes to preexisting entities.
"He called me a fraud and he valued Mar-a-Lago at $18 million. And you can't do that. It's worth probably 50 to 100 times more than that. And our corrupt attorney general, she's totally corrupt. She just wanted the publicity to run for governor, and then she failed running for governor," Trump said on Wednesday.
Trump continued, "…She (Letitia James) went after Trump because she was running for governor. That's the only reason. But she got the judge to value Mar a Lago for $18 million when the smallest house in Palm Beach is probably worth $50 million. And this is the biggest, the best anywhere in the country. There's nothing like it."
"This is election interference! They made up a fake case. They're fraudulent people. And the judge already knows what he's going to do. He's a Democrat judge," Trump said.
"In all fairness he has no choice. He has no choice. He's run by the Democrats. I know this city better than anybody knows this city. There's nobody who knows it like I do. He's a Democrat judge out of the clubhouses. He's controlled. And it's a shame. What's going on here is a shame," he said.
"Our whole system is corrupt. This is corrupt. Atlanta is corrupt. And what's coming out of DC is corrupt," Trump concluded.
Letitia James said her office is seeking to:
Make Trump pay $250 million.
Ban the Trumps from running NY businesses for good.
Ban Trump and Trump Org from buying commercial real estate in NY for 5 yrs.
We're making a criminal referral to the US Department of Justice
Source: thegatewaypundit.com
TRUMP GOES OFF: "I would rather be right now in Iowa, I'd rather be in New Hampshire or South Carolina, or Ohio.. but I'm stuck here because I have a corrupt Attorney General that communicates with the DOJ in Washington… Our whole system is CORRUPT" 🔥pic.twitter.com/ZY2uT9hoMT

— Benny Johnson (@bennyjohnson) October 4, 2023
President Trump's lawyers filed a motion seeking to delay Jack Smith's May classified documents trial until after the 2024 election.
Trump attorneys Chris Kise and Todd Blanche accused Jack Smith's prosecutors of using dilatory tactics to slow-roll the discovery process and taking too long to turn over evidence. Blanche and Kise said the May trial date makes the schedule "unworkable,"
"On July 18, 2023, the Special Counsel's Office represented to the Court that "all" discovery would be available on "day one."" Trump's lawyers wrote.
Source: thegatewaypundit.com
Trump Supporters 'Highly Likely' to Try to Kill People in 2024: Analyst
political analyst Brian Klaas warned on Sunday that a small subset of Donald Trump's supporters are "highly likely" to try and kill people ahead of the 2024 presidential election, as the former president's rhetoric continues to become more violent.
Amid his reelection campaign, Trump's public comments have also become increasingly laced with hints and outright suggestions of violence, setting off a new wave of concern from his critics. In a Truth Social post last month, Trump trashed outgoing Joint Chiefs of Staff chairman Mark Milley and suggested that his past interactions with Chinese officials amounted to "treason," further claiming that "in times gone by, the punishment would have been DEATH!" He also recently claimed that he would support legislation to allow business owners and employees to shoot shoplifters on sight in "places where there's a true breakdown in the rule of law."
Source: newsweek.com