The Attempted 'Coup' [Treason] Opens The Public Door To More Serious… – Ep. 2728
Watch The X22 Report On Video
The Fed started the ball rolling, the controlled collapse of the economy, the economy is imploding but the Biden administration are trying to make it look like the economy is doing well. The [CB] is doing exactly what the patriots want, destroying their old system, but this will not work they way think. The [DS] is panicking now and trying to get ahead of the story of Hunter Biden. Weiss is on the hunt and it seems he is ready to produce some information on the case. The attempted coup/treason opens the public door for more serious crimes. The pill needs to be easy to swallow. The narrative is now being produced. The war is not going the way the [DS] wanted it too. They are trying to bring back covid but this will fail. The people see through all this now. Election fraud evidence is being produced, who will be the first state to push this forward and decertify.
---
Economy
When retail sales are calculated, they are calculated in dollars.  Any recorded increase in retail sales that does not exceed the price increases in those items is factually reflecting a drop in units sold.
Ex. – if you sell 300 items at $1.00 each, you have $300 in sales.  If you sell 250 items at $1.25 each, you have $312.50 in sales.  Technically, you have a 4.1% increase in sales.  However, you have sold 17% less items (50 units).
 the contraction has not been recognized because massive inflation is hiding it.  That, my friends, is the painful truth and it spells big trouble ahead.
 
Furniture prices rose 0.8% in Feb, total furniture sales dropped 1.0%
Electronics and appliances rose around 1.8% in Feb, sales dropped 0.6%
Online sales items rose in price around 0.5%, sales dropped 3.7%
.
Source: theconservativetreehouse.com
There are 1.1 million fewer people working today than two years ago. The labor market is not "tight," it is broken, along with the entire economy. The evil government response to the China virus fundamentally destroyed the spirit and initiative that made the U.S. a superpower. https://t.co/9BSrPS1ApA

— Sean Davis (@seanmdav) March 16, 2022
Transportation Secretary Pete Buttigieg on  said a solution to high gas prices is "public transportation."
The Biden Regime is waging a war on rural America, truckers and driving freedom.
Americans love cars because of the freedom and independence it offers.
Pete Buttigieg says one solution to dealing with high gas prices is public transportation. pic.twitter.com/XP9IJ5IPOe

— The Post Millennial (@TPostMillennial) March 16, 2022
Source: thegatewaypundit.com
The Bank of England raises rates again in a bid to corral inflation.
The bank on Thursday lifted its key interest rate to 0.75 percent, the third consecutive increase.
Source: nytimes.com
…"the war may fundamentally alter the global economic and geopolitical order should energy trade shift, supply chains reconfigure, payment networks fragment, and countries rethink reserve currency holdings."  (LINK)
When the IMF starts saying the Ukraine conflict "may" trigger a new world order of global economic and financial systems, we should pay attention, because behind those statements is a reality that no one has mentioned yet.
  some other form of financial transaction process, is going to be needed for Russia and their allies to engage in commerce, banking and economic activity together.  Russia, China, Iran, Saudi Arabia, India, Brazil and other nations are now in a position of being forced to create another mechanism for trade and commerce.
Pay very close attention to anyone who would say "Putin has already lost", or any iteration therein.  Putin and Chairman Xi will embrace this new global financial system of independent mechanisms based on value that is separate from the U.S. dollar.
Source: theconservativetreehouse.com
---
Political/Rights
An appellate court ordered Jussie Smollett released from jail on Wednesday pending the appeal of his conviction.
The Associated Press reported:
 Source: thegatewaypundit.com
Just a friendly reminder that Jussie Smollett used the @USPS to send a death threat, to an entire studio, laced with white powder and was never charged @OIGUSPS @FBIChicago

— Rosie Memos (@almostjingo) March 17, 2022
I've been researching the record of Judge Ketanji Brown Jackson, reading her opinions, articles, interviews & speeches. I've noticed an alarming pattern when it comes to Judge Jackson's treatment of sex offenders, especially those preying on children

— Josh Hawley (@HawleyMO) March 16, 2022
As far back as her time in law school, Judge Jackson has questioned making convicts register as sex offenders – saying it leads to "stigmatization and ostracism." She's suggested public policy is driven by a "climate of fear, hatred & revenge" against sex offenders pic.twitter.com/2QUcPOnWPR

— Josh Hawley (@HawleyMO) March 16, 2022
It gets worse. As a member of the U.S. Sentencing Commission, Judge Jackson advocated for drastic change in how the law treats sex offenders by eliminating the existing mandatory minimum sentences for child porn

— Josh Hawley (@HawleyMO) March 16, 2022
Judge Jackson has opined there may be a type of "less-serious child pornography offender" whose motivation is not sexual but "is the challenge, or to use the technology." A "less-serious" child porn offender? pic.twitter.com/2bb1rZuTXW

— Josh Hawley (@HawleyMO) March 16, 2022
On the federal bench, Judge Jackson put her troubling views into action. In every single child porn case for which we can find records, Judge Jackson deviated from the federal sentencing guidelines in favor of child porn offenders

— Josh Hawley (@HawleyMO) March 16, 2022
The New York Post (NYP) editorial board slammed The New York Times (NYT) on Thursday for conceding that Hunter Biden's laptop, and the contents on it, are real.
"Forgive the profanity, but you have got to be s–tting us," the NYP wrote. "First, the New York Times decides more than a year later that Hunter Biden's business woes are worthy of a story. Then, deep in the piece, in passing, it notes that Hunter's laptop is legitimate."
Source: dailycaller.com
New: Hunter Biden and the shame of social media. https://t.co/bUoHsBRkI8 pic.twitter.com/rJggATvAqb

— Byron York (@ByronYork) March 17, 2022
During the 2nd presidential debate Biden blamed Russia for the emergence of his son's hard drive.

Hunter's emails and laptop have now been authenticated.

Seems like Biden's foreign policy decisions on Ukraine would be deserving of closer scrutiny.

And some hard questions. https://t.co/NKXqLFe2S1

— Jeff Carlson (@themarketswork) March 17, 2022
So they were all spreading disinformation and the censored the facts and truth
Fun fact: You don't need The New York Times to "confirm" stories that we've known to be true for over two years.

— Jordan Schachtel @ dossier.substack.com (@JordanSchachtel) March 17, 2022
The fake news doesn't just put out a story like this unless they are trying to get ahead of what is coming, 
Hunter Biden tells friends he has taken out a LOAN of more than $1M to pay off his tax liability: Experts say payment could help him escape being indicted on federal tax crimes
Hunter Biden took out a loan to pay his $1million tax liability, sources confirm
His associates allege Biden financed the federal tax liability in recent months, however the payment date and amount were not disclosed
Biden's tax payment was made as a grand jury in Delaware continues to investigate his international business dealings 
The probe is searching for criminal violations of tax laws, as well as foreign lobbying and money laundering rules
Source: dailymail.co.uk
T

he Justice Department is investigating Hunter Biden for foreign lobbying violations related to his overseas business dealings — likely in places such as China, Ukraine, and Kazakhstan — in addition to scrutinizing his taxes, according to a new report.
Delaware U.S. Attorney David Weiss is known to be leading a federal investigation into President Joe Biden's adult son, who denies any wrongdoing, and the New York Times reported Wednesday that the investigation, which began as "a tax inquiry" during the Obama administration, then "widened" in 2018 to encompass "possible criminal violations of tax laws, as well as foreign lobbying and money laundering rules, according to the people familiar with the inquiry."
The report said Hunter Biden's "extensive work with foreign businesses came under scrutiny from prosecutors looking into whether he should have registered with the Justice Department" under the Foreign Agents Registration Act. Hunter Biden held a lucrative position on the board of Ukrainian energy giant Burisma when his father was vice president. He also pursued business deals in China, Kazakhstan, and elsewhere during and after his father's tenure.
I
Source: washingtonexaminer.com
think about what joe biden yesterday about blackmail, taking pics of certain individuals in compromised positions, he already knew the info was about to drop
Those who provided Hunter w/ underage girls [trafficked?] _same people who also took the pictures?
If large sums of money are being paid by foreign [state] actors [to protected [in powerful positions] US pols] would they want assurances the deal will be kept?
Bribes & blackmail.
Dark secrets.
Q
How do you inform your target(s) ['business partners'] what you have?
Why would H. Biden have such material on his laptop?
How was the content *originally* received?
Email?
Why would H. Biden risk turning over such material to a computer repair shop? [contents unrestricted?]
On purpose [years of being treated poorly by 'Pop'] or simple negligence?
If such information existed on laptop why wouldn't contents be claimed?
Several attempts made to contact to claim?
Messages left?
Why wouldn't H. Biden want to reclaim *knowing* the contents on the drive could bury *Pops* & family.
A troubled life?
A troubled family?
Looks can be deceiving.
Q
Q

 

!!mG7VJxZNCI

 

ID: 0ad5ef

 No.5791828

Praying Medic
17 hours ago, @q posted on Truth Social a link to the GiveSendGo page for Mac Isaac, the computer store owner who took possession of Hunter Biden's laptop.

 

An hour later, the New York Times posted an article admitting that the laptop does, in fact, belong to Hunter Biden.

 

The admission is relevant because just a few weeks prior to the 2020 election, the entire mainstream media complex (save for the New York Post) called the laptop story "Russian disinformation."
Why did @q post a link the GoFundMe page of the computer shop owner just an hour before

 

the New York Times

 

story about the laptop went live?
Florida grooming bill, Disney has been very outspoken about it, now we know why
Disney wants your kindergartner to learn to be trans while they traffic kids. Nickelodeon Jr. ran a whole LGBTQ campaign for your kids. So did Sesame Street.

It's time to start being VERY wary of any "kids" organization. https://t.co/A6AvOfNi11

— Jesse Kelly (@JesseKellyDC) March 16, 2022
---
Geopolitical/Police State
---
War
More than 76,000 Afghan nationals brought to the United States following President Joe Biden's chaotic withdrawal from Afghanistan may apply for Temporary Protected Status (TPS) to shield them from deportation, the Department of Homeland Security (DHS) announced Wednesday, despite the fact that a watchdog report last month found some refugees posed serious security risks.
Source: justthenews.com
The British militant, who joined the ranks of the 102nd Georgian Legion of the Ukrainian Territorial Defense, spoke about the huge losses of mercenaries from the United States and Britain and was indignant at the attitude of the Ukrainian side towards them.  
Source: theduran.com 
Leaked documents give new information about the Pentagon program in biolaboratories in Ukraine. According to internal documents, Pentagon contractors were given full access to all Ukrainian biolaboratories while independent experts were denied even a visit.  
The Pentagon activities in Ukrainian biolabs were funded by the Defense Threat Reduction agency (DTRA). DTRA allocated $80 million for biological research in Ukraine as of 30 July 2020, according to information obtained from the US Federal contracts registry. The US company Black & Veatch Special Projects Corp. was tasked with the program.
The Defense Threat Reduction Agency (DTRA) awarded Black & Veatch Special Projects Corp. an $80 million contract under the Biological Threat Reduction Program (BTRP) in Ukraine in 2020.
Pentagon contractors given full access to Ukrainian biolabs
Source: dilyana.bg
---
False Flags
The media is realizing they may not get the war they wanted so they are slowly pivoting back to Covid.
Dr. Fauci on Thursday floated the idea of going back to more Covid restrictions such as mandatory masking.
"We have to be careful that if we do see a surge…that we are flexible enough to reinstitute the kinds of interventions that could be necessary to stop an additional surge," Fauci said. 
China locked down 51 million people amid a Covid outbreak in the northeastern province of Jilin and the southern cities of Shenzhen and  
Source: thegatewaypundit.com
White House Coronavirus Response Coordinator Jeff Zients announced his decision to depart Thursday, after a year of leading President Joe Biden's team.
Source: breitbart.com
---
Q
A federal judge has ordered the Justice Department to produce internal records related to its decision to prosecute Steve Bannon, a win for the former Trump adviser, who maintains that he had a sound legal basis for refusing to comply with a subpoena from the House's Jan. 6 select committee.
U.S. District Court Judge Carl Nichols said Bannon's team should be provided with Justice Department "statements or writings" that square the decision to charge Bannon with contempt of Congress with long-standing department legal opinions that say former presidential advisers are largely immune from congressional subpoenas.
Source: politico.com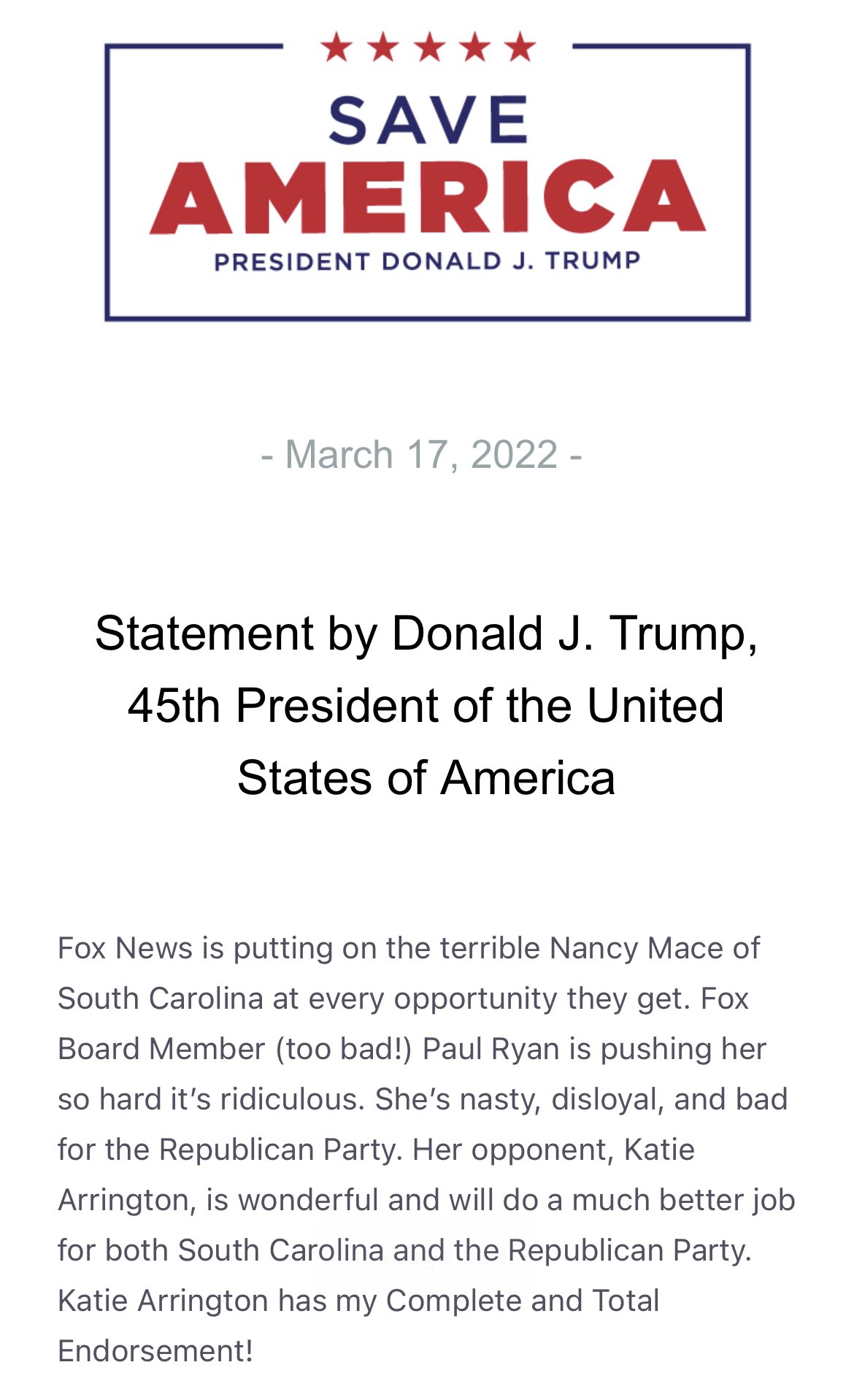 Nancy Mace used Trump to get elected in SC, then turned on him before he even left office. 
Worst of the worst. 
South Dakota's governor on March 16 signed legislation into law that bans government entities from accepting outside funding to run elections.
Gov. Kristi Noem, a Republican, said the bill was necessary because of how Facebook founder Mark Zuckerberg and his wife donated some $350 million ahead of the 2020 election to various organizations, which funneled the money to state and local officials to run the election in certain ways.
Wisconsin Special Counsel Michael Gableman asserted in a recent report that what unfolded in his state amounted to "election bribery" because cities that accepted the grants were forced to abide by conditions set by the grantee, an intermediary for Zuckerberg's money called the Center for Tech and Civic Life (CTCL).