The Call To Declas, Smear Campaign Alert, United We Stand – Episode 2046
Podcast: Download (Duration: 50:19 — 49.8MB)
UK is now pushing ahead with the BREXIT, Trump and the patriots put pressure on the EU, tariffs are coming. The WTO ruling means that the EU cannot retaliate. Trump makes phase 1 deal with China, all is going according to plan. The [DS]/MSM are now struggling to explain the difference from what they were reporting and what the IG found in regards to the FISA report. RG says he has a lot share about Ukraine, LG invites to share it all at the Senate. Q drops more bread, Huber, Durham are wrapping up their investigations, Barr is no longer the stealth bomber, smear campaign coming against him. United we stand, the patriots are in control.
Check Out The X22 Report Spotlight YouTube Channel X22Report Spotlight
Please check Newzsentinel.com for the latest news on the economic collapse. The Sentinel Alerts are updated throughout the day.
---
Current News – 12.15.2019
Watch The X22 Report On Video
---
Economy
The Office of the US Trade Representative (USTR) has published a new list of additional European products that it's reviewing in the Section 301 investigation involving the enforcement of US WTO rights.
The notice contains a list of products, initially published in April 2019 and July 2019. The extended list is weighing the idea that 100% tariffs could be seen on products from almost every country in Europe. Some of these products include whiskeys, virgin olive oil, yogurt, cheese, knives, tools, liqueurs, and dozens of other products.
The USTR's weaponization of tariffs are in direct response to pressure Europe to cut subsidies to Airbus as it alleges these unfair practices hurt Boeing.
USTR added that "the United States is initiating a process to assess increasing the tariff rates and subjecting additional EU products to the tariffs," because Europe has failed to decrease subsidies to its manufacturers.
Source: zerohedge.com
Brilliantly Played – President Trump and USTR Lighthizer Present "Phase One" U.S-China Trade Deal…
China has agreed to a $40 billion agricultural purchase from the U.S.  In exchange for that purchase President Trump will be maintaining the full 25 percent tariffs on approximately $250 billion of Chinese imports and reducing to 7.5 percent the tariffs on approximately $120 billion of Chinese imports (round two).  [Those were 15% prior to reduction]
The net difference (dropping 15% to 7.5%) is around $9 billion in tariff relief.  Additionally, the U.S. is "suspending" the December 15th tariffs pending compliance verification with the non-tariff issues and China pledges.
Beijing has agreed to allow U.S. banks access to their financial markets, reform their behavior on IP theft, stop the forced transfer of technology and, according to their *promises*, allow exclusive ownership of U.S. businesses within China.  These are the non-tariff issues.  However, these are *promises* so far, Trump and the patriots know this. 
For Now, Trump doesn't necessarily want China to comply with Western perspectives on free, fair and reciprocal trade.  He doesn't want it not to suck doing business in China.  The goal of decoupling the U.S. from China is easier if U.S. companies are abused by China.  In the bigger picture President Trump wants the U.S. companies to leave.
The decoupling is already underway, and President Trump is creating new supply chains and manufacturing opportunities within the USMCA.   
 President Trump gains a net $40 billion for U.S. farmers; and gives up $9 billion in tariffs.   
Source: theconservativetreehouse.com
---
Political/Rights
UPDATE: Democrat Rep. Van Drew Burns Pelosi, Switches Parties to GOP — After Meeting with President Donald Trump!
 
Rep. Van Drew (NJ) was one of only two Democrats to oppose impeaching President Trump in October over a perfect call to Ukraine. Van Drew is one of 31 House Democratic Representatives who represents a strong Trump district.
Jeff Van Drew is the smart one. The rest of the so-called "moderate" Democrats are opting to end their political careers by supporting the sham impeachment of President Trump.
They will not be missed.
Rep. Van Drew decided to switch parties after meeting with President Trump on Friday.
Businessman Trump pushed him over the line!
Source: thegatewaypundit.com
 Mueller investigation closed without a single American being charged with criminally conspiring with Russia over the 2016 election,   the Department of Justice's Inspector General reveals that years of major claims and narratives from the U.S. media were utter frauds.
 Plus the Nunes memo is now the truth and Schiffs counter memo was a coverup.  they receive the same intelligence, why the opposite view.  we know why, Schiff was covering, he knew exactly what was going on, now Schiff and Comey are trying to pretend they didn't know and that this should have never had happen 
Source: zerohedge.com
Schiff and Comey appeared on Fox
Schiff: Had I Known About the FISA Abuse, I Would Have Called Out the FBI
Schiff's correcting the record memo has turned out to be totally wrong (based on the I.G. Report)! A very big lie. @MariaBartiromo And @DevinNunes has turned out to be completely right. Congratulations to Devin. The Fake News Media should apologize to all!

— Donald J. Trump (@realDonaldTrump) December 15, 2019

Comey: 'I Was Wrong' — FBI's FISA Abuse 'Was Not Acceptable'
 James Comey said that the Justice Department Inspector General Michael Horowitz's report on the launch of the FBI's Russia probe's use of the Foreign Intelligence Surveillance Act (FISA) was unacceptable.
Comey said, "He's right. I was wrong. I was overconfident as director in our procedures of the FBI and Justice have built over 20 years years. I thought they were robust enough. It's incredibly hard to get a FISA. I was overconfident in those because he's right, there was real sloppiness — 17 things that should have been in the application or at least discussed and characterized differently. It was not acceptable, so he's right. I was wrong."
He added, "Sure, I'm responsible, I was overconfident as director in our procedures, and it's important that a leader be accountable and transparent. If I were so director, I'd be saying exactly the same thing that Chris Wray is saying, that we are going to get to the bottom of this because the most important question is, is it systemic? Are the problems in other cases?"
Source: breitbart.com
So now Comey's admitting he was wrong. Wow, but he's only doing so because he got caught red handed. He was actually caught a long time ago. So what are the consequences for his unlawful conduct. Could it be years in jail? Where are the apologies to me and others, Jim?

— Donald J. Trump (@realDonaldTrump) December 15, 2019
As bad as the I.G. Report is for the FBI and others, and it is really bad, remember that I.G. Horowitz was appointed by Obama. There was tremendous bias and guilt exposed, so obvious, but Horowitz couldn't get himself to say it. Big credibility loss. Obama knew everything!

— Donald J. Trump (@realDonaldTrump) December 15, 2019
'Tell us what you found': Lindsey Graham invites Giuliani to testify about Ukraine trip in Senate
Sen. Lindsey Graham welcomed the notion that President Trump's personal attorney Rudy Giuliani could appear before the Senate Judiciary Committee to share his knowledge on Ukraine.
"Rudy, if you want to come and tell us what you found, I'll be glad to talk to you,"
"We can look at what Rudy's got and Joe Biden, Hunter Biden, and anything else you want to look at after impeachment," he continued.  
Source: washingtonexaminer.com
Lindsey Graham was activated, and if LG is asking RG to testify it is time for people to learn the truth about Ukraine and I sure there is a lot more than just Biden. 
RG tweeted out the following
In my next thread of tweets I will be sharing some of the evidence I have garnered through hundreds of hours of research. Turn notifications on & stay tuned.

— Rudy Giuliani (@RudyGiuliani) December 15, 2019
Supreme Court Will Take Up Trump Financial Records and Tax Cases – Consolidated All Cases and Granted Writ… Posted on December 13, 2019 by sundance
 
As we expected the Supreme Court has granted the petition for a writ of certiorari and will hear cases related to attempts to gain President Trump financial records and tax filings.
The Supreme Court has issued a stay upon all lower court action and consolidated the cases into one writ.  The court will hear arguments in March and release a ruling later in the summer of 2020.
The underlying House case has several defects.
Attorney Ristvan previously provided a good encapsulation of the problems for the House that explains why President Trump could likely win the case:
House Oversight is one of three committees that 26USC§6103(f) requires the IRS to turn over individual returns "upon request".

They requested (PDJT taxes for 6 years 2013-2018) long before Pelosi announced her impeachment inquiry, way before the House vote on same, to which Pelosi said Sunday, (paraphrased) "We haven't decided to impeach. We are only inquiring about it."

The 'upon request' is not as absolute as it seems. The request must still be predicated on a legitimate legislative purpose. SCOTUS has held (I skip the rulings, since previously commented on here many months ago) that there are only two valid purposes, both constrained to legislative powers expressly granted by A1§8.

1. An inquiry into making, repealing, or amending an A1§8 law.
2. Oversight of executive administration of an existing law.

With respect to (1), a legitimate legislative purpose would be reviewing real estate tax law for possible changes. BUT then, the request should have come from Ways and Means (Neal) where tax laws originate. AND, it should have included requests for tax returns from other big real estate developers also. Singling out only PDJT is a fatal defect to this purpose.

With respect to (2), after Nixon/Agnew the tax code was amended to require a special IRS audit of annual POTUS and VPOTUS returns, with the results held in the National Archive. Reviewing those special audits by IRS would be a proper Oversight and Reform legislative purpose, BUT ONLY for 2017-2018 after PDJT was inaugurated. The earlier 4 years demanded are a fatal defect to this purpose.

Both these valid points were raised by President Trump and were already on their way to SCOTUS. Now the committee is trying to 'cure' these fatal request defects by claiming the returns are necessary for impeachment. This raises four new issues where PDJT can also win.

1. Impeachment is not a legislative purpose within A1§8.
2. Articles of Impeachment have historically been the the province of Judiciary, NOT Oversight.
3. The demand was made BEFORE the impeachment inquiry unofficially started and cannot be retrospectively cured.
4. No tax 'high crimes of misdemeanors' have even been alleged. Impeachment fishing expeditions are unconstitutional.

  this case has the potential to set a major constitutional precedent about POTUS harassment via political impeachment.
---
War
President Donald Trump is preparing to announce the withdrawal of   U.S. troops from Afghanistan,  expect some type of event to happen to try to stop this. 
Late Saturday WikiLeaks released more documents which contradict the US narrative on Assad's use of chemical weapons, specifically related to the April 7, 2018 Douma incident, which resulted in a major US and allied tomahawk missile and air strike campaign on dozens of targets in Damascus.
The leaked documents, including internal emails of the Organization for the Prohibition of Chemical Weapons (OPCW) — which investigated the Douma site — reveal mass dissent within the UN-authorized chemical weapons watchdog organization's ranks over conclusions previously reached by the international body which pointed to Syrian government culpability. It's part of a growing avalanche of dissent memos and documents casting the West's push for war in Syria in doubt (which had resulted in two major US and allied attacks on Syria).
This newly released batch, WikiLeaks reports, includes a memo stating 20 inspectors feel that the officially released version of the OPCW's report on Douma "did not reflect the views of the team members that deployed to [Syria]". This comes amid widespread allegations US officials brought immense pressure to bear on the organization.
RELEASE: Third batch of documents showing doctoring of facts in released version of OPCW chemical weapons report on Syria. Including a memo stating 20 inspectors feel released version "did not reflect the views of the team members that deployed to [Syria]"https://wikileaks.org/opcw-douma/
3,022 people are talking about thi
Source: zerohedge.com
---
Q
EASvgYZXsAAYM8g.jpg

>>7505194

Fake.

Sometimes silence is necessary in order to protect select 'public' releases.

B2 (BB) 'public' statements past week?

Durham 'public' statements past week?

Durham start. 

October 28, 2017.

Q start. 

  October 28, 2017.

Did you learn (4) FISAs last week re: POTUS?

Non_public prior?

Cruz_FISA public soon?

Q
Someone was posting on the Qresearch board saying that a huge data dump was coming. Those putting out this message made it seem like Q was doing this, this is fake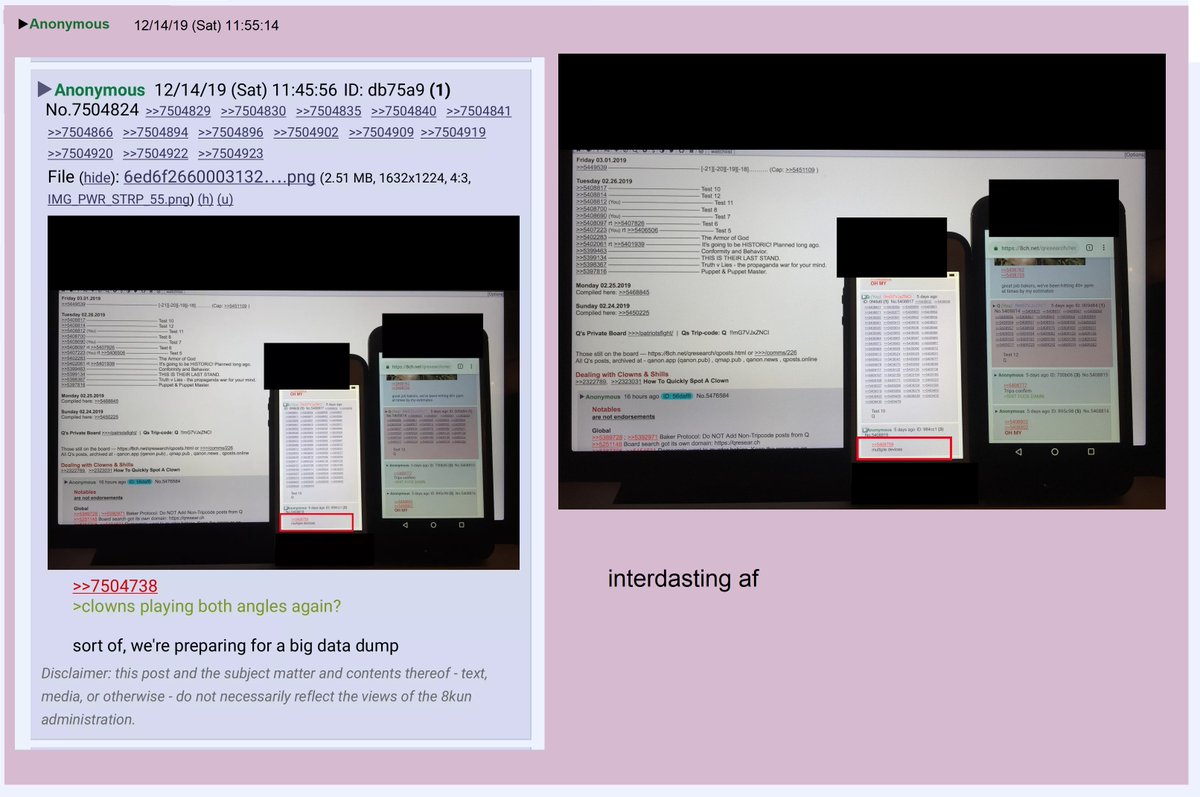 Q went silent while the IG FISA report was released:  
AG Barr confirmed as stealth bomber , Q refers to BB using B2  .
Bill Barr is some of his public statements signaled that he is ready to drop some information
When a B2 bomber is no longer stealth (think public statements made last week) what must that signal?
Planned/coordinated attacks on BARR coming [smear campaign].
Public opinion is important.
Information warfare.
A Traitor's Justice.
Q
Q is letting us know that  Barr is no longer a stealth bomber. He is still a bomber but he is no longer stealth, this is why the DS/MSM has started the smear campaign and it will intensify, public opinion is important and we will need to produce facts to counter the MSM. Information war
an anon posted the following
>>7505968

Did you learn (4) FISAs last week re: POTUS?

Non_public prior?

——

Aug 31, 2018Manafort

Papadopoulos

Page

Flynn

——

o7
 IG memo states start of Crossfire Hurricane was 31 Jul '16, but it seems that it started earlier than this date. Looking at  Strzok & Page text messages  Dec '15.
 Durham will have evidence that Cross fire hurricane started earlier, we are all ready getting information from Carter Page that they started investigating him back in March of 2016
The FISA's for Manafort, Flynn and  Papadopoulos have not been made public. These and many other things will be made public when Barr declassifies  
We get a lot of interesting people posting as anons… 21 minutes later Laura Ingraham says 'farce' on her show… take a listen

Scope and size far greater than you can imagine.

I guess there are lot more people on the boards that we thought

Q
B2.jpg

. #QAnon "FISA brings down the House. #Q take a listen to bill barr

When does the B2 drop the FIRST BOMB?

Bill Barr fit into

[8]

spaces?

Reconfig graphic.

Knowledge is POWER.

Q
Go back when Whitaker was the acting AG we all thought that he was the stealth bomber, but now we see BB is and BB name fits in the 8 spaces. 
D6ii3R0XoAYmSlS.png
WE have not heard anything about Huber, BB confirmed that he was investigating HRC email, and he is almost ready to wrapup, just because you don't hear leaks and its quiet it doesn't mean that an investigation is not happening. Take a listen BB make the confirmation about Huber
Month/day 'Durham' initiated?
Month/day 'Q' public campaign initiated?

Q campaign and Durham's started on October 28, 2017.

How many coincidences before mathematically impossible?

It was over before it began.

Q
>>7509863

What if other AG equivalent(s) in foreign countries are also currently investigating use of their intel apparatus for illegal purposes?

WAS THE CoC FOLLOWED?

Huber.

DOJ plane(s).

CF.

Q
Other countries AG are investigating for illegal purposes, the Chain of Command was not followed, 
Remember when planes landed in Arkansas
Mystery DOJ 757 spotted at Little Rock Airport sparking hopes that DOJ HQ finally is moving against Clinton Foundation
A Boeing 757 jet registered to the Department of Justice was spotted at Little Rock Airport, reportedly loading boxes similar to those used for storing evidence, sparking speculation that a new phase in the investigation into the Clinton Foundation, located in the Arkansas capital, is underway.  John Basham tweeted twice, first about the airplane's presence at Little Rock, and later on its flight path and registration information:
Yesterday 8/8/18 The @TheJusticeDept had a Boeing 757-223 tail number N119NA in Little Rock, AR. A local radio station reported #DOJ employees were loading boxes of documents into the plane. Important to note @ClintonFdn located there… Thoughts?#MAGA #QAnon #WWG1WGA
>>7509907

It's scary just how good you guys are!

ELNpjHsWkAIDJCo.jpg-large.jpg
This pic is from the Hotel Antwerp Billard Palace in Belgium
https://www.hotels.com/ho97522368/?pa=1&tab=description&ZSX=0&SYE=3&q-room-0-children=0&q-room-0-adults=2#:WO
Adam they didn't buy your SHITT! Angry Constituents Fire back at Adam Schiff in California over his abuse of power!

FAKE NEWS hiding the TRUTH?

"Knowingly."

We, the People.

Enjoy the show!

Q
The MSM is not reporting on how the people do not agree with this impeachment, Rs, DS, Independent it doesn't matter it goes against he constitution, the rule of law and due process, the DS/Dems have been exposed and the MSM is omitting this and not showing any of it to the public.
In my next thread of tweets I will be sharing some of the evidence I have garnered through hundreds of hours of research. Turn notifications on & stay tuned.

Worth following.

Senate testimony next?

Lindsey Graham invites RG to testify about what he learned in Ukraine

#FactsMatter

Q
https://www.youtube.com/watch?v=ponkMA8ta2M📁 [11:50] [AS]

memo FALSE.

If

[AS]

was privy to GANG OF 8 classified material would he not know the same FACTS (TRUTH) as NUNES/others?

"Knowingly."

OP activity pre_July 2016?

Why is this relevant?

Worth watching from

[11:50]

to end.

#FactsMatter

Q
Senator Kennedy asks President Trump to Declassify FISA Application…
The original requests to declassify the Carter Page FISA application came in January 2018 as a result of the Nunes memo.   A classified and heavily redacted version of the application was released July 21st, 2018.  A month later, in August 2018, Congress again requested the Trump administration to declassify the document(s).
 
In March 2019, after the Special Counsel finished his investigation, a now minority in congress again formally asked President Trump (3rd time) to declassify the FISA application.
On May 23rd, 2019, President Trump announced he was giving Attorney General Bill Barr the authority to declassify the FISA application, timed to support the IG investigation:
Today, Senator John Kennedy (R-LA), again asks President Trump to declassify the FISA application.  This is the fifth request from congress:
Source: theconservativetreehouse.com
3680 was a duplicate post
THIS is FABULOUS We're mad as hell & we're NOT going to take it anymore! #QuidProJoe getting called OUT! "Son of a Bitch he got Fired, right Joe?"

THE GREAT AWAKENING.

Q
Boris Johnson's Conservative Party Secures a Landmark Victory in the U.K. Election

National pride.
Independence.
We, the People.
Welcome to the Party.
WWG1WGA!!!
Q
>>7515215

God Bless you POTUS and Q! You saved our nation and our children's future.

We are all equal in this fight.
No one person is above another.
"Put on the full armor of God, so that you can take your stand against the devil's schemes."
God bless you.
United We Stand.
Q