The Hunt Is On, Durham Is Let Loose, [CF] Comes Into Focus – Episode 2285
Nothing can stop this recovery, the UK is seeing a bounce back, as soon as the lockdown rule was dropped, what happened, retail started to jump back, same thing will happen here in the US. The number of people who are filing first time unemployment is continually dropping. Housing market is in a V recovery with new homes sales bouncing back. The foundation is being built, the battle continues, watch the market and gold.  The plan is now coming together, the [DS] has taken the bait, they are trapped there is no way out. They are planning chaos right after the election, they have already projected what they are going to do. Durham is let loose, the [CF] comes into focus. The hunt is on, get ready for October.
Check Out The X22 Report Spotlight YouTube Channel X22Report Spotlight
Please check Newzsentinel.com for the latest news on the economic collapse. The Sentinel Alerts are updated throughout the day.
---
Current News – 09.24.2020
Watch The X22 Report On Video
---
Economy
As the U.K.'s lockdown measures were lifted, consumers went out shopping for various products, including home-related goods like sofas. As a result, U.K. retail sales grew in September at their fastest rate in 18 months,
"The latest results suggest that the recovery in retail spending over the summer months has continued into September, 
Source: paymnts.com
---
Political/Rights
 Senate report  shows former Secretary of State John Kerry lied to reporters when asked whether he was aware of former Vice President Joe Biden's son serving in a lucrative board position for a Ukrainian energy company.
"I had no knowledge about any of that. None. No," Kerry said in December last year at the height of President Donald Trump's impeachment process, which shed light on the Biden family's conflicts of interest in Ukraine.
The new joint report out from the Senate Homeland Security and Government Affairs Committee with the Senate Treasury Committee, however, shows otherwise.
According to congressional investigators, Kerry's Chief of Staff David Wade briefed Kerry on press inquiries specifically related to Hunter Biden's arrangement of recently joining the board of the Ukrainian energy company Burisma. Records show Hunter Biden raked in upwards of $50,000 a month from serving on the board despite no prior experience in the industry.   Hunter Biden was being compensated far higher than board members on the leadership of larger corporations in the same field.
Wade told the committee investigators that he relayed to Kerry that the secretary's stepson, Christopher Heinz's, business partners Hunter Biden and Devon Archer both joined the board of Burisma but that Heinz had refrained from getting involved with the company. This is the exchange
Question: What was Secretary Kerry's reaction to you informing him of these news inquiries about Mr. Heinz and the additional information regarding Mr. Archer's [and] Mr. Hunter Biden's connection and involvement with Burisma?

Wade: He knew nothing about it.

Question: So he learned about this information from you?

Wade: I believe so, yeah.
Separately, Senate officials noted, State Department officials forwarded articles to the secretary with headlines, "Biden's son joins Ukrainian gas company's board," "Biden's son joins Ukrainian gas producer board," and "White House says no issue with Biden's son, Ukrainian gas company."
Source: thefederalist.com
Senator Ron Johnson has requested information from the attorneys of Hunter Biden and Devon Archer
"We have sent an email to both Devon Archer and Hunter Biden's attorneys requesting information,"
Source: justthenews.com
🚨 #BREAKING: @Jim_Jordan sends new letter to FBI Director Christopher Wray demanding answers as to whether the FBI is investigating Hunter Biden's foreign dealings. pic.twitter.com/3MuhlTOrWP

— House Judiciary GOP (@JudiciaryGOP) September 24, 2020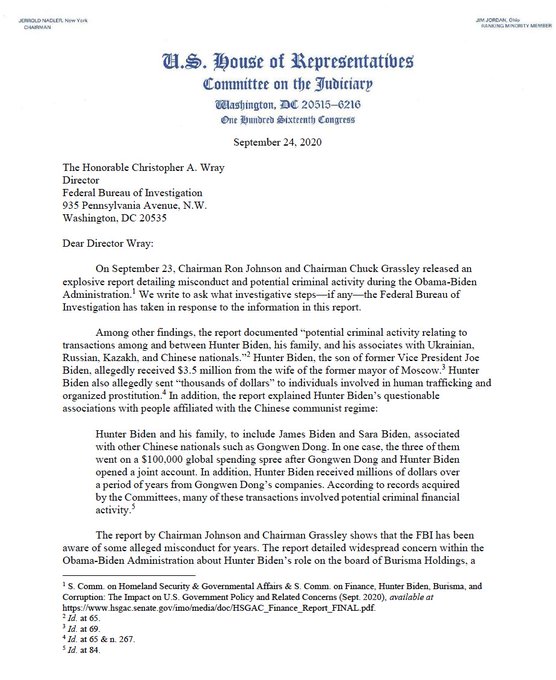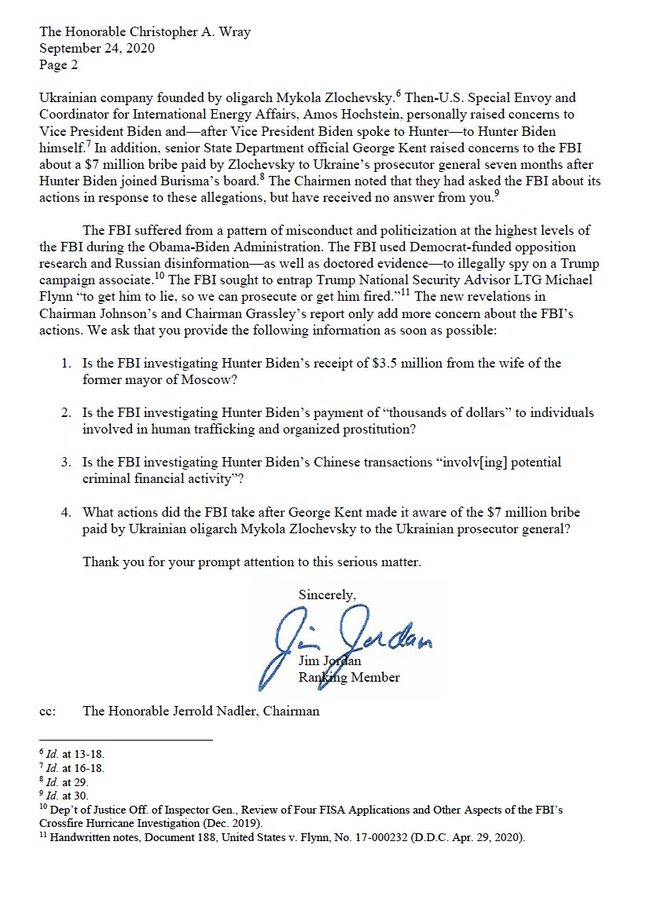 When they thought they had me for something much less significant than direct payments from an associate of Vladimir Putin & direct links to human trafficking/prostitution in Russia, I was front page news for weeks on end but the Bidens get a pass for their corruption as always! https://t.co/7CuweRVYg5

— Donald Trump Jr. (@DonaldJTrumpJr) September 24, 2020
This is how democracy dies.

A president so desperate to cling to power that he won't commit to a peaceful transition of power.

That he seeks to throw out millions of votes.

And a Republican Party too craven to say a word.

But we will fight back. America belongs to the people. https://t.co/mIVjh78Xk9

— Adam Schiff (@RepAdamSchiff) September 24, 2020
Hillary Clinton says Biden should not concede the election 'under any circumstances'
Hillary Clinton told Joe Biden not to concede "under any circumstances" if Donald Trump wins on Election Night.
But remind me again how Trump is the one who is a threat to the "peaceful transition of power"
This is projection 101, remember the 2016 election, they asked him the same question and every since he won the election has the MSM, DS, Corrupt Politicians every accepted him as president
So What does this mean, if the DS/Corrupt Politicians it will not be peaceful,  they will push the riots as hard as possible.
Trump visited RBG and he was booed
And the Demons are screaming #BallsOfSteel Obama didn't go to Scalia's funeral. #TheMoreYouKnow pic.twitter.com/wwh6YaM0hD

— Karli 🇺🇸 (@KarluskaP) September 24, 2020
Christopher Wray: FBI has not seen evidence of national voter fraud effort by mail
TAKE A LISTEN
  Luzerne County District Attorney Stefanie Salavantis, the Office of the United States Attorney along with the Federal Bureau of Investigation, Scranton Resident Office, began an inquiry into reports of potential issues with a small number of mail-in ballots at the Luzerne County Board of Elections.
Since Monday, FBI personnel working together with the Pennsylvania State Police have conducted numerous interviews and recovered and reviewed certain physical evidence. Election officials in Luzerne County have been cooperative. At this point we can confirm that a small number of military ballots were discarded. Investigators have recovered nine ballots at this time. Some of those ballots can be attributed to specific voters and some cannot. All nine ballots were cast for presidential candidate Donald Trump.
Our inquiry remains ongoing and we expect later today to share our up to date findings with officials in Luzerne County. It is the vital duty of government to ensure that every properly cast vote is counted.
Source: breaking911.com
---
Geopolitical/Police State
The social media giants — Facebook, Google's YouTube, and Twitter — have, under pressure from the advertising industry, agreed to a set of "common definitions" for allegedly "hateful" and "harmful" content and to "harmonize" reporting standards for such content across the industry.
This agreement amongst the Masters of the Universe means that the top social media platforms will no longer differ significantly from each other on hate speech enforcement. If you've been censored for "hate speech" on Facebook, expect to be censored on all the other platforms as well.
Source: breitbart.com
---
False Flags
  anttifa-BLM mob set off the Mother-of-All-Molotov Bombs in downtown Portland.
BLM-Antifa has been rioting in Portland for over 100 straight days.
This happens while clown show Mayor Ted Wheeler looks the other way.
 
Mayor Ted Wheeler posted a tweet denouncing the Proud Boys from assembling in his city.
Of course, it is their constitutional right to assemble in public.
Mayor Wheeler says, "Violence has no home in Portland."
What a joke!
Source: thegatewaypundit.com
Protestors are now going restaurant by restaurant to chant at diners on Beach Dr. in St. Pete. A lot of diners yelled back, starting multiple confrontations.

This one was the most significant. Protestors took over a couple's table. Not sure why they were targeted specifically. pic.twitter.com/dzLM7KuCW9

— Josh Fiallo (@ByJoshFiallo) September 24, 2020
Director Wray: "ANTIFA is a real thing. It is not a fiction. Now, we have seen organized tactical activity at both the local and regional level. We have seen ANTIFA adherents coalescing and working together in what I would describe as small groups and nodes…"  
"…We have a number of predicated investigations into some anarchist violent extremists who operate, some of whom operate through these nodes and subscribe to or self identify with anarchist extremism including ANTIFA…"  
"….and we will not hesitate, will not hesitate to aggressively investigate that kind of activity. So we're going to be looking at, and we have been looking at, their funding, their tactics, their logistics, their supply chains and we're going to pursue all available charges."
Remember when Trump tweeted this out, 
The United States of America will be designating ANTIFA as a Terrorist Organization.

— Donald J. Trump (@realDonaldTrump) May 31, 2020
It's Time
The Florida Attorney General  ordered an investigation into Mike Bloomberg for pledging $16 million to help convicted felons vote in the November election.
This comes after a request from Republican Governor Ron DeSantis to review the "recent allegations" found in a WaPo article.
Billionaire and failed presidential hopeful Michael Bloomberg raised $16 million to help pay the fines for 32,000 black and Hispanic felons so they can vote for Joe Biden in the 2020 election.
Federal law makes it illegal to pay for or receive money for voting.
Florida Gov DeSantis and Florida AG Ashley Moody agree!
Source: thegatewaypundit.com
---
Q
Q

 

!!Hs1Jq13jV6

 

ID: e88da5

 No.10762509 

NEW
President needs to say THIS in every speech. We know@CNN
and@MSNBC
will NOT tell you this COVID truth
The US govt last week updated the survival rates (i.e., IF infected) for Covid19:
Didn't see it reported much.
cdc.gov/coronavirus/20
The World is Waking Up.
Virus or Election?
Q
Q

 

!!Hs1Jq13jV6

 

ID: 4cf122

 No.10770890

NEW
b7b5b89d92192ab9ba517b1e4591b96afaf8f1f4fa167fcf057f29dd09d3313a.png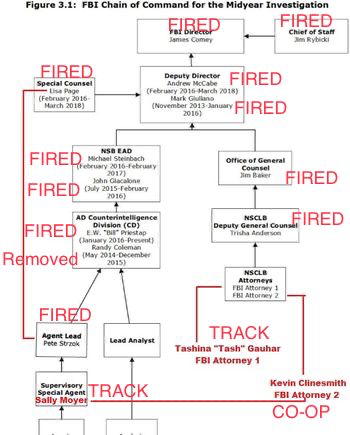 Durham assumed parts of John Huber's Clinton Foundation review: source
Then-Attorney General Jeff Sessions directed Huber in 2017 to look at the Clinton Foundation
Aspects of U.S. Attorney John Huber's investigation into the Clinton Foundation have been assumed by U.S. Attorney John Durham as part of his review into the origins of the Russia probe,
A source familiar with Durham's investigation told Fox News on Thursday that parts of what Huber was investigating in 2017 — involving the Clinton Foundation — have been incorporated in Durham's investigation.
In November 2017, then-Attorney General Jeff Sessions directed Huber, the U.S. attorney for Utah, and other senior prosecutors to evaluate "certain issues" involving the sale of Uranium One, and other dealings related to the Clinton Foundation. Sessions tapped Huber after requests by congressional Republicans, who had been calling for the appointment of a special counsel to review the matters.
Huber was also tasked with reviewing the FBI's handling of the Clinton email probe, including allegations that the Justice Department and FBI "policies or procedures" were not followed.
It has been unclear, for years, the status of Huber's investigation, but another source told Fox News Thursday that Huber has faced mounting criticism from the Justice Department and White House over his progress.
"There are folks that are aware of the fact that Huber has not done much, and there has been criticism at the Justice Department and the White House," the source said. "Folks that have been concerned about what he did or didn't do, and many of them feel that Huber did not dig deep enough or work hard enough."
  x News that Durham "does not want this to be viewed political," and the closer it gets to November, Durham could "punt it to after the election."
Source: foxnews.com
Tracking events?
Scope exceeds illegal spy campaign?
Why?
7th floor [FBI] team removed/terminated [7th floor is no more]?
Normal?
What other investigations [same team] 'touch' [alter outcome]?
How are other investigations 'bridged' to 'illegal spy' campaign?
BIGGER THAN YOU CAN IMAGINE.
There is a reason why this was leaked today.
The 'Election Infection' cannot stop what is coming.
Q
President Trump is asked about Prince Harry and Meghan Markle telling people to vote for Joe Biden:

"I wish a lot of luck to Harry cause he's gonna need it." pic.twitter.com/9OCBeSMguZ

— Daily Caller (@DailyCaller) September 23, 2020
4756
Q

 

!!Hs1Jq13jV6

 

ID: 4cf122

 No.10770946 

NEW
>>10770890
Red October upcoming?
>>10770927
Make your depth 50ft.
Zero bubble.
Q
t means the submarine is level (in pitch). There is an inclinometer, which is literally a bubble in a tube similar to a carpenter's level. But it is curved. Sailboats sometimes have the same thing for measuring roll. The submarine can be pitched up or down using the stern planes for significant depth changes. Normally the sub runs near zero bubble. Some crews like to run slightly heavy and hold around a half degree up bubble all the time to compensate. This can help when you want to go to periscope depth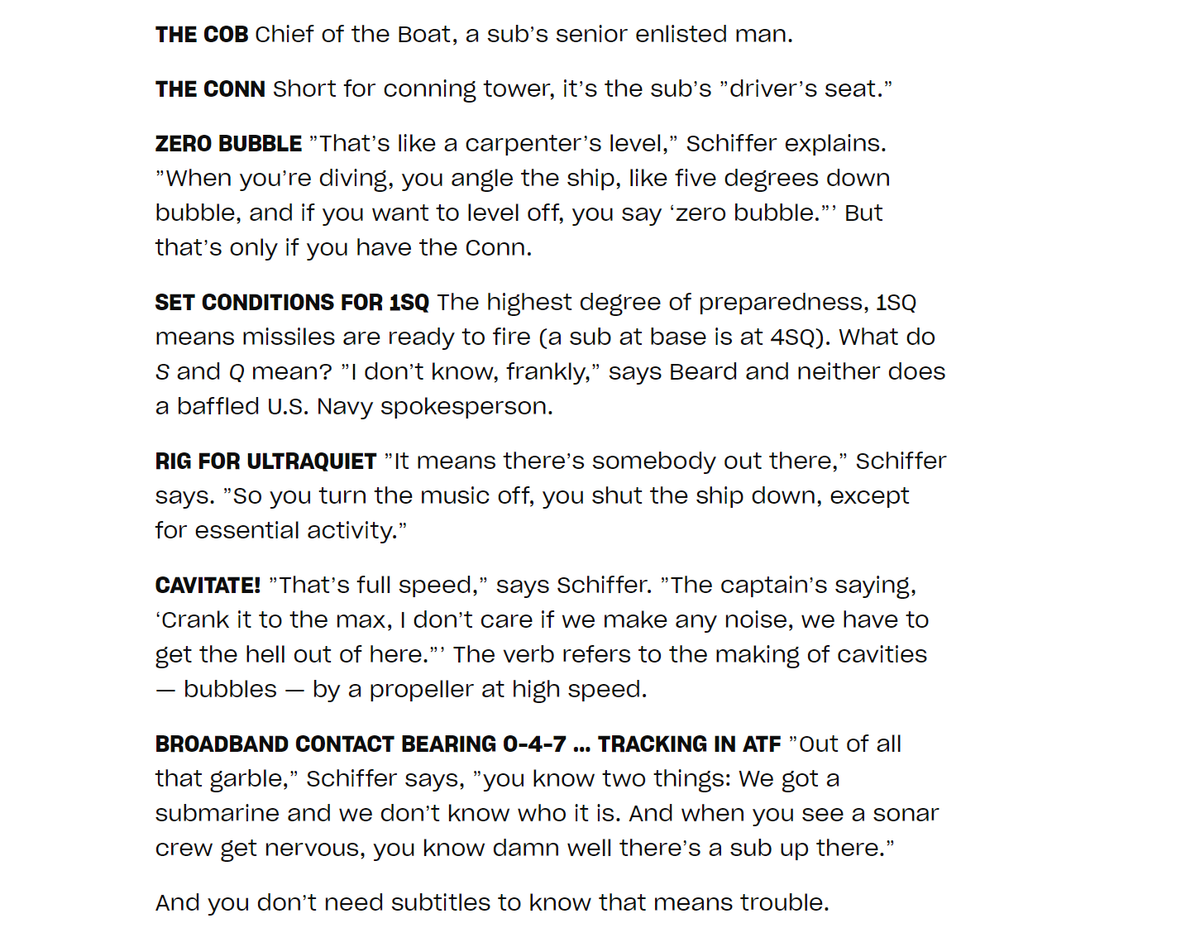 Q

 

!!Hs1Jq13jV6

 

ID: 4cf122

 No.10770971

NEW
Screenshot_20200924_113708.png

Let the truth be told
>>10770948
It is the only way.
Q
Q

 

!!Hs1Jq13jV6

 

ID: feaf6f

 No.10771278


NEW
d921fd2956ac91053d05e0a82fdc776608fddd6a29d3fbff3c2341e18350e0c6.jpg
>>10771238
Projection
D's can't lose control over the black population.
At some point the great awakening will occur whereby these false local / national black leaders are corrupt and paid off to help keep the black pop poor and in need.
D's formed the confederate states against freeing slaves.
D's formed the KKK.
HRC's mentor is who?
What happens if the truth about Haiti is released? Do D's lose majority of the vote?
Through the looking glass.
They rely on the MSM to keep the narrative going but tech is entrenching on their controls. They missed this in 2016 and desperately attempting to censor now due to CIA cash infusions.
This will fail.
Q

 

!!Hs1Jq13jV6

 

ID: e382f9

 No.10772171
 

NEW
71DDA1F9_AB80_4D48_8818_64974065C0FC.jpeg

https://mobile.twitter.com/Techno_Fog/status/1309214886401114115

 The

@adamgoldmanNYT

report on Durham reviewing Clinton Foundation investigation:1) Agents/FBI managers seek subpoena of CF

2) Top DOJ criminal division officials deny requestDid Andrew Weissmann deny the subpoena? In 2016 he led the Fraud Section.@adamgoldmanNYT

-any idea?
2018_08_09_10h31_53.png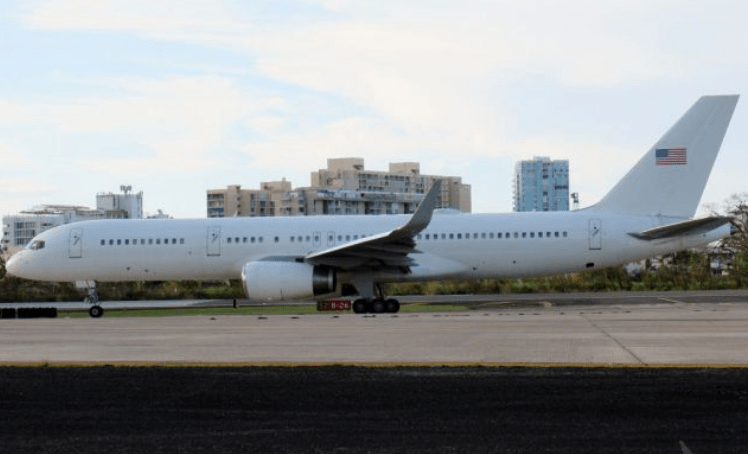 >>10771959
Timing can be derived from picture.
Anons have always known.
Have faith in your research.
Q
---
1st day of harvest on the Grassley farm #cornwatch I'll report regularly on how harvest goes Obviously Robin & Pat are doing the farming since I'm voting in the Senate https://t.co/NWG2LIFGyw

— ChuckGrassley (@ChuckGrassley) September 23, 2020
"TRUST GRASSLEY"

2-year delta (9.23.18 – 9.23.20) https://t.co/x6D8PtQzbi pic.twitter.com/7Ao92wZoJN

— Julian's Rum 🥃 (@JuliansRum) September 23, 2020
LAW & ORDER!

— Donald J. Trump (@realDonaldTrump) September 24, 2020