The Patriots Laid The Trap, [DS] Took The Bait, Unity Is Growing- Episode 2188
The people have woken up, the people are calling on their governors and mayors to open up their state. The patriots have now shown the people that business can open, the economy is coming back online. Trump is now putting pressure on China, there is now a bank run on the dollar. Trump is now showing the people that the [CB] system does not work for the people. The [DS]/MSM are now desperate they are trying to regain control anyway possible, first it was the virus, that failed, now they turned to riots and race war, but the opposite is happening, people are seeing the truth and unity is growing. The trap has been laid and the [DS] has taken the bait, this entire event will soon turn and the governors and mayors will be on the hot seat.
Check Out The X22 Report Spotlight YouTube Channel X22Report Spotlight
Please check Newzsentinel.com for the latest news on the economic collapse. The Sentinel Alerts are updated throughout the day.
---
Current News – 06.01.2020
Watch The X22 Report On Video
---
Economy
Gov. Gretchen Whitmer lifts Michigan's stay-at-home order and says restaurants can reopen for dine-in service next week. – AP

— Breaking911 (@Breaking911) June 1, 2020
It got so bad that according to a follow up report from the SCMP on Saturday, the rush for US dollars forced money exchangers in Hong Kong to turn away hundreds of customers after running out of the currency amid fears the United States could end the city's preferential trading status.
  HK residents – fearing the Hong Kong dollar could be unpegged from its US counterpart – rushed to convert their local currency into something they view as more stable: the US dollar.
Long lines promptly formed at money changers in a number of Kowloon districts including Tsim Sha Tsui and Sham Shui Po on Friday, as residents waited for shop operators to replenish their US dollar supply. Eric Wong Wai-lam, who runs Rich Bird Currency Exchange in Sham Shui Po, was forced to turn away 600 customers who wanted to convert their local banknotes to the US currency.
"There will be no US dollars for exchange until next Tuesday or Wednesday," He explained that demand for the US currency had increased 10-fold this week, with more customers looking to switch large sums – hundreds of thousands or even millions of Hong Kong dollars – at a time.
 
Source: zerohedge.com
Then, year after year, we would hear from the likes of Kuroda and Draghi how the BOJ and ECB will continue and even extend their insane monetary policy, which now includes the purchase of 80% of all Japanese ETFs…
… until the central banks hit their inflation targets of 2%.
And yet, year after year, the BOJ would not only not hit its inflation target but appeared to drift ever lower, as did the ECB, SNB and any other bank that had gone NIRP, confounding all economists and central bankers: why was this happened if rates were negative? Why were consumers not taking their money out of the bank and spending it, pushing inflation higher?
Source: zerohedge.com
---
Political/Rights
COMING UP: Federal appeals court sets June 2 hearing on Hillary Clinton's desperate appeal to avoid court-ordered testimony on her emails and Benghazi attack records. https://t.co/lHbOPoycoU https://t.co/XqQdTZ3os6

— Tom Fitton (@TomFitton) June 1, 2020
 "There was definitely Russian, uh, interference," Barr said. "I think Durham is looking at the intelligence community's I.C.A. — the report that they did in December [2016]. And he's sort of examining all the information that was based on, the basis for their conclusions. So to that extent, I still have an open mind, depending on what he finds."
Source: washingtonexaminer.com
---
False Flags
Former National Security Adviser Susan Rice claimed without evidence that the Russian government could be funding violent protests across the U.S. in the wake of the police-involved death of George Floyd.
"I would bet based on my experience, I'm not reading the intelligence these days but based on my experience," Rice said, "this is right out of the Russian playbook as well."
"I would not be surprised to learn that they have fomented some of these extremists on both sides using social media," Rice told CNN's Wolf Blitzer.
"I wouldn't be surprised to learn that they are funding it in some way, shape or form."
Source: dailycaller.com
Sleepy Joe Biden's people are so Radical Left that they are working to get the Anarchists out of jail, and probably more. Joe doesn't know anything about it, he is clueless, but they will be the real power, not Joe. They will be calling the shots! Big tax increases for all, Plus!

— Donald J. Trump (@realDonaldTrump) June 1, 2020
Anyone else notice how "convenient" masks are now?#NoMasks #riots2020
Stop the violence#AntifaDomesticTerrorists #AntiFascist #AntifaThugs https://t.co/ZdsfCWXvPw

— Sidney Powell 🇺🇸⭐⭐⭐ (@SidneyPowell1) June 1, 2020
The people who called us murderers for refusing to wear the mask are now committing murder
Just called the police because there was just a dangerous standoff between my neighbor and some protestors and got the response: "Sir, the city is under attack. Do what you have to do." And they hung up. Did that really just happen?

— Scott Barry Kaufman (SBK) (@sbkaufman) June 1, 2020
---
Q
MSNBC equates QANON with ANTIFA!
Buckle up.
Here we go.
Q
This is what #Utah is all about
Humanity at its finest.
TOGETHER WE WIN.
Q
Twitter doesn't like this video being posted on their platform – they even banned the person who posted it as soon as @realDonaldTrump RT'd it! So give it a watch and a RT!
Q
"Nervous for his safety, Secret Service agents abruptly rushed the president to the underground bunker used in the past during terrorist attacks."
False.
Woodshed utilized re: intelligence management [monitor
[ing] of situation(s)]
.
Q
f the President's life was at risk and he was directed to go to the bunker, the heads of Secret Service and DHS should be fired today for letting the situation get out of control
The "woodshed" is an insiders term for the White House Situation Room.
1. There's an insurrection taking place now.  Anarchy. The governors must send in the National Guard. The president must now lay the legal predicate for potentially sending in the regular military.
All assets being deployed.
People used as pawns
[controlled]
.
Q
YOU ARE WITNESSING THE GREATEST [COORDINATED] DISINFORMATION CAMPAIGN TO EVER BE LAUNCHED AGAINST THE AMERICAN PEOPLE.
INFORMATION WARFARE.
INFILTRATION V INVASION
INSURGENCY.
IRREGULAR WARFARE.
[D] EFFORTS TO REGAIN POWER.
Q
Be strong in the Lord.
Q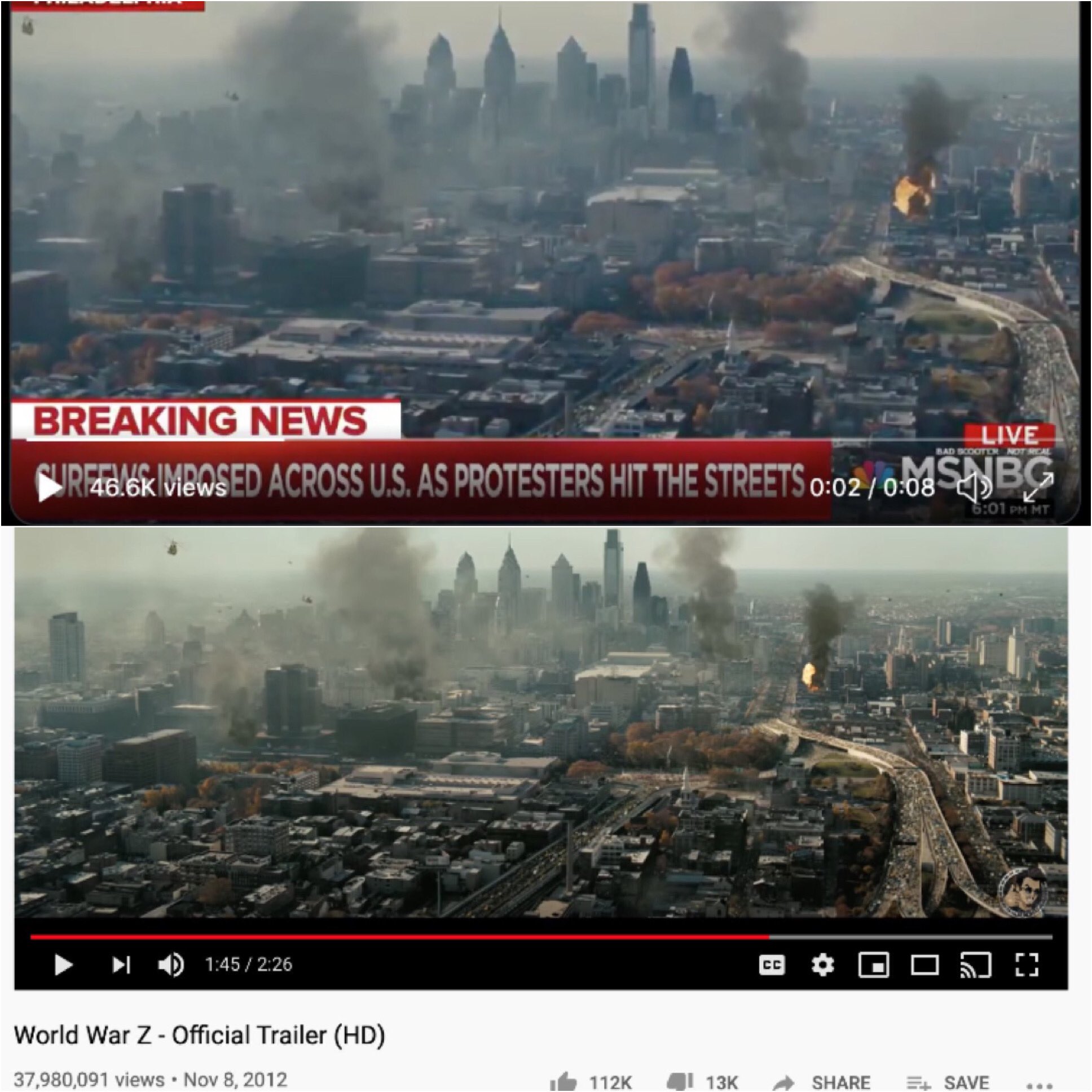 EZbP3qaXYAIPve1.jpg
MSDNC [knowingly] using fake footage?
MSDEN pushing [AMERICA ON FIRE] narrative?
Why?
ENEMY OF THE PEOPLE.
Q
White people rolling up handing Black men bricks to throw during the protests? Glad a Black woman was there to set they asses straight.
Do you see what is happening?
Q
Girls who are not black writing BLM and the black asks why are you doing this, we don't want you to do it. 
Do you see what is happening?
Q
Truth Bomb right here! We are dealing with evil and fighting for the soul of our Country! They want us divided
Sums it up perfectly.
Q
Former Black Lives Matter Ferguson Organizer, Chaziel Sunz Exposes Democrats, Antifa, BLM & More
Sums it up perfectly.
Black community used as pawns?
Welcome to the [D] party.
UNITY CREATES PEACE.
UNITY IS HUMANITY.
Q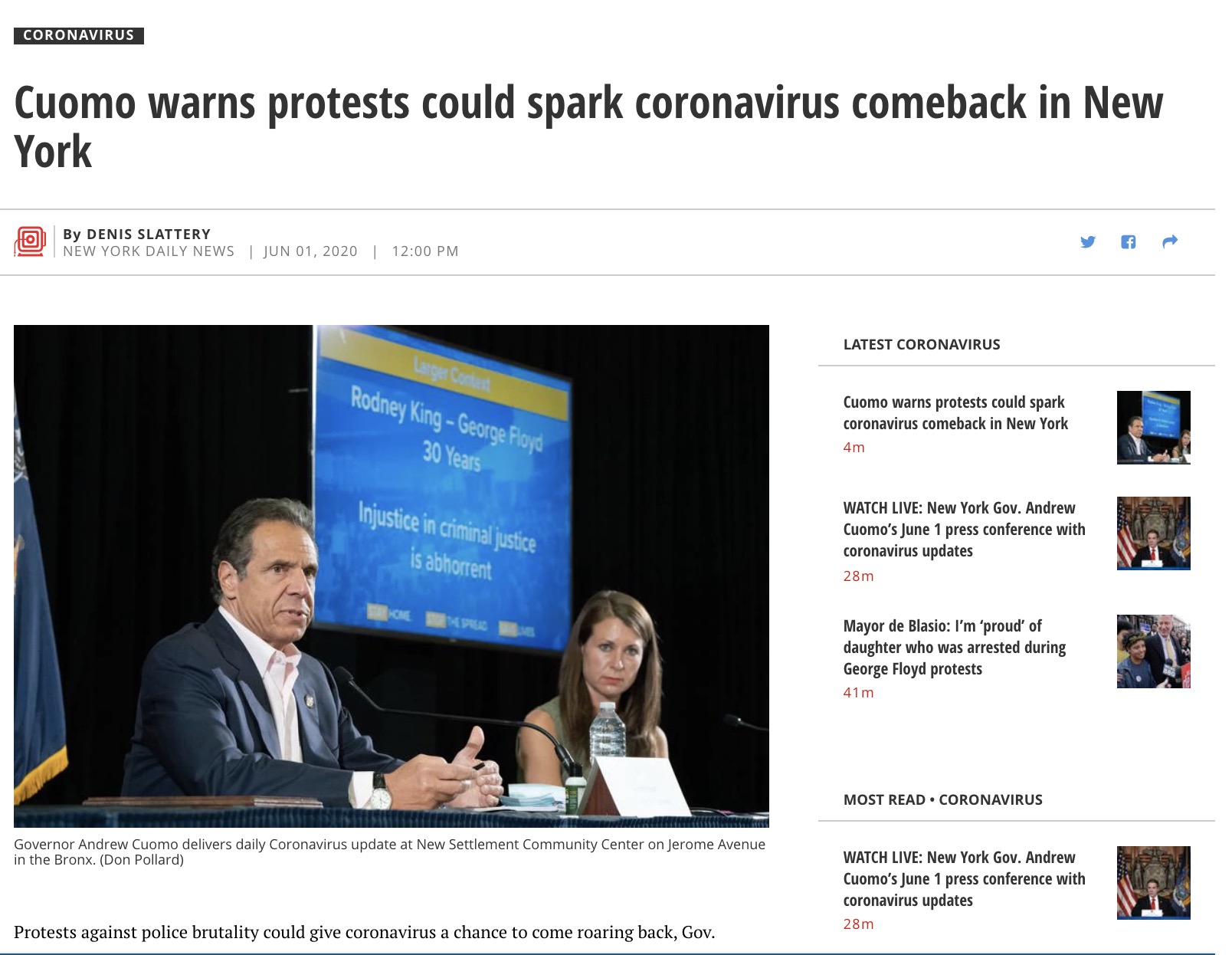 Screen_Shot_2020_06_01_at_12_06_58_PM.jpg
>>9412961
Attempting to establish new narrative 'riots' created
[ing]
second COVID-19 wave?
Loss of control
[first wave]
?
Regain control necessary re: vote-by-mail re:
[D]
state bailout(s) re: economy-unemployment kill etc?
All assets deployed.
Win by any means necessary.
2020 Presidential Election.
Q
Antibody Tests Point To Lower Death Rate For The Coronavirus Than First Thought
Mounting evidence suggests the coronavirus is more common and less deadly than it first appeared.
The evidence comes from tests that detect antibodies to the coronavirus in a person's blood rather than the virus itself.
The tests are finding large numbers of people in the U.S. who were infected but never became seriously ill. And when these mild infections are included in coronavirus statistics, the virus appears less dangerous.
"The current best estimates for the infection fatality risk are between 0.5% and 1%," says Caitlin Rivers, an epidemiologist at the Johns Hopkins Center for Health Security.
Source: npr.com
The coronavirus that swept the world has become far less lethal and is losing its "potency," a top Italian doctor says.
"In reality, the virus clinically no longer exists in Italy," Alberto Zangrillo, the head of the San Raffaele Hospital in Milan 
"
The doctor went so far as to say the virus could already be gone. "In reality, the virus clinically no longer exists in Italy," Zangrillo said.
Source: thegatewaypundit.com
Medical journal The Lancet on May 29 issued a correction to a recent study which found that antimalarial drugs Hydroxychloroquine and chloroquine were linked with an increased risk of mortality in hospitals, and an increased frequency of irregular heart rhythms.
 , more than a hundred scientists and medical professionals raised questions about integrity of data analyzed in the study and subsequently wrote an open letter to its authors and the editor of The Lancet, listing 10 major concerns.
These included the fact that there was "no ethics review," and "unusually small reported variances in baseline variables, interventions and outcomes," as well as "no mention of the countries or hospitals that contributed to the data source and no acknowledgments to their contributions." A request to the authors for information on the contributing centers was denied, the letter said.
Among the scientists other concerns were that the average daily doses of hydroxychloroquine were higher than the FDA-recommended amounts and that data reportedly from Australian patients did not seem to match data from the Australian government.
Source: theepochtimes.com
Why does the MSM want us divided? Why are they denying #antifa as domestic terrorists, correcting themselves when they even use the word riot?! Because they are the #EnemyOfThePeople. But…they're receiving marching orders.
No civility unless
[D]
s win congressional control?
Translation: MSDNC will incite and push division unless
[D]
control established.
Think pre_midterms.
Think pre_2020_P_election
[now]
Reconcile.
1:1
The only thing that matters to them is regaining power.
[prevent public learning of truth]
[prevent accountability]
[self-preservation]
These people are sick!
Q
Q

 

!!Hs1Jq13jV6

 

ID: 5f0dfa

 No.9414112 

NEW
Who all is in on this This video tells a lot [FF]
Police ordered to stand down by
[D]
mayor(s)
[D]
gov(s)?
ANTIFA
[coordinated]
SAFE ZONES?
Q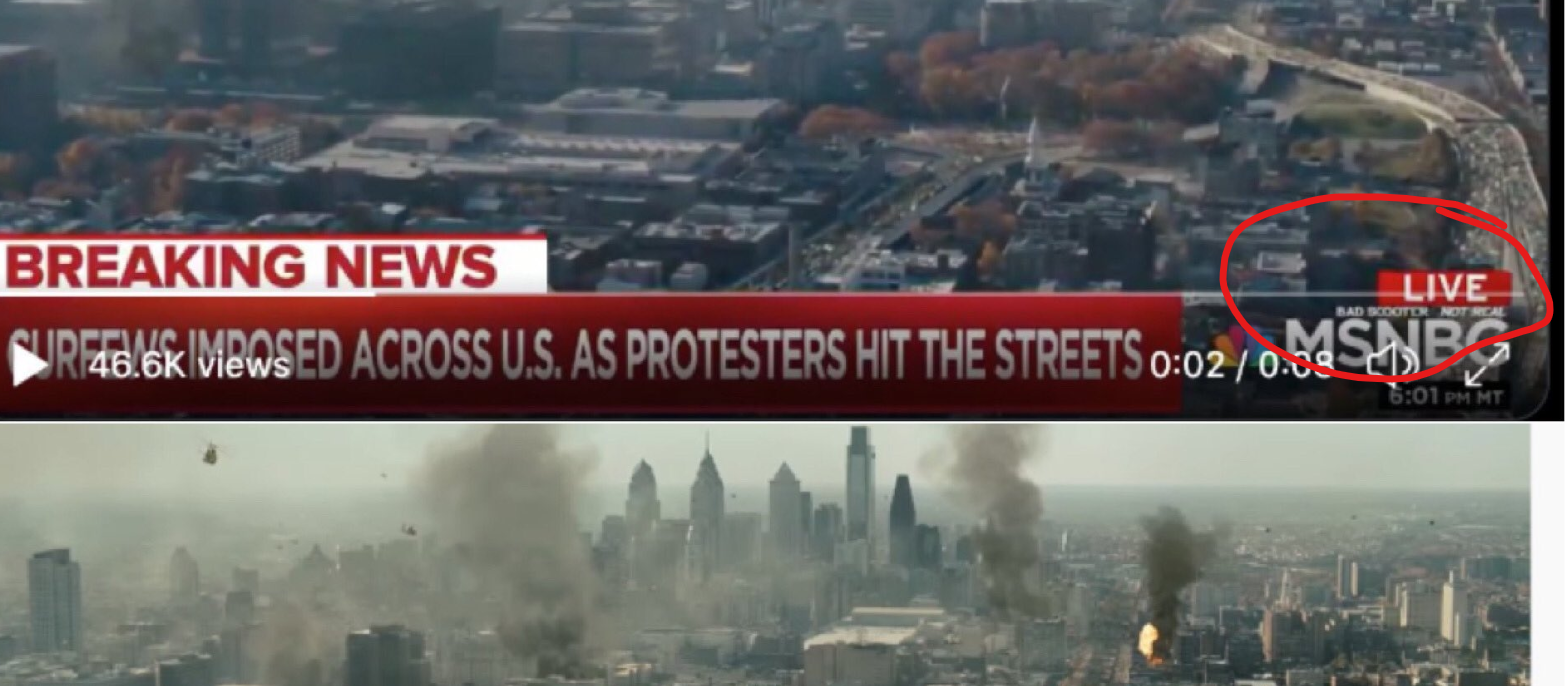 ClipboardImage.png
CONFIRM FAKE IMAGE?
>>9414006
Confirmed.
Helicopter rides create CONFIRM
[visibility]
challenges.
Good catch!
Thank you, Anons.
Q
Q

 

!CbboFOtcZs

 

ID: 17f4ea

 No.1831799

5B9489D2-1763-4A2E-B314-9CBDE30EC339.jpeg
They want you DIVIDED!
They call us names.
They make threats.
They censor.
They lie.
They project.
They cheat.
They steal.
They harm.
They are sick.
They are evil.
At some point the streets (for them) will not be safe.
Q
Exterior lights at WH turned off just before 11pm as protests continued in vicinity. pic.twitter.com/EiqH0TfmOw

— Mark Knoller (@markknoller) June 1, 2020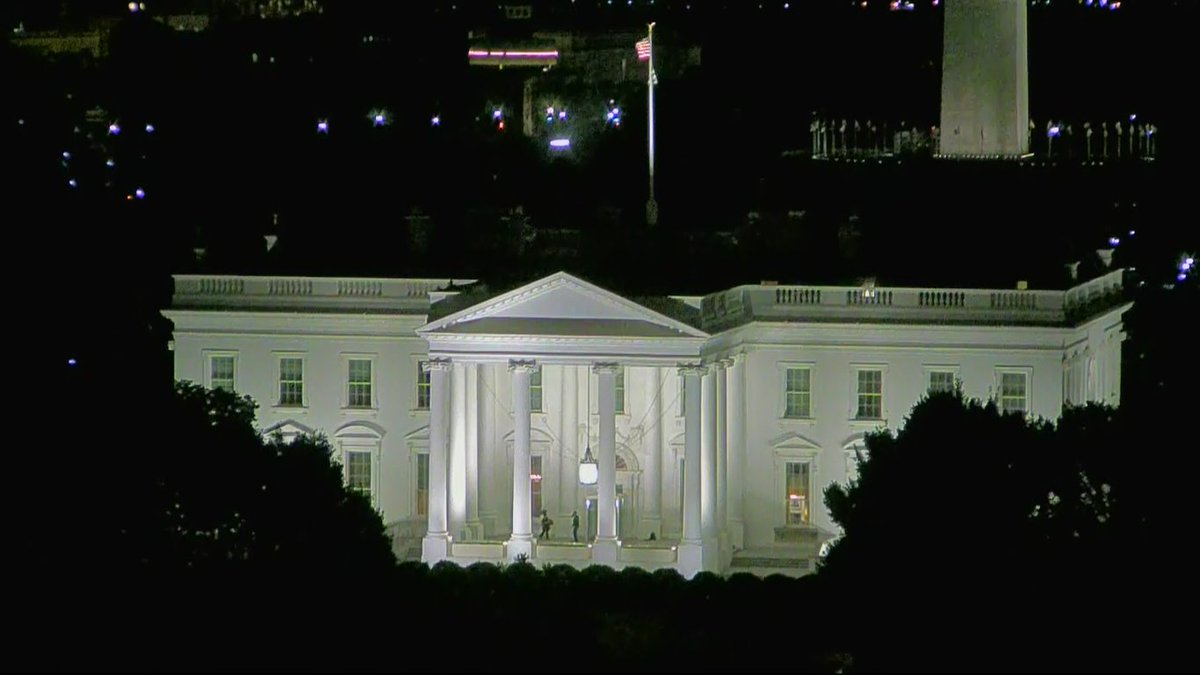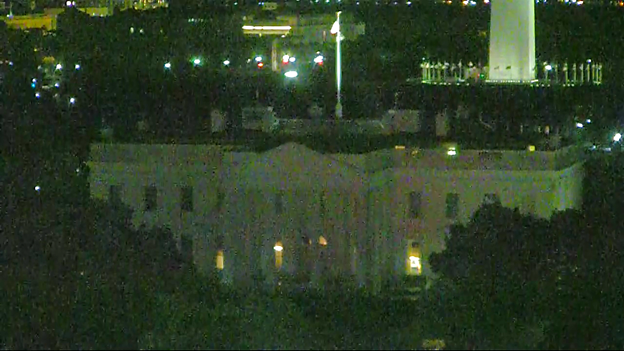 Q

 

!CbboFOtcZs

 

ID: 5a7e3c

 No.1620282
BOOM.
BOOM.
BOOM.
BOOM.
A WEEK TO REMEMBER.
DARK TO LIGHT.
BLACKOUT NECESSARY
Q

 

!!Hs1Jq13jV6

 

ID: 167396

 No.9060298

There is a reason why Congress did not return to work this week [DC][non_COVID related].
Q
Elections matter. https://t.co/77jquAhp1x pic.twitter.com/AM5Z42pzyk

— Hillary Clinton (@HillaryClinton) June 1, 2020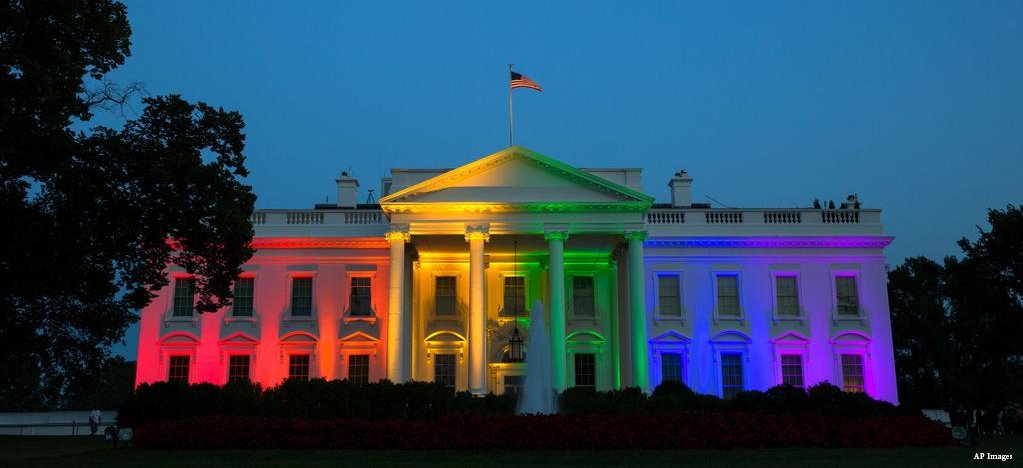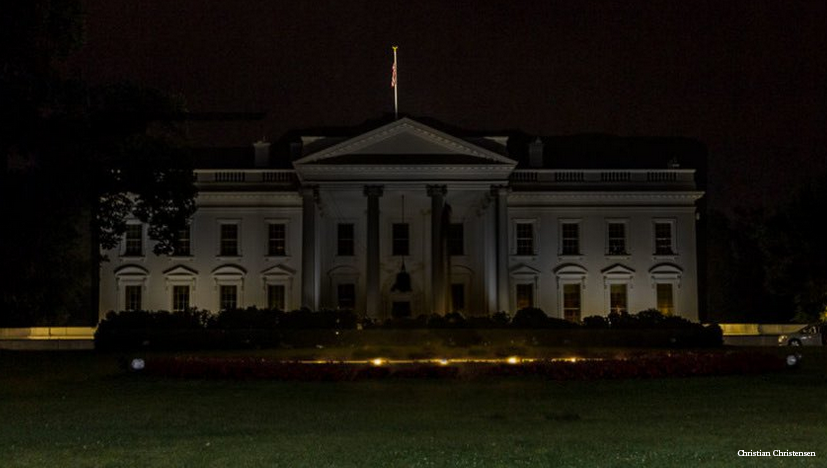 I wrote out some thoughts on how to make this moment a real turning point to bring about real change––and pulled together some resources to help young activists sustain the momentum by channeling their energy into concrete action. https://t.co/jEczrOeFdv

— Barack Obama (@BarackObama) June 1, 2020
Code:
May God also grant all of us the wisdom to ask what concrete steps we can take to reduce the violence and weaponry in our midst.
Note when we just sent the go orders and when this Tweet went live.
Coincidence?
Pray.
Q
NOVEMBER 3RD.

— Donald J. Trump (@realDonaldTrump) June 1, 2020
Think about it logically.
The only way is the military. Fully controlled. Save & spread (once 11.3 verifies as 1st marker).
Biggest advanced drop on Pol.
 Logical thinking
1. Why does Trump continually call on the governors and mayors to protect citizens
2. He knows they are not going, he knows that these governors and mayors are in line with this agenda, he wants them to feel it.
3. As time goes on and the riots continue in these states and cities and these governors do nothing the people will see how much they care about the innocent population, how much they care about businesses, livelihoods etc.
4. The people are now awakening to the fact that these same people kept their state lockdown for no reason and now they are do nothing to stop the riots and these individuals are destroying the cities and states.
5. As this continues people will realize that this has nothing to do with George Floyd
6. During this they are now tracking all these individuals, the foot soldiers, the handlers all the way up to the puppet masters.
7. The governors and mayors are going to feel the heat they will need to react, they will be the ones
8. But it will be to late, people are now awake
9. Once everything is said and done, Trump is going to help these neighborhoods and rebuild them way before the election
10. People will remember on Nov 3