The People Need To See & Learn The Truth, Timing Is Very Important – Episode 2157
Trump has now signed the 484 Billion relief bill. This will give additional aid to the people and small businesses. The economy is primed and ready to take off, states are beginning to open, businesses want to open, it's time. The [CB] is now panicking, the debt load around the world is too great for emerging countries, this problem has been growing for a long time and has nothing to do with the event. The [CB] cannot let the world see a country go into default because of debt. Trump and the patriots are showing the people that there are others ways to combat the virus. The people must see the truth. The [DS]/MSM is now trying to stop him at all costs, if the truth got out the [DS]/MSM lose all control. Trump during the presser mentioned light, humidity will kill the virus. Trump is slowly introducing cures. Timing is very important.
Check Out The X22 Report Spotlight YouTube Channel X22Report Spotlight
Please check Newzsentinel.com for the latest news on the economic collapse. The Sentinel Alerts are updated throughout the day.
---
Current News – 04.24.2020
Watch The X22 Report On Video
---
Economy
President Trump Signs Bill For $484 Billion In Additional Coronavirus Relief
🚨 President Trump just signed the Paycheck Protection Program and Health Care Enhancement Act to empower American families, workers, hospitals and small business owners.

+ emergency relief for small businesses
+ more resources for hospitals
+ investments for expanded testing

— House Republicans (@HouseGOP) April 24, 2020
For weeks, the United Nations, International Monetary Fund, and World Bank have stated the only solution for emerging market economies severely damaged by the coronavirus outbreak is a "debt jubilee."
The United Nations Conference on Trade and Development (UNCTAD) published a note  that said about $1 trillion in debt owed by developing countries should be canceled to avoid an emerging market debt crisis.
"This is a world where defaults by developing nations on their debt is inevitable," 
Here are some of the countries that have unsustainable debt burdens: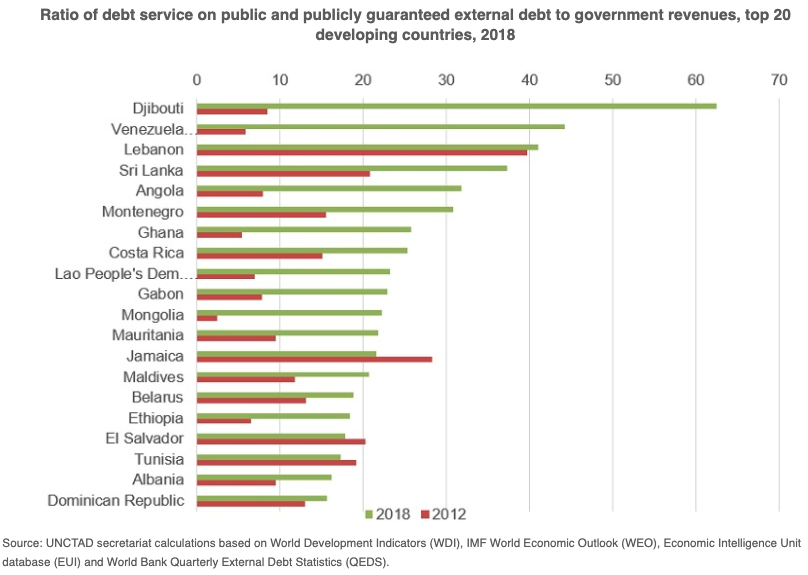 And after decades of "kicking the can down the road" – it appears the end game has finally arrived for countries with insurmountable dollar debts: debt jubilee.
Source: zerohedge.com
---
Political/Rights
"Biden said later he also thinks Mr. Trump will try to push back the election because "that's the only way he thinks he can possibly win."

"Mark my words I think he is gonna try to kick back the election, somehow come up with some rationale why it can't be held," Biden said, "
Source: thegatewaypundit.com
Biden is projecting what they are going to do, they wanted the event to last until Nov, they want mail in ballots, when all of this fails they will try to delay it another way, they are panicking
Detroit Democrats plan to vote Saturday to censure and bar any future endorsements of a Democratic lawmaker who credited President Donald Trump with advocating for the drug that she said cured her of COVID-19. https://t.co/pUhtEs1nBG

— The Detroit News (@detroitnews) April 23, 2020
Christopher Steele told a British court last month that he no longer has key documents related to his infamous dossier. 
  in a deposition that his email accounts were 'wiped' clean of any correspondence related to the dossier. It is not clear if Steele deleted the accounts himself.
He also admitted he no does not have information related to debriefings he had in 2016 with his lone source of information for the dossier. 
 
 
The lawyer asked Steele about the existence of the documents and recordings that his attorneys mentioned in their rebuttal to the IG report.
"But none of these documents exist, so they have all been destroyed?" a lawyer asked Steele.
"They no longer exist," Steele said.
"As I understand your position, you have no contemporaneous notes or emails, save for your notes of interactions with the FBI; is that right?" Tomlinson asked.
"I believe that is true, yes," Steele replied.
Steele said he had no records related to the creation of his dossier memos, including "Report 112" from the dossier, which dealt with the Alfa Bank owners.
"You have no record of anything, have you?" Tomlinson asked.
"I haven't got any records relating to the creation of 112," said Steele.
"Or indeed any of the other memoranda?"
"No, they were wiped in early January 2017."
Steele said that a Hushmail account he used in late December 2016 was "wiped" clean. He also said that communications with Fusion GPS on his company's computer network were scrubbed on Jan. 5, 2017.
Source: dailycaller.com
OMG

🚨🚨🚨🚨🚨🚨🚨🚨🚨🚨🚨🚨🚨🚨🚨🚨🚨🚨🚨🚨🚨🚨🚨🚨🚨🚨🚨🚨🚨🚨🚨🚨

STEELE WIPED HIS DEVICES OF ALL HIS DOSSIER STUFF ON…5 JAN 2017

THE SAME DAMN DAY OF OBAMAS "BY THE BOOK" MEETING IN HIS OFFICE

THE ONE WHERE THEY PLOTTED OUT THEIR POST INAUGURATION PLANS https://t.co/K4pIv3ewkL

— ThunderB, WhyDidIBuyA2020Planner (@ThunderB) April 24, 2020
Same day they decided to dispatch #Comey to NY to brief @realDonaldTrump only on the salacious parts of the #SteeleDossier to provide news hook for #CNN & #Buzzfeed to break news of dossier they all knew was false! #Clapper #Obama #Biden@WhiteHouse @PressSec @BarbaraRedgate https://t.co/9JLCUcKETZ

— Sidney Powell 🇺🇸⭐⭐⭐ (@SidneyPowell1) April 24, 2020
House Intelligence Committee staff said former CIA Director John Brennan "suppressed" intelligence that indicated Russia wanted Hillary Clinton to win the 2016 election, according to John Bolton's former chief of staff.
 Fleitz wrote.CIA Director Brennan suppressed facts or analysis that showed why it was not in Russia's interests to support Trump and why Putin stood to benefit from Hillary Clinton's election. They also told me that Brennan suppressed that intelligence over the objections of CIA analysts,"
Source: washingtonexaminer.com
BREAKING: John Podesta's role in the debunked dossier looms larger as it's revealed he helped old Clinton hand Dan Jones, Steele & Simpson raise $12 mil to "prove" the dossier. In the 2016 campaign, Jones worked for Dem lobbyist Daschle,who endorsed Clinton & was close to Podesta

— Paul Sperry (@paulsperry_) April 24, 2020
Q

 

!4pRcUA0lBE

 

ID: b9b7bb

 No.1414277


Watch NYC.
Watch CA.
Q
BREAKING! CA Sup. Ct. requests @GavinNewsom & AG to respond to our writ seeking a halt to Gov. attempt to give a $75 million slush fund of taxpayer cash to nonprofits to illegally distribute to undocumented, unemployed workers who're ineligible for unemployment benefits.(cont'd)/ pic.twitter.com/KzeAR1dl4C

— Harmeet K. Dhillon (@pnjaban) April 23, 2020
2/ While CA citizens/residents are still waiting state for unemployment benefits & choosing betw. paying rent & buying food, Governor ignores the Ca. Const. & state/federal law. @Liberty_Ctr is challenging his overreach! Please support our efforts at https://t.co/k555R206k2!

— Harmeet K. Dhillon (@pnjaban) April 23, 2020
Judicial Watch Victory: Federal Court Orders Maryland to Release Complete Voter Registration Records
  Judicial Watch announced that a federal court ordered the State of Maryland to produce the voter list for Montgomery County that includes the registered voters' date of birth. This court ruling is the latest in a series of victories for Judicial Watch in its lawsuit filed July 18, 2017, against Montgomery County and the Maryland State Boards of Elections under the National Voter Registration Act of 1993 (NVRA).
Judicial Watch filed suit for the Maryland voter list data after uncovering that there were more registered voters in Montgomery County than citizens over the age of 18 who could legally registe 
Judicial Watch need not demonstrate its need for birth date information in order to facilitate its effort to ensure that the voter rolls are properly maintained. Nevertheless, it has put forward reasonable justifications for requiring birth date information, including using birth dates to find duplicate registrations and searching for voters who remain on the rolls despite "improbable" age.
In order to avoid turning over the dates of birth for Maryland voters, the Maryland Administrator of Elections, Linda Lamone, directed her staff to remove date of birth as a field on the voter registration application. Judge Hollander ruled that Lamone could not do this, saying: 
Source: judicialwatch.com
---
Geopolitical/Police State
Judge says California law requiring background checks to purchase ammo violates the Second Amendment
A federal judge in California ruled that a law requiring background checks to purchase ammunition violates the Second Amendment.
U.S. District Judge Roger Benitez called the law "onerous and convoluted" and "constitutionally defective."
"The experiment has been tried. The casualties have been counted. California's new ammunition background check law misfires and the Second Amendment rights of California citizens have been gravely injured," Benitez,
Source: thehill.com
---
War
A report came out that Kim Jong Un was ill, CNN and other MSM outlets ran with the story
"I think the report was incorrect," Trump said
Source: reuters.com
TAKE A LISTEN TO WHAT HE SAID
---
False Flags
'Ousted' US vaccine expert Rick Bright to file whistleblower complaint
A vaccine expert who says he lost his job because he disagreed with Donald Trump's claims about treatments for Covid-19 is to file a whistleblower complaint, his lawyers say.
Dr Rick Bright led the US government agency trying to develop a vaccine for the coronavirus.
He says he was ousted for questioning the potential of hydroxychloroquine, an anti-malaria drug touted by Mr Trump.
"If Bright opposed hydroxychloroquine, he certainly didn't make that clear from his email – quite the opposite," an unnamed official told Politico.
Source: bbc.com
I (or @VP) never gave Governor Brian Kemp an OK on those few businesses outside of the Guidelines. FAKE NEWS! Spas, beauty salons, tattoo parlors, & barber shops should take a little slower path, but I told the Governor to do what is right for the great people of Georgia (& USA)!

— Donald J. Trump (@realDonaldTrump) April 24, 2020
Looks like the DS is trying again, this will fail, the DS is panicking, the event is ending, Trump is slowly introducing the cures and the MSM/DS cannot stop it. 
LISTEN TO WHAT THE BILL BRYAN DHS   ABOUT SUNLIGHT AND HUMIDITY
This is how FAKE NEWS is born.

Amber is a reporter for the Washington Post.
She wants you to believe that Isopropyl alcohol cost $2,375. What she doesn't want you to know is $2,375 will buy you 55 gallons of it. It's REALLY only $0.34/fl oz. pic.twitter.com/8kMLO2c7QS

— Cowboyw2b (@ToddWal47945939) April 23, 2020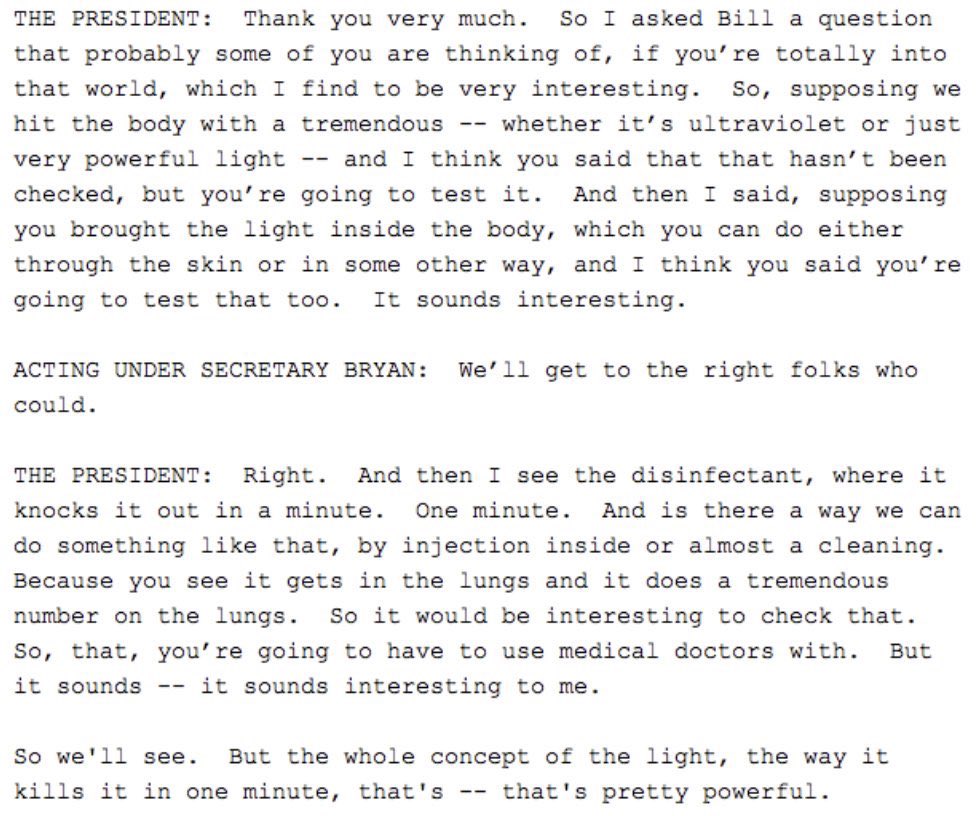 Source: dailycaller.com
BREAKING: New University of California study finds ultraviolet LED wands prove effective in eliminating coronavirus from surfaces and, potentially, air and water.https://t.co/WFu8fkuQX7

— Paul Sperry (@paulsperry_) April 24, 2020
Cannot believe I need to write this, but: Despite what the @nytimes implies here in their pathetic attempt at False Equivalency, *ALL* experts agree that injecting yourself with bleach will kill you. So, do not listen to the President, it will kill you.

— David Rothschild (@DavMicRot) April 24, 2020
He did not tell people to do it. He was asking Bill Bryan to look into it, and he used the term disinfectant, didn't mention a product, 
Remember we already in-jest disinfectants today, The most common use of chlorine in water treatment is to disinfect water. As a disinfectant, it has drawbacks, but it also has advantages
Chlorine Dioxide water treatment was first applied in European drinking water in 1956, as a pre-oxidant to remove iron and manganese contamination from raw water prior to treatment. Today, Chlorine Dioxide is applied throughout the treatment train – from the pre-treatment of raw and reverse osmosis feedstocks, through to the final disinfection and maintenance of a residual in the distribution network. 
What a dishonest tweet. President Trump was not saying the outdoors is a laboratory.

A DHS official described the National Biodefense Analysis and Countermeasures Center as "a high-biocontainment laboratory" in Maryland.

Later, Trump looked at the official and referred to it. https://t.co/R7U4JFVK0y

— Trump War Room – Text TRUMP to 88022 (@TrumpWarRoom) April 24, 2020
Documented: The Mainstream Media Completely Botched Their 'Reporting' on the VA Hydroxychloroquine Study
  French Dr. Didier Raoult, who had previously conducted a study that showed a 91% effectiveness rate in Wuhan coronavirus patients treated with hydroxychloroquine and azithromycin, alleged that "scientific misconduct" had taken place in the VA hydroxychloroquine study that came out late last week.
Dr. Raoult cited a number of issues with the VA study, including the fact that the hydroxychloroquine and hydroxychloroquine-ZPAK combo were given to patients who had already been intubated. That's a pretty significant point against drawing definitive conclusions about hydroxychloroquine from the VA's study.
The French doctor is not the only person who found serious issues with the media-touted study after doing a careful analysis. In fact, it doesn't even take a doctor to read the fine print on the data to conclude that not only was the study flawed, but that the mainstream media – in their eager rush to slap down Trump's promotion of the drug as a treatment for the Wuhan coronavirus – completely botched their reporting on it.
Most important though in the "VA hydroxychloroquine study" – it was not peer reviewed, not randomized, and… not even a study! It was a "retrospective analysis of data."
Despite propensity score adjustment for a large number of relevant confounders, we cannot rule out the possibility of selection bias or residual confounding. Our study cohort comprised only men whose median age was over 65 years. Therefore, the results may not necessarily reflect outcomes in women or in younger hospitalized populations, nor can they be extrapolated to pediatric patients. Our findings may also be influenced by the demographic composition of patients in our cohort, the majority of whom were black. Disproportionately higher rates of Covid-19-related hospitalization among the black population have also been reported in the United States as a whole.
Wow! So in other words, this "retroactive" study doesn't really tell us anything at all about how the drug would work on people from other demographics who are under 65 and may not be as sick as some of the patients whose cases were reviewed for this study.
The VA even admitted  it: 
 And they wonder why we don't trust them?
Source: redstate.com
So the question is If chloroquine's so dangerous why on the CDC website do they been advise  both adults and children should take one dose of chloroquine per week starting at least 1 week before traveling to the area where malaria transmission occurs
Remember the doctor has to prescribe the drug, so your doctor will make the final determination, the point being is that it not what the MSM is making it out to be. 
Great News! Randall Stephenson, the CEO of heavily indebted AT&T, which owns and presides over Fake News @CNN, is leaving, or was forced out. Anyone who lets a garbage "network" do and say the things that CNN does, should leave ASAP. Hopefully replacement will be much better!

— Donald J. Trump (@realDonaldTrump) April 24, 2020

\Trump said heat, sunlight and humidity would kill the virus
\Trump mentions Hydroxy Chlroquine, this might be a game changer
\Trump mentions ultra violet light, disinfectants that be taken internally
MSM made fun of him,pushed fake stories, it's only a matter of time,PANIC
At each stage he is showing the world the truth, proving he was right
The people need to be shown the TRUTH It's all about to boomerang on the MSM/[DS]
Think about what he is doing, he is hitting this from every angle, showing the people
---
Q
— QrisQross (@ChrisQross) April 24, 2020
I asked for a 'plus' after Trump's 'typos' this morning.
Trump then retweeted 2 tweets with +'s pic.twitter.com/u4Ah5E48VW

— ENoCH (@elenochle) April 24, 2020
Q

 

!xowAT4Z3VQ

 

ID: 900681

 No.1181185


>>1180770
We knew this day would come.
We knew people would need a guide.
We all have a part to play.
We knew FLYNN would be challenged.
Part of the plan?
Flynn JR recent "did not lie to VP."
Timing.
Plan.
SIG sent [WH position]?
Moves & countermoves.
Role outside of WH?
"Lost house."
"Funds for legal."
"Beat up."
You are watching a …..
What is right?
What is wrong?
Up is down.
Left is right.
Left is LEFT.
WH position [rapid] changes.
Why?
Planned?
Visibility in one helps another?
Connected?
C_A to SEC of STATE NK IRAN RUSSIA CHINA MX …..
Why is this relevant?
Think pushback.
Open source.
Why?
They are watching.
Proofs provided to retain.
Future proves past.
History books.
Q