The People See The "Fifth Column", Narrative Shift, Crosshairs Are Now On Obama – Ep. 3144
Podcast: Download (Duration: 1:47:02 — 46.9MB)
Watch The X22 Report On Video
The fires around the world are being pushed on the people to usher in the Green New Deal, they are blaming these fires on the climate change. The German people want a new government, it has begun. Trump has now put the Fed into focus, when the crisis hits the people will know who caused it, structure change coming. The [DS] is now building the narrative that Covid is back, this is all in preparation for the election. They need to cheat and they will try, but this time around I do not believe the people will go along with the tyrannical mandates, the people will fight back. Obama is now in the crosshairs, information is being brought out so the can begin to make the connection. Change of batter coming. The people can now see the fifth column, the [DS] fear is the people awake.
---
Economy
At least 26,000 people forced to evacuate from the Spanish island of Tenerife, where fires are raging. pic.twitter.com/KpmkMHYMXB

— 𝕔hi𝓁𝓁iຖ໐iˢ (@chiIIum) August 20, 2023
Dear People of America, Canada & of the World,

This is NOT normal
This is NOT climate change pic.twitter.com/BJfLcC7j3x

— Wall Street Apes (@WallStreetApes) August 20, 2023
"The fires will continue until carbon taxes increase"

— DC_Draino (@DC_Draino) August 18, 2023
JUST IN – Almost two-thirds of Germans want a new government, citizens said in a poll on Saturday — dpa pic.twitter.com/aO6hvRsAk9

— Disclose.tv (@disclosetv) August 19, 2023
'Reality Check': Ford CEO Admits Charging Electric Vehicle During Road Trip 'Pretty Challenging'
Ford's CEO apparently got complaints from electric vehicle (EV) owners during his recent cross-country road trip.
While on his journey, Jim Farley drove one of the company's electric pickup trucks , noting he called the act of charging the vehicle "pretty challenging."
At the time, he was traveling across Route 66 in the company's electric F-150 Lightning. The CEO also noted he stopped at a charging spot in Coalinga, California, and a low-speed charger offered him a 40 percent charge in 40 minutes.
Social media users were quick to reply to his post, one person writing, "40 min for 40% is brutal. The driver will have to call AAA to tow their vehicle when they run out of charge searching for the mythical charging station."
"Can you imagine what it would be like for a mom with 3 kids in the back? Hungry, need to go pee, bored, start to squabble. 40 minutes is an eternity," another commented.
He claimed, "On my watch, the great American road trip is going to be fully electrified."
Source: breitbart.com 
The US deficit has gotten so large that jump in 2008 barely makes a dent in this chart.

In 2020 alone, the US deficit was nearly $5.5 TRILLION, roughly 315% of the deficit in 2008.

To put things in perspective, US government spending increased 14% over the last year while tax… pic.twitter.com/LxnUIxVZUX

— The Kobeissi Letter (@KobeissiLetter) August 18, 2023
 tax receipts declined 7%. This year's cumulative deficit is more than 200% the size of the YTD deficit last year, $887 billion above last year's level. What's the long-term plan here?
---
Political/Rights
Oliver Anthony has the #1 song in America, and I have the #1 record, and neither of us have record deals. I texted Oliver to congratulate him and he responded "God is good!" Yes He is my friend, yes He is❤️ Thank you to all the supporters of our music, it's truly humbling 🙏 pic.twitter.com/VYyKikA6MP

— John Rich🇺🇸 (@johnrich) August 20, 2023
Biden takes in a 6-day vacay at Tom Steyer's $18 million Lake Tahoe mansion … with a side trip to Maui 
 President Biden and his extended family arrived late Friday for a weeklong Lake Tahoe vacation at the $18 million waterfront mansion of billionaire climate investor Tom Steyer. The president has enjoyed free vacations at the homes of other prominent Democrats, but the White House said that he will pay for the stay at Steyer's three-acre property."The First Family is renting a private home for their stay in Lake Tahoe," a statement read. "The home belongs to Tom Steyer and Kat Taylor. The First Family is renting the home for fair market value."
Fair market value? If that was the case, why did he choose the home of a political crony? Fair market value means he could have chosen anyone. 
Source: americanthinker.com
Q !!mG7VJxZNCI ID: 3a3d46 No.6962232

Tom Steyer is not sleeping well these days.
"Attack a political opponent" will not work.
Justice is no longer blind to those with BILLIONS.
Q
BREAKING: Hunter Biden's lawyers met with Associate Deputy Attorney General Bradley Weinsheimer — an Obama donor — three weeks before prosecutors in David Weiss's Delaware office agreed to hammer out a sweetheart deal for Hunter, according to case documents obtained by Politico

— Paul Sperry (@paulsperry_) August 20, 2023
BREAKING: The ORIGINAL proposed deal for Hunter Biden, drafted by prosecutor David Weiss's deputy Lesley Wolf, did not require Hunter to plead guilty to ANYTHING and was changed WITHIN DAYS of IRS whistleblower Gary Shapley going public with favoritism charges, Politico reporting

— Paul Sperry (@paulsperry_) August 20, 2023
Six Obama Admin Officials Used Alias Emails: Obama, Hillary, Holder, Lynch, Jackson, Biden 
Six Obama administration officials used alias email addresses, including then-Vice President Joe Biden and former President Barack Obama.
Whether connected to a government network or not, it is unusual for government officials to use an email alias. Not only is it peculiar, it raises questions about why Obama administration officials utilized aliases and whether government secrets were compromised.
Below is a list of six U.S officials who used an email alias within the Obama administration:
1) Lisa Jackson, 2013
Jackson used the "Richard Windsor" alias as the former EPA Administrator, according to the Washington Post: 
 2) Loretta Lynch, 2016 
Lynch used the email alias "Elizabeth Carlisle" as Obama's attorney general, the Federalist reported:
Lynch was caught conducting a secret meeting with Bill Clinton aboard a private plane on a tarmac in Phoenix last year as Clinton's wife pursued the presidency and amid an ongoing investigation into Hillary Clinton's private, unsecured email server, which she illegally used during her tenure as secretary of State. Soon afterward, the former attorney general reportedly used a pseudonym to coordinate a narrative about the meeting with Department of Justice officials, Chuck Ross at The Daily Caller reports.
3) Eric Holder, 2015
Holder used three separate alias email addresses after he took office in 2009 as the attorney general, the Los Angeles Times reported:
Holder's previous aliases were Henry Yearwood and David Kendricks, Fallon confirmed. His current alias has not been released.

The alias "Henry Yearwood" is a combination of his mother's maiden name and the first name of another family member, t
4) Barack Obama, 2016
Obama used an alias email address to communicate with his secretary of state, two-time failed presidential candidate Hillary Clinton. None-for-profit Marco Polo unearthed his alias as "Obama725." Politico reported:
The State Department has refused to make public that and other emails Clinton exchanged with Obama. Lawyers have cited the "presidential communications privilege," a variation of executive privilege, in order to withhold the messages under the Freedom of Information Act.
5) Joe Biden, 2016
Joe Biden used aliases "Robert Peters," "Robin Ware," and "JRB Ware" for personal and professional use. In 2016, "Robert Peters" received an email about a scheduled call with the Ukrainian president Petro Poroshenko, the Ukrainian official who fired the prosecutor investigating Burisma Holdings. The energy company was paying Hunter Biden $83,000 a month to sit on the board.
Hunter Biden's laptop contained 27 emails linked to Joe Biden's pseudonym email address, Marco Polo's dossier cataloged.
6) Hilary Clinton, 2016
Hillary Clinton used two alias email addresses "hdr22" and "hrod17," uncovered by the infamous email scandal, Breitbart News reported:
Hillary Clinton set up a private email server, and a private email network for herself and her family and Abedin. Doing so could prevent her emails from being "accessible" to the federal government, not to mention Congress.

The private network allowed Clinton, Abedin, and aides Cheryl Mills and Jake Sullivan to swap emails with the Clinton Foundation, various world leaders, and Doug Band's global consulting firm Teneo Holdings, where Abedin also worked during her time at the State Department. This would have been problematic, considering Clinton's 2009 ethics agreement, leaked on Cryptome, in which she vowed not to coordinate with the Clinton Foundation.
Source: breitbart.com
Remember OBama continually said that his administration was scandal free. The connection is being built between biden, holder, loretta lynch, hillary clinton
Q

 

!xowAT4Z3VQ

 

ID: 3c7fe2

 No.1203338

>>1203057

Q –

Thank you for arriving. Frustration is very high.
Can Marshalls physically remove texts, tapes, etc.???
Q

 

!CbboFOtcZs

 

ID: 0d582e

 No.1763103

>>1762906
Access KillsGMAIL DRAFTS????
Dfza5QwV4AACu-Z.jpg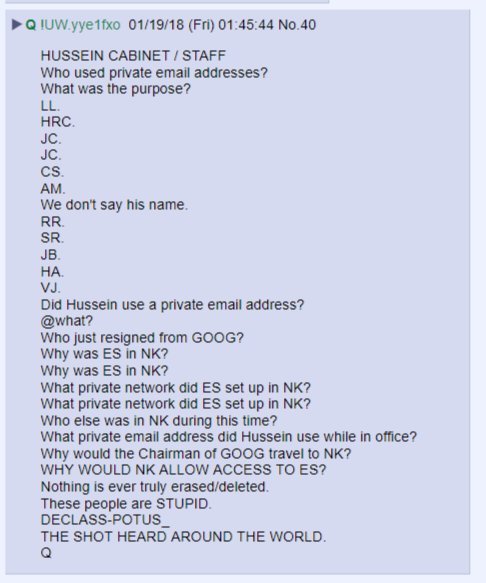 images.jpg

Why wasn't HRC prosecuted for the emails? Put simply, Obama ultimately OK'd by using the non govt email addy to communicate w/ Clinton. Obama also had an alias along with each of his cabinet members. Therefore indicting HRC would lead to indicting Obama & his cabinet etc which could never happen. Remember he lied about knowing but that ultimately came out in the dump. Poof!
---
Geopolitical/Police State
Then delete your account

— Elon Musk (@elonmusk) August 20, 2023
Thank you. If @elonmusk removes the ability to block concerted harassment by trolls or organized political entities, how will "X" be any different from Jack Dorsey's horrid Twitter?

Musk, whom I once championed, is only doing this to protect his advertisers anyway. Users of X… https://t.co/bR3oMU4f2P

— James Woods (@RealJamesWoods) August 19, 2023
are mere pawns to turn the site into an electronic shopping mall. The man I thought was a defender of free speech is just another greedy capitalist. Disappointing, but not surprising.
The sad truth is that there are no great "social networks" right now.

We may fail, as so many have predicted, but we will try our best to make there be at least one.

— Elon Musk (@elonmusk) August 19, 2023
ATF Revokes Gun Licenses of 122 Gun Dealers Amid Biden Regime's War on Second Amendment
The Bureau of Alcohol, Tobacco, Firearms and Explosives revoked gun licenses of 122 gun dealers during the last fiscal year amid the Biden Regime's war on the Second Amendment.
"We were making $1 million a year, now it's less than $100,000," Anthony Navarro, a gun dealer who lost his license last year after receiving three warnings for legal violations told The Wall Street Journal. "This policy is designed to be a backdoor violation of the Second Amendment."
Fox News reported:
Source: thegatewaypundit.com
---
War
Families of 9/11 Victims Outraged at Biden Admin Over News That High Ranking Terrorists Could Avoid Death Penalty
Families of 9/11 victims are justifiably outraged over the news that some of the high ranking people behind the attacks may avoid the death penalty.
It's amazing that these prisoners have avoided it for this long already. That dark day happened over 20 years ago.
Haven't these prisoners outlived their usefulness for intelligence at this point?
FOX News reports:
Biden admin enrages families of 9/11 victims as masterminds could avoid death penalty: 'They deserve no mercy' 
Joe Biden's decision to offer the man responsible for planning the 9/11 attacks a plea deal that allows him to avoid justice is an insult to the families, survivors, and to every American.https://t.co/04U65RywyR

— Rep. Elise Stefanik (@RepStefanik) August 18, 2023
Source: thegatewaypundit.com
JUST IN – West African bloc ECOWAS has decided "D-Day" for military intervention in Niger.

— Disclose.tv (@disclosetv) August 18, 2023
War funding for Ukraine is losing steam, the people do not want to fund the war. The [DS]/Biden they need funding, they know they cannot get from Congress, so what do they do, they create disasters, Biden then says we need to send funds to these states but the D's Rinos combine the disaster money with the Ukranian money
Congress decided to combined disaster relief for Maui with an extra $24 billion in funding for Ukraine. That means members of Congress who oppose more funding for Ukraine (there are many) would have to vote NO on disaster relief for Maui if they want to also block Ukraine war funding. 
---
False Flags
STOP EATING POISON! pic.twitter.com/Oc013vpVt2

— illuminatibot (@iluminatibot) August 19, 2023
Control the food and you control the population.

The USDA, through scale-prejudicial regulations, has given operational control of our meat supply to an oligopoly of 4 companies – one is Chinese – Smithfield & one is Brazilian – JBS.

The PRIME Act empowers farmers & consumers!

— Thomas Massie (@RepThomasMassie) August 20, 2023
Global disease experts are monitoring a new Covid variant that carries a large number of mutations — meaning it looks significantly different from the original version of Omicron and the previously dominant strain targeted by upcoming Covid booster shots. https://t.co/lMzuWuaaOb

— NBC News (@NBCNews) August 19, 2023
Which arm gets the Covid-19 booster may make a difference, study shows
When you go to get your newly updated Covid-19 booster this fall, you might want to choose the arm the vaccine goes in carefully.
The immune response may be stronger if your booster goes in the same arm as your last Covid-19 shot, according to a study published August 11 in the journal eBioMedicine.
Source: cnn.com
We finally have the "gold standard" ground truth data that nobody can argue with showing that the COVID vaccines were a disaster for the elderly, the very population they were meant to protect.
The source of the data? Weekly infection, mortality reports from over 15,000 US nursing homes who were required to report their numbers to Medicare (aka CMS).
What makes this so important is that around 40% of the COVID deaths were in nursing homes. So nursing home COVID infection and death data is the "holy grail." You cannot get any better than this.
the data is bad. Really bad. It would be hard to analyze this data and show it is a success.
CMS made a huge mistake by making the US Nursing home COVID data public where anyone who wanted to know the truth could analyze. Data transparency means that the truth is in plain sight. That's really bad for the narrative.
 If the vaccines really worked, the IFR in the months after the vaccine (after a waiting period) should have plummeted, but it went up by 20%.
In addition, an analysis of elderly facilities in Ireland was fully consistent with what my analysis found: death rates in nursing homes skyrocketed right after the vaccines rolled out.
Source:  kirschsubstack.com 
Remember that fascinating 2 year period where flu just…disappeared?

Looks like according to the official narrative the flu is about to go on vacation and disappear again for another year.

Apparently they can do that. Just make the flu go away. pic.twitter.com/uh591wvCLW

— Brian Cates – Political Columnist & Pundit (@drawandstrike) August 20, 2023
Biden Regime to Reinstate COVID-19 Restrictions Beginning with Mask Mandate as "COVID Cases Rise", Say TSA and Border Patrol Whistleblowers
The Biden regime is preparing to reinstate full COVID-19 lockdowns, beginning with masking mandates for TSA and airport employees reportedly as early as mid-September
These policies will reinstate the mask mandate for TSA and airport employees starting in mid-September.
According to the TSA official, further details on how the policy will escalate will be provided next week.
The official added that by mid-October, mask-wearing will be mandated for pilots, flight staff, passengers, and all airport patrons.  
WHO has designated #COVID19 variant BA.2.86 as a 'variant under monitoring' today due to the large number of mutations it carries.

So far, only a few sequences of the variant have been reported from a handful of countries.
🔗 https://t.co/3tJkDZdY1V

— World Health Organization (WHO) (@WHO) August 17, 2023
The WHO, CDC, Biden Admin are fear mongering a new COVID variant BA.2.86 after highly mutated strain reported in Michigan.

Sources in DHS and Emergency Management (my field) are already preparing for lockdowns and restrictions.

Look at todays headlines. It's a coordinated… pic.twitter.com/VZASyPIB1S

— Ryan Cunningham (@rycunni) August 18, 2023
Source: thegatewaypundit.com
Will the people push back after they experienced Covid. Will we see mass civil disobedience, Remember Gates was complaining how people were pushing against the vaccine, how they didn't believe the CDC, WHO, the [DS] anymore.
---
Q
Q !!mG7VJxZNCI ID: 6690c2 No.2775283

https://saraacarter.com/bruce-ohr-fbi-knew-about-bias-before-getting-a-fisa-on-carter-page/
BIGGER THAN WATERGATE.
BIGGEST SCANDAL IN US HISTORY.
CRICKETS.
[FAKE NEWS].
Desperate to SHELTER.
Define 'Shelter'.
A place giving temporary protection from bad weather or danger.
Q
NEW: Trump says "the party should come together. People should drop out of the race" citing new polls which have him winning both the primary and the general election. pic.twitter.com/hUNHLlekL4

— Charlie Kirk (@charliekirk11) August 17, 2023
Hutchinson says Trump may not qualify to be president, citing 14th Amendment
Republican presidential candidate Asa Hutchinson said on Sunday that former President Trump's actions on Jan. 6 likely violated the 14th amendment of the U.S. Constitution and therefore disqualifies Trump from taking the nation's top office ever again.
Source: thehill.com
Q !ITPb.qbhqo ID: wmN+33xv No.149467638

For the coming days ahead.
Ask yourself an honest question, why would a billionaire who has it all, fame, fortune, a warm and loving family, friends, etc. want to endanger himself and his family by becoming POTUS?
Why would he want to target himself and those he cares about?
Does he need money?
Does he need fame?
What does he get out of this?
Does he want to make the US/world a better place for his family and for those good and decent people who have long been taken advantage of?
Perhaps he could not stomach the thought of mass murders occurring to satisfy Moloch?
Perhaps he could not stomach the thought of children being kidnapped, drugged, and raped while leaders/law enforcement of the world turn a blind eye.
Perhaps he was tired of seeing how certain races/countries were being constantly abused and kept in need/poor/and suffering all for a specific purpose.
Perhaps he could not in good conscious see the world burn.
Why, hours after the election, did seven people travel to an undisclosed location to hold a very private & highly secured/guarded meeting?
The meeting was to figure out how to invalidate the election results, or, if that was not possible find some other way to remove Trump from office: impeachment, mental health or physical health issues, criminal activity, etc.
Why didn't HRC give a concession speech?
When was the last time a presidential candidate didn't personally give a concession speech?
What happens if the border remained open and the MSM continued to brainwash?
At what point do Patriots, and hard working men and woman, become the minority?
What about voting machines?
Who owns the voting machines?
What about voter ID laws?
Photo ID? When is it necessary and must be presented? Make a list. Laugh.
Reconcile.
Would the chances of defeating evil grow less and less with each passing year?
What does 'red line' mean?
Why, again, were the arrests made in SA so very important?
What strings were immediately cut?
Follow the money.
When does a bird sing?
Will this statement by Biden be released soon
Do you agree or disagree with this statement: "There is no way Joe Biden got 81 million votes in the 2020 Election."

Republicans Only
Strongly Agree: 54%👈
Somewhat Agree: 18%👈
Somewhat Disagree: 8%
Strongly Disagree: 15%
Not Sure: 6%👈

54%+18%+6%=78%=GOP fraud deniers=idiots https://t.co/GaazsjRLwd

— Rasmussen Reports (@Rasmussen_Poll) August 20, 2023
Do you agree or disagree with this statement: "There is no way Joe Biden got 81 million votes in the 2020 Election."

Independents Only
Strongly Agree: 27%👈
Somewhat Agree: 18%👈
Somewhat Disagree: 10%
Strongly Disagree: 32%
Not Sure: 13%👈

27%+18%+13%= 58% = a big problem https://t.co/GaazsjRLwd

— Rasmussen Reports (@Rasmussen_Poll) August 20, 2023
Do you agree or disagree with this statement: "There is no way Joe Biden got 81 million votes in the 2020 Election."

Democrats Only
Strongly Agree: 19%👈
Somewhat Agree: 12%👈
Somewhat Disagree: 8%
Strongly Disagree: 57%
Not Sure: 4%👈

19%+12%+4% = 35% = extraordinary signal https://t.co/GaazsjRLwd

— Rasmussen Reports (@Rasmussen_Poll) August 20, 2023
Why is the SS now protecting key members of No Such Agency? >>45476