The Punisher Has Been Released, 2019 Year Of The Boomerang – Episode 1977
Podcast: Download (Duration: 40:55 — 41.6MB)
Boris is meeting with leaders at the UN to talk about the BREXIT, BJ has already warned the people not to expect anything from their meeting. BJ will push the BREXIT, no deals. The [CB] is now in a panic, they are trying to say that the Fed is taking control and they are backing off what Trump wants, the opposite is happening. Tom Fitton says HRC has until tomorrow to oppose the court order. JW uncovered memos from McCabe, very damaging for McCabe and Rosenstein. The patriots have stirred the pot, there are now open calls to impeach Trump over the Ukraine call. The DS is now projecting everything JB and HB did in Ukraine. This is the year of the boomerang, the punisher has been released.  Rudy Giuliano is now headed to Ukraine, Trump uses every interview to mention JB and what he did. The end is near, and the patriots have the control.
Check Out The X22 Report Spotlight YouTube Channel X22Report Spotlight
Please check Newzsentinel.com for the latest news on the economic collapse. The Sentinel Alerts are updated throughout the day. If you haven't already, go to "The People" and join the community of people who are helping each through the economic collapse.
---
Current News – 09.23.2019
Watch The X22 Report On Video
---
Economy
Johnson is set to meet European Council President Donald Tusk on the fringes of the summit this afternoon, followed by a trilateral with German Chancellor Angela Merkel and French President Emmanuel Macron.
Source: politico.com
Powell has started to push back on Trump, Dudley says
Federal Reserve Chairman Jerome Powell is starting to "push back" on President Donald Trump's constant criticism, and that's a good thing, said former New York Fed President William Dudley on Monday.
"People are not sure now if the Fed is easing because that is the appropriate policy path or because of pressure from the president," he said.
He said there is no big split at the Fed.
Source: marketwatch.com
---
Political/Rights
The [DS] fell right into the trap, Trump is now playing with them, the MSM is desperately trying to push the narrative that Trump is colluding with Ukraine, it's time to impeach, we can get him now, the whistleblower has all the answers, this is just smoke and mirrors, Trump and the patriots want them to push this angle, just like they pushed the Russian collusion angle and the obstruction angle, each time they do this it exposes them, The punisher has been released, welcome to the year of the boomerrang, we will talk about this a little later in this report, but first Tom Fitton is letting everyone know that HRC has until tomorrow to oppose JW request, he tweeted the following
Mrs. Clinton, by court order, has until tomorrow to oppose @JudicialWatch request to depose her under oath about her emails and Benghazi. Court has already ordered other, new witnesses be questioned. https://t.co/pvW4CD2oBS

— Tom Fitton (@TomFitton) September 23, 2019
JW has obtained McCabes memo and it doesn't look good for McCabe or Rosenstein
JUDICIAL WATCH: MCCABE MEMO DETAILS HOW DOJ'S ROSENSTEIN PROPOSED WEARING A WIRE INTO OVAL OFFICE TO RECORD PRESIDENT TRUMP
 Judicial Watch announced today it obtained a two-page memo, dated May 16, 2017, by then-Acting FBI Director Andrew McCabe detailing how then-Deputy Attorney General Rod Rosenstein proposed wearing a wire into the Oval Office "to collect additional evidence on the president's true intentions." McCabe writes that Rosenstein said he thought it was possible because "he was not searched when he entered the White House."
The Justice Department turned over the document last Friday at 5:27 pm in a Judicial Watch February, 2019 Freedom of Information Act (FOIA) lawsuit filed after the Justice Department and FBI failed to respond to September 2, 2018 FOIA requests for documents about any FBI/DOJ discussions regarding the 25th Amendment and plans to secretly record President Trump in the Oval Offic 
Source: judicialwatch.com
The MSM. The Dems the DS players they are pushing the narrative that Trump must be removed, this sounds exactly like the Mueller witch hunt, which proved that Trump was not colluding or obstructing, first we have 
Trump must be removed if the Ukraine scandal is proven: CNN's John Avlon
 fact checker John Avlon broke down the seriousness of the allegations against President Donald Trump in the Ukraine scandal — and said that he must be removed as president if the facts are confirmed. (key word facts are confirmed) or another way to say this, if we can prove our propaganda.  
Source: rawstory.com
Adam Schiff: We Need to Take Defensive Steps Against This President
"Why doesn't the President say release the whistleblower complaint or transcript of his conversation with the foreign leader?" said Rep. Adam Schiff (D-CA), the Chairman of the House Permanent Select Committee on Intelligence on CNN 'State of the Union'.
"Clearly he is afraid for the public to see, either one of those things, and we are determined to make sure that the public does. That our nation is protected. That if the President of the United States is browbeating a foreign leader, at the same time he was withholding a vital military assistance that Ukraine needed to defend itself against Russia and trying to get dirt on his political opponent and he had a second campaign then the country needs to know about it, and we need to take defensive steps."
Source: saracarter.com
Sounds like Schiff, and the MSM are in a panic, we must release it, it sounds like the Mueller report, the Mueller report must be released, it was, and it turned out be nothing, we must have the unredacted part of the Mueller report, but you can't because that is against the law because this has to do with ongoing investigations and grand jury, we must have mueller testify, a big fail, 
The chairman misled Americans for two years into believing secret evidence of collusion existed when none did. Extraordinarily measured. https://t.co/LtPqEl1ibZ

— Mark Meadows (@RepMarkMeadows) September 22, 2019
Meadows is right, we should be looking into the MSM, Schiff, Nadler and the rest who have been feed the public fake information.  Then we have Pelosi
Pelosi: Turn Over Whistleblower Complaint, Or Launch 'a Whole New Stage of Investigation'
"If the Administration persists in blocking this whistleblower from disclosing to Congress a serious possible breach of constitutional duties by the President, they will be entering a grave new chapter of lawlessness which will take us into a whole new stage of investigation,"
Source: cnsnews.com
And the DS players just did the unthinkable, 
NeverTrump Republican Bill Weld Wants Death Penalty for Trump for Speaking to Ukraine About Biden Crime Family
So now they want Trump dead for speaking to Ukraine about the Biden family selling their public office for millions.
 Bill Weld wants Trump dead for speaking to Ukraine about Biden.
Weld says Trump committed treason for bringing up the Biden Family embezzlement scheme with the current president.
There it is.
Bill Weld: Talk about pressuring a foreign country to interfere with and control a US election? It couldn't cleared… That is treason, pure and simple. And the penalty for treason is death.
Source: thegatewaypundit.com
The MSM,D's,DS players they are projecting, they know whats coming and the push to control this is failing and coming right back at them. 
Trump doubles down on call to investigate Biden after whistleblower complaint: 'That's the real story'
President Trump  doubled down on his call for former Vice President Joe Biden's dealings with Ukraine to be investigated amid reports of a whistleblower who is said to have raised concerns about the president's interaction with a foreign leader who may have been Ukraine's president.
Now the Fake News Media says I "pressured the Ukrainian President at least 8 times during my telephone call with him." This supposedly comes from a so-called "whistleblower" who they say doesn't even have a first hand account of what was said. More Democrat/Crooked Media con…..

— Donald J. Trump (@realDonaldTrump) September 23, 2019
..Breaking News: The Ukrainian Government just said they weren't pressured at all during the "nice" call. Sleepy Joe Biden, on the other hand, forced a tough prosecutor out from investigating his son's company by threat of not giving big dollars to Ukraine. That's the real story!

— Donald J. Trump (@realDonaldTrump) September 23, 2019
Source: thehill.com
This brings us to the punisher, boom, remember Giuliani was out there talking about Ukraine, this was on purpose, people heard about it and now its back
"Bidens Made Big Money Selling Public Office!… Did Obama Know?" – Rudy Giuliani DESTROYS Biden Crime Family in Series of Monday Tweets!
Giuliani is laying it all out there and he tweeted out the following
Did Obama know that his VP, the one he put in charge of giving billions to Ukraine, had a son who was making millions on the board of one of the most corrupt companies in Ukraine. Biden's boss had stolen $5b from Ukraine and was a fugitive. Did Obama know? Did he approve?

— Rudy Giuliani (@RudyGiuliani) September 23, 2019
If Dem party doesn't call for investigation of Bidens' millions from Ukraine and billions from China, they will own it. Bidens' made big money selling public office. How could Obama have allowed this to happen? Will Dems continue to condone and enable this kind pay-for-play?

— Rudy Giuliani (@RudyGiuliani) September 23, 2019
Biden says he never talked to his son about his overseas business. Do you think we can prove, with our fact a day disclosures, it's a lie-a false exculpatory statement. Do we have to prove, or do you already know, it's a lie, and an incriminating statement.

— Rudy Giuliani (@RudyGiuliani) September 23, 2019
Today though it's the $3 million laundered payment, classical proof of guilty knowledge and intent, that was kept from you by Swamp Media. Ukraine-Latvia-Cyprus-US is a usual route for laundering money. Obama's US embassy told Cyprus bank not to disclose amount to Biden. Stinks!

— Rudy Giuliani (@RudyGiuliani) September 23, 2019
Source: thegatewaypundit.com
Notice a pattern Dems call Mueller, Mueller falls apart. Dems attack Kavanaugh,but victim doesn't remember. Dems accuse @realDonaldTrump of threatening Ukraine with holding back money, but he didn't. Biden did . "When first you practice to deceive…" more traps ahead.

— Rudy Giuliani (@RudyGiuliani) September 22, 2019
BREAKING: Biden's son Hunter retained a Fusion GPS client to prepare a report giving the corrupt Ukrainian company Burisma on whose board he sat a clean bill of health for investors

— Paul Sperry (@paulsperry_) September 23, 2019
So the question is does Trump have the right to question Biden dealings with Ukraine
Peter Schweizer: Trump right to question Biden dealings with Ukraine, despite Dem criticism
Trump's call is reportedly the source of a complaint by a whistleblower against the president that has sparked a furor among Democrats in Congress, who are demanding to see the complaint.
 .
Critics of the president have accused Trump of attempting to "extort" Ukrainian officials for "dirt" on Biden, the current front-runner for the Democratic nomination to run against Trump next year.
But why would Ukraine have dirt on Joe Biden?  
According to Joe Biden himself, the former vice president played a key role in the prosecutor's dismissal.
In March 2016, the then-vice president threatened to withhold $1 billion in U.S. loans if Shokin was not fired, according to Biden, who recounted the exchange in a 2018 speech: "I looked at them and said: I'm leaving in six hours. If the prosecutor is not fired, you're not getting the money. Well, son of a b—-. He got fired."
While the propriety of Trump's call to the Ukrainian president is certainly questionable and worthy of inquiry, the investigation he was hoping for certainly seems warranted on its own merits.
Source: foxnews.com
S

en. Lindsey Graham called on the Justice Department to investigate "all things Ukraine" 
 Then Graham hits the DS right between the eyes and uses everything they did to Trump against them
"We looked at all things Russia and Trump, his family, everything about his family, everything transaction between the Trump campaign and Russia. Now is time to see whether or not the Ukrainians released information regarding Paul Manafort, who was Trump's campaign manager," Graham said. "What relationships, if any, did the Biden world have with the Ukraine? What role, if any, did the Ukraine play in the 2016 election?"
Source: washingtonexaminer.com
Rep. Devin Nunes: Biden Already Admitted He Did The Very Thing Trump Is Accused Of Doing
The whistleblower scandal is blowing up in the faces of Democrats.
In what was meant to be a bombshell, U.S. media last week reported that President Trump had urged the president of Ukraine to investigate business dealings of Job Biden's son, Hunter. He was making $50,000 a month from a Ukranian company that was being probed by a state prosecutor.
"The very thing they're accusing President Trump of doing Biden did and admitted that he did," Nunes said o
 .
Source: thegatewaypundit.com
The MSM and the DS keep calling for the Transcripts, the WH press sec responded to this
WH Press Secretary: Trump Willing to release transcripts…will set bad precedent
 said White House press secretary Stephanie Grisham "[President Trump] is willing to do it, I think. But there's a lot of other people, lawyers and … such that may have a problem with it. So we'll see what happens,"
"When foreign leaders come together to speak, they need to be able to speak candidly," Grisham said. "I do think that perhaps releasing this kind of a transcript could set a bad precedent."
"
"The fact of the matter is, the president has calls with foreign leaders all the time. People are listening [in] on those calls generally. There's some kind of a transcription made generally. And the president knows that. And he's above board."
Source: saracarter.com
Then Trump hits the MSM, the DS, Dems really hard
"The very thing that they are accusing President Trump of doing (which I didn't do), was actually done by Joe Biden. Continues to be a double standard." @RepDevinNunes @foxandfriends These people are stone cold Crooked. Also, who is this so-called "whistleblower" who doesn't…

— Donald J. Trump (@realDonaldTrump) September 23, 2019
….know the correct facts. Is he on our Country's side. Where does he come from. Is this all about Schiff & the Democrats again after years of being wrong?

— Donald J. Trump (@realDonaldTrump) September 23, 2019
Gregg Jarrett: It Appears the 'Whistleblower' is Just an American Spy in Our Intel Agency Spying on President Trump
 Gregg Jarrett said  that the Deep State whistleblower who penned a complaint against Trump may not be a whistleblower at all — it appears he is an American spy in our Intel Agency spying on President Trump.
Gregg Jarrett pointed out the five following facts:
1.     It appears that an American spy in one of our intelligence agencies may have been spying on our own president.  The complaint suggests that this intel agent was secretly listening in on Trump's conversation with a foreign leader.  Was this person officially asked to listen to the conversation or was he or she secretly listening in?  We don't know.

2.     This agent, who is an unelected and inferior federal employee in the government hierarchy, apparently believes that it is his/her job to second-guess the motivation behind the words of the elected president, who is the most superior officer in the U.S. government.

3.     Article II of the Constitution gives the president sweeping power to conduct foreign affairs, negotiate with leaders of other nations, make demands or offer promises.  The Constitution does not grant the power of review, approval or disapproval to spies or other unelected officials in the executive branch.

4.     The ICWPA law defines the parameters of an "urgent concern" complaint as an abuse or violation of law "relating to the funding, administration, or operations of an intelligence activity involving classified information, but does not include differences of opinions concerning public policy matters."  The president's conversation with a foreign leader does not seem to fall under this whistleblower definition.

5.     It appears the acting Director of National Intelligence (DNI) agrees with this assessment.  His agency's general counsel wrote a letter stating the complaint did not meet the ICWPA definition because it involved conduct "from someone outside the intel community and did not relate to intelligence activity", according to a report by Fox News.  This is why the DNI refused to forward the complaint to congress.
Source: thegatewaypundit.com
Giuliani will travel to Ukraine, saying country's probes may be 'very, very helpful' for Trump
2019 – YEAR OF THE

BOOMERANG

.

Q
There are Puppets.

There are Puppet Masters.

Which is

[MUELLER]

?

Attempt to replace

[JC]

as FBI Dir FAILED

[attempt to regain FBI control]

.

Plot & Plan

[backup]

to initiate SC to safeguard against criminal prosecution re: illegal and criminal actions?

[SC = BLOCKADE] [SC = loss of FBI command/control safeguard]

DOJ depends on what agency for investigating criminal actions?

[MUELLER]

U1.

[MUELLER] [Epstein bury & cover-up]

.

[MUELLER] [plot to remove duly elected POTUS]

.

……………..

BIGGEST SCANDAL IN AMERICAN HISTORY.

TREASON.

2019 – YEAR OF THE

BOOMERANG

.

Q
---
Geopolitical/Police State
SURPRISE! The Official Escort for 16-Year-Old Global Warming 'Expert' Greta Thunberg Is a Leftist Hack Funded by George Soros Org. 
16-year-old Greta Thunberg traveled by boat to the US from Sweden to lecture Americans on Global Warming.
The 16-year-old is an expert we are told.
Greta Thunberg told Americans, "You're not trying hard enough!"
Evidently Greta wants us to travel by boats to and from Europe.
Greta is a media-created phenomenon.
What the media does not tell you is who is behind all of this
If you check out her photos young Greta is being escorted around the country by her handler – far left activist Luisa-Marie Neubauer.
It says so on the ONE org. webpage.

Source: thegatewapypundit.com
---
War
Iran has indicated it has freed the British-flagged oil tanker Stena Impero on Monday upon the announcement by officials in Tehran that the ship is "free to leave" — though it's reportedly yet to move out of Iranian waters.
This brings to an end the two-month standoff since the vessel had been captured by the IRGC in the Strait of Hormuz, in what was seen as an immediate retaliatory move responding to the prior July 4 seizure of Iran's Grace 1, since renamed Adrian Darya 1, off Gibraltar by UK Royal Marines.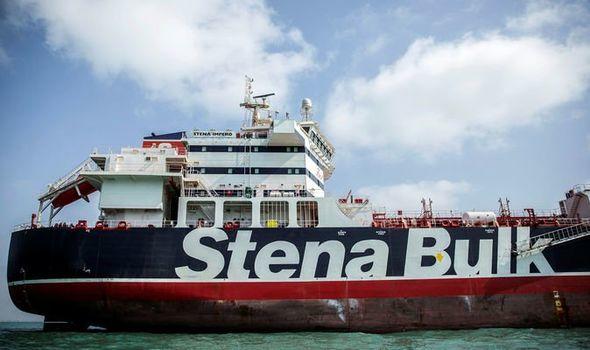 Source: zerohedge.com
Trump speaks to Ukraine, he should be impeached, he should get the death penalty for treason,
wait isn't he the President he is suppose to speak to foreign leaders,
Lets talk about treason and the death penalty, the DS is getting desperate they see what is happening and we might see something happen where there is an attempt on Trumps life, I do not believe they rules this out
Now that they mentioned it, the public has heard it Treason you get the death penalty, so 
Why isn't the MSM concerned about Biden or his son

JOHN SOLOMON: Ukrainian Prosecutor Says Justice Department Refused Evidence on Dems, Hillary Clinton and Joe Biden

The Ukrainians gave John Solomon a list of evidence of Democrat wrongdoing which included big names like Hillary Clinton and Joe Biden:


Sworn statements from two Ukrainian officials admitting that their agency tried to influence the 2016 U.S. presidential election in favor of Hillary Clinton. The effort included leaking an alleged ledger showing payments to then-Trump campaign chairman Paul Manafort;
Contacts between Democratic figures in Washington and Ukrainian officials that involved passing along dirt on Donald Trump;
Financial records showing a Ukrainian natural gas company routed more than $3 million to American accounts tied to Hunter Biden, younger son of then-Vice President Joe Biden, who managed U.S.-Ukrainian relations for the Obama administration. Biden's son served on the board of a Ukrainian natural gas company, Burisma Holdings;
Records that Vice President Biden pressured Ukrainian officials in March 2016 to fire the prosecutor who oversaw an investigation of Burisma Holdings and who planned to interview Hunter Biden about the financial transfers;
Correspondence showing members of the State Department and U.S. embassy in Kiev interfered or applied pressure in criminal cases on Ukrainian soil;
Disbursements of as much as $7 billion in Ukrainian funds that prosecutors believe may have been misappropriated or taken out of the country, including to the United States.
Devin Nunes on Ukraine Story: "Biden Did the Very Thing Trump is Accused of"… .   The DS is projecting right now
The question why bring all of this out into the open?
Trump and the patriots want them to make a big deal about this call, they its nothing but they want the build up, why, because Trump continually repeats you should be looking at biden every single time, brilliant
the patriots already have this information
Ukraine has it all documented, so there is plenty of evidence, this will be brought out very soon, the patriots are letting the dS and the MSM do what they do best, destroy themselves