The Swamp Is Fighting Back, Forced Projection & Reaction, Evidence Injection – Ep. 3038
Podcast: Download (Duration: 1:21:51 — 36.3MB)
Watch The X22 Report On Video
Companies are continually laying off and as this continues on the people are going to get angry. The GND is being pushed and they are removing all incandescent light bulbs. Jamie Diamond wants to take land from people to put up solar panels and wind mills. Trump sends message, the reserve currency is coming to an end. The [DS] did not get what they wanted, the did not get the propaganda show so now they are using the fake indictments to drag it out thru the Presidential election, this is called election interference. All evidence shows that Trump did nothing wrong. Trump needed this to happen so he could inject evidence legally. The swamp will continue to fight, this is there only option, they know they don't have many moves left.
---
Economy
Walmart Cutting 2,000 Jobs amid 'Trepidation and Uncertainty'
Walmart has begun laying of 2,000 workers at a number of fulfillment centers to help the retail giant contend with an uncertain economic climate.
 1,000 in Texas, 600 in Pennsylvania, 400 in Florida, and 200 in New Jersey.
Source: breitbart.com
"I'm all for business, but not communist business."

Residents fight back after Gov. Gretchen Whitmer gave $715 million in taxpayer funds to 700-acre Chinese battery plant near Big Rapids, Michigan: pic.twitter.com/fMijwBU89C

— The Midwesterner (@Th_Midwesterner) March 15, 2023
JUST IN – U.S. monthly trade deficit widens to $70.50 billion in February, up $1.9 billion from the previous month and higher than expected.

— Disclose.tv (@disclosetv) April 5, 2023
---
Political/Rights
Meanwhile, House Oversight Committee chairman @RepJamesComer just revealed that testimony from Joe Biden's former VP assistant Kathy Chung "undermines" the WH story about his classified documents. They were not in a "locked closet" and they were moved in May 2022, not Nov 2022. pic.twitter.com/tHXT2TPWjF

— Miranda Devine (@mirandadevine) April 4, 2023
---
Geopolitical/Police State
NEWS:Germany's federal office of justice has initiated proceedings to fine Twitter for mishandling user complaints about "illegal" content that wasn't deleted or blocked.

— T(w)itter Daily News  (@TitterDaily) April 4, 2023
First I've heard about this. Did they identify what content they're concerned about?

— Elon Musk (@elonmusk) April 4, 2023
Twitter just labelled NPR as US state media
Seems accurate pic.twitter.com/nx5TmJY7GX

— Elon Musk (@elonmusk) April 5, 2023
NPR stands for freedom of speech & holding the powerful accountable. A vigorous, vibrant free press is essential to the health of our democracy.
My full statement on the recent inaccurate Twitter label below: pic.twitter.com/kdusUNtNUo

— John Lansing (@johnlansing) April 5, 2023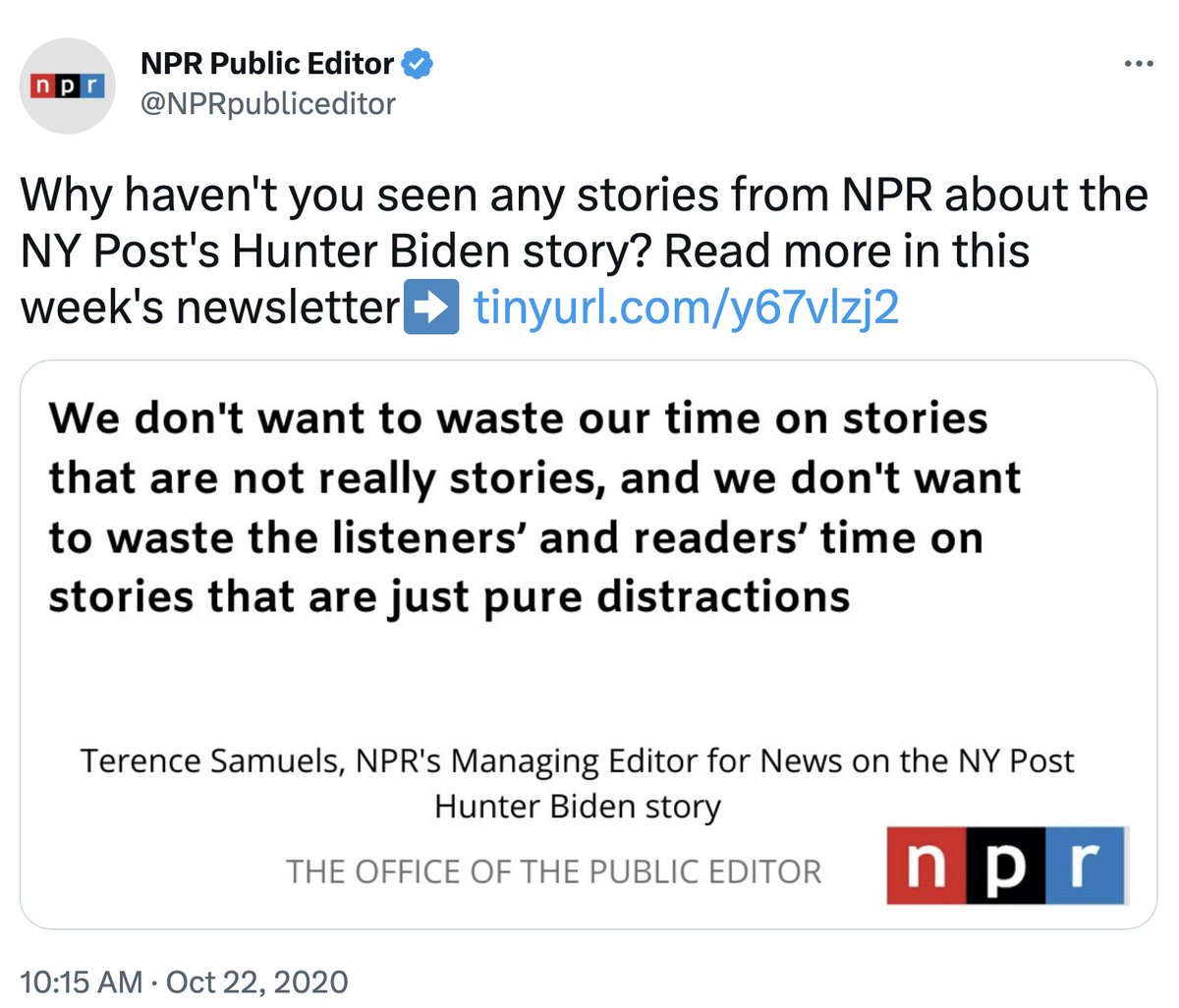 Last week, when a mob of leftists invaded the Tennessee state Capitol, some Democrat lawmakers joined in with the group.
Now they have been stripped of their committee assignments and could even face expulsion from the legislature.
Shouldn't they also face jail time, according to the rules of the left? Shouldn't anyone that entered the capital be thrown into prison awaiting trial. 
Expel them and prosecute them. Those are the rules, aren't they?
FOX News reports:
Tennessee lawmakers lose committee assignments after storming state Capitol
Source: thegatewaypundit.com
---
War
— Mike Pompeo (@mikepompeo) April 4, 2023
Helping Ukraine end this war isn't about Kyiv or Berlin.

It's about Wichita and Des Moines.

Our national and economic security are strengthened when Ukraine defeats Putin.

— Mike Pompeo (@mikepompeo) April 5, 2023
May 08, 2020 3:10:56 PM EDT
[Hussein]
pre-post
[F]
travel
[

SHADOW

]
POTUS?
Q
May 10, 2020 1:07:52 AM EDT
THE
SHADOW
PRESIDENCY. THE
SHADOW
GOVERNMENT.
Why did
[Hussein]
SHADOW
POTUS re:
[F]
trips?
Why did
[Kerry]
SHADOW
POTUS re: Iran?
Why did
[Kerry]
SHADOW
POTUS re:
[CLAS 1-99]
?
May 24, 2020 3:56:43 PM EDT
---
Cyber Attacks
---
False Flags
Leftist @Brandon4Chicago has won the Chicago mayoral election against moderate Democrat Paul Vallas. Johnson calls for removing law enforcement from society. During the 2020 riots, he defended looters, saying they were lashing out against racism. Chicago's violent crime has… pic.twitter.com/Z2kcJSj8GJ

— Andy Ngô 🏳️‍🌈 (@MrAndyNgo) April 5, 2023
---
Q
This is what you get when you put a Romney in charge.
The party that has no problems getting their act together to send billions to Ukraine can't figure out how to win crucial elections if their lives depended on it.
But they'll promise the world on Hannity and Gowdy.
Disgusting. https://t.co/mBWdBpV8It

— Rising serpent 🇺🇸 (@rising_serpent) April 5, 2023
 "City clerk Celestine Jeffreys said the machine at the Green Bay Botanical Garden wasn't working," WLUK reported. "Backup machines also did not work."

The city had to borrow a voting machine from Brown County.

"Those machines had been serviced, so we have to take a much more close look after this election as to whether or not we need to purchase new machines and exactly how we can ensure that that doesn't happen again," Jeffreys said. "It's the same problem we've been having at that ward for a couple of different election cycles."
Jeffreys said more than 7,000 absentee ballots had been returned to the city as of 4 p.m. About 30% of the city's ballots are cast absentee, she added.
 Source: beckernews.com
 Mark Finchem filed a Motion to Reconsider and new supplemental evidence — providing more confirmation that election day ballots were tampered with — in the Maricopa County Superior Court for his dismissed 2022 Election lawsuit.
Finchem's request for reconsideration comes shortly after a new exit poll from Rasmussen discovered that Finchem, Hamadeh, and Lake likely won their elections. Additionally, 55% of Arizona voters believe that election problems in Maricopa County likely changed the outcome of the election, and 50% of Arizona voters believe that 2022 election irregularities in heavily Republican areas of Arizona happened intentionally to suppress Republican votes.
Finchem's supplemental evidence includes new testimony by printing expert Bob Hughes who says he spent 16 years printing election ballots for Maricopa County and "physically inspected the [2022] ballots at MCTEC that were used in the testing of the election tabulators." Uncover DC reported that Hughes and his team "reviewed each of the Maricopa County Voting Center certification reports and the Tabulator reports that were 'printed during their testing.'"
New testimony from Bob Hughes confirms ballot tampering in Maricopa County's 2022 election. Hughes states in his affidavit that "an intentional change was made to the printers affecting the DAY OF Election ballots" in the 2022 Maricopa County midterm election. Hughes' affidavit in Exhibit K of a newly filed Motion to Reconsider in Mark Finchem's dismissed 2022 election lawsuit confirms previous testimony from Clay Parikh. Parikh was one of several expert witnesses in the Kari Lake lawsuit.
Source: thegatewaypundit.com
Manhattan DA Bragg Says Letting Trump Off Would 'Normalize' Crime Despite Reducing Most Felonies
Manhattan District Attorney Alvin Bragg said Tuesday that failing to indict former President Donald Trump would "normalize" crime, despite having reduced more than half of felony charges to misdemeanors since taking office.
Source: dailycaller.com
Bragg: "We can not, and will not normalize serious criminal conduct."

Last year, Alvin Bragg reduced 52% of all felony charges to misdemeanors. pic.twitter.com/lS4cYDpPst

— Greg Price (@greg_price11) April 4, 2023
Alvin Bragg has shut down the entire city, called up 38,000 NYPD police officers, closed down the FDR Drive and is spending an estimated $200 million of city funds, all for a $130,000 NDA. I never thought I would see this corruption in the United States. @realDonaldTrump
A somber moment in the life of our country, when it's necessary to arraign a former president on criminal charges.

As the case falls to the DA to prove, we must recognize what is most important:

Even the most powerful are held to account, and that nobody is above the law.

— Adam Schiff (@RepAdamSchiff) April 4, 2023
Remember they wanted to humiliate Trump, they wanted a big production of swat, helicopters etc, The propaganda failed, Trump countered it.  Now they have nothing, the indictment will not hold up thats why they needed the show.
The timing on this order is legendary.
The 9th Circuit Court of Appeals on Tuesday awarded Trump an additional $121,962.56 in attorney fees from porn star Stormy Daniels, AKA, Stephanie Clifford.
This is in addition to the $500,000 Stormy already owes Trump for her baseless defamation case against the former president.
President Trump's sons, Don Jr. and Eric Trump celebrated the win.
Source: thegatewaypundit.com
A New York judge indefinitely postponed the Trump rape defamation trial brought by E. Jean Carroll.
The trial was previously set for April 10.
CNBC reported:
He also noted that the trial previously scheduled to start April 10, for the case filed in 2019, "could prove unnecessary" if the federal appeals court that is currently reviewing the case rules that the suit is barred by law.
Source: thegatewaypundit.com
Think what you want about former President Trump and the reasons he's being indicted.

But just imagine if this happened in any other country, where a government arrested the main opposition candidate.

The United States ability to use "democracy" as foreign policy is gone. https://t.co/svdFxtaf4q

— Nayib Bukele (@nayibbukele) April 4, 2023
There's a curious omission in the Donald Trump indictment and statement of facts –

The specific federal law Trump violated. pic.twitter.com/bsM32x4jhn

— Techno Fog (@Techno_Fog) April 4, 2023
So Bragg leaked the indictment info to reporters, he got caught, but if there was a real crime they would have leaked this to the fake news
 Bragg, says the law does not so require" is that he cannot tell us or he doesn't want to because there is nothing there.   
This entire event is show to interfere with the elections and make the Trump base angry to start a civil war. 
Yesterday, the Judge should have dismissed the Bragg indictment for violating the NY Crim. Procedure Law, sec. 200.50 (4) & (7) (a) and the due process clause of the US Constitution by failing to apprise the defendant of the felony crime he is alleged to have violated.

The…

— Rudy W. Giuliani (@RudyGiuliani) April 5, 2023
The incompetence it reveals is astonishing and should involve sanctions for prosecutorial abuse and dismissal with prejudice.
A key member of the Federal Election Commission today rejected the Manhattan district attorney's indictment of former President Donald Trump as a violation of federal election laws.
"It's not a campaign finance violation. It's not a reporting violation of any kind," said FEC Commissioner James E. "Trey" Trainor.
Source: washingtonexaminer.com
BREAKING: The daughter of the Manhattan judge presiding over the Trump criminal case is a Democratic political strategist who worked on the congressional campaign of Democrat Rep. ADAM SCHIFF, who led the first impeachment of Trump

— Paul Sperry (@paulsperry_) April 4, 2023
TRUMP: "I have a Trump hating judge with a Trump hating wife and family, whose daughter worked for Kamala Harris and now receives money from the Biden/Harris campaign…It's right out of the old Soviet Union. That's where we are!" pic.twitter.com/XYF0gxdZyW

— Townhall.com (@townhallcom) April 5, 2023
He is publicly intimidating a judge and pointing a spotlight on their family to his supporters – many of whom have admitted in court to committing violence in his name.

He knows what he's doing. https://t.co/HSeqCzeOa9

— Alexandria Ocasio-Cortez (@AOC) April 5, 2023
This is the same CNN that once threatened to publish the identity of a random guy on Reddit who made the meme of Trump body slamming the CNN logo. https://t.co/MS0UDhw1Nu

— Greg Price (@greg_price11) April 4, 2023
Translation: There is already violence planned we just plan on blaming you. https://t.co/zwByq6W66y

— Rosie Memos (@almostjingo) April 4, 2023
Chinese Communist Party censors allowed users on its state-controlled site Weibo to comment extensively on the arrest of American former President Donald Trump on Tuesday, resulting in many cheering on the decline of the United States and predicting a civil war.
"
 Source: breitbart.com
President Trump has to return to court December 4
During Tuesday's arraignment proceedings, Bragg asked Judge Juan Marchan to schedule Trump's trial in January 2024, just in time for primary season. Breitbart News reported:
 The Iowa caucuses — the first contest in the Republican primary — will be on February 5, 2024.

That means prosecutors want a trial that would undoubtedly affect the race for the Republican nomination, both by distracting the current frontrunner, and by tarnishing him relative to other candidates in the race.
Source:  redstate.com
Kash says that President Trump is educating the world right now on the two-tier system of justice:

"I don't want this case to end tomorrow. I don't want it to end next week.

I want Donald Trump & Company to bleed Alvin Bragg dry over the next two years of discovery, so we can educate the American public on the fraud & corruption that is the NY state judicial system and the DOJ & FBI that helped fund this prosecution…"

The people have to see it before it can be fixed.

Thank you DJT
Q

 

!xowAT4Z3VQ

 

ID: 19b49c

 No.913746

Thank you for your prayers.
Forced reaction.
One of many vehicles.
Intercepts.
Night [2]
Birds.
Fast movers.
Force projection.
April Showers.
Q
Almost every legal and political analyst has said that the unfair and morally disgusting Indictment filed against me yesterday has NO MERIT, and is not even a case. There was no crime and, anyway, the Statute of Limitations has been violated by many years.
Trump caught them all, why was Trump indicted?
Q

 

!xowAT4Z3VQ

 

ID: d24602

 No.1105115

Q

 

!xowAT4Z3VQ

 

ID: d24602

 No.1105041


Rudy.
NYC.
Relationships High.
"Insurance File."
Quiet until now.
Join POTUS' legal team.
Direct discussions avail [now] w/ Mueller.
Enjoy the show.
They never thought she would lose.
CARELESS.
Q
>>1105041
We have everything.
How can we use what we know?
How do you 'legally' inject/make public/use as evidence?
What are you witnessing unfold?
Trust the plan.
Q
Discovery is the formal process by which the parties to a case in court exchange information about the case. This includes information about the witnesses and evidence to be presented at trial. Its purpose is to make the parties aware of the evidence which may be presented at trial.
REPUBLICANS IN CONGRESS SHOULD DEFUND THE DOJ AND FBI UNTIL THEY COME TO THEIR SENSES. THE DEMOCRATS HAVE TOTALLY WEAPONIZED LAW ENFORCEMENT IN OUR COUNTRY AND ARE VICIOUSLY USING THIS ABUSE OF POWER TO INTERFERE WITH OUR ALREADY UNDER SIEGE ELECTIONS!
Q

 

!xowAT4Z3VQ

 

ID: 03213a

 No.922343

Anonymous

 

ID: 1e1537

 No.922280


>>922237
How soon?
>>922280
We don't inform our enemies of the specifics.
We instead instill fear in them to make unplanned and disastrous countermoves.
Q
Q

 

!xowAT4Z3VQ

 

ID: 4faef7

 No.924224

Anonymous

 

ID: 8d9ba6

 No.924151


>>924039
I stand ready to deploy, engage, and destroy the enemies of the United States of America in close combat!WWG1WGA
>>924151
Your trust & faith in us is enough.
You elected us to do the heavy lifting.
Enjoy the show.
BIRTH of a NEW NATION.
NEW WORLD.
Q