The World Is Watching, They Never Thought She Would Lose, Now They All Lose – Episode 2246
The economic is now recovering, the numbers look great, everything the [CB]/MSM tried to do has failed. The house market is getting stronger and stronger as mortgage rates fall. Trump now has leverage to be used against the Ds. The [CB] is on the losing end, this is a great economic tactical move. The [DS]/MSM have fallen right into the trap the patriots set, the perfect storm is now forming and more and more people are waking up. The MSM has lost the narrative. The events that we are witnessing are all part of the plan. The never thought she would lose, now they all lose and they know it. The clock is ticking down, it's only a matter of time before the arrest begin.
Check Out The X22 Report Spotlight YouTube Channel X22Report Spotlight
Please check Newzsentinel.com for the latest news on the economic collapse. The Sentinel Alerts are updated throughout the day.
---
Current News – 08.10.2020
Watch The X22 Report On Video
---
Economy
Mortgage rates fall to a record low for the eighth time this year, making buying a home more affordable for many Americans
 The 30-year fixed-rate mortgage averaged 2.88% for the week ending August 6, dropping 11 basis points from the week prior,  . It was the eighth time this year the benchmark mortgage rate slipped to a record low. In comparison, these loans had an average rate of 3.6% a year ago.
The 15-year fixed-rate mortgage dropped seven basis points to an average of 2.44%,
Source: marketwatch.com
So now Schumer and Pelosi want to meet to make a deal. Amazing how it all works, isn't it. Where have they been for the last 4 weeks when they were "hardliners", and only wanted BAILOUT MONEY for Democrat run states and cities that are failing badly? They know my phone number!

— Donald J. Trump (@realDonaldTrump) August 10, 2020
---
Political/Rights
Donald Trump has never deterred Russia from interfering in U.S. elections.

Far from it.

The sum total of Trump's words and actions has only encouraged Russian meddling in our elections.

Insecure, unscrupulous and transactional, Trump is Putin's ideal American president. pic.twitter.com/x61qph1Z95

— Adam Schiff (@RepAdamSchiff) August 10, 2020
Grennell responds to schiff
Russian propaganda pushed into our social media discussions about policy issues is NOT meddling with our voting machines – and there is no evidence the elections were altered. Russian propaganda is not new.

Adam Schiff, again, manipulates Intelligence for his political views. https://t.co/g7EPiil6kn

— Richard Grenell (@RichardGrenell) August 10, 2020
Schiff won't use the word Russian propaganda because everyone knows what that is – and everyone is clear that the Russians have pushed propaganda for decades.

Someone should ask @RepAdamSchiff why he always dismisses China's tactics.

— Richard Grenell (@RichardGrenell) August 10, 2020
 
Sen Ron Johnson has subpoenaed FBI Director Chris Wray and a former State Department official in an intensifying investigation into possible U.S. corruption in Russia and Ukraine and declared there is evidence Joe Biden's family engaged in a "glaring conflict of interest." 
"Many in the media, in an ongoing attempt to provide cover for former Vice President Biden, continue to repeat the mantra that there is 'no evidence of wrongdoing or illegal activity' related to Hunter Biden's position on Burisma's board," the senator wrote. "I could not disagree more."
Johnson noted evidence gathered by his committee showed Joe Biden met with his son's business partner, Devon Archer, in April 2014 and within a month the vice president then visited Ukraine and both his son Hunter and the business partner were put on the Burisma board as the firm faced multiple corruption investigations.
"Isn't it obvious what message Hunter's position on Burisma's board sent to Ukrainian officials?" Johnson asked. "The answer: If you want U.S. support, don't touch Burisma. It also raised a host of questions, including: 1) How could former Vice President Biden look any Ukrainian official (or any other world leader) in the face and demand action to fight corruption? 2) Did this glaring conflict of interest affect the work and efforts of other U.S. officials who worked on anti-corruption measures?"
You can read Johnson's letter here.
Source: justthenews.com
#WhereIsHunter getting his money?

"Hunter Biden was hit with a $450,000 [tax] lien in July … which he paid off in 6 days despite having no discernible income. Last year, he told the court judge in his paternity case that he was broke and unemployed." https://t.co/8s7Xp3oMuW

— Trump War Room – Text TRUMP to 88022 (@TrumpWarRoom) August 10, 2020
The stage is set for Durham.

AG Barr explains why General Flynn must be exonerated and why crimes committed during the Obama administration must be prosecuted.

To do anything else is inconsistent with the rule of law.

(Barr told Congress this is why he came out of retirement.) pic.twitter.com/9E9eIcNW0S

— Praying Medic (@prayingmedic) August 10, 2020
Everyone, even Democrats and Obama flunkies, are distancing themselves from JAMES 'CARDINAL' COMEY.

He is being de-frocked.

Brenner will do everything to make him the fall guy

— Rudy W. Giuliani (@RudyGiuliani) August 10, 2020
On the Flynn hearing tomorrow, August 11, in the DC Circuit –

A link to get to the live audio stream (9:30 am EST) can be found here:https://t.co/yTwKCET6oy https://t.co/q2ha3F82BG

— Techno Fog (@Techno_Fog) August 10, 2020
White House reached out to South Dakota governor about adding President Trump to Mount Rushmore, New York Times reports https://t.co/0MqdAsJfft

— CNN (@CNN) August 9, 2020
Trump responded
This is Fake News by the failing @nytimes & bad ratings @CNN. Never suggested it although, based on all of the many things accomplished during the first 3 1/2 years, perhaps more than any other Presidency, sounds like a good idea to me! https://t.co/EHrA9yUsAw

— Donald J. Trump (@realDonaldTrump) August 10, 2020
U.S. Customs and Border Protection (CBP) officers in Chicago have seized more than 19,000 fake IDs in the first half of this year, with the majority arriving from China and Hong Kong, the federal agency said.
The fake driver's licenses were intercepted at the International Mail Facility (IMF) at Chicago's O'Hare International Airport between Jan. 1 and June 30 this year, a
"Take a look at these IDs—same person, different bio info," CBP Chicago said on Twitter. "Officers in Chicago have kept a tally of how many fraudulent IDs have come through the O'Hare mail facility. From Jan. 1 to June 30, CBP officers have seized nearly 20,000 counterfeit driver's licenses."
The fake IDs, the CBP said, can lead to identity theft, worksite enforcement, critical infrastructure protection, and fraud linked to immigration-related crimes such as human smuggling and human trafficking.
They can be used for voting
Source: theepochtimes.com
A federal judge orders records unsealed in accuser Virginia Giuffre's litigation with Alan Dershowitz. Those include letters by Giuffre, Dershowitz and Victoria's Secret CEO Les Wexner (plus the Wexner family's attorney John Zeiger).(Note: Wexner stepped down earlier this year, and so it's "ex-CEO".) Both Dershowitz and Giuffre want testimony from Wexner and Zeiger, the order notes.
Last night, former reporter directed me to @MDRipon70165642. Page contained video of young child being raped by adult male & pictures of nude children. @Jack & @Twitter should be charged with crimes. If they can monitor political speech, they KNOW this content exists.@FCC

— Lin Wood (@LLinWood) August 10, 2020
Qanon removed
HCQ removed
Front line doctors removed
Trump tweet removed
Trump Jr suspended for airing the front line doctor press conference
Those speaking the truth removed
Children being raped, nude pictures remain live on twitter
Twitter servers are in violation of several laws.
Possession and distribution of Child Pornography.
18 U.S.C. § 1466A
18 U.S.C. § 2251; 18 U.S.C. § 2252; 18 U.S.C. § 2252A@realDonaldTrump @TheJusticeDept @FBI @SenateGOP @GOP
If they can remove a doctor discussing HCQ in <24hrs. https://t.co/EFSCmssFgc

— ⓄⓇⒺⒼⓄⓃ ⓇⒺⒹ 𝟮̲0𝟮̲0⭐️⭐️⭐️TEXT TRUMP TO 88022 (@TyrannisCave) August 10, 2020
---
False Flags
WHO: 'No indication that there is seasonality' with COVID-19
A top official at the World Health Organization said  it is clear the new coronavirus is not behaving seasonally, so countries must remain vigilant and avoid complacency.
"This virus has demonstrated no seasonal pattern as such so far," said Mike Ryan, director of the WHO's emergency program. "What it has clearly demonstrated is: You take the pressure off the virus, the virus bounces back."
Source: washingtontimes.com
  California has now approved a pilot plan to pay $1,250 to anyone who tests positive for coronavirus to encourage them to "stay at home and self isolate".  Are they trying to push the case numbers up by paying people, it starting to look that way 
Source: zerohedge.com
People are live-streaming themselves looting in Chicago

Video via @LizJone26271417

— Breaking911 (@Breaking911) August 10, 2020
What we are witnessing in Chicago, Portland, Seattle and NYC right now is a warning shot of what one party Democrat rule would look like throughout our great country with the radical left in charge. https://t.co/pLzh9Zu28l

— Lee Zeldin (@leezeldin) August 10, 2020
Portland, which is out of control, should finally, after almost 3 months, bring in the National Guard. The Mayor and Governor are putting people's lives at risk. They will be held responsible. The Guard is ready to act immediately. The Courthouse is secured by Homeland!

— Donald J. Trump (@realDonaldTrump) August 10, 2020
2 wks ago-our 1st #WalkAway Rescue America Rally in Baltimore drew a little over 100 ppl. Last week over 300 came to our 2nd in Sacramento. We had nearly 1K yesterday in Beverly Hills.
These are BLUE CITIES, BLUE STATES.
Make absolutely no mistake. We are starting an earthquake. pic.twitter.com/rtrA0EJUyC

— Brandon Straka (@BrandonStraka) August 9, 2020
This is happening ALL OVER America … every weekend. And NOT ONE mainstream news source covers it. #Trump2020 🇺🇸 pic.twitter.com/mJQ6ewLXMk

— DONNA WARREN ⭐️🌟⭐️ Parler: @DonnaWarrenUSA (@DonnaWR8) August 10, 2020
Happening Now: Thousands of Back The Blue supporters outside Seattle City Hall defending @SeattlePD. The silent majority has come out stronger than ever! 🇺🇸 pic.twitter.com/UMgg0gGP6C

— Katie Daviscourt🇺🇸 (@KatieDaviscourt) August 9, 2020
We have narrowed the Presidential Nomination Acceptance Speech, to be delivered on the final night of the Convention (Thursday), to two locations – The Great Battlefield of Gettysburg, Pennsylvania, and the White House, Washington, D.C. We will announce the decision soon!

— Donald J. Trump (@realDonaldTrump) August 10, 2020
Q

 

!A6yxsPKia.

 

ID: 32060e

 No.253895

HRC has taken a number of villages from Haiti
DXp07zWVoAA9o7d.jpg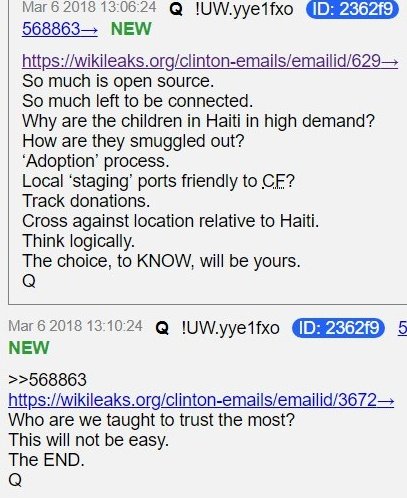 >>2538860
Re_read drops re: Haiti.
At some point it will not be safe for them to walk down the street.
PURE EVIL.
HOW MANY IN WASHINGTON AND THOSE AROUND THE WORLD (IN POWER) WORSHIP THE DEVIL?
Conspiracy?
Fake News?
The World is WATCHING.
Q
THEY NEVER THOUGHT SHE WOULD LOSE.
NOW THEY ALL LOSE.
Q+