There Is A Silent War Countdown, [T -2] & Counting, Fire At Will Sir – Episode 2107
Podcast: Download (Duration: 42:51 — 43.2MB)
The globalist system is about to change, the event the [CB]/Elite have pushed is now backfiring on them, instead of hurting Trump economic system it has hurt their system. Trump tweeted what is really happening with the event, its about the economy, the stock market, their way of life. The Fed is saying there is no need to cut rates. Kudlow says everything is contained and at this time no need to cut rates, game theory. The [DS]/D's are pushing the latest Coronavirus event, they are all in. Trump sent a message, the market went up. The game has just begun. Trump is now suing the NYT, libel  laws, end of MSM. Q dropped more bread, and there seems to be a silent war countdown happening, we are now at [T -2] and counting.
Check Out The X22 Report Spotlight YouTube Channel X22Report Spotlight
Please check Newzsentinel.com for the latest news on the economic collapse. The Sentinel Alerts are updated throughout the day.
---
Current News – 02.26.2020
Watch The X22 Report On Video
---
Economy
Coronavirus is a game-changer for globalisation, but no-one knows how it's going to unravel
China accounts for a third of global trade,  
Factory closures in China will hit companies in the UK, as will the closure of borders or the imposition of checks. In the longer term, it's possible that this, along with environmental concerns, will prompt executives to simplify supply chains.
In the short run there is likely to be severe disruption and there is little the Bank of England can do to alleviate it, because cutting interest rates and the usual measures have no effect on supply problems.
Source: dailymail.co.uk
---
Political/Rights
BREAKING: Senate Judiciary Chair Graham has asked AG Barr to make senior DOJ official Gabriel Sanz-Rexach, an Obama holdover, available to testify before committee investigators about FISA abuses. Sanz-Rexach was the FISA gatekeeper at DOJ when illegal FISA approved on Trump aide

— Paul Sperry (@paulsperry_) February 26, 2020
A federal appeals court in New York granted the Trump administration permission to withhold millions of dollars in funding from New York City and seven "sanctuary" states that have refused to assist in transferring illegal immigrants from local law enforcement into federal custody.
The 2nd U.S. Circuit Court of Appeals in Manhattan on Wednesday declared the administration could not be required to release funding for law enforcement grant money to Connecticut, Massachusetts, New Jersey, New York, Rhode Island, Virginia, and Washington — all of which do not cooperate with Immigration and Customs Enforcement, a federal agency that detains immigrants who do not have documents.
The court found that the Justice Department had the authority to set conditions on states and localities it dispenses federal money to. It also noted that the Supreme Court has maintained the federal government supersedes the state on immigration policies.
Source: washingtonexaminer.com
#Winning. Now the President can legally starve into submission the corrupt failed states who all but tore themselves out of the union with their treasonous and unconstitutional policies. Illegal immigration is the strategy for our domestic enemies to seize power at the ballot. https://t.co/e8Boq59W0Q

— Joe M (@StormIsUponUs) February 26, 2020
Today, Team Trump filed a libel lawsuit against the New York Times over a story falsely reporting as fact a conspiracy with Russia.

Statement from @JennaEllisEsq, Senior Legal Adviser to Donald J. Trump for President, Inc. below. pic.twitter.com/qqjgSjtsGt

— Team Trump (Text TRUMP to 88022) (@TeamTrump) February 26, 2020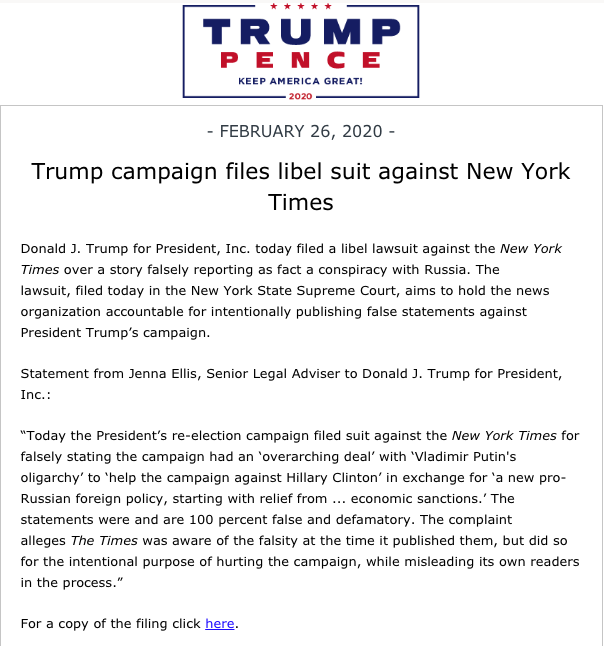 Remember post 818, Libel Laws, End of MSM
---
Geopolitical/Police State
ABC News suspended senior correspondent David Wright after he was caught on undercover film by Project Veritas admitting that the network bosses spike news that is important to voters, and that ABC is unable to provide relevant news to Americans due to their bias.
Wright, who joined ABC nearly 20 years ago, reports for "Wold News Tonight," "Good Morning America" and "Nightline."
As a national political reporter at a legacy broadcaster, Wright said he feels left behind by the new digital media.

"We live in a moment where people live in echo chambers and the truth suffers and, in an effort, to compete, we've become an echo chamber ourselves. We've been in the mainstream media we have an effort to match the zippy news cycle with responding to the latest tweet and trying to keep pace with the desperate pace of it all."

The desperate pace means reporters like him lose focus, he said.
Source: zerohedge.com
---
False Flags
Does anyone think that if there were a consequential national security/economic crisis that this Administration has the intellectual capacity and policy acumen to navigate the nation through it? The answer, frighteningly, is no. Now we have the coronavirus and they have no idea. pic.twitter.com/Yr3K0SKtfi

— Eric Holder (@EricHolder) February 26, 2020
They are facing a "Crisis" pic.twitter.com/KbpaGSzYPd

— Tommy boomboom (@tommyBoomboom) February 26, 2020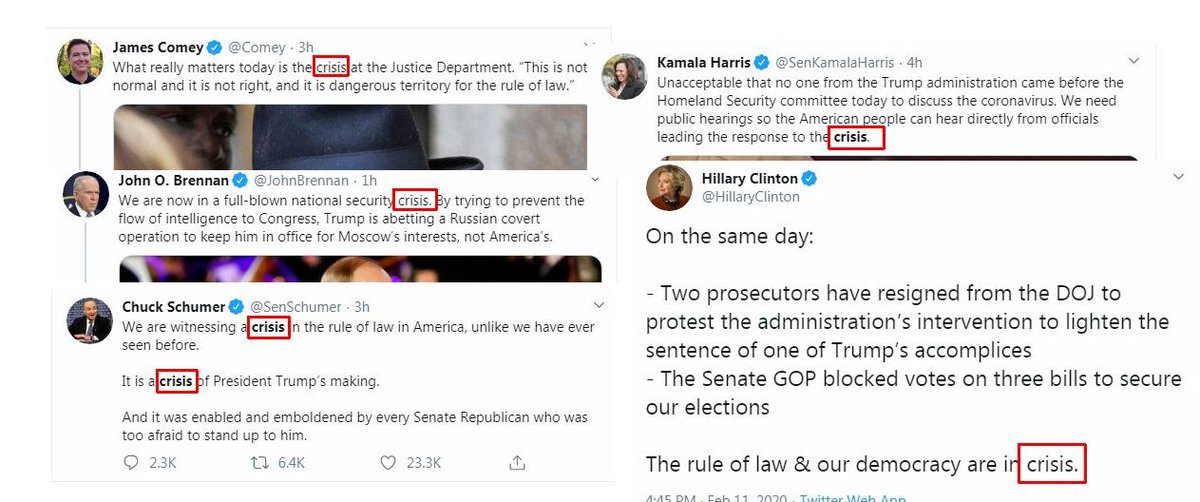 Former New York City Mayor Michael Bloomberg claimed at the Democrat debate in Charleston, South Carolina, on Tuesday night that President Donald Trump had "fired" the government's pandemic expert and "defunded" the Centers for Disease Control:
VERDICT:   The specialist was not fired; he quit. Some CDC cuts were proposed, but not implemented.
Source: breitbart.com
Just Like Her Corrupt Brother Rod Rosenstein — The CDC's Dr. Nancy Messonnier, Drops a Bomb on President Trump While On International Trip
The brother of the CDC's Dr. Nancy Messonnier, is former DAG Rod Rosenstein.
Yesterday, the CDC unexpectedly announced startling news about the coronavirus in the US.  This rattled the markets and led to another downturn of hundreds of points in the DOW for the second straight day:
Dr. Messonnier's comments came as the President and the First Lady were outside the country and traveling in India. 
Rosenstein's Deep State friends, the Democrat Party, regularly schedule hateful events when the President is overseas:Source: thegatewaypundit.com
President @realDonaldTrump is leading an aggressive coronavirus response & preparation effort. The Administration has:

✅ Formed a Coronavirus Task Force

✅ Declared a public health emergency

✅ Implemented unprecedented procedures to protect travelers

— Trump War Room – Text WOKE to 88022 (@TrumpWarRoom) February 26, 2020
Because of President Trump's early containment strategy, local governments have been granted time to prepare.

Meanwhile, the White House is educating the public, expediting development of a vaccine, and minimizing the risk of medical shortages or disruptions to supply chains.

— Trump War Room – Text WOKE to 88022 (@TrumpWarRoom) February 26, 2020

Do you see a pattern
1. Trump counters MSM – Fake News
2. Trump counters Fed – Fake Economic Advice
3. Trump counters intelligence agencies -Fake Intelligence
4. Trump counters climate scientist – Fake Data
5. Trump counters health officials – Fake Assessment
Why isn't Q mentioning the coronavirus
---
Q
ClipboardImage.png

>>8246625

BREAKING: Disney CEO Bob Iger to step down. Bob Chapek will be the CEO of Disney immediately.

https://twitter.com/CNBC/status/1232412793141440514📁

Many sources confirming now, live on FOX too.

He's not CEO anymore though, and is leaving earlier than his contract says he should.

>>8246640

The Silent War continues..

Q
Iger didn't actually quit disney, he stepped down as ceo.  Many CEOs step down but they don't immediately leave their companies, they remain as a member of the board, the become advisors. 
Q has been ending his post with the following saying,  : "The Silent War Continues."
Q has been posting "The Silent War continues" lately with fewer periods each time.

Feb 4 & 6: The Silent War continues…. (5)
Feb 8: The Silent War continues…. (4)
Feb 12: The Silent War continues… (3)
Feb 25: The Silent War continues.. (2)

Pattern noted. Eyes on 👀 #QAnon

— Jordan Sather (@Jordan_Sather_) February 26, 2020
It seems Q is counting down to something and we are at 2. 
D0RYDDvWkAE61QQ.png

Now, isn't that interesting?
Q
Yesterday we talked about this post and Q reposted it, it is from last years,  Is it a coincidence that Iger stepped down as CEO of Disney 1 day after Weinstein was convicted of rape.
Nolte – Disney's Monsters Inc.: Harvey Weinstein, John Lasseter, and Mark Halperin
 
The Walt Disney Co. is a corporate leviathan with tentacles that go well beyond its theme parks, its studio, and its merchandising machinery.
Between 1993 and 2005, Disney owned Miramax while Harvey Weinstein ran it and thrived and made everyone millions.
Between 1996 and 2006, Disney owned ABC News while Mark Halperin's influence and power exploded.
Since 2006, John Lasseter has been a top executive at Disney and chief creative officer at Pixar, which is also owned by Disney.
Weinstein's alleged crimes and the fact that they were no secret within the media and entertainment industries, has already been well-documented.  Worth repeating, though, is the news that Weinstein settled eight sexual harassment suits (that we know of), and the most infamous one so far (the alleged rape of Rose McGowan) occurred in 1997, smack dab in the middle of Weinstein's Disney era.
According to the latest reporting on Mark Halperin, all of his alleged sexual misconduct — which involves around ten women who claim they were victims of everything from harassment to unwanted touching to being shoved to watching Halperin masturbate under his desk  — happened while he was at ABC News. And once again, we are being told that this was an "open secret" at ABC/Disney.
Finally, there is John Lasseter who put himself on a six-month leave of absence Tuesday in the wake of a number of allegations of harassment and sexual misconduct.  
Many former female Pixar employees said there was a classic whisper network at the animation company, where young women were advised to keep their distance from the co-founder.Another former employee told Variety that she was cautioned about Lasseter soon after she started work there,
Source: breibart.com
Major CEOs who stepped down in the past month:

-DISNEY
-MASTERCARD
-LBRANDS
-UBER EATS
-HULU
-MGM
-IBM
-LINKEDIN

What's going on, y'all?

— Grace 🔎 (@reallygraceful) February 26, 2020
MGM, LinkedIn, IBM, Mastercard CEOs step down
We are getting close – to 12k #resignations!https://t.co/setcTxrXV0#Q #QAnon #Resignation #WWG1WGA #MEGA #MAGA #KAG #QNN #GreatAwakening #DrainTheSwamp #WeAreTheNewsNow #FactsMatter #YourFired #Retirements #Firings

Do you know how old the #ResignationList becomes tomorrow? pic.twitter.com/izf1yMVhU7

— ResignationAnon (@ResignationAnon) February 25, 2020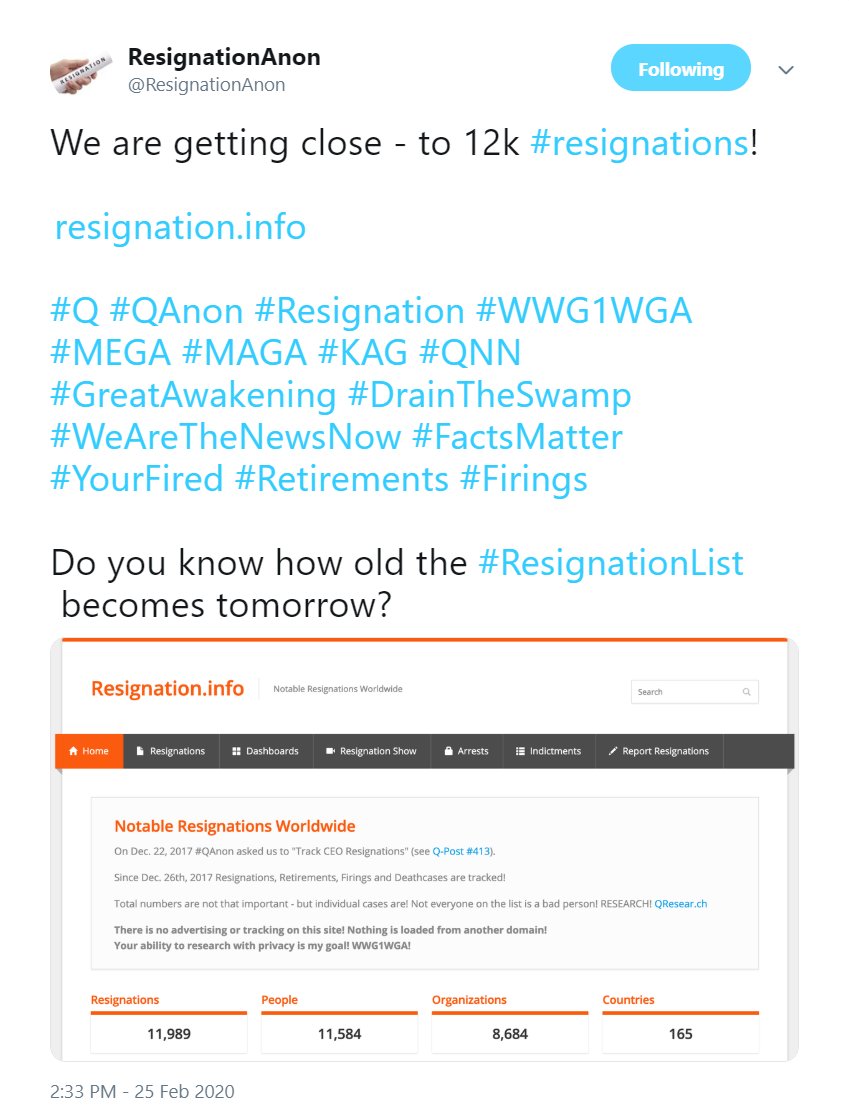 Senate Fails to Pass Born-Alive Bill

By a vote of 53-44, the Senate has failed to pass the Born-Alive Abortion Survivors Protection Act, which would have required doctors to provide medical care to infants born alive after an attempted abortion procedure. The bill — sponsored by Senator Ben Sasse (R., Neb.) and cosponsored by 49 of his fellow Republican senators — needed 60 votes to overcome the legislative filibuster.

Just three Democratic senators crossed the aisle to vote with Republicans in favor of the legislation: Bob Casey Jr. (Pa.), Joe Manchin (W.Va.), and Doug Jones (Ala.).

All six of the Democratic senators currently running for the 2020 presidential nomination voted against the bill: Cory Booker (N.J.), Sherrod Brown (Ohio), Kirsten Gillibrand (N.Y.), Kamala Harris (Calif.), Amy Klobuchar (Minn.), and Elizabeth Warren (Mass.), along with Independent Bernie Sanders of Vermont.

Three Republican senators did not vote on the bill: Kevin Cramer (N.D.), Lisa Murkowski (Alaska), and Tim Scott (S.C.). According to their communications directors, both Cramer and Scott missed the vote due to flight delays.

These people are sick!
Q
Democrats Block Born-Alive Abortion Survivors Protection Act in the Senate

Forty-one Democratic senators voted this afternoon to block the Born-Alive Abortion Survivors Protection Act, successfully filibustering the legislation and preventing it from receiving a final vote. The bill would have required doctors to provide standard medical care to newborn infants who survive abortion procedures.

Fifty-six senators voted in favor of the legislation, including three Democrats: Bob Casey Jr. (Pa.), Doug Jones (Ala.), and Joe Manchin (W.Va.). All three also voted for the legislation when it came to the floor last February, though Jones was considered a potential "flip" vote this year, as he is up for reelection this November.

Both Susan Collins (Maine) and Lisa Murkowski (Alaska) voted for the bill as well, despite the fact that they often break from the Republican Party on legislation that has anything to do with abortion. Last year, Murkowski did not vote on the born-alive bill.

Three senators who are running for president — Bernie Sanders (I., Vt.), Amy Klobuchar (D., Minn.), and Elizabeth Warren (D., Mass.) — did not vote. All three voted against the legislation last February.

Q
Why did Q post this, to let us know that 1 year ago the D's blocked the passage of the born-alive bill in the senate 
It's going to be Biblical Rev 9:3 "Then out of the smoke came locusts upon the earth, and power was given them, as the scorpions of the earth have power." Saudi Arabia

Finally, be strong in the Lord and in his mighty power. Put on the full armor of God, so that you can take your stand against the devil's schemes. For our struggle is not against flesh and blood, but against the rulers, against the authorities, against the powers of this dark world and against the spiritual forces of evil in the heavenly realms. Therefore put on the full armor of God, so that when the day of evil comes, you may be able to stand your ground, and after you have done everything, to stand. Stand firm then, with the belt of truth buckled around your waist, with the breastplate of righteousness in place, and with your feet fitted with the readiness that comes from the gospel of peace. In addition to all this, take up the shield of faith, with which you can extinguish all the flaming arrows of the evil one. Take the helmet of salvation and the sword of the Spirit, which is the word of God.

And pray in the Spirit on all occasions with all kinds of prayers and requests. With this in mind, be alert and always keep on praying for all the Lord's people.

Q
This is from  Ephesians Chapter 6
Q is letting us know that this was posted exactly one year ago  
>>8251665

Love and Light, Patriot.

Have faith and trust in yourself.

WWG1WGA!!!

Q
an anon in India sends his love to Q and Q
+
576847584903257849302578432574839.png
8. Did a reverse search of this bada** pic (Marines in front of an Osprey?) & found it was posted before on 18 Feb '19 by an anon in Bread 6703 & again by an Anon on 29 Mar '19 in response to Q (drop #3306) reminding us "(less than 10)" have the full picture. Only 3 non-military. pic.twitter.com/yWYRm5hBdr

— Lisa Mei Crowley (@LisaMei62) February 26, 2020