They Never Thought The FBI, Hunter,Joe Biden Would Be Exposed..,How Do You Legally… – Ep. 2993
Podcast: Download (Duration: 1:16:55 — 34.2MB)
Watch The X22 Report On Video
Banks are beginning to collapse, people are taking their money out of the system. Woke companies are having a difficult time. Biden is destroying the economy and Trump is giving solutions on how to save the country and reverse it all. The [DS] never expected for [HRC] to lose, they never expected that their treasonous acts would be exposed. The evidence is coming out, how to you legally insert the evidence. Trump and the patriots have trapped the [DS] and they have run out of ammunition, they are using the old playbook and it is not working. The old playbook has been debunked now they are in trouble.
---
Economy
Credit Suisse Craters After "Staggering" Bank Run And Warning Of Continued Losses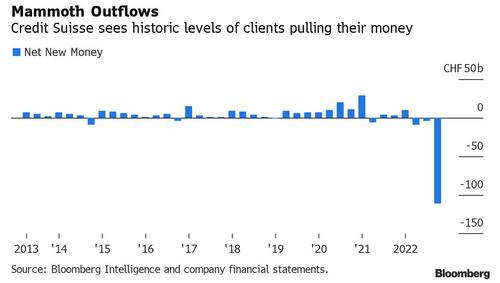 There was some other tangential news reported by the bank, including:
The bank also confirmed a Bloomberg scoop by saying that it will slash its bonus pool by half compared with last year, raising questions about its ability to retain staff. It also unveiled a "transformation award" for a limited number of staff that's one response to those concerns.
Additionally, the investment banking carve-out of Credit Suisse First Boston – yes, Credit Suisse is so ashamed of its name it hopes to gradually transition into the bank it bought two decades ago – is taking shape, with the absorption of Klein's boutique firm in a deal valued at $210 million and an intention to publicly list or spin off the unit by the end of 2024. And on costs, Credit Suisse has managed to cut 4% of staff, inching towards the 17% or 9,000 total job cuts they plan by 2025.
Source: zerohedge.com
Disney's Woke Streaming Services Still Losing More than $1 Billion a Quarter as Bob Iger Tries to Rein in Spending
Disney beat investor's predictions for the quarter (top and bottom lines), but its streaming business lost more than $1 billion. Disney+ et al. grew its sales by 13 percent to $5.3 billion, but it spent $6.3 billion.

And @disneyplus lost 2.4 million subscribers pic.twitter.com/B8klx7eGf4

— Edmund Lee (@edmundlee) February 8, 2023
GALLUP POLL: Half in U.S. Say They Are Worse Off, Highest Since 2009

Are you financially better off or worse off now than you were a year ago?

Jan 2020:
Better off — 59% (highest ever)
Worse off — 20%

Jan 2023
Better off — 35%
Worse off — 50% https://t.co/X8ziiCYKIC pic.twitter.com/BoSe5Vd84I

— InteractivePolls (@IAPolls2022) February 8, 2023
---
Political/Rights
BREAKING: John Fetterman rushed to hospital, currently undergoing tests
"Initial tests did not show evidence of a new stoke, but doctors are running more tests and John is remaining overnight for observation."
Pennsylvania Democratic Senator John Fetterman was rushed to hospital Wednesday night after "feeling lightheaded."Fetterman previously suffered a stroke on May 13 2022, days before Pennsylvania's Democratic primary, but still managed to win the race. He is reportedly undergoing tests at the George Washington University Hospital in Washington, DC.
Source: postmillenial.com
---
Geopolitical/Police State
---
War
Biden let the Communist Chinese float a spy balloon across the entire continental U.S., but the American surveillance balloons policing the border? He's apparently nuking those. https://t.co/pfB4lxSelI

— Sean Davis (@seanmdav) February 9, 2023
US says Chinese military behind vast aerial spy program that has targeted 40 countries with high-altitude balloons
---
False Flags
---
Q