This Is Not About Winning A Battle, It's About Winning The War, Time To Return To The WH – Ep. 2509
The [CB] are in complete control of [JB], he is a puppet. The [CB] uses manipulation to make you think they are working in the best interest of the people, when actually it is always the opposite. The tax plan that [JB] is pushing will actually hurt the middle class in the long run, this is hidden from the people. The [CB] have deployed all assets to push people away from alternative currencies. The [DS] is panicking, they know the election audit is not going to show the election was the most secure election ever. They know what they did, they cheated and once the election audit result are reported the people will know. Trump and the patriots are not trying to win battles they are trying to win the war. Is it a coincidence that vital information is being produced while Trump is out of the WH. Scavino continually puts out messages about Trump returning to the WH, it's almost time. This is about exposing and destroying the [DS] system.
Watch The X22 Report On Video
---
Economy
The Nord Stream giveaway to Russia opened another cash flow from Western Europe to the Kremlin coffers.  Biden had inadvertently scored an own goal and stoic Vlad was smirking.
Surprisingly, President Biden handed Putin a list of sixteen sites which are "off limits" to cyber  attacks. In other words we are telling the Russians our particular vulnerabilities and hoping they will play fair. Is this for real?  Does this allow for the Russian President to give a curt nod to his mendacious state sanctioned hackers to hit other 97 percent of targets in the USA?
Source: worldtribune.com
Study shows Biden aiming tax hikes at middle class
Three-quarters of those making $75,000-$100,000 facing higher bill
  the coming disaster that will face middle class families across America because of Joe Biden's "middle-class death tax."
 
Specifically, the report said the documentation from the Tax Policy Center shows, "Three-quarters of households earning between $75,000 and $100,000 annually would face pay an additional $440 per year in taxes under Biden's tax hikes … At the same time, about 69% of those earning between $100,000 and $200,000 would see their tax bill rise by $830 on average, while 83.7% of those earning between $200,000 and $500,000 would see an increase of $2,040 on average."
The report explained Biden wants "a slew of tax hikes, including raising the corporate tax rate to 28% from 21%, nearly doubling the capital gains tax rate to 39.6% from 21%, restoring the top individual income tax rate to 39.6% from 37% and taxing capital gains at death."
The new top tax rate would directly aim at singles with taxable income of more than $452,700 and married couples with joint taxable income of $509,300. Heads of households earning more than $481,000 and married individuals filing separate tax returns with income over $254,650 would also pay the higher rate," the report said.
The report explained, "while workers making $75,000 annually would not pay a higher individual income tax rate under Biden's proposal, they would see a share of their income shrink due to lower investment earnings and compensation – a byproduct of the higher corporate tax rate, according to the Tax Policy Center analysis."
"The American Families Plan as proposed would impose a new death tax that would punish middle class individuals who chose to invest in America and leave something for their children rather than spend every dollar," Hank Adler, associate professor at Chapman University and co-author of the study, explained.
"The plan does not move the goal posts, it totally changes the rules of the game."
Currently, capital gains tax generally is imposed on profits when assets are sold. Only estates worth more than $11.7 million are taxed on "unrealized gains," meaning the increase in value of assets, even if they are not sold.
But Biden wants to close what he calls the "trust fund loophold," reducing the threshold to $1 million.
But the analysis by Adler and California attorney Madison Spach shows how the heirs of a young widow who bought a home for $250,000 decades ago could be hit with a massive tax bill upon her death. In contrast, the heirs of the Bidens, who own two homes, would pay nothing.
If the widow's house were now worth $2.5 million, under the current law there would be no capital gains tax on the estate. But Biden wants a tax on the increase in value, less an exemption of $1.25 million. At a tax rate of 40.8% on the remaining $1 million, the tax bill would be $408,000.
But for the Bidens, who along with their two homes have annuities and life insurance policies, the total appreciation on their homes would be less than the couples' exemption of $2.5 million. Their estate would pay nothing.
Source: wnd.com
On March 19th, 2021, the CFTC published a press release on their website revealing that Coinbase, the cryptocurrency exchange, was found guilty of engaging in, "reckless false, misleading, or inaccurate reporting as well as wash trading by a former employee on Coinbase's GDAX platform."
As punishment for Coinbase's nefarious actions, the CFTC announced that Coinbase had been fined a total of $6.5 million and ordered to "cease and desist from any further violations of the Commodity Exchange Act or CFTC regulations, as charged."
Below is a Brief [Non-Exhaustive] List of Nefarious Activities and Crimes That Coinbase Has Either Actively Participated in or Facilitated Over the Past Few Years (the clear pattern of malfeasant behavior is clear as day)
In 2015, it was revealed that Coinbase had lied about its regulatory status  – https://www.sfgate.com/business/article/Bitcoin-exchange-claims-it-is-regulated-but-6043584.php
On July 18th, 2018, Coinbase published an announcement informing the cryptocurrency space that it had lied about receiving regulatory approval from the U.S. government to "list coins considered securities" – https://cointelegraph.com/news/coinbase-retracts-announcement-of-regulatory-approval-to-list-coins-considered-securities (Coinbase Retracts Announcement of Regulatory Approval to List Coins Considered Considered Securities)
On June 20th, 2018, Mashable published a bombshell article revealing that scores of complaints had been filed against Coinbase at the SEC and other government agencies alleging fraud, negligent practice, and other general malfeasance – https://mashable.com/article/sec-coinbase-complaints-fraud/#u2K.mnDD3iqU (Customers turn to SEC w litany of complaints against Coinbase for their actions and practices)
On July 2nd, 2018, it was revealed that Coinbase's broker had been censured and fined by the SEC for lying to their investors and the general public about their use of customer funds – https://blog.zerononcense.com/2018/07/02/coinbases-broker-was-censured-and-fined-by-the-sec-for-using-customer-funds-for-personal-gain/ (Coinbase's Broker Was Censured and Fined by the SEC for Using Customer Funds for Personal Gain)
In June 2016, a bombshell Reddit post exposed numerous half-truths and opaque background associations related to Coinbase and Circle – https://www.reddit.com/r/Bitcoin/comments/4md665/coinbase_may_have_lied_about_the_number_of/ (Multiple high ranking individuals among the Bitcoin community point out the fact that Circle + Coinbase are far from transparent in the community )
On March 6th, 2018, Coinbase was sued by investors for their nefarious, surprise Bitcoin Cash listing (which they promptly stopped trading for almost immediately after its listing on the exchange) – https://www.cnbc.com/2018/03/06/bitcoin-cash-rollout-cost-investors-5-million-lawsuit-says.html (Lawsuit filed against Coinbase alleging that their rollout of Bitcoin Cash had cost investors approximately $5 million)
On June 5th, 2018, scores of investors filed suit in the Northern District of San Francisco, alleging gross negligence on Coinbase's part due to the failure on their part to prevent the owner of the now-defunct crypto exchange, Cryptsy, from cashing out funds he had absconded from exchange users in an extravagant exit scam involved him fleeing the country shortly after – https://www.coindesk.com/judge-reopens-cryptsy-customer-class-action-against-coinbase/ (Cryptsy + Coinbase lawsuit reopened against Coinbase after consumers claimed that it was Coinbase's responsibility to stop Cryptsy from laundering their funds through its exchanges + South Florida judge denies Coinbase's argument that the binding arbitration clauses prohibit customers from filing such a lawsuit)
Most recently [December 2020], the New York Times published a bombshell report detailing Coinbase's flagrantly racist and sexist employment practices in explicit detail – going as far as providing explicit details on which employees were underpaid and by how much (the report concluded that Coinbase had underpaid its black employees by >10%, relative to white employees working at the company in the exact same role as said black employees) = https://www.nytimes.com/2020/12/29/technology/coinbase-pay-employees.html
In 2018, the New York OAG Published a Comprehensive Report on Various Exchanges in the Crypto Space ; In the OAG's Report They Exposed the Fact That Coinbase Was Counter Trading Against Their Own Users (among other nefarious market practices) = https://www.coindesk.com/coinbase-disputes-claims-in-new-york-attorney-generals-exchange-report
Coinbase Must Be Considered a Bad Actor at This Point
source:   librehash.org 
Bitcoin and cryptocurrency prices have struggled this week with the crypto market's combined value slipping under $1.5 trillion—down from $2.5 trillion in May.
The bitcoin price, after getting an unexpected boost from Tesla billionaire Elon Musk last weekend, has resumed its decline over the last few days, falling back toward $30,000 per bitcoin.
Now, as bitcoin charts show the price 50-day moving average has fallen below the 200-day moving average—a pattern known as the "death cross"—Coinbase cofounder Fred Ehrsam has warned "most" cryptocurrencies and crypto-assets "won't work" and "90% of NFTs" will have "little to no value in three to five years."
Source: forbes.com
---
Political/Rights
'We're at your door, open it': How Secret Service swooped on Hunter after he accidentally paid Russian prostitute $25K after night at Chateau Marmont on account 'linked to dad Joe Biden', reveals laptop
Text messages and receipts obtained by the New York Post show that Hunter Biden may have accidentally spent his father's money on an escort in 2018
The woman's name was Yanna, an escort from Emerald Fantasy Girls
He had spent a number of nights in May, 2018 with the woman at Los Angeles' Chateau Marmont and owed her $8,000, according to the NY Post's report
Receipts on his laptop obtained by the Post show, however, that transactions he thought had failed started going through, leading to overcharges of $25,000
Hunter would later get most of the money back, but he is soon contacted by someone identified as Robert Savage III, a former Secret Service agent
Texts between the two indicate that Savage is concerned about an account related to 'Celtic' a code name for Joe Biden when he was vice president

Joe Biden might have  paid for a series of wild nights his son Hunter had with a prostitute at Hollywood's Chateau Marmont Hotel in 2018, according to text messages and receipts obtained from his laptop.

It was late May that year when Hunter Biden ordered Yanna, an escort, who billed herself as 'Russian, Green Eyes, Thin Brunette, an elite courtesan' from his favorite site, Emerald Fantasy Girls, according to the files obtained by the New York Post from his 2017 Macbook Pro.

'Hi, My name is Rob. I'm staying at Chateau Marmont,' he texts the woman, using his first name, Robert. 'Are you available now?'

During her days-long visit to the hotel, the two have sex, drink vodka and film porn while he smokes crack, according to the Post. At one point balances a line of M&Ms on his erect penis – all of it documented in files stored on the laptop.

And messages saved on the laptop show Joe Biden might have inadvertently been the person actually paying the bill for the wild weekend, according to the messages obtained by the Post. 
Source: dailymail.co.uk
"I see again the forest fires are starting," Trump said at a 2020 rally in Pennsylvania. "They're starting again in California. I said, you gotta clean your floors, you gotta clean your forests — there are many, many years of leaves and broken trees and they're like, like, so flammable, you touch them and it goes up in flames."
"Maybe we're just going to have to make them pay for it because they don't listen to us," he added.
VIDEO
Trump was right…AGAIN.
The Daily Mail reported:
California is adopting former Donald Trump's plan to thin out the state's 33 million acres of forests with controlled burns and raking the woodland floor – after state officials essentially laughed off the former president's idea a few years ago.

 

Now, California is putting Trump's plan into practice statewide as groups of 12-person crews set about a $500 million effort to thin the state's forests with controlled burns and sweeping the forest floors of pines, redwoods and firs, according to a recent Bloomberg report.
Source: thegatewaypundit.com
1762
Q
!CbboFOtcZs
07/30/2018 12:11:43
 ID: 486c34
Archive Bread/Post Links: 2354668 / 2355012
Direct Link: 2355012
---
Geopolitical/Police State
Excellent, we need more of this brilliance and bravery.  Duplicating the previous use of live and unexpected news that cannot be blocked from broadcast.  April Moss of CBS62 in the Detroit Michigan region throws sand into the machine.
During a live broadcast Ms. Moss transmits a message against the interests of the manipulative mainstream corporate media.  Project Veritas was awaiting the transmission. WATCH:
.
Excellent use of their own machinery against them.  Well done. Again…. Andrew is smiling.
Patriotism is now the American counter-culture and with the brilliant, fun, and light-filled people on our side, we will win this war while living our best life at the same time.
Source: theconservativetreehouse.com
On June 8, ProPublica published a story titled, "The Secret IRS Files: Trove of Never-Before-Seen Records Reveal How the Wealthiest Avoid Income Tax."
The exact source of the leaked IRS data is unknown. On June 14, Sen. Mitch McConnell (R-Ky.) stated, "Look, either the IRS leaked this, or there was a hack. And my guess is the IRS, somebody at the IRS leaked this in order to affect the tax debate and remind people that there are some very wealthy Americans."
This episode should prove instructive to gun owners. The leak suggests that government agencies or individuals within them will abuse sensitive information on private citizens in order to advance a political agenda.
Source: dailycaller.com
---
War
Interesting:

U.S. Justice Department seizes two websites affiliated to #Iran's regimehttps://t.co/WpniXeJHYs — owned by Iran's official broadcasting service & broadcasts programs in Arabichttps://t.co/StETjDLkXf — the "news agency" of Iran-backed Houthi militias in Yemen pic.twitter.com/ynZZMm6mBX

— Heshmat Alavi (@HeshmatAlavi) June 22, 2021
#UPDATE
U.S. Justice Department seizes https://t.co/yMo8MXTfBl, the news website of #Iran's official English language outlet.

This seems to be the Biden admin's method of pressuring Tehran as nuclear negotiations continue, while saving face before critics of appeasement. pic.twitter.com/0pTUuBYmwM

— Heshmat Alavi (@HeshmatAlavi) June 22, 2021
#UPDATEhttps://t.co/OKTEgwz7b9, an #Iran-based TV channel owned by the regime's state broadcasting network, has also been seized.

Iraqi media—Websites linked to Iran-backed militias in Iraq have been seizedhttps://t.co/VtIvf8XJfzhttps://t.co/b1oNFhXK45https://t.co/cMh3viCPZm pic.twitter.com/H6RJHfodR2

— Heshmat Alavi (@HeshmatAlavi) June 22, 2021
---
False Flags
After Indiana University recently implemented a vaccine mandate for all students, parents founded The IU Family for Choice not Mandates group and filed a lawsuit Monday against the university.
The publicly funded university sent an email to all faculty, staff, and students announcing they are "required to receive a COVID-19 vaccine," according to a press release. The university threatened employees who do not want to take the vaccine, noting that if they refuse it, their employment will be terminated. Similarly, students who refuse the vaccine will lose access to all IU systems and have their class registration revoked.
In response, James Bopp Jr. of the Bopp Law Firm, P.C, who is representing The IU Family for Choice not Mandates, has filed a public records request asking for "all public records regarding the making of this decision and for all public records related to the implementation of this policy to determine whether or not this mandate is justified," also warning that IU's policy "opens the door to intentional religious discrimination" and that the University "could be in violation of federal law."
Several students are moving ahead with a lawsuit that was filed Monday, alleging that IU's mandate "violates the liberty protected by the Fourteenth Amendment to the U.S. Constitution, which includes rights of personal autonomy and bodily integrity, and the right to reject medical treatment" and that it is a violation of "Indiana's new Vaccine Passport Law which prohibits state and local units (including Indiana University ("IU")) from requiring or issuing vaccine 'passports' that indicate an individual's COVID immunization status."
Source: thefederalist.com
The WHO says "children should not be vaccinated."

Schools should NOT force vaccines on children nor should they force masks.#COVID19 vaccines are not yet FDA approved, and continual mask wearing is unhealthy.

Parents fight to protect your children.https://t.co/Z6kenrFwQ0 pic.twitter.com/rxJTTVlP0k

— Marjorie Taylor Greene 🇺🇸 (@mtgreenee) June 22, 2021
He concluded Florida is "highly likely" to win its legal argument that the CDC's conditional sail orders "exceed the authority [Congress] delegated" through 42 U.S. Code § 264, the statute allowing the CDC to issue regulations to prevent diseases. If such sweeping restrictions are within the authority of that statute, Merryday continued, then the statute itself "likely constitutes an unconstitutional delegation of legislative power to CDC." In other words, the CDC isn't Congress and shouldn't be acting like it.
"The CDC has been wrong all along, and they knew it," DeSantis said in response to the ruling. "The CDC and the Biden administration concocted a plan to sink the cruise industry, hiding behind bureaucratic delay and lawsuits." The court order, he added, was a victory "for every state that wants to preserve its rights in the face of unprecedented federal overreach."
Source: thefederalist.com
A federal judge threw out most of a lawsuit Monday against former President Donald Trump and former Attorney General William Barr that was filed by Black Lives Matter leaders over the clearing of Lafayette Square last June. 
Source: breitbart.com
---
Q
Almost every tyranny being perpetrated by the U.S. government against the citizenry – purportedly to keep us safe and the nation secure – has come about as a result of some threat manufactured in one way or another by our own government.
Think about it.
Cyberwarfare. Terrorism. Bio-chemical attacks. The nuclear arms race. Surveillance. The drug wars. Domestic extremism. The COVID-19 pandemic.
In almost every instance, the U.S. government (often spearheaded by the FBI) has in its typical Machiavellian fashion sown the seeds of terror domestically and internationally in order to expand its own totalitarian powers.
Who is the biggest black market buyer and stockpiler of cyberweapons (weaponized malware that can be used to hack into computer systems, spy on citizens, and destabilize vast computer networks)? The U.S. government.
Who is the largest weapons manufacturer and exporter in the world, such that they are literally arming the world? The U.S. government.
Which country has a history of secretly testing out dangerous weapons and technologies on its own citizens? The U.S. government.
Which country has conducted secret experiments on an unsuspecting populace—citizens and noncitizens alike—making healthy people sick by spraying them with chemicals, injecting them with infectious diseases and exposing them to airborne toxins? The U.S. government.
What country has a pattern and practice of entrapment that involves targeting vulnerable individuals, feeding them with the propaganda, know-how and weapons intended to turn them into terrorists, and then arresting them as part of an elaborately orchestrated counterterrorism sting? The U.S. government.
Are you getting the picture yet?
The U.S. government isn't protecting us from terrorism.
The U.S. government is creating the terror. It is, in fact, the source of the terror.
Consider that this very same government has taken every bit of technology sold to us as being in our best interests—GPS devices, surveillance, nonlethal weapons, etc.—and used it against us, to track, control and trap us.
So why is the government doing this? Money, power and total domination.
We're not dealing with a government that exists to serve its people, protect their liberties and ensure their happiness. Rather, these are the diabolical machinations of a make-works program carried out on an epic scale whose only purpose is to keep the powers-that-be permanently (and profitably) employed.
 
Source: zerohedge.com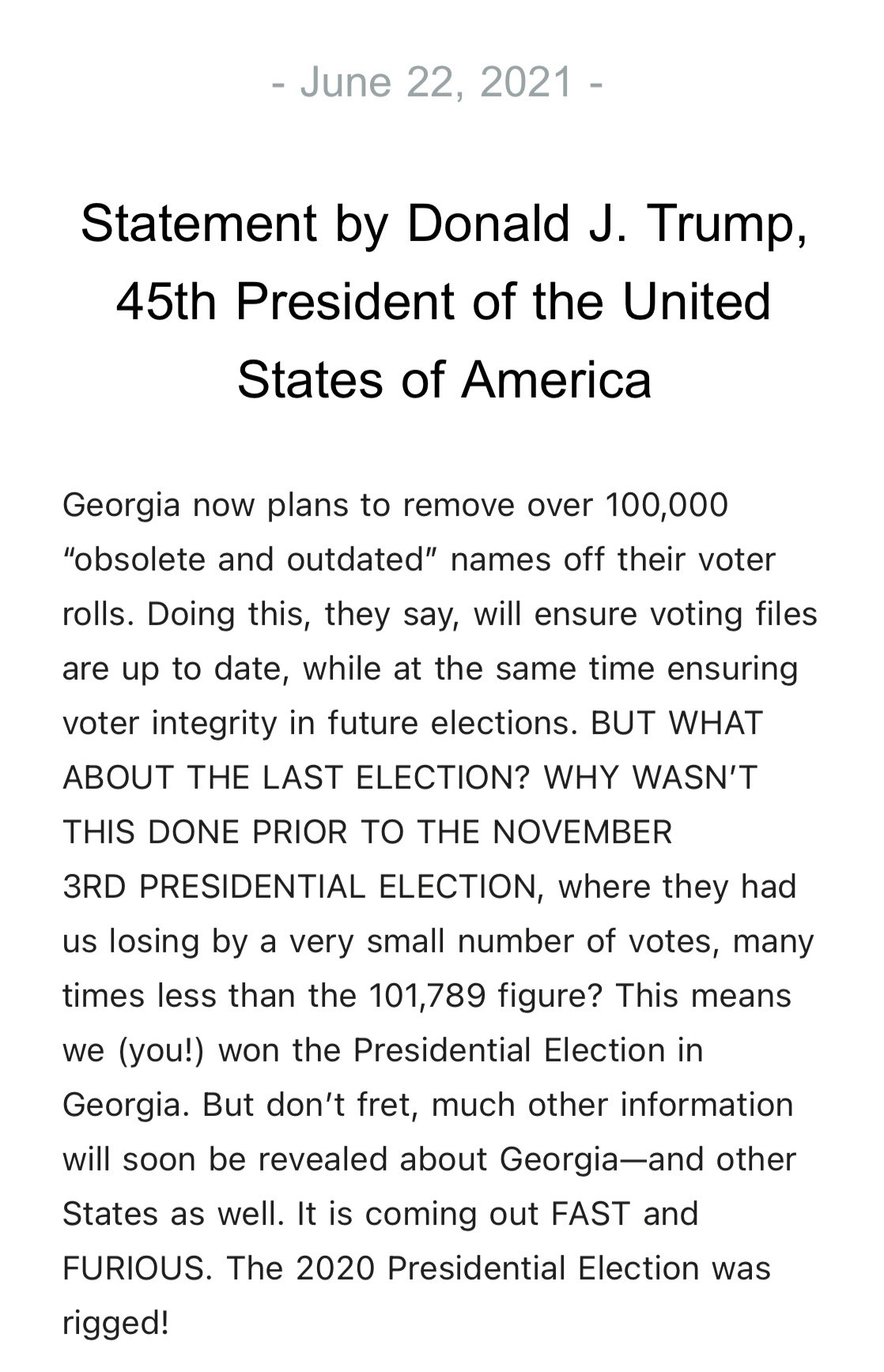 The Arizona Legislature is preparing to adjourn for the year and go home until January 2022, leaving their post BEFORE the Arizona audit report is produced and legislation can be created.
If the AZ Senate does not delay sine die (the end of session), new election laws will not be created until they meet again next January. If it is found that fraud occurred in Maricopa County, the legislature will not be able to consider withdrawing electors.
AZ State Senator Kelly Townsend tweeted about this after Christina Bobb with OAN reported that "the Arizona Legislature will need to carefully consider withdrawing their electors"
Source:thegatewaypundit.com
Nevada GOP Chairman Michael McDonald visited the America's Audit in Phoenix this past week and said a similar review is needed at home in Nevada.
Nevada election was fraught with likely fraud.
A Trump campaign worker saw a van stop at a Las Vegas elections center and unload boxes of ballots just like what happened in Detroit, Michigan.
Source: thegatewaypundit.com
Monmouth University's poll surveyed more than 800 potential adult voters between July 9 and 14. 80 percent of respondents said they support voter ID law measures, whereas only 18 percent opposed it.
Source: thefederalist.com
Think about this, when Trump was elected in 2016, the fake news, big tech, corrupt politicians created a fake story that he colluded with Russia to steal the elections, did they show proof, did they even mention an audit, did they audit the election, no, ask yourself why?
Fastfoward to 2020, Trump said the election was rigged, he explained how they were going to do it, and now we have an audit
If they did an audit back in 2016, what would it show, this is why they never wanted to call attention to an audit.
— Dan Scavino🇺🇸🦅 (@DanScavino) June 22, 2021
TAKE A LISTEN
— Dan Scavino🇺🇸🦅 (@DanScavino) June 22, 2021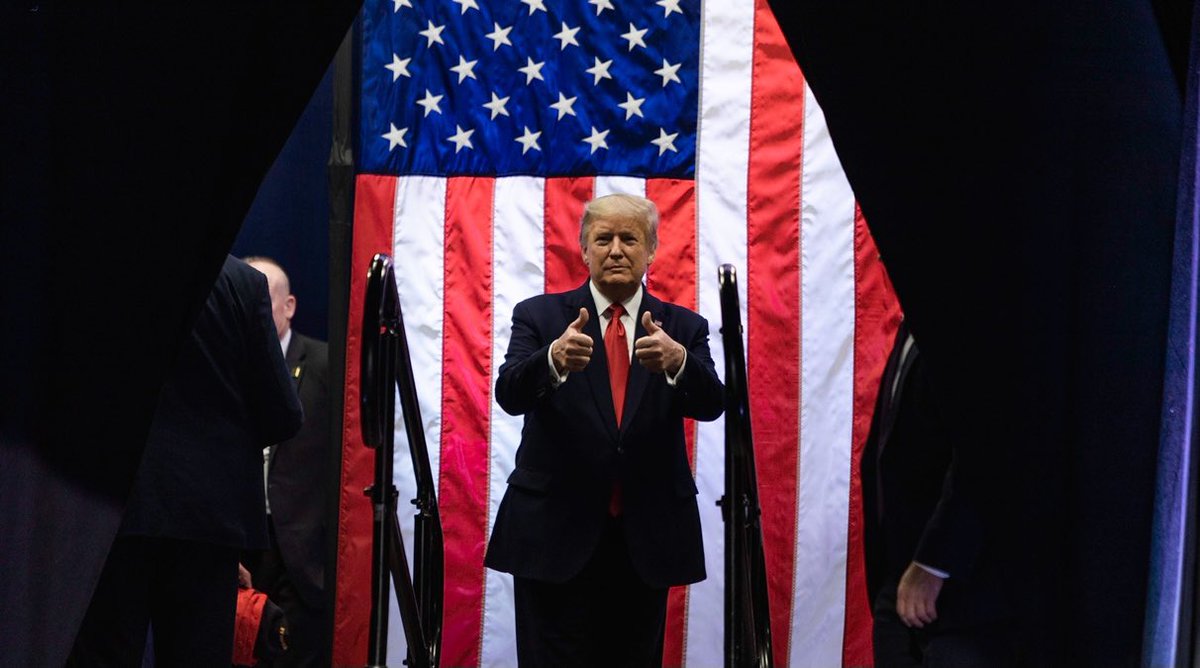 Q

 

!CbboFOtcZs

 

ID: 8e6eea

 No.2460787

603F9051-A5B0-42DE-8749-80183C4D1E3E.png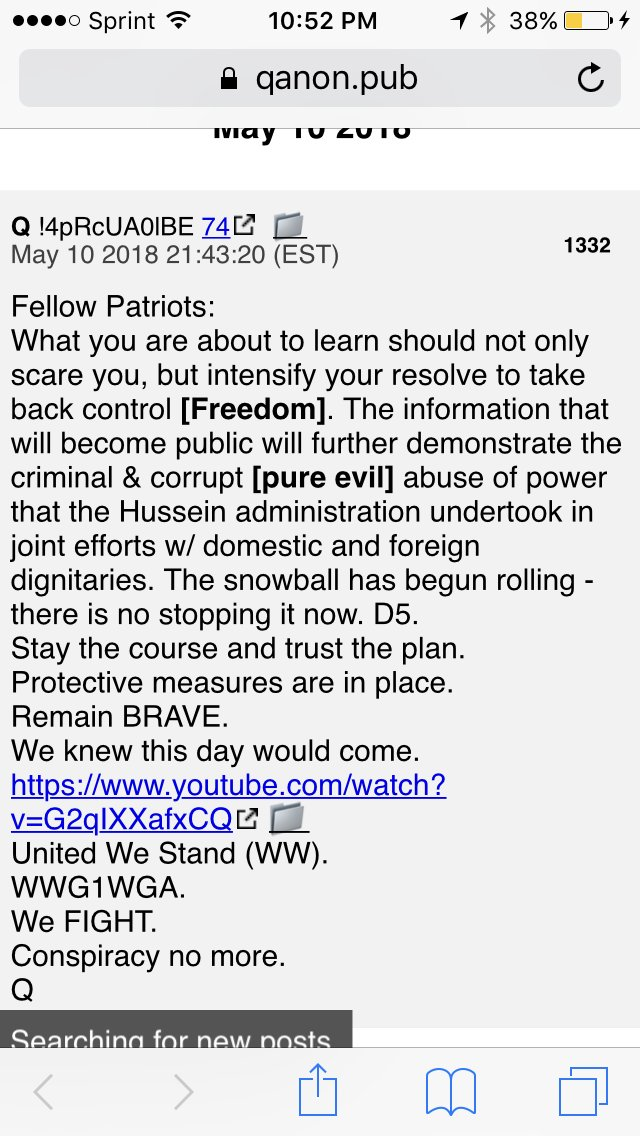 Be aware of your surroundings.
See something.
Say something.
Q
Boris Epshteyn said that no one can state for certain that it would be unconstitutional for former President Donald Trump to be reinstated to the presidency since the U.S. Constitution does not prohibit reinstatement and the issue has never been ruled upon.
Epshteyn said that "the interplay of the 10th Amendment" to the U.S. Constitution, the 12th Amendment and Article II, "would suggest that states do have a right to decertify. And from then, it's an open question what happens next."
Source: justthenews.com
The agency wants to avoid a repeat of the 2018 false alert in Hawaii
The Federal Communications Commission (FCC) said it has combined two categories of text message alerts into one: the "Presidential Alerts" and alerts from the Federal Emergency Management Agency (FEMA). The two will now be in a new "National Alerts" category, active on all devices that receive Wireless Emergency Alerts (WEA).
The goal of the alerts is to warn the public of natural disasters and other crisis situations, "and are of ever-increasing importance given the emergencies and disasters Americans have faced in recent years," the FCC said in a news release (pdf). The false alert in Hawaii in 2018, where residents were warned of an imminent ballistic missile threat that wasn't real, highlighted the need for improvements to its alert system, the agency said.
The new rules provide states with a checklist of information for their own Emergency Alert Systems, and encourages states to form committees to help administer alerts on the state level. Under the new rules, government agencies can now report false emergency alerts to the FCC's 24/7 Operations Center, and gives guidance on how alert originators can repeat an alert transmission.
Later this summer, FEMA and the FCC will conduct a nationwide test of the wireless alerts and the Emergency Alert System (EAS) that sends alerts to radios and televisions. Both tests are scheduled for 2:20PM ET on August 11th.
Source:  theverge.com