This Will Be The Biggest Political Victory, & Better Than Doing It The Traditional Way – Ep. 3165
Podcast: Download (Duration: 1:48:57 — 48.4MB)
Watch The X22 Report On Video
The people are feeling the economic pain around the world. Fuel prices are moving higher, inflation is getting worse and the people are now seeing who is responsible for all of this. The Fed is now in the crosshairs and the people trust Trump to fix the economy. The [DS] is in trouble, the people are waking up everyday. Trump and the patriots are going to bring the people to place where they can see it all. It is the only way to take back the country. This is not about another 4 year election, this is about exposing and removing the [DS] from this country. Trump says this election will be the biggest political victory by far, and it will be better than doing it the traditional way.
---
Economy
What happens when decreased food supply coupled with increased population from "migrants" collide in US grocery stores?

Is food supply critical infrastructure?

Could grocery stores be nationalized?

Rationing?

What happened in Argentina?

Need to watch @TuckerCarlson 🤔 https://t.co/Wlx3geLZ25

— Jen Wright (@JenWEsq) September 15, 2023
Reminder that Joe Biden cancelled all new drilling permits on federal land at the start of his administration – in early Jan 2021.

It only got worse from there. https://t.co/lWCSmq45ce

— Jeff Carlson (@themarketswork) September 17, 2023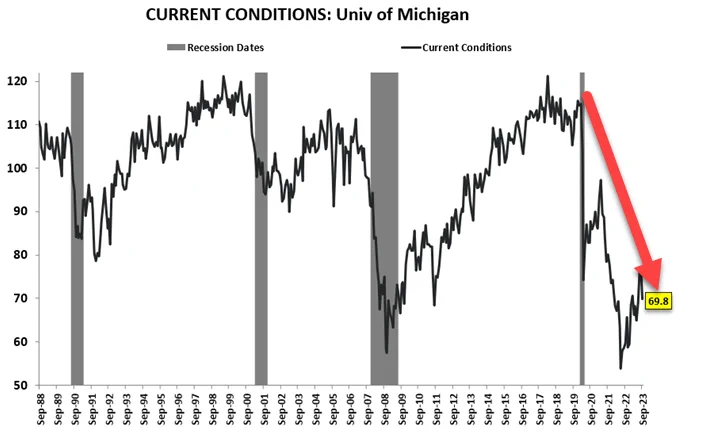 Visa and Mastercard are firing back at lawmakers over the fees that merchants pay for processing credit card transactions.
Companies such as Visa, Mastercard, American Express and Discover set the network fees that they pocket, as well as interchange fees, which go to the banks that issue cards.
Source: wsj.com
Flight attendants for three major airlines, American Airlines, Alaska Airlines and United Airlines, are threatening strikes over low pay and unpaid leave.
Flight attendants are only paid from door closure until the door opens on flights. Kiara O'Bryant, a Seattle-based flight attendant at Alaska Airlines, told The Guardian,
This summer, the 26,000 flight attendants at American Airlines voted 99.47% in favor of authorizing a strike against the airline.  Union representatives have been negotiating with the airline since 2019 while workers have been without a pay raise or cost of living raise in over four years.Pickets at the airline's major bases have been ongoing as negotiations continue.
Source: thegatewaypundit.com
BREAKING: In a strongly worded statement moments ago, the President of the U.S. Chamber of Commerce, Suzanne P. Clark, squarely blamed President Biden for the historic strike by members of the United Auto Workers union, the first simultaneous walkout on all three major Detroit… pic.twitter.com/Ia5f3RlFsa

— Simon Ateba (@simonateba) September 15, 2023
 automakers. According to Clark, the strike and subsequent fallout were attributed to President Biden's encouragement of unions to assert their influence, even if it poses a threat to the U.S. economy. Clark described the strike and the broader trend of labor actions as a result of the Biden administration's comprehensive approach to promoting unionization.
Even in real (inflation-adjusted) terms, interest on the debt is exploding at a pace never seen before with no end in sight. But @SecYellen thinks this is fine; pretty sure there's a gif for that… pic.twitter.com/QyMjAjnlP2

— E.J. Antoni, Ph.D. (@RealEJAntoni) September 17, 2023
Dutch political commentator Eva Vlaardingerbroek speaks out on the WEF's plan to impose a personal carbon allowance, linked to a digital identity card, under the guise of solving the climate

🔊… 🚨🚨🚨

As you might guess, there will be more taxes and more control over your… pic.twitter.com/imq5MjMMf5

— Wall Street Silver (@WallStreetSilv) September 15, 2023
  life and your ability to move around.
Australia's fifth-largest bank just announced it will scrap cash transactions in all its branches
Australia's fifth-largest bank has announced it will scrap cash transactions in all its branches, outraging customers and consumer advocates. Macquarie Bank will begin phasing out all cash, cheque and phone payment services in its Melbourne, Sydney and Brisbane branches from January as moves to digital-only transactions. It will have ceased all in-branch cash transactions by next November.
'Between January 2024 and November 2024, we'll be phasing out our cash and cheque services across all Macquarie banking and wealth management products, including pension and super accounts,' the bank said in a statement.
'The next [step] may be cash rationing at ATMS which for some won't be an issue but for others it will be, especially as brick and mortar banks look to serve their customers over the needs of those that use their ATMs,' Ms Wells told Daily Mail Australia.
Macquarie bank has 1.7 million 'clients'.
source: endtimeheadlines.org  
Source: bloomberg.com
Most, 59 percent, disapprove of Biden's handling of the economy. Perhaps what is worse for the 80-year-old president is the fact that 67 percent of independents and one-third of Democrats believe the economy is actively getting worse under his leadership.
When asked who they trust to better the economy, Americans chose Trump by a double-digit margin.
Forty-seven percent said they trust Trump to make the economy better, compared to 36 percent who said the same of Biden. That gap is even wider among independents, as 46 percent trust Trump to improve the economy, compared to 26 percent who chose Biden — a 20-point gap.
According to USA Today, "Eighty-four percent of Americans say their cost of living is rising, and food and groceries is the top concern."
Source: breitbart.com
It's that simple. #Bitcoin pic.twitter.com/VcOCOwHDrr

— Bitcoin Magazine (@BitcoinMagazine) September 16, 2023
---
Political/Rights
Lauren Boebert 'Beetlejuice' scandal starting to smell like a political hit 
Of course, there's immediate cause for suspicion and heightened skepticism when high-resolution and infrared video footage, focused right on a high-profile conservative firebrand, from a blacked-out theater, emerges almost simultaneously with the scandal.
  Surveillance footage captured very untoward and belligerent behavior: Boebert was seen vaping, and rubbing her paramour's nether region as he groped her chest. On Wednesday, we learned the identity of the man, finding out that he's 46-year-old Quinn Gallagher, a divorced father-of-one, Denver bar owner, and a Democrat.  
It turns out Lauren Boebert's mystery man is a Democrat bar owner.

If I was a wagering enthusiast, I would bet this guy was paid to set her up.

She's coming off a divorce, and she's vulnerable. This guy comes into her life, charms her, seduces her and then probably gets her…

— LIZ CROKIN (@LizCrokin) September 17, 2023
One user in the comments offered some alleged insight into how internal surveillance typically works, especially if the device was a dome camera, stating this:
The theater cameras are programmed to keep moving. They are supposed to scan for someone intending to do harm to the theater goers. This one was pointed at her for several minutes. Either whoever was watching the cameras was getting his rocks off watching or this was deliberately recorded to create a scandal.
Another implied an additional angle, with this assertion:
You've left out only the final piece of the puzzle.
The press and the DeSantis Twitter army were alerted to this story before it emerged and were ready with their moralizing talking points the moment that it did.
Source: theamericanthinker.com
Dems "outraged" at some heavy petting in a movie

Also Dems: pic.twitter.com/Tdv7YrFkkj

— True Stormy Joe (@truestormyjoe) September 16, 2023
Russell Brand has been accused of rape and sexual assault by multiple women in a joint investigation from the publicly-owned Channel 4 news network and the Sunday Times in Britain.
The British comedian vehemently denied any wrongdoing and pre-empted the publication of the allegations, posting a video on Friday evening in which he said that although he has lived a "promiscuous" life, all of his sexual interactions were consensual.
Brand went on to suggest that the publication of the allegations  — stemming from between 2006 and 2013 — may have been politically motivated, asserting that there is a "serious and concerted agenda to control" independent media personalities in order to silence voices critical of mainstream liberal narratives.
Source: breitbart.com
So the celebrity that's spoken out against the vaccine, promoted Ivermectin, questioned the Ukraine war, and attacked the mainstream media (among other things) suddenly is accused of rape and sexual assault.

Where have I seen this one before? pic.twitter.com/0yw0BQh33B

— Patri0tsareinContr0l (@Patri0tContr0l) September 16, 2023
CNN presented this claim:
Claim: Biden family and associates got $20 million through shell companies

"Bank records show that nearly $20 million in payments were directed to the Biden family members and associates through various shell companies," McCarthy said.
We do not know where this money went, why it was sent through this labyrinth of accounts, or what it was intended to buy. That is why this is an impeachment inquiry.
Finally, the inquiry is looking into whether some of these funds did make their way into Joe Biden's accounts.  There are indications that both Hunter and Joe received money out of some of these accounts and used shared credit cards. For example, there are indications that Hunter used his Dad's credit card to pay for prostitutes.
Source: zerohedge.com
DEVELOPING: House impeachment investigators now have the power to subpoena grand jury information starting with the 18 hours of testimony Hunter Biden's former business partner Devon Archer gave to a Delaware grand jury impaneled by prosecutor David Weiss under an immunity order

— Paul Sperry (@paulsperry_) September 16, 2023
BREAKING: Speaker McCarthy said the House impeachment committees plan to bring in 9 Biden family members to answer staff questions about bank records showing they got money from China through Hunter Biden

— Paul Sperry (@paulsperry_) September 17, 2023
MSNBC reports more Americans support Biden's impeachment inquiry than those who oppose it:

•Support 41%
•Opposed 35%
•Unsure 24% pic.twitter.com/k4Nb5Jmzli

— KanekoaTheGreat (@KanekoaTheGreat) September 17, 2023
Surgical charges against Hunter Biden suggest a willful blindness at DOJ
The indictment of Hunter Biden on three counts of federal gun violations illustrates the myopic view of many in the media and the Justice Department.

Although there is a real possibility of additional charges against Hunter, the move to charge the gun violations reinforces a concern that the Justice Department continues to focus on charges that stay as far away from Hunter's father,  resident Joe Biden, as plausible. The gun charges are conveniently self-contained and insulated for the administration.
The unseen pattern is becoming more and more troubling.
First, there are the tax violations. While Hunter may be charged with some tax violations, the statute of limitations has now run out on the most controversial payments in the 2014 and 2015 period for foreign sources such as Ukraine's Burisma.
Second, there are the money transfers. The House has now detailed millions in transfers to Biden family members from a dizzyingly array of dozens of companies and accounts. The use of a complex labyrinth raises obvious concerns that it is a tactic used by individuals to conceal money transfers.

Third, many of us have noted that there seems ample basis for charging Hunter Biden under the Foreign Agents Registration Act, particularly given previous charges against such defendants as Trump campaign chair Paul Manafort.  Registering as a foreign agent obviously invites much greater scrutiny over foreign dealings and the specific nations involved in lobbying efforts.
https://twitter.com/DC_Draino/status/1703087380029198378?ref_src=twsrc%5Etfw%7Ctwcamp%5Etweetembed%7Ctwterm%5E1703087380029198378%7Ctwgr%5Eec5fcac348b6c618f258d9bd95e61a5f323228be%7Ctwcon%5Es1_c10&ref_url=https%3A%2F%2Fpublish.twitter.com%2F%3Fquery%3Dhttps3A2F2Ftwitter.com2FDC_Draino2Fstatus2F1703087380029198378widget%3DTweet
"Our members already knew that and have known that for the last three months," he went on. "If only the House members who voted for impeachment would've followed that instruction in the house. We may not have been here. In the House, the vote to send the articles of impeachment against the Attorney General to the Senate happened in only a few days with virtually no time for 150 members to even study the articles."
"The Speaker and his team rammed through the first impeachment of the statewide official in Texas in over 100 years while paying no attention to the precedent that the House set in every other impeachment before in the past," Patrick said. "The House had transparent and open investigations for all to see, including other House members. The target of the investigation was notified and invited to attend with counsel and given an opportunity to cross-examine witnesses that were placed under oath before testimony was taken. At the conclusion of past House investigations, the evidence was laid out for weeks for House members to evaluate, not hours before they took their vote on articles of impeachment."
Source: beckernews.com
Lieutenant Gov. Dan Patrick has ordered a full audit of House proceedings.

Listen to his historic speech. pic.twitter.com/ZyKenGJtom

— Sarah Fields (@SarahisCensored) September 16, 2023
"Prove your innocence, Attorney General. You've been convicted in the press, prove your innocence now. If it can happen to him, it can happen to anyone." https://t.co/Md4dbWH17m

— Rasmussen Reports (@Rasmussen_Poll) September 16, 2023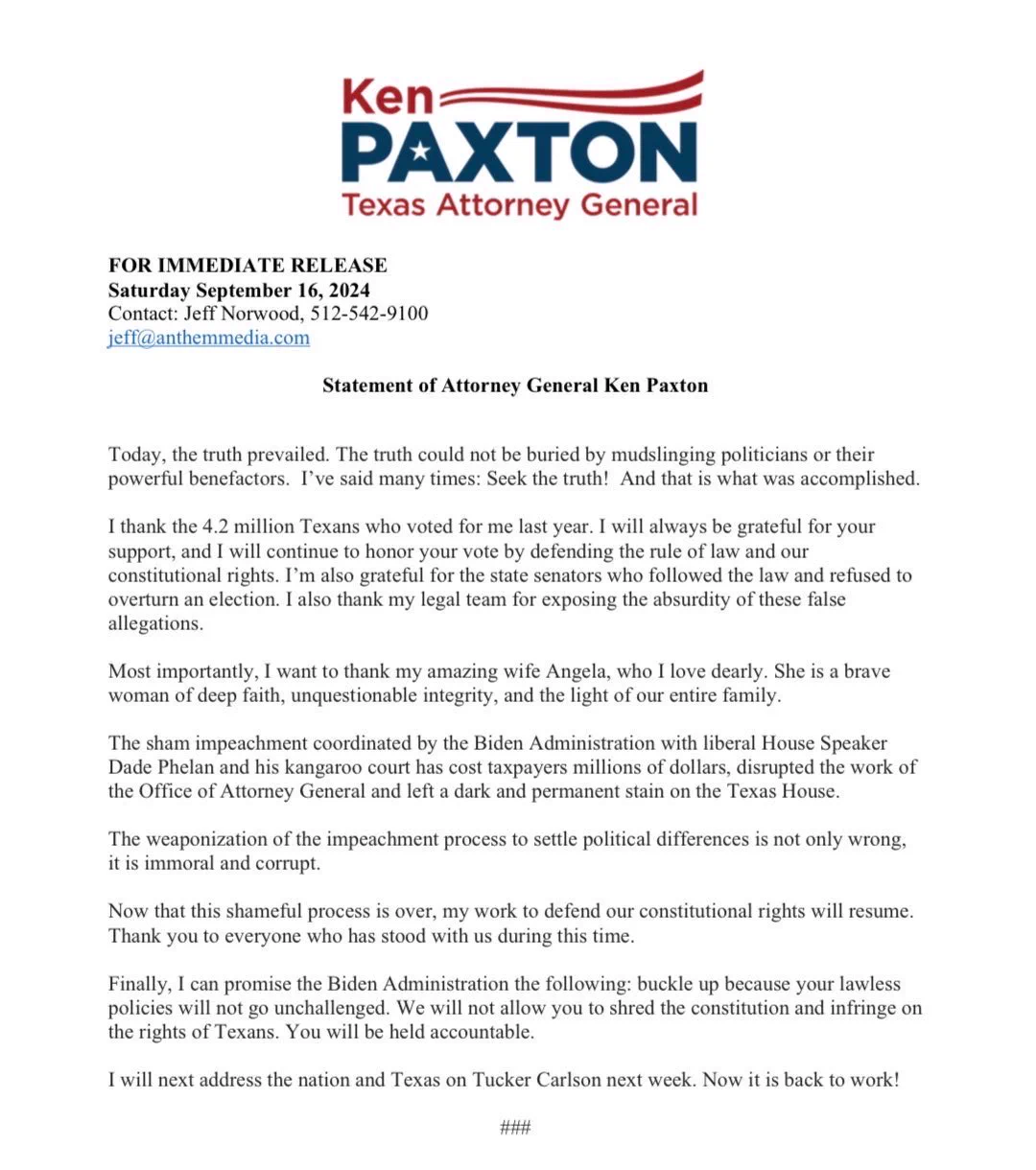 ---
Geopolitical/Police State
A report on the dispersal of Joe Biden's $42.45 billions Broadband Equity, Access, and Deployment (BEAD) funding, meant to expand access for underserved and rural areas, shows that the funding is primarily favoring liberal cities and states.
Internet for All shares BEAD's stated goal of connecting everyone in America to reliable, affordable high-speed internet by the end of the decade.
"High-speed Internet access isn't a luxury. It's needed to fully engage in the economy, and it helps ensure public safety and the health of our nation. Unfortunately, too many in America lack access to affordable, reliable high-speed Internet."
The program was implemented in June as part of the failed "Bidenomics" boondoggle despite the fact that, according to the Federal Communications Commission's 2021 Broadband report, nearly 90 percent of Americans already had access to fixed terrestrial internet services in 2015.
  funding was distributed without input and without response to requests from lawmakers and communities across the country on how funding decisions were determined.
Every state, along with Washington, D.C., and Puerto Rico, received a base amount of $100 million, while the remaining territories were granted at least $25 million each. Texas and California, the two most densely populated states in the country, lead the funding rankings with $3.3 billion and $1.9 billion, respectively.However, the distribution has gone to states with fewer locations lacking service, and the allocation raises eyebrows when considering some peculiar instances of how the fundswere distributed.

In Washington D.C., out of the 184 locations lacking broadband internet, 58 of them are clustered within the Smithsonian National Zoo, which includes popular spots like the Butterfly Garden, Lion-Tiger Hill, and the Otter Pond, the report found.

Another instance of odd distribution was in Delaware, when the state received nearly $108 million from the Biden administration in June to address 2,166 unserved locations in the state.

Another oddity comes in Delaware. The state received almost $108 million for 2,166 locations.  One of the locations just happens to be where the Biden Environmental Training Center is housed, only miles from Rehoboth Beach and Biden's "Summer White House."
Source: thegatewaypundit.com
Billionaire Democratic donor George Soros is financing an army of Gen-Z TikTokers to push his extreme left-wing causes, praise President Joe Biden, and bash conservatives, a review of public documents and social media by The Post shows.
Soros' Open Society Foundation shelled out $5.5 million to the nonprofit Accelerate Action Inc. in 2020 and 2021 — which in turn gave at least $300,000 in 2022 to another nonprofit, Gen Z for Change, which boasts a network of 500 "activists, organizers, and creators," tax filings show.
T
Throughout his term in office, President Biden has looked to Gen Z for Change and other social-media stars to sell his policy agenda.
Source: nypost.com
House Judiciary Committee Chairman Jim Jordan issued a subpoena  targeting Elvis Chan, the FBI Assistant Special Agent in Charge of the San Francisco Field Office.
Chan is implicated in the Big Tech censorship campaign over the 2020 election.
This subpoena came in response to the Department of Justice blocking Chan from participating in a voluntary interview.
"The Committee on the Judiciary is conducting oversight of how and to what extent the Executive Branch has coerced and colluded with companies and other intermediaries to censor speech," Jordan wrote. "As the primary liaison between the Federal Bureau of Investigation's (FBI) Foreign Influence Task Force (FITF) and social media companies, you are uniquely positioned to aid the Committee's oversight."
Source: beckernews.com
---
War
North Korean state media says Kim Jong Un discussed arms cooperation with Russian Defence Minister
A day after inspecting Russia's nuclear-capable bombers and other advanced weapons, North Korean leader Kim Jong Un is continuing a trip to Russia's Far East with a visit to a university in Vladivostok
North Korean leader Kim Jong Un held discussions with Russia's Defence Minister on strengthening "strategic and tactical coordination" between the countries' militaries, the North's state media said Sunday, as Kim continued a visit to Russia's Far East that has raised concerns about an arms alliance that would fuel Moscow's war on Ukraine.
The talks with Defence Minister Sergei Shoigu came after Mr. Kim on Friday was shown some of Russia's most advanced weapons systems deployed for its war on Ukraine, including nuclear-capable bombers and hypersonic missiles, and a key warship of its Pacific fleet, the Korean Central News Agency said. 
Source: thehindu.com
Republican Senators Tom Cotton (R-Arkansas), Lindsey Graham (R-South Carolina) , Susan Collins (R-Maine) and Roger Wicker (R-Mississippi) sent a letter to Joe Biden on Saturday.
The four Republicans want US MGM-140 Army Tactical Missile Systems (ATACMS) to be sent to Ukraine.
The four warmongers insist more US missiles in Ukraine, prolonging the failed war with Russia, will save lives.
These are Republican Senators.
They are itching for World War III.
Source: thegatewaypundit.com
Pence this week warned that Russia will likely encroach on NATO territory and trigger an American military response should it succeed in its efforts to conquer Ukraine.
 
"I'm convinced that if the Ukrainian military doesn't stop and repel that Russian invasion, it's not going to be too long before that Russian army crosses a border that our men and women in uniform are going to have to go and fight under our NATO Treaty," he said. "I truly believe it. Whether that's Estonia, Latvia, Lithuania… Poland, I don't know."
Source: justthenews.com
"As the Bible says, blessed are the peacemakers… I'll be your peacemaker. And I am the only candidate who can make this promise to you: I will prevent World War III."

Trump the Peacemaker.
That's something everyone can support.
Soon they will see. pic.twitter.com/wptE0zVVqu

— TheStormHasArrived (@TheStormRedux) September 16, 2023
TAKE A LISTEN
---
False Flags
Sore throat, then congestion: Common Covid symptoms follow a pattern now, doctors say
Doctors who treat Covid describe the ways the illness has gotten milder and shifted over time to mostly affect the upper respiratory tract.

Doctors say they're finding it increasingly difficult to distinguish Covid from allergies or the common cold, even as hospitalizations tick up.

 

"It isn't the same typical symptoms that we were seeing before. It's a lot of congestion, sometimes sneezing, usually a mild sore throat," said Dr. Erick Eiting, vice chair of operations for emergency medicine at Mount Sinai Downtown in New York City.

The sore throat usually arrives first, he said, then congestion.
Source: nbcnews.com
Doctors now say it's "increasingly difficult to distinguish COVID from allergies or the common cold."

"Just about everyone who I've seen has had really mild symptoms."

"It's a lot of congestion, sometimes sneezing, usually a mild sore throat."

"The sore throat usually…

— Charlie Kirk (@charliekirk11) September 16, 2023
 arrives first, then congestion." "The only way that we knew that it was Covid was because we happened to be testing them." But get your 5th booster and mask up!!
In other words, the coronavirus will become "endemic," a pathogen that circulates at low levels and only rarely causes serious illness.
"The timing of how long it takes to get to this sort of endemic state depends on how quickly the disease is spreading, and how quickly vaccination is rolled out," said Jennie Lavine, a postdoctoral fellow at Emory University in Atlanta, who led the study.
"So really, the name of the game is getting everyone exposed for the first time to the vaccine as quickly as possible."
 Source:nytimes.com
In spite of our government's best efforts to convince people otherwise, 97% of the 17,000+ people who answered this poll believe COVID was manmade. pic.twitter.com/VAnSetPv3v

— Thomas Massie (@RepThomasMassie) September 16, 2023
TAKE A LISTEN
---
Q
An armed man was arrested by police at an event attended by Robert F. Kennedy Jr., after the Democratic presidential candidate's unsuccessful requests for Secret Service protection since declaring candidacy in April.
   a male was in front of the event venue with "a badge on their lapel, a gun, and a shoulder holster, and claimed to be a U.S. Marshal."
A spokesperson for Mr. Kennedy Jr. confirmed the incident to The Epoch Times. Mr. Kennedy Jr. had not arrived at the venue yet when the incident occurred.
 the man reportedly claimed to be employed for the event, but he wasn't recognized by the security staff.
 
Source: zerohedge.com
During his speech President Trump announced that he was going to appoint a task force to review Joe Biden's political prisoners from January 6, 2021 protests in Washington DC.
The crowd gave the president a huge applause following this announcement.
 TAKE A LISTEN
Source: thegatewaypundit.com
She filed her latest appeal of a court ruling that went against her in May, according to the Arizona Republic. That appeal, which dealt with election issues in Maricopa County, was transferred to an appeals court based in Tucson.
Lake's opening brief in the case says there is new evidence to support her allegations.
"New evidence demonstrates that Maricopa falsely certified its 446 vote-center tabulators passed mandatory L&A certification testing prior to Election Day and strongly suggests Maricopa planned the Election Day debacle," the brief filed with the court said. L&A stands for "logic and accuracy."
That matters, the filing said, because "misconfigured and defective BOD-printed ballots caused Maricopa's vote-center tabulators to reject tens of thousands of ballots, which would have been prevented by proper L&A testing." BOD stands for "ballot on demand."
As a result, the filing said, "The ensuing chaos led to massive lines and wait times, thereby impairing or depriving the right to vote of tens of thousands of predominately Republican voters."
Source: thegatewaypundit.com
Many are worried that the Judge has extended Trump's trial date. Not to worry! TRUMP CAN'T RUN. TRUMP CAN'T HIDE. He will be imprisoned with Ivanka by his side!

— Maxine Waters (@RepMaxineWaters) September 15, 2023
3am thought: This gag order is intended to stop the leading GOP presidential candidate from discussing one of the top issues for GOP voters—the complete corruption of DOJ and dual system of justice in Washington DC for Trump supporters. pic.twitter.com/Hlz1QzFf13

— Julie Kelly 🇺🇸 (@julie_kelly2) September 16, 2023
"How likely is it that cheating will affect the outcome of next year's presidential election in Georgia?"

It's Likely-
DEM: 44%
IND: 51%
GOP: 70%
All GA Voters: 55%

Deleted ballot images, missing routers, wiped servers & 150K still locked up 2020 paper ballots

Kemp's Georgia https://t.co/dwJQwLszJX

— Rasmussen Reports (@Rasmussen_Poll) September 16, 2023
WINNING:

1. Trump is up by 50 points.

2. Tucker Carlson is Unleashed.

3. Mitt Romney retired.

4.Gavin Newsom backed down.

5.Matt Gaetz is bringing the heat.

6.Joe Biden faces Impeachment.

7. Barack Obama was outed.

8. Ken Paxton is on Offense.

9. New Mexico Governor… pic.twitter.com/FGNxlnRSML

— Joseph Pino (@JosephPino_) September 13, 2023
What is a government shutdown? And why are we likely to have another one?
Congress appears to be on track to trigger a government shutdown on October 1, 2023, because it is not expected to pass the 12 appropriations bills that fund government operations before the start of the new fiscal year.
Under the Antideficiency Act (initially passed in 1884 and amended in 1950), federal agencies cannot spend or obligate any money without an appropriation (or other approval) from Congress. When Congress fails to enact the 12 annual appropriation bills, federal agencies must cease all non-essential functions until Congress acts. This is known as a government shutdown. If Congress enacts some but not all of the 12 appropriations bills, only agencies without appropriations have to shut down; this is known as a partial shutdown.

What happens when that occurs?

During shutdowns, many federal employees are told not to report for work, though under a 2019 law they get paid retroactively when the shutdown ends. Government employees who provide what are deemed essential services, such as air traffic control and law enforcement, continue to work, but don't get paid until Congress takes action to end the shutdown. All this applies only to the roughly 25% of federal spending subject to annual appropriation by Congress.

How common are government shutdowns?

There have been four shutdowns where operations were affected for more than one business day. In 1995-1996, President Clinton and the Republican Congress were unable to agree on spending levels; the government shut down twice, for a total of 26 days. In 2013, a standoff over funding for the Affordable Care Act resulted in a 16-day shutdown. And in December 2018 and January 2019, a dispute over border wall funding led to a shutdown that lasted 35 days; it was a partial shutdown because Congress had previously passed five of the 12 appropriation bills.
Source: brookings.edu
Shutdown Primary Reasons.
Distract.
Weaken military assets.
Inc illegal votes.
Black voters abandoning.
"Keep them starved"
"Keep them blind"
"Keep them stupid"
HRC March 13, 2013 [intercept].
The Great Awakening.
Fight, Fight, Fight.
Q
TAKE A LISTEN
..or in response to chaos associated with protests and mob action," Article 1, Section 9 of the US
CONSTITUTION
states, "The Privilege of the Writ of Habeas Corpus shall not be suspended, unless when in Cases of Rebellion or Invasion the public Safety may require it."
Q