Those Who Are Awake Can See Clearly,Trump Caught Them All,Control Belongs To The Patriots – Ep. 2743
Watch The X22 Report On Video
The Fed is panicking, inflation is not under control and they are now pushing the idea that they must push stronger actions, this will fail. The Biden admin promised to cancel student debt, this is not happening so they are kicking the can down the street to keep the student's happy. The economic protests have begun. The [DS] is now trapped, this is the largest sting operation the world has ever witnessed. Trump secured deals with other leaders, he caught them all and the fact and evidence is now being produced. The election fraud decertification is now being pushed and the [DS] players cannot stop what is coming. Those who are awake can see clearly, Trump caught them all. The storm is coming and the pieces are coming together.
---
Economy
Brainard, who is awaiting a confirmation vote to serve in the central bank's number two role, added that policymakers are attuned to the disparate impacts of inflation on particularly lower-income households.
"Currently, inflation is much too high and is subject to upside risks," Brainard said at a conference Tuesday. "The Committee is prepared to take stronger action if indicators of inflation and inflation expectations indicate that such action is warranted."
Source: yahoo.com
---
Political/Rights
Rep. Fred Upton from Michigan announced on Tuesday he will not seek reelection. Upton is one of 10 Republicans who voted to impeach Republican President Trump.
Reuters-Yahoo.com reported:
 Source: thegatewaypundit.com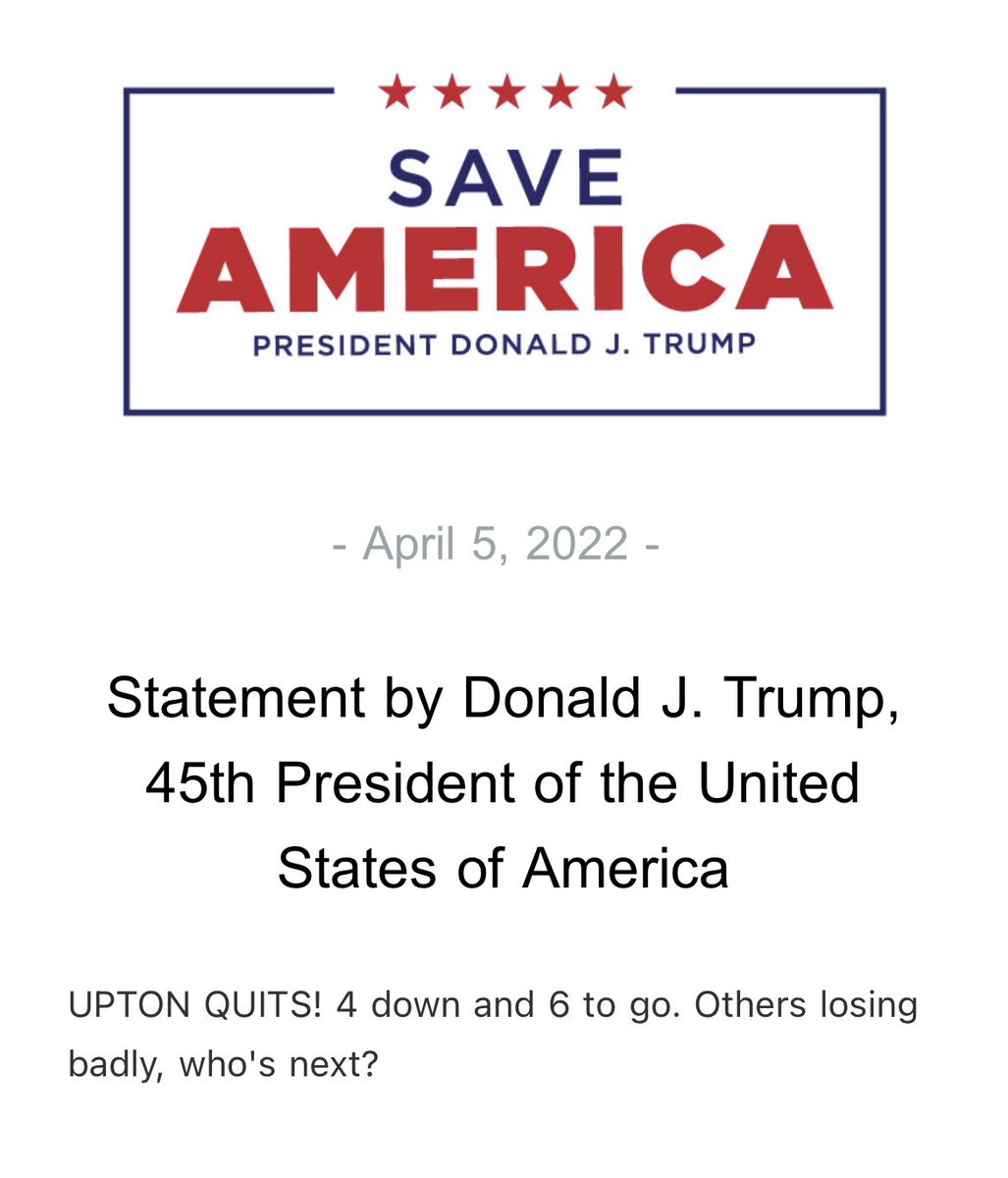 SCORECARD–GOP who voted to impeach Trump:
Katko – resigned
Kinzinger – resigned
Gonzalez – resigned
Toomey – resigned
Upton – resigned [latest to bite the dust]
Newhouse – primaried
Cheney – primaried
Meijer – primaried
Rice – primaried
Valadao – primaried
Beutler – primaried
Murkowski – primaried
Today, @NYCMayor held a press conference to beg Floridians to move to NYC, after half the city moved to Florida to escape covidian dictatorship. At the presser, a city employee (& mom) asked the mayor why NYC is still masking toddlers. She was promptly fired. Can't make this up.

— Christina Pushaw 🇺🇸 (@ChristinaPushaw) April 5, 2022
In 2014, a Disney Cruise Line steward, 36-year-old Ahmed Sofyan, was charged with two counts of molestation and one count of false imprisonment after holding a 13-year-old girl in an unoccupied cabin and molesting her. When this story was released, an ex-Disney Cruise officer spoke out, reporting a similar instance of child molestation that Disney authorities ordered her not to report just two years prior.
Dawn Taplin, the first female security officer at Disney and second in the entire cruise line industry, was on the cruise ship where this occurred. In 2014, she revealed Disney's previous molestation cover-up.
In 2012, a Disney cruise ship employee was caught on camera molesting an 11-year-old girl in an elevator. Disney authorities allegedly did not allow security to report the incident.
Source: thegatewaypundit.com
Remember when Joe Biden voted for an actual "don't say gay" bill in 1994? Oh, you didn't? I dug it up. With video! 👇 https://t.co/nmgFHEKtV5

— Rachel Bovard (@rachelbovard) April 5, 2022
In 1994, Joe Biden voted for an amendment that was far more draconian than he now claims Florida's child protection law to be.
 . In 1994, he voted for an amendment that was far more draconian than he deems Florida's law to be – one that specifically banned programs or discussion that "affirms a homosexual lifestyle" in schools nationwide, K-12.
 
In summer 1994, the Senate began debate on the Elementary and Secondary Education Act, the country's primary federal education law. As part of that debate, Sen. Bob Smith, R-New Hampshire, offered an amendment to prohibit schools from receiving funds under the bill from "encouraging or supporting homosexuality as a positive lifestyle alternative," which he defined as the "distribution of instructional materials, instruction, counseling, or other services . . . or referral of a pupil to an organization that affirms a homosexual lifestyle."
When the Senate took up the Smith-Helms amendment late in the day on August 1, 1994, Biden cast his vote in favor, joining the 62 other senators who helped pass the amendment 63 to 36.
In 1994, Biden took the side of parents in these disputes. In 2022, both he and his party call these parents hateful.
Source: thefederalist.com
FLASHBACK
Romney opposed KBJ's nomination to a lower federal court less than a year ago, which means he didn't decide to support her for SCOTUS until *after* he learned of her horrifying history of going easy on child molesters and pedophiles. https://t.co/w2DipvNg19 pic.twitter.com/EVQ0nIRkGY

— Sean Davis (@seanmdav) April 4, 2022
@michaelsuss's defense just fell apart. pic.twitter.com/qjHJXja5Py

— FOOL NELSON (@FOOL_NELSON) April 5, 2022
Sussmann and Joffe agreed that the information should be conveyed to the FBI and the CIA to help the government.
The information was conveyed to the FBI to provide a heads-up that newspaper outlets were going to publish a story about links between Alfa Bank and the Trump Organization.
The researchers and Mr. Joffe himself held a good faith belief in the analysis that was shared with the FBI, and Mr. Sussmann accordingly and reasonably believed the data and analysis were accurate.
And who is the person the Sussmann defense "understands" might be given immunity? I'm guessing it's Christopher Steele. 
Let me explain. In yet another filing, Sussmann implores the Court to prevent three categories of evidence/argument from being admitted at trial: (1) The gathering of the Alfa/Trump data; (2) The accuracy of the Alfa/Trump data; and (3) Christopher Steele (Fusion GPS) and the Steele Dossiers.
According to Sussmann's attorneys, the Special Counsel "produced witness statements for Mr. Steele pursuant to 18 U.S.C. § 3500, presumably because the Special Counsel seeks to call Mr. Steele as a witness at trial."
Source:  technofog.substack.com
Hunter Biden Federal Grand Jury asked witness during testimony to identify "the Big Guy." Biden's Chief of Staff Ron Klain also now implicated in scandal
A lot of in limines raining down in the Sussmann case tonight.

Durham's filing (61) is lit. He mentions the word conspirator/conspiracy 24 times.https://t.co/2pwrWehBfr pic.twitter.com/8oUdZc6AIB

— Hans Mahncke (@HansMahncke) April 5, 2022
Human smuggling…by the Biden administration. https://t.co/oIF6Yyq5Kl

— Tom Fitton (@TomFitton) April 5, 2022
Sources tell me w/ parole releases, the migrants are asked to turn themselves into ICE in a city of their choice. I'm told many of them are given these phones by the government to track them and allow them to communicate w/ ICE, but there's no way to stop them from being tossed. pic.twitter.com/tAogWloQgy

— Bill Melugin (@BillFOXLA) April 5, 2022
---
Geopolitical/Police State
---
War
Following months of badgering by the Europeans to take a more active role in stopping the conflict in Ukraine, President Xi is reportedly considering one-on-one talks with Ukrainian President Volodymyr Zelensky (what would be the first round of direct talks between the two since the invasion began) following a round of lower-level talks.
Finally, as the Europeans and Washington try to stoke international outrage over what President Biden described as "war crimes" in Bucha, Reuters pointed out Tuesday that even the Pentagon couldn't confirm Moscow's involvement.
Per the report, the US military "is not in a position to independently confirm Ukrainian accounts of atrocities by Russian forces against civilians in the town of Bucha" – although it has no obvious reason to dispute the account, either. One official who spoke anonymously called the images of the alleged atrocities "deeply troubling."
The Kremlin, meanwhile, has vociferously denied allegations of Russian involvement in the atrocities, denouncing them as a "monstrous" forgery.
Source: zerohedge.com
 For the second time this week, the powerful sister of North Korean leader Kim Jong Un berated South Korea for touting its supposed preemptive strike capabilities against the North, saying her country's nuclear forces would annihilate the South's conventional forces if provoked.
In a statement carried Tuesday by North Korea's state media, Kim Yo Jong called South Korea Defense Minister Suh Wook's recent comments about preemptive strikes a "fantastic daydream" and the "hysteria of a lunatic."
She stressed that North Korea doesn't want another war on the Korean Peninsula but warned it would retaliate with its nuclear forces if the South opts for preemptive strikes or other attacks, which would leave the South's military "little short of total destruction and ruin."
  
Source: apnews.com
Iran Says No More Nuclear Negotiations, Blames US for Impasse
 Its not always clear how the Vienna talks are going since the US and Iran have been the only really negotiating parties for weeks, and they don't meet face to face. Indirect talks through EU negotiators look similar no matter how active they are.All the reports of things being "close" seem to be accurate, with Iran interpreting things as finished, and just waiting for the US to settle any internal issues on accepting the final pact.The big question remains the removal of Iran's Revolutionary Guards from the US terror blacklist, something that is politically difficult for the US. Iran is also keen to get a US assurance that the next president won't unilaterally withdraw from the deal, but that may not be achievable.
---
False Flags
Last week, medical journalist Katherine Eban posted at Vanity Fair the results of a long and detailed investigation into the lab-leak theory of the origins of SARS-CoV-2. The subject is moving ever more to the front-and-center of efforts to find out exactly what was going on at the highest levels in early 2020 that resulted in the greatest societal, political, and economic upheaval of our lives.
 
The Black Lives Matter Global Network Foundation spent approximately $6 million on a lavish Southern Californian mansion using donor cash and then took measures to keep the purchase a secret, according to a report Monday.
In October 2020, two weeks after BLM received a $66.5 million cash infusion from its fiscal sponsor, the group employed a man with close ties to the charity's co-founder, Patrisse Cullors, to secretly purchase the 7-bedroom residence.
Dyane Pascall, the financial manager for Janaya and Patrisse Consulting — an LLC operated by Cullors and her spouse, Janaya Khan, bought the Studio City mansion in cash to conceal the misuse of the charities' donations.
Six days later, Pascal transferred the property's deed to an LLC named after the property's address, New York Magazine reports.
To assure the property's owner wouldn't be disclosed, ownership of the property was then transferred to an LLC in Delaware.
The organization tried to keep existence a lavish home, which is referred to internally as the "complex," a secret and "kill" the story about the mansion by preventing journalists from discovering the transaction, according to the report.
 ttacks" and attempts to "discredit my character" and had nothing to do with her departure.
Source: thegatewaypundit.com
Bowser is up for reelection in November and one of her opponents, Robert C. White Jr. said he doesn't agree with Bowser's decision to hire more police officers.
"The mayor has put us in an impossible position, because we are plagued with violent crime right now, and police are stretched too thin, and the mayor has not developed a plan," White said at a candidate forum in March, The Washington Post reported.
"The conversation is frequently reduced to either more police or more crime, and I think that is not fair to residents, nor is it responsible governing," White continued.
The goal of this proposed budget is to increase presence in neighborhoods, to make and close cases, and to put investments in staff to support the officer wellness program, WJLA reported.
Source: dailycaller.com
---
Q
In late January film producer Dinesh D'Souza released the trailer for his upcoming movie "2000 Mules."
True the Vote has been working with Dinesh D'Souza to create this bombshell movie that uses footage and tracking data they obtained of ballot boxes in key states across America used to steal the election in 2020.
100 Percent Fed Up added this on the investigation in January —
Using commercially available geo-tracking cell phone data, True the Vote was able to take footage from drop boxes across America in key states like Georgia and others to track over 2,000 'mules" wearing gloves and disguises to stuff ballot boxes.
 a second Democrat office in the state of Georgia was also used as a stop for the dozens of ballot traffickers in the state.
 True the Vote founder and president Catherine Engelbrecht who is spearheading this investigation.   
"We cannot confirm anything about organization names right now by advice of counsel.  But we can confirm that two of the addresses were among a data set of those we reviewed."
The pieces are starting to fall into place.
 
Source: thegatewaypundit.com
….  was quick to congratulate Musk.
Source: zerohedge.com
— Defiant L's (@DefiantLs) April 5, 2022
 Elon Musk said that "wokeness … gives mean people a shield to be mean and cruel."
"Wokeness basically wants to make comedy illegal," Musk said. "Trying to shut down Chappelle, come on, man, that's crazy. Do we want a humorless society that is simply rife with condemnation and hate basically? At its heart, wokeness is divisive, exclusionary, and hateful. It basically gives mean people a shield to be mean and cruel, armored in false virtue."
Source: dailycaller.com
 I wonder what is next
Modern Social Media platforms all have common building blocks under the hood. Cancel culture attacks make them vulnerable in previously unthought of ways. Starlink, or something like it, is crucial
Social media platforms are built from software (obviously). There is an analogy I can use here that people are more familiar with: building houses. Just as with home building, modern software relies on existing frameworks and materials. Imagine if every time you wanted to build a house you had to grow trees, cut down trees, saw them into lumber, dig up sand and clay and mix them to bake bricks, mine ore to smelt into copper, put sand in a blast furnace to make glass, pump oil out of the ground to make a slurry for paint, etc.
Obviously, that's not how it's done in the modern era. An architect designs a new house, but he relies on the fact that it will use standard wire, asphalt shingles, copper and PVC pipe of various standard sizes, standard sized windows and doors, carpet material, pre-cut lumber, drywall, etc. He designs the floor plan, and the exterior look and feel, and he can make a unique looking home for you; but it relies on standardized materials, nonetheless.
Building social media platforms using modern software is like that. You don't start from scratch when you make a new platform; you put together well-known software components and modules that have already been built into millions of other software systems, and you customize the look and the feel of the outer shell to achieve your desired platform's objective.
The problem with this approach is that your new social media app is now dependent on a whole bunch of components and layers that you don't have control over; but in this way, it's very much unlike the home building analogy.
A new platform like Truth Social can anticipate this sort of thing happening; and it can pay a little more, and maybe take a little more time to build out its infrastructure so that it doesn't have to rely on too many third-party cancellable components; its legal team can construct tight contract language forbidding cancellation for any but act-of-God reasons. It can own its own data centers and servers; it can host its own DNS servers. For the most part, it can insulate itself from the cancel culture mob.
But.
There is still the issue of global DNS and the networks.  DNS and the networks are the roads and street signs that people drive on and navigate with to get back and forth from work to their homes and neighborhoods. What if, after trying to shut you down, the copper and drywall guys that you replaced get together with others and tear down your street signs and streetlights and blockade your roads? Now your happy homeowners can't even reach their driveways and front doors.That's the vulnerability that exists in the modern software realm due to dependencies on DNS providers and terrestrial networks (AT&T, Comcast, etc.)
So now we get to the reason that StarLink, or something like it, is so important. What is StarLink? It is a network of space-borne satellites put aloft by Elon Musk's SpaceX, and it offers a way to deliver internet services pretty much anywhere in the world by a direct uplink/downlink to satellites. Thereby bypassing all of the existing ground-based network infrastructure.
In theory, my device (phone or PC) can connect to my StarLink antenna, beam my packets up into space, and they can come back down to your StarLink receiver and into your device…and at no time does any of that traffic depend on the legacy land-based internet.
It goes from me, to StarLink, to you. No AT&T (in bed with NSA, who has access to all of the major router facilities operated by AT&T) need apply.
Source: cognitivecarbon.substack.com
1069
Q
!xowAT4Z3VQ
04/07/2018 12:20:41
 ID: 383caa
8chan/qresearch: 936314