Transparency & Prosecution Is The Way Forward, Truth Works, Harvest- Ep. 2600
Watch The X22 Report On Video
Corporation around the world are starting to realize that the green new deal is not going to benefit their company or the workers. People are now experiencing inflation, it is at it's highest rate in 13 years. Yellen pushes the idea that monitoring peoples transaction will catch billionaires evading taxes. The people are pushing back, the US is now the number one country for crypto mining. The patriots are showing the people the truth. As people see it and live they realize that the [DS] plan is not going to benefit them in the end. To move forward people will need to see prosecutions and it must be completely transparent. October the hunters moon and it's time to harvest. The people are seeing through the [DS] charade, they no longer believe the pandemic, border, economy etc. narrative. People are thinking logically and it is spreading across the globe. The population is waking up at an accelerated pace.
---
Economy
Inflation was up 5.4% year over year in September – the highest rate in 13 years!
Prices rose 0.4% in Sept, up from 0.3% in August
Gas, food, and goods continue to be key drivers of inflation.
Gas is up 25% under Joe Biden — the poor and middle class hurt the most.
Source: thegatewaypundit.com
Federal Reserve Bank of Atlanta President Raphael Bostic said   that inflation is likely to last longer than expected and should no longer be called "transitory."
Bostic is the first Fed official to so clearly break from the central bank's leadership on inflation. Fed chair Jerome Powell has insisted for months on describing inflation as transitory, although he recently admitted that it could last into next year. The Biden administration has also repeatedly claimed, without evidence, that inflation would only be transitory.
Source: breitbart.com
"There's a lot of tax fraud and cheating that's going on." Treasury @SecYellen tells @NorahODonnell the proposed $600 IRS reporting requirement for banks is "absolutely not" a way for the government to peek into American's pocketbooks but to hold billionaires accountable. pic.twitter.com/M3VKOhdtSu

— CBS Evening News (@CBSEveningNews) October 12, 2021
White House press secretary Jen Psaki said that President Joe Biden sees the period of the economy's rebounding from the pandemic as "exactly the time" to "make fundamental change."
"The president wants to make fundamental change in our economy, and he feels coming out of the pandemic is exactly the time to do that," Psaki said during Tuesday's press briefing.
Source: dailycaller.com
WEF – Now is the time for a 'great reset'  – June 2020
The Democrats' RADICAL $3.5 trillion spending bill includes:

o A "made in America" tax
o Tax hikes on nearly all income levels
o An IRS spying scheme
o Drilling moratoriums
o A "heating your home" tax

Americans can't afford this reckless Dem spending spree.

— GOP (@GOP) October 12, 2021
The IMF warned countries about the risks that came with the growing crypto spac 
More than 16,000 tokens have been listed on exchanges, but only around 9,000 exist today, the report said.
The fund said stablecoins were vulnerable to volatility and investor runs despite being pegged to another asset.
The International Monetary Fund (IMF) has issued a warning about the growing risks in the expanding cryptocurrency space, including fraud, excess speculation and potential "runs" on seemingly more stable assets, in a report on Tuesday.
Source: businessinsider.com
Mayor Francis Suarez previously proposed bitcoin be used as a payment vehicle to employees and for city residents.
The nonprofit-driven MiamiCoin reportedly made $7 million for Miami in August.
"We're going for a request for proposal in October to allow our employees to get paid in bitcoin, to allow our residents to pay for fees in bitcoin and even taxes potentially in bitcoin if the county allows it," Suarez said in an interview with the business channel.
Source: businessinsider.com
BREAKING – U.S. now has 35.4% of global #Bitcoin mining power. pic.twitter.com/Vhjqm7By1S

— Bitcoin Magazine (@BitcoinMagazine) October 13, 2021
---
Political/Rights
Twitter says no signs U.S. Rep. Maxine Waters' account was hacked
 
"I have been hacked and my Twitter account has been erased," the tweet said just before noon Eastern time. "I know who has done this. I will take care of this. M Waters."
Some Twitter users poked fun at the strange situation, pointing out the tweet came from her verified account, which still existed on the site.
Source: yahoo.com
NEW/THREAD: According to Border Patrol documents provided by a source, the federal gov has released over 70,000 illegal immigrants into the U.S. since August 6, including 31,977 released via parole (temp legal status, eligible for work permits).
94,570 released via NTR since 3/20 pic.twitter.com/ag5OMsYw27

— Bill Melugin (@BillFOXLA) October 13, 2021
Preparations are being made for Texas' border wall.

Strategic fencing & barriers have been built to halt illegal border crossings.

Thousands of Texas Guard & Texas Dept. of Public Safety personnel remain deployed.

Texas continues to secure the border & keep communities safe. pic.twitter.com/wtxkwwbZf2

— Greg Abbott (@GregAbbott_TX) October 12, 2021
---
Geopolitical/Police State
China thumbs nose at climate targets as it plans to build more coal power stations and ramp up oil and gas exploration to solve its energy crisis just weeks ahead of COP26 summit
Beijing plans to build new coal-fired plants and intensify oil and gas exploration after being hit by blackouts 
China had committed to capping carbon emissions by 2030 but Premier hinted pledge could be scrapped
 
China is making a mockery of climate targets as it announced plans to build more coal-fired power plants and increase oil and gas exploration, just weeks ahead of the COP26 summit where world leaders were expected to agree to ambitious emission cuts.
Beijing's National Energy Commission said late Tuesday it is important 'to build advanced coal-fired power plants' and intensify domestic oil and gas exploration after the country was hit by blackouts last week.
---
False Flags
Central Maine Medical Center, a key hospital for regional healthcare, issued a dire warning about the need to shut down critical care services last week if they are forced to fire or lay-off all the unvaccinated workers. The hospital appealed to the Governor's office,
Today, the hospital quantified their issue and announced they were going to suspend pediatric admissions as well as heart attack and trauma admissions, because they just will not be able to operate.
Unfortunately, the Democrat Governor has announced she doesn't care if the hospital has to shut down. Mills' stated her unilateral jab mandate will remain in place and the vaxxed and unvaxxed citizens of Maine will die until they comply with the vaccine rules.
Because it's all about the public health right?
 Source: theconservativetreehouse.com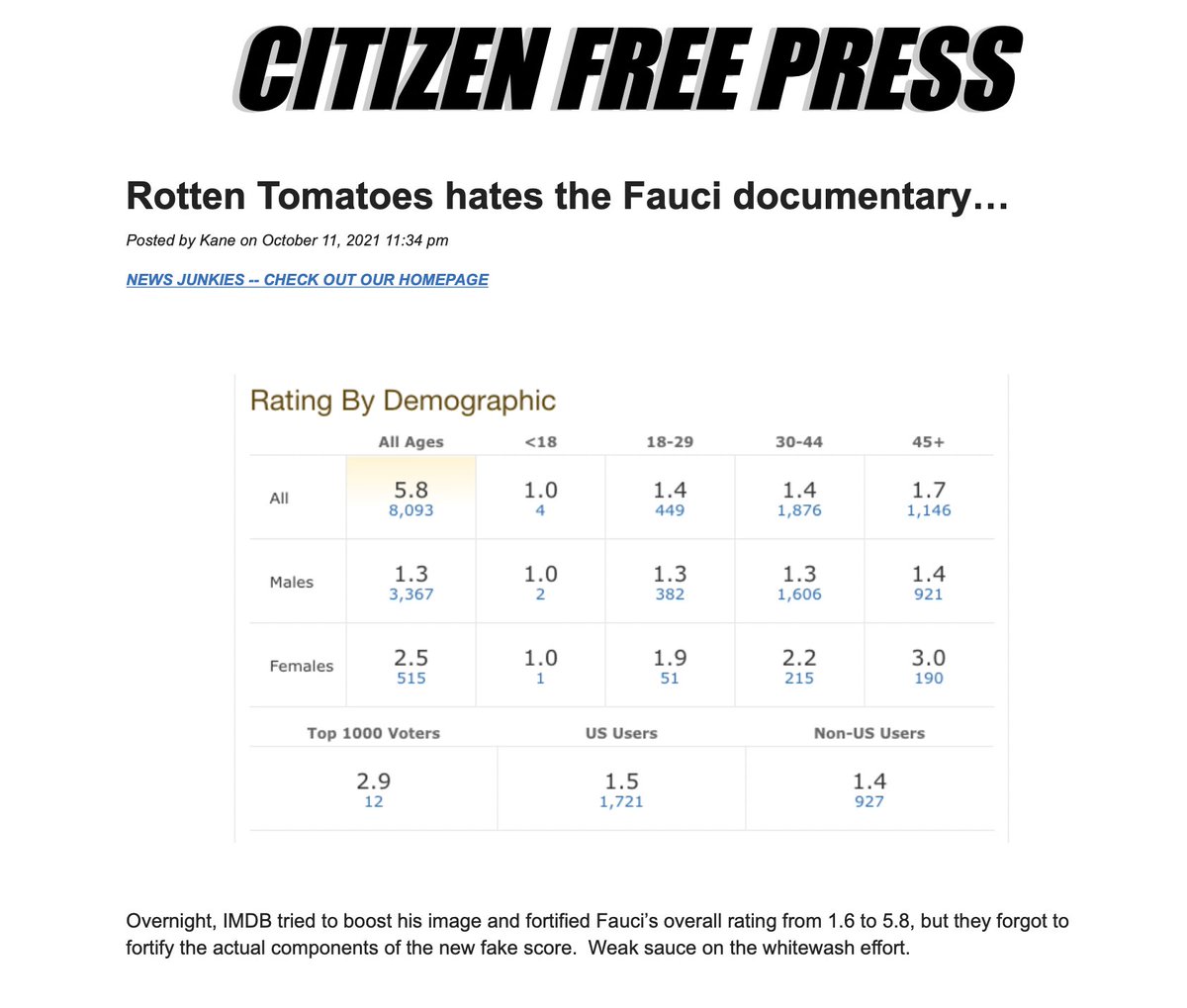 Aspirin lowers risk of COVID: New findings support preliminary Israeli trial
The treatment reduced the risk of reaching mechanical ventilation by 44%. ICU admissions were lower by 43%, and an overall in-hospital mortality saw a 47% decrease.
Source: jpost.com
Many jokingly responded on Twitter that the corporate media would now attack Aspirin…
Officials in 19 states confirmed this week they have not received doses of Pfizer's COVID-19 vaccine labeled Comirnaty. So did pharmacies in New York, California, and Missouri.
"Under the emergency use authorization, everyone has an option to accept or refuse the product. And that means every person, military and civilian. So this is critical. All of the mandates, from the military to the civilian population, are violating federal law,"