The Script Has Been Flipped On The [DS],National Security Concerns,Clear & Present Danger – Ep. 2601
Watch The X22 Report On Video
The patriots have the [CB] and the Biden administration exactly where they want them. The people are now in position to see it all. Inflation is heating up and the [CB] is panicking over Crypto. This tells you everything you need to know. Putin ways in on Crypto and says it cannot be used for oil. The patriots are now closing on the [DS]. The [DS] is scrambling, the evidence is being produced. The people are seeing the election fraud, the majority of people now believe their was cheating and the percentage is climbing. The patriots have been monitoring the Biden administration plus the puppet masters. Trump has said back in 2020 he is a war time president, with that certain operational protocols have been put into place. The Hunter information is dripping out and this time the leak included [JB], this is a national security concern.
---
Economy
President Joe Biden's administration admitted  that its policies are at least partially to blame for the chaos currently overtaking U.S. supply chains, according to the New York Times.
The Biden administration has worked frantically in recent weeks to stave off mounting backlogs in U.S. supply chains. The White House warned Tuesday that American consumers should expect higher prices and even some empty shelves come Christmastime.
The Port of Los Angeles is the second California port to adopt 24/7 operations in recent weeks, with the Port of Long Beach adopting the same work schedule in September.
Source: dailycaller.com
A look at what's going on at the ports … 🚢 😳 pic.twitter.com/XoFHPMJ4Ec

— DreamFox 🦊💕🔥 (@FX2trot) October 14, 2021
Ground beef: +10.6%
Steaks: +22.1%
Bacon: +19.3%
Pork roasts, ribs 19.2%
Chickens: +17.1%
Fresh fish: +10.7%
Ham: +7%https://t.co/47LPYFbXzk

— Charlie Spiering (@charliespiering) October 13, 2021
It's not just getting more expensive to feed your family in the U.S.
It's getting more expensive to keep shoes on your children's feet.
The price of boys' and girls' footwear jumped a 3.3 percent in September from August, a huge one-month increase. Compared with a year ago, the prices of kids shoes are up 11.9 percent, the Department of Labor's Consumer Price Index showed Wednesday.
 Men's footwear prices are up 5.5 percent and women's are up 4.9 percent.
Source: breitbart.com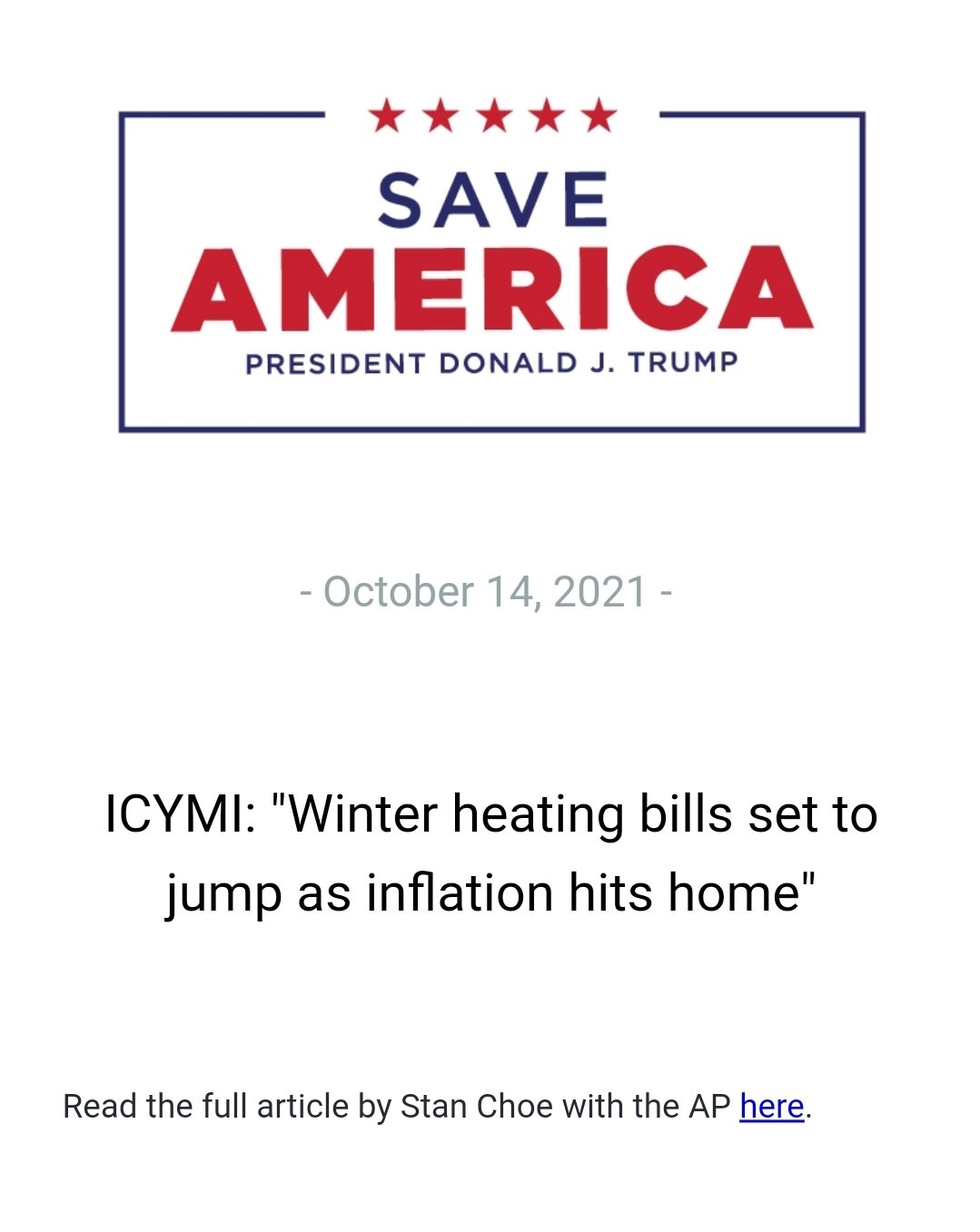 Winter heating bills set to jump as inflation hits home
 Get ready to pay sharply higher bills for heating this winter, along with seemingly everything else.
With prices surging worldwide for heating oil, natural gas and other fuels, the U.S. government said Wednesday it expects households to see their heating bills jump as much as 54% compared to last winter.
Nearly half the homes in the U.S. use natural gas for heat, and they could pay an average $746 this winter, 30% more than a year ago. Those in the Midwest could get particularly pinched, with bills up an estimated 49%, and this could be the most expensive winter for natural-gas heated homes since 2008-2009.
The second-most used heating source for homes is electricity, making up 41% of the country, and those households could see a more modest 6% increase to $1,268. Homes using heating oil, which make up 4% of the country, could see a 43% increase — more than $500 — to $1,734. The sharpest increases are likely for homes that use propane, which account for 5% of U.S. households.
Source: apnews.com
A week earlier, Biden boasted during a White House event on national monuments he had suspended oil and gas drilling on federal lands in Alaska.
"Alaska is pretty big. There's an awful lot we need to protect," Biden said Friday. "That's why I'm refusing to sell out the Arctic National Wildlife Reserve to oil and gas drilling."
In June, Biden suspended oil leases in Arctic National Wildlife Refuge after President Donald Trump opened the area up to drilling in 2017.
Biden also halted new oil and gas leasing and drilling permits on federal lands in January.
The White House confirmed they are speaking with oil and gas producers in the United States about reducing rising energy prices,  
Source: breitbart.com
Russia's Putin says crypto has 'value' — but maybe not for trading oil
Russia has hinted it could move away from dollar-denominated oil if the U.S. continues to impose targeted sanctions.
Asked whether crypto could be used as an alternative to the greenback, President Vladimir Putin said it was "too early to say."
"I believe that it has value," he told CNBC Wednesday. "But I don't believe it can be used in the oil trade."
Source: cnbc.com
---
Political/Rights
I'm not going to shut down the country.

I'm not going to shut down the economy.

I'm going to shut down the virus.

— Joe Biden (@JoeBiden) October 30, 2020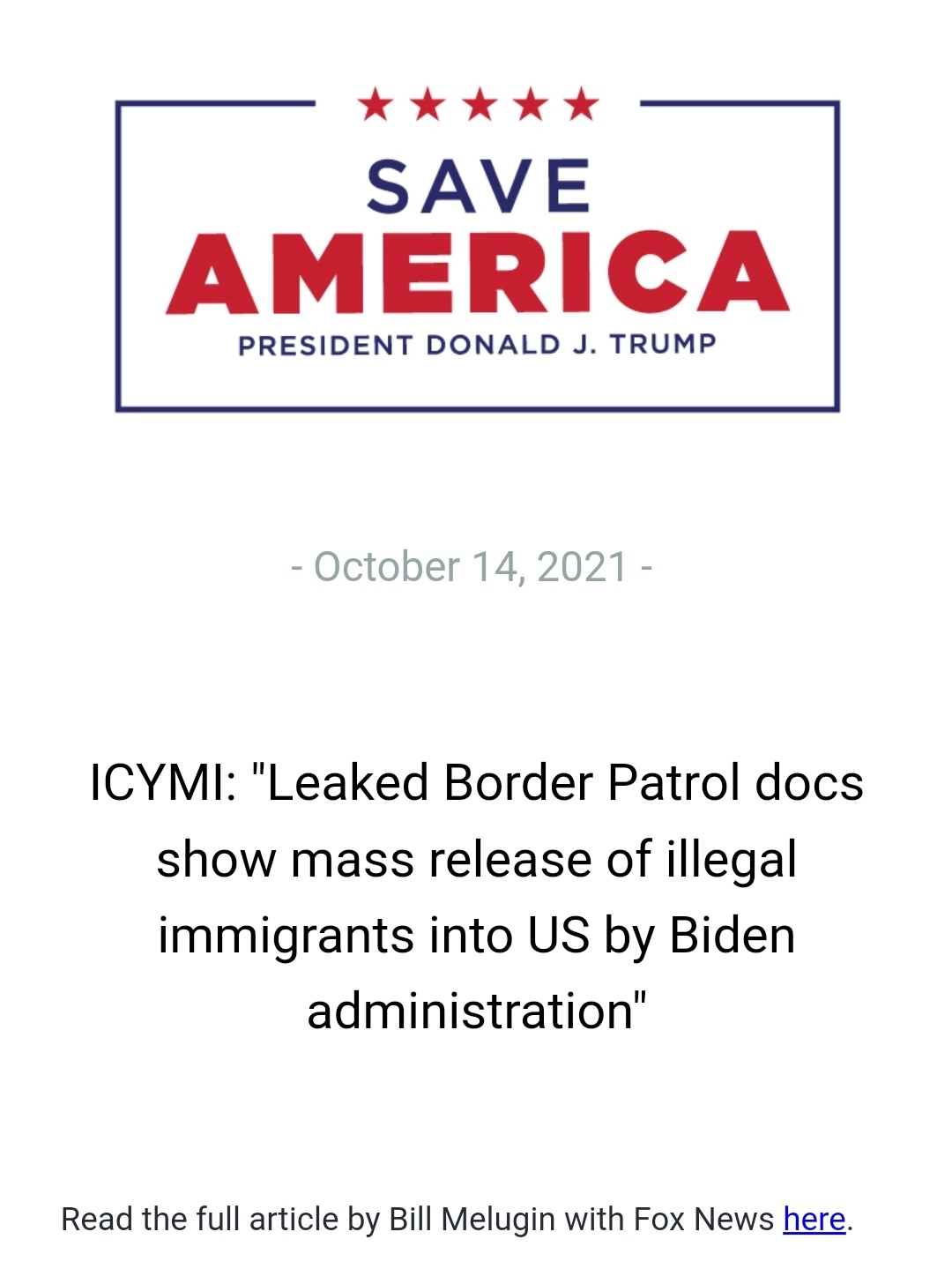 Leaked Border Patrol docs show mass release of illegal immigrants into US by Biden administration
The Biden administration is releasing enormous numbers of migrants into the U.S., often with little to no oversight

At least 160,000 illegal immigrants have been released into the U.S., often with little to no supervision, by the Biden administration since March – including a broad use of limited parole authorities to make more than 30,000 eligible for work permits since August, Border Patrol documents obtained by Fox News show.

The documents give a partial snapshot into how the Biden administration has been releasing enormous numbers of migrants into the U.S., often with little to no oversight, supervision or immediate risk of deportation.

s in a year," he said. "When I did, I ensured that the alien was monitored continuously and was detained or removed as soon as the circumstances allowed."
Source: foxnews.com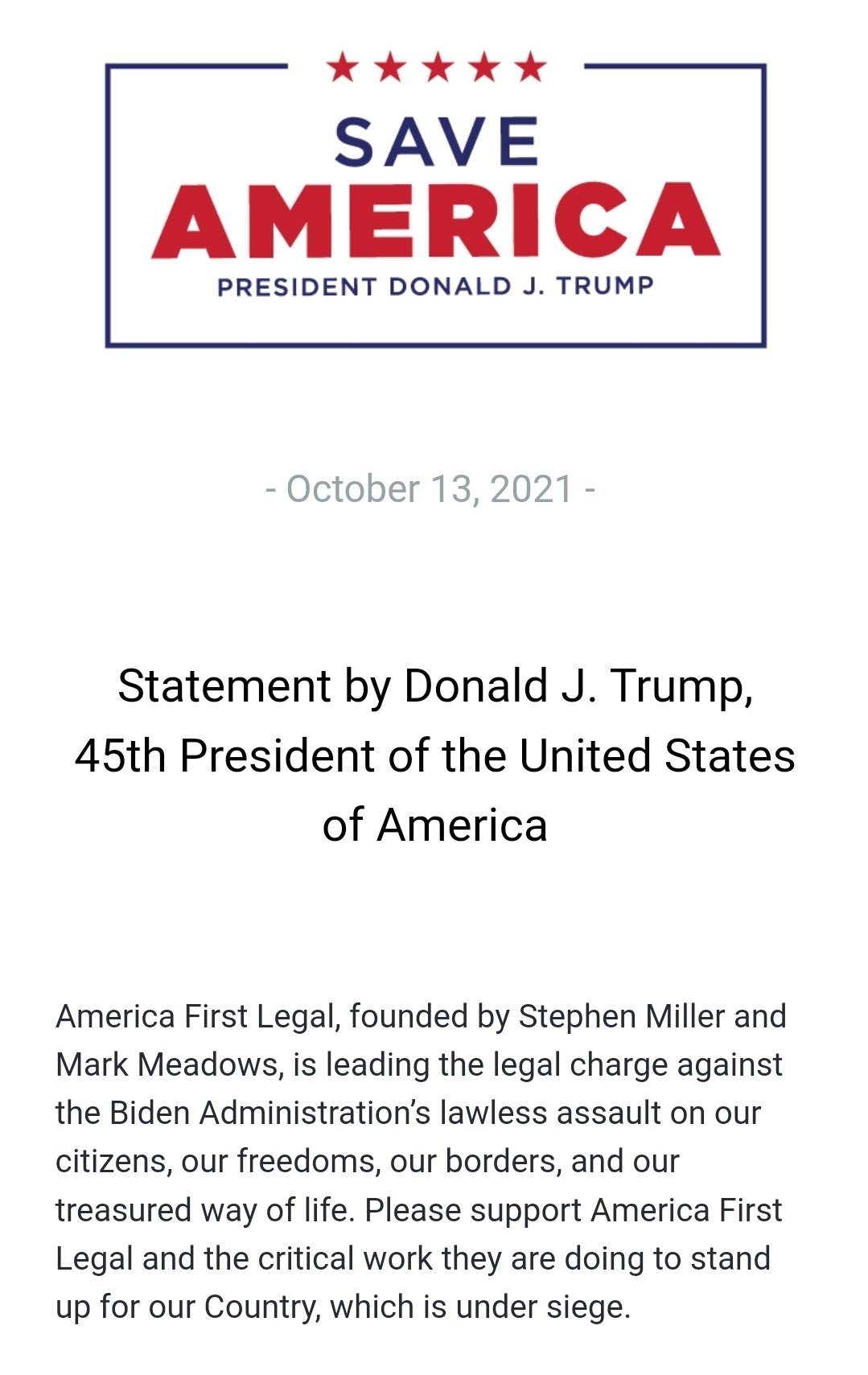 It now appears that Jake Sullivan, a longtime Clinton aide who now serves as White House national security adviser, also lied to FBI agents regarding the dirty trick in which Sullivan, Sussmann and others essentially fabricated the "communications" between the Russian bank and Donald Trump entities.
When, may I ask, will 29 heavily armed FBI agents converge on Jake Sullivan's home in the predawn hours in order to take him into custody? That's what happened to me. Or perhaps the FBI will invite OAN to film this exclusive takedown – as  the FBI allowed CNN to do when I was arrested. Don't hold your breath.
This still unproven claim was the predicate for my own criminal indictment secured by Mueller, although the trial judge in my case denied me the opportunity to present this  defense through the introduction of forensic evidence and other expert testimony. Both the government  and the media insist that the hack of the DNC by "the Russians" was "orchestrated by Guccifer 2.0." The government has presented no real evidence to support this theory and I've come to believe that "Guccifer 2.0" is actually a creation of U.S. intelligence. For starters, this alleged Romanian hacker was using software registered to an employee at the Democratic National Committee. If you buy into the government's narrative — unchallenged by our supposed "investigative reporters" in the media — that "Guccifer 2.0" hacked the DNC and gave stolen data to WikiLeaks, I suggest you read my own examination of this thinly sourced claim.It's far more likely that "Guccifer 2.0" is former CIA Director John Brennan than a Russian intelligence cut-out.
Source: realclearpolitics.com
---
Geopolitical/Police State
EXCLUSIVE Facebook to change rules on attacking public figures on its platforms  
---
War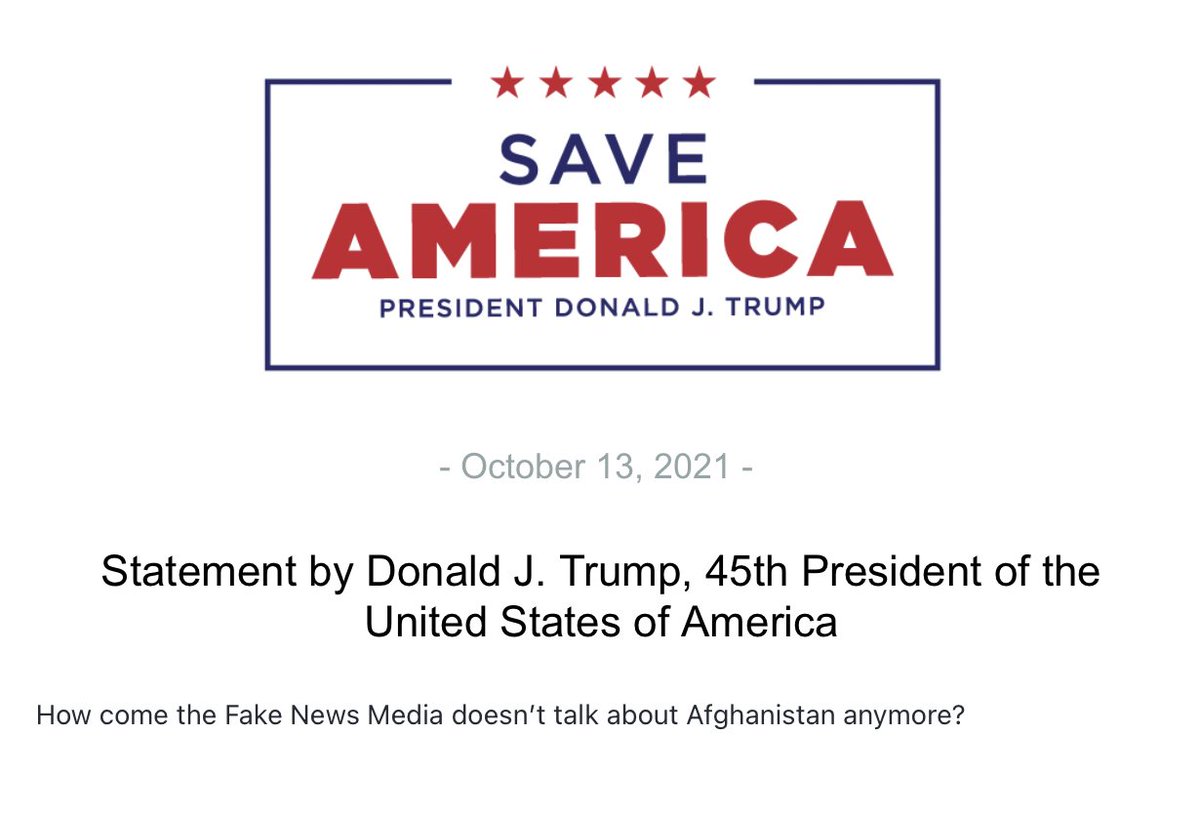 ---
False Flags
John Catanzara, the head of Chicago's police union, advised police officers NOT to comply with the city's COVID-19 mandatory vaccine and reporting requirements.
Catanzara told fellow officers to openly defy Mayor Lori Lightfoot's vaccine deadline.
The Chicago Tribune reported
Source: thegatewaypundit.com
Denver Airport. The owner of 5 restaurants in C terminal made a Nov. 1st mandate or get fired. None of the cooks, dishwashers, bussers, & hosts showed up to work. So there were no restaurants open in C Terminal. He immediately sent an email reversing mandate.

— Pam Long (@PamLongCO) October 14, 2021
Nurse told me about an orthopedic surgeon in her hospital who was a year away from retirement who submitted a religious exemption & was denied. He said forget it, cancel all my surgeries & I'll retire early. Suddenly they called him & said, resubmit your exemption & it was

— Dr. Poppy Daniels (@drpoppyBHRT) October 14, 2021
accepted. Then the hospital sent out a letter to all the people who submitted religious exemptions and were denied, inviting them to re-apply & telling them 4 bullet points to say in the letter. Can we say "panic attack"?!?! Stand your ground & fight back! Someone will hire you!

— Dr. Poppy Daniels (@drpoppyBHRT) October 14, 2021
WATCH: Joe Rogan Calls Out CNN's Ivermectin Lies Directly to Host's Face
 Joe Rogan confronted CNN medical expert Sanjay Gupta on  his podcast, demanding answers on his network's disinformation regarding the efficacy of the anti-parasitical drug. CNN had falsely called Ivermectin a horse dewormer in direct response to Rogan's account of using it to recover from coronavirus, when in reality more than a billion people have used the drug for a variety of ailments since its inception for human use decades ago. A developer of Ivermectin even won a Noble Prize in the sciences for the medicine in 2015.
"It's a willing lie that they're conscious of," said Rogan of CNN's editorial coverage, citing Ivermectin's long track record of legitimate medical use for humans. "They're unfavorably framing it as veterinary medicine. Why would you say that when you're talking about a drug that has been given to billions of people, which won its creator a Noble prize in 2015? I can afford people medicine."
"Don't you think that a lie like that is dangerous on a news network when they know they're lying?
Does it bother you that the news network you work for out-and-out lied about me taking horse dewormer?"
Source: bigleaguepolitics.com
BREAKING: New Hampshire has REJECTED $27m in federal funding to push COVID vaccines.

New Hampshire is the ONLY state thus far to reject this funding. Texas and Florida both accepted it.

— The Free State 🦔 (@FreeStateNH) October 13, 2021
---
Q
Internal Capitol Police documents were obtained and released by legal watchdog Judicial Watch. The nearly 500 pages of interviews of witnesses and investigators of the Ashli Babbitt shooting reveal "no good reason for shooting," according to Judicial Watch President Tom Fitton.
The Capitol Police reports directly to the Congress and is not typically liable to FOIA request. Judicial Watch obtained the documents via lawsuit filed in May. The internal police documents are littered with redactions, as well as entire pages withdrawn from the public record.
The autopsy report shows that Ashli McEntee [Babbitt] was killed due to a "homicide" by being shot in the left anterior shoulder.
An unnamed Capitol Police sergeant who witnessed the shooting said that he "did not see anything in the female protester's hands prior to the gunshot," adding that Lt. Byrd looked "upset" and confessed, "I was the one who took the shot."
The Sergeant also described struggling to be able to "figure out" what had happened and why Byrd took the shot. "So I don't know if something happened to him where [sic] caused him to take the shot or not."
The witness was standing behind Lt. Byrd when the shooting took place and describes hearing what took place. He says that he told the protesters, and Babbitt, to "back up."
The witness also avers that she appeared to be unarmed.
Source: beckernews.com
It looks like @YouTube has scrubbed a lot of the January 6 videos, including primary source videos. Apparently, suppressing 14,000 hours of Jan. 6 footage isn't enough.

— Kyle Becker (@kylenabecker) October 14, 2021
Three Detroit area women have been charged with election fraud in relation to the 2020 election.
100 Percent Fed Up reports – Michigan's   Secretary of State Jocelyn Benson had a curious response to the charges, calling it a "rare case."
"Our election system is secure, and today's charges demonstrate that in the rare circumstances when fraud occurs we catch it and hold the perpetrators accountable." Benson added, "These charges also send a clear message to those who promote deceitful claims about widespread fraud: the current protocols we have in place work to protect and ensure the integrity of our elections. It's time to share that truth and stop spreading lies to the contrary."
If Michigan's dishonest Secretary of State Jocelyn Benson and Attorney General Dana Nessel are serious about holding everyone in her state accountable for voter fraud, then why is Democrat City Clerk Sherikia Hawkins, who was charged in 2018 with 6 counts of felony voter fraud related to absentee voting in Southfield, MI, still working as a city clerk?
Source: thegatewaypundit.com
Georgia election dismissed
How did this judge allow this case to go on for more than six months only to rule now, there was no standing.

The evidence exposed in this civil litigation is overwhelming and justifies a state grand jury investigation.

Where is Georgia's Attorney General? @Georgia_AG https://t.co/64PMZYLlRC

— Bernard B. Kerik (@BernardKerik) October 13, 2021
During the 2020 election, Facebook CEO Mark Zuckerberg spent hundreds of millions of dollars to turn out likely Democratic voters. But this wasn't traditional political spending. He funded a targeted, private takeover of government election operations by nominally non-partisan — but demonstrably ideological — non-profit organizations.
Analysis conducted by our team demonstrates this money significantly increased Joe Biden's vote margin in key swing states. This unprecedented merger of public election offices with private resources and personnel is an acute threat to our republic, and should be the focus of electoral reform efforts moving forward.
The Center for Technology and Civic Life (CTCL) and The Center for Election Innovation and Research (CEIR) passed a staggering $419.5 million of Zuckerberg's money into local government elections offices, and it came with strings attached. Every CTCL and CEIR grant spelled out in great detail the conditions under which the grant money was to be used.
This is not a matter of Democrats outspending Republicans. Private funding of election administration was virtually unknown in the American political system before the 2020 election.
For instance, CTCL/CEIR funded self-described "vote navigators" in Wisconsin to "assist voters, potentially at their front doors, to answer questions, assist in ballot curing … and witness absentee ballot signatures," and a temporary staffing agency affiliated with Stacey Abrams called "Happy Faces" counting the votes amidst the election night chaos in Fulton County, Georgia.
CTCL demanded the promotion of universal mail-in voting through suspending election laws, extending deadlines that favored mail-in over in-person voting, greatly expanding opportunities for "ballot curing," expensive bulk mailings, and other lavish "community outreach" programs that were directed by private activists.
CTCL drove the proliferation of unmonitored private dropboxes (which created major chain of custody issues) and opportunities for novel forms of "mail-in ballot electioneering," allowed for the submission of numerous questionable post-election-day ballots, and created opportunities for illegal ballot harvesting.
CTCL greatly increased funding for temporary staffing and poll workers, which supported the infiltration of election offices by paid Democratic Party activists, coordinated through a complex web of left-leaning non-profit organizations, social media platforms, and social media election influencers.
Source: thefederalist.com
WI's Big Five Mayors Subpoenaed In Election Investigation
The Special Counsel for an investigation into Wisconsin election integrity has subpoenaed the Mayors of the five cities he says received the "vast lion's share" of grant money from Centers for Tech and Civic Life (CTCL).
Reports vary as to who has received subpoenas, but we know it is not just the mayors of the 'Wisconsin Five.' Former state Supreme Court Justice Michael Gableman, the Special Counsel running the investigation, told the Green Bay Common Council meeting that their "mayor and a person most knowledgeable in his office" had, or would soon, receive them. He added there are similar summons that "mirror[]" those for the other four cities.
Gableman is an appointee of Assembly Speaker Robin Vos, who issued a statement following the subpoenas:
"Justice Gableman is dedicated to finding the truth and has determined subpoenas are necessary to move forward in his investigation. Assembly Republicans will continue to work with Justice Gableman to ensure confidence is fully restored in our elections."
Multiple outlets quote language said to come directly from Gableman's written orders without providing the source document. Two sets of wording can be found. One calls for recipients to preserve "any and all records and evidence  including but not limited to information retained on any and all voting machines," since Nov. 3, and to forward "any information relating to any and all intentional or unintentional destruction of records." Alternate specific wording from multiple unsourced reports asks for "all documents contained in your files and/or in your custody, possession, or control pertaining to the Election."
Federal law requires the retention of records from elections involving federal candidates. 52 U.S. Code § 20701 states:
"Every officer of election shall retain and preserve, for a period of twenty-two months. All records and papers which come into his possession relating to any act requisite to voting."
source: uncoverdc.com
"How likely is it that cheating affected the outcome of the 2020 presidential election?"

Majority, Likely: April 2021 – 51% … Oct 2021 – 56%

DEM: Now 32% – Was 30%
IND: Now 54% – Was 51%
GOP: Now 84% – Was 74%
All Voters: 56% – Was 51% https://t.co/KJoK8ZDCSG

— Rasmussen Reports (@Rasmussen_Poll) October 14, 2021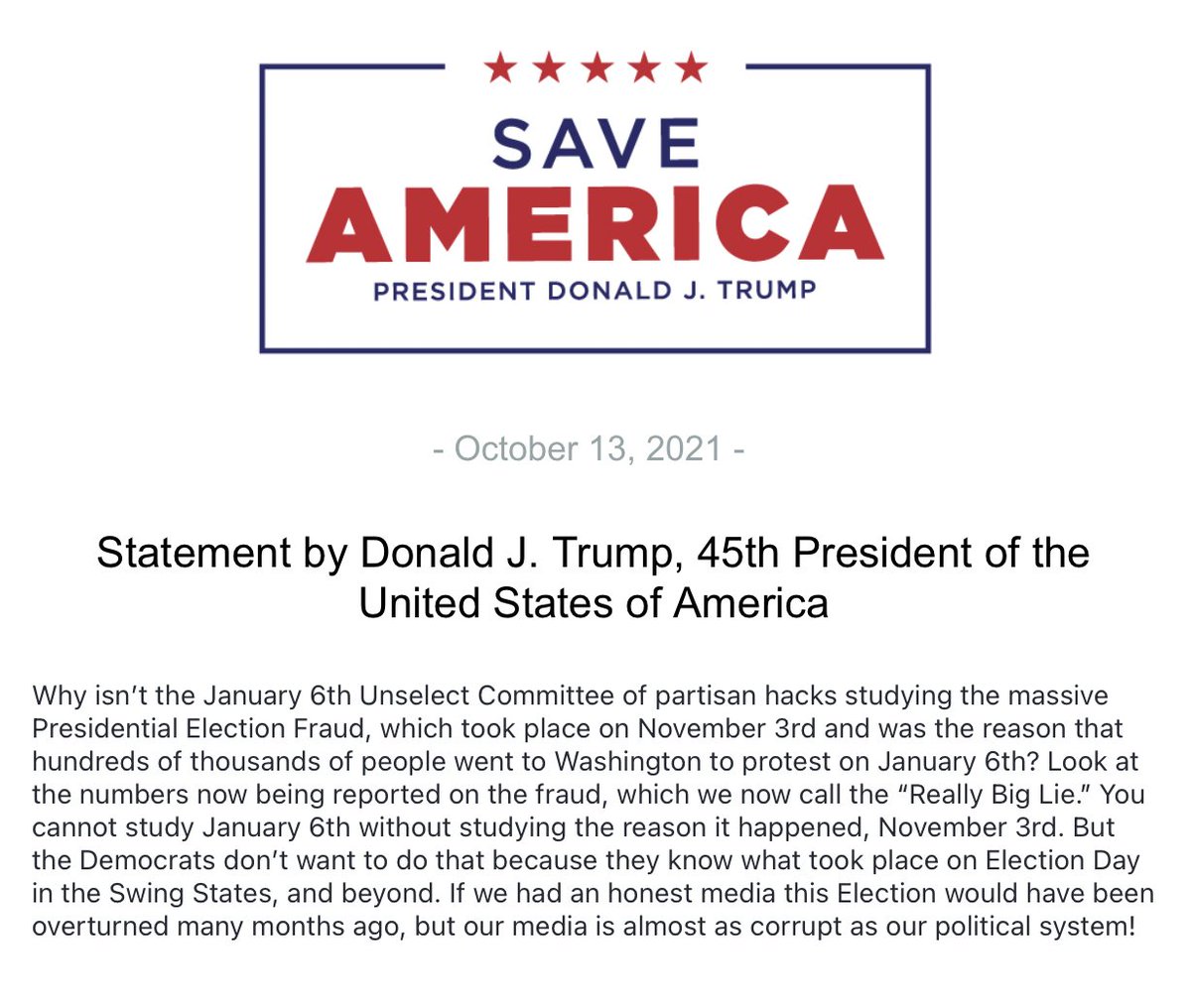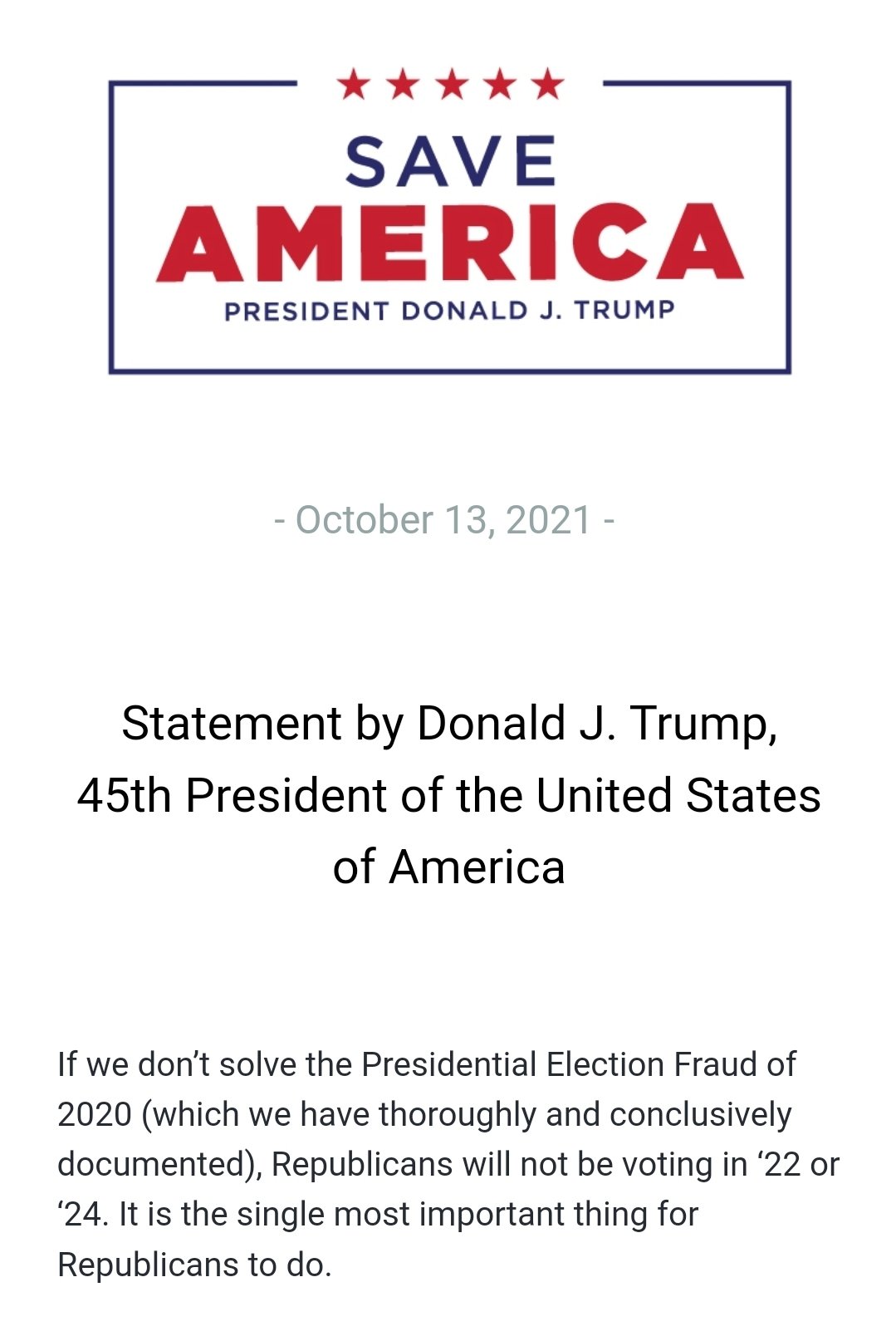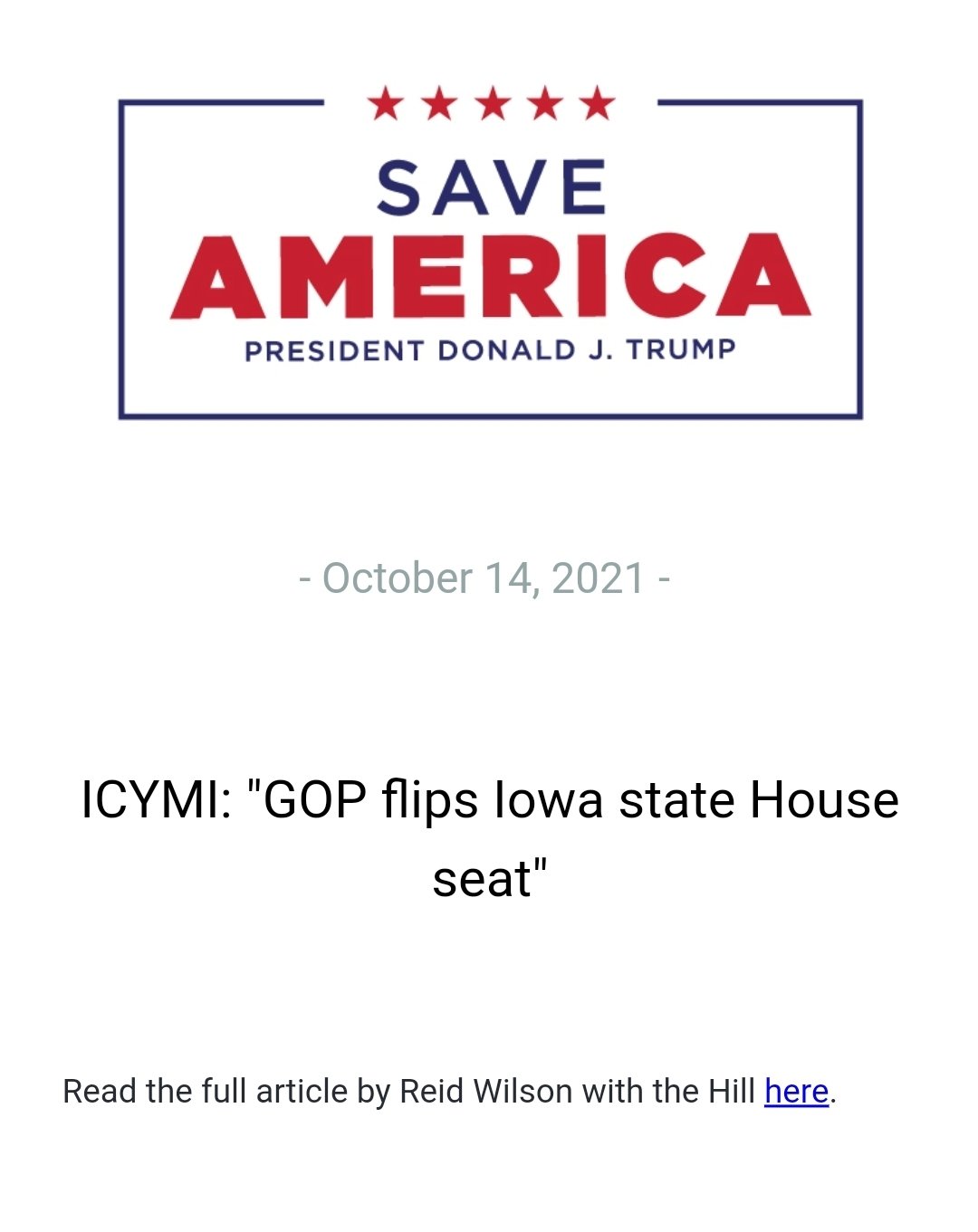 A special election for an Iowa House seat in a district held by Democrats for nearly 30 years has been flipped. In a harbinger of rising anti-Democratic voter sentiment, Republican candidate Jon Dunwell convincingly won the election race going away.
The Republicans continue to whittle down the Democrats' general ballot lead, which now stands at less than 3 according to an aggregate of polls taken by FiveThirtyEight. It is already a year away from the midterm elections, and by nearly every indicator, the Democrats stand to suffer historic losses in House races around the country.
Source: beckernews.com
BOMBSHELL Emails Show Joe and Hunter Shared Bank Account, 
NAT SEC concerns re: blackmail [gain control] of J. Biden by Russia, China and/or other foreign [or domestic] entities?
US Intel apparatus [reports?]?
Clear and Present Danger?
Q