Trip Confirmed, Stay Tuned & Watch, 5 Down, 5 To Go, The World Is Watching – Ep. 2840
Podcast: Download (Duration: 58:41 — 26.0MB)
Watch The X22 Report On Video
The world is about to hit a point where they can no longer take it. Winter is approaching and the people around the world realize that the economic system is falling apart and it includes energy, but they know this is done on purpose. The people are seeing the plan of the [CB], the ability to shut accounts if they don't like the politics of the person. Scare event is now in motion. Pelosi landed in Taiwan, trip confirmed, stay tuned and watch. The offensive is moving forward, 5 down and 5 to go. The agenda of the [DS] has fallen apart, as the scare event approaches the people will start waking up, the people will come together and reject the [DS]. The entire event will be botched by the [DS].
---
Economy
A majority of Britons fear the energy and cost of living crisis will end with people unable to heat their homes in winter dying and riots on the streets.
Polling commissioned by the More in Common group — whose director Luke Tryl said the results should be "a wake-up call to our next Prime Minister" that "people want help now" — found that some almost nine-tenths of Britons believe the crisis will impact their day to day lives. Shockingly, around three-quarters believe there will be deaths this winter as people find themselves unable to afford their heating bills and succumb to the cold.
Eighty per cent believe people will resort to shoplifting to keep their heads above water, 70 per cent believe people will simply refuse to pay their bills, and over half — 51 per cent — believe things will degrade to the point that their are riots in the streets, The Sun reports.
Source: breitbart.com
The EU and the UK have slowed efforts to have Russia shut off from the most important maritime insurance market amid concerns that a full insurance ban would limit global oil supply and push oil prices even higher, the Financial Times reports, citing UK and EU officials.
The UK was set to join an EU insurance ban after the UK and the European Union agreed in May to jointly shut off Russia's access to oil cargo insurance. Under those plans, Russia would be effectively shut out of more than 90% of the global oil shipment insurance market.  
The insurance ban was to be a much bigger deal than the actual EU embargo on Russian oil imports, as it would cripple Russia's ability to export crude anywhere in the world, analysts said at the time.
However, the UK has yet to introduce such restrictions on maritime insurance, FT notes. The UK participation with the scheme is crucial because London and the UK are home to many of the world's biggest maritime insurers.
"There is no current UK ban affecting global shipments of Russian oil," Patrick Davison, underwriting director of the Lloyd's Market Association, told the FT.
Source: zerohedge.com
 
  Tina Descovich, Co-Founder of @Moms4Liberty, shared that PayPal locked their account and withheld funds with no warning or justification," DeSantis explained on Monday following last week's press conference, where 

Descovich spoke.

"

"Days after our event, their funds were released," DeSantis announced on Monday, declaring that "Florida has put WOKE banking on notice":
DeSantis's announcement follows last week's press conference, in which he detailed additional actions his administration plans to take to combat corporations imposing "woke ideology on the economy."
"Whether it's Wall Street Banks, whether it's massive major asset managers, whether it's Big Tech companies and what you've seen as you've seen a rise of something called ESG — environment, social governance where they will grade different companies based on how they're performing on those metrics," DeSantis said during the press conference.
Source: breitbart.com
---
Political/Rights
.@TheView emailed our office on Friday asking for us to arrange an appearance from Governor DeSantis on the show. "We would be honored," they wrote.

Thoughts? https://t.co/lhcTxfB4TN

— Bryan Griffin (@BryanDGriffin) August 1, 2022
Perfect. There is nothing that infuriates liberals more than seeing their own insane words repeated back to them in black and white.

— Christina Pushaw 🐊 🇺🇸 (@ChristinaPushaw) August 2, 2022
Herschel Walker, the Republican running against Democratic Sen. Raphael Warnock of Georgia, responded Monday to racially charged remarks made by a MSNBC guest over the weekend.
"A lot of people have been asking me to say something about the man on MSNBC that called me the N-word," Walker said in a video posted on Twitter. "Here's what I got to say about that. Shame on MSNBC and shame on him. I'm going to pray for both of them, because they need Jesus."
WATCH:
"When I saw what he said, it reminded me of the differences between myself and my opponent," Walker said. "Senator Warnock is a left-wing crazy that believes America is fundamentally a bad country full of racist people. They want to divide us, turn us against each other."
Source: dailycaller.com
House Republicans are gearing up to investigate the Biden family business with the possible creation of a select committee after the GOP likely reclaims the House in midterm elections, Rep. Matt Gaetz (R-FL)
A select committee is a type of temporary committee created to conduct investigations or consider other measures on a specific topic. According to Gaetz, the committee would be formed of members with expertise from the Foreign Affairs Committee, Financial Services, Oversight Committee, and Judiciary Committee. "There have already been discussions among members about what different committees need to contribute to a select committee to look into Hunter Biden," Gaetz explained.
Joe Biden has met with Hunter's business associates at least 16 times: pic.twitter.com/soYRdOmmYB

— RNC Research (@RNCResearch) August 1, 2022
Source: breitbart.com
T

he alleged main Russian source for British ex-spy Christopher Steele's dossier has claimed anti-Russian bias could stop him from getting a fair trial.
Igor Danchenko's lawyer, Danny Onorato, raised the issue during a pretrial hearing on Monday. The lawyer backed up the claim, noting there are a number of Ukrainian flags around Alexandria, Virginia, amid Russia's invasion, which started in February.
The attorney suggested the defense team may try to find a way to address that issue in the questionnaire for jurors during the selection process in the trial, brought by special counsel John Durham.
  
Source: washingtonexaminer.com
Durham didn't file to make an appearance in the Sussmann case.
That was handled by 3 junior members of the Durham SCO team.
Algor, Keitly and DeFillipis.
It's a huge signal that Durham is the FIRST prosecutor to file with the federal court that he's going to be appearing to make arguments in court in the Danchenko trial.
Adam Small has been added to Durham's team. pic.twitter.com/Q2tBqH12xO

— Hans Mahncke (@HansMahncke) August 2, 2022
What is his expertise FARA, money laundering, RICO, economic espionage, cyber crime, and more. 
 Deportation officers with U.S. Immigration and Customs Enforcement's (ICE) Enforcement and Removal Operations (ERO) Baltimore Task Force Unit arrested a high-ranking member of the notorious MS-13 street gang in Annapolis, June 15. ERO Baltimore's Fugitive Operations and the FBI assisted with the apprehension.
Jose Mojica Aldana, a native and citizen of El Salvador, was arrested near his residence. Mojica Aldana entered the United States without being inspected, admitted, or paroled by an immigration officer.
"This is a significant arrest and a substantial hit to MS-13 
Source: breaking911.com
---
War
 Ayman al-Zawahiri, who was always hiding in the same Afghanistan-Pakistan area where Osama Bin Laden was hiding out, was very old ten years ago in 2012 when he established the Libyan branch of al-Qaeda.  [SEE CTH Archives] This guy is ancient by now.
Ayman al-Zawahiri was #2 to Bin Laden and elevated to #1 after his death.  Ayman has a younger brother named Mohammed al-Zawahiri who was the Muslim Brotherhood organizer of the uprising in Egypt, and very likely the person who helped coordinate the 9/11/2012 protest on the U.S. Embassy in Cairo that happened on the same day as the attack in Benghazi.
According to media reporting, the CIA is claiming to have killed Ayman al-Zawahiri last weekend and Joe Biden is going to give a congratulatory speech about it tonight at 7:30pm ET. ?  Ayman al-Zawahiri was seriously old if he was still actually alive.
 
The Wiki age on this guy is nonsense.  He was way older than 71.
Here is a picture of Ayman (with Bin Laden) long before 9/11/01.
Here is the most recent picture of Ayman, attributed to 2021.
Source: theconservativetreehouse.com
 no official outline from the Pentagon or White House on this "successful counterterrorism strike"?  Despite a primetime presidential address, the White House has no announcement, no official statement, nothing, on their website.  Additionally, Biden leads off saying the attack was on Saturday, the Taliban waited 48-hours to denounce a U.S. drone strike?  Think about it.  Doesn't add up.  More sketchy.
Source: theconservativetreehouse.com
"Whether he died of natural causes in 2020. Or was blown up on his balcony in 2022, at this point….
What difference does it make?"
– HRC
Does @ZelenskyyUa blackmail @JoeBiden weekly or bi-weekly? https://t.co/WbHaP8DEh3

— Rosie Memos (@almostjingo) August 1, 2022
They'll just find another puppet to coordinate the washing, don't worry. https://t.co/ZZFgWLjPvV

— Jordan Schachtel @ dossier.substack.com (@JordanSchachtel) August 2, 2022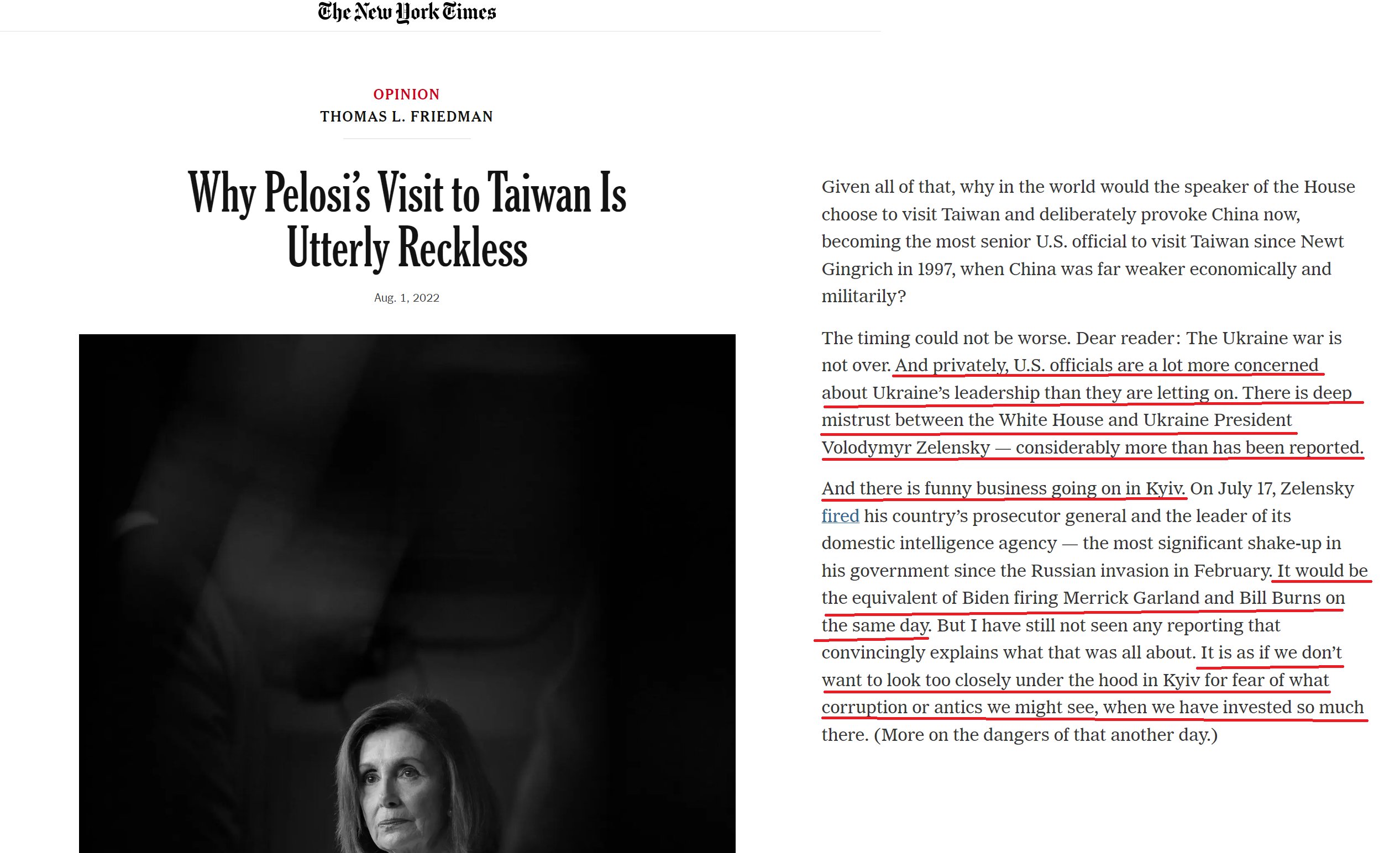 NANCY PELOSI IS IN TAIWAN
Notice the clear distinction between China as a whole, and China under control of the CCP.
Just as Russia recognize the evil in Ukraine is not a result of America as a whole, but rather America under control of the DNC Globalists.
The Deep State is not a phenomenon unique to America. They sought to infiltrate EVERYTHING.
Thankfully, it appears Trump, Putin, and Xi recognize the difference.
#WWIII was a Twitter trend  as House Speaker Nancy Pelosi arrived in Taiwan, ignoring threats from China that there would be retaliation if she did so.
Source: thegatewaypundit.com
---
False Flags
recently released court documents—which capture the decision-making behind the travel mandate—indicate that, far from following the science, the prime minister and his Cabinet were focused on politics.
Among other things, the court documents indicate:

No one in the COVID Recovery unit, including Jennifer Little, the director-general, had any formal education in epidemiology, medicine or public health.
Little, who has an undergraduate degree in literature from the University of Toronto, testified that there were 20 people in the unit. When Presvelos asked her whether anyone in the unit had any professional experience in public health, she said there was one person, Monique St.-Laurent. According to St.-Laurent's LinkedIn profile, she appears to be a civil servant who briefly worked for the Public Health Agency of Canada. St.-Laurent is not a doctor, Little said.
Source: commonsense.com
Illinois Gov. J.B. Pritzker (D) on Monday declared a state of emergency over monkeypox in order to "expand the resources" needed to combat the current outbreak.
Source: thehill.com
TAKE A LISTEN
---
Q