Trump: At The End Of My Next Four Years The Swamp Will Be Drained,Country Returned – Ep. 3007
Podcast: Download (Duration: 1:31:56 — 40.9MB)
Watch The X22 Report On Video
The Chamber of Commerce supports Biden pick for World Bank, tells you everything you need to know. 3 Mexican oil companies caught fire, just another coincidence. Biden destroying retirement and wealth, Trump building it up with a solution. The [DS] is now scrambling to get Trump, they have nothing left, now they are trying to keep him out of DC and the GOP think there is going to be another nominee, they are all wrong. Trump knows he has the people, with the people he can drain the swamp and he will do it when he gets into the WH. Nothing can stop this, nothing.
---
Economy
The United States Chamber of Commerce is applauding President Joe Biden's nominee to lead the World Bank, former Mastercard CEO Ajay Banga.
In response, executives with the Chamber of Commerce said they welcomed Banga's nomination to lead the "vital institution" of the World Bank, calling him "a global leader in development finance."
"Mr. Banga has a stellar record as a successful businessman who has created jobs and growth, including in the developing economies served by the World Bank," the Chamber wrote in a press release:
Source: thebreitbart.com
Three fires broke out on Thursday at different facilities in Mexico and the United States operated by state-owned Mexican oil company Pemex.

Five missing, eight injured.pic.twitter.com/GR1AudZ3bz

— Citizen Free Press (@CitizenFreePres) February 24, 2023
T

he Department of Energy 's proposed conservation standards for new cooking devices would remove from the market about half the gas stove models used by consumers, the agency said in a new memo, igniting fresh controversy over the popular household appliance.
In its filing, the department noted that just 40% of gas stoves in the U.S. today would meet the criteria outlined in the proposed rule , which seeks to increase energy efficiency and reduce indoor air pollution generated by the popular appliance. 
That means that at least half of U.S. stoves would not be eligible for repurchase in stores if the rule were to come into force today, the department said.
Officials have stressed that the proposed rule would not take effect for another three years if finalized.
Source: washingtonexaminer.com
Karine Jean-Pierre, January 11: https://t.co/trq4XSkDiL pic.twitter.com/1ZbEGkjXRA

— Kyle Martinsen (@KyleMartinsen_) February 26, 2023
A new study revealed Democrat mayors run America's top filthiest cities.  
Outdoor company LawnStarter commissioned a survey that analyzed 152 of the largest cities across the US for pollution, living conditions, infrastructure, and consumer satisfaction. They found Houston, Texas, secured the number 1 spot for the dirtiest city, followed by Newark, New Jersey; San Bernardino, California; Detroit, Michigan; and Jersey City, New Jersey. 
We then dug deeper and found Democratic mayors run the top five dirtiest. 
Houston: Democratic Mayor Sylvester Turner
Newark: Democratic Mayor Ras Baraka
San Bernadino: Democratic Party-endorsed Mayor Helen Tran
Detroit: Democratic Mayor Mike Duggan
Jersey City: Democratic Mayor Steven Fulop
Here are the top ten dirtiest cities: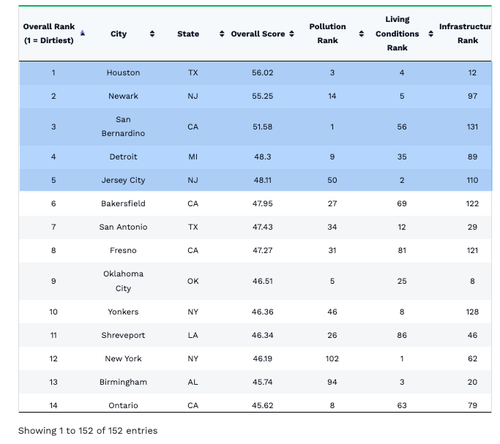 Source: zerohedge.com
People Got Used to Higher Prices and Are Outspending even Raging Inflation. They Don't Want this Thing to Land 
Year-over-year growth in consumer spending, adjusted for inflation, outpaced the pre-pandemic average. Month-over-month, seasonally adjusted, growth spiked. 
People want to get on with their lives, it seems. Their mood has improved. They've gotten used to living with high inflation. They got raises or got higher-paying jobs. Gasoline prices have plunged since the peak in mid-2022, and that matters a lot because it's the most in-your-face inflation along with food inflation. They might still gripe about higher prices, but you live only once?
Source: wolfstreet.com
Two wolves and a sheep decide what's for dinner — that's what the U.S. Department of Labor has done with American workers' retirement accounts over the past few months.
Now that President Joe Biden's ESG (Environmental, Social, Governance) rule has been published in the Federal Registry, Congress can review it and disapprove it. The Congressional Review Act (CRA) is the one weapon Congress has to keep the Biden Administration from wolfing down Americans' 401(k)s.
The ESG rule is one of those Biden blunders that needs review and disapproval now. The rule issued through the Department of Labor encourages retirement fund managers to insert political bias into their investment decisions, in favor of environmental, social and corporate governance ideals — a shifting goal — rather than profitability. The regulation is 180 degrees opposite of the intent of Congress when it created the rule that mandated that fund managers make decisions that protect the financial interests of clients
The Biden ESG rule allows these fund managers to instead take the retirement savings of millions of hard-working Americans and, rather than invest them for earnings, invest them with one or both eyes on political correctness, or for some shifting environmental or social engineering goal.
 Source: dailycaller.com
We MUST protect Americans from Radical Leftist ESG investments—I did it once, and it's time to do it again as I set the example for Republicans across the Country to follow my lead in fighting ESG!
---
Political/Rights
There's a video going viral of her getting shouted at in San Francisco. A man asks her why they're giving $150 billion to Ukraine while there are so many homeless on the streets in San Francisco.
The Real Toria [email protected]
EXCLUSIVE — Man heckles Nancy Pelosi in San Francisco about sending money to Ukraine, asks for stock trading tips on how to get semiconductors in Taiwan, and questions whether her son is involved with Hunter Biden.
But the real kicker here was her response, which was a bit hard to hear. It's "about your freedom," Pelosi claimed in reply to the Ukraine question. That's like it's "for the children" — it's the catch-all excuse when you want to shove things through without giving any real answers 
Source: redstate.com
Some say she was eating in the restuarant, she finished her meal and vanity fair was doing an interview with her, there was a camera crew there. 
Former CNN host Brian Stelter is trying to rewrite history on the 2020 election and the Hunter Biden laptop story.
While appearing on a podcast this week, Stelter claimed that CNN never labeled the laptop story as disinformation and defended the way CNN and other news organizations treated the story.
This is a good reminder that CNN was right to fire Stelter and that he has no business being in the news business.
FOX News reported:
Brian Stelter defends 2020 media coverage of Hunter Biden laptop story: We never labeled it 'disinformation'
Feb. 2023: Stelter defends 2020 media coverage of Hunter Biden laptop story: 'We never labeled it 'disinformation' — Stelter in Oct. 2020 after the Hunter laptop story broke: "We do know that this is a classic example of the right-wing media machine." https://t.co/bXWQ1g3rPH

— Joe Concha (@JoeConchaTV) February 25, 2023
Source: thegatewaypundit.com
Congressional investigators have scored a major breakthrough by securing cooperation from Eric Schwerin, a close business associate of Hunter Biden who also had dealings with Joe Biden's business and tax affairs.
  "His attorneys and my counsel are communicating on a regular basis. Now, I feel confident that he's going to work with us, and provide us with the information that we have requested."
Comer added: "I think that Schwerwin is going to be a very valuable witness for us in this investigation." 
The announcement comes as the committee has gotten word that Hunter Biden and his uncle, presidential brother James Biden, don't intend to volunteer all the information Comer's committee has been seeking in its wide-ranging probe of the first family's overseas business dealings that collected millions from Ukraine to China.
Comer said his committee won't wait any longer and will begin issuing subpoenas immediately.
Sheriff Wilmot describes the area along the Colorado River near the open fields as an "environmental disaster" due to the trash, pharmaceuticals and biological waste "left by those crossing the border illegally."
Leon Wilmot, sheriff with the Yuma County Sheriff's Office, told the U.S. House Judiciary Committee that illegal encounters have gone from "an average of 40 per day" to over 1,000 per day along the river corridor in Yuma, Arizona, after the Biden Administration reversed Trump administration border policies.
Wilmot said that two years ago, Yuma County was one of the safest border counties but that is no longer the case.
"Children are also the pawns in the cartel's money-making schemes. Roughly 400 to 800 juveniles cross our border every day to go to school in Yuma County
Source: justthenews.com
JPMorgan should reveal more about CEO Dimon's role in Epstein accounts -U.S. Virgin Islands
In a Thursday filing in Manhattan federal court, the U.S. Virgin Islands said JPMorgan's wrongful conduct continued at least until August 2019, when Epstein killed himself.
But it said JPMorgan has agreed to provide relevant documents for Dimon only through 2014, and should provide documents for the next five years.
The U.S. Virgin Islands called Dimon "a likely source of relevant and unique information" about decisions to retain Epstein as a client, and discussions on Epstein's referrals of prominent and wealthy potential clients.
According to the filing, the business referral relationship continued after Epstein stopped being a client.
JPMorgan is seeking the lawsuit's dismissal. It did not immediately respond to requests for comment after business hours on the latest filing. Dimon has not been accused of wrongdoing.
Source: reuters.com
---
Geopolitical/Police StateWar
Rep. Matt Gaetz (R-FL) has introduced a War Powers Resolution that would order President Biden to pull all US troops out of Syria, a move that came after four US troops were reported injured in a raid against ISIS in the country. "Congress has never authorized the use of military force in Syria. The United States is currently not in a war with or against Syria, so why are we conducting dangerous military operations there?" Gaetz said in a statement on the resolution.
"President Biden must remove all US Armed Forces from Syria. America First means actually putting the people of our country first — not the interests of the Military Industrial Complex."
Source: zerohedge.com
We don't need Zelensky lecturing Americans on what to think and do.

We have absolutely every right to question and end all aid to Ukraine. https://t.co/zEHt3d1YQB

— Rep Andy Biggs (@RepAndyBiggsAZ) February 25, 2023
The opposite.

If Nuland hadn't staged a coup, they'd have sorted things out among each other.

If Ukraine hadn't been armed, they'd have sorted things out among each other.

If Ukraine's flouting of Minsk hadn't been tolerated, they'd have sorted things out among each other. https://t.co/j0TMnZSa6u

— Hans Mahncke (@HansMahncke) February 25, 2023
Just so we understand this is the leader of the left's new religion, Ukraine. He replaced Lord Fauci who replaced goddess Greta as the leader of the leftist lunacy movement. Give him all of your money forever it doesn't matter how much or for what… the Gods have spoken! pic.twitter.com/nquSkMqNwq

— Donald Trump Jr. (@DonaldJTrumpJr) February 26, 2023
Thousands took to the streets in Berlin Saturday to protest the German government's continued arms deliveries to Ukraine.
The "Uprising for Peace" came just one day after the one-year-anniversary of Russia's invasion of Ukraine and followed renewed pledges of support and fresh sanctions by Western allies, Reuters reported.  
Source: dailycaller.com
I am sick and tired over the lack of footage of the Ukraine war. I worked in cable news. I am initiated. If it bleeds, it leads. Where is the war footage? Where are the Pulitzer Prize winning photos? This smacks of a scam and the American people are fed up.

Produce the… https://t.co/HfL9MBqEpt

— Kyle Becker (@kylenabecker) February 24, 2023
·

POTUS47 was asked if the Biden administration blew up the Nordstream pipeline:
"Well it could have been us and it could have been Ukraine, and it could have been some 3rd party country that wants to see trouble. The one group it wasn't was Russia… that's the one thing I can tell you for sure… These people are sick. I'm telling you.
But, it could have been. It could have been working in conjunction with Ukraine because Ukraine has total dominance over the United States. Total dominance."
WATCH THE WATER, NK, TAIWAN, UKRAINE
·

This is the most dangerous time in the history of our Country. World War III is looming, like never before, in the very dark and murky background. "Leadership" is solely responsible for this unprecedented danger to the USA, and likewise, the World. HOPELESS JOE BIDEN IS LEADING US INTO OBLIVION!!!
Q

 

!!Hs1Jq13jV6

 

ID: cee948

 No.9795578

Humanity is good, but, when we let our guard down we allow darkness to infiltrate and destroy.
Like past battles fought, we now face our greatest battle at present, a battle to save our Republic, our way of life, and what we decide (each of us) now will decide our future.
Will we be a free nation under God?
Or will we cede our freedom, rights and liberty to the enemy?
We all have a choice to make. .
Evil [darkness] has never been so exposed to light.
They can no longer hide in the shadows.
Our system of government has been infiltrated by corrupt and sinister elements.
Democracy was almost lost forever.
Think HRC install: [2+] Supreme Court Justices, 200+ judges, rogue elements expanded inside DOJ, FBI, CIA, NSA, WH, STATE, …….removal 2nd amendment, border etc. ……… America for sale: China, Russia, Iran, Syria…….ISIS & AL Q expansion…….expansion surv of domestic citizens…….modify/change voter rules and regulations allow illegals+ballot harvesting w/ SC backed liberal-social opinion………sell off of military to highest bidder to fight internal long-standing wars……..
Their thirst for a one world order [destruction of national sovereignty] serves to obtain control over America [and her allies [think EU]] by diluting your vote to oblivion and installing a new one world ruling party.
The start of this concept began with organizations such as: world health org, world trade org, united nations, ICC, NATO, etc., [all meant to weaken the United States] also the formation of EU through threat [con] of close proximity attack [attack on one is an attack on all – sales pitch to gen public – fear control].
Re: EU _did each member nation cede sovereignty to Brussels?
Re: EU _each member must implement EU rules and regulations in all areas [think immigration, currency, overall control].
Their thirst to remove your ability to defend yourself serves to prevent an uprising to challenge their control.
There is a fundamental reason why our enemies dare not attack [invade] our borders [armed citizenry].
If America falls so does the world.
If America falls darkness will soon follow.
Only when we stand together, only when we are united, can we defeat this highly entrenched dark enemy.
Their power and control relies heavily on an uneducated population.
A population that trusts without individual thought.
A population that obeys without challenge.
A population that remains outside of free thought, and instead, remains isolated living in fear inside of the closed-loop echo chamber of the controlled mainstream media.
This is not about politics.
This is about preserving our way of life and protecting the generations that follow.
We are living in Biblical times.
Children of light vs children of darkness.
United against the Invisible Enemy of all humanity.
Q
Barack Obama's former White House doctor has warned that Joe Biden's cognitive decline is bringing the US closer to an "all-out war" with China and Russia.
The physician, Rep. Ronny Jackson, said it is "terrifying" that Biden is the commander-in-chief.
Jackson was a White House Physician during the administrations of George W. Bush, Barack Obama, and Donald J. Trump.
"It's TERRIFYING for our country that Biden is our commander-in-chief. He doesn't know where he's at half the time, and every day he brings us closer to an all-out war with Russia & China," Jackson stated, according to a report from Breitbart News.
"His cognitive decline is going to get people KILLED!!" he continued.
Biden did not undergo cognitive screening during his physical last year.
Source: thegatewaypundit.com
---
False Flags
A Covid vaccine maker that received clinical trial approvals from the National Institute of Allergy and Infectious Disease (NIAID), formerly headed by Dr. Anthony Fauci, has just paid $400 million to the "public health" organization.
The cash windfall that Moderna recently paid the NIAID was reported by the industry watchdog group Fierce Pharma.
"In Moderna's earnings release Thursday, the company said it recently paid the National Institute of Allergy and Infectious Diseases (NIAID) a $400 million 'catch-up payment' under a new royalty-bearing license agreement between the parties," the report noted.
"The payment is part of a license agreement between Moderna and NIAID inked late last year. With the deal, Moderna is paying the U.S. government to access 'certain patent rights concerning stabilizing prefusion coronavirus spike proteins,'" the report added, citing Moderna Chief Financial Officer Jamie Mock.
Source: beckernews.com
1. NIAID funds gain-of-function experiments at Wuhan lab.

2. Wuhan lab makes Covid.

3. Moderna makes "vaccine" for Covid.

4. Moderna shares "vaccine" profits with NIAID.

5. Go to 1. https://t.co/5PQiOMyJqM

— Hans Mahncke (@HansMahncke) February 24, 2023
Remember when the U.S. government instructed parents to gas their children with DDT?

Forcing children to take the COVID-19 mRNA vaccine will be remembered as another moment when #TrustTheScience was tragically wrong. pic.twitter.com/PyZkX0AfZD

— kanekoa.substack.com (@KanekoaTheGreat) February 25, 2023
Huh, no shit?!? Literally anyone with a brain has been saying this for 3 years. It was always the most plausible answer and it wasn't even close but didn't work for the leftist and globalist narratives so they canceled anyone who even suggested the obvious. https://t.co/kLDSfG9NlZ

— Donald Trump Jr. (@DonaldJTrumpJr) February 26, 2023
A major study published at the Journal of Infectious Diseases that comes more than three years into the Covid pandemic concedes what critics of the global pandemic response and vaccine mandates have been saying all along: Natural immunity from prior infection is superior to vaccinated immunity in nearly all aspects for the majority of people.
The medical study titled, "Protection from COVID-19 mRNA vaccination and prior SARS-CoV-2 infection against COVID-19–associated encounters in adults during Delta and Omicron predominance," was peformed by dozens of accredited medical researchers and was accepted for publication in the Journal of Infectious Diseases this past week.
Source: beckernews.com
https://t.co/GimMphOvc3 pic.twitter.com/rTzv8mo7JU

— kanekoa.substack.com (@KanekoaTheGreat) February 26, 2023
The House GOP is set to launch hearings this week as part of its investigation into the U.S. government's response to the Covid pandemic.
The Select Subcommittee on the Coronavirus Pandemic is planning to investigate the regulatory process of authorizing and approving Covid-19 vaccines, how these mRNA shots were authorized so quickly, why these vaccines were mandated for all Americans, even those who were not at significant risk, and why 'natural immunity' following prior infection was ignored by the scientific community.
"I expect our oversight hearings will shed light on the FDA approval process, the potential for side effects, and ultimately the success rate and safety of the vaccine—each of which will help us to navigate future global health emergencies," she added.
Rep. Debbie Lesko (R-AZ) said that the U.S. Food and Drug Administration (FDA), which clears vaccines, and the Centers for Disease Control and Prevention (CDC), which decides whether to recommend vaccines, "increasingly bypassed their expert advisory panels during the pandemic after the panels pushed back against decisions like advocating for boosters before a review of trial data was complete," the report noted.
"We need to know who made the decision to bypass the standard vaccine approval processes," Lesko, a subcommittee member, said.
"The Covid-19 vaccine mandates were a clear abuse of government authority, and we need to know who made the formal decision to implement these mandates. Additionally, I believe we need answers on the data from the Covid-19 clinical trials, given the significant disparity between the trials and real-world effects from these vaccines," Lesko said. "I hope we can get to the bottom of these issues, and I am proud to work with my colleagues to get the long-overdue answers the American people deserve."
Source: beckernews.com
Adams was horrified that a poll of black people showed only half believe "it's OK to be white."

He called this hate and recommended white people live far away from blacks.

MSM verdict: Adams is a racist, but not the 20 million black people who think it's not OK to be white. https://t.co/LC8zIGvoqx

— Monitoring Bias (@monitoringbias) February 25, 2023
For a *very* long time, US media was racist against non-white people, now they're racist against whites & Asians.

Same thing happened with elite colleges & high schools in America.

Maybe they can try not being racist.

— Elon Musk (@elonmusk) February 26, 2023
---
Q
SecDef Chris Miller just went on Timcast and absolutely blew away the narrative that President Trump was trying to stage a military coup on January 6th.
"DUDE, I was running the military. There was no coup. Can't happen. Milley was right about that… it has to come through us. There was gonna be no military coup.
Dude, I spent my life in service to this country and I swore to protect and defend the Constitution… If it would have gone there, I would have resigned."
Where's Schiff?
1. Secretly minimize USCP security fencing/staffing & decline nat'l guard
2. Infiltrate crowd with 100+ informants, agents, and instigators on front lines
3. Illegally shoot explosives and tear gas into peaceful crowds
4. Let simmer 3 hrs
5. Take down Pres. Trump's twitter video telling everyone to be peaceful & go home
6. Hide all video evidence of insurrection planning & call it "national security"
7. Ban Trump & 100k+ supporters off social media
Voila!
During the meeting, legislators considered a presentation by Jacqueline Breger, which, if true, exposed absolutely bombshell information regarding massive corruption and collusion between American politicians, appointed government officials, and the Sinaloa Cartels. The money laundering and racketeering scheme allegedly uses fraudulent mortgages, real estate transactions, and insurance claims in Maricopa County to hide money made through cartel human trafficking, drug trafficking, and bribery of elected officials, and to rig elections, intimidate, or murder those who threaten the operation.
The scheme allegedly creates identities, credentials, and professional licenses for "non-existent individuals," which if true, could be used for fake voter registrations. The Maricopa County computer database is also used for the alleged "removal of genuine documents from the county system."
Breger identifies herself as a longtime Arizona resident and a forensic investigator with the Harris/Thaler Law Corporation, investigating multi-state racketeering and corruption. She states that she holds a masters degree in marketing and honors degrees in Finance, Financial Accounting, Business, statistics, economics, and business strategy.
Breger claims that attorney John Thaler investigated money laundering and racketeering in Maricopa County and reviewed over 120,000 documents which include "fake notarizations, fake deeds of trust, fraudulent buyers and or sellers of the real property transactions, as well as other companies used in real estate transactions, such as real estate brokers, mortgage companies Title and Escrow companies, real estate inspection companies, service companies." 
It appears that John Thaler and Brittany Chavez, formerly Brittany Thaler, were once married and Brittany is listed as a defendant in a lawsuit by Plaintiff John Thaler. In June 2022, John Thaler alleged that Brittany Thaler "has engaged in an array of criminal enterprises across multiple states, including money laundering and tax evasion, allegedly accomplished via real estate transactions and non-profit organizations; insurance fraud, allegedly accomplished via phony personal injury claims made on behalf of non-existent persons; skimming money from state-run aid programs; narcotics trafficking; hacking into state databases and fabricating public records; bribing public officials, including judges, police officers, judicial assistants, inspectors, assessors, and accountants; bribing private professionals, such as real estate agents and brokers; bankruptcy fraud; election fraud, allegedly accomplished by creating fake ballots and manipulating others in order to influence, among other races, the 2020 election for Maricopa County Recorder; extortion via "crypto-viruses"; the creation of fake employees on payroll systems in order to collect paychecks and benefits; and murder." Dawna Rae Chavez is also named as a defendant.
In Arizona, laundered cash is used in part to bribe elected and appointed public officials and their support staff. The principal preparers of the documents necessary to affect the racketeering enterprise are Dawna Rae Chavez, a resident of Mesa, and her daughter Brittany Rae Chavez.

To date, more than 10,000 falsified documents have been recorded with the Maricopa County Recorders Office. We estimate that more than 35,000 warranty deeds and trust deeds evidencing fraudulent transactions exist in the database. The number of falsified notarizations exceeds over 15,000.

The city of Mesa is a racketeering organization, as that term is defined in 18 USC Section 1961. To protect the enterprise civil rights are systematically violated to preserve racketeering activities. fines and outrageous cash bonds are used to collect monies which are then skimmed and redirected into the racketeering enterprises. The city of Mesa Police Department; it's a private police department that is used to support and protect racketeering enterprises.
Source: thegatewaypundit.com
#ARRESTKATIEHOBBS Trending On Twitter Following EXPLOSIVE Claims That Sinaloa Cartel Uses Money Laundering, Bribes To Control Katie Hobbs And Others
Nice job @DecentFiJC for starting this today! #ArrestKatieHobbs is the 12th most trending topic on Twitter! pic.twitter.com/HAva7ex3vG

— Rachel Alexander (@Rach_IC) February 26, 2023
Alabama Secretary of State Wes Allen made an unannounced visit to the published address of the headquarters of the Electronic Registration Information Center (ERIC) this month, but found no ERIC headquarters at the location.
As his first official act in office, Allen withdrew the state from the voting registration system, keeping a promise he made on the campaign trail.
"I was in D.C. for a meeting of the National Association of Secretaries of States and, since I was in town, I went to see the ERIC Headquarters," Allen said. "What I found was that there was no ERIC headquarters at that address. There were no employees. There were no servers. There was no ERIC presence of any kind.
"Instead, I found a virtual office that is rentable by the day. What it was missing was people, servers and any sign of the ERIC team."
ERIC's published address is 1201 Connecticut Ave NW Ste 600 in Washington, DC., but Allen found that the location is actually operated by Expansive, a company that offers virtual workspaces across the country and rents space by the day.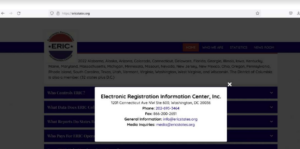 Source:  yellowhammernews.com 
Zuckerberg-funded group violated Georgia law with $2M for elections board: watchdog
An election integrity group is calling on Georgia election officials to investigate a donation from a Zuckerberg-linked group that they believe violates state law.
Exclusive: How a box with classified documents ended up in Trump's office months after FBI searched Mar-a-Lago -CNN
The Justice Department wants to know how a box containing a handful of classified records scattered among copies of presidential schedules turned up at Mar-a-Lago late last year, well after several rounds of searches of the property by federal agents and aides to former President Donald Trump, according to people familiar with the matter.
Investigators working for special counsel Jack Smith in recent weeks have interviewed a Trump aide who copied classified materials found in the box using her phone to put them onto a laptop. After a voluntary interview with the aide, prosecutors subpoenaed the password to the laptop, which she provided, according to one of the sources.
Source: cnn.com
DOJ didn't need a Search Warrant for my home, but they did need it for Biden, who has not been forthcoming, had no rights to Declassify, had NO SECURITY and many different locations, EVEN CHINATOWN. He won't give the 1,850 Boxes of Documents stored in Delaware – Why not? I have done everything correctly under the Presidential Records Act, he didn't. As President, I had the absolute right to Declassify, not Biden. Unfair and unequal treatment under the law. Fourth Amendment Violation, & more!
I can't imagine why that loser from California, who was compromised while banging a Chinese Spy—would want to ban @realDonaldTrump, myself, and others—from ever stepping foot in the US Capitol again? LOL, what a LOSER—I love the ongoing harassment by these looneys though, they're embarrassing the shit out of themselves—and we're all here to watch 
Now we're arsonists!? Shit, these people are crazier than I ever imagined. This is where we are at folks—public dem officials targeting private citizens like myself with more lies! They do this to put us in harms way. It's a calling to their followers to intimidate and harass—what a bunch of LOSSSSSSSSSERS!! So pathetic and embarrassing!! Congress ought to be SOOOOO proud!!!
Physical attacks on the U.S. power grid rose 71% last year compared with 2021 and will likely increase this year, according to a confidential industry analysis viewed by The Wall Street Journal.

A division of the grid oversight body known as the North American Electric Reliability Corporation found that ballistic damage, intrusion and vandalism largely drove the increase. The analysis also determined that physical security incidents involving power outages have increased 20% since 2020, attributed to people frustrated by the onset of the pandemic, social tensions and economic challenges.
CBS, which also got a copy of the leaked report, added this:
 Between 2020 and 2022, E-ISAC tracked 4,493 incidents: 502 received through mandatory reporting and 3,991 through voluntary means.

The vast majority — 97% — of the incidents "resulted in no disruption of service." But the remaining 3% of incidents resulted in "varying levels of grid impacts." Toplines of this study were first reported by the Wall Street Journal. 
That's disturbing stuff, signaling that our power grid is a sitting duck for predators, and with Joe Biden in charge, we can expect a response comparable to the one that he's demonstrated in East Palestine, Ohio.  A blown out power grid could put us into the Stone Age in a matter of seconds. 
There was also,an odd focus on "white supremacists" conducting the attacks,   The reports seen, which were oddly coordinated, all quoted experts who cited white supremacists in one form or another as being at the root of the problem.
There also was no clear explanation as to why it's happening from either news story, it's just that attacks are up, and they are expected to get worse.
In the final part of the CBS report, they got to the money quote:
"The vision, in short, is that they want to take down the energy grid because if they take down the energy grid, they believe that society will then collapse," Wainstein said."And out of the collapse, [they believe], will arise a white nationalist government to replace the current government. And we've seen this narrative online among these white nationalist groups."
Source: zerohedge.com
Special counsel asks judge to compel Mike Pence to testify in Jan. 6 probe
 Federal prosecutors have asked the chief judge in Washington, D.C.'s federal court to compel former Vice President Mike Pence to comply with a grand jury subpoena and testify as a witness in special counsel Jack Smith's investigation into the events surrounding the Jan. 6, 2021 attack on the Capitol, three people familiar with the investigation told CBS News.
The motion to compel Pence's testimony — filed in secret to Chief Judge Beryl Howell in recent days — came after lawyers for former President Donald Trump asserted executive privilege in response to Pence's subpoena, the people said. 
That assertion of executive privilege on Pence's subpoena, the people added, is in line with how Trump's team has responded to related subpoenas over the past year, with Trump's attorneys often arguing that private conversations or interactions with a president should remain confidential.
 
Source: cbsnews.com
Paul Ryan, a member of the Fox Corporation Board of Directors, said this weekend he will skip the 2024 Republican National Convention if former President Donald Trump wins the Republican Party primary.
Source: breitbart.com
MASSIVE & UNPRECEDENTED PROSECUTORIAL MISCONDUCT DUE TO TRUMP DERANGEMENT SYNDROME & BIG LEADS AGAINST BOTH PARTIES IN POLLS!!!
This is what it's all about:
"At the end of my next four years, the warmongers, frauds and failures in the senior ranks of our government, will all be gone, and we will have a new group of competent national security officials who believe in defending America's vital interests above all else."
The important phrase in this clip is "at the end of my next four years."
DJT won't be around forever but he is willing to complete the task of draining the swamp. Nobody else can do it.