Trump Prepares The Offensive, Transparency, Facts, Truth Is The Only Way Forward – Ep. 2472
[JB] says the economy is right on track, on track for the [CB] plan to bring us into the great reset. The MSM could not believe the job numbers. The economy is now falling apart. The [CB] has revealed their plan, total control of the currency world wide. This time the people have a choice. The patriots are now preparing the offensive, the [DS] is trying to get ahead of the election fraud story. The people will learn the truth and the facts. The [DS] is panicking and they are scrambling to stop the audit, Jen Psaki said she will be leaving in a year, the Atlanta mayor will not run again. The [DS] is in trouble, people are seeing the truth and as more do the [DS] will come crashing down. The offensive has just begun, get ready because this summer is going to get really hot.
Watch The X22 Report On Video
---
Economy
The April jobs report was so bad @CNBC had to double check the number to make sure they read it correctly. pic.twitter.com/I7AHf1jUP2

— Mike Berg (@MikeKBerg) May 7, 2021
JUST IN – Biden on disappointing April jobs report: More government plans required to "build back better"
The April jobs report illustrates what we already knew — our America First administration was bringing jobs back and building the strongest economy we've had in decades. Biden's big government economy is crushing jobs.

— Mike Pompeo (@mikepompeo) May 7, 2021
Floridians who receive unemployment benefits will soon have to show proof they are job-hunting, according to Florida Gov. Ron DeSantis.
DeSantis took away the requirement that people on benefits look for work early in the pandemic when unemployment was on the rise and few employers were hiring.
But DeSantis has lifted pandemic-era restrictions on businesses, and the unemployment rate is lower than the national average.
"Normally, when you're getting unemployment, the whole idea is that's temporary, and you need to be looking for work to be able to get off unemployment," DeSantis  
Source: breitbart.com
The Big Taper starts one central bank at a time.  
The BoE announced that the blistering pace of its asset purchases would be "slowed somewhat"  – tapering the bond purchases from £4.4 billion a week to £3.4 billion a week – but that this tapering was an "operational decision" that "should not be interpreted as a change in the stance of monetary policy."
This "is not a tapering decision," emphasized BoE governor Andrew Bailey during the press conference. The reason this tapering is not "a tapering decision," he said, is because the BoE left its target for the final level of QE assets unchanged.
Obviously, denying that tapering is tapering was designed to mollify the markets with a welcome dose of delusion, and it worked: the UK's stock index FTSE 100 rose 0.5% for the day.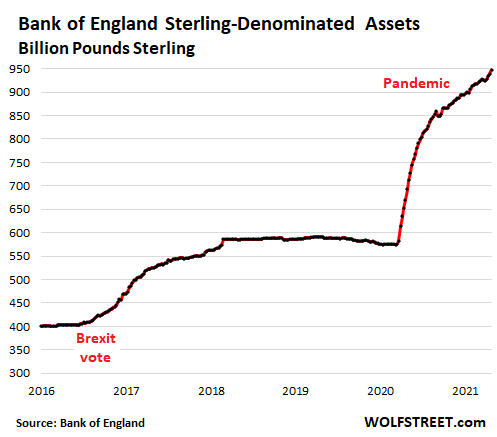 The Bank of Canada also denied initially it was "tapering."
The Bank of Canada, which now has a super-mega housing bubble on its hands, blazed the trail last October when it announced that it would taper its purchases of Government of Canada bonds from C$5 billion a week to C$4 billion a week, and that it would stop buying MBS altogether. This wasn't tapering, it said; it was just "recalibrating the QE program to shift purchases towards longer-term bonds…" and yada-yada-yada.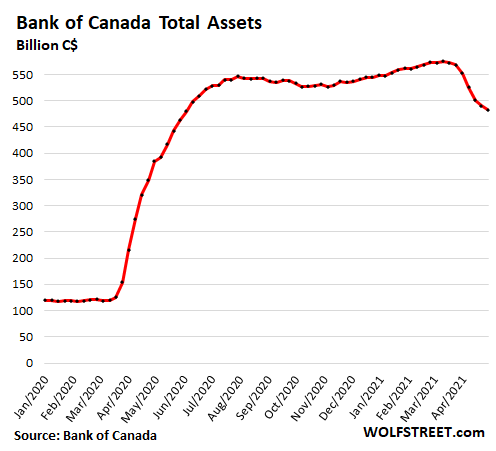 Source: wolfstreet.com
Court Authorizes Service of John Doe Summons Seeking Identities of U.S. Taxpayers Who Have Used Cryptocurrency
A federal court in the Northern District of California entered an order today authorizing the IRS to serve a John Doe summons on Payward Ventures Inc., and Subsidiaries d/b/a Kraken (Kraken) seeking information about U.S. taxpayers who conducted at least the equivalent of $20,000 in transactions in cryptocurrency during the years 2016 to 2020. The IRS is seeking the records of Americans who engaged in business with or through Kraken, a digital currency exchanger headquartered in San Francisco, California.
"Gathering the information in the summons approved today is an important step to ensure cryptocurrency owners are following the tax laws," said Acting Assistant Attorney General David A. Hubbert of the Justice Department's Tax Division. "Those who transact with cryptocurrency must meet their tax obligations like any other taxpayer."
"There is no excuse for taxpayers continuing to fail to report the income earned and taxes due from virtual currency transactions," said IRS Commissioner Chuck Rettig. "This John Doe summons is part of our effort to uncover those who are trying to skirt reporting and avoid paying their fair share."
Source: justice.gov
Cryptocurrency investors should be prepared to lose all their money – Bank of England
Digital currencies "have no intrinsic value," according to Bank of England (BOE) Governor Andrew Bailey. He warned that people who invest in crypto should be prepared to lose all their money.
A skeptic of crypto, Bailey was asked at a press conference about the rising value of cryptocurrencies. He said, as quoted by CNBC: "They have no intrinsic value. That doesn't mean to say people don't put value on them, because they can have extrinsic value. But they have no intrinsic value."
The BOE governor added: "I'm going to say this very bluntly again – buy them only if you're prepared to lose all your money."
Source: rt.com
---
Political/Rights
Atlanta Mayor Throws in the Towel, Won't Seek Reelection, and Won't Give a Specific Reason
Atlanta's Democrat Mayor Keisha Lance Bottoms said that she won't be seeking reelection but won't provide a reason as to why.
  Bottoms didn't give a specific reason for departing from office but does perhaps give some clues as to why she wants to leave, saying that the last three years haven't been what she wanted for the city. She does say that she's making this decision from a position of strength, not weakness. 
Source: redstate.com
White House Press Secretary Jen Psaki admitted that she tells Joe Biden not to take any questions from reporters.
"That is not something we recommend. In fact, a lot of times we say 'don't take questions,'"
source: thegatewaypundit.com
Psaki says role as Biden press secretary likely to end after a year
White House press secretary Jen Psaki, who has been with the Biden administration since the president took office in January, explained on The Axe Files podcast with David Axelrod why she likely won't stick around after talking to the transition team about a roughly one-year term.
Source; washingtonexaminer.com
San Diego County, California Democrats just approved a program to provide free legal aid for illegal aliens to fight their deportations in court

It will cost taxpayers there $5,000,000.

Imagine if they invested in Americans the way they invest in illegal aliens.

— Charlie Kirk (@charliekirk11) May 6, 2021
War

---
False Flags
Washington  Gov. Jay Inslee's "Road to Recovery" plan includes mandating houses of worship and sports events require vaccine passport sections to raise capacity limits.
The plan, unveiled Monday, allows religious groups and sports stadiums to increase their attendance capacity if they feature "vaccinated sections" where attendees show proof of vaccination.
Source: thefederalist.com
4943
Q
!!Hs1Jq13jV6
10/30/2020 11:45:10
 ID: 5915fd
Archive Bread/Post Links: 11359288 / 11359925
Direct Link: 11359925
Divided you are weak.
Divided you fight each other.
Divided you pose no threat.
System of control.
Information warfare.
Q
The governor's spokesperson confirmed last month that Whitmer took a "personal trip" to Florida in March during spring break.
But Brown denied the allegation. Brown said Whitmer "did not go on spring break," but traveled "to assist her elderly father who is battling a chronic illness," according to a report from Detroit Free Press. Brown added that Gov. Whitmer has left the state three times in the last six months. 
Whitmer's office insisted the governor didn't travel to Florida on taxpayer dime.
Deadline Detroit reported that Gretchen Whitmer borrowed a private jet from a group of uberwealthy Detroit businessmen.
Source: thegatewaypundit.com
I find it odd that India is facing a "second variant" of Covid and is being ravaged— but its next door and more populous neighbor China— the place where the virus began— is absolutely fine.
Patrisse Cullors, the co-founder and executive director of Black Lives Matter's national arm, has funneled business to a company led by a man she identified as the father of her only child,
The company, Trap Heals, was formed just days before partnering with Black Lives Matter Global Network Foundation and later became the charity's "lead developer of the art & cultural effort . Two other activist groups Cullors led paid Trap Heals a collective $238,000 to produce an election night livestream and for consulting services, campaign finance records show.
In numerous public mentions of their work, Cullors and Turner did not disclose that they had a child together. But in at least one instance, Turner said Cullors was directly involved in Trap Heals' partnership with BLM Global Network.
The executive director of the watchdog group CharityWatch, Laurie Styron, told the DCNF that a nonprofit leader shouldn't be involved in hiring a vendor if they have a personal relationship.
Source: dailycaller.com
Black Lives Matter militants took to the streets of North Portland on Thursday, in a march for Patrick Kimmons, who was shot by police in 2018 after a gang shootout on the streets late at night.
During Thursday's event the protesters began marching in the streets, with a couple of support vehicles leading the way. At two separate points multiple participants pulled AR-15s, AK-47s, pistols, and possibly a shotgun and/or Keltec Sub 2000 on motorists who happened be driving along.
The incidents were caught on video. In these shocking videos you can clearly see multiple terrorists surrounding the vehicles, yelling and shouting obscenities and threats at the drivers. Though the videos are shaky, you can clearly see multiple guns being leveled and drawn, as the terrorists order drivers to stop. One minivan's tires were flattened, had its back window busted out, and at least one mirror broken. Another guy was in a big pickup truck, and he was apparently drawing his own gun.
Source: thegatewaypundit.com
---
Q
Trump vindicated as FEC closes probe of campaign
The Federal Elections Commission voted  to close a probe of former President Donald Trump's 2016 campaign, saying it had not found any proof of any violations.
On a 4-1 vote, the panel ended the investigation into hush money paid by former Trump lawyer Michael Cohen to porn star Stormy Daniels.
The panel said it had failed to find that Mr. Trump or his campaign "knowingly and willfully" violated campaign-finance law when Mr. Cohen paid $130,000 in October 2016 to the adult actress whose real name is Stephanie Clifford and who says she had had an affair with the real-estate tycoon earlier that decade.
Source: washingtontimes.com
Another deep state failure. No fake news that throw at the wall ever sticks.
The Federal Election Commission in Washington, D.C., has totally dropped the phony case against me concerning payments to women relative to the 2016 Presidential Election. It was a case built on lies from Michael Cohen, a corrupt and convicted lawyer, a lawyer in fact who was so corrupt he was sentenced to three years in jail for lying to Congress and many other things having nothing to do with me. I thank the Commission for their decision, ending this chapter of Fake News. Between two sleazebag lawyers, Michael Avenatti and Michael Cohen, we were all able to witness law and justice in our Country at its lowest!
Twitter shuts down accounts for attempting to evade Trump ban
Twitter Inc suspended several accounts this week that were set up to share statements from a new part of former U.S. President Donald Trump's website, saying they broke its rules against evading an account ban.
Source:  finance.yahoo.com
The Left and Big Tech will do everything in their power to censor conservative voices out of existence.

If you support freedom and the diversity of thought, you should be troubled by this.https://t.co/VBXEZcsCK0

— Mike Pompeo (@mikepompeo) May 7, 2021
 
HUNDREDS of local citizens turned out to the Windham, New Hampshire City Meeting Monday night at the city hall.
After delays and a change in venue the city board members continued to ignore their residents and went on with other business!
That's when the crowd of hundreds STOOD UP AND TURNED THEIR BACKS to the dirty board members!
The crowd then started chanting, "Resign! Resign! Resign!" 
 the people are fighting back!
A petition and fundraiser was formed at GiveSendGo for the Windham residents to hire computer expert Jovan Pulitzer to run an audit for the people.
** You can give to the fundraiser here: https://www.givesendgo.com/nhvoterintegrity
Source: thegatewaypundit.com
 
The Maricopa County Election Board claimed this week they do not have 'Admin' access to their county's voting machines.
If this is the case, then the County did not own the election process they ceded it to their external vendor.System administrators are individuals who have access to the systems at their highest levels. These individuals are able to perform all sorts of duties. They are able to perform most all the functions and changes in a system. They have complete and total control and can even delete or alter system logs.
 Source: thegatewaypundit.com
So with all this information we need to ask a question, if the election officials did not have the password, which means dominion was running the election did this happen in the other counties and states, who was really running the election.
At 6:31 in the morning on November 4th, a dump of 149,772 votes came in to the State of Michigan. Biden received 96% of those votes and the State miraculously went to him. Has the Michigan State Senate started their review of the Fraudulent Presidential Election of 2020 yet, or are they about to start? If not, they should be run out of office. Likewise, at 3:42 in the morning, a dump of 143,379 votes came in to the state of Wisconsin, also miraculously, given to Biden. Where did these "votes" come from? Both were State Election changing events, and that is on top of the other corruption without even including the fact that neither state got Legislative approval, which is required under the United States Constitution.