The People Are Reaching The Precipice,[DS] Election Panic Off The Charts,The World Must See – Ep. 2471
[JB] is pushing the destruction of the economic system as we know it, Trump and the patriots wanted this, this way it creates a crisis, with a crisis you can then make the case of why we need to move away from the [CB] system. The rich are already preparing. The countermeasures are gold and bitcoin. The [DS] panic over the election audit is off the charts. Why would they care so much if the elections were transparent and secure, they wouldn't. They are now panicking and are trying to get ahead of the results. The people are reaching the precipice, we see this is many states and communities where the people are taking back control. The [DS] is preparing for the fallout, they are ready to black all communications, they are testing new system and they are continuing the censorship. The patriots are exposing it all.
Watch The X22 Report On Video
---
Economy
Restaurants owned by white men will be last in line for federal relief under the Biden administration's "Restaurants Revitalization Fund."
The discriminatory fund will prioritize businesses owned by women and minorities.
The Small Business Administration will be opening up applications for relief funds under Biden's American Rescue Plan Act of 2021 to help those who are struggling due to coronavirus restrictions. Despite being subject to the same harmful restrictions, white men will be last to get any help.
To qualify, the business must be "at least 51 percent owned by one or more individuals who are women, veterans, or socially and economically disadvantaged and if the management and daily business operations of the applicant are controlled by one or more women, veterans, or socially and economically disadvantaged individual."
 the Biden administration is defining businesses owned by "socially and economically disadvantaged" individuals as those who are:
Part of an "economically disadvantaged Indian tribe"
"Subjected to racial or ethnic prejudice or cultural bias"
Black American
Hispanic American
Native American, including Alaska Native and Native Hawaiian
Asian Pacific American
Subcontinent Asian American
White farmers are also currently being excluded from a federal loan forgiveness program because of the color of their skin.
Source: thegatewaypundit.com
Fed Official Says Inflation Will Be Temporary, Like The Toilet Paper Shortage Last Year
The head of the Boston Federal Reserve Bank said that inflation will increase, but that it will be as temporary as the pandemic-induced toilet paper shortage last year.
The Federal Reserve has set 2% as the annual inflation rate goal for years to maintain economic stability. When there is a consistent annual inflation rate increase, individuals and businesses are able to make sound financial decisions to account for higher prices.
Source: dailycaller.com
Bitcoin & gold are quite complimentary, investment guru tells RT's Keiser Report
"Bitcoin is the currency of the future because it has proven to be an escape currency, it's a way of getting your purchasing power into something that's relatively safe," says Turk.
He points out that "Bitcoin and gold are in fact complimentary to one another because the weaknesses of gold are the strength of bitcoin," and vice versa."What I mean is that you can hold gold in your hand but you can't do that with the bitcoin" but gold can be confiscated while the cryptocurrency cannot. "So, the two are really complimentary to one another, and if you feel that you need to own gold in your portfolio (and everybody should as a hedge), you might consider a cryptocurrency, like bitcoin, in your portfolio as well," the expert says.
Source: rt.com
Amazon founder and outgoing CEO Jeff Bezos, the richest person in the world, sold $2.5 billion worth of Amazon shares  
The transactions mark the first time Bezos has sold Amazon shares this year, though he is known to regularly cash in at least $1 billion from stock sales annually. Last year, he sold more than $10 billion of his Amazon stock across three batches of sales in February, August and November.
Source: forbes.com
As reporters look for clues about how Bill and Melinda Gates plan to divide up their fortune
And according to an SEC filing, Cascade transferred $1.8 billion (14.1MM shares) in Canadian National Railway stock to Melinda French Gates on May 3. Cascade also transferred 2.94 million shares in AutoNation, worth $309M.
Source: zerohedge.com
---
Political/Rights
Grassley asks State Dept and its Inspector General to investigate allegations against John Kerry 
Almost two weeks since the news broke that former Secretary of State John Kerry allegedly revealed sensitive information about Israeli covert operations to Iran's foreign minister, Sen. Chuck Grassley (R-IA) is asking Secretary of State Anthony Blinken and acting Inspector General Diana Shaw to examine the allegations.
  as ranking member of the Judiciary Committee, Grassley is asking that records regarding meetings Kerry had with Zarif be sent to the committee for review. His deadline is May 18th.
 
Source: saracarter.com
Down at the border, the MSM is playing up the children
EMOTIONAL REUNIONS: Some migrant families separated under the Trump administration's zero tolerance policy are being reunited under Pres. Biden, including a mom from Honduras who is back with her two sons after over three years. @CeciliaVega reports. https://t.co/j7xisfSkOB pic.twitter.com/66msQQNzrR

— World News Tonight (@ABCWorldNews) May 6, 2021
Responded
Disgusting bias.
These propagandists at ABC fail to say that these people broke the law, jumped the line and then gave up their children so the children could live in America as minors without waiting in line. The children could have stayed with their parents. https://t.co/1wmKQhqZwc

— Richard Grenell (@RichardGrenell) May 6, 2021
---
Geopolitical/Police State
"The president's view is that the major platforms have a responsibility related to the health and safety of all Americans to stop amplifying untrustworthy content, disinformation, and misinformation, especially related to COVID-19, vaccinations, and elections. And we've seen that over the past several months, broadly speaking. I'm not placing any blame on any individual or group; we've seen it from a number of sources," White House press secretary Jen Psaki told reporters in Washington.
Source: theepochtimes.com
NEW: @YouTube spending $7 million on 2 new journalism programs
— One for small digital newsrooms and one for digital independent journalists https://t.co/eAcvIPtfzf

— Sara Fischer (@sarafischer) May 6, 2021
To combat toxicity on the platform, social media website Twitter is reportedly developing a feature to makes users reconsider sending messages that its system detects as "mean" or offensive. Initial tests show that 34 percent of users who received the warning chose to revise their message or not send it at all.   Sounds like they training people to self censor, you will says what we want you to say, watch how this system learns from all the people using it and then it automatically removes or corrects what is being communicated.
Source: breitbart.com
🚨🚨

BIG TECH on the MOVE! Twitter just suspended my Communications Director.

An unconstitutional overreach SILENCING our voices and freedom of speech.

Republicans are united in fighting back against Big Tech's tyranny.

Millions of Americans will not be silenced!

🚨🚨

— Elise Stefanik (@EliseStefanik) May 6, 2021
Twitter spokesperson says @kc_leavit's was suspended in "error." Adds, "This has been reversed, and the account has been reinstated. The account's followers will take 24-48 hours to fully restore."
Glitch, Accident, It's Always The Same Excuse, Strange How These Glitches/Accidents Never Happen To Pelosi, Schiff, Nadler etc….
Facebook's ban of President Trump is yet another overreach in the Left's crusade to silence conversative voices. We must stand up to this tyranny. Free speech is a fundamental right — and we must fight to defend it.

— Mike Pompeo (@mikepompeo) May 6, 2021
Statement by Donald J. Trump, 45th President of the United States of America
The Fake News Media, working in close conjunction with Big Tech and the Radical Left Democrats, is doing everything they can to perpetuate the term "The Big Lie" when speaking of 2020 Presidential Election Fraud. They are right in that the 2020 Presidential Election was a Big Lie, but not in the way they mean. The 2020 Election, which didn't even have Legislative approvals from many States (which is required under the U.S. Constitution), and was also otherwise corrupt, was indeed The Big Lie. So when they try to sell the American people the term The Big Lie, which they do in unison and coordination, think of it instead as the greatest Fraud in the history of our Country! An even greater Hoax than Russia, Russia, Russia, Mueller, Mueller, Mueller, Impeachment Hoax #1, Impeachment Hoax #2, or any of the other many scams the Democrats pulled!
Q

 

!xowAT4Z3VQ

 

ID: b53533

 No.1057619

>>1057351
Interesting how he don't bother with a (?) at the end of the SC question. It was a statement.
>>1057442
Has POTUS made a statement found not to be true?
Nothing stated should be discounted.
Moving fast.
Q
---
War
On April 23, Marine Le Pen wrote to the dissenting officers:
Gentlemen, Generals, Officers, Representatives of all armies and all branches,

you have signed an open letter calling "for our leaders  to return to honor."

Your initiative, rare in the military, testifies to the level of concern you have in the face of the worrisome deterioration of the situation in our country. Your outspoken but fair observation, made in very strong terms, constitutes a public challenge that no one can ignore, given your reputation.

With the courage of those who have dedicated their lives to their country, you criticize our leaders very directly, questioning their responsibility quite legitimately, urging them to regain the ability to act and restore "our honor".

As a citizen and as a politician, I agree with your analysis and share your concerns. Like you, I believe it is the duty of all French patriots, wherever they're from, to stand up for the restoration and even the salvation of our country.

However, I believe that an open letter will not be enough to persuade our failing leadership to change its shameful ways.

The recent pronouncements by the President of France on his project to "deconstruct the history of France" indeed show us these harmful tendencies are not the result of a moment of confusion, but from a political agenda powered by fundamentally destructive ideology.

The concerns you so bravely express cannot remain a mere expression off outrage, however. In a democracy, we must look for a political solution which must materialize through a process of dialogue which must be validated by French voters.

This is the motivation for my political agenda, and of my candidacy for the French Presidency, with the objective of forming a government that will unify the nation.

Many senior officials and leading figures of society have rallied to our cause. I invite you to join us in the struggle which is beginning, a peaceful and political struggle, which is above all the struggle for France.

Marine Le Pen
Source: thegatewaypundit.com
---
False Flags
The Department of Justice is appealing a federal judge's decision to vacate the Centers for Disease Control and Prevention's temporary federal eviction moratorium.
The court ruled the Centers for Disease Control and Prevention's temporary eviction moratorium is unconstitutional.
The CDC under the Biden administration had sought to extend the eviction moratorium through June 30.
D.C. District Judge Dabney Friedrich ruled Wednesday on the side of the plaintiffs, who alleged that the CDC overstepped its authority by extending the eviction moratorium — which was first included in the March CARES Act passed by Congress — to all residential properties nationwide.
"The question for the Court is a narrow one: Does the Public Health Service Act grant the CDC the legal authority to impose a nationwide eviction moratorium? It does not," he said.
Source: theconservativebrief.com
CDC does not grant you your rights,, they just put out guidelines, you can follow them if you want or not
WHO changed their definition for "herd immunity"
Source:  investmentwatchblog.com
The people are reaching the precipices, 
Utah's Granite School District. Parents are fed up
TAKE A LISTEN
Infiltration from within
NEW – Black Lives Matter published an updated set of demands on their website, which includes a permanent banning on Trump from ever holding office again. pic.twitter.com/eHEz2mHig4

— Disclose.tv 🚨 (@disclosetv) May 5, 2021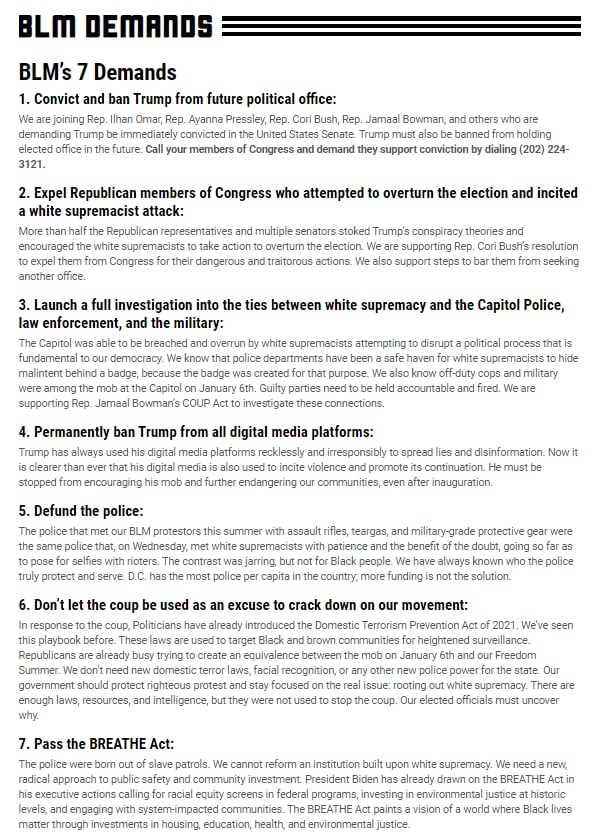 Texas bans 'woke philosophies' from being taught in classrooms 
---
Q
So, four months later, is there any proof to back up the pervasive claim that Jan. 6 was an "armed insurrection?"
Nine people with pepper spray;
Nine people with a pole or flagpole;
Four people with a riot or police shield;
Four people with a small baton;
Three people with a stick;
Three people with a baseball bat;
Two people with a taser;
Two people with a fire extinguisher;
Two people with a crutch;
One person with a stun gun/walking stick;
One person with a police helmet;
One person with a knife;
One person with a hockey stick;
One person with an ice ax.
But in many cases, the defendant simply is charged with carrying the weapon, not using it against anyone. (Some protesters testified they brought weapons for self-defense in anticipation of violent engagement with agitators of Antifa or Black Lives Matter.)  
It almost seems like the narrative was created in advance.
Source: theepochtimes.com
According to a new poll from the Club for Growth,  shows that Fifty-two percent of likely Republican primary voters said they would vote against Cheney next year no matter the opponent. Only 14 percent said they would continue to support her. 
Source: thefederalist.com
The White House condemned a new election security law signed by Florida Governor Ron DeSantis (R) 
DeSantis signed the bill  which puts limits on ballot box drop boxes, voting by mail, and ballot harvesting, while also enhancing voter ID requirements.
" Source: breitbart.com
Congratulations to the great Patriots of Windham, New Hampshire for their incredible fight to seek out the truth on the massive Election Fraud which took place in New Hampshire and the 2020 Presidential Election. The spirit for transparency and justice is being displayed all over the Country by media outlets which do not represent Fake News. People are watching in droves as these Patriots work tirelessly to reveal the real facts of the most tainted and corrupt Election in American history. Congratulations Windham—look forward to seeing the results.
The Department of Justice expressed concern that the ongoing audit of 2020 election results in Arizona may violate election law and lead to voter intimidation.
The Department notified Republican State Senate President Karen Fann   that it was monitoring the state's audit of 2.1 million ballots cast in Maricopa County, Arizona, in 2020  DOJ specifically worried that outsourcing the audit to a third-party contractor may violate federal election law that requires elections officials to control ballots for 22 months after an election.
The contractor's intent to contact voters may also result in future illegal voter intimidation, the DOJ said, the AP reported. Such intimidation may also violate federal statutes on elections.
"Past experience with similar investigative efforts around the country has raised concerns that they can be directed at minority voters, which potentially can implicate the anti-intimidation prohibitions of the Voting Rights Act,"
Source: dailycaller.com
Everyone knew this was coming…. The Feds are attempting to get involved in the Maricopa County ballot audit.
Remember, previously the DOJ narrative was that each state makes up its own election rules.  Now the DOJ is saying, falsely, that Arizona might be breaking federal laws.
Their first concern [as predicted] centers around ballot security.  Again, remember, the Maricopa County election board would not let the auditors use the county tabulation center [SEE HERE] so the ballots and equipment had to be moved to Veterans Memorial Coliseum (AZ State Fairgrounds).   Now the DOJ is citing that move as a potential issue for the security of the ballots and auditing procedures.
The first issue relates to a number of reports suggesting that the ballots, elections systems, and election materials that are the subject of the Maricopa County audit are no longer under the ultimate control of state and local elections officials, are not being adequately safeguarded by contractors at an insecure facility, and are at risk of being lost, stolen, altered, compromised or destroyed.
Federal law creates a duty to safeguard and preserve federal election records. The Department is charged with enforcement of provisions of the Civil Rights Act of 1960, 52 U.S.C. §§ 20701-20706. This statute requires state and local election officials to maintain, for twenty-two months after the conduct of an election for federal office, "all records and papers" relating to any "act requisite to voting in such election."
The DOJ's second issue is even more obtuse. They cite federal election law for voters rights, as the DOJ is worried that auditors will visit -and intimidate- people and places who have a record of multiple ballots from the same address or non residence:
 
Both issues are moot; Why is the DOJ doing this, they are  attempting to build a framework to undermine the results of the audit if/when fraud is uncovered.
Source: theconservativetreehouse.com
Panic in DC 🐁🐁🐁
Feds have ZERO jurisdiction in a STATE election.
Who handled these 'external drives', what was on them and where did they go?  These questions should never even have to be asked in a well-designed and operating environment.  Dr. Ward and Arizona have a right to be concerned about this design failure. 
Source: thegatewaypundit.com
It would likely be impossible to run an election without these.  The Maricopa County Election team claims they do not have 'Admin' access to their voting machines.  If this is the case, then the County did not own the election process they ceded it to their external vendor.

A system administrator has the following duties:
System administrators are critical to the reliable and successful operation of an organization and its network operations center and data center. A sysadmin must have expertise with the system's underlying platform (i.e., Windows, Linux) as well as be familiar with multiple areas including networking, backup, data restoration, IT security, database operations, middleware basics, load balancing, and more. Sysadmin tasks are not limited to server management, maintenance, and repair, but also any functions that support a smoothly running production environment with minimal (or no) complaints from customers and end users.
System administrators are individuals who have access to the systems at their highest levels.  These individuals are able to perform all sorts of duties.  They are able to perform most all the functions and changes in a system.  They have complete and total control and can even delete or alter system logs.
 
The fact that the County does not have system administrators who have administrative access to the Dominion voting machines is a big concern.  By allowing Dominion to have the administration access only, the County has basically turned over the system to the Dominion voting machine system people.  There is no IT control here because that's been ceded to Dominion.
This shows that the election was not run by the County, it was in essence subcontracted to Dominion which is likely not provided for in the law.  The election function should be run by County election employees, not some subcontractor.
Source: thegatewaypundit.com
If the Maricopa County forensic audit shows that Trump lost fairly, 75+ million Americans will accept it.
Unfortunately for the deep state cabal it will likely show 20,000 absentee ballots cast from addresses other than where the voter legally resided.
Over 22,000 absentee ballots returned on or before the post mark date.
Over 36,000 non citizen voters. 5,700+ out of state voters who voted in state. 5,700 ghost voters.
and 11,000+ OVER VOTES.
We only need ten thousand votes.
LETS GO MARICOPA. THE FIRST DOMINO TO FALL.
Meadows just dropped some good info regarding POTUS:
-Trump is not necessarily waiting until 2022 to take action.
– In the next 2 to 6 weeks we will see "additional platforms where he is able to communicate once again".
– Trump rallies are definitely coming soon.
DJT 🇺🇸 pic.twitter.com/6jl0NoCE1H

— Teresa AnnMarie (@TeresaFreeThink) May 6, 2021
Well, well well. I just learned Elise Stefanik's district is home to the 10th Mountain Division