Trump Puts Masterplan Into Action, ACB Confirmation Next, 11.3 Is The Start – Episode 2311
There is one common goal with the economy. It is to unify the people under Trumps economy. This means showing the people he is in total control of the economy. The last piece to the puzzle is the GDP number, this will be out in 4 days. The MSM/[DS] are now in trouble, people are catching on, they are awake, they realize the establishment is censoring, creating riots they are the dictators. The patriots have been preparing for this, the masterplan was to show the people. The plan was to drain the swamp, the plan was to return the power to the people.
Watch The X22 Report On Video
>
🌊 Heat & Boil Water In 30 Minutes Anywhere, Under Any Conditions 🌊
✅ Click Here ➡️ http://www.solarwaterheater.com ⬅️
🙌 Use Promo Code "X15" for 15% OFF ☀️
---
Get The Same Solar Power Bank I Have Here: ️️
➡️http://www.backupsolarbank.com ⬅️
Get 20% OFF Using Promo Code (X20)
---
🌿 Get The Only Turmeric Extract I Use For Youth Like Benefits!
😍 Get 51% Off  Here ➡️ http://agewithx22.com ⬅️
---
Economy
---
Political/Rights
Yeah I think the polls are wrong if this is Beverly Hills aka lib central. pic.twitter.com/41MZwqJX3L

— Jenxer loves 🎃 (@Genxisinjail) October 25, 2020
Hunter Biden wanted to avoid registering as a foreign agent as part of a deal with a Chinese energy company, according to text messages 
In a message to Tony Bobulinski on May 1, 2017, Hunter Biden also proposed creating a U.S.-based shell company so that the joint venture could bid on contracts with the U.S. government. 
A day after sending the message, Hunter Biden set up a meeting with his father, Joe Biden, and Bobulinski in Los Angeles.
He claims that Joe Biden is referenced as an equity shareholder in early documents for the Chinese business deal. 
Hunter Biden suggested setting up a shell company to do business with a Chinese firm in order to avoid registering as a foreign agent, and to be able to bid on contracts with the U.S. government  
A day after sending the message, Biden arranged a meeting between his father, Joe Biden, and Tony Bobulinski, one of the prospective partners in a deal with CEFC China Energy, a Chinese conglomerate whose chairman had links to the communist regime in Beijing.
"We don't want to have to register as foreign agents under the FCPA which is much more expansive than people who should know choose not to know," Hunter Biden wrote to Bobulinski on May 1, 2017, according to a message obtained by the DCNF.
"No matter what it will need to be a US company at some level in order for us to make bids on federal and state funded projects.
Biden appeared to be referring to the Foreign Corrupt Practices Act (FCPA) as well as the Foreign Agents Registration Act (FARA).
Source: dailycaller.com
Tony Bobulinski found out through the Senate report a few weeks ago that Hunter and Jim Biden had a side deal with CEFC China Energy.

Here's Bobulinski's message to Jim Biden about that.

"The fact that you and [Hunter Biden] were lying…" https://t.co/wn47I87tID pic.twitter.com/C79mXN4GXP

— Chuck Ross (@ChuckRossDC) October 25, 2020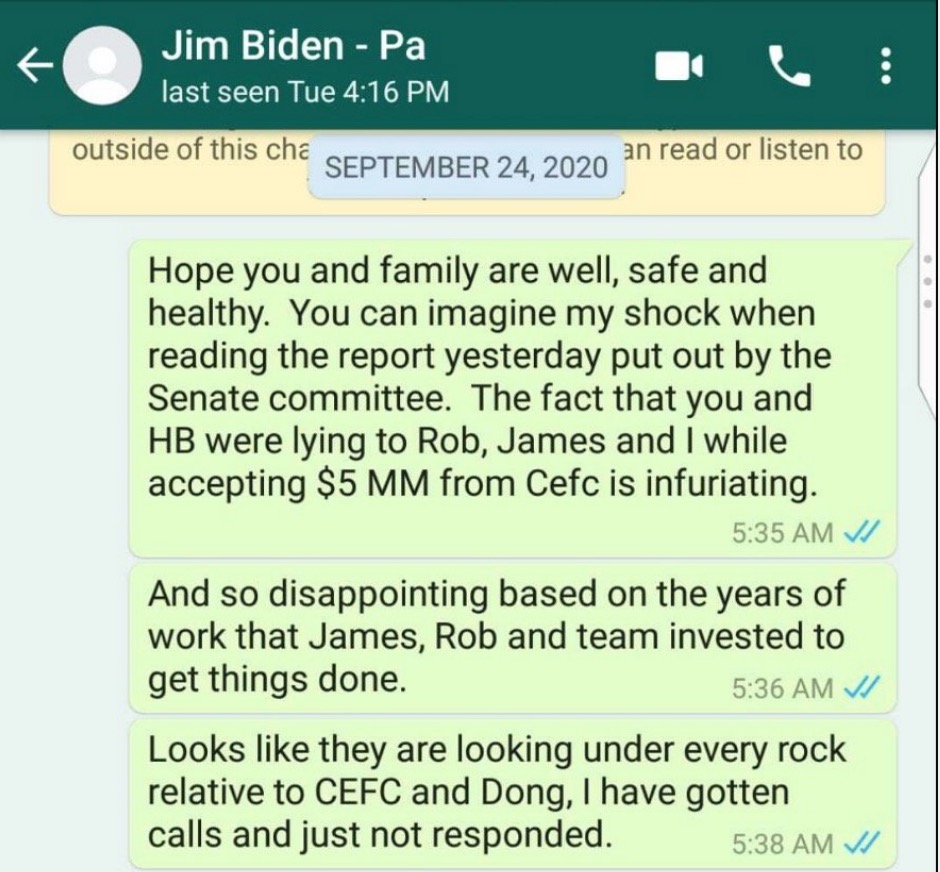 Bobulinski emailed CEFC executives on Aug. 3, 2017 regarding the joint venture he thought he had with the Bidens and CEFC. The next day, unknown to Bobulinski, CEFC wired $100k to Hunter. That wire was flagged for possible criminal activity. 
On Aug. 8, 2017, per Senate report, CEFC began a series of wire transfers to a pass through to Biden's law firm that totaled $4.7 million over the next year. Bobulinski says he had no idea that CEFC struck deal with Hunter and Jim.
 email from China's Communist Party  Xin Wang to Hunter Biden and Eric Schwerin from 2018 regarding a loan agreement. In the email Xin Wang offers to extend the loan agreement to December 13, 2019.
This raises several questions including was this agreement with the CCP presented to the IRS or SEC?
If not that would be unlawful. 
Source: thegatewaypundit.com
What an incredible admission in the Washington Post, wow. The hubris it must take to issue journalistic marching orders this contrived in full view of the public. https://t.co/TfRvHwl2N4 pic.twitter.com/t20o7KzpfK

— Geoffrey Ingersoll (@GPIngersoll) October 25, 2020

Searches for "can I change my vote" surged on Sunday evening following the bombshell sex tape and email leaks from Hunter Biden's laptop, including in the crucial swing state Pennsylvania.
 
When looking at interest by region, Utah, Idaho and Pennsylvania had the most searches, respectively, followed by New Mexico, Michigan, Arizona, Missouri, Nevada, Minnesota and Wisconsin.
Searches for "Hunter Biden China" surged at the same time.
Source: thegatewaypundit.com
---
Geopolitical/Police State
Twitter now putting warnings on tweets that are just unedited clips of Biden saying he would end fracking pic.twitter.com/py9Ii0tUeX

— Zach Parkinson (@AZachParkinson) October 23, 2020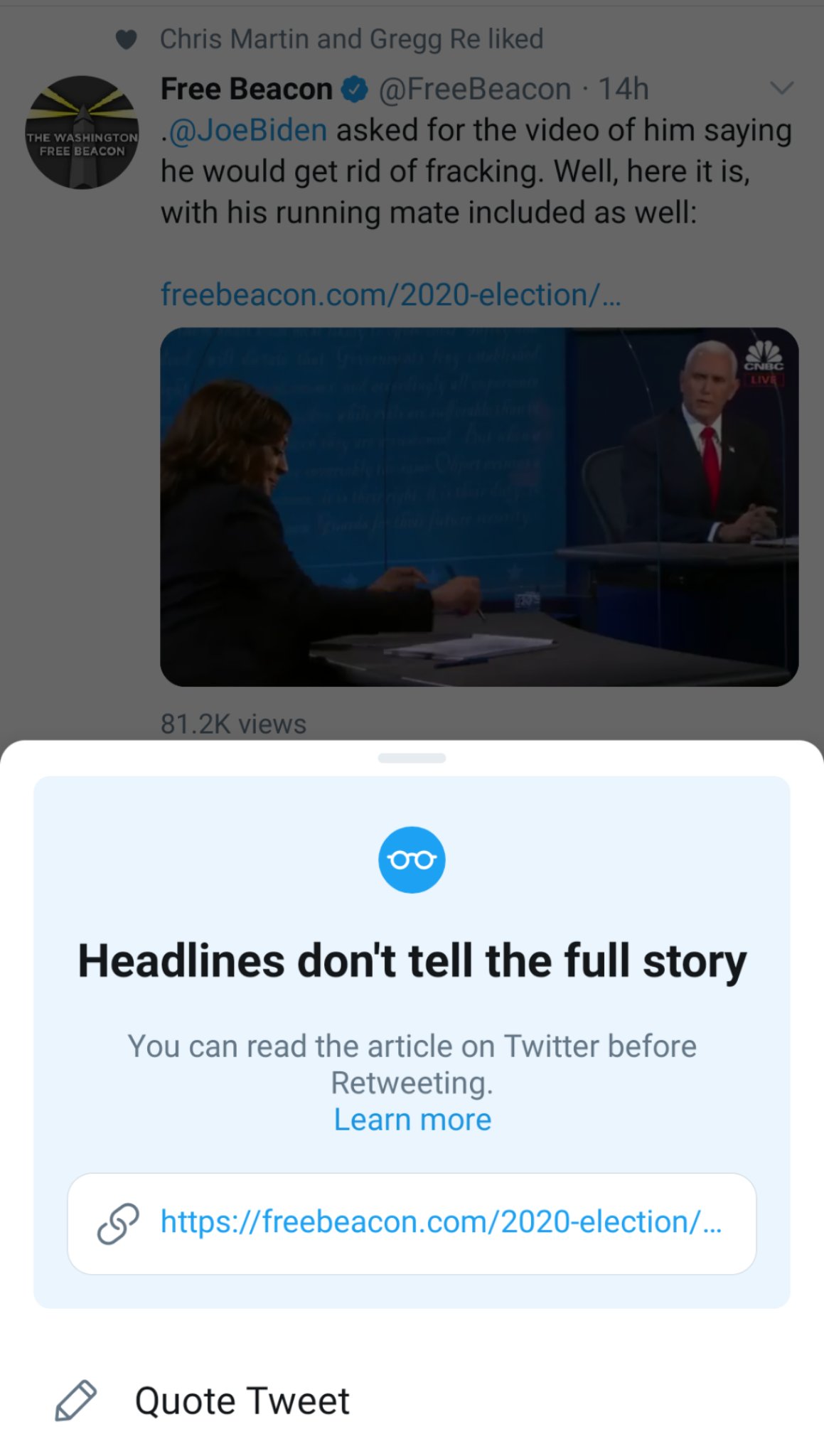 The Senates will have Twitter CEO under oath talking about why the censored the Biden article from the  NYP.  Why was this done, to bring the story into the open. More people will be listening in. How do you bypass the media 
Patreon finally banned creators advancing QAnon misinformation from its platform. Now, those same creators are using SubscribeStar, PayPal, and GoFundMe to monetize the violence-linked conspiracy theory, despite the fact that their content appears to violate these platforms' terms of use as well. 
Source: mediamatter.com
Update (10/21/20): According to Business Insider, Vimeo has since removed instances of the QAnon recruitment video Fall of the Cabal and other conspiracy theory content identified in Media Matters' reporting: "A spokesperson for the company told Insider that QAnon content is not allowed on the platform, citing guidelines that prohibit 'conspiracy theory-related content where the underlying conspiracy theory spreads, among other things, hate speech, large scale defamation, false or misleading vaccination or health-safety content.'"
QAnon followers are jumping to other platforms following YouTube's slow crackdown on content pushing the conspiracy theory. Media Matters has identified four major platforms — Spotify, Vimeo, Apple Podcasts, Google Podcasts — where QAnon content is flourishing. These platforms must follow other tech companies' lead and commit to swiftly banning all QAnon content; anything short of that will only further enable the spread of this inherently dangerous conspiracy theory. 
Source: mediamatters.org
---
War
Trump Peace deals, more are coming 
Remember the [DS]   wasn't really trying to bring about peace. It was a scam,   Trump   exposed them all,   
---
Cyber Attacks
---
False Flags
emails obtained by Judicial Watch and the Daily Caller News Foundation via a Freedom of Information Act lawsuit show that White House coronavirus adviser Anthony Fauci in late January approved of a World Health Organization-sponsored press release supporting China's response to the COVID-19 pandemic.
The email refers to the Global Preparedness Monitoring Board, an independent advisory body created by WHO and the World Bank Group. It specifically notes "consensus for the GPMB to issue a statement supportive of countries' (especially China) and WHO response efforts, and to call for urgent actions to further strengthen global preparedness and response to this outbreak."
"Looks fine," Fauci responded. "Please see my comments in attached document."
Source: justthenews.com
---
Q
Everything Trump and the patriots are doing is part of the overall plan, what has Trump done recently, he just eliminated job protections for tens of thousands (maybe millions) of federal employees, all involved in policy-making. It paves the way for a mass firing of govt employees.
 strips long-held civil service protections from employees whose work involves policymaking, allowing them to be dismissed with little cause or recourse, much like the political appointees who come and go with each administration."
#Trump masterplan for destroying the "administrative & regulatory government. 
Remember, Trump revealed this plan years ago. He's waiting to get reelected to drain the swam, he  begin reforming the structure of the entire federal government.