Pientka On Deck, Bidens Are The Pre-Show, [HRC] Emails Shows How They Cashed In – Episode 2312
The [CB] establishment are pushing their agenda. They have told us for a long time that the world will be much different after the reset. The World Economic Forum gave us this message back in 2016. Trump countered the message at the UN. The [CB]/Globalist have no future. The [CB] cannot pull off the reset without the US. They are trapped. The [DS]/MSM are fighting for their lives. The people see the truth and they see how corrupt the Bidens are. But this is just the beginning, its the pre-show, get ready the next act is coming. Flynn's case is front and center, get ready Pientka is about to make an entrance, remember the original 302, let's see what happens. The people are no longer believe the MSM.
Watch The X22 Report On Video
🌊 Heat & Boil Water In 30 Minutes Anywhere, Under Any Conditions 🌊
✅ Click Here ➡️ http://www.solarwaterheater.com ⬅️
🙌 Use Promo Code "X15" for 15% OFF ☀️
---
Get The Same Solar Power Bank I Have Here: ️️
➡️http://www.backupsolarbank.com ⬅️
Get 20% OFF Using Promo Code (X20)
---
🌿 Get The Only Turmeric Extract I Use For Youth Like Benefits!
 Get 51% Off  Here ➡️ http://agewithx22.com ⬅️
---
Economy
Despite the surprise surge to multi-year highs in existing home sales, new home sales were expected to rise only a modest 1.4% MoM in September (vs +4.8% MoM in August) but things were notably worse with new home sales tumbling 3.5% in September
The median price ticked up from $322.4K to $326.8K…
Source: zerohedge.com
Source: investmentwatchblog.com
---
Political/Rights
Under the headline "R.I.P., G.O.P.: The Party of Lincoln had a good run. Then came Mr. Trump," the Times editorial board argues:
Of all the things President Trump has destroyed, the Republican Party is among the most dismaying.
Source: breitbart.com
Remember the EO Trump signed, why did he do it before the election, he wants people to resign and it has begun
The head of a federal panel that advises the White House on compensation issues resigned on Monday to protest President Trump's new executive order that could wipe out employment protections for tens of thousands of federal workers. https://t.co/rSRQJZO0SE

— Eric Lipton (@EricLiptonNYT) October 26, 2020
Hunter Biden sent the following text to a family friend where he shares that someone is accusing him of being sexually inappropriate around her daughter.  This is why Hunter claims he is not allowed to be alone with that person:
In another text message from Hunter to a family friend, Hunter shares that his mother, Jill Biden, propagates the claims that Hunter is sexually inappropriate around the children and VP Joe Biden is aware as well:
In a text message sent to Hunter Biden from his Uncle Jim Biden, former Vice President Joe Biden's brother, Uncle Jim shares that both he and former VP Joe Biden are upset with accusations of impropriety but they don't believe them.  Jim and Joe Biden want to discuss with Hunter so they can all get their stories straight:
In an email to colleague and fellow board member on Burisma, the now felon Devon Archer, Hunter explains how he is not allowed to be around a certain person without his father, Joe Biden, being there:
And a fifth text message shows Hunter explaining to a certain person that her mom told former VP Joe Biden that she would call the police if Hunter tried to see that person:
These texts paint a horrible picture of what is going on behind the scenes in the Biden family.
 
Source: thegatewaypundit.com
Hunter Biden's foreign profits:

$3.5M from the Mayor of Moscow's wife

$100,000 account with a Chinese businessman

$1,454,034 from his time on the board of

$4,790,325 in "consulting fees" from a CCP-linked company

How much of that went to "the big man" Joe Biden?

🤔

— Charlie Kirk (@charliekirk11) October 26, 2020
Even Vladimir Putin is aware of the Biden family's pay-for-play scandals.
  Russian President Vladimir Putin told reporters Hunter Biden made "very good money" in Ukraine and it had nothing to do with Russia. 
Source: thegatewaypundit.com
So we have seen the [DS] censor channels, accounts etc.. Has this worked, no we are now seeing the streissand effect
BREAKING: Most Likely Voters say Joe Biden consulted about & perhaps profited from his son Hunter's overseas business deals including at least one involving a company in mainland China.

Majority of every demographic group – except one – agrees.

Marked crosstabs & story below https://t.co/RdHDe2AMKd pic.twitter.com/fhIqilLKRs

— Rasmussen Reports (@Rasmussen_Poll) October 26, 2020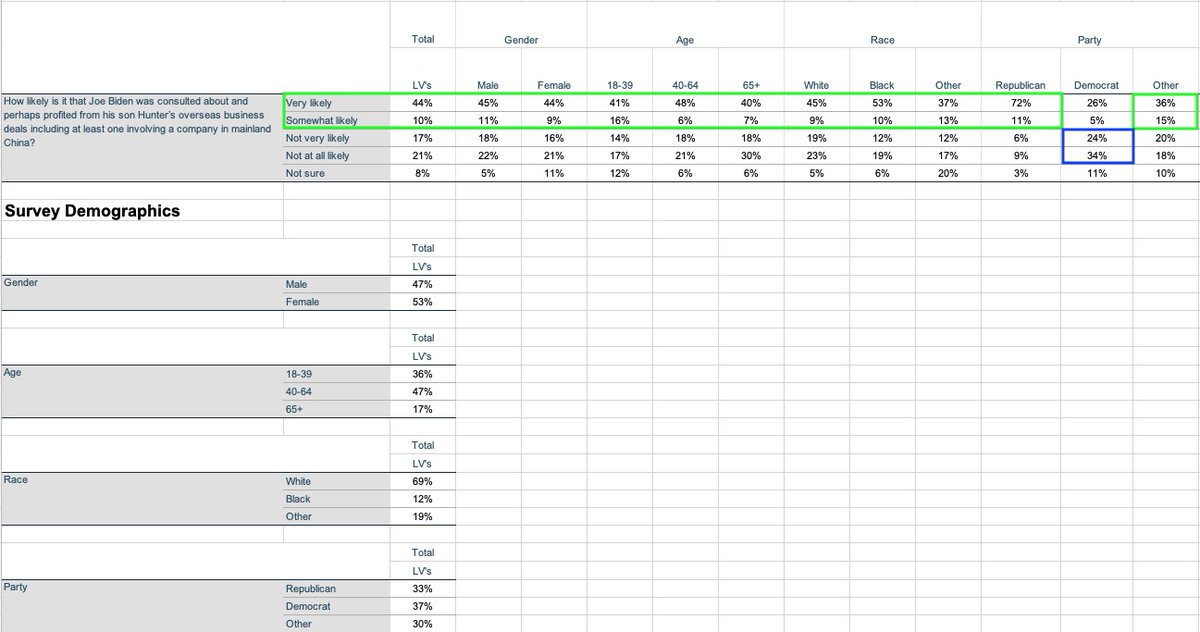 READ IT: Here is the formal Senate referral to IG Horowitz requesting the Justice Department's watchdog "open an investigation into the FBI's handling of the laptop belonging to Hunter Biden"https://t.co/g5YFz1yPEP

— Paul Sperry (@paulsperry_) October 26, 2020
nothing can stop this, nothing
BREAKING: Twitter finally cracking down on pedophiles, changes Terms of Service
Twitter is finally making a change to its controversial Terms of Service — one which previously allowed for the discussion and promotion of "minor-attraction."
The new Terms of Service clearly outline that "promoting or normalising sexual attraction to minors as a form of identity or sexual orientation" is now prohibited.
Source: rebelnews.com
The original draft report from an FBI interview of former Trump adviser Lt. Gen.  was deleted, according to a letter the Department of Justice (DOJ) filed with court on Oct. 22.

The letter defended the deletion as a matter of FBI document retention policy. Flynn's lead lawyer, former federal prosecutor  Sidney Powell , wasn't satisfied with the explanation 

 Powell has long sought the original draft, arguing it would prove the FBI edited the document to support a charge that Flynn lied during the interview. She  said she had a witness  who saw the original draft. 

 The DOJ letter acknowledges the original draft of the interview report FD-302 existed, saying one of the interviewing agents started writing it on the evening after the Jan. 24, 2017, interview. It identifies the agent as "SSA1," indicating it was Supervisory Special Agent Joe Pientka. 

  
Source: theepochtimes.com
Pientka has flipped long ago, the senate committee already interviewed him.  
Why bring this out now, it forces people to see the truth, who wrote the 302, Pientka. Who rewrote it Strzok and Page, so where is Pientka? Wait for it, Pientka surfaces in 3 2 1.
We now come to learn the following
  recently declassified government document suggests the FBI opened its most recent investigation of Paul Manafort in January 2016, two months before President Trump hired the lobbyist as a senior official in his campaign. The revelation is prompting new questions about why the bureau did not provide the GOP candidate with a defensive briefing.
The information about the start of the Manafort probe was contained in footnote 332 of a spreadsheet that FBI analysts constructed analyzing the lack of corroboration for Christopher Steele's now infamous dossier alleging Trump and Russia colluded to hijack the 2016 election, an allegation that has since been disproven.
The information in the footnote and spreadsheet states an "opening EC" or electronic communication was generated in the Manafort probe on Jan. 13, 2016, and by August 2016 "Manafort is an active subject of a money laundering and tax evasion criminal case out of Washington Field Office."
The timing suggested in the spreadsheet is consistent with an account from Ukrainian prosecutors, who revealed last year they were summoned on short notice to Washington by the Obama White House for a series of meetings in January 2016 during which Justice Department officials pressed them to find evidence against Manafort and his work for the Ukrainian Party of Regions. The prosecutors also stated the Obama DOJ officials asked the Ukrainians to drop their investigation of the Hunter Biden-related Burisma Holdings gas company and let the FBI take it over.
"What steps, if any, did the FBI take to alert the Trump campaign about its investigation into Manafort when he joined the Trump campaign in March 2016?"   Wray has yet to respond.
Source: justthenews.com
So whats coming more Biden/Obama/Clinton/Kerry corruption in Ukraine and China and Russia  
1. More laptop emails and pictures.
2.  More Maxwell/Epstein disclosures
3. FCC/DOJ Action on Big Tech censorship
4. Clinton emails  will be so devasting,  Big Tech/MSM   will try to censor it even harder. The patriots know this, these . Why do you think HRC bleached bit her emails, they are going to put everything together, they will tell the story on how all the [DS] players were cashing in, Romney, Pelosi, Schiff, Obama, Biden, Clintons etc…
The media can't give validity to Hunter Biden's laptop.
To much is at stake.

It's not about Hunter.
It's not about Joe.
Tip of the iceberg.
More is coming that will take down the entire corrupt political establishment.

The media are their protectors.
Last stand.
Win or die.

— Praying Medic (@prayingmedic) October 25, 2020
Twitter Goes Full Orwell, Censors All Topics "Likely To Be Subject To Election Misinformation"
100 million ballots and ballot applications set to flood mails and dramatically increase opportunities for voter fraud and Election Day chaos. So Big Tech, to help the Left and Joe Biden, is CENSORING voter fraud info and how Left is setting up the steal! @realDonaldTrump https://t.co/lMSwkXflz7

— Tom Fitton (@TomFitton) October 26, 2020
"A Pennsylvania Appeals Court turns down the Trump Administrations request for Poll Watchers to monitor satellite election offices." @OANN How terrible is this? We are just seeking a fair vote count. This can only lead to very bad things. Bad intentions much??? Disgraceful!!!

— Donald J. Trump (@realDonaldTrump) October 26, 2020
No one will come see them – so Kamala has resorted to hanging out a polling location…

it's also illegal to electioneer within so many feet of the polling station.. pic.twitter.com/aGuUFl5rnb

— 🇺🇸🦅M💥A💥G💥A🦅🇺🇲 (@BlessUSA45) October 25, 2020
---
War
Congratulations to Armenian Prime Minister Nikol Pashinyan and Azerbaijani President Ilham Aliyev, who just agreed to adhere to a cease fire effective at midnight. Many lives will be saved. Proud of my team @SecPompeo & Steve Biegun & @WHNSC for getting the deal done!

— Donald J. Trump (@realDonaldTrump) October 25, 2020
Putin reportedly said that he has thanked President Trump for supplying Russia with information that has aided in avoiding terror attacks.
Russian President Vladimir Putin has credited U.S.-supplied intelligence with helping his country avert terror attacks.
Source: justthenews.com
---
Cyber Attacks
---
False Flags
Hillary Clinton said Monday that a female president would have better managed the coronavirus pandemic in the United States — "especially if it were me."
"I have no doubt, especially if it were me. No, I mean I was born for that. I mean that's why I knew I'd be a good president," the 2016
Researchers once feared that school reopenings might spread the virus through communities. But so far there is little evidence that it's happening.
The evidence has been overwhelming since May and schools were mostly on track for opening before the New York Times spent the summer running shameful anti-school fear hype. https://t.co/QlX5TRTYHW

— Phil Kerpen (@kerpen) October 26, 2020
Has Covid killed off the flu? Experts pose the intriguing question as influenza cases nosedive by 98% across the globe
Source: dailymail.co.uk
🙄 We went from 75,000 flu deaths last year in America to almost 0. Does anyone actually believe that? Or do you think there may be allocation games being played to manipulate the truth? https://t.co/IjJWnfq4Z7

— Donald Trump Jr. (@DonaldJTrumpJr) October 26, 2020