Two-Tier Justice System Exposed, Phase II Narrative Has Begun, Justice For All – Ep. 3028
Podcast: Download (Duration: 1:09:32 — 30.7MB)
Watch The X22 Report On Video
The people around the world are fighting back, the criminal leaders are panicking. The banking system is ready to implode. The [CB] is now pushing everything they have to get everyone on the [CBDC], the people are pushing back and the momentum is building. The [DS] has los the narrative. The DA failed, which means Soros has failed. Trump has turned it all around and now he is moving into the next phase of the plan. The patriots are now putting all the pieces together, these pieces are the weapons and ammunition that will be needed to go after the [DS]. The country is coming together and the enemy is the [DS], there will be Justice for All.
---
Economy
History tells us the French 'do revolution' quite well, the current status of the protests against President Macron's unilateral pension reform cuts are no exception.
Worker strikes have hampered France for over a week in protest to: (1) the pension reform; and (2) the undemocratic way it was enacted via unilateral fiat by the French President, Emmanuel Macron.
As the day wound down, those protests then turned violent as the ultra-left-wing "Black Bloc" anarchists began attacking police.
(Reuters) – PARIS, March 23 – Police fired tear gas and fought with violent black-clad anarchists in Paris and across France on Thursday as hundreds of thousands of protesters marched against President Emmanuel Macron's plan to raise the pension age.
The ninth day of nationwide protests, mostly peaceful, disrupted train and air travel. Teachers were among many professions to walk off the job, days after the government pushed through legislation to raise the retirement age by two years to 64.
Demonstrations in central Paris were generally peaceful, but groups of "Black Bloc" anarchists smashed shop windows, demolished street furniture and ransacked a McDonald's restaurant. Clashes ensued as riot police drove back the anarchists with tear gas and stun grenades.
Source: theconservativetreehouse.com
Macron while asking for sacrifices from the French people realizes he is wearing a € 80,000 watch and like a magician makes it disappear under the table. Unworthy. pic.twitter.com/zRiQWFAR1M

— RadioGenova (@RadioGenova) March 24, 2023
Earlier this year the US Consumer Product Safety Commission said gas-powered stoves are a 'hidden health hazard.'
"Natural gas stoves, which are used in about 40% of homes in the US, emit air pollutants such as nitrogen dioxide, carbon monoxide and fine particulate matter at levels the EPA and World Health Organization have said are unsafe and linked to respiratory illness, cardiovascular problems, cancer, and other health conditions, according to reports by groups such as the Institute for Policy Integrity and the American Chemical Society." – the federal agency said last month.
Now the Department of Energy is coming for your gas stoves. 
A second federal agency proposed limits on energy consumption for gas stoves.
"This approach by DOE could effectively ban gas appliances," said Jill Notini, a vice president with the Association of Home Appliance Manufacturers. "We are concerned this approach could eliminate fully featured gas products."
The trade group said 95% of the market for gas products would likely not meet the new proposed rules.
Earlier this month Energy Secretary Jennifer Granholm mocked the millions of Americans concerned about the federal government's plans to put restrictions on gas stoves.
Now Granholm is admitting the Biden Regime wants to ban "some" gas stoves.
Right.
Source: thegatewaypundit.com
Recession Indicators Ringing Alarm Bells
  composite economic index comprising over 100 data points, including leading and lagging indicators. Historically, when that indicator has declined below 30, the economy was either in a significant slowdown or recession. Just as inverted yield curves suggest that economic activity is slowing, the composite economic index confirms the same.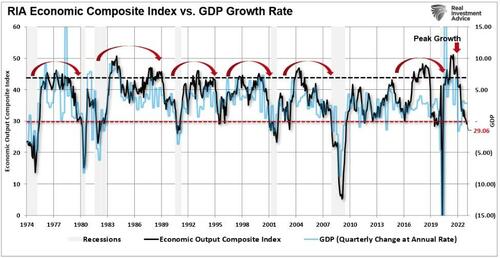 The 6-month rate of change of the Leading Economic Index (LEI) also confirms the composite economic index. As a recession indicator, the 6-month rate of change of the LEI has a perfect traffic record.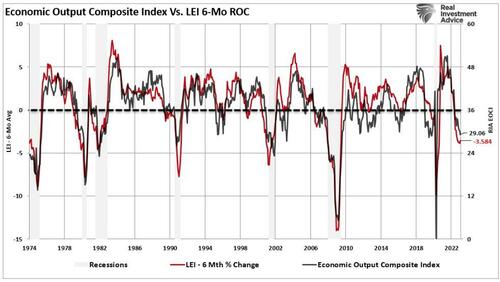 "Such is because high inflationary periods also correspond with higher interest rates. In highly indebted economies, as in the U.S. today, such creates faster demand destruction as prices and debt servicing costs rise, thereby consuming more of available disposable income. The chart below shows "real interest rates," which include inflation, going back to 1795."
 each period of high inflation is followed by very low or negative inflationary (deflation) periods.
Source: zerohedge.com
🧵 The United States doesn't need to create a Central Bank Digital Currency to know it is a bad idea. https://t.co/6qzn5UUnoM

— Mike Lee (@SenMikeLee) March 24, 2023
My bill protects Americans from a similar intrusion by prohibiting the Federal Reserve or any federal government agency from minting or issuing a CBDC, whether through a direct-to-consumer or intermediated model.

— Mike Lee (@SenMikeLee) March 24, 2023
---
Political/Rights
Now in Sixth Week, Incommunicado Fetterman to Remain in Psych Ward "At Least Over a Week": Spox
No one has seen any video of Sen. John Fetterman (D-PA), 53, speaking or moving since he was admitted to the psych ward at Walter Reed National Military Medical Center in Bethesda, Maryland on February 15, allegedly for treatment of severe clinical depression. Since then, Fetterman's staff and wife Gisele have only released a handful of staged photos that show he is alive and at least somewhat cognizant. No one excerpt for his wife and a few of his senior staff members claim to have spoken with Fetterman, but they have not provided proof.
A photo released by Chief of Staff Adam Jentleson on March 6 shows Fetterman allegedly being briefed on Senate business, however Fetterman is not wearing his reading glasses, nor is he using his usual audio transcription device to aid his stroke damaged hearing.
The latest photo of Fetterman was posted a week ago by Gisele showing the couple outdoors at Walter Reed. Gisele also posted a photo of herself in pajamas at Walter Reed, presumably wanting the world to know she spent the night with her husband–better than Canada.
Source: thegatewaypundit.com
#1 Hunter Biden used FBI mole named 'One-Eye' to tip him off to China probes…

Ex-FBI chief gave $100K to Biden grandkid trust as he sought future work…@TheJusticeDept, you've had this since 2019 — isn't this a crime? pic.twitter.com/KL1rUcWU6L

— kanekoa.substack.com (@KanekoaTheGreat) March 23, 2023
#3 Ye Jianming told Luft that Hunter had an informant in the FBI "or formerly of the bureau, extremely well placed, who they paid lots of money to [provide] sealed law enforcement information."

"DOJ is trying to bury me to protect Joe, Jim, and Hunter https://t.co/LQhQ0YnpZx…

— kanekoa.substack.com (@KanekoaTheGreat) March 23, 2023
#5 "DOJ is trying to bury me to protect Joe, Jim, & Hunter Biden. Shall I name names?"

Why is the DOJ ignoring the 459 crimes found in Hunter Biden's laptop?https://t.co/UEyUeiRCgi

— kanekoa.substack.com (@KanekoaTheGreat) March 23, 2023
Since Ashley Biden's diary is now confirmed as authentic, we can safely conclude that Joe Biden is something very close to an incestuous pedophile. Or is there another way to look at it?
Gun grabber hypocrisy 1: Bloomberg's gun control stooge forced to squirm over non-prosecution of Hunter Biden for gun law violations
Representative Tom Tiffany (R-WI) is a retired businessman that occupies the seat vacated by the retirement of Sean Duffy.  While Rep. Tiffancy lacks anything remotely close to Bloomberg's resources, he wasn't make shy about confronting Rob Wilcox over his group's stance on prosecuting Hunter Biden: ignore it.In a hearing on the Bureau of Alcohol, Tobacco, Firearms and Explosives yesterday, he cornered Bloomberg's guy Wilcox over why Hunter has not been prosecuted for gun crimes whose proof is solid, even confessed by Hunter himself. A Dem in the panel tried to make a point of order to shut down the inquiry, but Rep. Tiffany just laughed it off.Rush transcript by Grabien:


TAKE A LISTEN
Source: americanthinker.com
---
Geopolitical/Police State
On Thursday, March 23rd, his company Block (formerly known as Square) took a tumble in the stock market, as the price  of the company's shares fell by nearly 15% – causing Dorsey's net worth to fall by U$562 million dollars.
The sharp decline in share prices was caused by a report by Hindenburg Research "accusing the firm of misleading investors and embracing a criminal user base."
Dorsey's problems with criminal infiltration on one of his platforms is nothing new. It also festered on Twitter, primarily in the form of child exploitation material, so much so that, when Elon Musk purchased the company, he stated that "removing child exploitation is priority #1" in a tweet in late November.
source: thegatewaypundit.com
JUST IN – Twitter will begin winding down the legacy verified program and removing legacy verified checkmarks on April 1st.

— Disclose.tv (@disclosetv) March 23, 2023
The idea that without government control over information Americans will be putty for Russian or Chinese propagandists is a totally absurd, elitist fantasy. https://t.co/5veuhi2Vqe

— Matt Taibbi (@mtaibbi) March 24, 2023
BREAKING: TikTok CEO Shou Zi Chew this morning admitted in House testimony that at least "some" of the platform's source code was developed inside communist China

— Paul Sperry (@paulsperry_) March 23, 2023
Further, every employee of TikTok in our country should be forced to register as a foreign agent, as should every one of their lobbyists, PR flaks, and lawyers. They should also hang their heads in shame after shilling for a Chinese Communist Trojan Horse.

— Tom Cotton (@SenTomCotton) March 24, 2023
Sen. Daniel Burgess (R) filed Senate Bill 214 (S214) on Jan. 17. The 2nd Amendment Financial Privacy Act would prohibit a payment settlement entity, merchant acquiring entity, or a third-party settlement organization from assigning a merchant category code or otherwise classifying a merchant that is a seller of firearms or ammunition separately from general merchandise retailers or sporting goods retailers.
Under the proposed law, the Florida Department of Agriculture and Consumer Services would be empowered to investigate violations of this provision and bring an administrative action seeking to impose an administrative fine on violators.
Source blog.tenthamendmentcenter.com
---
War
The Biden regime launched airstrikes against groups linked to Iran's Revolutionary Guard Corps (IRGC) Thursday in Syria after a suicide drone hit a coalition base in country's northeast.
One U.S. contractor was killed and five U.S. service members were wounded in the attack. Another contractor was injured as well.
U.S. intelligence analysts determined the drone was of Iranian origin according to the Pentagon and happened near Hasaka at 1:38 p.m. local time.
White House National Security Council spokesperson John Kirby told NBC News the attack was "totally ineffective."
Source: thegatewaypundit.com
North Korean state media KCNA claimed it conducted a new underwater nuclear weapon system.
Yonhap News Agency on Thursday reported the nuke system was conducted under Kim Jon Un's guidance.
Source: thegatewaypundit.com
---
Cyber Attacks
---
False Flags
  Sen. Rand Paul (R-KY)  compared Fauci to former FBI director J. Edgar Hoover, who he said was using strongarm tactics to gain support.
 
source: breitbart.com
The 5th Circuit Court of Appeals has just ruled against Joe Biden's order for federal workers to be COVID vaccinated on the grounds that it's unconstitutional.

— Emerald Robinson ✝️ (@EmeraldRobinson) March 24, 2023
 
In the case Feds for Medical Freedom, et al. v. Biden, judges deliberated on plaintiffs' objections to the federal employee vaccine mandate.
"Plaintiffs raised several constitutional and statutory claims," the ruling authored by Circuit Judge Andrew Oldham states. "First, they asserted constitutional objections. They argued that the President did not have inherent Article II authority to issue either mandate. And any purported congressional delegation of such power violated either the major questions doctrine or the non-delegation doctrine. Second, they claimed both mandates were arbitrary, capricious, and otherwise not in accordance with law under the Administrative Procedure Act ("APA")."
Source: beckernews.com
Countries should not cede authority to WHO

— Elon Musk (@elonmusk) March 23, 2023
Rep. Alexandria Ocasio-Cortez (D-NY) threw a tantrum on the House floor Thursday over the Republican led Parents Bill of Rights.
The bill,  sponsored by Rep. Julia Letlow (R-LA), requires schools to notify parents and guardians of their rights regarding the education of their children in order to receive federal funds according to a summary posted by the Library of Congress.
Parents and guardians under the proposed legislation have a right to evaluate curriculum, meet with their children's teachers, and review library books. They would also be granted permission to confront school boards and obtain information on violent activity occurring at schools.
This common-sense proposal to protect parental rights and provide transparency triggered AOC.
She called the bill fascist and slammed books on the table like a child.
AOC also made a number of baseless claims during rant, including asserting that Republicans have banned books like the Life of Rosa Parks and want to forcibly out LGBT people.
Source: thegatewaypundit.com
---
Q
I regret to inform you that the NeoCon Establishment has gotten their hooks in the FL Governor
A new Premise poll of 1,509 registered voters conducted March 16–21 shows President Trump leading Joe Biden by six points in the 2024 General Election for President and leading Ron Desantis in a landslide 31 points in the Primary.
The poll also shows that 55% of voters either strongly disapprove or somewhat disapprove of Biden's performance.
Source: thegatewaypundit.com
Jack Smith subpoenaed Trump aides to testify and turn over documents in the latest special counsel witch hunt.
A federal judge rejected Trump's claims of executive privilege and order the former president's aides to testify before a grand jury investigating Trump's efforts to challenge the 2020 election, according to a leak ABC News.
Judge Beryl Howell, an Obama appointee, order Trump's former Chief of Staff Mark Meadows to testify in special counsel Jack Smith's probe.
 "The DOJ is continuously stepping far outside the standard norms in attempting to destroy the long accepted, long held, Constitutionally based standards of attorney-client privilege and executive privilege," a Trump spokesperson said in a statement to ABC News. "There is no factual or legal basis or substance to any case against President Trump. The deranged Democrats and their comrades in the mainstream media are corrupting the legal process and weaponizing the justice system in order to manipulate public opinion, because they are clearly losing the political battle."
Source: thegatewaypundit.com
Withholding exculpatory evidence- right out of the democratic playbooks of Russia Gate, Jan 6, Ukraine Impeachment fiascos, and every other corrupt criminal enterprise they conjured up to try n take out 45 has found its way to Alvin Braggs bogus grand jury. Like all the rest, they got caught, and the fake news mafia wont hold them to account, so we will.
 Lets summarize the last couple of weeks
The fake news pushed the indictment
Trump stepped in and took the narrative away from them fake news and Soros funded DA
Then Trump exposed the corruption and the witch hunt by dripping out information showing that this was never about the hush money payment, this was about getting Trump and creating a show like J6. 
Trump pointed out they are spending some much time on him they are letting the crime in the city get worse and worse. The people are turning on the DA for not doing their real job.
Trump exposed the two tier justice system
 He also stepped back and watched the Republican party, who stood with him and who didn't, the board just became really clear. 
Isn't it terrible that D.A. Bragg refuses to do the right thing and "call it a day?" He would rather indict an innocent man and create years of hatred, chaos, and turmoil, than give him his well deserved "freedom." The whole Country sees what is going on, and they're not going to take it anymore. They've had enough! There was no Error made, No Misdemeanor, No Crime and, above all, NO CASE. They spied on my campaign, Rigged the Election, falsely Impeached, cheated and lied. They are HUMAN SCUM!
Trump warns of potential 'death & destruction' if he's indicted in Stormy Daniels hush-money case and calls Manhattan DA a 'degenerate psychopath' as charges are on hold until at least next week
 Trump warned  of 'death & destruction' if he's charged next week in the Stormy Daniels hush-money case 
Source: dailymail.co.uk
Trump whipping up unrest is all 'part of the strategy': CNN's Abby Phillip
 CNN's Abby Phillip  
"'Death and destruction,'" said anchor Poppy Harlow. "Given the history and the background of the death and violence on January 6th and the insurrection, why is the [former] president saying this?"
Source: rawstory.com
There was a time when our children stood at attention, put their hand on their heart, and in one UNITED voice, recited the PLEDGE OF ALLEGIANCE.
There was a time when STRENGTH and HONOR meant something.
There was a time when standing for our FLAG meant something.
There was a time when our history (heritage) was taught with PRIDE and RESPECT.
There was a time when respect was given to those who serve(d), bled, and died to protect and defend our GOD GIVEN FREEDOM.
There was a time when we were GRATEFUL.
There was a time when these UNITED STATES OF AMERICA, ONE NATION UNDER GOD, was UNITED.
There was a time when these UNITED STATES OF AMERICA, ONE NATION UNDER GOD, was UNITED UNDER ONE FLAG.
There was a time when, WE, THE PEOPLE, decided our future.
There was a time when, WE, THE PEOPLE, had a voice.
There was a time when, WE, THE PEOPLE, were UNITED and STRONG.
"I pledge allegiance to the Flag of the United States of America, and to the Republic for which it stands, one Nation under God, indivisible, with liberty and justice for all."
It is time, WE, THE PEOPLE, reclaim what is rightfully ours.
MAY GOD BLESS AMERICA AND ALL THOSE WHO DEFEND AND PROTECT HER AGAINST ALL ENEMIES, FOREIGN AND DOMESTIC.
WE STAND TOGETHER AS PATRIOTS.
WHERE WE GO ONE, WE GO ALL.
HOME OF THE BRAVE.
Q+
Source: thegatewaypundit.com
If the Bill of Rights didn't exist,

and if I were to offer those Amendments on the floor of the House today,

most Democrats would vote NO on the Bill of Rights.

No Democrat would vote for the 2nd Amendment.

Few would vote for the 1st, 4th, 9th, or 10th Amendments as worded.

— Thomas Massie (@RepThomasMassie) March 24, 2023
Q

 

!!mG7VJxZNCI

 

ID: c555e0

 No.5894508

Love of Country.jpg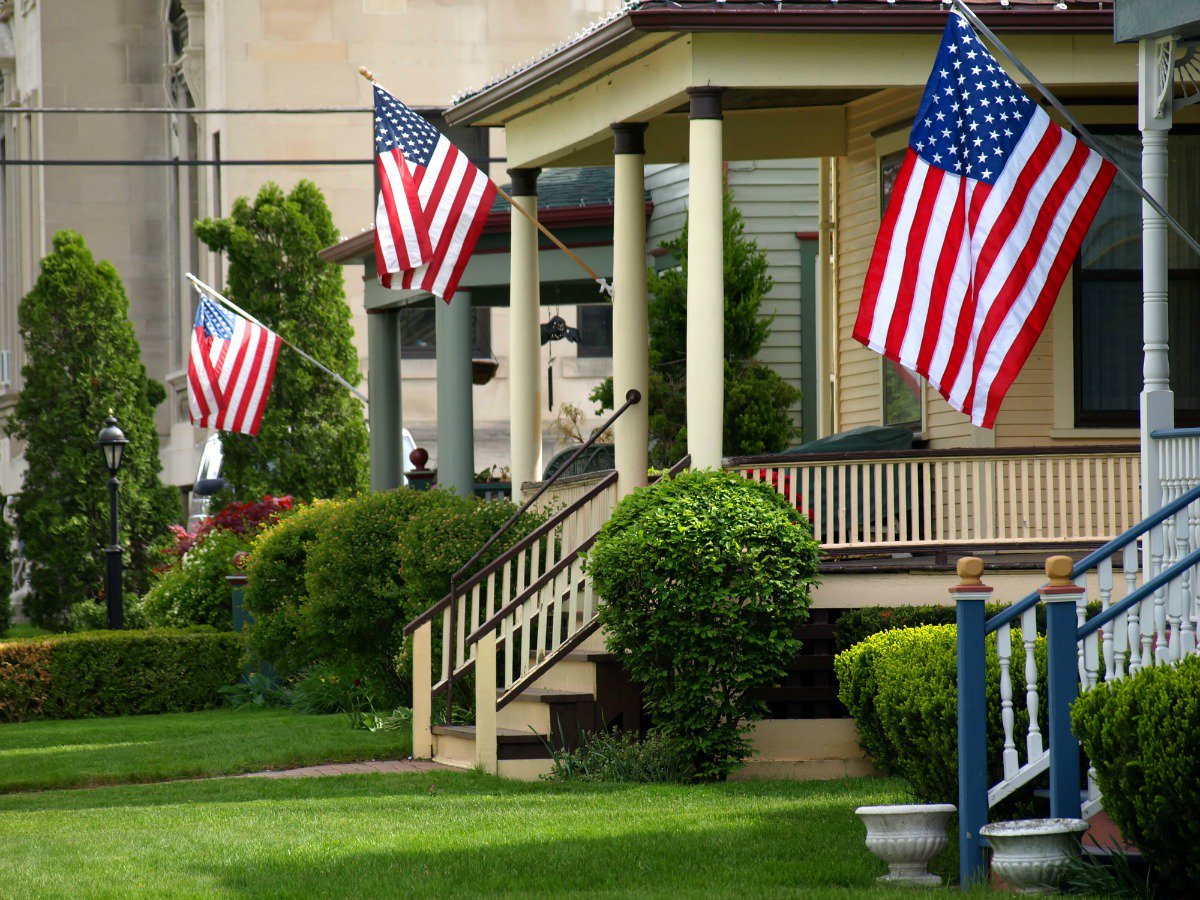 Flags out?
Have a Great Night!
Q
Mar 25, 2019 1:43:27 PM EDT
THE ONLY WAY TO REGAIN THE TRUST (RE: EQUAL JUSTICE UNDER THE LAW RE: WH RE: INTEL RE: FBI RE: DOJ RE: SENATE RE: CONGRESS RE: FVEY RE: OUR GOV'T) OF THE 'MAJORITY' OF THE AMERICAN PEOPLE IS TO PROVIDE TRUTH, TRANSPARENCY, AND PROSECUTION OF ALL THOSE WHO 'KNOWINGLY' TOOK PART IN THIS ILLEGAL MANUFACTURED EFFORT [ATTEMPTED COUP] TO TAKE DOWN THE PRESIDENT OF THE UNITED STATES [1]. [1] OPENS THE DOOR. THE GREAT AWAKENING. Q