US Cyber Task Force Ready, Comms Online, Judgement Day Coming – Ep. 2707
Watch The X22 Report On Video
Trump calls out Krugman, Krugman told people to get out the market when Trump was elected, the reason was that they were going to bring it down and they wanted the people to start the avalanche. Ukraine legalizes Bitcoin, [CB]/[DS] agenda halted, can't ban confiscate or ban crypto. The patriots are pushing the offensives forward, satellites are online, cyber task force ready, the [DS] is trying to shift the narrative focus with Ukraine, this will not work, the information is going to flow hard and fast and the [DS] will be in panic mode. Judgement day is coming and the [DS] is preparing to shutdown communications. This will fail in the end. The pandemic narrative fell apart, but Gates warns of another pandemic, think operation warp speed.
---
Economy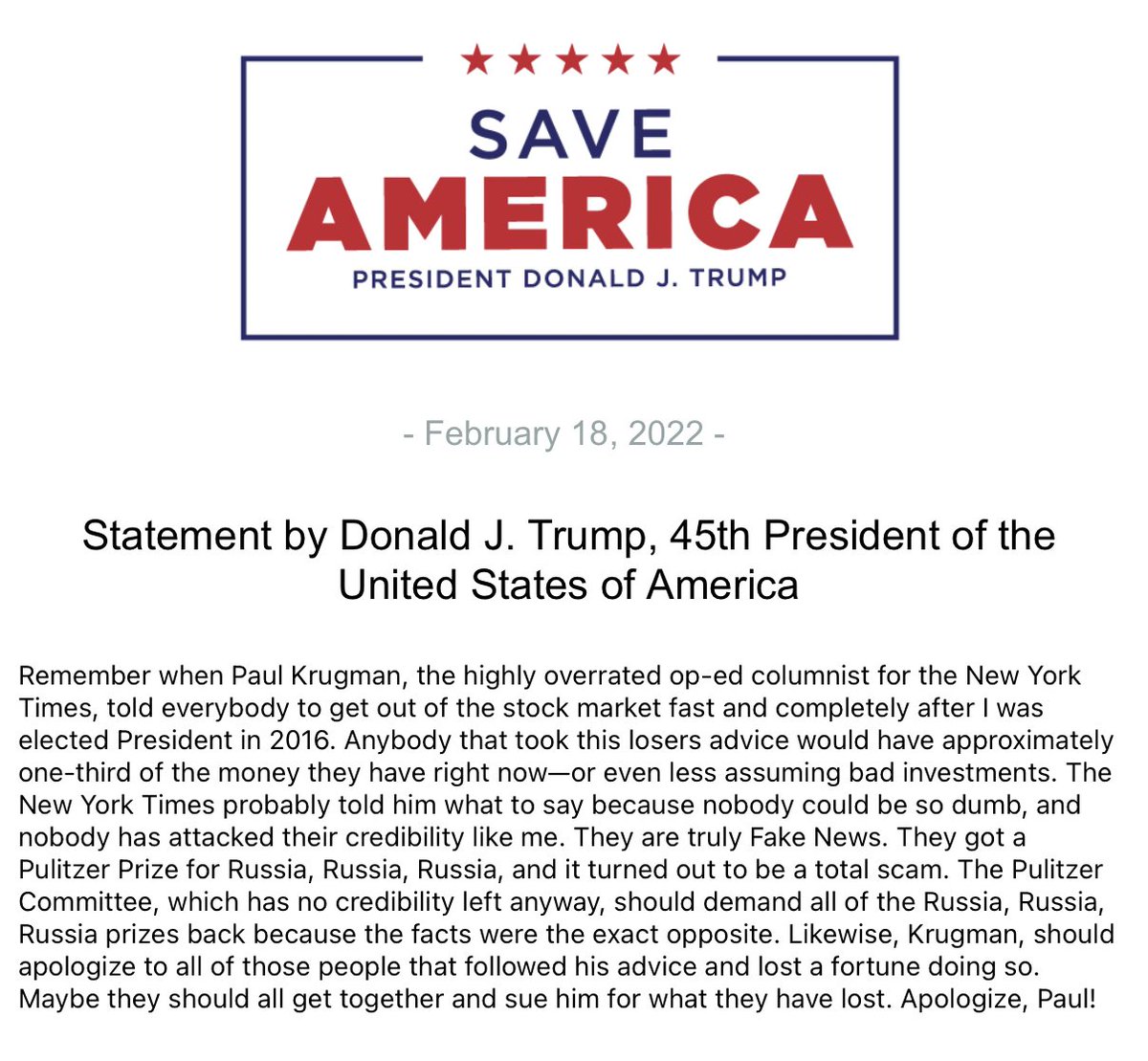 The Fed is going to hike rates regardless if Biden's nominees are confirmed, economists say
While there are reasons to confirm President Biden's Fed nominees, economists say concern that the central bank won't act to rein in inflation aren't be among them.
It is virtually guaranteed that the Fed will hike interest rates to combat prices even if Sarah Bloom Raskin, Lisa Cook and Philip Jefferson are yet to be confirmed.
 Source: nbc.com
Bitcoin is now legal in Ukraine as its parliament approved in final reading a bill that caters to the president's recommendations. However, the country has not made bitcoin a legal tender.
"The new law is an additional opportunity for business development in our country. Foreign and Ukrainian crypto companies will be able to operate legally, and Ukrainians will have convenient and secure access to the global market for virtual assets," Mykhaylo Fedorov, Ukrainian minister of digital transformation, said in a statement.
Source: zerohedge.com
---
Political/Rights
Bernie Madoff's sister and her husband dead in suspected murder-suicide: cops
A female New York state trooper has accused former Democratic New York Gov. Andrew Cuomo of sexual harassment, filing a lawsuit Thursday against Cuomo and others.
The anonymous trooper accused Cuomo — who recently saw similar charges against him dismissed — of kissing her on the cheek and caressing her belly button with the palm of his hand while she was on duty in 2019, according to the Washington Examiner. 
Source: dailycaller.com
Border Czar Kamala Harris Heads To Secure Ukraine's Border But Won't Protect Her Own Country's https://t.co/1jOhzyn11v

— Mollie (@MZHemingway) February 18, 2022
The French model agent who was charged with securing girls and young women for billionaire pedophile Jeffrey Epstein was found dead Saturday in a Paris prison cell, prosecutors said.
Jean-Luc Brunel, 74, was found hanged by his bedsheets in his cell around 1:30 a.m. local time at La Sante prison, the Paris prosecutor's office told CNN.
Brunel, who ran Karin Models in Paris, and later formed MC2 Model Management with Epstein, was awaiting trial on charges of sexual assault and rape. He was also being investigated for trafficking minors, including girls as young as 12 years old, according to French news reports.
Brunel's lawyers insisted that the disgraced fashion fixture's "decision was not guided by guilt, but by a sense of injustice."
Source: nypost.com
What are the odds? pic.twitter.com/fgAR46uXYt

— Brick Suit (@Brick_Suit) February 19, 2022
Ghislaine Maxwell's family 'fears for her safety' after Brunel found dead
Source: nypost.com
Authorities in California arrested nearly 500 people in a sex trafficking crackdown in the state. 
American Military News reports:
statewide crackdown on human trafficking that resulted in nearly 500 arrests and more than 80 sex workers being helped.

Los Angeles County Sheriff Alex Villanueva detailed the results of the weeklong campaign, dubbed Operation Reclaim and Rebuild, which involved dozens of agencies around California.
Source: thegatewaypundit.com
---
Geopolitical/Police State
---
War
Joe Biden has been convinced by U.S. intelligence that Russian President Vladimir Putin has made a decision to invade Ukraine.  Now, if he could just get U.S. intelligence to convince Putin of the same premise, then things would be better – or something. WATCH (42 seconds):
Source: theconservativetreehouse.com
French President Emmanuel Macron and Russian President Vladimir Putin have agreed to take urgent measures to deescalate the situation in eastern Ukraine, the Elysee said in a Sunday statement which followed a phone call between the two leaders in which Putin also discussed his intention to withdraw Russian troops from Belarus.
Putin and Macron agreed to resume work within the 'Normandy format' – which will also include German and Ukrainian leadership – and will begin discussions "in the next few hours" in order to "obtain a commitment from all the stakeholders" on a ceasefire on the line of contact.
Meanwhile, a meeting between French and Russian ministers of foreign affairs, Jean-Yves Le Drian and Sergey Lavrov, will occur "in the coming days."
Source: zerohedge.com
---
False Flags
Calgary, Canada.. this is absolutely epic.. this is a revolution

RESIST 🔥❤️🔥 pic.twitter.com/QwblbsPSUe

— Pelham (@Resist_05) February 19, 2022
Toronto earlier 👊🏼🇨🇦pic.twitter.com/HHUtvgxxed

— Art TakingBack 🇺🇸 (@ArtValley818_) February 19, 2022
Leaked Ottawa Police and Royal Canadian Mounted Police messages show the depths of callousness and cruelty that have infected the Canadian police forces.
Independent journalist Keean Bexte obtained the messages. The messages leaked from a private police chat (phone numbers censored here to prevent 'doxxing' claims) are disturbing.
The Ottawa Police claimed that the woman threw her "bike" at law enforcement.
However, video shows that it was a disability scooter and it had nothing to do with the incident.
"
Then the crew celebrated the hard day of cracking down on peaceful protesters by having a few brews.
"Cheers crew! Here's to some sweet OT (overtime) this weekend for our on call  members," Nixon said. "Don't kick all of them out until next weeks (sic) group gets our turn."
Source: beckernews.com
The UN should investigate these human rights abuses ordered by @JustinTrudeau. https://t.co/aVGo116H9i

— Richard Grenell (@RichardGrenell) February 19, 2022
Canada condemns #Cuba's harsh sentencing following the July 2021 protests. 🇨🇦 strongly advocates for freedom of expression and the right to peaceful assembly free from intimidation. We stand with the people of 🇨🇺 in their aspiration for #democracy.

— Foreign Policy CAN (@CanadaFP) February 17, 2022
All those blue checks who cared so much about "police brutality" must have got their twitter outrage fingers cut off today
Alberta will launch a Court challenge of the Trudeau government's invocation of the Emergencies Act, because it is:

– unnecessary
– disproportionate
– violates natural justice
– intrudes into provincial jurisdiction
– creates a dangerous precedent.https://t.co/STzgfZzhBk

— Jason Kenney (@jkenney) February 19, 2022
Chrystia Freeland with George Soros
Trudeau's deputy, Chrystia Freeland, who is also a director of Klaus Schwab's World Economic Forum and the granddaughter of a prominent Nazi, says she plans to make her emergency powers permanent.
Freeland made the announcement this week after Trudeau invoked the Emergency Act on Monday.
Via Ezra Levant from Rebel News.
On Monday Canada's Deputy Prime Minister and Minister of Finance, Chrystia Freeland, announced crowdfunding for Canadian freedom protesters and truck drivers will be considered 'terrorist financing.' 
The Trudeau regime is being led by Trudeau and by the granddaughter of a high-level Nazi under Hitler.  Chrystia Freeland's family has Nazi connections.  Her grandfather was a high level Nazi who was being sought after the war by Polish authorities.
Freeland's mother was Halyna who was the daughter of Nazi Khomiak.  He was pictured with higher-up Nazis in Poland.
Freeeland is a fan of George Soros and has been pictured with him more than once.  Soros helped the Nazis in his youth.  Freeland's grandfather was only three levels down from Hitler.
Source: thegatewaypundit.com
The Freedom Convoy that is slated to take place coast-to-coast in the United States from California to Washington D.C. is anticipating 1,000 U.S. truckers at its starting destination. It has announced the protest route, stops and a start dates.
Source: beckernews.com
"LET'S END IT": @RandPaul says he plans to force a vote on ending the federal mask requirement for air travel.

The Senator tells 'Spicer & Co.' he's "as mad as the Canadian truckers are" about pandemic restrictions he seeks to put an end to. @seanspicer @LyndsayMKeith pic.twitter.com/iKR0xf83h5

— Newsmax (@newsmax) February 16, 2022
TAKE A LISTEN
Bill Gates says Covid risks have 'dramatically reduced' but another pandemic is coming
Black female high school student is identified as vandal behind racist graffiti that saw Sacramento high school's water fountains scrawled with 'white' and 'colored'
The McClatchy High School student who scrawled the Jim Crow-era graffiti was not identified
The school district's community liaison said that it was a 'prank that went sideways' 
A surveillance camera confirmed the girl's confession
There have been three other racially charged incidents in the school district
'KKK' and the N-word were written on a wall at Lincoln Elementary
West Campus High School administrator was targeted with racist graffiti near her parking spot
A Kit Carson High School teacher was fired for saying a racial slur in class
The school district as promised 'appropriate disciplinary action'
NAACP leader cast doubt on the district's investigation
Youth activist Berry Accius said that race should not play a role when it comes to punishment and called the act 'ignorant'
A black female high school student has admitted to scrawling racist graffiti over the drinking fountains at her high school, district authorities said Friday, telling them that it was a 'prank that went sideways.'
The vandal inked the words 'colored' and 'white' over two water fountains at McClatchy High School in what appeared to be a reference to segregated drinking fountains found during the era of segregation in the Jim Crow South.
The unnamed girl was caught on video and confessed to the act. The school district has said she will still be disciplined.
'It was a prank that went sideways is my characterization of what the young woman said in her confession,' Mark Harris, a community liaison for the Sacramento Unified School District, said at a press conference.
He said that he didn't think that the girl was motivated by racism or hate.
'I don't believe those words that were on those water fountains were racist,' Harris said. 'I do not believe they were hate crime or hate speech. Part of it quite honestly is because the admitted perpetrator is a young African American woman.'

Source: dailymail.co.uk.com
---
Q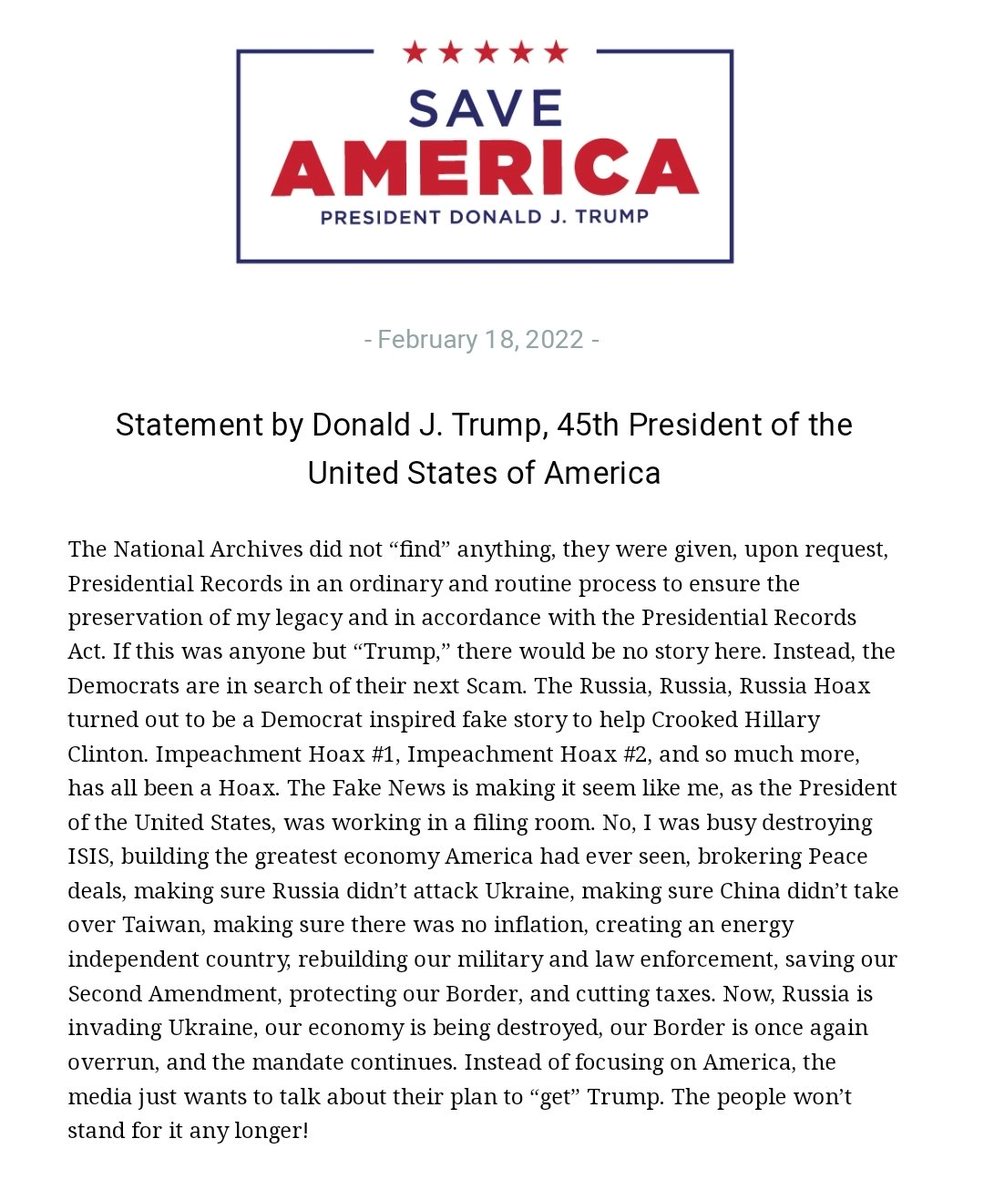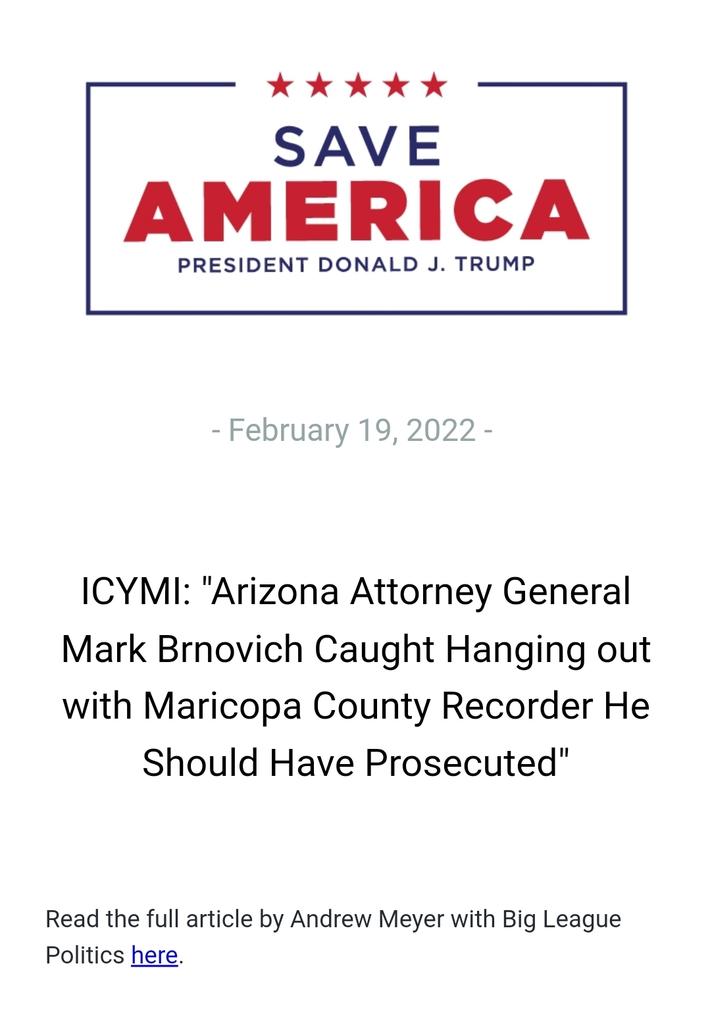 Source: thegatewaypundit.com
Good Morning !

Launches tomorrow
Apparently works like Twitter
Block function is operational
DM function to follow
Edit function to follow
Verified function to follow
Currently requires invitation to beta test
Did we get one? Nope https://t.co/nvF3SBkxDw

— Rasmussen Reports (@Rasmussen_Poll) February 20, 2022
Biden quietly sent a letter to corrupt Speaker Pelosi and the US House and Senate stating that he is extending the National Emergency related to COVID beyond the current termination date of March 1st with no end date provided. 
 
Here is Biden's notice:
Section 202(d) of the National Emergencies Act (50 U.S.C. 1622(d)) provides for the automatic termination of a national emergency unless, within 90 days prior to the anniversary date of its declaration, the President publishes in the Federal Register and transmits to the Congress a notice stating that the emergency is to continue in effect beyond the anniversary date.  In accordance with this provision, I have sent to the Federal Register for publication the enclosed notice stating that the national emergency declared in Proclamation 9994 of March 13, 2020, beginning March 1, 2020, concerning the coronavirus disease 2019 (COVID-19) pandemic, is to continue in effect beyond March 1, 2022.

There remains a need to continue this national emergency.  The COVID-19 pandemic continues to cause significant risk to the public health and safety of the Nation.  More than 900,000 people in this Nation have perished from the disease, and it is essential to continue to combat and respond to COVID-19 with the full capacity and capability of the Federal Government.

Therefore, I have determined that it is necessary to continue the national emergency declared in Proclamation 9994 concerning the COVID-19 pandemic.
Source: thegatewaypundit.com
Capitol fence to be reinstalled ahead of Biden's State of the Union address
Security officials will reinstall fencing around the Capitol next week ahead of President Biden's State of the Union address, Fox News can confirm.
U.S. Capitol Police are bracing for a potential "Freedom Convoy" truck protest to Washington D.C. for the March 1 speech. "Freedom Convoy" truckers have been protesting in Canada for weeks against coronavirus restrictions and vaccine mandates and caused a temporary blockade of the busy Ambassador Bridge border crossing between Windsor and Detroit.
Source: foxnews.com
801
Q
!UW.yye1fxo
02/21/2018 02:11:10
 ID: b0b86f
Archive Bread/Post Links: 448242 / 448584
Direct Link: 448584
802
Q
!UW.yye1fxo
02/21/2018 20:20:23
 ID:
Archive Bread/Post Links: 452 / 452
Direct Link: 452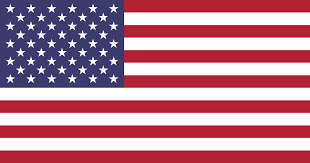 Filename:
a7ffb193423f0a5573ceeefe7c2a7863d1fc6d1559e28d93af78f63e36cdceed.png
803
Q
!UW.yye1fxo
02/21/2018 20:34:05
 ID:
2876
Q
!!mG7VJxZNCI
02/22/2019 18:03:30
 ID: 592cf1
Archive Bread/Post Links: 5332934 / 5333408
Direct Link: 5333408