Durham Has Only Scraped The Surface, Peace Through Strength – Ep. 2708
Watch The X22 Report On Video
The [CB]/[DS] banking secrets are being revealed, this was done using the [CB] system not crypto or gold. Corruption at the highest level which is still going on in other banking systems. In the end the people will reject the [CB] system. The [DS] is having a very difficult time with Truth Social, they are in panic mode. Putin just ran circles around the Biden administration, Putin just established peace and took another piece of Ukraine away from the [DS]. Durham has only scraped the surface, he will produce more information that goes much deeper. Devolution is moving forward, the military is the only way and the military is in control.
---
Economy
Credit Suisse has had an extremely difficult year already, but on Sunday, dozens of respected newspapers and other media organizations from around the globe dealt Switzerland's second-largest bank by assets a major blow: releasing reporting on leaked banking records involving 18,000 clients considered "sensitive" for their ties to corrupt government officials, Middle Eastern autocrats or foreign spymasters.
"Suisse Secrets" – as the leak is being called – was coordinated by the Organized Crime and Corruption Reporting Project, the same organization that spearheaded "the Pandora Papers" and the "Pegasus Project", two earlier major leaks involving topics ranging from official corruption to illicit software-enabled surveillance.  Like "Pandora" and the "Panama Papers" leaks, the records exposed in "Suisse Secrets" are mostly financial data, like bank account information, as well as evidence of internal red flags that were routinely raised – and routinely ignored.
The statistics from the leak are staggering: 18K accounts, $100 billion in aggregate assets, some of the accounts dated back to the 1940s, but even the most recent details date to the mid-2010s, allowing Credit Suisse's PR team enough plausible deniability to insist that most of the accounts exposed in the leak have already been closed.
Source: zerohedge.com
Jamaica is in the midst of launching – and perhaps more importantly marketing – its own e-currency. The country's CBDC is called the Jam-Dex and it carries with it a tagline as relaxed as the nation's reputation: "No cash, no problem".
Jamaica took the digital currency for a test run in 2021, and Prime Minister Andrew Holness has decided that it would be launched nationally this year. The Bahamas
Source:zerohedge.com
---
Political/Rights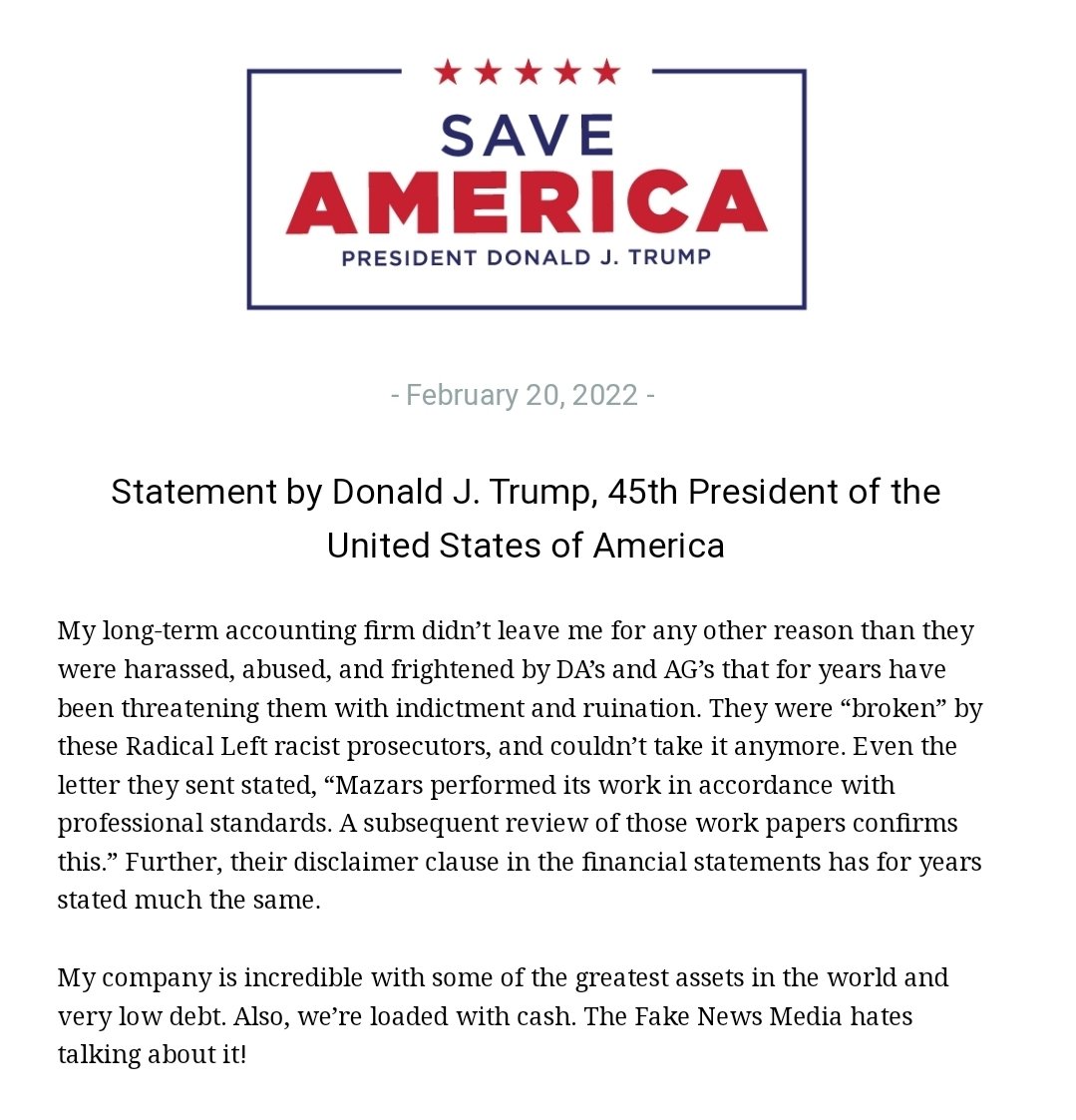 ---
Geopolitical/Police State
---
War
Vladimir Putin doesn't want me to be President. He doesn't want me to be our nominee. If you're wondering why — it's because I'm the only person in this field who's ever gone toe-to-toe with him.

— Joe Biden (@JoeBiden) February 21, 2020
Source: tsarizm.com
1026
Q
!xowAT4Z3VQ
04/04/2018 21:41:40
 ID: 33a3aa
Archive Bread/Post Links: 898808 / 899345
Direct Link: 899345
Anonymous
04/04/2018 21:35:04
ID:5ad204
Archive Bread/Post Links: 898808 / 899237
Direct Link: 899237
>>899203
Putin is running the show.

— Tom Fitton (@TomFitton) February 21, 2022
An FBI report obtained by Newsweek has called on the U.S. private sector to be prepared for potential state-sponsored cyber attacks to be launched by Russia as tensions over Ukraine threaten to spill into an all-out conflict in Eastern Europe.
"Russian APT actors have targeted a variety of U.S. and international critical infrastructure, including entities in the Defense Industrial Base, Healthcare and Public Health, Energy, Telecommunications, and Government Facilities Sectors," the report said. "Finally, Russian malign influence actors have and continue to use social media accounts, overt and covert media connections, and message amplification to articulate narratives designed to exclude or isolate groups from one another."
Source: newsweek.com
---
Cyber Attacks
---
False Flags
The Royal Canadian Mounted Police (RCMP) published a statement on Sunday confirming it is "looking into" alleged screenshots of text messages circulating this weekend that appear to show Canadian officers celebrating police brutality against the Ottawa Freedom Convoy protesters.
Source: breitbart.com
Source:  en.irna.ir
Source: postmillenial.com
Following Canadian Prime Minister Justin Trudeau's crackdown on citizens in Ottawa protesting COVID-19 restrictions, Republican Rep. Yvette Herrell (R-NM) compared Trudeau's actions to "an authoritarian regime like Venezuela" and said she plans to introduce legislation to grant asylum to Canadian freedom protesters.
Justin Trudeau's heavy-handed crackdown against peaceful protesters in Canada is not the action of a Western Democracy, but that of an authoritarian regime like Venezuela… 1/3 https://t.co/vT74lCgOZh

— Rep. Yvette Herrell (@RepHerrell) February 19, 2022
I am introducing legislation that would temporarily grant asylum to innocent Canadian protesters who are being persecuted by their own government. We cannot be silent as our neighbors to the north are treated so badly. 3/3

— Rep. Yvette Herrell (@RepHerrell) February 19, 2022
Source: postmillenial.com
COVID-19 rules boomerang on Democrats
Coronavirus policies are beginning to boomerang on Democrats as polls underscore public fatigue with both the pandemic and the rules and mandates intended to keep it from spreading.
Source: thehill.com
The Centers for Disease Control and Prevention (CDC) has been collecting detailed information on Covid hospitalizations for more than a year which breaks cases down by age, race and vaccination status – yet the agency has withheld most of it from the public according to the New York Times.
What's more, the agency appears to have selectively published information to support messaging behind boosters.
According to a federal official familiar with the CDC's data collection, the agency has been keeping tabs on patients since Covid vaccines were rolled out – and that the agency has been reluctant to make those figures public "because they might be misinterpreted as the vaccines being ineffective."
Source: zerohedge.com
CDC ADMITS TO LYING – VACCINES & MASKS DO NOT WORK 
Let's be clear. The only way the vaccine data could be interpreted as ineffective by us "misinformation spreaders" is if the data shows the vaccines don't work.
This is like the authors of the Bangladesh study not revealing that purple cloth masks showed no signal at all. Those authors deliberately hid that data from view to prevent mask hesitancy. They didn't even mention it at all. Not a single sentence. Why? Because it destroys their study.
Similarly, the CDC long-standing policy is that no information can be released that may threaten the national vaccination initiative. This isn't about public safety. This is about not letting the public know the vaccines are killing them.
Summary
Let's be clear. The CDC hid the data because the data proves they were lying to us. That's the real reason.
Source: theburningplatform.com
Ivermectin for Prevention and Treatment of COVID-19 Infection: A Systematic Review, Meta-analysis, and Trial Sequential Analysis to Inform Clinical Guidelines
Ivermectin prophylaxis versus no ivermectin prophylaxis
Three studies involving 738 participants evaluated ivermectin for COVID-19 prophylaxis among health care workers and COVID-19 contacts. Meta-analysis of these 3 trials, assessing 738 participants, found that ivermectin prophylaxis among health care workers and COVID-19 contacts probably reduces the risk of COVID-19 infection by an average of 86% (79%–91%) (3 trials, 738 participants; aRR 0.14, 95% CI 0.09–0.21; 5.0% vs. 29.6% contracted COVID-19, respectively; low-certainty evidence; downgraded due to study design limitations and few included trials) (Figure 15). In 2 trials involving 538 participants, no severe adverse events were recorded (SoF Table 4).
Once again, the demand for racism exceeds the supply. pic.twitter.com/8TlMXtS3UT

— Libs of Tik Tok (@libsoftiktok) February 20, 2022
---
Q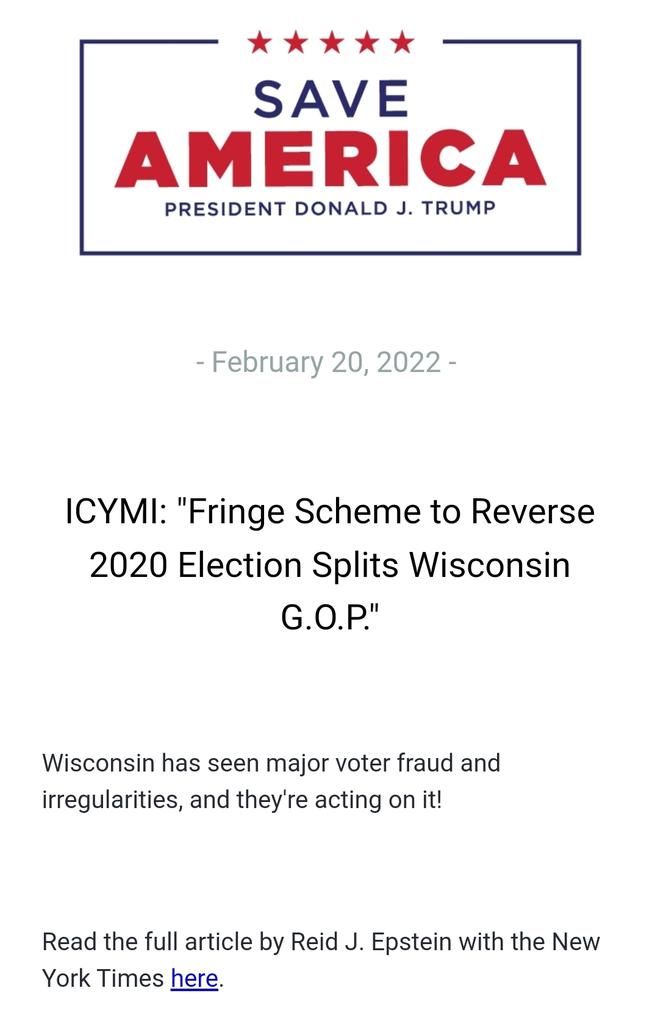 The DOJ investigated Clinton over her emails. Repeatedly.

Now it's been confirmed that Trump took classified materials to Mar-a-Lago in violation of law.

It's one thing for Trump to be breathtakingly hypocritical.

But the DOJ must enforce the law – consistently.

— Adam Schiff (@RepAdamSchiff) February 20, 2022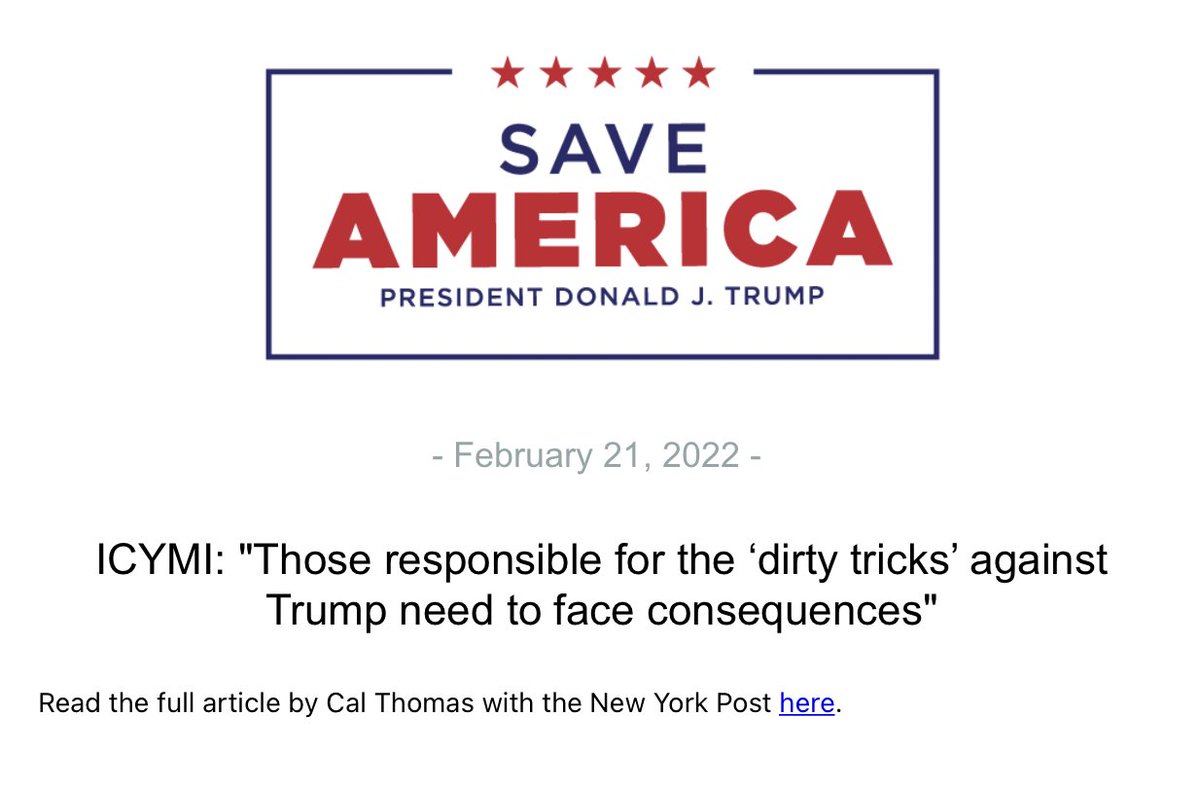 "Dirty tricks" was a term used to describe the behavior of operatives within the Nixon administration to smear the reputations of opponents and undermine the appeal of certain politicians. Fifty years ago, these dirty tricks included a false allegation that Sen. Henry "Scoop" Jackson (D-Wash.) had fathered an illegitimate child with a 17-year-old girl and the break-in at Democratic National Committee headquarters at thWatergate complex in Washington, DC, when Nixon aides and operatives attempted to find materials the Nixon team could use against his perceived "enemies."
Dirty tricks are not to be confused with negative campaigning, which at least has some component of truth, but a filing by special counsel John Durham that alleges the 2016 presidential campaign of Hillary Clinton paid a technology company to "spy" — the word Donald Trump uses — on his presidential campaign, goes beyond dirty tricks into the illegal.
A New York Post editorial summed up the matter: "A candidate for president (Hillary Clinton) weaponized the nation's Justice Department to pursue an investigation into their political opponent based on what they knew were lies. Americans were wiretapped! Some were entrapped for flimsy claims of perjury. The director of the FBI (Comey) went into the Oval Office to tell the president that there was a sexual rumor floating around, so that it could be promptly leaked to the media. 'Outrageous' doesn't cover it."
Durham has only scraped the surface of what could, if proven, be the biggest scandal in American political history, and that's saying something, given past political behavior by members of both parties.
Will the grand jury that is being presented this information issue indictments of higher-ups? Will the powerful and connected finally be held accountable when so many have escaped accountability in the past? News consumers may have to search for their information in other places than the major media because so far they are engaging in a coverup that resembles what Richard Nixon did.
Source: nypost.com
Happening now outside of Trump International Golf Club in the GREAT state of FLORIDA! AWESOME!!

Happy President's Day, 4️⃣5️⃣🇺🇸🦅 pic.twitter.com/6rryLx4aby

— Dan Scavino Jr.🇺🇸🦅 (@DanScavino) February 21, 2022
Q

 

!ITPb.qbhqo

 

ID: 571cae

 No.60336

What was the USSS codename for Hussein?
[R]
Define.
They knew all along.
Expand your thinking.
Q