We Caught Them All, I Don't Think They Will Get Away With It, Think Military – Ep. 2572
Watch The X22 Report On Video
China is now feeling the pain, the entire economic system cannot be sustained on the [CB] rule. Manchin will only support a 1 trillion dollar infrastructure bill that has nothing to do with infrastructure. [JB] explaining how wages are going to go up and health care is going to be given to everyone. [JB] National Economic Council says there is no inflation if you strip out beef, poultry and pork. The country will be running red in October. The country is waking up, they realize [JB] was installed, he lies and he is a puppet of the [DS]. Everything he touches the opposite happens, it's like he was setup to fail. The AZ forensic audit is about to be produced and Liz Harris revealed the canvassing numbers in AZ. The [DS] is now panicking. The [DS] was taken by surprise in 2016 and in 2020 the patriots not only surprised them but they caught it all. It is the largest sting operation the country has ever seen.
---
Economy
The Biden administration is calling on Congress to allocate $6.4 billion to assist in the "multifaceted historic mission" of relocating Afghan refugees.
Source: washingtonexaminer.com
After publicly urging Democrats to put a "pause" on President Joe Biden's $3.5 trillion spending bill, Sen. Joe Manchin (D-WV) has reportedly said in private he will only support a $1 trillion price tag.
Source: breitbart.com
The expression "in the red" is used to describe a business that has negative earnings. This is in contrast to the phrase "in the black" which refers to businesses that are profitable and financially solvent.
The terms are derived from the color of ink used by accountants to enter the figures in the financial statements. Before the use of computers, accountants recorded income in black ink and expenses in red ink. For example, when the business posted positive earnings, the figure was marked in black. As opposed this, the debits, losses and debts were marked with red.
---
Political/Rights
---
Geopolitical/Police State
Do you remember when AOC said we had only 12 years left on the planet due to "climate change"?
 
The Arctic sea ice is the highest it's been in nine years. It has increased more than 30% from last year.
And Antarctic sea ice is way above normal.
Via Tony Heller.
Source: thegatewaypundit.com
---
War
  Joe Biden said he was confident the Taliban would work with neighboring dictatorships, including China.
Source: breitbart.com
China is considering deploying military personnel and economic development officials to Bagram airfield, perhaps the single-most prominent symbol of the 20-year U.S. military presence in Afghanistan.
The Chinese military is currently conducting a feasibility study about the effect of sending workers, soldiers and other staff related to its foreign economic investment program known as the Belt and Road Initiative in the coming years to Bagram, according to a source briefed on the study by Chinese military officials, who spoke to U.S. News on the condition of anonymity.
---
False Flags
Poll: 3/4 of unvaxxed Americans would quit job if shot required
Nearly three-quarters of unvaccinated Americans would quit their jobs if they were required to take a COVID-19 vaccine, according to a poll by the Washington Post and ABC News.
Only 16% of unvaccinated workers would get a COVID shot if required, 35% would ask for a medical or religious exemption and 42% would quit their job, according to the results reported by the Daily Caller.
Source: wnd.com
As suspected, the CDC's current school mask guidance came at the request/demand of the teachers unions, not based on any science.

Thanks @apublictrust for obtaining the emails.https://t.co/pKETNBVAKG pic.twitter.com/Wv09J2JK6t

— Phil Kerpen (@kerpen) September 8, 2021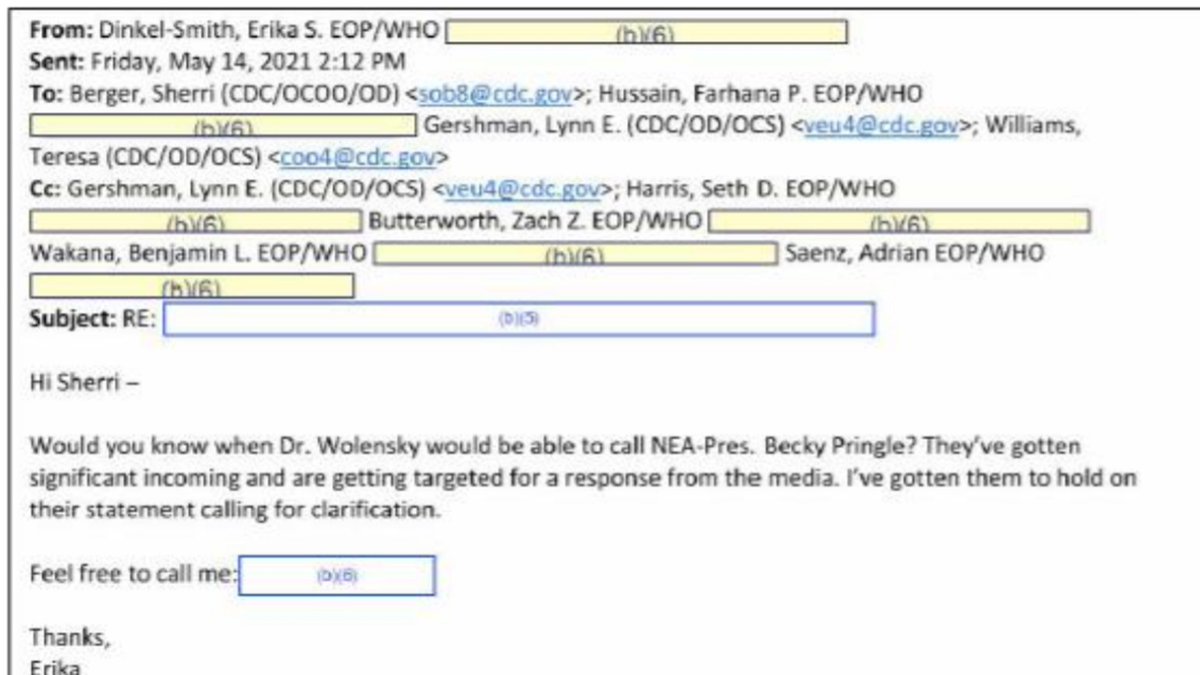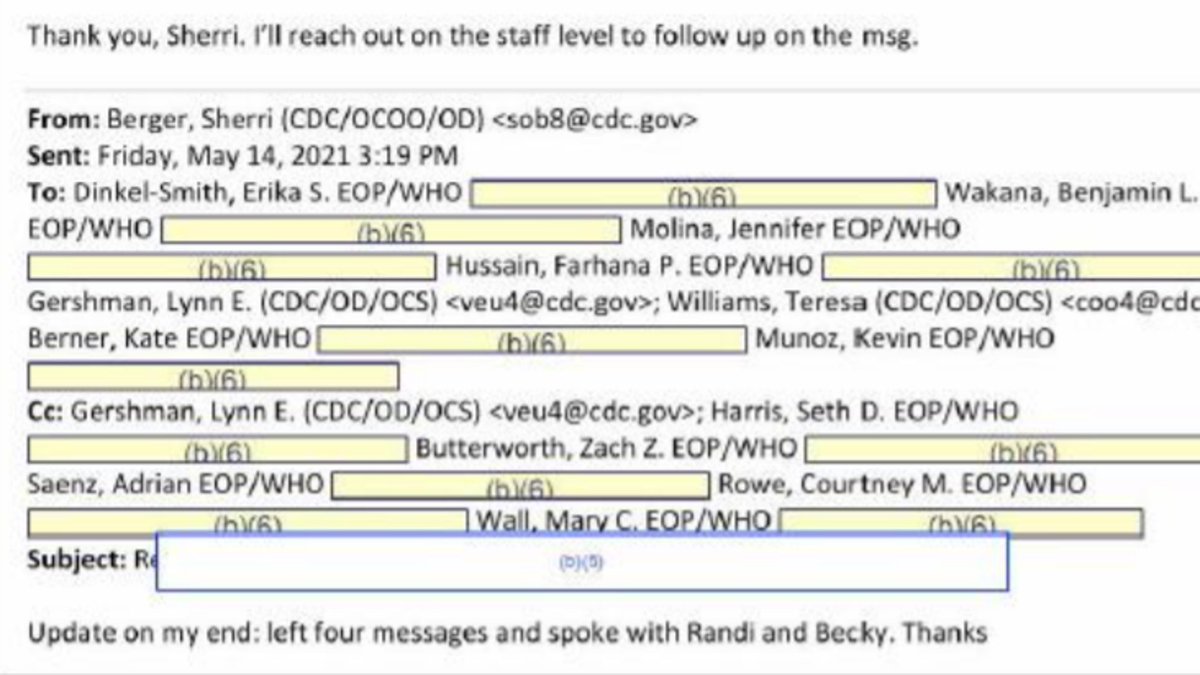 This explains the mystery of the CDC "science brief" that contained no science supporting the mask guidance and excluded the CDC's own most relevant study, which found no significant effect of student mask mandates.https://t.co/CdzLh5q8g0

— Phil Kerpen (@kerpen) September 8, 2021
Amazing how quickly the "free healthcare is a human right" crowd turned into the "deny care to people we disagree with" crowd. Ladies & gentlemen, that's just one of many reasons government being in charge of everyone's health doesn't work and quickly becomes very dangerous. pic.twitter.com/DX9PVvWO0S

— Robby Starbuck (@robbystarbuck) September 8, 2021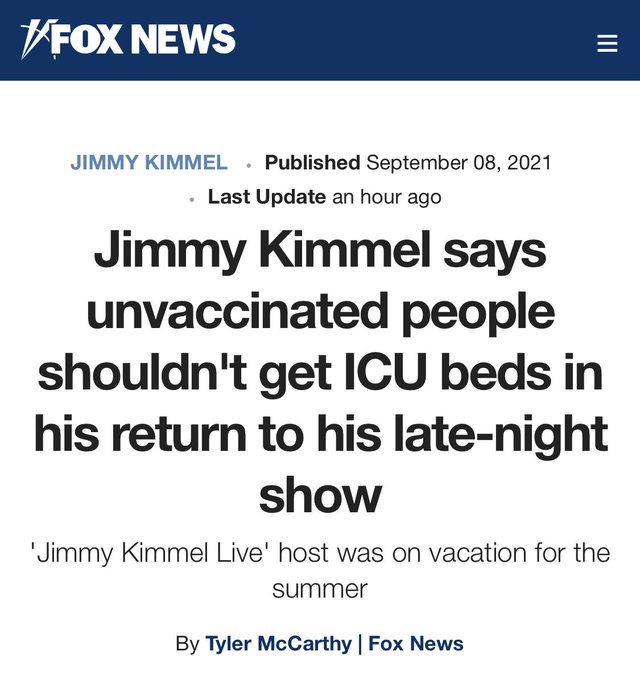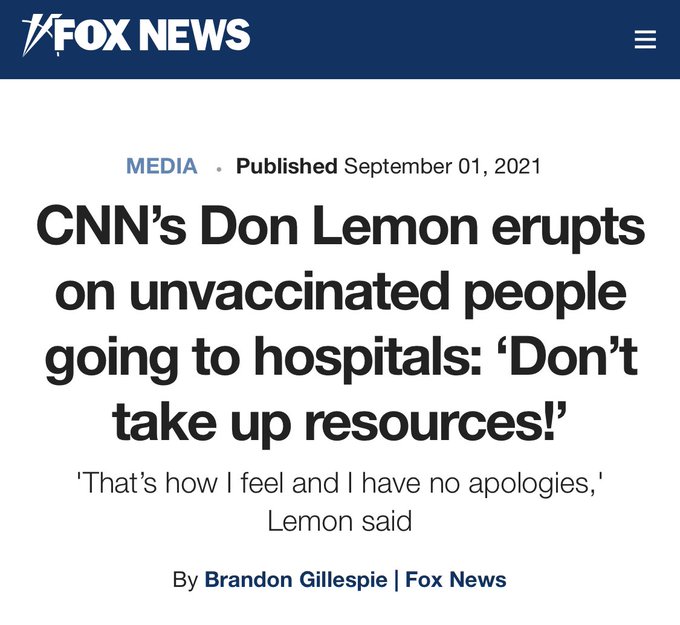 The City of Tucson announced that it will be putting its COVID-19 vaccine mandate for its employees on pause after the state's attorney general declared it illegal.
Attorney General Mark Brnovich says that his office determined the City of Tucson's COVID-19 vaccine mandate for public employees does violate state law for purposes of S.B. 1487, and also is in direct conflict with the Governor's Executive Order 2021-18. Therefore, Tucson must rescind or amend the ordinance to come into compliance with state law, or lose millions of dollars in state funding.
"Tucson's vaccine mandate is illegal, and the city could be held liable for attempting to force employees to take it against their beliefs," said Attorney General Mark Brnovich. "COVID-19 vaccinations should be a choice, not a government mandate."
Source: breaking911.com
---
Q
 This afternoon, President Trump sent shockwaves through the establishment GOP and Democrat Party when he jumped into the Michigan primary election races and endorsed pro-election integrity candidate Kristina Karamo.
 
Source: thegatewaypundit.com
AG Pax­ton: Fifth Cir­cuit Issues Sanc­tions Against Perkins Coie
Attorney General Ken Paxton  announced that the United States Court of Appeals for the Fifth Circuit ordered sanctions against Marc Elias and other attorneys at Perkins Coie, an international law firm that provides counsel for the Democratic National Committee, for submitting redundant and misleading supplemental filings in their attempt to re-implement straight-ticket voting in Texas. When submitting the supplemental filings, Perkins Coie also failed to notify the Court that a nearly identical previous motion was denied. Failure to disclose this denial violated their duty of candor to the Court. The Court also recommended that Perkins Coie attorneys review the Court's rules of professional conduct and complete one hour of Continuing Legal Education in the area of Ethics and Professionalism, specifically candor with the court.
"Elias has no valid explanation for the misleading submissions to the Fifth Circuit. Even when they were notified that they violated ethical rules, they refused to withdraw their motion. They were aware of their violations and blatantly chose to ignore them," said Attorney General Paxton. "I thank the Court for issuing these much-needed sanctions. Perkins Coie cannot continue to mislead the Court, especially in a matter as important as election integrity."
Source: texasattorneygeneral.gov
Liz's team knocked on more than 11K doors and received 4,570 responses.  Of those, more than a third (34.23%) said they voted in the 2020 election, yet Maricopa County records list them as not having voted.  
The canvass report explains: "Extrapolating these results to the entire county, which can be done at a scientifically correlated confidence level of 95%, it is estimated that 173,104 voters had their votes stolen. Given the canvass confidence interval of 1.5, this number technically ranges from 165,518 to 180,690 voters."
Liz Harris discussed other irregularities unearthed by her team's Maricopa County canvass. These errors included voters who said they voted in person but are recorded as voting by mail, voters who did not vote but are listed as having voted, and votes from vacant lots. 
"Added together, [this third set of] issues impacted 5.18% of mail-in votes, or an estimated 88,215 votes. More technically, with a 1.5 confidence interval, this number ranges from 62,670 to 113,759," the canvass report concluded.
In total, Team Liz Harris found an estimated:
173,104  Lost Votes
96,389  Ghost Votes
88,215   Other Issues
OBiden allegedly won Arizona by 10,457 votes. 

Stats from the canvass sent to me by @SKeshel
*canvassed two precincts fully & large sections of precincts throughout the county. Interviewed more voters than 75% of towns/cities in America have residents. Sample falls within 95% scientific accuracy for extrapolations. (1/5) 
1) 
Votes Lost of Stolen – not recorded at county level – 173,104 – suggests a large swap-out, discarding, or over-scrutinization of votes, perhaps why it took 10 days to finalize election in Arizona? Similar findings from Matt Braynard's studies in AZ. (2/5) 
2) Ghost (Phantom) votes – non-existent voters with votes recorded – 96,389 – 1 out of 20 interviewed identified at least one phantom voter registered to their address.
3) Voting method does not match official record – Est. 30,000 (3/5) 
Examples:
*Did not vote, but vote recorded
*Voted in person, but mail-in vote recorded instead
4) 
Liz proposes legislative action
5) 
173,104 voted but not record + 96,389 ghost + 30,000 method (4/5) 
299,493 IMPACTED VOTES = 1/7th of the 2.089mm total, and this is the low-end estimate.
CONCLUSION: ELECTION IN MARICOPA MUST BE DECERTIFIED (5/5) 
Arizona Candidate for Secretary of State Mark Finchem has Joined Wendy Rogers in calling for decertification of Arizona's electors.
Source: thegatewaypundit.com
Is ISIS Making a Comeback in Libya? | Opinion
Signs of this recovery are everywhere. Operating outside of camps in the Sahara desert and via sleeper cells in Sirte, the Islamic State's Libyan arm has been stockpiling weapons and raising funds by seizing trucks carrying fuel and taxing human traffickers and arms smugglers.
Source: newsweek.com
"We got 'em by surprise in 2016, and they said, 'We're never going to let that happen again,' and they cheated.

"And let's see whether or not they do get away, because I don't think they will get away with it." pic.twitter.com/deYMEPMRas

— Liz Harrington (@realLizUSA) September 8, 2021
Q 

!UW.yye1fxo

 

ID: 25b191

 No.563806

Is the stage set for a drop of HRC +++ + +++++(raw vid 5:5). EX-rvid5774.
We have it all.
Re_read re: stage.
The nail in many coffins [liberal undo].
[Impossible to defend].
[Toxic to those connected].
WE must work TOGETHER.
WE are only as strong as your VOICE.
YOU must organize and BE HEARD.
THIS is why they keep you DIVIDED and in the DARK.
WEAK.
We are here to UNITE and provide TRUTH.
Dark to LIGHT.
EVIL surrounds us.
WE are FIGHTING for you.
Where we go one, we go ALL.
The choice, to KNOW, will be yours [end].
Q