Insurgency, Next Counterinsurgency, Corn Is Developed & Will Soon Be Harvested- Ep. 2573
Watch The X22 Report On Video
The [CB]/[JB] are losing the economic narrative, people are feeling the economic strangling, countries are now feeling it. The people will soon demand answers of why this is happening. The Biden administration is now in the process of controlling the inflation narrative, [FF] on food supply coming. The [DS] is doing everything they can to make the people comply. The [DS] players are now pushing mandatory vaccinations. This is the same template other countries are following. The people must see it to believe it. The [DS] is panicking because the people are not complying with their demands, so now they are screaming to business and to the people you must do what we say or else. The patriots are in control, the corn is ready to harvested, get ready for the insurgency. The patriots have countermeasures in place its called the counterinsurgency.
---
Economy
Brief: ECB President Lagarde Says Eurozone Economy Is "Clearly" Rebounding; Speed Depends on COVID-19 and Vaccination Program
New Study Shows that Over Half of Migrants Are on the Public Dole 
According to John Binder of Breitbart News, "More than half of the nation's non-citizen population — including legal immigrants, foreign visa workers, and illegal aliens — use American taxpayer-funded welfare after arriving in the United States, a new analysis reveals."
Binder is basing his assertion from recent findings that Center for Immigration Studies Director of Research, Steven Camarota, was able to uncover. Camarota found that 55% of non-citizen households in America are on at least one form of welfare program. By contrast, 32% of households headed by native-born Americans use at least one welfare program.
Camarota's findings are based on his analysis of the U.S. Census Bureau's Survey of Income and Program Participation data from 2018. This US Census Bureau data showed that 49% of households with foreign-born residents heading them, which also includes naturalized American citizens, are on at least one welfare program.
When it comes to Medicaid and food stamp usage, foreign-born residents are far more dependent on these programs than native-born Americans. Take for example, Medicaid usage, which 33% of foreign-born residents depend on. Only 20% of native-born Americans use Medicaid.
In a similar vein, 31% of foreign-born residents are on food stamps and only 19% of native-born Americans use food stamps.
Source:  bigleaguepolitics.com
Why Are Food Prices Going Up So Rapidly?
  a whole host of other factors are contributing to this crisis as well…
A combination of global droughts, volatile weather, labor shortages, and supply chain disruptions persisting from COVID, among others, have contributed to the rapid rise in food prices over the last year.
The pandemic was supposed to be subsiding by now, and so by this time of the year prices were supposed to be starting to stabilize.
Source: activistpost.com
 once people begin to lose confidence in the Fed's willingness and ability to keep goods price inflation low, the "safety net trickery" reaches a crossroads. If the Fed then decides to keep interest rates artificially low, it will have to monetize growing amounts of debt and issue ever-larger amounts of money, which, in turn, will drive up goods price inflation and intensify the bond sell-off: a downward spiral begins, leading to a possibly severe devaluation of the currency. If the Fed prioritizes lowering inflation, it must raise interest rates and reign in money supply growth. This will most likely trigger a rather painful recession-depression, potentially the biggest of its kind in history.
Against this backdrop, it is difficult to see how we could escape the debasement of the US dollar and the recession. It is likely that high, perhaps very high, inflation will come first, followed by a deep slump.
Source: cdmedia.com
The FBI sent out a notice warning companies in the food and agriculture sector to watch out for ransomware attacks aiming to disrupt supply chains. The FBI note said ransomware groups are seeking to "disrupt operations, cause financial loss, and negatively impact the food supply chain."
"Ransomware may impact businesses across the sector, from small farms to large producers, processors and manufacturers, and markets and restaurants. Cybercriminal threat actors exploit network vulnerabilities to exfiltrate data and encrypt systems in a sector that is increasingly reliant on smart technologies, industrial control systems, and internet-based automation systems," the FBI said. 
Source: zdnet.com
---
Political/Rights
An alleged domestic abuser who was bailed out of the clink by a fund backed by Vice President Kamala Harris has been charged with murder.
According to reports, 38-year-old Luis Damian Martinez Ortiz, of Minneapolis, was fatally shot by George Howard, 48, during a road rage incident on Sunday. Howard was charged with two counts of second-degree murder.
Source: breaking911.com
In black and white this photo feels very reminiscent of the dark history of deep racism in the Democratic Party. They may have new masks but the hate is still alive within so many of them. The rest of us have @larryelder's back. pic.twitter.com/Av1fOeyY1Q

— Robby Starbuck (@robbystarbuck) September 9, 2021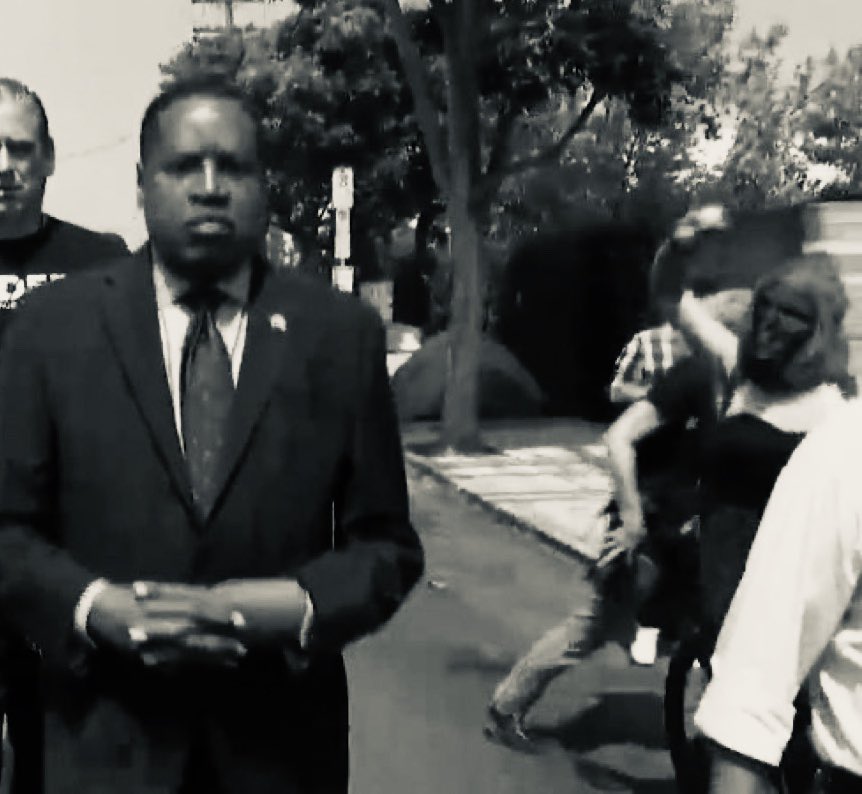 A white woman, wearing a monkey mask, throws an egg at a black man walking down the street.
Pretty sure this might be a hate crime.
Today I kicked off the Recall Express bus tour. Before we even left Los Angeles, my security detail was physically assaulted, shot with a pellet gun, and hit with projectiles. The intolerant left will not stop us. We will recall Gavin Newsom. We will save California.

— Larry Elder (@larryelder) September 9, 2021
White House press secretary Jen Psaki defended the Biden administration's move to oust several Trump-era appointees from military academy boards.
The administration will now begin the process of removing 18 appointees of former President Donald Trump who sit on the boards of the Air Force Academy, the Military Academy, and the Naval Academy, she said.
Among those asked to resign were former Trump administration counselor Kellyanne Conway, former Office of Management and Budget Director Russ Vought, and former White House press secretary Sean Spicer, according to the officials, who confirmed on social media and in the press that they were being ousted.
Spicer, who hosts a Newsmax program, said he would file a lawsuit against the Biden administration over his firing.
"I will not be submitting my resignation, and I will be joining a lawsuit to fight this," Spicer said on Wednesday during his show.
"I won't ever question how anyone chooses to serve this country. I won't question how you choose to do that, Jen," Spicer said about his role on the Naval Academy board while referring to Psaki. "But don't you dare minimize or question my service to this nation. You got it?"
NXIVM President Nancy Salzman Sentenced to 42 Months' Imprisonment for Racketeering Conspiracy
Earlier today, in federal court in Brooklyn, Nancy Salzman, also known as "Prefect," the former president and co-founder of Nxivm, was sentenced to 42 months' imprisonment and ordered to pay a $150,000 fine by United States District Judge Nicholas G. Garaufis for racketeering conspiracy, including predicate acts of conspiracy to commit identity theft and conspiracy to obstruct justice.  Salzman agreed to forfeit several real properties, more than $500,000 in cash and a Steinway grand piano.  Salzman pleaded guilty in March 2019.
 .
Source: justice.gov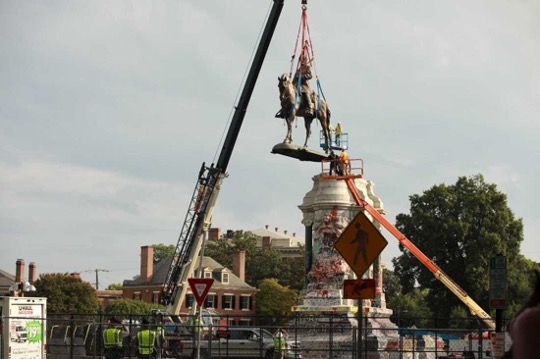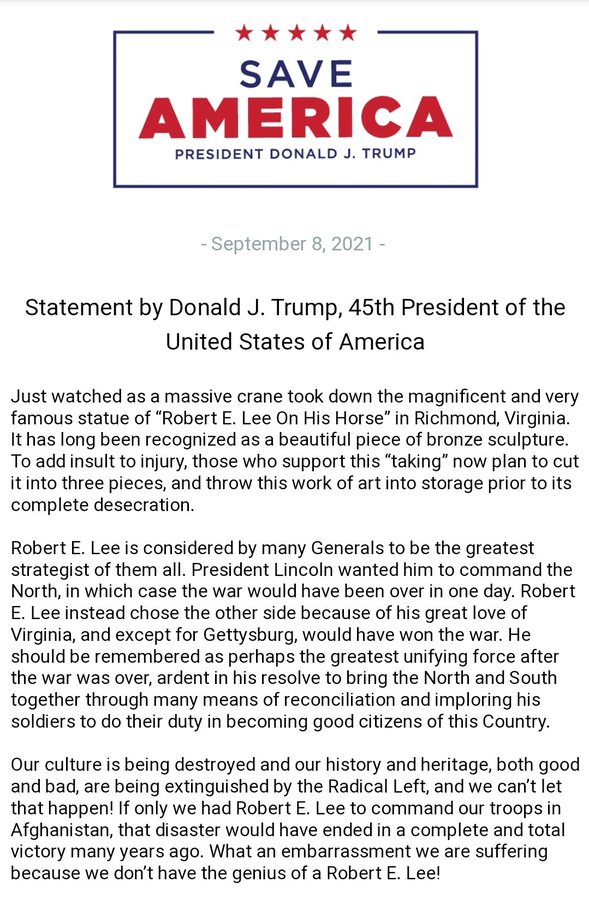 ---
Geopolitical/Police State
The White House will withdraw its nomination of radical gun control activist David Chipman to lead the Bureau of Alcohol, Tobacco, Firearms and Explosives (ATF).
Chipman is so radical that ATF agents urged the senate not to confirm him.
Chipman's demise is the second Biden nominee to get taken out by a conservative campaign.
Source: thegatewaypundit.com
---
War
President Joe Biden's deputies want Congress to flip immigration law on its head so they can quickly convert many Afghans into citizens without required vetting.
The request is buried on page 26 of a 34-page page list of budget requests to Congress, titled "Continuing Resolution (CR) Appropriations Issues."
The request asks Congress to change laws so the Secretary of Homeland Security could provide fast-track citizenship to at least 50,000 Afghans, even when intelligence officials recognize that some of the migrants have ties to dangerous and ideologically extreme groups in Afghanistan.
The legislation would exempt the Afghan migrants from the normal  "grounds of inadmissibility" that immigrants must pass before becoming a citizen.
The normal grounds for rejection include a likely need for welfare and government aid, having a disease, having criminal records, having a record of "terrorist activity" or "is likely to engage after entry in any terrorist activity."
The draft says:
(f) … The Secretary of Homeland Security may adjust the status of an Afghan national [to become a citizen] …. provided that the Afghan national:

(1) has been present in the United States for at least one year;

(2) is otherwise admissible to the United States as an immigrant, excluding the grounds of inadmissibility specified in section 212(a)(4), (5), and (7)(A) of the INA (8 U.S.C. 1182(a)(4), (5), (7)(A)); and

(3) clears any additional background checks and screening, as specified by the Secretary.

(g) … the Secretary may waive any applicable provision of section 212 of the INA (8 U.S.C. 1182) on a case-by-case basis for humanitarian purposes, to assure family unity, or when it is otherwise in the public interest. [Emphasis added]
Source: breitbart.com
China threatens to send warships inside US territorial waters
Source: washingtonexaminer.com
---
False Flags
New Zealand, the last of the dedicated "COVID Zero" nations on earth, has completed its transformation into a full-blown tyrannical regime, and shockingly, it has come with the consent of the vast majority of Kiwis. 
1) Virtually the entire country is once again under an indefinite lockdown, after a few COVID-19 cases were reported throughout the nation.  A single case necessitates a "snap lockdown," in which all rights of millions of citizens are immediately restricted and indefinitely subject to the containment of a seasonal respiratory disease. The current lockdown has been extended over Auckland until at least mid September, with many predicting a much lengthier sentence. According to past precedent, Kiwis will not receive their freedom back until — this is the truly insane part of Zero COVID — there is zero community spread of COVID-19.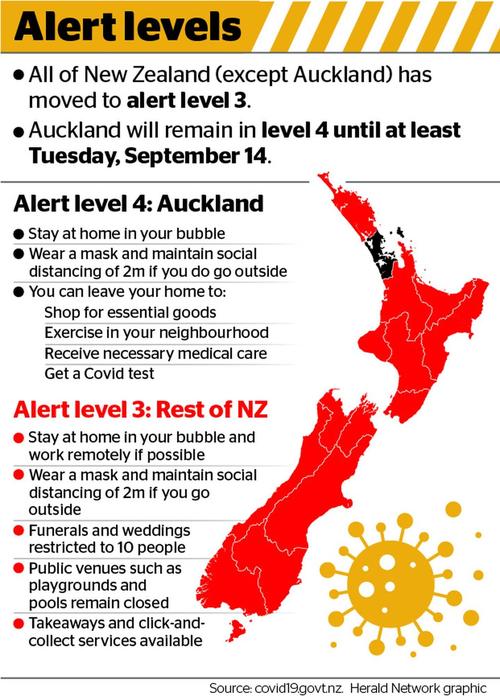 Source: zerohedge.com
Australian Airline Qantas to Ban Unvaccinated Travelers from International Flights
Australia's national carrier Qantas will ban unvaccinated travelers from international flights,
Source: breitbart.com
CDC Changes Definition of "Vaccine", Vindicates Alex Berenson 
 
Here is the tweet about the Covid vaccine that got Alex banned:
So look at what the CDC did? Here's the definition the CDC used on 26 August 2021:
Vaccine– "a product that stimulates a person's immune system to produce immunity to a specific disease."
Vaccination– "the act of introducing a vaccine into the body to produce immunity to a specific disease."
Got it? A vaccine is supposed to produce immunity to a specific disease.
The problem is that Covid 19 is not a disease. It causes a variety of diseases. CDC Director Rochelle Walensky recently admitted that the effectiveness of the COVID-19 vaccines are "waning."
Rather than admit the Covid vaccine is not working as advertised, CDC took a page out of Orwell's 1984 and opted for new spin language.
Here is the new definition:
Vaccine– "a preparation that is used to stimulate the body's immune response against diseases."
Note the subtle but important change. Instead of "PRODUCING IMMUNITY" the new definition moves the goal posts and states that their pseudo vaccine "STIMULATES THE BODY'S IMMUNE RESPONSE."
Alex Berenson is taking a victory lap. He was banned from Twitter for claiming, CORRECTLY, that the Covid vaccine DID NOT PRODUCE IMMUNITY. Looks like the CDC now agrees with Alex.
Source: thegatewaypundit.com
As they keep rewording definitions, pushing against ivermectin and hcq, as they continue to this they are digging the hole deeper and deeper. They are trying to cover up the truth, which means they knowingly are supressing the cures, pushing a vaccine that does not work and using tests that do not work to detect covid 19
Get Vaxxed or Else: Joe Biden Prepares Stricter Vaccine and Mask Mandates
President Joe Biden will sign an executive order requiring all federal government employees and contractors to get vaccinated — with no options for the unvaccinated.
Source: breitbart.com
The Biden admin w/ enforce "substantial fines up to nearly $14,000 per violation" to employers that don't abide by the vaccine or weekly testing mandate for businesses with 100 or more employees that will announce later today
forcing private employers to require COVID vaccines is unconstitutional.
Now we know that the tests to detect covid do not work, this is why the CDC and the FDA are changing them in Dec of this year, so this means that the flu will make a come back and covid will disappear, so how are they going to try to cover this up, 
Moderna developing two-in-one booster shot for Covid-19 and flu
Moderna has announced that it is developing a single-dose vaccine to bring to the market that will combine a two-in-one booster shot that protects against both Covid-19 and flu.
 Moderna unveiled its latest innovation in the fight against Covid-19 – a "pan-respiratory annual booster vaccine" that combines a booster against Covid-19 and one against regular flu.
" 
Source: rt.com
The Food and Drug Administration's "full authorization" for the Pfizer-BioNTech vaccine for Covid-19 was announced with a fair amount of hooplah and fanfare. The President of the United States announced the monumental development and touted it as rationale for the vaccine mandates to commence in the private sector, throughout the government, and in the U.S. military.
But a closer examination of the "full authorization" documents has some Americans feeling deceived. There is the matter that Pfizer-BioNTech still appears to be afforded the legal protections that accompany Emergency Use Authorization, all while it purportedly has "full" FDA approval. How did the pharmaceutical company manage such a commercial 'coup'?
Upon a more critical look at the documents, it now very much seems to be the case that the company, along with the indispensable aid of a complicit media and the Biden administration, has engaged in a classic bait-and-switch.
Before proceeding, examine the technical language used in the awkwardly phrased release. The new label for the 'fully authorized' vaccine is called 'Comirnarty.'
"On December 11, 2020, the Food and Drug Administration (FDA) issued an Emergency Use Authorization (EUA) for emergency use of Pfizer-BioNTech COVID‑19 Vaccine for the prevention of COVID-19 for individuals 16 years of age and older pursuant to Section 564 of the Act," the FDA stated in a letter to the Global Senior Director of Pfizer Ms. Elaine Harkins. "FDA reissued the letter of authorization on: December 23, 2020, February 25, 2021, May 10, 2021, June 25, 2021,  and August 12, 2021."
"On August 23, 2021, FDA approved the biologics license application (BLA) submitted by BioNTech Manufacturing GmbH for COMIRNATY (COVID-19 Vaccine, mRNA) for active immunization to prevent COVID-19 caused by SARS-CoV-2 in individuals 16 years of age and older."
PhD. biochemistry and molecular biology student Kathleen Lee picked up on the change in language and decided to press further.
"I called the Pfizer BioNtech number 1-800-666-7248," she said. "The recording clearly states that it has not been approved by the FDA. Pfizer BNT162B2 is still under EUA. This clears up that messy FDA authorization between Comirnaty and Pfizer BioNtech."
Overlooking the odd choice for an area code, I decided to call and confirmed this is still the case. But it could just be an old recording. Lee continued to express her analysis of the apparent discrepancy.
"It's deceitful," Lee claimed. "If the vial says Comirnaty- It's FDA approved. It the vial says Pfizer BioNtech- it's under EUA and they're not subject to liability. There's millions of doses to get rid of first."
Yet if the next batch of vaccines being dispensed were being produced under the Cominarty label, then that would appear to reconcile the issue.
Except that isn't the case. Buried deep within the footnotes of the Pfizer-BioNTech documents is one footnote that puts into rather jolting perspective that the currently labeled vaccines are still under Emergency Use Authorization (EUA).
"Although COMIRNATY (COVID-19 Vaccine, mRNA) is approved to prevent COVID-19 in individuals 16 years of age and older, there is not sufficient approved vaccine available for distribution to this population in its entirety at the time of reissuance of this EUA. Additionally, there are no products that are approved to prevent COVID-19 in individuals age 12 through 15, or that are approved to provide an additional dose to the immunocompromised population described in this EUA."
Attorney Robert Barnes got to the heart of the matter in a post on Wednesday night:
"There is no *available* FDA approved licensed vaccine," Barnes said. "Here's what is happening. If FDA approved & licensed COVID19 vaccine, it would have to revoke the EUA vaccines & subject the vaccine maker to more liability risk. So it only approved a future vaccine that isn't 'available'."
When a user questioned his analysis with the extremely persuasive point "full stop," Barnes countered with an indisputable point.
"Did you fail to read the part of the FDA letter where it said the licensed vaccine isn't 'available' yet?" Barnes asked. "How is there ANY EUA vaccines when the law does not allow them if there is a licensed vaccine available?"
"So, the little trick that they've done here is they have issued two separate letters… The Pfizer vaccine, which is what is currently available… is still under Emergency Use Authorization," Dr. Malone said. "Once again, the mainstream media has lied to you."
If the Pfizer-BioNTech vaccine is being treated as a 'fully authorized' vaccine, then it should no longer be afforded the protections offered by EUA.
There is one way the American people can find out for sure: Let the lawsuits begin.
Source: beckernews.com
CDC Explores Study of How Women Affected by COVID-19 Vaccines
The Centers for Disease Control and Prevention is doing "exploratory work" to decide whether to study if COVID-19 vaccines cause "menstrual irregularities," the CDC told The Daily Caller News Foundation.
In late July, CDC spokeswoman Martha Sharan had said several studies on the vaccines' effects on fertility were "in the works," but hedged that "some are still in the planning stages."
in a press release, NIH said:


Some women have reported experiencing irregular or missing menstrual periods, bleeding that is heavier than usual, and other menstrual changes after receiving COVID-19 vaccines. The new awards support research to determine whether such changes may be linked to COVID-19 vaccination itself and how long the changes last. Researchers also will seek to clarify the mechanisms underlying potential vaccine-related menstrual changes
Source: dailysignal.com
What happens in the patriots know the playbook, never interfere with the enemy while they in the process of destroying themselves.
---
Q
FBI Releases New Footage of Suspect Who Placed Pipe Bombs at DNC, RNC Using Cell Phone… But They Still Can't ID? (VIDEO) 
The FBI   released new footage of the pipe bomb suspect on a cell phone with timestamps…yet they still cannot identify the individual?
The new video includes a virtual map that highlights the route the suspect walked – and shows the suspect sitting on a bench using a cell phone.
Source: thegatewaypundit.com
The timing of the release of the video is interesting. the FF sept 18 rally is coming up, but the bigger question is, this person had a phone, they have known this from the beginning, they know who it is, but are using this for something else.
Law enforcement officials plan to reinstall fences around the Capitol ahead of a rally in the nation's capital next week, according to new reports.
Source: dailywire.com
121a087e4d6b149d9c5d2f980788b499.pn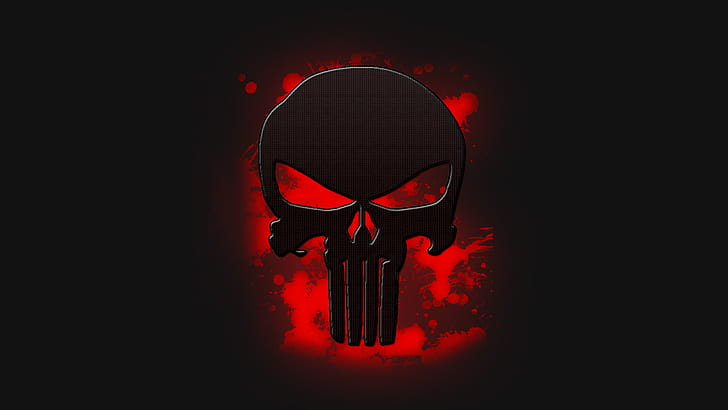 EQUAL JUSTICE UNDER THE LAW [AS WRITTEN].
TRANSPARENCY [DISCLOSURE] AND ACCOUNTABILITY [JUSTICE] IS THE ONLY WAY FORWARD.
FUTURE OF OUR REPUBLIC AT STAKE.
WATERGATE x1000
SEPT 14-18, 21-25 [track & follow events]
Did Kevin set his alarm?
Q
52868295.png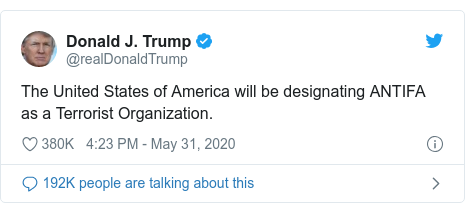 This ear of corn is developed & will soon be ready for harvest
#cornwatch
@ Iowa
Q
Worth remembering
[think what you see today]
.
https://2009-2017.state.gov/documents/organization/119629.pdf
📁
Insurgency can be defined as 'the organized use of subversion and violence to seize, nullify, or challenge political control of a region.'
Insurgents seek to subvert or displace the government and completely or partially control the resources and population of a given territory. They do so through the use of force (including guerrilla warfare, terrorism and coercion/intimidation), propa- ganda, subversion and political mobilization. Insurgents fight government forces only to the extent needed to achieve their political aims: their main effort is not to kill counterinsurgents, but rather to establish a competitive system of control over the population, making it impossible for the government to administer its territory and people. Insurgent activity is therefore designed to weaken government control and legitimacy while increasing insurgent control and influence.
Insurgents require supporters, recruits, safe havens, money, supplies, weapons and intelligence on government actions. A robust insurgency can be waged with the support of just a small percentage of a given population.
NEXT:
Counterinsurgency may be defined as 'comprehensive civilian and military efforts taken to simultaneously defeat and contain insurgency and address its root causes'.
Q