What Happens When Assets Are Removed? Exposing The Criminal Syndicate, Define Traitor – Ep. 2737
Watch The X22 Report On Video
The people see the [CB] and the Biden administration making the economic situation worse, instead of helping alleviate the problem they are adding to it. The globalist are trapped by what Putin has done. The Fed is now accelerating their plan to raise rates. The [DS] is being exposed, the Hunter Biden laptop will not go away and it is now implicating the Biden family in criminal activity with foreign nations. Trump has not trapped the [DS] players. They are trying to fight back by going after Trump and others via the J6 fake investigation, this will not end well for them. The patriots are now in the process of removing all assets leaving the [DS] defenseless. The traitors will be brought to justice.
---
Economy
President Joe Biden's budget proposes to scrap more than $45 billion in fossil fuel subsidies, his administration's latest attack on the beleaguered industry.
The White House budget will remove more than a dozen fossil fuel industry tax credits, increasing the federal government's revenue by an estimated $45.2 billion between 2023-2032, according to the proposal published Monday. The administration explained that the proposal was written to prevent further fossil fuel investment.
"These oil, gas, and coal tax preferences distort markets by encouraging more investment in the fossil fuel sector than would occur under a neutral system," the Department of the Treasury wrote in its general budget explanation.
Source:dailycaller.com
The G7 countries (including the U.S.) announced today they were demanding that Russia accept payment for oil and gas in euros and dollars.  This is happening at the same time NATO is demanding (via sanctions) that Russia be blocked from accepting payments in euros and dollars.
 the same nations in the G7 are the same nations in NATO with the exception of Japan (G7 only).
Saudi Arabia is not returning phone calls from the Biden administration, and the extended OPEC-plus are not following the sanctions regime of the western NATO alliance.  Which makes sense, because Opec+ includes Russia,
Source: theconservativetreehouse.com
Nothing funnier than European officials sanctioning Russia, then complaining about "blackmail" when Russia demands gas payments in rubles. I guess they thought sanctions only go one way?

— Richard Medhurst (@richimedhurst) March 28, 2022
Fed Pivots Toward Jumbo Hikes After Being Slammed as Too Slow
Federal Reserve officials, rattled by persistent inflation and criticism that they're behind the curve, have pivoted toward an even more aggressive plan of interest-rate hikes than they signaled earlier this month to ensure price increases cool.In the days after the March 15-16 Federal Open Market Committee meeting, Chair Jerome Powell and his colleagues shifted from a long-standing preference for slow and gradual interest-rate increases to front-loading policy with a half-point hike on the table in May and more to come.

U.S. inflation accelerated to a 40-year high of 7.9% in February

Source: Bureau of Labor Statistics
Source: bloomberg.com
---
Political/Rights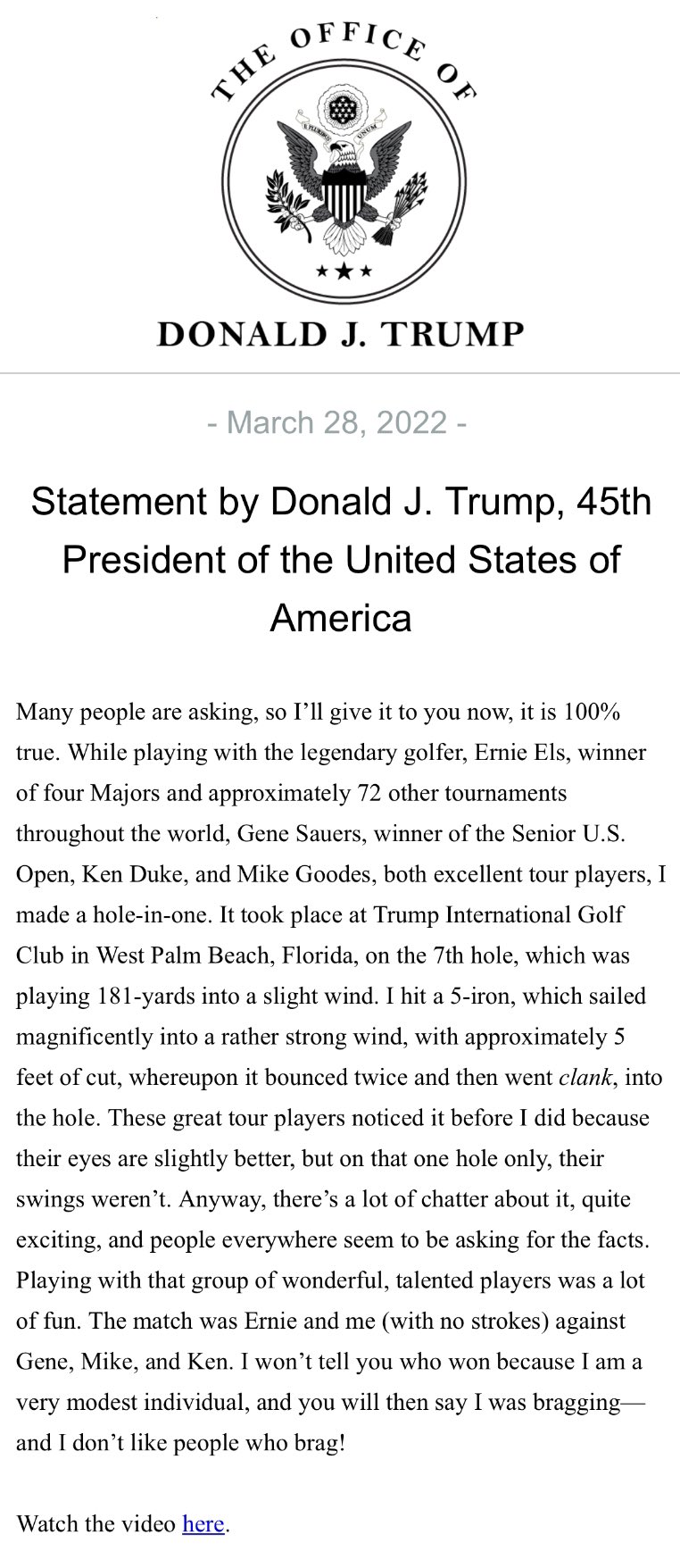 A case in which Judge Ketanji Brown Jackson gave a light sentence to a child porn offender was left off materials given to Republicans.
Questions are now being raised that this was omitted intentionally.
Republicans say the White House did not include in materials given to the Judiciary Committee a grisly child porn case in which Judge Ketanji Brown Jackson departed significantly below probation office recommendation – and are raising questions of whether the White House "intentionally left it out," which the White House disputes.

 
Source: thegatewaypundit.com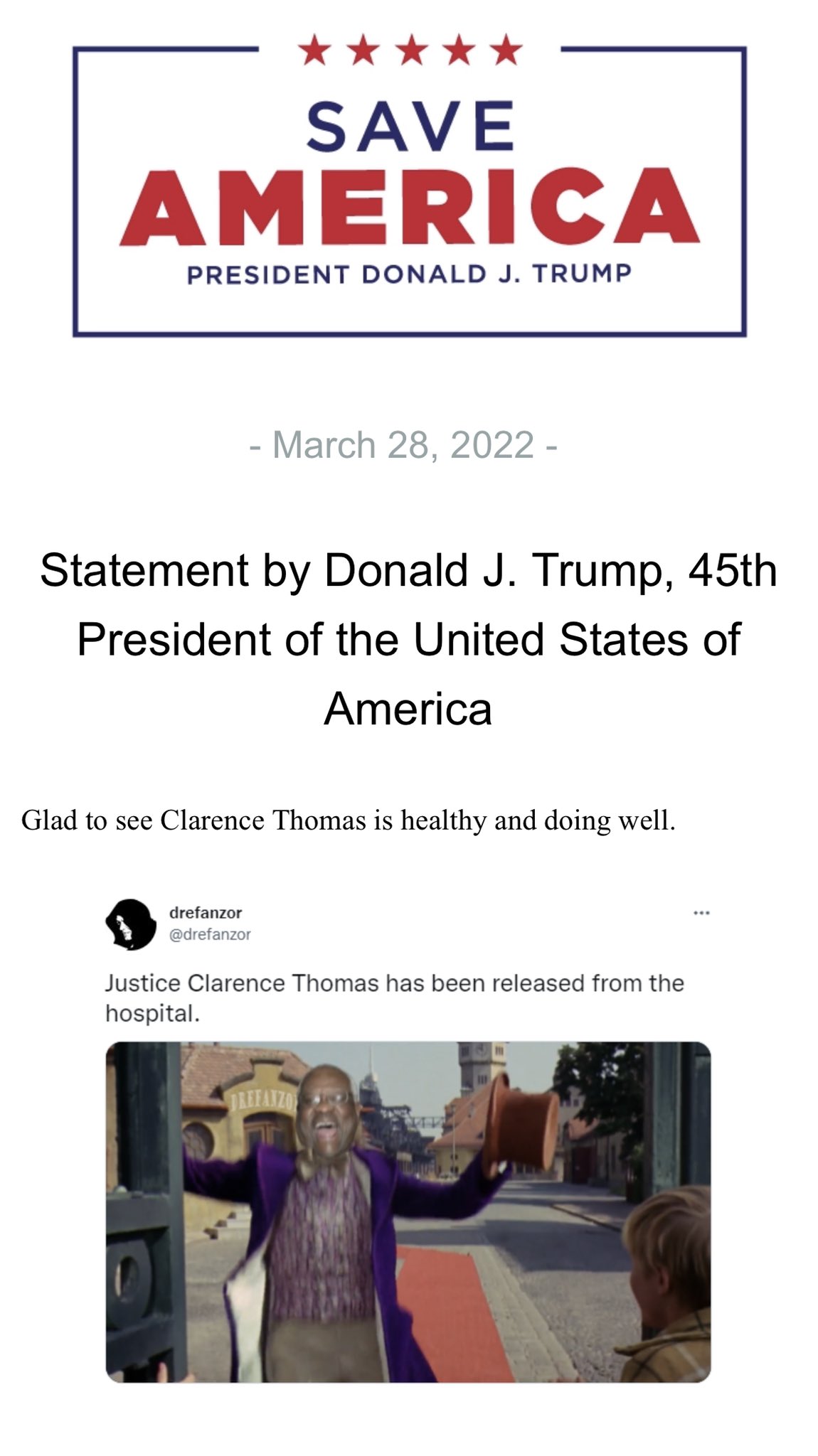 In remarks on the Senate floor Monday, Sen. Chuck Grassley (R-IA) spoke about investigations into the Biden crime family.
During his floor time, Senator Grassley revealed the financial link between the Chinese Communist Party and Hunter Biden and James Biden, Joe Biden's brother.
This is devastating news and Chuck Grassley brought the receipts.
Where is the investigation into this alleged criminal activity?
Just gave a speech on the senate floor showing the financial link btwn communist Chinese Govt & Hunter Biden & James Biden / Sen Johnson & I will be sharing more soon STAY TUNED pic.twitter.com/DlcBdah4Cz

— ChuckGrassley (@ChuckGrassley) March 28, 2022
Source: thegatewaypundit.com
According to the documents obtained by the senators, energy company CEFC, "an arm of the Chinese Government," paid Wells Fargo Clearing Services $100,000 and designated "further credit to Owasco," Hunter's firm.
"There's no middle man in this transaction. This is $100,000 from what is effectively an arm of the communist Chinese government direct to Hunter Biden," Grassley said on the Senate floor on Monday. "To the liberal media and my Democratic colleagues: Is this official bank document Russian disinformation?"
Source :thefederalist.com
  Trump is calling on Russian leader Vladimir Putin to release any information he possesses on Hunter Biden's dealings with oligarchs in Eastern Europe.
  president cited a 2020 Senate report that disclosed Russian oligarch Yelena Baturina, then the wife of Moscow's mayor, provided $3.5 million a decade ago to a company co-founded by President Joe Biden's son and unanswered questions about why the money was given.
"She gave him $3.5 million so now I would think Putin would know the answer to that. I think he should release it," Trump said in a wide-ranging interview at his Mar O Lago resort in Florida. "I think we should know that answer."
Source: justthenews.com
BREAKING: FBI Cyber Chief can't find Hunter Biden's laptop… pic.twitter.com/sZrJcc9IWR

— Rep. Matt Gaetz (@RepMattGaetz) March 29, 2022
Moments ago, I successfully entered the hard drive of Hunter Biden's laptop into the Congressional Record.

SUBPOENA HUNTER BIDEN! pic.twitter.com/M800vm2pTY

— Rep. Matt Gaetz (@RepMattGaetz) March 29, 2022
BREAKING🚨: Congressman Matt Gaetz Introduces Resolution to Strip Security Clearances from Intel Officials Who Lied About Hunter Biden's Laptop 👇🏽 pic.twitter.com/xxI2V2vWUa

— Liz Willis (@LizWillis_) March 29, 2022
---
Geopolitical/Police State
---
War
 Biden has already allocated to send nearly $14.4 billion to protect Ukraine's borders even as he opposed the cost of former President Donald Trump's construction of a border wall along the U.S.-Mexico border, which was estimated at about $15 billion.
As Biden focuses attention on Russia's invasion of Ukraine, the U.S. sees its own invasion in which more than two million border crossers and illegal aliens arrived at the southern border last year — a record-setting figure of illegal immigration not seen before in American history.
Source: breitbart.com
Doocy: "The big things you say on the world stage keep getting walked back."

Biden: "What's getting walked backed?"

Biden: You told troops they are going to Ukraine, the U.S. would use a chemical weapon, and called for regime change in Russia.

Biden: "None of the 3 occurred." pic.twitter.com/cwZPzANIoC

— Greg Price (@greg_price11) March 28, 2022
25th amendment https://t.co/GxV1iLCFQv

— Liz Harrington (@realLizUSA) March 28, 2022
  One pre-printed response even reads, "I was not articulating a change in policy."
No one has yet provided a good explanation as to why the Biden administration has a stage set of the White House in a studio across the street from the real White House.
The specifics of this Potemkin administrations are opaque, but everyone knows that it's not Joe Biden making policy or executing these communication points. Biden is a puppet, that is not in question. The majority of his administration staff are from the Obama terms in office; that too is not in question.
The people who were behind Obama appear to be the same people pushing this Biden agenda.
Source: theconservativetreehouse.com
---
Cyber Attacks
---
False Flags
Judge Reed O'Conner in the US District Court, Northern District of Texas just granted 'class action' status to Navy SEALs suing Secretary of Defense Austin over vaccine mandates.
You can read the full order in the PDF below.
Source: cdmedia.com
The officer was reported to suffer serious head and facial injuries after someone threw a hard object at him, reported AP News. A federal appeals court had asked the Court if the officer, identified as John Doe, could pursue a federal lawsuit against Mckesson. The Court responded in a 6-1 opinion that he could.
More on the Court's response from AP News:
"Because it is alleged that Mckesson, with knowledge that such protests could turn violent, staged a protest in direct contravention of law, thereby provoking the police to respond, a person can easily associate the injury to the police officer with the alleged conduct," Justice William Crain wrote in a concurring opinion.
---
Q
The January 6 Committee voted to recommend Monday that former White House communications official Dan Scavino be held in criminal contempt of Congress, based on false claims by the committee that Scavino refused to comply with it.
These are two separate issues, neither of which the committee addressed in the "contempt report" that was the basis for the vote Monday evening. Though the courts have ruled against former President Donald Trump's assertions of privilege over some documents held by the National Archives, they have not ruled on whether executive privilege would also be invalid regarding Scavino's requested testimony — for example, about verbal communications be may have had with the president.
The contempt report also falsely claims that Scavino refused "to comply with the Select Committee's subpoena in any way," though the correspondence referred to by the report itself reveals Scavino's attorneys said he would comply once he had knew the scope of the inquiry, and had clarity about the extent to which executive privilege would cover his testimony.
Source: breitbart.com
— Dan Scavino Jr.🇺🇸🦅 (@DanScavino) March 29, 2022
The abusive January 6 Committee leaked Trump's internal White House records to the media and accused the former president of a "possible coverup" over a lack of record keeping on 7 hours of phone calls on January 6.
Source: thegatewaypundit.com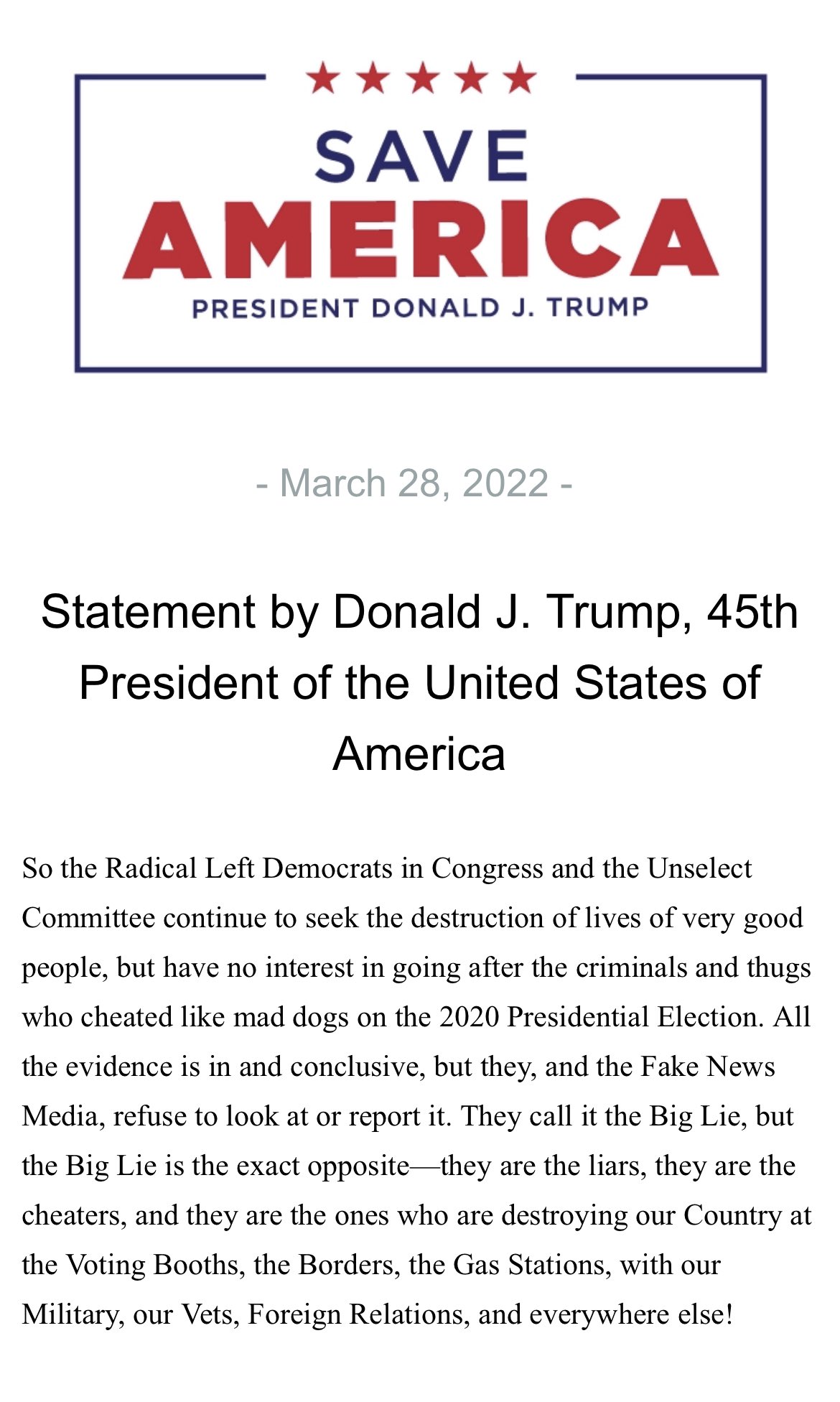 That letter from Mukasey to Pelosi in 2008 is all you need to read to understand why Garland can't give the J6 Committee the criminal indictments it's demanding.
Maricopa County has complied with the Arizona Senate's subpoena ordering them to comply with the Arizona Attorney General's requests.
It was just announced that Maricopa County finally fulfilled the Attorney General's March 9th request for previously withheld information. The meeting with County representatives will no longer take place today at 4 pm.
STATE SENATE, PHOENIX – Senator Townsend has issued the following statement regarding Maricopa
County's compliance with her legislative subpoena:

"I am pleased to report that Maricopa County has complied with the legislative subpoena commanding fulfillment of the Attorney General's request dated March 9, 2022. The Government Committee scheduled for later today is therefore no longer necessary, as its intended objective has been achieved.

Source: thegatewaypundit.com
A recent analysis of the election by John R. Lott Jr, an expert crime statistics researcher, summarized in an interview with the Washington Times, raises even more concerning questions about a presidential election that appears in many ways to be illegitimate.
"Looking at six swing states, the data he crunched found that voter turnout in Republican areas increased from 2016 to 2020 while voter turnout among Democrats dropped — except in places where voter fraud was claimed," the Washington Times report said.
"That accounted for 255,000 'excess' votes for Mr. Biden above what would be expected," Lott was reported to have said. "His paper has been accepted for publication in Public Choice, a peer-reviewed journal specializing in the intersection of economics and political science."
Source: beckernews.com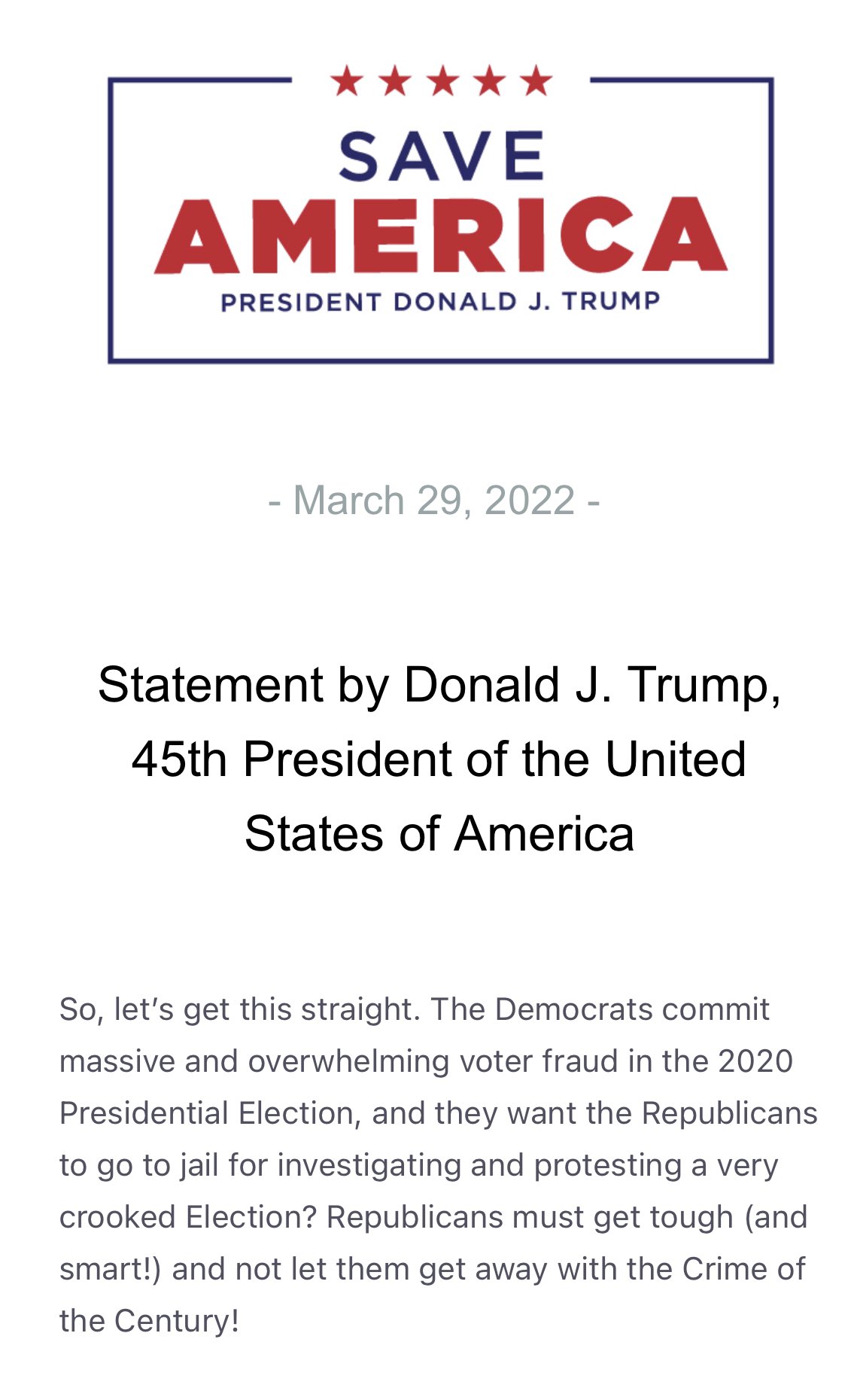 Probably right at the top of my list of "Unexpected 2022 developments" would be "Hillary Clinton suddenly deciding to play the part of The Giant in a production of "Into the Woods", a play where the Giant dies.
3908
Q
!!Hs1Jq13jV6
03/28/2020 15:22:45
 ID: fead75
Archive Bread/Post Links: 8600308 / 8601103
Direct Link: 8601103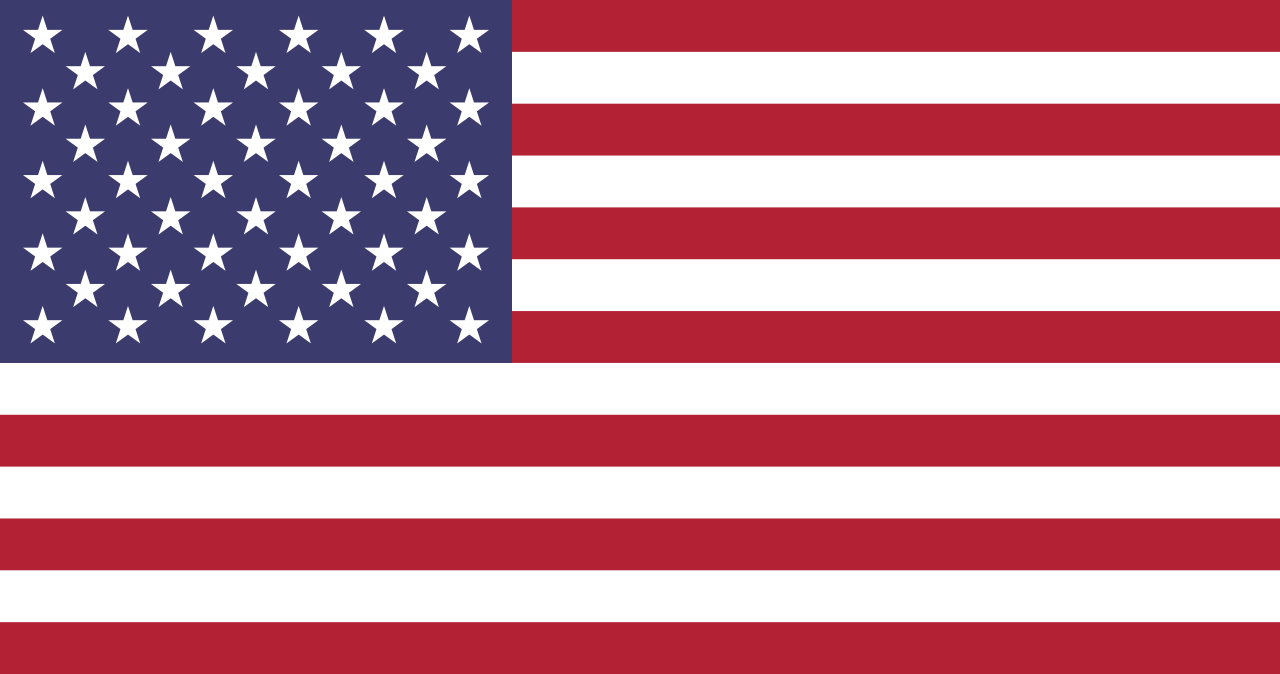 Image Name:
f768deaef22da979abcfb73c9175b54d71fcf891666c5449c1969c07c3cc8920.png
Filename:
274534d7d1780203956040e16a2fd8712e21596c92d7ac2ecd959d0166f8a501.png
Q

 

!!Hs1Jq13jV6

 

ID: 0f75ee

 No.8735349

What happens when state actor(s) [assets] are removed?
How does a state actor gain leverage over a person in power [re: blackmail]?
Define 'Traitor'.
Data exchange(s) can be very dangerous.
Q