What Storm Mr. President? You'll Find Out, Message Received, Storm Coming – Ep. 2837
Podcast: Download (Duration: 1:02:41 — 25.3MB)
Watch The X22 Report On Video
The [CB]/[JB] are trying to gas light the people into believing we are not in a recession. They are now changing the definition of recession to try to convince the people. This is not just about a recession or depression, this is about destroying the [CB] economic system and exposing it all to the people. The [DS] has no place to hide. The propaganda narrative has failed, they are censoring more and more people and words. The people of this country are seeing this very clearly. The people are reaching the precipice with these tyrants and now its time to take back the country. The Biden's, Clinton's, Obama's and the puppet masters are being exposed to the public. This is no longer the calm before the storm, the storm is coming and it's going to be biblical.
---
Economy
An inflation gauge that is closely tracked by the Federal Reserve jumped 6.8% in June from a year ago, the biggest increase in four decades, and leaving Americans with no relief from surging costs.

 The AP report goes on and its horrible news for Biden:
This week, Walmart said its profits would fall because its customers are spending more on pricier food and gas, leaving them less able to buy clothes and other discretionary items. Likewise, Best Buy downgraded its sales and profit forecasts because surging inflation has forced consumers to reduce their purchases of electronics appliances.

Procter & Gamble, which makes Tide detergent and Pampers, among many other consumer staples, said that its customers are also reining in their purchases after having spent more heavily in the spring.
Source: thegatewaypundit.com
.@GMA on Biden's inflation:

"Rising prices costing families an extra $493 a month." pic.twitter.com/vuA6z4Djo4

— Mark Bednar (@MarkBednar) July 28, 2022
FLASHBACK to Nancy Pelosi in 2008: A recession "is two quarters of negative growth in a row." pic.twitter.com/6UAUPAYu4F

— RNC Research (@RNCResearch) July 28, 2022
The left are perfectly aware that the internet has captured them using the correct definition for decades they simply don't care

The newspeak is a loyalty pledge not a tool of persuasion https://t.co/5cSxeOcdlQ

— Auron MacIntyre (@AuronMacintyre) July 29, 2022
An edit war broke out on Wikipedia this week over the definition of "recession," as the Biden administration and the corporate media take the unprecedented step of denying the U.S. is in recession even after two consecutive quarters of negative growth. More than 70 edits to the page about recessions were made before the site locked the entry preventing further changes. The edits successfully de-emphasize the broad consensus definition of recession — two consecutive quarters of negative GDP growth — instead parroting the Biden Administration's talking points.
What was until recently the broad consensus on the definition of a recession — two consecutive quarters of negative GDP growth — remains at the top of the page, but editors have been attempting to remove it. This definition is also described as the United Kingdom's definition.
Bruh pic.twitter.com/qpY4Nd10Ns

— Edvard 🌲 (@le_edvard) July 28, 2022
Source: breitbart.com
Captain of the Titanic, after colliding with the iceberg: "We've entered a new phase in our voyage." https://t.co/owUYpiP35Y

— Phineas Fahrquar (@irishspy) July 28, 2022
Half of Americans agree the U.S. economy is in a recession, despite the Biden administration's dismissal, a recent Suffolk University/USA TODAY survey found.
The survey asked respondents to indicate where they believe the state of the U.S. economy lies.
Half, or 50.40 percent, agree that the U.S. is in an economic recession, compared to 18.30 percent who believe the economy is in a state of stagnation. Another 15.90 percent believe the U.S. is experiencing a depression. Less than ten percent, 9.20 percent, say the U.S. economy is in a state of recovery.

 

 
Source: breitbart.com
'Build Back Better' Bill Would Fund 86,000 Additional IRS Agents To Sic On American Taxpayershttps://t.co/G6xfyhaUPz

— The Federalist (@FDRLST) July 29, 2022
NEW — From THE GUARDIAN's Simon Jenkins: "The ruble is soaring and Putin is stronger than ever – our sanctions have backfired."
Santander Brazil will begin offering services for bitcoin and other cryptocurrencies in coming months.
The CEO said the bank will release more details by or before its next quarterly results report.
The bank's consideration of these new services is not directly influenced by competitor interest in the space, the CEO said.
Santander Brazil, the third-largest private bank in the country, is preparing to launch services for bitcoin and other cryptocurrencies, its CEO Mario Leao said, according to a report from local newspaper Folha de S. Paulo.
"
Source: bitcoinmagazine.com
"Where we're going now could be a very bad place," Trump said at a rally in Arizona last week. "We got to get this act in order, we have to get this country going, or we're going to have a serious problem."
The former president singled out the collapse in Americans' real wages, a historically depressed labor force participation rate, and the Democrat push for the Green New Deal that he said would crush economic growth.
"Not recession. Recession's a nice word. We're going to have a much bigger problem than recession. We'll have a depression," the former president said.
Trump's remarks came several days before the Bureau of Economic Analysis (BEA) released data showing that real U.S. GDP fell by an annualized 0.9 percent in the second quarter after contracting 1.6 percent in the first quarter.
Trump also said that persistently high inflation combined with an economic slowdown has put the country "on the verge of a devastating" spell of stagflation, which is a combination of accelerating prices and slowing economic growth.
Inflation is "going higher and higher all the time," Trump said, adding that it's "costing families nearly $6,000 a year, bigger than any tax increase ever proposed other than the tax increase that they want to propose right now."
Source: theepochtimes.com
---
Political/Rights
In case you weren't aware—the Biden Regime is attempting to swap Viktor Bout, a Russian prisoner convicted of "conspiracy to kill U.S. citizens and officials, delivery of anti-aircraft missiles, and providing aid to a terrorist organization" for a WNBA Player who hates America.

— Charlie Kirk (@charliekirk11) July 28, 2022
These are the cowards the media framed as conservatives.

Truth will always prevail. 🇺🇸#SueTheView pic.twitter.com/B7uOEPYM0o

— Turning Point USA (@TPUSA) July 28, 2022
2/2 https://t.co/eFujBzvooj Seriously, not ONE of the supposed standard-bearers of journalism has covered Barr's statements.

— Margot Cleveland (@ProfMJCleveland) July 29, 2022
We tried to tell everyone the last 3-4 years that Hunter Biden was a pedophile. That Joe Biden is a child predator. This isn't just the Biden family friends. It's an entire Washington / Hollywood currency.
They prey on children. That is their darkest secret they never want you to know. Why has President Trump been saying at his last few rallies "the children will never be forgotten"?
He knows. We know. The world is going to know soon whether they can accept it or not.
These people are sick.
3565
Q
!!mG7VJxZNCI
07/30/2019 20:23:13
 ID: 231874
8chan/qresearch: 7266574
Add the amazing @JennaEllisEsq to the rapidly growing list of people locked out of Twitter for the G-word. She spelled it with a 6 in place of the G and got a SEVEN-DAY lockout for it! Twitter is flailing! pic.twitter.com/mUkWFwfYKJ

— James Lindsay, America's top Christian nationalist (@ConceptualJames) July 29, 2022
Both the U.S. Department of Education (DOE) and U.S. Department of Agriculture (USDA) threatened to withhold funds to federal institutions if they fail to adhere to the new revisions to Title IX proposed in June. Florida Education Commissioner Manny Diaz encouraged private and public schools to disregard the revisions, saying they are "guidance" and do not "force the law," according to the FDOE letter. (RELATED: Parents Suing Florida For Right To Teach Kindergartners About Gender Identity)
"You should not treat the DOE and USDA guidance documents as binding or otherwise modify your practices or procedures based on these documents," Diaz wrote in the letter. "Specifically, for example, nothing in these guidance documents requires you to give biological males who identify as female access to the female bathrooms, locker rooms, or dorms; to assign biological males who identify as female to female rooms on school field trips; or to allow biological males who identify as female to compete on female sports teams."
Source: dailycaller.com
Former White House Advisor Sentenced To One Year And One Day In Prison For Devising A Scheme To Steal From Charter Schools He Founded
Damian Williams, the United States Attorney for the Southern District of New York, announced that SETH ANDREW was sentenced to 366 days in prison in connection with his execution of a scheme to defraud Democracy Prep Public Schools ("DPPS"), a charter school network that he founded, of more than $218,000.  United States District Judge John P. Cronan imposed today's sentence.
In 2005, SETH ANDREW helped to found Democracy Prep Public Schools, a series of public charter schools then based in New York City.  In the Spring of 2013, ANDREW left DPPS and accepted a job in the United States Department of Education and, thereafter, as a senior advisor in the Office of Educational Technology at the White House.  In November 2016, ANDREW left his role at the White House.  Shortly thereafter, in January 2017, ANDREW officially severed his relationship with DPPS.
Source: justice.gov
Jean-Pierre: "Republicans are using migrants as a political tool."

Doocy: "So the White House's preference would be for small towns in Texas and Arizona to take care of these migrants and not DC."

Jean-Pierre: "They are sending migrants to big cities as a political ploy." pic.twitter.com/JGXkkzn79a

— Greg Price (@greg_price11) July 28, 2022
So sending the illegals to smaller towns across America is what then
candidate Biden promised the Border Wall construction would END
But yesterday? DHS head Alejandro Mayorkas APPROVED a plan to COMPLETE a border wall section near Yuma, AZ incl. filling 4 major gaps at one of the busiest corridors for illegal immigration crossings.
Did Biden mean not "ONE" foot but MANY feet?
Or? Is it another Qlue that #DEVOLUTION is at work, since protecting our Borders is definitely a National Essential Function (NEFs), under EO 13961 @patelpatriot
BrunoBarking @brunobarking
4/ LOOK at the COUNTLESS photos of these supposed "immigrants" and THINK!
The first night photo is a family ostensibly from Brazil. No suitcases. Not even an overnight bag or backpack on them ?
The Next? Illegals appear freshly showered, not as one would look after even just a mile or two hike in Arizona heat. Also Well fed, but carrying neither food or even water. Just some papers?
WHO transports them up to the edge of the border, CARES for them & then transports their possessions?
The Mayor of Washington, D.C., wants the National Guard to help with the thousands of Illegal Immigrants, coming from the insane Open Border, that are flooding the City, but refused National Guard help when it came to providing Security at the Capitol Building for a far larger crowd on January 6th. Figure that one out?
---
Geopolitical/Police State
🚨🔎ICYMI: CDC caught red-handed directing Twitter to censor content.

The government was colluding with Big Tech platforms to silence Americans. pic.twitter.com/aZIJOGLKrJ

— America First Legal (@America1stLegal) July 29, 2022
---
War
China's Army posts "Get ready for war!" message over US visit to Taiwan
"Get ready for war!" read a message posted by China's People's Liberation Army (PLA) 80th Group over the US visit to Taiwan, as reported on Friday, July 29.
China's Army's war message over the potential US visit to Taiwan reportedly generated over 300,000 thumbs-up in just 12 hours, creating "high morale among Chinese soldiers" according to Global Times.
The message was posted on China's social network Weibo, with pictures of the post since circulating on Twitter:
One user posted:
"🇨🇳⚔️🇺🇸🇹🇼"Get ready for war!" Such a message appeared on the official account of the 80th Army of the People's Liberation Army of China on the Weibo social network."
Source:  euroweeklynews.com 
521
Q
!UW.yye1fxo
01/13/2018 22:18:18
 ID:
8chan/greatawakening: 9
Why is Nancy Pelosi getting involved with China and Taiwan other than to make trouble and more money, possibly involving insider trading and information, for her cheatin' husband? Everything she touches turns to Chaos, Disruption, and "Crap" (her second big Congress "flop" happening now!), and the China mess is the last thing she should be involved in – She will only make it worse. Crazy Nancy just inserts herself and causes great friction and hatred. She is such a mess!!!

---
False Flags
Senator Rand Paul (R-KY) is demanding answers from the National Institutes of Health (NIH), after he says the agency "has repeatedly disregarded its responsibilities under FOIA (Freedom of Information Act) and the American people's right to agency records,"
"For almost two years, public interest groups and media organizations have been forced to engage in protracted litigation to obtain documents related to NIH's involvement in COVID-19," adding "The records NIH has produced have been heavily redacted."
"This suggests NIH is censoring the information it releases to the public about the origins of the pandemic."
Paul cites an article by journalist and former Chuck Grassley investigator Paul D. Thacker, which notes an egregious admission by the NIH in Court that the agency "is withholding portions of emails between employees because they "could be used out of context and serve to amplify the already prevalent misinformation regarding the origins of the coronavirus pandemic.""
 

Mr. Garcia-Malene also claimed that information had be redacted "because of the amount of misinformation surrounding the pandemic and its origins." Seriously, the NIH is now arguing in court that because there is so much misinformation about how the pandemic began, they can't release facts that might clear up misinformation about how the pandemic began.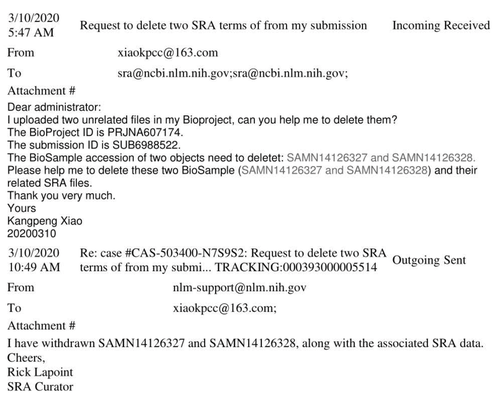 Paul has demanded the NIH answer the following questions: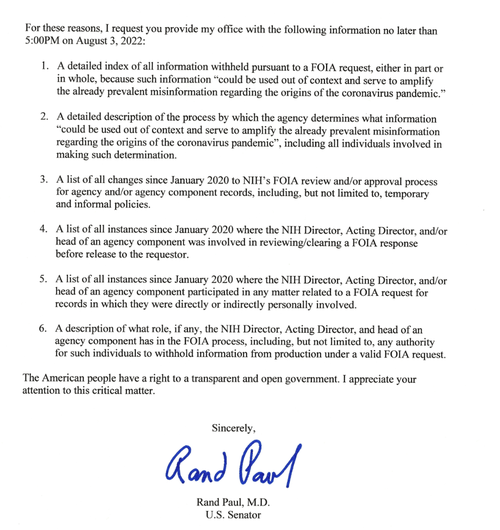 Source: zerohedge.com
---
Q
A whistleblower in New Mexico identified numerous issues with the certificates signed off on in the county that indicated that the voting machines were in good order.
The whistleblower's presentation was posted at the Professor's record on Telegram:
Our audit partners across the state continue to #StandInTheGap at a Sandoval County Commissioner's Meeting.

Ramona details her findings after spending HOURS reviewing the pre-election certificates of the MACHINES. 133 machine certificates were MISSING the clerk's seal, at least 3 different people FORGED the clerk's signature on certificates.

A complaint has been filed with both the Sheriff and the Sandoval Board of Ethics. Sandoval County clerk Anne Brady-Romero is called to RESIGN!
Below also is some support for the items mentioned above.  Issue noted in red.  Date is bogus.
The signature is the clerk's but no seal.
Here's the clerk's real signature.
 This has no seal and a forged signature.
Source: thegatewaypundit.com
 SharpieGate 2.0 was perhaps in the making when Maricopa Co Recorder Stephen Richer about faced on his July 7th tweet saying "use any black or blue pen".  He tweeted on July 26th that "we will give ALL voters a special pen at voting locations.  PLEASE PLEASE use this pen."  He then states that other pens don't dry quick enough and can "gunk" the tabulators, requiring cleaning.
The use of all caps to emphasize "please please" and "all" in his tweet about using the new "special pen" has overtones of desperation.  But last night, Richer took his desperation a step further, accusing a "friend" of trying to disrupt the primary and then commanding you to "just use the darn pen given to you on election".
  You can use any blue or black ballpoint pen you bring to the voting booth or poll.  Do not let anyone there force you or pressure you into using their pen against your wishes.
His next tweet in this thread was also disturbing:
"It's a primary.  What the heck do you think we get out of giving people a special pen other than a smooth functioning election?  Do you think we're just asking you to use the Pentel pen to be funny?  Good lord people."
Are these machines so inherently flawed that they cannot perform the literal job they were designed to do without using a special type of pen that was determined to cause issues in 2012 in  neighboring Pima Co?  Why isn't this an issue in any other counties across the country?  Are there records of the pen "gunk" causing malfunctions in 2018 or any previous elections in Maricopa?
Yes, SharpieGate was real.  Yes, SharpieGate had an impact on the 2020 election in Maricopa.
Bring your own pen, Maricopa.
Source: thegatewaypundit.com
Robin Vos has done a terrible thing to Wisconsin. Election Integrity seems to mean nothing to him, despite a sweeping Wisconsin Supreme Court Victory. It was a RIGGED Election. A lot of people will be voting against Vos on Tuesday, and for very good reason. A do nothing RINO!!!
Everybody must see "2000 Mules." It is not easy to get, it has largely been "canceled" by the Radical Left Lunatics working together with the Fake News Media, who are destroying our Country, but it is all over the internet. SEE IT NOW!
When Trump first came into office he said this is the calm before the storm
TAKE A LISTEN
 Trump retruthed god and country, Now he is saying the storm is coming
President Trump retruthed a quote from JFK this morning that said "storm coming," and then right after that, he retruthed "TheStormHasArrived" (yours truly )…
Back to back: storm coming / storm arrived
Prob just a coincidence