When Do Birds Sing,[DS] Corruption Exposed, [DS] Using PAN[DEM]IC For Cover – Episode 2179
The MSM are right on schedule, they are now pushing that the economy is a disaster, they are calling it Trump economy, no longer are they calling it Obama's economy.  The pieces are in place, Trump has prepared the first wave for the economic recovery. We are now seeing mortgage apps increase again. Trump signs the EO instructing gov agencies to deregulate. The [DS]/MSM are struggling, more states are opening, businesses are opening, the numbers are declining, people are learning about HCQ. Is this about the virus or something else? The declassification is being dripped out, more and more are brought into the mix showing they are corrupt. When do birds sing? The people must be shown, people need to see and understand, united not divided is the only way.
Check Out The X22 Report Spotlight YouTube Channel X22Report Spotlight
Please check Newzsentinel.com for the latest news on the economic collapse. The Sentinel Alerts are updated throughout the day.
---
Current News – 05.20.2020
Watch The X22 Report On Video
---
Economy
Applications to purchase a home increased 6% from the previous week, according to   the Mortgage Bankers Association's seasonally adjusted index.
The index is only 1.5% lower than it was at last year, a sharp rebound as it was down 35% on the year just six weeks ago. 
Still, refinancing applications slid 6% on the week, even with record low mortgage rates. 
 
pportunities will allow them to save money on their monthly payments, which can then be used to help other areas of their budgets," Kan said.
Source:  markets.businessinsider.com
Section 1.  Policy.  It is the policy of the United States to combat the economic consequences of COVID-19 with the same vigor and resourcefulness with which the fight against COVID-19 itself has been waged.  Agencies should address this economic emergency by rescinding, modifying, waiving, or providing exemptions from regulations and other requirements that may inhibit economic recovery, consistent with applicable law and with protection of the public health and safety, with national and homeland security, and with budgetary priorities and operational feasibility.  They should also give businesses, especially small businesses, the confidence they need to re-open by providing guidance on what the law requires; by recognizing the efforts of businesses to comply with often-complex regulations in complicated and swiftly changing circumstances; and by committing to fairness in administrative enforcement and adjudication.
 the Trump administration made a bold move to address that issue by signing a $354 million contract with an American pharmaceutical company to create the nation's first strategic stockpile of key ingredients to make vital medications.
Phlow Corporation, a generic drug manufacturer based in Richmond, Virginia, has been awarded a contract to manufacture pharmaceutical ingredients, chemical compounds, and generic drugs, some of which can be used to treat hospital patients who are suffering from the COVID-19 virus.
The contract was awarded by the Biomedical Advanced Research and Development Authority (BARDA) and could be extended to 10 years at a cost of $812 million, which would make it the largest contract ever awarded by BARDA.
Going forward, Phlow will manufacture drugs in cooperation with non-profit pharmaceutical company Civica Rx, Virginia Commonwealth University, and AMPAC Fine Chemicals, a manufacturer of active pharmaceutical ingredients.
Source: thenewamerican.com
---
Political/Rights
President Trump threatened to withhold funding from Michigan after he alleged that the state sent absentee ballots to all registered voters.
Source: washingtonexaminer.com
---
Geopolitical/Police State
Linick was tasked by Mendenedez and Harris to go after Pompeo's "conspiracy claims" about Yovanavich and Quid Pro Joe. h/t @BabeReflex_8 pic.twitter.com/1xDwVYKRk4

— 𝘁𝗵𝗲 𝗰𝗼𝗻𝘀𝗲𝗿𝘃𝗮𝗱𝗼𝗿 ♿ (@theconservador) May 20, 2020
But then almost all at the same time look what happens.

Linick is fired for unknown reasons, then yesterday the audio is released that in fact, Pompeo was right about everything Menendez and Harris sent Linick to prove.

Coincidence? Doubt it. pic.twitter.com/J8hM2iqZHU

— 𝘁𝗵𝗲 𝗰𝗼𝗻𝘀𝗲𝗿𝘃𝗮𝗱𝗼𝗿 ♿ (@theconservador) May 20, 2020
Here is the request to Linick. https://t.co/KFbZzmJ00T

— 𝘁𝗵𝗲 𝗰𝗼𝗻𝘀𝗲𝗿𝘃𝗮𝗱𝗼𝗿 ♿ (@theconservador) May 20, 2020
And who is super pissed off now?

LOL Guess who? https://t.co/HCQCxeO811

— 𝘁𝗵𝗲 𝗰𝗼𝗻𝘀𝗲𝗿𝘃𝗮𝗱𝗼𝗿 ♿ (@theconservador) May 20, 2020
And BOOM! 💣#BREAKING!🔥@SecPompeo responds to Menendez!

OWNED! pic.twitter.com/Ecmoiw4cqH

— 𝘁𝗵𝗲 𝗰𝗼𝗻𝘀𝗲𝗿𝘃𝗮𝗱𝗼𝗿 ♿ (@theconservador) May 20, 2020
Not only was Menedeztarget for bribery, but he was also accused of taking a "sex vacation" with underage girls at the

Casa de Campohttps://t.co/LrvE2m12Lh

— 𝘁𝗵𝗲 𝗰𝗼𝗻𝘀𝗲𝗿𝘃𝗮𝗱𝗼𝗿 ♿ (@theconservador) May 20, 2020
And Bob isn't the only one to get some kiddie play at Casa de Campo.

Bill Clinton was said to have some romps there also! https://t.co/J3g1dILnEA

— 𝘁𝗵𝗲 𝗰𝗼𝗻𝘀𝗲𝗿𝘃𝗮𝗱𝗼𝗿 ♿ (@theconservador) May 20, 2020
Casa de Campo is known as a Sex Vacation getaway. https://t.co/v7rygJKqbG

— 𝘁𝗵𝗲 𝗰𝗼𝗻𝘀𝗲𝗿𝘃𝗮𝗱𝗼𝗿 ♿ (@theconservador) May 20, 2020
---
False Flags
Google CEO Eric Schmidt Helped China build its Surveillance System that allowed China to monitor-kill its citizens

Governor @andrewcuomo is hiring Schmidt to Advise on Corona Respone?@realDonaldTrump @SecPompeo @Cabinet @USAmbUN @Forbes @FBIWFO https://t.co/7HyZ0zKLNK

— Cyrus A Parsa, The A.I. Organization, ✍ (@CyrusAParsa1) May 19, 2020
Update on the New Jersey gym that opened up. The police is now standing outside harassing everyone that comes out. One man was arrested for not giving his name. pic.twitter.com/59JY9w9cD5

— The Dirty Truth (Josh) (@AKA_RealDirty) May 20, 2020

Illinois Governor Pritzker Threatens Business Owners with a Year in Prison if They Try to Reopen 
Last week Illinois Democrat Governor J. B. Pritzker warned the people of Illinois the state in lockdown and businesses shut down until the end of May.   Now Governor J.B. Pritzker warned small business owners that if they try to reopen their businesses they could face up to a year in prison.
So lets get this straight they are releasing convicted criminals, and replacing them with law abiding citizens who want to provide for their families. If you can go to home depot, the supermarket, gas station, post office, fed ex, ups. liquor stores, why can't you do the same with other businesses
Source: gatewaypundit.com
**BREAKING** The Fraternal Order of Police in Warwick, Rhode Island refuse to enforce the Governor's mandatory mask order… stating it's overreach and they "refuse to kick the community when they are down" pic.twitter.com/atuQtEghEp

— Tim Young (@TimRunsHisMouth) May 20, 2020
I grew up on a Virginia farm, Mr. President—our potatoes are fine. And as the only medical doctor among our nation's governors, I suggest you stop taking hydroxychloroquine.

Let's all get back to work. https://t.co/eay8saxcK1

— Ralph Northam (@GovernorVA) May 19, 2020
"Survey from Jackson & Coker shows an overwhelming majority of doctors would prescribe hydroxychloroquine or another anti-malaria drug to a family member suffering from Wuhan coronavirus." https://t.co/uMITOGlKiY

— Katie Pavlich (@KatiePavlich) May 19, 2020
Trump responded
The Fake News knows this. Thanks Katie! https://t.co/bUbgAylOcB

— Donald J. Trump (@realDonaldTrump) May 20, 2020
---
Q
"What happened the the US president in the 2016 election and throughout the first two years of his election was apparent. It was a grave injustice and it was unprecedented in American history. We saw two different standards of justice emerge."
Q
>>9241503
yeah yeah wait a tad longer we know
we're waiting patiently still 🙂
>>9241646
(/pb)
It's a marathon not a sprint.
Q
00db16b1e4fc01beb688a4b51cd1d095c5d4d015141ca35007d679435d2a9d7a.jpg
Hydroxychloroquine: The Drug Costa Rica Uses Successfully To Fight Covid-19
"In Costa Rica we have been applying hydroxychloroquine since we had a meeting by teleconference with personnel in China who attended the emergency in the cities of Shanghai and Wuhan," explained Ruiz.
That videoconference, offered by the Chinese Embassy in Costa Rica, ​​took place on the night of March 18. It included, among others, the director-general and the director of epidemiology of the Chinese Center for Disease Control and Prevention (briefly as China CDC).
"We decided to ask for help from those who have gone through this. The experts from Shanghai and Wuhan gave us recommendations for patient management. We were told that it is key that a mild or moderate patient does not become severe. They explained that they used hydroxychloroquine for this, but never azithromycin (an antibiotic for respiratory infections) due to the associated cardiac complications," Ruiz said.
In the group of 88 patients recovered up to Friday, April 17, the use of this drug has allowed covid-19 control tests to be negative, he added.
Marjorie Obando confirmed that up to Thursday, April 16, hydroxychloroquine treatment had been given to 1,361 people, including cases suspected of being infected. Of these, 498 corresponded to confirmed patients.
"Hydroxychloroquine was used in Shanghai as the first line of treatment."
USA lockdown v China lockdown [non Wuhan][days]?
MSM [D]s 'vested interest' in censoring and attacking anything re: HCQ?
Why?
Q
Q

 

!!Hs1Jq13jV6

 

ID: 6756bf

 No.9250388 

NEW
WWG1WGA.PNG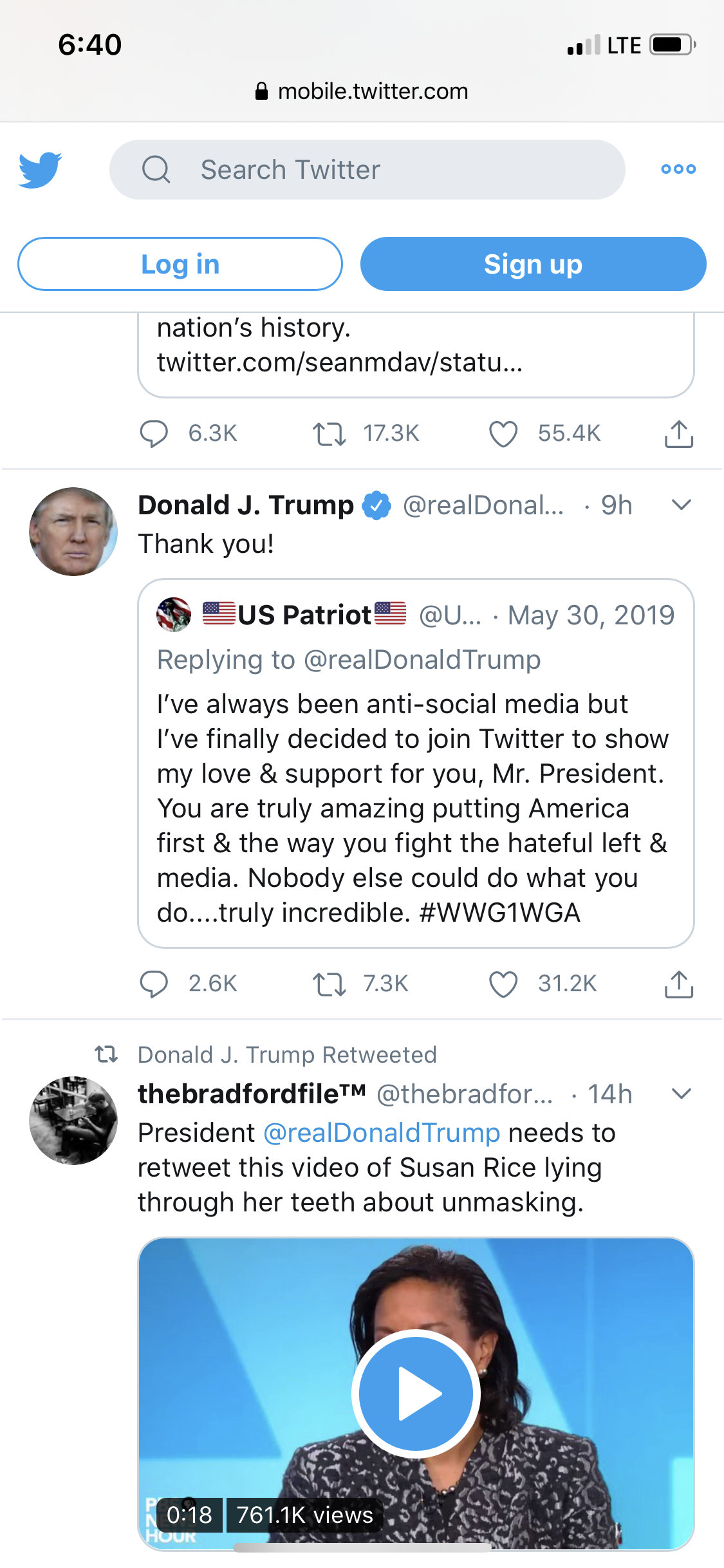 TAKE A LISTEN TO SUSAN RICE 
It was revealed  that Susan Rice's bizarre email to herself was directed by the White House counsel.
Via Fox News reporter Gillian Turner: Susan Rice's team confirms  that she was directed by White House Counsel to write the Jan 20, 2017 memorandum documenting an Oval Office meeting in which President Obama and National Security officials discussed General Flynn.
Source: thegatewaypundit.com
Anyone ask her why she felt she needed attorney advice to send herself an email!!? Why not send it to the attorney!?
   Now we know that Rep. Jamin Raskin, who participated in the unconstitutional and corrupt Schiff impeachment presentation to the Senate, has a wife who unmasked General Flynn.
We all wondered why the names of so many Obama Treasury Department officials appeared on the list of those who requested unmaskings of Gen. Michael Flynn's telephone calls. The requests all came on December 14, 2016 and were made by then-Treasury Secretary Jacob Lew (Lew made a second request on January 12, 2017), then-Acting Assistant Secretary of the Treasury Arthur "Danny" McGlynn, then-Acting Assistant Deputy Secretary Mike Neufeld, then-Deputy Secretary Sarah Raskin, then-Under Secretary Nathan Sheets and then Acting Under Secretary Adam Szubin.

   Sarah Raskin is married to anti-Trumper Rep. Jamin B. "Jamie" Raskin (D.-Md.), who served as one of the House Managers in the Senate impeachment trial.)
Not only that, but Ms. Raskin, was appointed by Obama as a Governor of the Federal Reserve Board and then as the Deputy Secretary of the Treasury.  In that position she unmasked General Flynn which clearly had nothing to do with her position but shows her corrupt actions while in Obama's Treasury Department. 
Source: thegatewaypundit.com
APP_051520_Trump_Fauci.jpg
Why was Dr. Fauci, a health expert, just a few months ago telling us masks were harmful & unessential to those of us who aren't infected? Why do we need masks now!? What's changed since March? S52 E23 – Air Date: March 8th, 2020
Reconcile.
Q
During the surge birx and fauci never wore a mask, each person in the whitehouse is either tested or their temparatures are taken, as the country is opening up and the numbers are declining and the pressers is held outside he decides to wear a mask, the [DS] players don't want the country opening up, they don't want people going back to their everyday lives, if they do they lose control, lose control over everything.  
Senate Committee Authorizes Subpoena in GOP's Hunter Biden-Burisma Investigation
A Senate committee voted to subpoena documents from a consulting firm associated with the work of the former vice president's son in Ukraine.
HE SENATE HOMELAND Security and Governmental Affairs Committee on Wednesday voted to authorize a subpoena related to the GOP's investigation into Hunter Biden and Ukrainian natural gas company Burisma Holdings, exacerbating partisan tensions months out from the 2020 election. 
Senate Homeland Security Committee Chairman Ron Johnson of Wisconsin set up a vote to subpoena Blue Star Strategies, a consulting firm that worked with Burisma while Biden sat on the company's board and faces allegations of trying to influence policy at the State Department. The committee advanced the subpoena in a party-line vote. GOP Sen. Mitt Romney of Utah has previously expressed concerns about the investigation targeting the Bidens but joined the other seven committee Republicans to vote in favor of the subpoena.
The subpoena vote was originally intended for a former Blue Star consultant to produce documents but was scrapped in March and tailored to instead subpoena the firm directly. Plus, most committee work was put on hold as the coronavirus pandemic hit the U.S. and largely sidelined Congress over the past few months. 
"Meanwhile, Democrats on the Homeland Security Committee have decried the investigation and the subpoena, arguing that they should be focusing on coronavirus-related issues during the ongoing pandemic and prioritize it over politics."
In a letter sent to Johnson on Tuesday, Sen. Kamala Harris of California renewed her calls for another COVID-19 hearing, noting that the committee hasn't held one since early March.
DNC media [MSM] echo-chamber push?
Is this about the virus OR PREVENTING EXPOSURE OF [D] CORRUPTION?
Is this about the virus OR LOCKING [R] CONTROLLED SENATE FROM INVESTIGATING [D] FISA_BIDEN_OTHER CORRUPTION?
Is this about the virus OR THE ELECTION?
Q
Ukrainian prosecutors launch high treason case against ex-president Poroshenko
The Office of the Ukrainian Prosecutor General has launched an investigation into high treason and abuse of office by ex-president Pyotr Poroshenko after purported records of his conversations with former US vice president and secretary of state were made public, the Ukrayinska Pravda newspaper said.
Source: tass.com
In Kiev late last month, District Court Judge S. V. Vovk ordered the country's law enforcement services to formally list the fired prosecutor, Victor Shokin, as the victim of an alleged crime by the former U.S. vice president,
The court ruled then that there was adequate evidence to investigate Shokin's claim that Biden's pressure on then-President Petro Poroshenko, including a threat to withhold $1 billion in U.S. loan guarantees, amounted to unlawful interference in Shokin's work as Ukraine's chief prosecutor.
Q

 

!!Hs1Jq13jV6

 

ID: ca0923

 No.9252896

NEW
PAN-DEM-IC
DEM–PANIC
Fear [vote-by-mail] and obey [stay inside or face death or arrest] tactics push will end +1 [election day].
Reconcile:
Release of convicts from prison [evil releases evil].
Do these people care about your well-being?
Do these people love America?
Do anything to regain power?
Q
Q

 

!!Hs1Jq13jV6

 

ID: 2d54d0

 No.9253283 

NEW
People fell asleep long ago.
People gave up control.
People have been compartmentalized
[divided]
.
Divided you are weak.
Divided you are taught to fight each other.
Race v race
Religion v religion
Class v class
Gender v gender
Unity is what gives people strength.
Unity is what gives people power
[collectively]
.
Power over government.
Power over
[

The Invisible Enemy

]
UNITY CREATES PEACE.
UNITY IS HUMANITY.
THE WORLD IS WHAT WE MAKE IT.
Q