Boom Week Just Hit, Hunters Have Become The Hunted, Pain – Episode 2178
Trump is now giving relief to the farmers, they are now receiving 19 billion to help them out. Trump administration is hitting China hard, they are allowing a chip maker from Taiwan build a manufacturing plant here in the US. Trump has now made the first set of economic messages, he will sign an EO instructing regulations be removed and to reverse the supply chains. The [DS]/MSM is getting hit hard this week, first Trump tells the media that he is taking HCQ, they go crazy, then Grennell declassifies more information and the biggest bombshell is that the recordings are released for Biden, Kerry and Ukraine. There is one recording where Biden is talking about the removal of the prosecutor for a billion dollars. Q dropped more bread and the pain is coming, slow and steady so the [DS] feels the pain .
Check Out The X22 Report Spotlight YouTube Channel X22Report Spotlight
Please check Newzsentinel.com for the latest news on the economic collapse. The Sentinel Alerts are updated throughout the day.
---
Current News – 05.19.2020
Watch The X22 Report On Video
---
Economy
The U.S. will provide a $19 billion relief package to U.S. farmers and ranchers affected by coronavirus, President Donald Trump announced
Trump made the announcement alongside industry leaders in the food supply chain at the White House, saying $16 billion would go to farmers and ranchers as direct payments and $3 billion would go toward purchases for the Food Box Distribution Program. The announcement is virtually identical to a program Agriculture Secretary Sonny Perdue announced in April.
Source: dailycaller.com
The Trump administration hit hard against the Chinese Communist Party (CCP) late this week with the announcement that a Taiwan chip manufacturer will be building a plant in the United States and that the move will severely restrict the company's ability to sell to China's Huawei.
Taiwan Semiconductor Manufacturing Co Ltd (TSMC) announced that it will build a new factory in Arizona as part of a $12 billion deal with the U.S. that will "create over 1,600 high-tech professional jobs directly, and thousands of indirect jobs in the semiconductor ecosystem," the company said in a statement.
The plant is "the biggest foreign investment by TSMC," Reuters notes, and "will produce the most sophisticated 5 nanometer chips, which can be used in high-end defense and communications devices."
 
Pompeo said that the chip will be used for a wide range of functions, including in 5G base stations and F-35 fighter jets, Reuters notes.
The U.S. welcomes TSMC's intention to invest $12B in the most advanced 5-nanometer semiconductor fabrication foundry in the world. This deal bolsters U.S. national security at a time when China is trying to dominate cutting-edge tech and control critical industries.
Source: dailywire.com
"The pandemic has shown once again the vital importance of economic independence and bringing supply chains back from China and other countries." pic.twitter.com/tqPuWWml2s

— The White House (@WhiteHouse) May 19, 2020
BREAKING: President Trump signs executive order "instructing federal agencies to use any and all authority to waive, suspend and eliminate unnecessary regulations that impede economic recovery."

"And we want to leave it that way…" pic.twitter.com/UTGxGg3U0C

— Breaking911 (@Breaking911) May 19, 2020
---
Political/Rights
"The [House Judiciary] Committee's investigation did not cease with the conclusion of the impeachment trial," the Democrats wrote in their filing. "If this material reveals new evidence supporting the conclusion that President Trump committed impeachable offenses that are not covered by the articles adopted by the House, the committee will proceed accordingly – including, if necessary, by considering whether to recommend new articles of impeachment." Democrats claimed they were investigating "the possible exercise of improper political influence over recent decisions made in the Roger Stone and Michael Flynn prosecutions, both of which were initiated by the special counsel."
When Flynn pleaded guilty, and again when he was originally scheduled to be sentenced by Sullivan, he acknowledged under oath that he was guilty of making false statements to the FBI agents who questioned him about his telephone conversation with the Russian ambassador. He made these statements, however, while he was represented by counsel who had an apparent conflict of interest and before the government disclosed that the FBI lacked a legitimate reason to question him about the telephone call.
More recently, after Flynn obtained new counsel, he moved to withdraw his guilty plea and submitted a declaration stating that he was innocent of the crime. The potential discrepancy between that declaration and his earlier statements appears to be the basis for Sullivan flagging the perjury issue.
Sullivan Lacks Authority to Charge Flynn with Perjury
A court issues a show-cause order for contempt as a prelude to possibly punishing a person for alleged misconduct. It describes the misconduct and requires the person to defend against that allegation. It is similar to an indictment except the court, rather than a prosecutor, initiates it. The person receiving a show-cause order must appear and defend the accusation but has certain due process rights, such as the right to notice, the right to counsel, and the right to present a defense.
Sullivan has not yet issued a show-cause order to Flynn, but he has directed Gleeson to advise him as to whether he should do so. The answer is absolutely not, because Sullivan lacks the authority to sanction Flynn for perjury.
Under the separation of powers established by the Constitution, criminal charges are brought by the executive branch and adjudicated by the judiciary. Thus, any actual prosecution of Flynn under federal statutes for perjury would have to be brought by the Department of Justice.
Courts are, however, permitted to initiate prosecutions for criminal contempt of court. Contempt is behavior that disobeys, offends, or disrespects a court's authority or dignity. It can occur directly in court, or indirectly when it happens outside the judge's presence. Judges have the authority to summarily punish contempt committed in their presence in certain instances.
The federal criminal code specifically recognizes a court's contempt authority. Section 401 of the federal criminal code provides that a federal court can punish contempt of its authority, consisting of misbehavior in its presence that obstructs the administration of justice.
Rule 42 of the Federal Rules of Criminal Procedure governs contempt proceedings. It provides that, generally, a person charged with contempt shall be given notice of the charge, a prosecutor shall be appointed, and a trial shall occur to adjudicate the charge. If the potential punishment exceeds 180 days, the defendant also has a right to a jury trial.
Precedent Cuts Against Seeking a Contempt Proceeding
But the Supreme Court decided 100 years ago in a case called Ex parte Hudgings that perjury does not constitute contempt of court under Section 401. In that case, a judge held a witness in criminal contempt for giving what in the judge's view was perjured testimony.
Flynn's statements in connection with his plea did not obstruct the court in the performance of its duty. Thus, they simply cannot constitute contempt of court under long-standing precedent. Sullivan should therefore not embark on any contempt proceeding. Doing so would be a misuse of his contempt power.
Source: thefederalist.com
#BREAKING Team Flynn has just delivered to the United States Court of Appeals for the D.C. Circuit a Petition for Writ of Mandamus to correct Judge Sullivan's unauthorized actions.@realDonaldTrump @TomFitton @Techno_Fog @ProfMJCleveland @marklevinshow @molmccann @GenFlynn pic.twitter.com/HhWkqR64Oa

— Sidney Powell 🇺🇸⭐⭐⭐ (@SidneyPowell1) May 19, 2020
The Flynn Writ of Mandamus – relief sought:

(1) Grant the motion to dismiss; (2) vacate Sullivan's order appointing amicus; (3) reassign the case to another judge.

Read it here:https://t.co/cKecLsAM2Y pic.twitter.com/kc0ciXDpGH

— Techno Fog (@Techno_Fog) May 19, 2020
SCOTUS just ruled 9-0 that a judge's role is to be a neutral arbiter.

Only exceptions in criminal cases are to protect the rights of defendants.

So why is Judge Sullivan inviting amici to *prosecute* Michael Flynn? pic.twitter.com/m0kPyeUs4G

— Tom Cotton (@TomCottonAR) May 19, 2020
So why did Sidney Powell decide to file this, to remind the J Sullivan that the DOJ dropped the case and it doesn't matter if he like or not, this does not give him the authority to look for new charges and appoint a new prosecutor, remember he is judge, judges the case 
Senate To Vote on Subpoenas For Obama Admin. Officials | FULL LIST
Senate Judiciary Committee Chairman Lindsey Graham (R-South Carolina) today announced that the Committee would debate and vote on a subpoena authorization related to the FISA abuse investigation and oversight of the Crossfire Hurricane investigation.
Graham's subpoena authorization covers a number of documents, communications and testimony from witnesses, including James Comey, Andrew McCabe, James Clapper, John Brennan, Sally Yates, and others.
Source: breaking911.com
Trump is
Let's remember some winning. Crooked IGs were a key element of the shadow government. pic.twitter.com/N2U2EMMBsQ

— TruthHammer⭐️⭐️⭐️ (@TruthHammer888) May 19, 2020
1. Intelligence Community Inspector General Michael Atkinson. 4/3

Knowingly helped the whistleblower file a false report that led to impeachment. pic.twitter.com/1tfEcx5Lhz

— TruthHammer⭐️⭐️⭐️ (@TruthHammer888) May 19, 2020
2. Department of Defense acting Inspector General Glenn Fine. 4/7

Was to chair the panel overseeing coronavirus spending: Trump said, "I don't think I ever met Fine," and suggested he was cleaning out Obama-era holdovers, citing "reports of bias." pic.twitter.com/UjFEcBaCso

— TruthHammer⭐️⭐️⭐️ (@TruthHammer888) May 19, 2020
3. Health and Human Services acting Inspector General Christi Grimm. 5/1

Grimm released a report in late March that found "severe shortages of testing supplies" and "widespread shortages of personal protective equipment". She never contacted the CV task force. pic.twitter.com/kKcNNFirFG

— TruthHammer⭐️⭐️⭐️ (@TruthHammer888) May 19, 2020
4. State Department Inspector General Steve Linick. 5/15

House Democrats had called on Linick to open an investigation into Pompeo's efforts to secure an arms deal with Saudi Arabia. Linick was also investigating reports Pompeo used his staff to conduct personal chores. pic.twitter.com/N3CP8Q2hws

— TruthHammer⭐️⭐️⭐️ (@TruthHammer888) May 19, 2020
Previously we learned that IGs over the Pentagon have done little more than rubber-stamp defense spending.

Hypothetically… if you controlled the IGs… what could you accomplish, while enjoying the appearance of legitimacy?

— TruthHammer⭐️⭐️⭐️ (@TruthHammer888) May 19, 2020
---
Geopolitical/Police State
---
False Flags
'Null and void': Oregon county judge invalidates Gov. Kate Brown's shutdown orders
A county judge  declared "null and void" the pandemic-related emergency orders of Oregon Gov. Kate Brown in response to a lawsuit filed by churches and residents challenging the state shutdown.
Baker County Circuit Court Judge Matthew B. Shirtcliff said in a seven-page decision that Ms. Brown's executive orders, including her "Stay at Home and Save Lives" and "Closure of Certain Businesses" shutdowns, exceeded the 28-day legislative time limits.
Democratic governor vows to appeal to Oregon Supreme Court
Source: washingtontimes.com
Covid Patients Testing Positive After Recovery Aren't Infectious, Study Shows. They're shedding only dead virus. https://t.co/njNxIub67c

— Scott Gottlieb, MD (@ScottGottliebMD) May 19, 2020
Speaker Pelosi says that President @realDonaldTrump should not take Hydroxychloroquine because he is "morbidly obese." pic.twitter.com/2a1XDw1Gvg

— Daily Caller (@DailyCaller) May 19, 2020
TAKE A LISTEN
If hydroxychloroquine were as dangerous as they say, you'd think the media would be delighted @realDonaldTrump is taking it.

— Joel B. Pollak (@joelpollak) May 18, 2020
The head of the VA says the media has been reporting #FakeNews about the study on #Hydroxychloroquine. The study that the media has been referring to was not done by the VA.  Those in the military have been taking it for years, On any given day the VA uses 42000 doses of hydroxychloroquine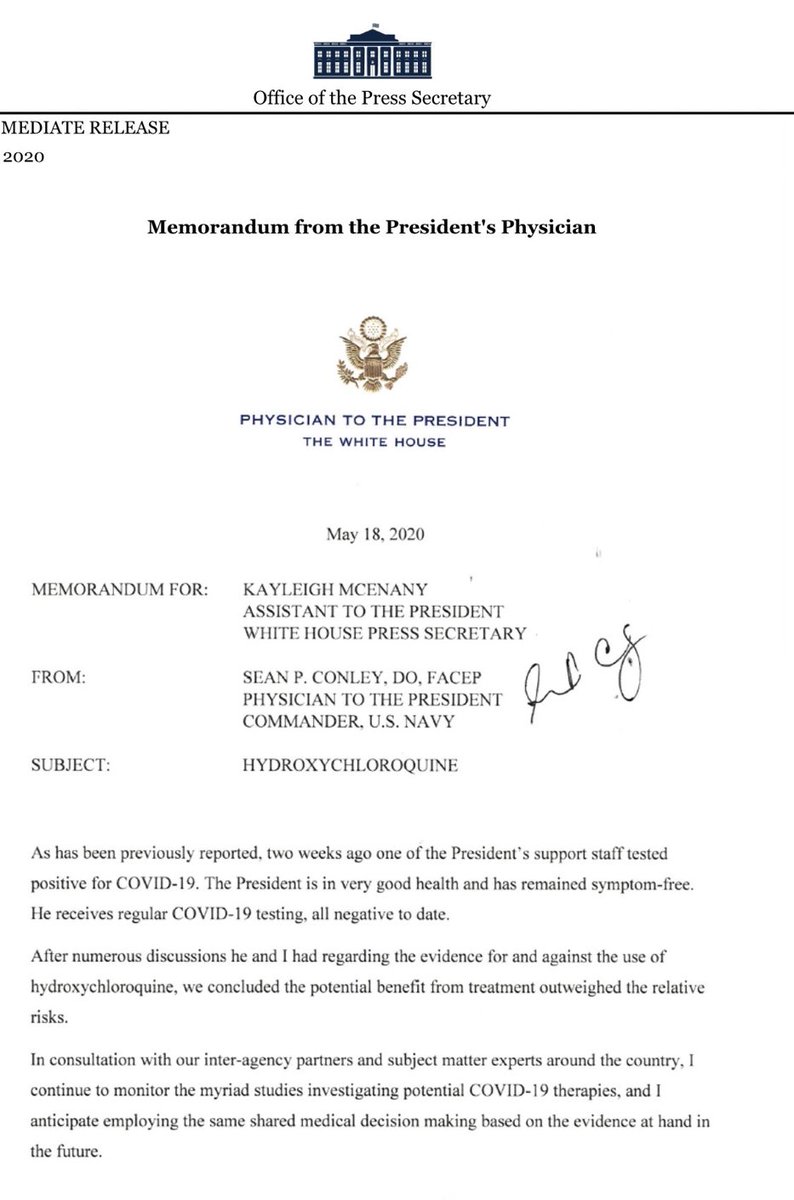 This is the letter sent to Dr. Tedros of the World Health Organization. It is self-explanatory! pic.twitter.com/pF2kzPUpDv

— Donald J. Trump (@realDonaldTrump) May 19, 2020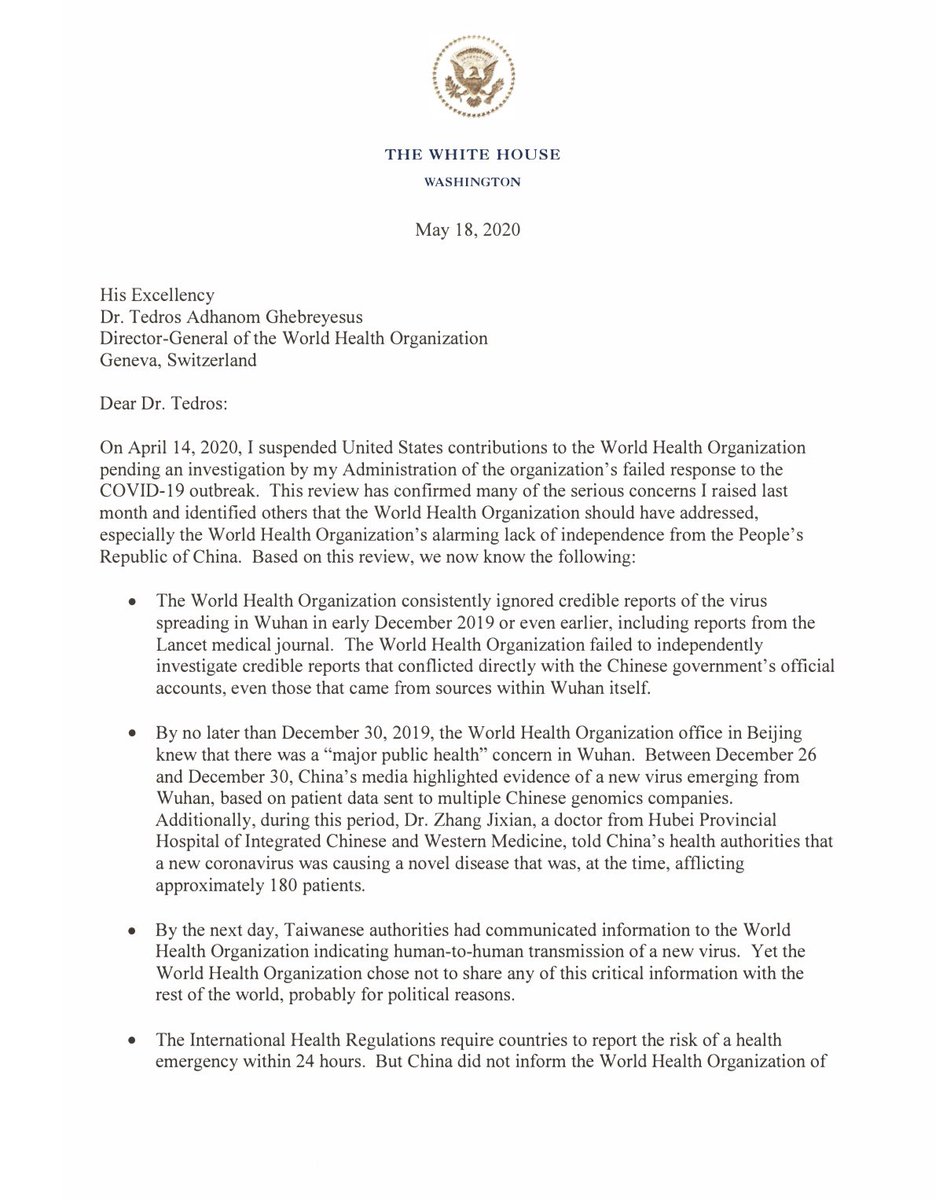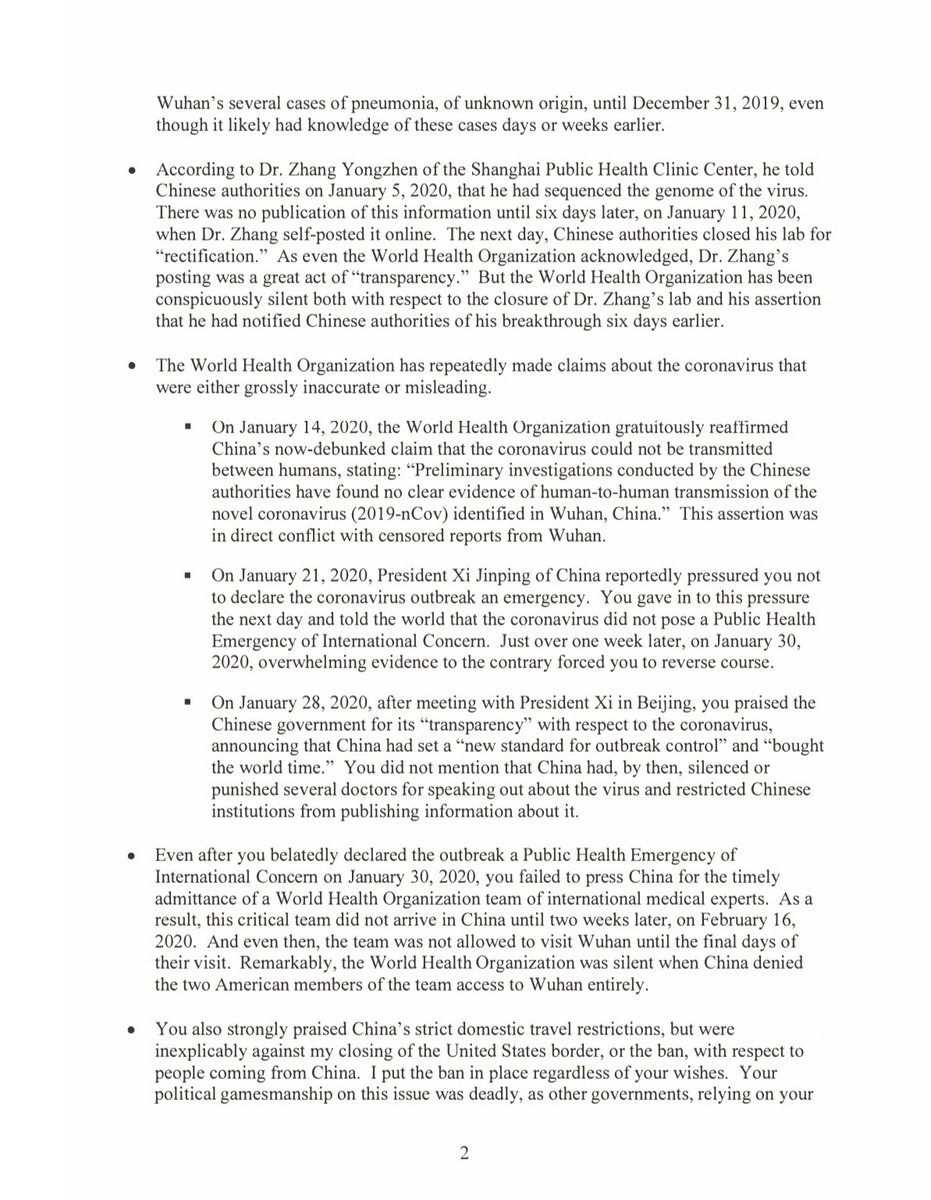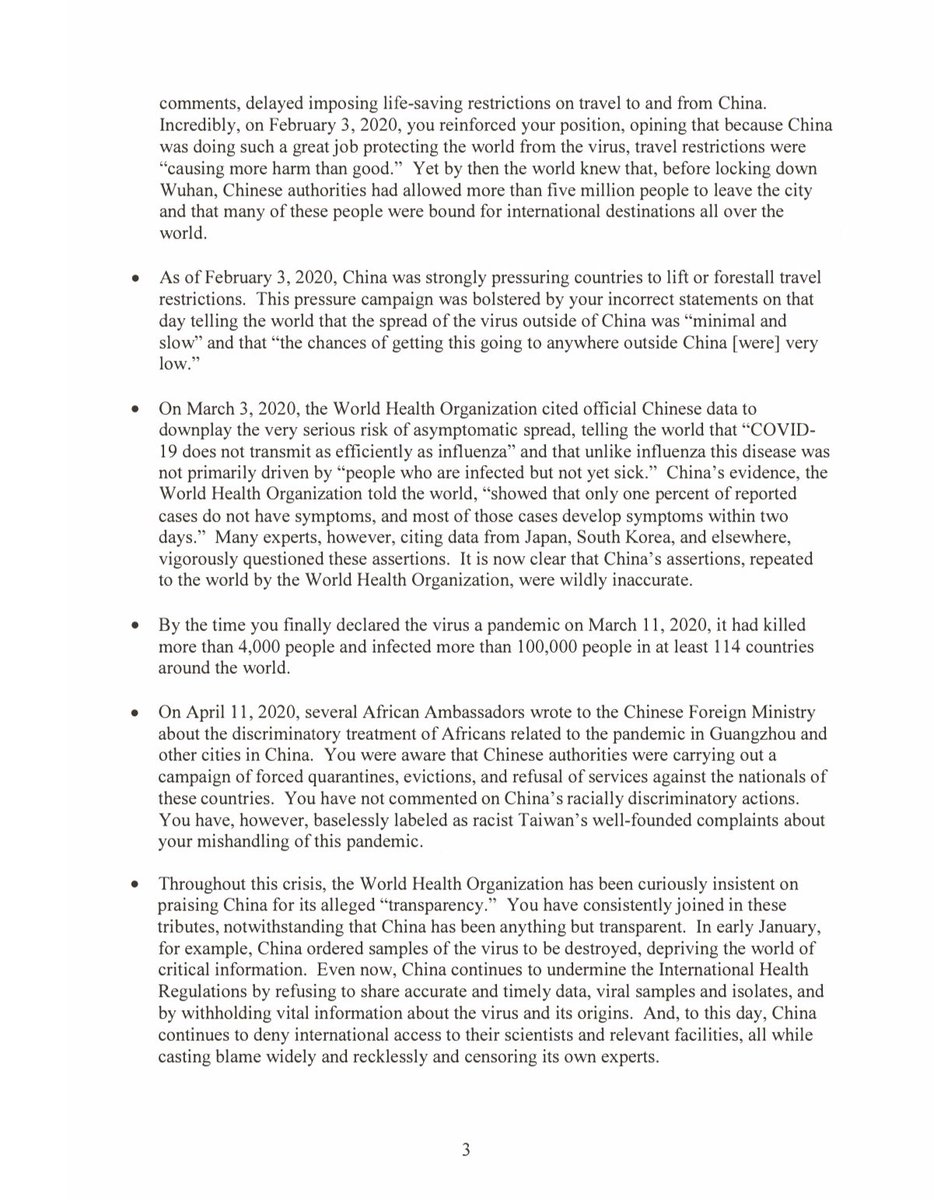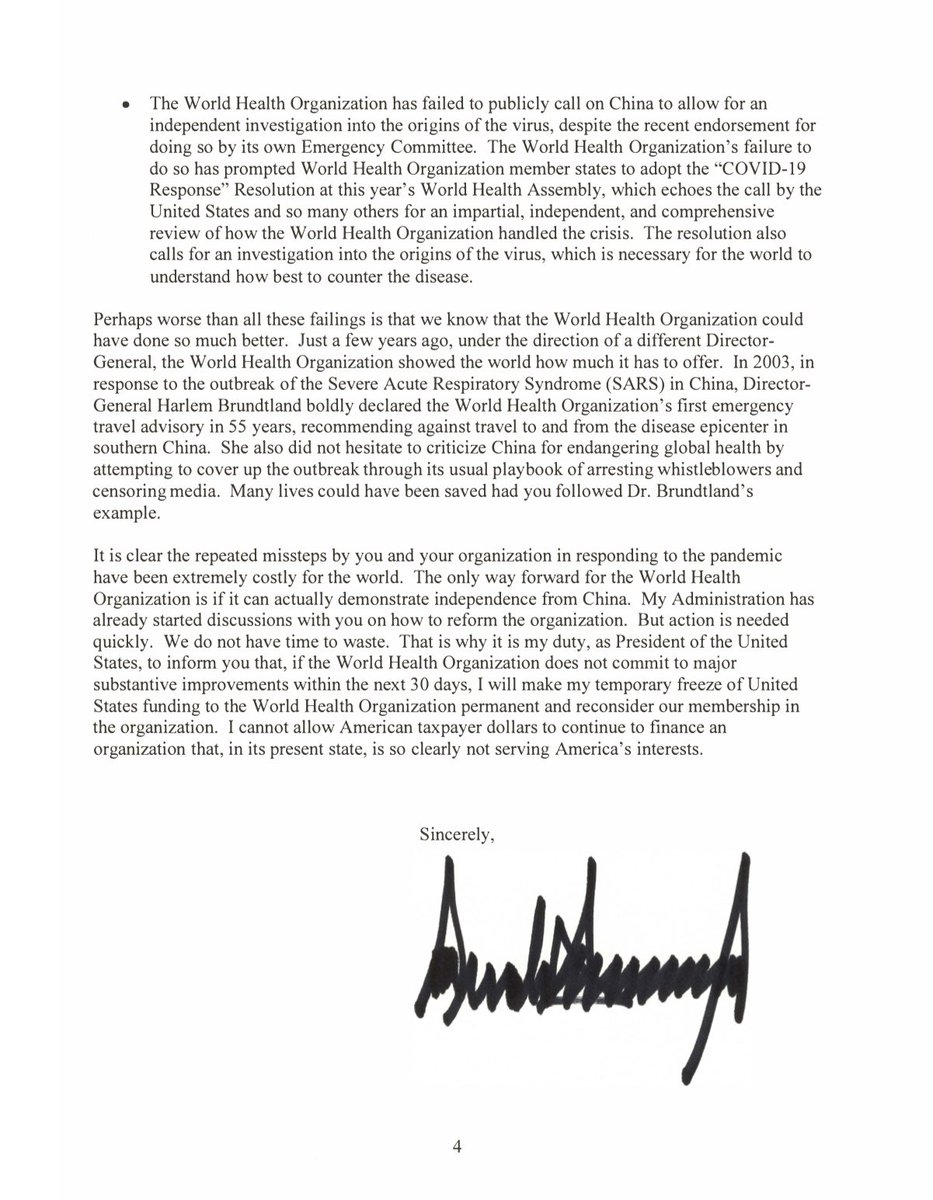 In Trumps letter, he listed the  The crimes.
If there are crimes, these crimes need to be investigated
---
Q
Q

 

!!Hs1Jq13jV6

 

ID: 76a615

 No.9238453
 

NEW
Wikipedia defines chess strategy as evaluation of chess positions and setting up goals and long-term tactics for future play.
Strategy must also involve tactics, because if there is no tactics behind the chess strategy it becomes pointless. It's like planning to walk a dog this morning if you don't have one.
To develop strategy player must evaluate position on the chess board. When evaluating, player must take into account following:
Material on the board

Pawn structure

King safety (own and opponent's)

Position of pieces (analyze where own and opponent's pieces are located in respect to king, other weaknesses)

Control of center and key squares (You may want to check out my previous discussion over the Central Squares)

Control of open files, long diagonals

Own and opponent's weaknesses (isolated pawns, "bad" bishops/knights, developmental problems)
Objective [end]: checkmate king
Do you attack the king at the beginning of the game?
Do you attack and remove pawns first?
Do you attack and remove bishops, rooks, knights next?
Do you attack and remove queen mid-to-end?
Is the game being played public or private?
Do emotions affect critical thinking?
Add: important king control pieces [elim rogue elements]?
Add: how do you set the stage [board] re: public opinion [optics]?
"At this time."
Q
Q

 

!!Hs1Jq13jV6

 

ID: 76a615

 No.9238642


NEW
POTUS daily ingest HCQ prevent COVID-19?
Pre announcement: tools [source(s), data, COV-1 v COV-2 analysis, etc.] provided to factually 'challenge' narrative?
Full attack v HCQ by media [D]s?
Why?
Why wouldn't the media [D]s want to work [on all fronts] to find a possible solution [immediate dismissal]?
Why doesn't the media [D]s want the pandemic [rearrange: dem panic] to slow-stop?
Why doesn't the media [D]s want society to heal [recover]?
Why doesn't the media [D]s want people to no longer fear going outside?
Why doesn't the media [D]s want people to point the finger at China as the source?
Why does't the media [D]s want people to return to work [normal daily lives]?
Who benefits the most?
Why does corp media [D] attempt to control us?
Why does corp media [D] challenge [attack] anyone who defies pushed_coordinated narrative?
Why does corp media [D] attempt to prevent [individual] critical thinking [public]?
Is this about the virus or something else?
Everything is at stake this election.
Q
Q

 

!!Hs1Jq13jV6

 

ID: 76a615

 No.9238824


NEW
When does your enemy expend ammunition?
Do you expend ammunition against a weak opponent?
Do you expend ammunition against a non_threat?
Critical thinking _media cluster bomb(s) [attacks] v POTUS
Critical thinking _media cluster bomb(s) [attacks] v Q [you]
Q
Huma Abedin's ties to the Muslim Brotherhood
The Clinton campaign is attempting once again to sweep important questions under the rug about top aide Huma Abedin, her family ties to the Muslim Brotherhood and to Saudi Arabia, and her role in the ballooning Clinton email scandal.
The New York Post ran a detailed investigative piece over the weekend about Ms. Abedin's work at the Journal of Muslim Minority Affairs from 1995 through 2008, a Sharia law journal whose editor in chief was Abedin's own mother.
This is not some accidental association. Ms. Abedin was, for many years, listed as an associate editor of the London-based publication and wrote for the journal while working as an intern in the Clinton White House in the mid-1990s.
Her mother, Saleha Abedin, sits on the Presidency Staff Council of the International Islamic Council for Da'wa and Relief, a group that is chaired by the leader of the Muslim Brotherhood, Sheikh Yusuf al-Qaradawi.
Perhaps recognizing how offensive such ties will be to voters concerned over future terrorist attacks on this country by radical Muslims professing allegiance to Sharia law, the Clinton campaign on Monday tried to downplay Ms. Abedin's involvement in the Journal and the Muslim Brotherhood.
The Clinton surrogate group Media Matters claimed predictably there was "no evidence" that Ms. Abedin or her family had ties to the Muslim Brotherhood, and that Trump campaign staffers who spoke of these ties were conspiracy theorists.
To debunk the evidence, Media Matters pointed to a Snopes.com "fact-check" piece that cited as its sole source… Senator John McCain. This is the same John McCain who met Libyan militia leader Abdelkarim Belhaj, a known al Qaeda associate, and saluted him as "my hero" during a 2011 visit to Benghazi.
Senator McCain and others roundly criticized Rep. Michele Bachmann in 2012 when she and four members of the House Permanent Select Committee Intelligence and the House Judiciary Committee cited Ms. Abedin in letters sent to the Inspectors General of the Department of Defense, Department of State, Department of Justice, Department of Homeland Security, and the Office of the Director of National Intelligence, warning about Muslim Brotherhood infiltration of the United States government.
In response to those critiques, Rep. Bachmann laid out the evidence in a 16-page memo, which has never been refuted by Senator McCain or the elite media.
The evidence, in my opinion, is overwhelming: Huma Abedin is nothing short of a Muslim Brotherhood princess, born into an illustrious family of Brotherhood leaders.
Infiltration not invasion.
For future events.
Q
Q

 

!!Hs1Jq13jV6

 

ID: ad289d

 No.9239924 

NEW
China Wants to Patent Gilead's Experimental Coronavirus Drug
Chinese researchers have applied for a national patent on an experimental Gilead Sciences Inc. drug that they believe might fight the novel coronavirus.
The Wuhan Institute of Virology — based in the Chinese city at the center of the epidemic — has applied for a patent in China for the use of the antiviral drug, known as remdesivir, in treating the ailment. The application was made on Jan. 21 together with a military academy, according to a Feb. 4 statement on the institute's website.
Large areas of China have been paralyzed by the coronavirus, and the move signals a desire to speed development of one of the most promising potential treatments. Beijing has moved aggressively to contain the infection that has killed almost 500 people and sickened nearly 25,000. If the application succeeds, Gilead would need to get Chinese patent owners on board in sales of the drug for treating coronavirus infections outside China.
"The good thing in having a patent is that it would lead to cross-licensing situations that give China more bargaining chips in negotiating the licensing fee with Gilead," said Wang Yanyu, a senior partner at AllBright Law Offices in Beijing.
https://www.gatesfoundation.org/Media-Center/Press-Releases/2010/12/Global-Health-Leaders-Launch-Decade-of-Vaccines-Collaboration
Global Health Leaders Launch Decade of Vaccines Collaboration | Bill & Melinda Gates Foundation
Global Vaccine Action Plan to guide discovery, development and delivery of lifesaving vaccines 
NEW YORK — The World Health Organization (WHO), UNICEF, the National Institute of Allergy and Infectious Diseases (NIAID) and the Bill & Melinda Gates Foundation have announced a collaboration to increase coordination across the international vaccine community and create a Global Vaccine Action Plan.  This plan will build on the successes of current work to achieve key milestones in the discovery, development and delivery of lifesaving vaccines to the most vulnerable populations in the poorest countries over the next decade.
The collaboration follows the January 2010 call by Bill and Melinda Gates for the next ten years to be the Decade of Vaccines.  The Global Vaccine Action Plan will enable greater coordination across all stakeholder groups – national governments, multilateral organizations, civil society, the private sector and philanthropic organizations — and will identify critical policy, resource, and other gaps that must be addressed to realize the life-saving potential of vaccines. 
The structure of the Decade of Vaccines Collaboration includes a Leadership Council to provide oversight for the planning effort, a Steering Committee that holds the primary responsibility for developing the action plan, an International Advisory Committee to assist the Leadership Council in evaluating the action plan, and a Secretariat for administrative support. 
Prof. Pedro Alonso, Director for the Institute for Global Health of Barcelona and Dr. Christopher Elias, President and CEO of PATH, have been appointed co-chairs of the Steering Committee and the Secretariat. 
"Vaccines are miracles," said Prof. Alonso, "For just a few dollars per child, vaccines prevent disease and disability for a lifetime. We must make sure that people understand that vaccines are one of the best investments in health."                                                             
The Leadership Council is comprised of:
Dr. Margaret Chan, Director General of WHO;

Dr. Anthony S. Fauci, Director of NIAID, part of the National Institutes of Health;

Mr. Anthony Lake, Executive Director for UNICEF; 

Ms. Joy Phumaphi, Chair of the International Advisory Committee and Executive Secretary, African Leaders Malaria Alliance

Dr. Tachi Yamada, President of Global Health at the Bill & Melinda Gates Foundation;
The Steering Committee includes globally recognized experts in vaccine delivery, advocacy, research and development, and access:
Dr. Nicole Bates, Senior Program Officer, Global Health Policy and Advocacy, Bill & Melinda Gates Foundation

Dr. Seth Berkley, President & CEO, International AIDS Vaccine Initiative (IAVI)

Dr. Zulfiqar Bhutta, Founding Chair, Division of Women and Child Health, Aga Khan University  

Dr. Lola Dare, CEO, Center for Health Sciences Training, Research and Development International

Ms. Helen Evans, Acting CEO, GAVI Alliance

Dr. Lee Hall, Chief, Parasitology and International Programs Branch, Division of Microbiology and Infectious Diseases, NIAID

Dr. T. Jacob John, Professor and Head, Departments of Clinical Microbiology and Virology, Christian Medical College, Vellore, India (Retired)

Dr. Orin Levine, Executive Director, International Vaccine Access Center (IVAC)

Dr. Jean-Marie Okwo-Bele, Director, WHO Department of Immunization, Vaccines and Biologicals

Dr. Ciro de Quadros, Executive Vice President, Sabin Vaccine Institute

Dr. David Salisbury, Director of Immunization, UK Department of Health

Dr. Anne Schuchat, Director, National Center for Immunization and Respiratory Diseases, CDC

Dr. Peter A. Singer, Director, McLaughlin-Rotman Centre for Global Health, University of Toronto

Dr. Lucky Slamet, Deputy for Therapeutic Products, Narcotic, Psychotropic and Addictive Substance Control, National Agency of Drug and Food Control, Indonesia

Dr. Gina Tambini, Area Manager, Family and Community Health, PAHO

Dr. Jos Vandelaer, Chief, Immunization, Programme Division, UNICEF

Ms. Sandy Wrobel, CEO and Managing Director, Applied Strategies
The Decade of Vaccines Collaboration expects to complete its work by mid-2012.  At that time, all vaccine stakeholder groups will be responsible for implementing the action plan. 
"We look forward to working with the global vaccine community to extend the benefits made possible by existing vaccines and new vaccines in development," said Dr. Elias, "Together we can ensure that all children have a shot at a healthy life."
Bill Gates Blasted as "Vaccine Criminal" in Italian Parliament
In the impassioned speech on the floor of Italy's Parliament exposing the Microsoft founder, the parliamentarian, Sara Cunial of Veneto, charged Gates with a long list of crimes, many involving his obsession with vaccinations and population reduction. She also argued that Gates and his toadies were instrumental in shaping the Italian government's disastrous and totalitarian response to the coronavirus outbreak that shredded liberty and left many thousands dead.
Billionaire "philanthropist" and population-control zealot Bill Gates is a criminal madman who must be arrested and tried for "crimes against humanity" and attempted "genocide" through vaccines, according to a firebrand Italian lawmaker who sent shock waves around the world. The member of Parliament also called for Italians to resist vaccines and Deep State tyranny. Fellow legislators applauded.
Source: thenewamerican.com
Q

 

!!Hs1Jq13jV6

 

ID: ad289d

 No.9240340

NEW
Nabu Leaks, recordings between Biden and Ukraine poreshenko, plus kerry and others
Q
TAKE A LISTEN
Q

 

!!mG7VJxZNCI

 

ID: 000000

 No.7358656

Q

 

!!Hs1Jq13jV6

 

ID: 9f19f8

 No.8092721

Justice.JPG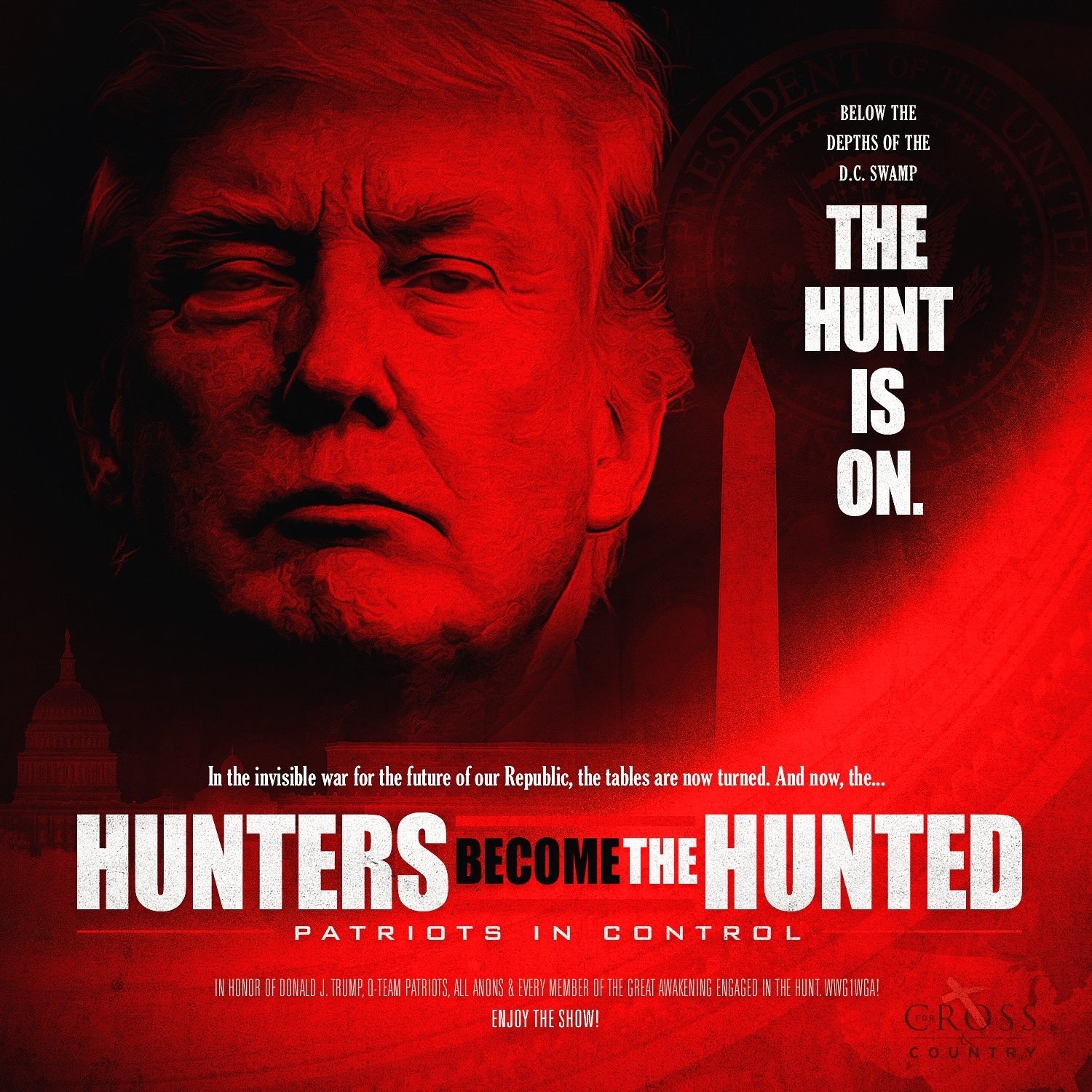 https://twitter.com/kylegriffin1/status/1226908710150299649
Did 'Mueller' open the door to Ukraine?
Did 'Mueller' open the door to FISA
[illegal]
?
How do you introduce evidence legally?
Did 'Impeachment' provide a platform to discuss findings of Ukraine?
How do you introduce evidence legally?
Did 'Impeachment' harm or help POTUS
[public]
?
How do you introduce
[D]
s high crimes
[corruption]
to the public?
Why didn't POTUS remove
[Hussein]
holdovers from NSC?
Do you really believe that POTUS & team trusted
[Hussein]
holdovers to remain within the admin and work to enact POTUS' agenda w/o bias or confrontation?
How do you 'awaken' the 'induced coma' public
[FAKE NEWS control]
from their long sleep?
Sometimes allowing your enemies to
[openly]
attack…….
Logical thinking.
Q
Q

 

!!Hs1Jq13jV6

 

ID: b71f03

 No.9241285


NEW
DEVELOPING: Declassified Rice email documenting WH meeting 1/5/2017 obtained @CBSNews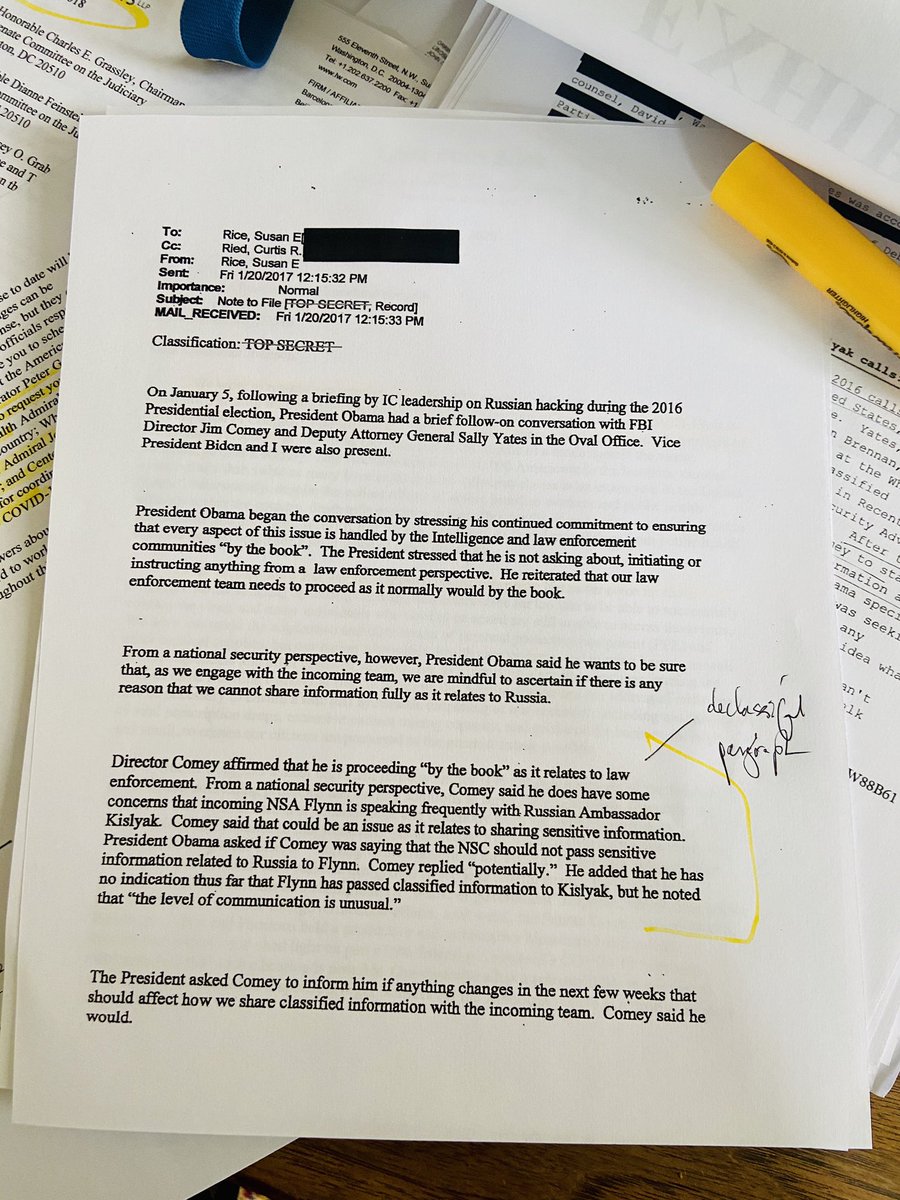 Q
Michael Flynn was personally targeted during a crucial Jan. 5, 2017 Oval Office meeting arranged by then-President Barack Obama, a newly declassified document shows.
On Jan. 20, 2017, as President Donald Trump was being inaugurated, former White House National Security Adviser Susan Rice sent herself a bizarre email detailing the Jan. 5 meeting between her, Obama, then-Vice President Joe Biden, then-Deputy Attorney General Sally Yates, and fired former Federal Bureau of Investigations Director James Comey.
The newly declassified portions of the Jan. 5 Rice email confirm that the targeting of Flynn was coordinated within the inner sanctum of the White House and that both Obama and Biden were deeply involved in the campaign to take down Flynn.
Documents previously released and declassified showed that the FBI never possessed any evidence that Flynn was a secret Russian agent or that he had broken any laws. An FBI electronic communication closing the agency's counterintelligence investigation against him, which was dated Jan. 4, made clear that "no derogatory information" about Flynn had been obtained during the months-long investigation of Flynn.