Why Russia? What Damage Can Russia Do To The [DS], Think Mirror – Ep. 2685
Watch The X22 Report On Video
The [CB] is now pushing to destroy their own system, this is needed to push people into their new system. They will start raising rates and pushing alternative currencies down, as the economy begins to fall apart, they will push alternative currencies down hard. The [DS] is now in the process of changing the news cycle, the fake news is pushing war. Putin will not invade and will not start a war, the [DS] will try to bait him like they have in the past. But it seems they are using all of this to create the narrative of a cyber attacks on the US. The push against Russia is to coverup their crimes, think of what Russia could do to the [DS] if certain information is revealed. Everything the [DS] projected onto Trump is what they have done and now the people can see the difference, Trump created peace and the [DS] is creating war.
---
Economy
But the MSM will tell you this is a rogue protest by a few unvaccinated truckers https://t.co/CYxnPCVtvs

— phzi (@phzix) January 24, 2022
The Burlington Northern – Sante Fe (BNSF) railroad is preparing to go on strike.  This will involve 17,000 workers across the nation and will disrupt supply chain channels even further. 
FOX News in Minot – Bismark, North Dakota reports:
A new work policy at BNSF Railway that starts Feb. 1 has prompted more than 17,000 employees to decide to go on strike over what they call "the worst attendance policy ever."
Source: thegatewaypundit.com
---
Political/Rights
Seventy-two percent of Americans say the nation is headed in the wrong direction, a Sunday NBC News poll revealed.
As rising inflation, coronavirus chaos, supply chain woes, and foreign policy blunders have impacted Americans throughout 2021 and into 2022, 72 percent of respondents believe the country is on the wrong track, up one point from October's NBC News poll.
Only six times have 70 percent or more of Americans believed the nation is headed in the wrong direction in consecutive surveys.
Source: breitbart.com
"..on information + belief, knew the results of FBI's interview of Danchenko in late Jan 2017. Nonetheless, on or about April 7, defendant Comey signed + certified the application.." Danchencko accused of lying to FBI + key contributor to Dossier. Pleaded not guilty. Trial Oct.

— Catherine Herridge (@CBS_Herridge) January 24, 2022
The British High Court has granted Wikileaks founder Julian Assange's request to be able to appeal his extradition to the United States.
 the court ruled that Assange's request to certify a point of law was legitimate.
"The point of law certified is: In what circumstances can an appellate court receive assurances from a requesting state which were not before the court of first instance in extradition proceedings," court documents read.
The case will now move to the UK's Supreme Court — should they choose to hear it.
Source: thegatewaypundit.com
---
War
Russia – Level 4: Do Not Travel
Do not travel to Russia due to ongoing tension along the border with Ukraine, the potential for harassment against U.S. citizens, the embassy's limited ability to assist U.S. citizens in Russia, COVID-19 and related entry restrictions, terrorism, harassment by Russian government security officials, and the arbitrary enforcement of local law.
Source: travel.state.gov
The North Atlantic Treaty Organization (NATO) said  that it was deploying fighter jets and aircraft carriers to Eastern Europe as Russia prepares to launch a military invasion into Ukraine.
"NATO Allies are putting forces on standby and sending additional ships and fighter jets to NATO deployments in eastern Europe, reinforcing Allied deterrence and defence as Russia continues its military build-up in and around Ukraine," the alliance said in a statement.
Specifics surrounding how many ships and jets would be sent remained unclear. The announcement came a day after President Joe
Source: dailycaller.com
BREAKING: Defense Department Spokesman John Kirby says 8,500 US troops on 'heightened alert' if needed to deploy to Ukraine but no decision made yet
Russia, DHS said, has a "range of offensive cyber tools that it could employ against US networks," and the attacks could range from a low level denial of service attack, to "destructive" attacks targeting critical infrastructure.
"We assess that Russia's threshold for conducting disruptive or destructive cyber attacks in the Homeland probably remains very high and we have not observed Moscow directly employ these types of cyber attacks against US critical infrastructure—notwithstanding cyber espionage and potential prepositioning operations in the past," the bulletin said.
Source: abc.go.com
From State Dept call: "Given that the President has said military action by Russia could come at any time. The US government will not be in a position to evacuate US citizens. So US citizens, currently present in Ukraine should plan accordingly." Arrange commercial flights.

— Jennifer Griffin (@JenGriffinFNC) January 24, 2022
Ukraine just slammed US for pulling diplomatic families from Kiev
EU announced they aren't pulling diplomats
Germany and France holding talks with Russia this week in Paris
Biden and Blinken can't stop embarrassing themselves on the world stage
53% of French oppose going to war if a fellow NATO member is attacked.

60% of Germans likewise.

Ukraine isn't even a member.

The idea that America should be more zealous for European security than Europeans is pure-grade DC insanity.

Me in WaPo.https://t.co/godzNiVDH3

— Sohrab Ahmari (@SohrabAhmari) January 23, 2022
This Russia/Ukraine mess is a direct result of Biden's weakness. Everyone knows it. Nobody pulled this nonsense with Trump in the WH. But I have to say, I wish Dems & their media pals cared as much about our southern border as they apparently do about Ukraine's eastern border.

— Donald Trump Jr. (@DonaldJTrumpJr) January 24, 2022
Will it ultimately be Hunter's lucrative and shady AF business dealings in Ukraine that gets us into a war with Russia?

— Donald Trump Jr. (@DonaldJTrumpJr) January 24, 2022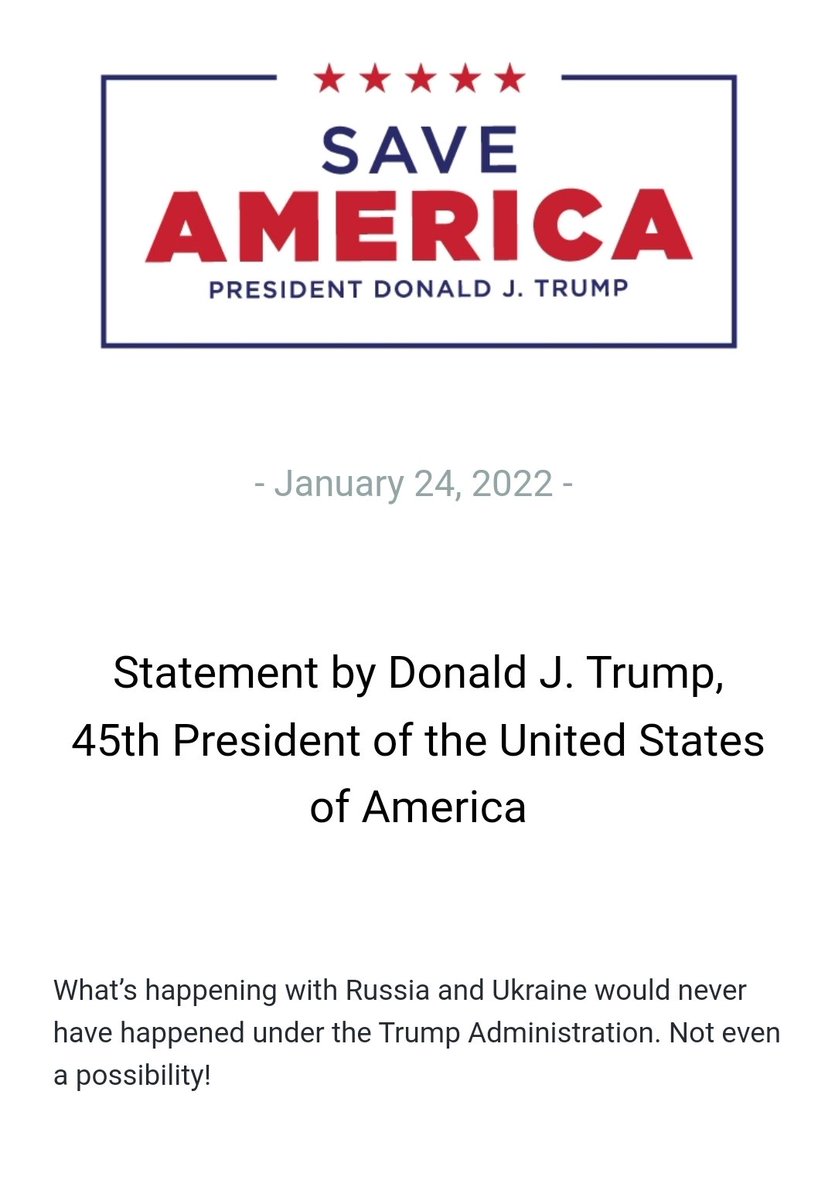 .@AdamScrabble: "How effective and effortlessly the media has moved people's minds away from Covid-19 and onto the next act = ukraine distraction thingy and world War 3."

— Election Wizard 🇺🇸 (@ElectionWiz) January 24, 2022
BUT — "#OrangeManBad" https://t.co/1LSKyetuKW

— Dan Scavino Jr.🇺🇸🦅 (@DanScavino) January 24, 2022
Think about what is going on, just like everything else what is happening, the opposite of when Trump was in the WH.
There was peace with Russia, NK, Middle East and China knew not to mess with Trump
JB foreign policy is a disaster, Aghanistan and now Ukraine
We know Putin will not invade, will he embarrass Biden
778
Q
!UW.yye1fxo
02/15/2018 16:01:38
ID:6d0fd8
Archive Bread/Post Links: 388328 / 388822
Direct Link: 388822
>>388588
what countries were in the news lately  "Russia, Ukraine, China, and Kazakhstan", 
---
False Flags
President Joe Biden failed on coronavirus preparedness, testing availability, and implementing mandates, the New York Times admitted Sunday.
 the Times wrote Biden has failed to accomplish his 2020 promise to do so.
"Since he was inaugurated on Jan. 20 last year, 438,110 people have died from the virus, a number that is still increasing by more than 10,000 people every week," the Times revealed.
Source: breitbart.com
The latest public health data published by the Scottish Government reveals that the COVID-19 "age-standardized case rate" is at its highest among the double-jabbed 'fully vaccinated' – and it isn't particularly close.
The update also showed the sharp negative efficiency was maintained throughout double vaccinated rates for hospitalizations and deaths over the past four weeks.
And just like in the UK, the group who has fared the best when it comes to avoiding the Wu-flu over the past four weeks has been the unvaccinated.
So much for the US public health regime's bogus claim that, despite not preventing transmission,  vaccines are "incredibly safe"  
According to Table 14 of this week's "Public Health Scotland COVID-19 & Winter Statistical Report," which shows the rate of infection over the past 4 weeks, the double/triple vaxxed are more likely to catch the virus, checking in at a rate of 865.79 per 100,000 and 481.49 per 100,000, respectively.
In comparison, the unjabbed case rate is just 412.77 per 100,000.
From PHS Table 14:
As for the hospitalizations and deaths among the vaccinated, the data isn't much better.
What the PHS report makes clear is that the twice-jabbed are experiencing a higher rate of severe illness than anyone else, and, concerningly, the difference has only been getting worse as time continues.
From PHS table 15 (rate of hospitalizations):
Source: thegatewaypundit.com
WHO predicts end of pandemic in Europe
 Hans Kluge, the World Health Organization's (WHO) Europe director, claimed that there might be an end to the pandemic in sight,
"It's plausible that the region is moving towards a kind of pandemic endgame," he stated, adding that the Omicron variant of Covid-19, which has been shown to be slightly milder than previous strains, could infect 60% of Europeans by March.
Following this current wave of Omicron, "there will be for quite some weeks and months a global immunity, either thanks to the vaccine or because people have immunity due to the infection, and also lowering seasonality," Kluge explained.
"We anticipate that there will be a period of quiet before Covid-19 may come back towards the end of the year, but not necessarily the pandemic coming back," the virus expert said.
From the beginning we said the numbers were inflated
They called us conspiracy theorists
We said masks don't work
They called us conspiracy theorists
We said mass vaccinations would lose effectiveness over time
They called us conspiracy theorists
We said closing schools would be harmful to a generation of children
They called us conspiracy theorists
We said lockdowns were a massive transfer of wealth
They called us conspiracy theorists
We said natural immunity is stronger than vaccines
They called us conspiracy theorists
We said "fully vaccinated" would depend on a never-ending-series of boosters
They called us conspiracy theorists
We said mandates would lead to vaccine passports
They called us conspiracy theoristsWe weren't doctors. We weren't lawyers. We weren't "experts"WE WERE RIGHT
---
Q
BREAKING: the decision on whether to detain or bond out the leader of the Oath Keepers, Stewart Rhodes, has been postponed 24-48 hours after a lengthy hearing today featuring cross examination of an FBI agent and review of potential 3rd party custodians should Rhodes be released. pic.twitter.com/ito6C4Pgc3

— steven monacelli (@stevanzetti) January 24, 2022
President Trump issued a statement this morning in response to Wisconsin Speaker Vos's efforts to increase the number of drop boxes in the state for future elections.  Our report yesterday uncovered Vos's actions.