Change Of Narrative, Sleeping Pill Rejected, OP Mockingbird Failure, Kill Chain – Ep. 2686
Watch The X22 Report On Video
Inflation is spreading across the globe, now at in Australia, inflation is rising at a very fast pace. The people are pushing back in Canada against the trucking mandates, and its beginning to work. IMF has now slashed the global economic outlook. The [CB] is following the playbook, they are now asking El Salvador to dump bitcoin. The [DS] has lost the narrative, now they are changing it. The people are no longer believing the fake news, the sleeping pill is being rejected and the operation which is called operation mockingbird has failed, kill chain. Trump and the patriots are now moving to take the bullhorn away from the fake news and the puppet masters. The [DS] is now pushing the narrative to try to bring down the electrical grid and the shutdown communication, countermeasures are in place.
---
Economy
 Australian consumer prices rose by much more than expected in the fourth quarter of 2021, which could set the stage for Australia's first rise in official interest rates in over a decade.
The consumer price index rose 1.3% in the final three months of 2021, and 3.5% annually, according to the Australian Bureau of Statistics.
Underlying inflation rose 1.0% in the quarter and by 2.6% from a year earlier, the highest since 2014.source:
marketwatch.com
The support for the Canadian trucker protest is already getting results.   'the absence of food will change things', and the reason is simple, it focuses priorities.
In the bigger picture, a grassroots protest from Main Street (truckers) forces the multinationals to a position of vulnerability.  The multinationals control the politicians, so any pressure applied directly to the multinationals ends up being transmitted to their beneficiaries, the government officials.
The Canadian trucker protest is an example of the working class using the power of their influence.  The results are immediately surfacing.
The multinational business advocacy groups in Canada are now telling the Canadian government officials to back down from their vaccination mandate against the truckers.
CANADA –  
Prime Minister Justin Trudeau defended Monday the mandate as a necessary step to keep supply chains open, arguing that COVID-19 itself is the biggest risk to Canada's economy.  But in separate statements the Canadian Chamber of Commerce and the Canadian Manufacturing Coalition both urged him to back down.
 
Dennis Darby, the president of Canadian Manufacturers & Exporters which chairs the coalition, told Champagne that "Canadians are seeing empty shelves" because vaccine mandates are making supply chain bottlenecks worse.
 
Source: theconservativetreehouse.com
 World Economic Outlook publication from the IMF, which slashed its global economic growth forecast for 2022 from 4.9% to 4.4%, as the Covid-19 pandemic enters its third year, citing weaker prospects for the U.S. and China along with persistent inflation. The downgrade was across the board, with the monetary fund slashing its GDP forecast for the US, Eurozone, UK, Japan, China and emerging markets. The IMF also downgraded its view on global trade from 6.7% to 6.0%.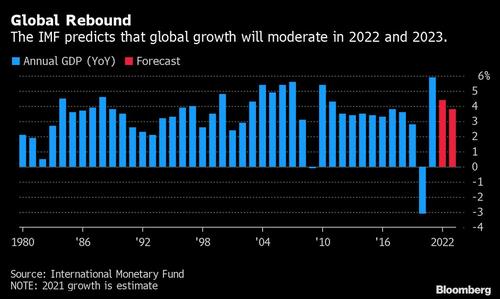 Source: zerohedge.com
Bitcoin country's president jokes about his new career flipping burgers
El Salvador's president, Nayib Bukele, changed his Twitter profile on Sunday, posting a photoshopped image of himself wearing a McDonald's uniform. This comes after his country lost millions – by investing in Bitcoin – following a severe crypto market sell-off.
https://twitter.com/nayibbukele/status/1485031106982428677?s=20
Bukele has been facing criticism since he embraced the flagship cryptocurrency. El Salvador was the world's first nation to adopt Bitcoin as legal tender in June 2021. The country currently holds over 1,500 bitcoins and plans to issue a $1 billion, 10-year Bitcoin bond this year.
Source: rt.com
#BREAKING IMF urges El Salvador to remove Bitcoin as legal tender pic.twitter.com/QGnN5aoHMt

— AFP News Agency (@AFP) January 25, 2022
"The first that should be done is to protect interests of citizens, consumers of such services, those buying these assets or using the cryptocurrency in certain other process solutions. In this connection, from my point view, regulation is needed, rather than prohibition. Regulation will exactly make it possible to support transparency enabling protection of citizens," he said.
The Finance Ministry prepared the concept for regulation of the cryptocurrency market and sent it to the government office for review, the official noted.
---
Political/Rights
A free press is essential to a free society. That's why attacking the press and attempting to intimidate independent media is a standard part of the authoritarian playbook around the world. And it's why Donald Trump's efforts to demonize the media put us on such a dangerous path.

— Joe Biden (@JoeBiden) May 3, 2020
This #WorldPressFreedomDay, support for an independent press at home and around the world matters more than ever. We must vote Trump out this November and assure that attacks on our free press are never again acceptable — especially not in the White House. https://t.co/Ga8zWYphOg

— Joe Biden (@JoeBiden) May 3, 2020
Biden was caught on a hot mic Monday calling Doocy a "son of a bitch" after Doocy asked whether the president thinks "inflation will be a political liability in the midterms?"  
"It's a great asset, more inflation," Biden muttered. "What a stupid son of a bitch."
Biden caught on hot mic calling Peter Doocy a "stupid son-of-a-bitch" when he asked a question about inflation pic.twitter.com/sA4dDIKTn1

— Greg Price (@greg_price11) January 24, 2022
Source: dailycaller.com
Peter Doocy Monday evening told Fox News host Sean Hannity that Joe Biden called him and said, "It's nothing personal, pal."
So Biden did not actually apologize.
VIDEO:
 Source: thegatewaypundit.com
"Orange Man Bad" https://t.co/K0g5C8xYs2

— Dan Scavino Jr.🇺🇸🦅 (@DanScavino) January 25, 2022
Who, really, is in charge at the White House? It sure doesn't look to be President Biden.
The latest evidence came last week when chief of staff Ron Klain delivered a behind-the-scenes message to Democratic allies and staff, just hours after Biden's disastrous news conference: The prez had failed to mention that his next Build Back Better bill would fund child and elder care, but Klain insisted it would.
 "Klain's private comments are yet another indication the White House has a core set of priorities it plans to fight for" … even if the president doesn't know about it fully yet.
Klain's real message: Don't worry, we staff will make sure Biden does what we say.
Source: nypost.com
We went thru 4 years of success, happiness, optimism, and security to a single year of hardship, despair, depression, and vulnerability.
The most recent Harvard-Harris poll showed that 59 percent of registered voters disapprove of how the Democrat-controlled Congress is doing its job, while 30 percent strongly disapprove.
Source: breitbart.com
Today, Special Counsel John Durham provided a "discovery Update" to the court in the Michael Sussmann case. In this filing,  he disclosed that his team has obtained a tremendous amount of information ranging from a variety of sources – including Perkins Coie, the Hillary Clinton Campaign, and former DNC/Clinton lawyer Mark Elias.
While Sussmann has been charged with giving false statements to then-FBI General Counsel James Baker regarding the Alfa Bank/Trump Organization hoax (background here), Durham notes that the "Government also maintains an active, ongoing criminal investigation of" Sussmann's conduct.
In other words, Sussmann's criminal conduct likely is not limited to false statements. There is more. If we are to make an educated guess, it may have to do with the conspiracy to accuse the Trump Organization of having secret back-channel communications with Alfa Bank.  
Now, to the evidence. Durham and his team have secured grand jury testimony from the following individuals:
Former Perkins Coie partner, and DNC/Hillary Clinton lawyer Marc Elias.
Former FBI General Counsel James Baker
Current CIA employees
Durham and his team have completed interviews of the following individuals:
Former FBI General Counsel James Baker
More than 24 other current and former FBI employees.
Current and former employees of the CIA and DARPA.
12 Employees of the "internet companies" referenced in the Sussmann indictment.
The former chairman of DNC/Clinton law firm Perkins Coie.
A former employee of the Clinton campaign.
Current and former employees of Georgia Tech (involved in the Alfa Hoax).
An employee of "Tech Executive-1" – aka Rodney Joffe, a Sussmann client who assisted with the Alfa Bank hoax.
Still, there is more. Durham has obtained records/documents from the following entities:
The Hillary Clinton Campaign
Perkins Coie
Hillary for America
Fusion GPS
A PR Firm that advised Perkins Coie regarding public statements about Sussmann's meeting with James Baker.
Phone logs for numerous current and former FBI employees.
"a classified memorandum and related reports of interviews pertaining to a criminal investigation previously conducted by the U.S. Department of Justice regarding a potential leak of classified information"
He also has secured nearly 400 e-mails between the FBI and Perkins Coie from January 2016 through June 2017.
While we expected some grand jury testimony, the fact that Mark Elias, the DNC/Clinton lawyer, was before a grand jury is certainly newsworthy.
And it leads us to believe that Durham is focused on something more substantial than the false Alfa Bank allegations – perhaps the inception of it all: the claim of Russian hacking. As we have said before, consider the possibility that evidence of "Russian hacking" was placed by the DNC, Perkins Coie, et al. for Crowdstrike to conveniently "find."
Source:  technofog.substack.com/
---
War
Psaki was asked today,  "If Europeans aren't willing to expend blood and treasure on their self defense, why should Americans be expected to do so?"
Her answer was a garbled mess of lies the best lie being that Joe Biden pushed NATO members to reach their 2% funding pledge.  Of course, THAT never happened.
Jen then said we needed to defend our NATO "eastern flank" in Europe.  But Ukraine is not a NATO member.
 
Source: thegatewaypundit.com
North Korea fired what appeared to be two cruise missiles into the sea off its east coast on Tuesday, South Korea's Joint Chiefs of Staff said, days after a flurry of ballistic missile tests.
Source: jpost.com
https://t.co/916E25cjSi pic.twitter.com/1OVexiLOTQ

— Dan Scavino Jr.🇺🇸🦅 (@DanScavino) January 25, 2022
Q 

!UW.yye1fxo

 

ID: bc342e

 No.175260

Anonymous

 

ID: 64748a

 No.175139


18A539B4-3085-4E11-8945-D….jpeg

Form 1649 false imprisonment
Was Hannity sending out a sos?
>>175139
Select news members / journalists are vital to delivering the message (as are YOU).
Imagine if these people were removed.
Total control re: MSM.
They represent a clear and present danger to the enemy.
Re-read past crumbs re: security.
Where is JS?
How do we truly protect those important to us?
[19] immediates [no longer with us].
Self-suicide if actioned.
Real life.
Q
---
Cyber Attacks
---
False Flags
The World Health Organization (W.H.O.) chief Tedros Adhanom Ghebreyesus is set to be re-appointed via a secret ballot – standing for the role unopposed.
The W.H.O.'s first African leader, Tedros is a career bureaucrat with no medical background but is guaranteed to return to the position he has held since 2017.
Source: breitbart.com
  Jacinda Ardern said Cabinet has decided to update mask mandates as Omicron cases in the community increase. Masks must now be worn at businesses which serve food and drink, the PM said.
The FDA gave no advanced notice of their arbitrary decision; they just issued a press release Monday evening and immediately revoked the Emergency Use Authorization.
The result was that no states were given any time to prepare for the shutdown or cancel the scheduled appointments of their patients.
On the surface the FDA justification is essentially that monoclonal antibody treatments are "unlikely to be active against the omicron variant," so the monoclonal treatment option is revoked. However, below the surface it looks like the FDA reason for the revocation is to push the Pfizer and Merck pills as the primarily authorized therapeutics.
Source: theconservativetreehouse.com
Floridians have benefited from the state's treatment sites and their access to treatment shouldn't be denied based on the whims of a floundering president. https://t.co/Y5nmAV1LCs

— Ron DeSantis (@GovRonDeSantis) January 25, 2022
If COVID is a deadly pandemic like the fake news, who, fda, cdc says, then withholding life saving medicine from Americans is akin to a war crime.  Will people go to prison for this, yes. 
this is pretty remarkable pic.twitter.com/yDF6mPqfvB

— Kat Rosenfield (@katrosenfield) January 25, 2022
Judge Thomas Rademaker of Nassau County has ruled that New York Governor Kathy Hochul does not have the authority to impose her regime's pretend "mask mandate."  The state legislature has the authority to draft laws and not the governor.
Governor Kathy Hochul attempted to impose the mandate via an unconstitutional maneuver. Since the emergency powers granted by the state legislature to the governor had expired, she issued a "declaration of emergency."
Then Hochul instructed New York's health department to issue mask "guidance" under the color of law, meaning that governor pretended that it had the force of law. It didn't. Now a judge has made the right decision and struck it down.
  
FLASHBACK
All masks help prevent the spread of #COVID19 when worn consistently and correctly. Choose a mask with the best fit, protection, and comfort for you. More: https://t.co/qaFMqu2rPo.

— CDC (@CDCgov) January 23, 2022
There's an alarming trend developing in which people are paying less attention to celebrities who are telling them how to live. Please, folks, we have been chosen to be celebrities for a reason. Ignore our experience and our wisdom at your own peril.

— Pat Sajak (@patsajak) January 24, 2022
---
Q
"THE MOST SECURE ELECTION IN HISTORY!"

Ballots in Georgia picked up from drop boxes in Democrat Rockdale County on Nov. 4 AFTER the election

It's illegal to pick up ballots after 7 p.m. on Election Day@VoterGa pic.twitter.com/pvRmwS7krF

— Liz Harrington (@realLizUSA) January 25, 2022
The hack of Global Affairs Canada, the government entity responsible for diplomatic and global relations, occurred on Wednesday, according to a statement provided by the Treasury Board to ABC News.
The statement does not identify who carried out the cyberattack.
Source: abcnews.com
Domestic violent extremists and racially motivated extremists in the United States have been developing plans to attack the U.S. electric sector, according to an intelligence bulletin from the Department of Homeland Security that was issued this week  
"DVEs have developed credible, specific plans to attack electricity infrastructure since at least 2020, identifying the electric grid as a particularly attractive target given its interdependency with other infrastructure sectors," the alert said.
Source: dailybeast.com
4587
Q
!!Hs1Jq13jV6
07/17/2020 17:47:13
 ID: f4dc5f
Archive Bread/Post Links: 9990511 / 9991332
Direct Link: 9991332
 
  the mysterious 'Patriot Front' group that was seen in Washington D.C. and again in Chicago.   .  The leader and founder is a 23-year-old male by the name of Thomas Ryan Rousseau.
Thomas Rosseau was able to get his supporters to pose for a photo that was later published in their forum.  And now it's public. (Unicorn Riot)
Patriot Front was organized by Thomas Rousseau in the immediate aftermath of 2017's Unite the Right march in Charlottesville, VA.
This young man has been arrested as noted below.  The FBI is notorious for taking individuals who have been arrested and through threats encouraging them to work with the FBI as informants.
Source: thegatewaypundit.com
626
Q
!UW.yye1fxo
01/27/2018 12:34:38
 ID: