A Clean House Is Very Important, Carpet Bombs Then MOAB – Ep. 2855
Podcast: Download (Duration: 1:17:35 — 33.9MB)
Watch The X22 Report On Video
The economy is breaking down under the Biden administration, companies are now talking about hiring freezes and layoffs. People can now see the difference between each state. The IRS was shutdown when trying to go after alternative currency. The patriots are now building the case of election fraud, each day the carpet bombs are being dropped and the irrefutable evidence is being made public. Trump is building the offensive and at the same time he is allowing the [DS] players to destroy themselves. Trump is the bait and he is drawing them in and trapping them in their own agenda. Soon the MOAB is going to drop and the [DS] will react to this, trap set. Warmed and prepped.
---
Economy
A concerning survey of 700 US executives reveals that half of them are either actively reducing headcount, or plan to – while 52% have implemented hiring freezes, according to Bloomberg.The survey, conducted last month by consultant PwC, also found that more than 40% of executives are rescinding job offers, while a similar amount are reducing or eliminating sign-on bonuses that were all the rage amid the tight job market just months ago.
 
Source: zerohedge.com
Some Washington DC families are going to be receiving a $1,000 dollar stimulus check, DC Mayor Muriel Bowser has announced.
The money will be drawn from the Pandemic Emergency Assistance Fund that was created under Biden's American Rescue Plan.
Pandemic relief or slush fund? 
Source: thegatewaypundit.com
You're number 3 in rate of homelessness.

Number 1 in poverty.

Number 40 in k-12 education.

38 in unemployment rate.

But hey, congrats. pic.twitter.com/KmMkhw2Uho

— Ross Schumann (@RossSchumann) August 19, 2022
Florida added over 70,000 private sector jobs in the month of July. Despite the failures of the Brandon administration, Florida has surpassed pre-pandemic numbers thanks to the leadership of Governor @RonDeSantisFL. 💪 pic.twitter.com/SArZJKvZcJ

— Team DeSantis 🐊 (@teamrondesantis) August 20, 2022
They're hiring them to harass and destroy whatever small businesses survived the greatest, fastest wealth transfer in human history under COVID lockdowns
The "you will own nothing and be happy" WEF crowd is not playing around
We need to acknowledge that they are the greatest threat to the United States of America and go on a full diplomatic offensive against them in 2025
A three-judge panel of the U.S. Court of Appeals for the First Circuit has unanimously ruled in Harper v. Rettig that taxpayer James Harper can take the Internal Revenue Service (IRS) to federal court for gathering private financial information about his use of virtual currency from third-party exchanges without a lawful subpoena.

Judge Kermit Lipez, writing for the majority, rejects IRS's argument that the AIA bars Mr. Harper's suit because it seeks to restrain activities related to the assessment or collection of taxes. He notes that CIC Services provides clarity that "information gathering" is a "phase of tax administration procedure that occurs before assessment [or] collection." Judge Lipez concludes that since IRS's activities against Mr. Harper "clearly fall within the category of information gathering … the [AIA] is not an applicable exception to the United States' waiver of sovereign immunity." Indeed, as the Supreme Court explained in CIC Services, where, as here, there is no "tax penalty" at issue, then the case is a "cinch," and "the suit c[an] proceed."

Mr. Harper had contracted with third-party virtual currency exchanges to protect his private information against unlawful government intrusion. Despite his efforts to ensure his records were properly safeguarded, IRS took the data of Mr. Harper and thousands of other cryptocurrency holders from virtual-currency exchanges without reasonable suspicion and without providing a pre-data-collection notice and opportunity to contest IRS's dragnet operation. In ruling that the district court has subject-matter jurisdiction, the First Circuit has ensured that the IRS can be held accountable for this violation of Harper's Fourth and Fifth Amendment constitutional rights.

Source: thegatewaypundit.com
Abolish the IRS.

— Senator Ted Cruz (@SenTedCruz) August 21, 2022
---
Political/Rights
.@KathyHochul has signed a new law banning 'gendered language' for professions. Cannot say Salesman, Councilman, He/or Her–it was replaced with "they." Woke is now official in NY law.

— Joel Fischer 🇺🇸 (@realJoelFischer) August 19, 2022
Source: https://t.co/k9F0hCMZWf

— Libs of TikTok (@libsoftiktok) August 20, 2022
Florida Gov. Ron DeSantis recently announced a new plan to give retired police officers, firefighters and EMTs an opportunity to teach in public schools.
He's currently working on trying to ease regulations in an effort to bring in these first responders to fill vacant teacher positions. Considering there are a lot of vacancies and classes are starting back up, there's no question that they're needed now more than ever.
DeSantis signed a law earlier this year allowing military veterans to earn a five-year temporary certificate to teach before earning the required bachelor's degree. With his help, police officers and first responders will soon be able to do the same.
In the meantime, current officers interested in the program will need said bachelor's degree. However, those who have one will be able to earn a $4,000 bonus for signing up, as well as an additional $1,000 depending on placement in schools that are suffering from any shortage.
"We believe that the folks that have served our communities have an awful lot to offer," DeSantis noted.
Source: thegatewaypundit.com
A U.S. District Court of Appeals for the District of Columbia ruled   that the Department of Justice must turn over an Office of Legal Counsel (OLC) memo that was sent to former Attorney General William Barr indicating the position that former President Donald Trump did not 'obstruct justice' in his response to Special Counsel Robert Mueller's investigation of Russian collusion claims.
The Justice Department's court-ordered public release of the OLC memo would further dispel accusations that Donald Trump violated any federal laws during his political campaign or in response to the federal investigation of Russiagate.
The legal victory for public transparency in the Russiagate probe was announced on Friday by the Citizens for Responsibility and Ethics in Washington, which is party to the appeal in U.S. District Court.
Source: beckernews.com
560  
Q
!UW.yye1fxo
01/19/2018 03:11:44
 ID:
8chan/greatawakening: 41
The MEMO is ONLY THE BEGINNING>
THE SHOT HEARD AROUND THE WORLD.
Q
---
Geopolitical/Police State
New York State Senate Blocks New Yorkers on Twitter
Citizens of New York who criticize the State Senate's Twitter account have been blocked from commenting and viewing tweets, per a letter by free speech advocacy organization FIRE.
Twitter allows accounts to hide replies and block people, which prevents them from commenting and seeing future tweets. The New York State Senate's account takes advantage of these features to hide criticism of legislators and legislation.
"The New York State Senate cannot hide tweets or block users based on their viewpoints. In culling tweets and blocking users based on viewpoint, the New York State Senate undermines its own role in facilitating the democratic process and violates the Constitution."
Source: bigleaguepolitics.com
Trump can't block Twitter followers, federal judge says
President Donald Trump cannot block users on his Twitter feed, a federal judge in New York City ruled Wednesday.
The suit was filed in July 2017 by the Knight First Amendment Institute at Columbia University, as well as seven other plaintiffs who had been blocked on Twitter by Trump.
The president is an avid Twitter user and routinely makes news, often several times in a single day, with his posts.
Source: cnbc.com
This is the Democrat Hive-Mind
DemCast is a non-profit organization utilizing social media to push left-wing narratives online through tens of thousands of accounts on Twitter, Facebook, and Instagram.
Garnering an estimation of over 50 billion impressions since just 2019 — DemCast aims at manipulating public opinion surrounding the topics of COVID, war with Russia, January 6, and even swaying local elections throughout all of the 50 states.
Their employees are a mix of ex-White House staffers, Democrat operatives, journalists, and social activists.
One of their co-content creators, Mindy Schwartz, worked at the White House for the National Security Council. Another one of their employees, Joanne Marie Oyer, works for the Obama Foundation.
Their website 'Our Plan' page describes their operation in four simple bullet points:
Curate content from messaging experts, creators, and news sources.
Package that content into succinct strategic messages.
Recruit, train & equip an army of social media users across social platforms to relay messaging through their accounts.
Identify and disseminate strategic opportunities for volunteerism & donating, to support critical grassroots groups & candidates.
 Lori Coleman teaches individuals how to use Speechifai to auto-generate Twitter content.
Lori emphasizes the necessity of appearing 'authentic,' while going over the process of using the "Try to build your own post" on the Speechifai platform.
Speechifai allows organizations to generate a plethora of customizable messages, while offering a mix & match messaging option with an accompanying hashtag, ensuring that when thousands of individuals post to social media, they appear as though they are authentic to the normal user — rather than auto-generated.
DemCast has deployed its organization across all 50 states in the U.S. and has demonstrated massive influence over social issues, manipulating left-wing commentary to make it appear considerably larger than it otherwise would be.
Meet Nick Knudsen, executive director of DemCast.
"Bots, troll farms, disinformation, click-bait journalism, the death of local media: welcome to the 21st century…"
 
To begin to have an understanding of the size and scope of DemCast's influence over public perception of important political topics online, it is important to analyze how DemCast operates on Twitter.
While analyzing these accounts, anomalies begin to appear. for instance, the account going by @msgrumpybunny has allegedly tweeted 144,000 times in just 7 years.
That means 61 tweets every single day without breaks, over a 7-year period.
Another important factor to look at while analyzing these accounts is the strange follower-to-following ratio.
You will find DemCast accounts typically have a follower count well into the thousands, with many accounts having over 50,000 followers. These accounts typically follow the same number of accounts that follows them, adding breath to allegations of an automated bot farm.
This particular account, using the "#BlueCrew" hashtag, has well over 500,000 followers, and is following almost just as many.
How does this alter public perception?
Human beings are social creatures, and there are thousands of studies proving an individual will go along with the group against his or her better judgment, due to psychological pressures regarding acceptance and 'fitting in."
As researched in the Asch Conformity Experiments, "nearly 75% of the participants in the [Asch] conformity experiments went along with the rest of the group at least one time.
" 
DemCast has moved its operation to local politics, working within all of the 50 states to artificially boost the popularity of candidates who would otherwise go mostly unnoticed.
Terms of Service
Twitter's Terms of Service explicitly prohibit platform manipulation and spam, stating: "You may not use Twitter's services in a manner intended to artificially amplify or suppress information…"
 
While DemCast utilizes tens of thousands of Twitter accounts in a coordinated attempt at manipulating public discourse, artificially amplifying left-eing messages/individuals — it is unclear just how many users within their operation are genuinely authentic.
The service TweetAttacksPro allows users to auto-generate thousands of accounts, automating the like, follow, reply, and share features on Twitter.
Their services are geared towards amplifying business interaction online to enhance their public image. It is used to boost your odds of winning online sweepstakes, particularly within crypto social groups.
source: dailyveracity.com 
---
War
The Russian Defense Ministry has announced that documents confirming cases of "chemical terrorism" by Ukraine will soon be relayed to the Organization for the Prohibition of Chemical Weapons (OPCW) by the Russian envoy.
Namely, the ministry plans on sending the lab test results of Russian soldiers, who had been poisoned as a result of Kiev's "chemical terrorism". The ministry elaborated that some servicemen sustained severe chemical poisoning during Russia's special military operation in Ukraine.
---
Cyber Attacks
---
False Flags
The National Institutes of Health's Office of the Inspector General has found that more than half the clinical trials funded in response to the Covid-19 pandemic did not comply with federal guidelines.
The OIG report, which was released earlier this week, sheds light on the lax approach that the nation's premier health institutes took to ensure that the clinical trials met the highest standards for transparency and timely reporting.
"We reviewed all 72 NIH-funded Intramural and Extramural clinical trials for which Federal law and NIH policy required the results to be reported in calendar year 2019 or 2020," the NIH's Inspector General stated. "To determine whether responsible parties complied with reporting requirements, we compared the date the results should have been submitted with the date they were submitted. We also determined whether NIH posted the clinical trial results submitted by the responsible parties to ClinicalTrials.gov within 30 days of the submission date."
The NIH's IG found that more than half the clinical trials did not meet the requisite federal reporting guidelines, either by failing to meet the deadline or by not reporting the results at all. The Table summarizes the number of clinical trials requiring results to be submitted in 2019 or 2020 that were submitted on time, late, or not submitted at all.
The IG's striking report follows upon the Director of the Centers for Disease Control and Prevention admitting that the agency failed to achieve its results during the Covid-19 pandemic and calling for sweeping reorganization.
Source: beckernews.com
---
Q
We agreed this is a great opportunity for a patriot game.
Game on.
·

@RepMattGaetz is a relentless Fighter for the incredible people of Florida's 1st Congressional District!
Matt is a Champion of our MAGA Agenda, who tirelessly works to Drain the Swamp, Secure the Border, Support our Brave Veterans and Law Enforcement, Defend the Second Amendment, Stand Up to the Woke Mob, and Fight the Never-Ending Witch Hunts from the Radical Left that are destroying our Country!
Matt Gaetz puts America First, and he has my Complete and Total Endorsement!
Congressman John Rutherford is an outstanding Representative of the people of Florida in Congress!
A highly-respected former sheriff,
Congressman Neal Dunn is doing an incredible job representing the people of Florida's 2nd Congressional District!
An accomplished surgeon and a retired Major in the U.S. Army,
Congressman Neal Dunn is doing an incredible job representing the people of Florida's 2nd Congressional District!
An accomplished surgeon and a retired Major in the U.S. Army,
.@KatieHobbs, I'm speaking directly to you. pic.twitter.com/bX3jJKQI87

— Kari Lake (@KariLake) August 20, 2022
It is well-known TikTok is owned by Beijing-based technology company ByteDance, which was founded in 2012 by Chinese billionaire Zhang Yiming.
For this reason, President Trump announced he was going to ban TikTok.
Trump wisely issued three Executive Orders banning American businesses from working with TikTok (or WeChat).
President Trump did not allow any branch of the Federal government to use the CCP's TikTok.
Joe Biden revoked President Trump's TikTok Executive Orders in June of 2021.
Even the head of the US Federal Communications Commission (FCC) requested Apple and Google in June to remove TikTok from their app stores due to 'serious national security threats' posed by the said mobile app, as reported by The Gateway Pundit.
Joe Biden just welcomed TikTok into a formal partnership with the Federal Voting Assistance Program, a U.S. government agency set up to help overseas voters in the upcoming US midterm elections.
TikTok just launched their U.S. "Midterms Election Center".
Users of their App will be fed "election information", not to be confused with what the CCP labels "Election Misinformation" in 40 languages and hopefully English is one of these. Among other things, the CCP's TikTok will instruct people here on how to vote by mail in their respective States.
Source: thegatewaypundit.com
Citizens United filed two lawsuits this week against the Department of Interior and Department of State for failing to comply with Freedom of Information Act (FOIA) records requests regarding the White House's attempt to federalize elections.
The nonprofit submitted FOIA requests in June, but both agencies failed to respond (federal law requires FOIA requests to be responded to within 20 working days). The requests sought email and text messages from both agencies that mentioned President Biden's Promoting Access to Voting executive order and the Hatch Act, a law that prohibits executive branch employees from engaging in election activities. 
"The Biden Administration may have violated the Hatch Act and these records should provide the answer," Citizens United President David N. Bossie told The Federalist.
As previously reported by The Federalist, Biden's executive order directs all 600 federal agencies to become voter registration agencies and organize voter outreach efforts. It allows such agencies — including ones that dole out federal benefits —to work with leftwing get-out-the-vote groups. 
Government watchdogs and Congressional Republicans are worried Biden's EO is a scheme to mobilize the federal bureaucracy to drive Democratic voter registration and turnout, swinging elections in favor of Democrats — particularly as the 2022 midterms loom.
 
Source: thefederalist.com
·

"Think The FBI Deserves The Benefit Of The Doubt? This Laundry List Of Corruption Should Make You Think Again—A look at the FBI's last six years shows a pattern of irredeemable corruption"

thefederalist.com/2022/08/19/
Think The FBI Deserves The Benefit Of The Doubt? Think Again

Can the FBI be trusted? A Federalist analysis of agency lies over the last decade is an unequivocal no.
When will people realize that the atrocities being perpetrated by the FBI and DOJ having to do with the Raid and Break In of my home, Mar-a-Lago, or after years of other atrocities and unthinkable violations of freedom and the law, this has been going on for years, from the moment I came down the golden escalators in Trump Tower, right up until the present. At some point you have to look at what took place in the past to determine what is going on in the present….
….and nothing has ever happened like that which is going on in our Country right now. The law enforcement of our Country has become that of a Third World Nation, and I do not believe the people will stand for it—between Fraudulent Elections, Open Borders, Inflation, giving our Military to the Enemy, and so much more—how much are we all expected to take?
I hear that the great Agents & others in the FBI are furious at FBI leadership for what they are doing with respect to political weaponization against a President (me) that always had their backs, and that they like (love!) a lot. They don't like being "used" by people they do not agree with, or respect. Likewise, they are not exactly thrilled with the leadership at DOJ! Similar to the revolt against Comey when he exonerated Crooked Hillary, but was forced, by them, to withdraw the exoneration!
1931  
Q
!!mG7VJxZNCI
08/20/2018 08:29:31
 ID:
8chan/patriotsfight: 171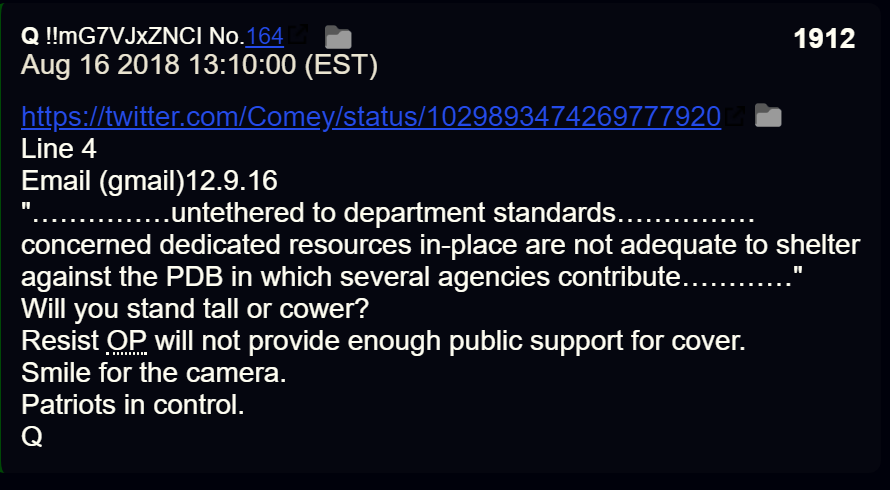 Image Name:
Untethered.png
Filename:
07d81eb460d73d598a1158e7a9b6675767e0e9d425c15ec9cb539f7f32cf4201.png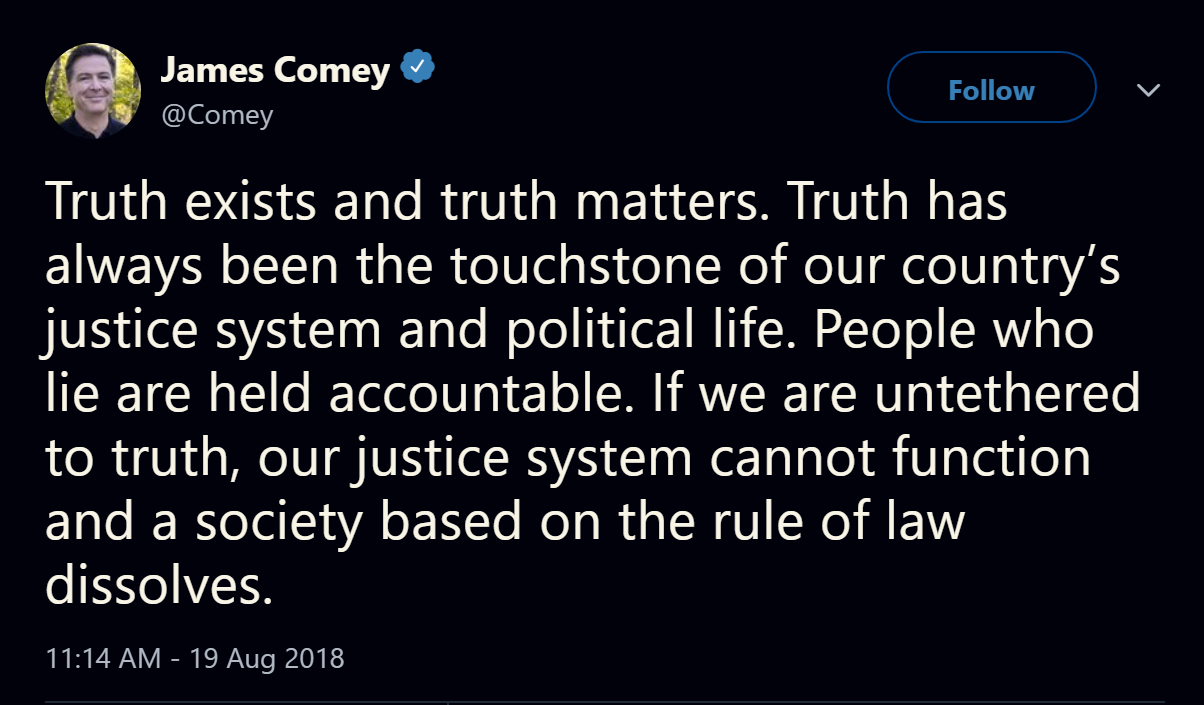 Image Name:
Untethered1.png
Filename:
805f5c92b73e49e721158313dbf40c64b49b5c32e9bd68c6f6895ee725149ce4.png
A major motion pertaining to the Fourth Amendment will soon be filed concerning the illegal Break-In of my home, Mar-a-Lago, right before the ever important Mid-Term Elections. My rights, together with the rights of all Americans, have been violated at a level rarely seen before in our Country. Remember, they even spied on my campaign. The greatest Witch Hunt in USA history has been going on for six years, with no consequences to the scammers. It should not be allowed to continue!
 
The easiest approach for President Trump's legal team to take would be the generalized nature of the search warrant.  The Fourth Amendment specifically prohibits the government using general warrants to search private belongings of individuals.
Fourth Amendment – "The right of the people to be secure in their persons, houses, papers, and effects, against unreasonable searches and seizures, shall not be violated, and no Warrants shall issue, but upon probable cause, supported by Oath or affirmation, and particularly describing the place to be searched, and the persons or things to be seized." 
The warrant as issued:
Source: theconservativetreehouse.com
— Dan Scavino Jr.🇺🇸🦅 (@DanScavino) August 20, 2022
Q

 

!xowAT4Z3VQ

 

ID: 564897

 No.1002693

Q

 

!xowAT4Z3VQ

 

ID: 564897

 No.1002643

>>1002643
"A clean [H]ouse is very important."
Q
And keep it in mind in the weeks ahead