All Assets Deployed & Failing, What Happens When Bad News Is About To Break – Episode 2268
The entire agenda of destroying the economy is now backfiring on those that have tried. The people are now fighting back for keeping their businesses closed for no reason. The MSM/[DS]/[CB] are now panicking. Trump loads up the Fed, when the time is right, boom. The [DS]/MSM are now deploying all assets, but it failing, the stories don't work anymore, people are awake. Trump makes another peace deal, he is bringing the world together. Big news is about to drop and the [DS]/MSM are trying to get ahead of it with distractions to clog up the MSM. The push is on by the elite to start a civil war, but is failing, stay vigilant.
Check Out The X22 Report Spotlight YouTube Channel X22Report Spotlight
Please check Newzsentinel.com for the latest news on the economic collapse. The Sentinel Alerts are updated throughout the day.
---
Current News – 09.04.2020
Watch The X22 Report On Video
---
Economy
NYC Restaurants Sue Cuomo, De Blasio For $2 Billion Over Indoor Dining Ban
Source: forbes.com
President Trump is heading into the general election with the worst jobs numbers of any president, based on records that go back to World War II. https://t.co/Ip1OLt2hbn

— CNN (@CNN) September 4, 2020
BREAKING Unemployment rate falls to 8.4% fro 10.2%. Much better than the 9.8% that was expected. 1.37 million new jobs created in the month, slightly ahead of the 1.35 million that was expected. LFPR holds steady at 61.7%
Source: zerohedge.com
The Federal Reserve has snapped up $1 trillion of mortgage bonds since March, a record pace of purchasing. The Fed bought around $300 billion of the bonds in each of March and April, and since then has been buying about $100 billion a month. It now owns almost a third of bonds backed by home loans in the U.S. Buying the securities has pushed mortgage rates lower, with the average 30-year rate falling to 2.91% as of last week from 3.3% in early February.
Also, according to Bloomberg News, the Fed now owns a total of 22,913 different securities (mostly bonds) and it is the world's biggest investor.
Source:  silverdoctors.com
---
Political/Rights
Biden reveals he got a Covid test -results were not revealed. 
President Trump's Rasmussen approval rating surged to 52% on Friday for Labor Day Weekend.
Just to give a comparison
Barack Obama had a 47% approval rating at the same point in his presidency.
What is more significant– President Trump has 45% approval from black voters.
 
And, as Rasmussen reported earlier, Obama had a 95% positive media.
Broadcast coverage of President Trump is a 95% negative.
Source: thegatewaypundit.com
On behalf of the 355,000 members of the Fraternal Order of Police, we are proud to unanimously endorse @realDonaldTrump for President of the United States. #FOP4Trump pic.twitter.com/uAF6SWNRnA

— National Fraternal Order of Police (FOP) (@GLFOP) September 4, 2020
BREAKING: Several documents are missing from the Woods File for both the 2nd and 3rd renewal applications for Carter Page FISA warrant, and in lieu of some of the documents, the FBI inserted a piece of paper as a "placeholder" to represent the supporting document that is missing

— Paul Sperry (@paulsperry_) September 4, 2020
BREAKING: FBI's finding from 2/17 interview of Joseph Mifsud that "he had no advance knowledge Russia was in possession of emails from the DNC and therefore did not proffer any information to PAPADOPOULOS," calls into question FBI's predication for opening probe of Trump campaign

— Paul Sperry (@paulsperry_) September 4, 2020
Attorney General William Barr has said sending federal law enforcement to polling locations on Election Day could be considered legal. , he noted such a move could be warranted if there is "a particular criminal threat."
 According to him, the federal government has done this before.
"We've done so in the past to enforce civil rights, to make sure people were not being harassed and there was no suppression of vote against African Americans," he stated.
Source: oann.com
German police raid 50 homes in child porn investigation
thousand police officers in Germany raided the homes of 50 people as part of a nationwide crackdown on the online sharing and distribution of child pornography, Cologne police said 
None of the 48 men and two women suspected of involvement was arrested during raids, but investigators seized around 2,000 phones, computers and other devices upon which images were stored, police said.
The suspects are accused of sharing images of child sexual abuse through networks such as social media and messenger services,
Source: nypost.com
---
War
President Trump is expected to nominate William Ruger, a foreign-policy expert who has called for withdrawing all U.S. troops from Afghanistan, as ambassador to the country, according to people familiar with the matter.
William Ruger has opposed a U.S. military presence, arguing president's push for withdrawal is correct
.Source: wsj.com
Another day everyone thought would be impossible! Congratulations to @predsednikrs Vucic of Serbia and PM @Avdullah Hoti of Kosovo on committing to #EconomicNormalization! This is a major step forward…

— Donald J. Trump (@realDonaldTrump) September 4, 2020
…to bringing prosperity and peace to the Balkans and the world. I am proud to have assisted these leaders!

— Donald J. Trump (@realDonaldTrump) September 4, 2020
Another great day for peace with Middle East – Muslim-majority Kosovo and Israel have agreed to normalize ties and establish diplomatic relations. Well-done! More Islamic and Arab nations will follow soon!

— Donald J. Trump (@realDonaldTrump) September 4, 2020
---
Cyber Attacks
---
False Flags
Protesting hair stylists held a hair dryer protest outside of Speaker Nancy Pelosi's home after she was caught on video breaking the rules to get her hair blown dry while she commands other women to stay home.
The women draped Pelosi's tree with hair dryers and curlers!
Via Gwilym McGrew
Source: thegatewaypundit.com
Two House Republicans have officially called on US Attorney General Bill Barr to determine whether Speaker Pelosi broke federal law when she ripped up President Trump's SOTU speech earlier this year.
Nancy "Antoinette" Pelosi ripped President Trump's State of the Union speech shortly after he concluded his address to the nation in February.

Video evidence and photos showed Pelosi pre-ripped the speech while President Trump was speaking.
Two GOP lawmakers are now asking Bill Barr to determine whether Pelosi violated 18 U.S.C. § 2071 which deals with the mutilation of official federal records and sets a criminal penalty of up to three years in prison.
Source: thegatewaypundit.com
The Trump administration pulled $62 million in funding from the World Health Organization  and is taking further steps to withdraw from the body, which the United States accuses of helping China obfuscate information about the coronavirus pandemic.
The United States is on track to cut its funding and personnel from the agency before July 2021, when President Donald Trump's order earlier this year ending the U.S. relationship with WHO is set to begin, according to senior administration officials working on the matter. The United States will not consider rejoining the organization until it "gets its act together," according to Nerissa Cook, deputy assistant secretary of state in the Bureau of International Organization Affairs.
 
Numbers recently released show the number of cases and hospitalizations in Universities back in school:

Numbers reported by Dr. Bostom yesterday show that in nearly 5,000 cases identified in five universities this year, none of the cases were hospitalized.  The symptoms were likely similar to a bad cold.  Overall, individuals under the age of 25 are not at all likely of dying from COVID-19.  Of all individuals in the US under the age of 25, the likelihood of dying from COVID-19 is less than 0.0007%!
  
Look at the line for the number of deaths related to those under the age of 25  
It's reported that every single athletic director in the Big Ten wanted to play fall football. Every single one, but they were not given a voice in the decision to play football – only Warren was, and he and the chancellors decided to kill the season!
But the truth is we know Warren isn't concerned about the Big Ten football players' health at all because if he was Warren wouldn't let his son play ball this year at Mississippi State in the SEC.
Source: thegatewaypundit.com
 The Atlantic, which cited anonymous sources that claim Trump described America's fallen heroes as "suckers" and "losers."
"
The Atlantic story cited anonymous sources who claimed that Trump did not want to visit the American Cemetery at the site of Battle of Belleau Wood during his visit to Paris in 2018 and that he was worried about his hair in the rain. The sources also claimed that Trump said the cemetery was "filled with losers" and that the Marines who died at Belleau Wood were "suckers" for being killed.
Source: breitbart.com
Former National Security Advisor John Bolton has disputed a story in The Atlantic claiming that President Donald Trump called fallen World War I soldiers "losers." Bolton told the New York Times Friday that "I was there" and "I didn't hear that."
Source: breitbart.com
The Atlantic story on @realDonaldTrump is total BS. I was actually there and one of the people part of the discussion – this never happened. I have sat in the room when our President called family members after their sons were killed in action and it was heart-wrenching…

— Sarah Huckabee Sanders (@SarahHuckabee) September 4, 2020
These were some of the moments I witnessed the President show his heart and demonstrate how much he respects the selfless and courageous men and women of our military. I am disgusted by this false attack.

— Sarah Huckabee Sanders (@SarahHuckabee) September 4, 2020
On that Atlantic Story – @JeffreyGoldberg and his "four sources" claim Trump's helicopter flight to the US/French cemetery wasn't cancelled due to weather.

FOIA docs prove this to be false.

Their "sources" are failing basic fact checks – making them essentially worthless. pic.twitter.com/wAa7FrSxoW

— Techno Fog (@Techno_Fog) September 4, 2020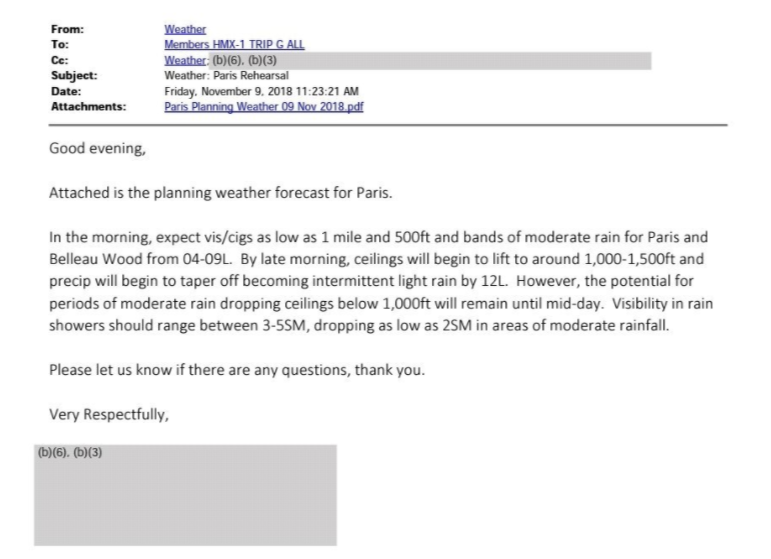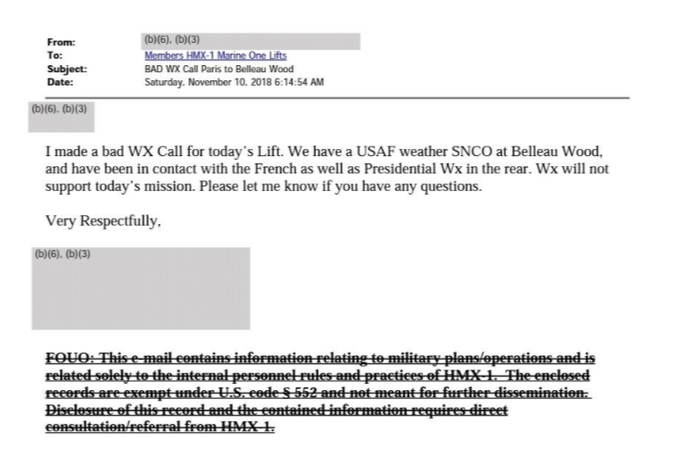 The Atlantic Magazine is dying, like most magazines, so they make up a fake story in order to gain some relevance. Story already refuted, but this is what we are up against. Just like the Fake Dossier. You fight and and fight, and then people realize it was a total fraud!

— Donald J. Trump (@realDonaldTrump) September 4, 2020
Then just like that the MSM/[DS] have a video ready to go, planned of course it was
Video: pic.twitter.com/1g9H0h0Lng

— Tom Elliott (@tomselliott) September 4, 2020
Morning Joe now airing a "VoteVets" ad feat. parents of fallen servicemen saying "my son was not a loser." Amazing how quickly they were able to produce a commercial corresponding w/ an article that just came out yesterday.
Nobody is buying these fake stories back in 2016-2017 people would believe the story, now with all the digital soldiers and the truth and facts that are countering all these stories the story dies out in a couple of hours. Propaganda can not stand up to truth and facts 
The media in just the last 24 hours

THREAD

— Fiery but Undercover Huber (@JohnWHuber) September 4, 2020
ATLANTIC: "LoserGate" Hoax from only anonymous sources, contradicted by multiple on-the-record eyewitnesses AND contemporaneous email FOIA record Marine One wave off was due to bad weather AND testimony of multiple vets/families who've met Trump in private AND even John Bolton

— Fiery but Undercover Huber (@JohnWHuber) September 4, 2020
VICE: Puff video on Portland Antifa murderer / far left communist uncritically allowing him to claim he killed unarmed Trump supporter in "self-defense" of "people of color" contradicted by multiple videos/audio of the incident

— Fiery but Undercover Huber (@JohnWHuber) September 4, 2020
NYT: Article on same Antifa murderer* (since killed in a police shoot out!) attacking the victim, and using a *10 yr felon* as source for the claim that said Antifa murderer was trained in "de-escalation" and a "security" expert

*Co-written by Russia Collusion Hoaxers

— Fiery but Undercover Huber (@JohnWHuber) September 4, 2020
DS death squads take murder a trump supporter, the DS was hoping Trump supporters would respond, nothing happened
The person who pulled the trigger who was 100% antifa did an interview to begin the next push, show his face, explain how he had to kill him because it was self defense, this should get the trump supporters angy enough to make a move. 
Then we get the story that the police went to arrest him and he was shot dead. Antifa will now use this to push the agenda forward, the police killed an innocent man who was defending himself. The [DS] is pushing as hard as they can to get this war . 
 Reinohel was groomed/radicalized, he's been PROGRAMMED. Look at his interview. 
How do you start a civil war, who really killed him, wouldn't have been better to arrest him and question him to find out more information, the [DS] could not allow this happen, so the question is was this wetwork to push the agenda forward,  
THe DOJ is hunting these individuals down, the DS knows this, time is running out
Two men and a woman appeared before a federal judge  in Portland, becoming the first in Oregon to face the rare federal charge of civil disorder for alleged violence during this summer's turbulent protests.
A Seattle man is accused of launching a ball bearing with a slingshot during a downtown demonstration in July and striking a Portland Fire Bureau medic.
A Portland woman is accused of throwing a helmet that struck a police sergeant in the head last week outside the Police Bureau's North Precinct.
A Kelso man is accused of repeatedly using a hammer to strike the glass above the front door of the Police Bureau's East Precinct and elbowing an officer in the face in early August and then throwing frozen eggs and other objects at police three days later outside the Penumbra Kelly Building on East Burnside Street."
Source: oregonlive.com
Similar civil disorder prosecutions are pending across the country. https://t.co/ouY2r6T81H

— Kerri Kupec DOJ (@KerriKupecDOJ) September 3, 2020
---
Q
DdazQ6nVQAUQQEr.jpg