In War, Military Strategy Is Key, Confuse The Enemy, Weaken Them, Then Strike – Episode 2267
The people are now waking up, they see the true agenda of these mayors and govs, they are not interested with helping businesses or helping the everyday people, they have a different agenda and thats why people are moving away. The initial claims for unemployment has dropped and the unemployment rare continually drops. Trump sent a message, the [CB] battle is about to begin. The [DS]/MSM is doing exactly what Trump wants, he is using military strategy to direct these people to where he wants the to be when he strikes. The population is waking up, they are now seeing and understanding what is really going on. This about striking at the very heart of the problem and it's about to happen.
Check Out The X22 Report Spotlight YouTube Channel X22Report Spotlight
Please check Newzsentinel.com for the latest news on the economic collapse. The Sentinel Alerts are updated throughout the day.
---
Current News – 09.03.2020
Watch The X22 Report On Video
---
Economy
Fewer than one million U.S. workers filed new claims for unemployment benefits in the final week of August, 
The government said 881,000 new claims for the week ending August 29, a new low for unemployment claims
Economists had forecast 958,000 new claims, down from the 1.006 million initially reported for the prior week.
Jobless claims are a proxy for layoffs and have been closely watched as a signal for how the pandemic is influencing the economy.
The insured unemployment rate was 9.1 percent for the week ending August 22, a decline of eight-tenths of a percentage point
Source: breitbart.com
Do you notice that any time Fake News Suppression Polls are put out, like @FoxNews, the Stock Market goes DOWN. We are going to WIN!

— Donald J. Trump (@realDonaldTrump) September 3, 2020
---
Political/Rights
DEVELOPING: Investigators seeking McCabe comms with Weissmann (re appointing Mueller as Special Counsel) b/t May 9 & May 17, 2017, when McCabe was lobbying Rosenstein hard to appoint Mueller. Sources say Rosenstein initially wanted John Kelly,not Mueller,to take over Russia probe

— Paul Sperry (@paulsperry_) September 3, 2020
Couple a days ago we reported that Rasmussen was shocked that after the conventions the major news outlets did not put out poll numbers, since Rasmussen mentioned this all of sudden we are seeing poll numbers, fake polls are being pushed out 
A spate of new national and battleground-state polling shows the race has changed little for Trump and Biden after the back-to-back party conventions.

Read the biggest takeaways from the latest polls 👇https://t.co/ndrikTFwAA

— POLITICO (@politico) September 3, 2020
We know the DS is pushing Mail in voting, we know there are many countermeasures in place and Trump decided to tweet this one out. 
This Tweet violated the Twitter Rules about civic and election integrity. However, Twitter has determined that it may be in the public's interest for the Tweet to remain accessible
Based on the massive number of Unsolicited & Solicited Ballots that will be sent to potential Voters for the upcoming 2020 Election, & in order for you to MAKE SURE YOUR VOTE COUNTS & IS COUNTED, SIGN & MAIL IN your Ballot as EARLY as possible. On Election Day, or Early Voting,..

— Donald J. Trump (@realDonaldTrump) September 3, 2020
…..go to your Polling Place to see whether or not your Mail In Vote has been Tabulated (Counted). If it has you will not be able to Vote & the Mail In System worked properly. If it has not been Counted, VOTE (which is a citizen's right to do). If your Mail In Ballot arrives….

— Donald J. Trump (@realDonaldTrump) September 3, 2020
….after you Vote, which it should not, that Ballot will not be used or counted in that your vote has already been cast & tabulated. YOU ARE NOW ASSURED THAT YOUR PRECIOUS VOTE HAS BEEN COUNTED, it hasn't been "lost, thrown out, or in any way destroyed". GOD BLESS AMERICA!!!

— Donald J. Trump (@realDonaldTrump) September 3, 2020
Trump Call for Voting Twice Sparks Warning From State Official
North Carolina's top elections official warned voters against trying to vote twice after President Donald Trump encouraged people who mail in their ballots for November's election to also go to the polls on Election Day.
Karen Brinson Bell, the executive director of North Carolina State Board of Elections, issued a long statement on Thursday warning that "it is illegal to vote twice in an election" and asked mail-in voters to verify their ballot was received without showing up in person on Nov. 3.
Source: bloomberg.com
He never said to vote twice, they missed the most important line in the tweet "go to your Polling Place to see whether or not your Mail In Vote has been Tabulated (Counted)"
So why did he put this out there, he wanted to trap them, if they agree, cheating is possible, by pushing back on what he said they forced MSM/Corrupt Politicians into a position against election fraud. Lets where this goes next.  Why do I say this
The Department of Justice is conducting several "very big" voter fraud investigations in multiple states, Attorney General William Barr  
"I know there are a number of investigations right now, some very big ones, in states," 
At least 32 people have been criminally convicted of voter fraud in 2019, according to a database maintained by the conservative Heritage Foundation think tank.
 
Barr pointed to a recent conviction in Texas over 1,700 fraudulent ballots and noted that widespread evidence isn't available because the United States has never attempted an election with the kind of massive access to mail-in voting available in 2020.
 
"This is playing with fire," Barr said.

"We're a very closely divided country here and people have to have confidence in the results of the election and the legitimacy of the government. And people trying to change the rules to this methodology—which as a matter of logic is very open to fraud and coercion—is reckless and dangerous," Barr said.
Democratic presidential nominee Joe Biden said his party has more than 600 lawyers working on election-related cases.
Source: zerohedge.com
Election FRAUD cases OPEN – DOJ [many].
.
Q
Q

 

!!Hs1Jq13jV6

 

ID: 5cccaa

 No.9803002

Almost 500 charged federally – illegal guns, drug traffickers, carjackers, armed robbers

500+ illegal firearms recovered – handguns, AK47s, machineguns

50+ kilos seized – incl enough fentanyl to kill all of Chicago & Detroit combined

147 murderers arrested#OperationLegend https://t.co/TPK9qsj8Zq

— U.S. Attorney Herdman (@USAttyHerdman) September 3, 2020
---
Geopolitical/Police State
NEW: With just two months left until the presidential election, Facebook says it is taking more steps to encourage voting, minimize misinformation and reduce the likelihood of post-election "civil unrest." https://t.co/ykfzBVrq8n

— ABC News (@ABC) September 3, 2020
So who pushed Mark Zuckerberg to do this, GS
George Soros, 89, is still on a quest to destroy America
Source: washingtontimes.com
---
War
---
Cyber Attacks
---
False Flags
It seems the salon owner is fighting back , she will not apologize, who made the appointment, NP
Crazy Nancy Pelosi said she was "set up" by the beauty parlor owner when she improperly had the salon opened (and didn't wear a MASK!). Does anyone want a Speaker of the House who can be so easily SET UP?

— Donald J. Trump (@realDonaldTrump) September 3, 2020
Dr. Stella Immanuel (@stella_immanuel) was threatened by the Texas State Medical Board for advocating for & prescribing HCQ.

HCQ is a safe, FDA approved medication for 65 years. It's outrageous there was ever an investigation.

Glad to see the case dismissed. #HCQWorks pic.twitter.com/QLS6qKRsCz

— Dr. Simone Gold (@drsimonegold) September 2, 2020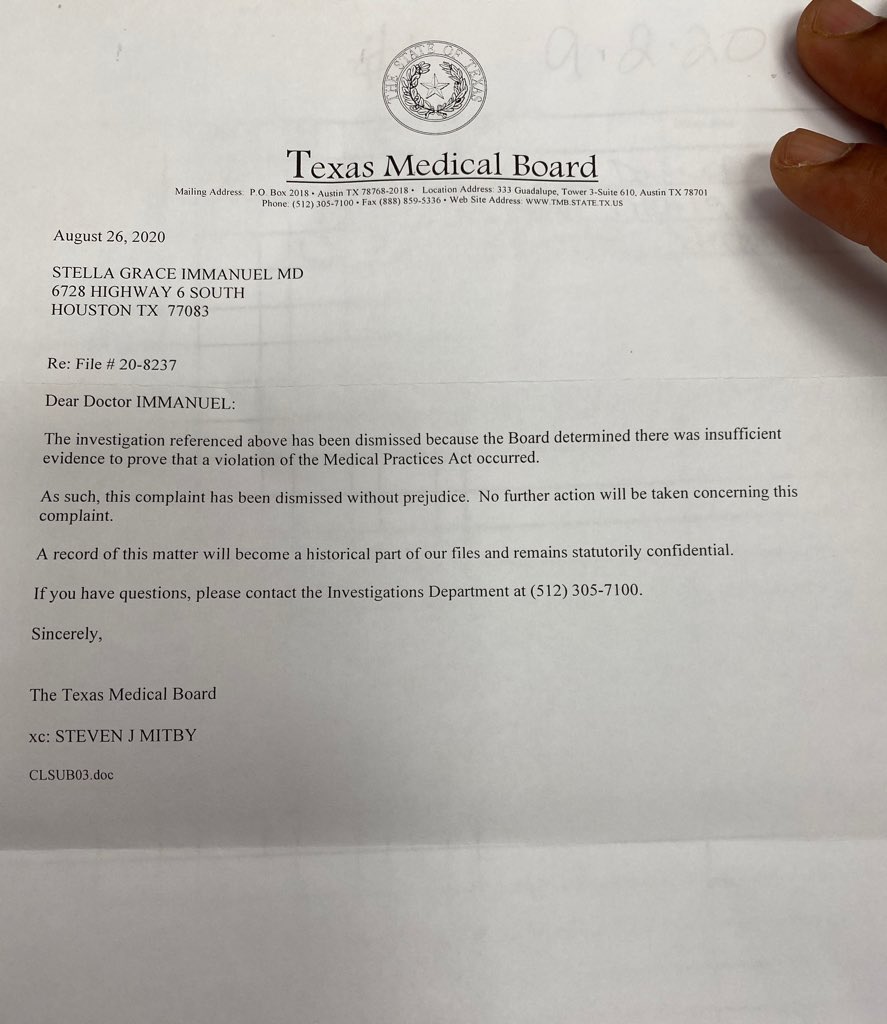 Attorney General William Barr said  that there was no "epidemic" of police officers shooting down "unarmed black men," calling it "a false narrative."
"
"The fact of the matter is, it's very rare for an unarmed African-American to be shot by a white police officer," Barr continued. "There were 10 cases last year, six of them the suspect was attacking the police officer physically. So these are rare things compared to the 7 to 8,000 young black men who are killed every year."
CNN interviewer Wolf Blitzer reminded Barr that he has declared unfair policing of black men do be a "widespread phenomenon" and asked him if that did not constitute systemic racism.
Barr responded that he defined "systemic" as meaning a practice is "built into the institution and I don't think that's true." The attorney general said he believes American institutions "have been reformed in the past 60 years."
Source: dailycaller.com
 I thought these govs didn't want federal help, but when it comes to money its a different story, I wonder where all the money has gone. 
A neighbor   Mayor Ted Wheeler (D) denounced ongoing violent unrest    in the last three months, saying the protests and riots have nothing to do with fulfilling the demands of the Black Lives Matter movement. Tom Drewes, who lives in Wheeler's upscale condo building, expressed frustration with protests that have erupted outside the site in recent days. "I think, sadly, this no longer has anything to do with Black Lives Matter and that's the tragedy of this. I think that message has been co-opted by people with a totally different agenda," Drewes said.
 .The GREAT AWAKENING
Source: breitbart.com
St. Louis mayor temporarily relocates following protests at her home https://t.co/JkTINE3ijm

— Political Fix (@stlpolitics) September 2, 2020
All these mayors are relocating all because of peaceful protests.
Seattle mayor asks state Supreme Court to halt recall effort against her
The people of seattle want the mayor recalled, 
Attorneys for the mayor are arguing that the recall push is not based on any violation of law

Seattle Mayor Jenny Durkan filed a petition   asking the state Supreme Court to block an effort to recall her, arguing that the push is based on a policy disagreement and is vague about what she should have done differently in her handling of widespread protests in June.

The state Supreme Court has agreed to hear Durkan's appeal, but there will be no oral arguments. All filings and arguments are due by Sept. 22, and the court is tentatively scheduled to discuss the case in private next month.

If Durkan's appeal is rejected and the recall effort is allowed to go forward, petitioners would have 180 days to collect more than 50,000 signatures from Seattle voters before a special recall election could be held.
source: foxnews.com
"A California district attorney is requiring her prosecutors to consider looters' 'needs' when weighing criminal charges against them," reported Fox News.
"The new mandate, set forth by Contra Costa County District Attorney Diane Becton, makes it tougher to prosecute looting cases in the county,
She's ordering them to consider five factors, including, "Was the theft committed for financial gain or personal need?"
Need?
It was obvious from day one, these riots were different.
To begin with, they are not really riots.
Riots are organic.
What we are seeing today are organized terror campaigns. Black Lives Matter and Antifa are nothing more and nothing less than the Democrat Party's Brownshirts.
 
Source: breitbart.com
Someone went searching for the rioters because it didn't make sense that night after night these indivudals are able to riots, they must be housed somewhere close and paid to stay, he found them and they chased him out
He's ordered an evaluation of what federal monies might be withheld from New York, Seattle, Washington, D.C. and Portland.
Source: zerohedge.com
Andrew Cuomo Has a Meltdown, Sure Sounds A Lot Like He Threatened the President
"He better have an army if he thinks he's gonna walk down the street in New York. New Yorkers don't want to have anything to do with him," the Democrat said, all but threatening the commander-in-chief.
Source: redstate.com
.@NYGovCuomo should get his puppet New York prosecutors, who have been illegally after me and my family for years, to investigate his incompetent handling of the China Virus, and all of the deaths caused by this incompetence. It is at minimum a Nursing Home Scandal – 11,000 DEAD!

— Donald J. Trump (@realDonaldTrump) September 3, 2020
Community member at Biden meeting in Kenosha appears to have been given a scripted question:

"I'm gonna be honest, Mr. Biden. I was told to go off this paper but I can't." pic.twitter.com/5daVBKK5PX

— Breaking911 (@Breaking911) September 3, 2020
The [DS] plan is in motion, Wapo sends out the message
Perspective: The election will likely spark violence — and a constitutional crisis.

In every scenario except a Biden landslide, our simulation ended catastrophically. https://t.co/E3tugZBuBj

— The Washington Post (@washingtonpost) September 3, 2020
---
Q
Some things must remain classified to the very end. NK is not being run by Kim, he's an actor in the play. Who is the director? The truth would sound so outrageous most Americans would riot, revolt, reject, etc.
The pedo networks are being dismantled.
The child abductions for satanic rituals (ie Haiti and other 3rd world countries) are paused (not terminated until players in custody).
Spy.png

>>147441102

>What must be completed to engage MI over other (3) letter agencies

During the 1950s and 60s, federal troops and federalized National

Guard forces, accompanied by military intelligence personnel, were

deployed to help integrate Southern schools23 and to help deal with

civil disorders in Detroit in 1967 and other cities the following year

after the assassination of Dr. Martin Luther King Jr.24 Throughout

this period military intelligence units also continued to collect data on

Americans at home who were suspected of involvement in subversive

activities.25 In the late 1960s, the Pentagon compiled personal

information on more than 100,000 politically active Americans in an

effort to quell civil rights and anti-Vietnam War demonstrations and

to discredit protestors.26 The Army used 1,500 plainclothes agents to

watch demonstrations, infiltrate organizations, and spread

disinformation. 2

' According to one report, the Army had at least one

observer at every demonstration of more than twenty people.28

The Army's activities were summed up by Senator Sam Ervin:

Allegedly for the purpose of predicting and preventing

civil disturbances which might develop beyond the control of

state and local officials, Army agents were sent throughout

the country to keep surveillance over the way the civilian

population expressed their sentiments about government

policies. In churches, on campuses, in classrooms, in public

meetings, they took notes, tape-recorded, and photographed

people who dissented in thought, word, or deed. This included clergymen, editors, public officials, and anyone who

sympathized with the dissenters.

http://digitalcommons.law.lsu.edu/cgi/viewcontent.cgi?article=6053&context=lalrev

>Hahahaha, Trump has had MI infiltrate Antifa and all the dissenting local govts.Always 5 steps ahead!Please be true.
>>147450119
Well done. Picture being painted.
---
In the midst of chaos, there is also opportunity"
"Rouse him, and learn the principle of his activity or inactivity. Force him to reveal himself, so as to find out his vulnerable spots.
"The whole secret lies in confusing the enemy, so that he cannot fathom our real intent."