All Eyes Are Now On The [DS], Patriots Building The Offensive,Think Hatch Act – Ep. 2603
Watch The X22 Report On Video
The [CB] is moving their plan forward, but people are seeing through it. Everything is now accelerated and the [DS]/[CB] cannot hide in the shadows, they are in the light. The supply chain shutdown is being pushed, there were changes in CA and they knew about it, this was to push their agenda. People are figuring out who the true enemy is. The [DS] is now panicking, Durham is on the hunt and all eyes are now on the [DS] players. One by one they are trying to get ahead of the Russia, Russia, Russia story. This will not work, propaganda cannot  win over facts and truth. Trump has more leverage now than he did before, think hatch act, what can he do now that he couldn't do before. He is replacing the swamp in real time through the rule of law and real elections. The people are following his lead, nothing can stop this, nothing.
---
Economy
COP coming to Glasgow. Leaders staying at Gleneagles Hotel & 20Tesla cars (£100K each) bought to ferry them 75km back & forth. Gleneagles has 1 Tesla charging station, so Malcolm Plant Hire contracted to supply Diesel Generators to recharge Tesla's overnight. Couldn't make it up.

— Donald Clark (no flags, no hashtags) (@DonaldClark) October 13, 2021
Under a new Biden administration proposal, the Internal Revenue Service is three times more likely to audit a citizen making less than $25,000 rather than someone in the top 1 percent of wealth.
The new proposal, which would require financial institutions to annually report customers' account deposits and withdrawals at $600 or more, gives the IRS more leverage over those making less than $25,000, because they are more likely to have irregular income. Over the next decade, the reporting on more than 140 million bank accounts would raise an estimated $700 billion in tax revenue — which would cover social spending in the Reconciliation Bill.
 a letter sent to President Biden and Treasury Secretary Janet Allen, Kansas Attorney General Derek Schmidt and 20 additional attorneys general voiced concern over the proposal, saying it is illegal overreach by the federal government and could cause unintended consequences.
Source: thefederalist.com
Buttigieg aka Mayor Pete appeared with Jake Tapper on CNN's State of Confusion and disclosed his strategy for handling the supply chain crisis. Do nothing.
"Certainly, a lot of the challenges that we have been experiencing this year will continue into next year," Buttigieg said. "But there are both short-term and long-term steps that we can take to do something about it. Part of what's happening isn't just the supply side, it's the demand side. Demand is off the charts. Retail sales are through the roof. If you think about those images of ships, for example, waiting at anchor on the west coast, every one of those ships is full of record amounts of goods that Americans are buying, because demand is up, because income is up, because the president has successfully guided this economy out of the teeth of a terrifying recession."
"Now the issue is, even though our ports are handling more than they ever have, record amounts of goods coming through, our supply chains can't keep up," he claimed. "Of course, our supply chains – that's a complicated system that is mostly in private hands and rightly so. Our role is to be an honest broker, bring together all of the players, secure commitments and get solutions that will make it easier."
Source: beckernews.com
Biden's Secretary of Transportation, 'Mayor Pete' Buttigieg, is out on paternity leave.  So Biden chooses a US Maritime Administrator with zero experience on commercial ships to address the largest shipping crisis in the country's history.
Now gCaptain reports:
…during the worst shipping crisis of the century, the US Department of Transportation, has appointed someone to the US Maritime Administration (MARAD) who is not a captain and has no commercial shipping experience.

…[on Thursday] Biden announced his intention to nominate Rear Admiral Ann Phillips, US Navy (Retired), as the next US Maritime Administrator…

. It's a commercial shipping appointment and she has zero experience aboard any commercial ships. She does not even have experience leading navy military sealift ships.
Source: thegatewaypundit.com
US Treasury deputy sec warns unvaxxed Americans that shortages will continue until EVERYONE is jabbed 
The deputy secretary at the US Treasury has put Americans on notice that the only way to end the plague of empty shelves around the country is for every resident to be vaccinated. The frank warning came off as a threat to many.
Wally Adeyemo, the Biden administration's second-highest official in the Treasury Department, appeared to publicly blackmail the still-sizable portion of Americans who have not been vaccinated against Covid-19 during a Thursday ABC interview, seemingly blaming them for the ongoing shortages of consumer goods that have led many to mock the president as 'Empty Shelves Joe'.Despite viral photos depicting thousands of cargo ships lined up at the Port of Los Angeles ready to unload their goods, Adeyemo claimed that the supply chain issues plaguing so many US retailers are an international issue and will only let up when a sufficient percentage of the country has been vaccinated.Source: rt.com
The continuing supply chain crisis of empty store shelves, missing parts and component goods that are backlogged at the California ports may be politically represented by the optic of those floating vessels.  However, that's not the problem.
The problem is a shortage of CA emission compliant internal transportation trucks to move the containers out of the port and into the U.S. mainland.
 
Port workers are saying it's not their lack of offloading that creates the problem, and the truckers are saying it ain't us… "we're sitting here waiting".
♦ Few people are paying attention to what actually created the crisis in the first place.
   On October 16, 2020, the EPA reached a settlement agreement [DATA HERE] with California Air Resource Board (CARB) to shut down semi tractor rigs that were non-compliant with new California emission standards:In effect, what this 2020 determination and settlement created was an inability of half the nation's truckers from picking up anything from the Port of LA or Port of Long Beach.  Virtually all private owner operator trucks and half of the fleet trucks that are used for moving containers across the nation were shut out.In an effort to offset the problem, transportation companies started using compliant trucks (low emission) to take the products to the California state line, where they could be transferred to non-compliant trucks who cannot enter California.   However, the scale of the problem creates an immediate bottleneck that builds over time.  It doesn't matter if the ports start working 24/7, they are only going to end up with even more containers waiting on a limited amount of available trucks.Yesterday, in an effort to obfuscate and actually hide the epicenter of the issue, the White House put on a performance to provide political cover.  In a grand pantomime, Joe Biden met with the heads of the Ports of Los Angeles and Long Beach (Gene Seroka and Mario Cordero, respectively), and the International Longshore and Warehouse Union (ILWU).As a result of the meeting, the Port of Los Angeles (POLA) announced that it will join the Port of Long Beach (POLB) in expanding to 24/7 operations. POLA will add new off-peak nighttime shifts and weekend hours, nearly doubling its hours of operation. The ILWU said its members are willing to work those extra shifts to add needed labor capacity.That publicly promoted action event was a complete political farce.   No amount of extra productivity in working the docks to off-load ships will solve the issue of trucks that cannot pick up the containers and distribute them toward manufacturing or warehouses.
Source: theconservativetreehouse.com
---
Political/Rights
Bill Clinton released from hospital after being treated for infection
Former President Bill Clinton was released from a California hospital on Sunday after undergoing treatment for ​a urological infection
Source: nypost.com
Jussie Smollett criminal trial to move forward after judge denies to dismiss case
A judge   denied a last-ditch effort to dismiss a criminal case against actor Jussie Smollett, who is accused of lying to police when he reported that he was the victim of a racist, anti-gay attack in downtown Chicago in January 2019.
 Linn said jury selection in Smollett's trial would start Nov. 29.
Source:foxnews.com
Source: beckernews.com
We will be talking more about this a little later in the report, think Hatch Act, Think Trump, Think Leverage.
Lets talk about McCabe
McCabe lied to frame Trump people. Biden's DOJ "settled" a lawsuit and fully reinstated him.

There's no such thing as justice.

There is only power and we must use it ruthlessly to punish our enemies and help our friends.

— Kurt Schlichter (@KurtSchlichter) October 15, 2021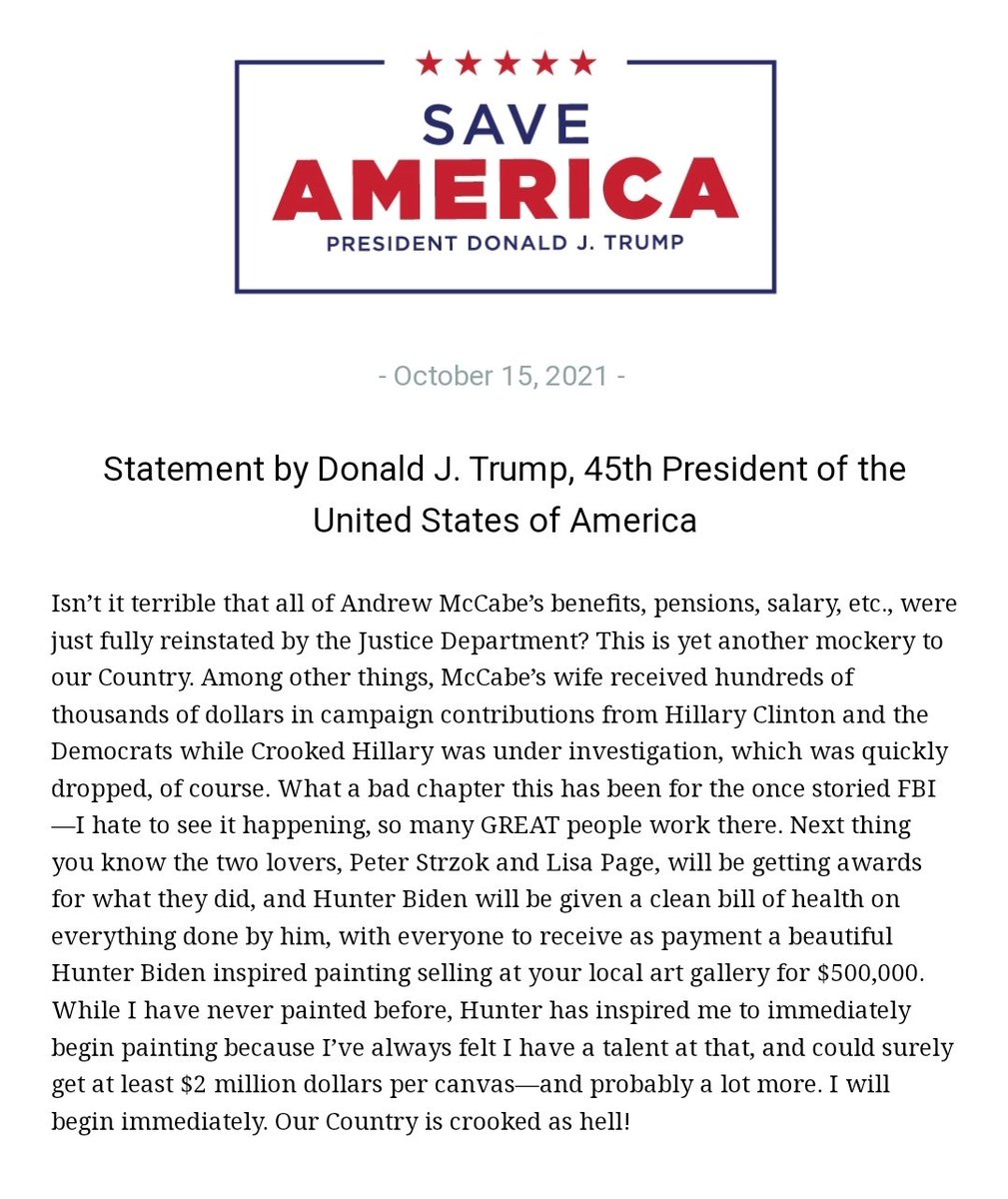 no matter what the [DS], all of these people will be   indicted.  
Christopher Steele finally admits his infamous dossier is not 100% true but claims Michael Cohen DID meet with Kremlin officials in Prague and the Trump golden showers tape 'probably' exists
Christopher Steele defended his dossier in clips of an interview on Sunday
He stood by his claims Michael Cohen met with Kremlin officials in Prague and that there is 'probably' a Trump 'golden showers' tape 
Said Russians didn't release the tape because they 'felt they got pretty good value out of Donald Trump when he was president of the U.S.'
The FBI concluded Cohen did not meet with Russians in Prague, but Steele says he wouldn't admit to that because it's 'self incriminating to a very great degree'
Steele says he's speaking out now because 'problems we identified back in 2016 haven't gone away – and arguably have actually gotten worse'
The ABC News special 'Out of the Shadows: The Man Behind the Steele Dossier' premiers on Hulu on Monday
Source: dailymail.co.uk
Translation: I'm about to be indicted by John Durham, so I will try to get ahead of the indictment with this interview and admit to certain things 
The one item on the timeline that has NEVER been publicly established yet via a declassification is WHEN Steele finally gave the FBI Danchenko's name. That tells me right there it's still classified as part of Durham's criminal investigation. Durham knows what that date was.
Arizona Attorney General requested that U.S. Attorney General Merrick Garland investigate Facebook for their facilitation of human smuggling at the Arizona southern border.
Facebook admitted in a letter to allowing "people to share information about how to enter a country illegally or request information about how to be smuggled."
Facebook claims to censor and remove other content that assists human traffickers and drug traffickers but AG Brnovich says that the mechanisms they use are "paper tigers".
Facebook is somehow able to censor every conservative thought and post that comes across the internet, but they leave some room for human traffickers.
By not banning this content and allowing the promotion of illegal smuggling, Facebook is a "direct facilitator" of this heinous crime.
Arizona Attorney General Mark Brnovich made the following press release on Wednesday.

Copy of AG Brnovich letter.

Copy of Facebook's August 30th Response to Arizona.

Source: thegatewaypundit.com
---
Geopolitical/Police State
An anti-Trump Democratic-aligned political action committee advised by retired Army Gen. Stanley McChrystal is planning to deploy an information warfare tool that reportedly received initial funding from the Defense Advanced Research Projects Agency (DARPA), the Pentagon's secretive research arm — transforming technology originally envisioned as a way to fight ISIS propaganda into a campaign platform to benefit Joe Biden.
The Washington Post first reported that the initiative, called Defeat Disinfo, will utilize "artificial intelligence and network analysis to map discussion of the president's claims on social media," and then attempt to "intervene" by "identifying the most popular counter-narratives and boosting them through a network of more than 3.4 million influencers across the country —  e."
---
War
JUST IN – China tested a nuclear capable hypersonic gliding vehicle that traveled around the globe through low orbit in space before cruising to the target. US intelligence and military officials stunned.https://t.co/HuB5kOHElq

— Disclose.tv (@disclosetv) October 16, 2021
U.S. Space Force: "Semper Supra" – Always Above
The newest of the U.S. military's six branches, the U.S. Space Force recently revealed its new motto, which pays homage to its roots in the U.S. Air Force as well as the branch's future in space. "Semper Supra" is Latin for "Always Above;" the word "always" was chosen because just as space is unending in time and depth, so too is the Space Force's commitment to uncompromisingly protect and monitor space and U.S. satellites. "Above" was chosen to be symbolic of both the act of looking up and wondering what is beyond in space, as well as the Space Force's value of excellence.
Source: uso.org
A U.S. and a Canadian warship sailed through the Taiwan Strait late last week, the American military said on Sunday, at a time of heightened tension between Beijing and Taipei that has sparked concern internationally.
U.S. Navy ships have been transiting the strait roughly monthly, to the anger of Beijing. U.S. allies occasionally also send ships through the strait, including Britain last month.
Source: theepochtimes.com