America Will Start Winning Again Like Never Before, The Castle Runs Red, Yes – Ep. 2595
Watch The X22 Report On Video
The [CB] is now pushing their agenda, they want us to move into their green new deal, but as the economy starts to get worse the people will ask questions of why, the people are awake now, they are thinking logically. Trump was right we are seeing higher fuel costs and soon we will be seeing even more inflation, the people had to see it. The patriots are now sending messages that something is about to happen. First Trump told the world that the true insurrection was Nov 3 not the Jan 6th. Then we had Scavino put out a red wave and the WH had a red light on it. Scavino just sent another message, that it is time to back the country, that America is going to win like we never before. The castle is running red. The [DS] is panicking they know what is coming and it's called the storm.
---
Economy
.@PressSec: "Certainly we all want to keep gasoline prices low, but the threat of the climate crisis certainly can't wait any longer." pic.twitter.com/BebK6KfDQ4

— X Strategies LLC (@XStrategiesLLC) October 6, 2021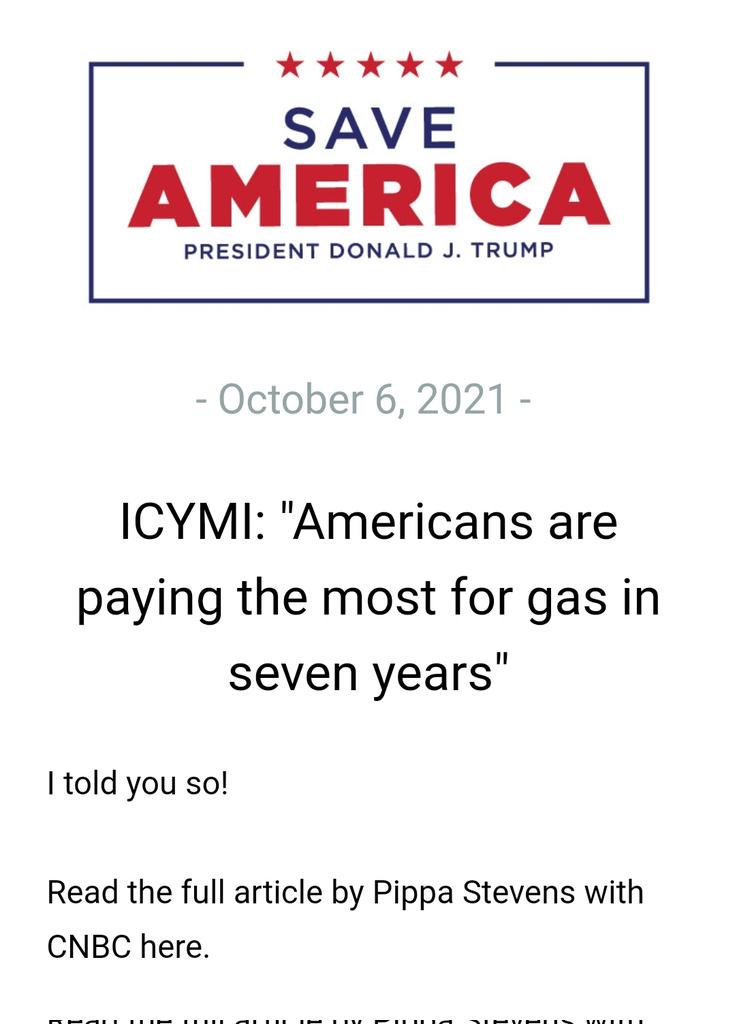 'Another Day, Another Catastrophic Oil Spill': Leak in Texas Fuels Calls to 'Keep It in the Ground'
"We must transition to a renewable energy future as fast as we can."
A crude oil spill at a Marathon Petroleum refinery in Texas City outside of Houston on Wednesday—just the latest in a series of recent leaks—sparked fresh calls for rapidly phasing out fossil fuels and transitioning to 100% renewable energy.
Source:  commondreams.org
  California Democrats are seizing on a massive oil spill that has sullied popular beaches in Orange County and killed sea life to pursue long-sought bans on offshore drilling.
They're seeking action in both Washington and Sacramento, where lawmakers are pushing to unilaterally prohibit drilling-related activities in waters off the California coast. The 144,000-gallon slick has newly galvanized California lawmakers and environmental groups, who have struggled to convince leaders even in this blue state to restrict oil production in recent years.
Newsom on Tuesday excoriated fossil fuels' contribution to climate change and got in a dig at former President Donald Trump before throwing his support behind a congressional effort to ban new offshore drilling on the West Coast.
"Those damn platforms, fossil fuels. It's not very complicated. We need to grow up, grow out of this dependency and this mindset, this mindset that we can't do more and do better," he said at a press conference in Huntington Beach. "I want the Trump administration folks, all those folks out there, all those Republicans out there who still think the answer to the problem is more offshore drilling to just know: Not in our backyard. It won't happen."
Source: politico.com
Global food prices are outrageously high,  Rome-based Food and Agriculture Organization (FAO) released monthly data on the state of food prices that showed global food prices rose for a second consecutive month in September to reach a new decade high, driven by gains for cereals and vegetable oils.
The FAO Food Price Index (FFPI), a measure of the monthly change in international prices of a basket of food commodities (including cereals, vegetable oils, dairy, meat, and sugar), rose 1.2% in September to 130 points and 32.8% higher than in September 2020. ed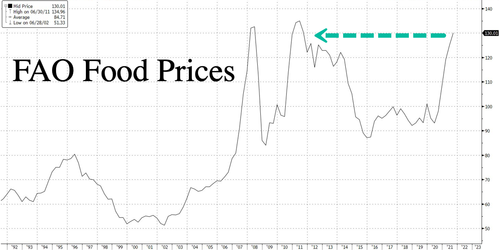 Source: zerohedge.com
via FBN
 
The average family is paying $175 more a month on basic essentials today compared to last year.
This is the Biden Effect in action.
Via FBN
Source: thegatewaypundit.com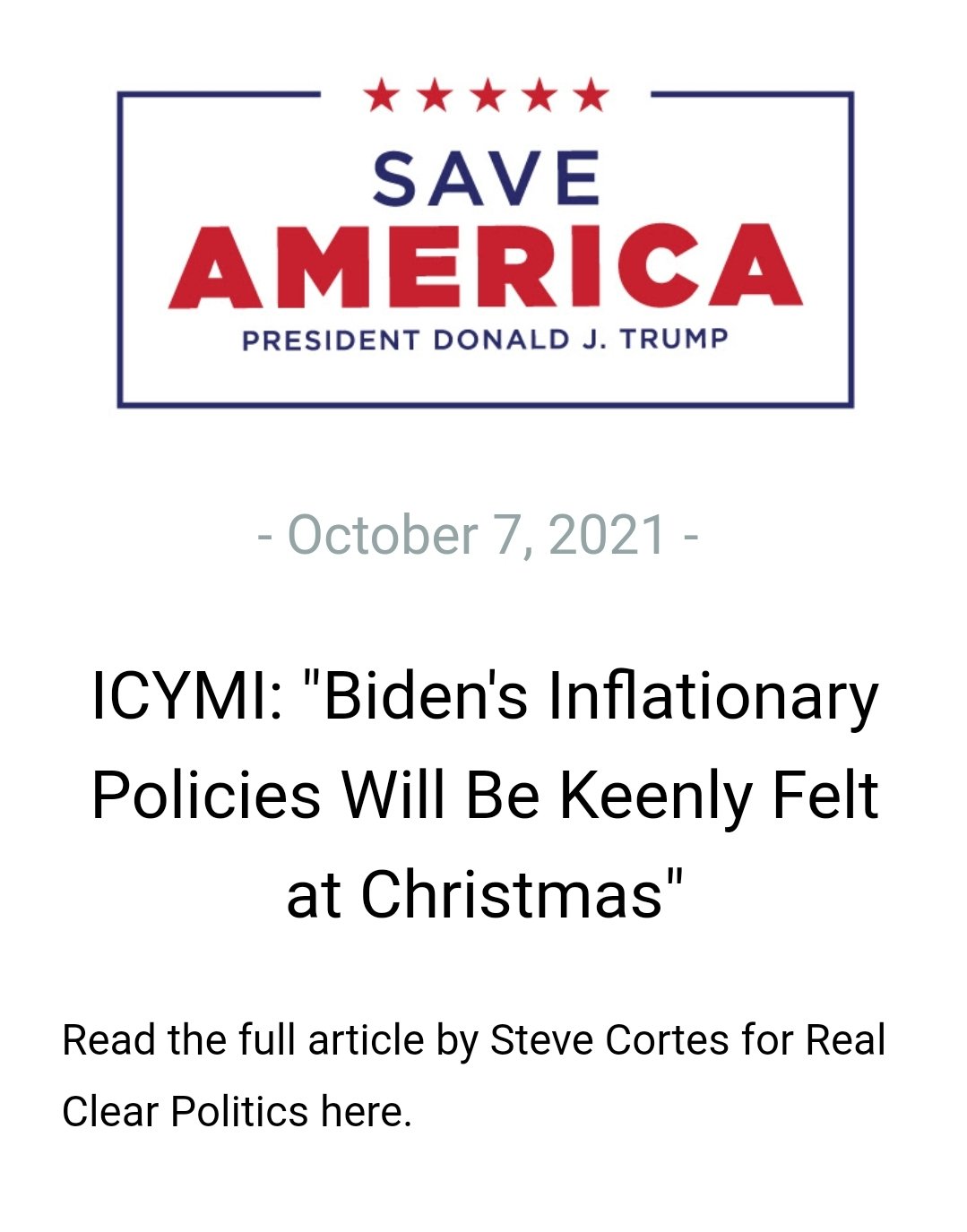 Yellen defends IRS rule requiring banks to report all transactions over $600 https://t.co/Wse08JeFPN pic.twitter.com/5gtXLzrGpk

— New York Post (@nypost) October 5, 2021
Responded
Wake up! The Slide towards Fascism is real. https://t.co/xTy1emOKUe

— Richard Grenell (@RichardGrenell) October 6, 2021
---
Political/Rights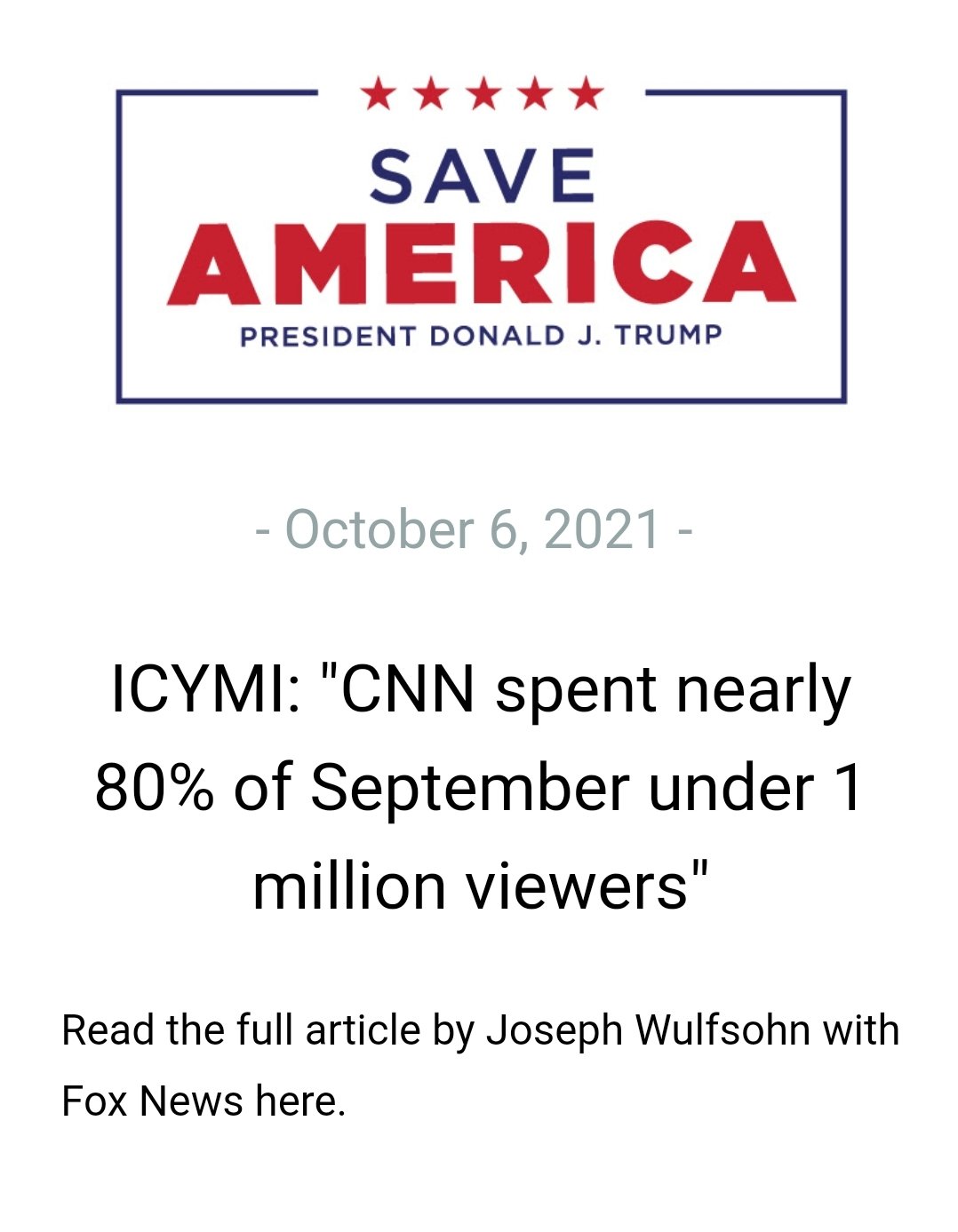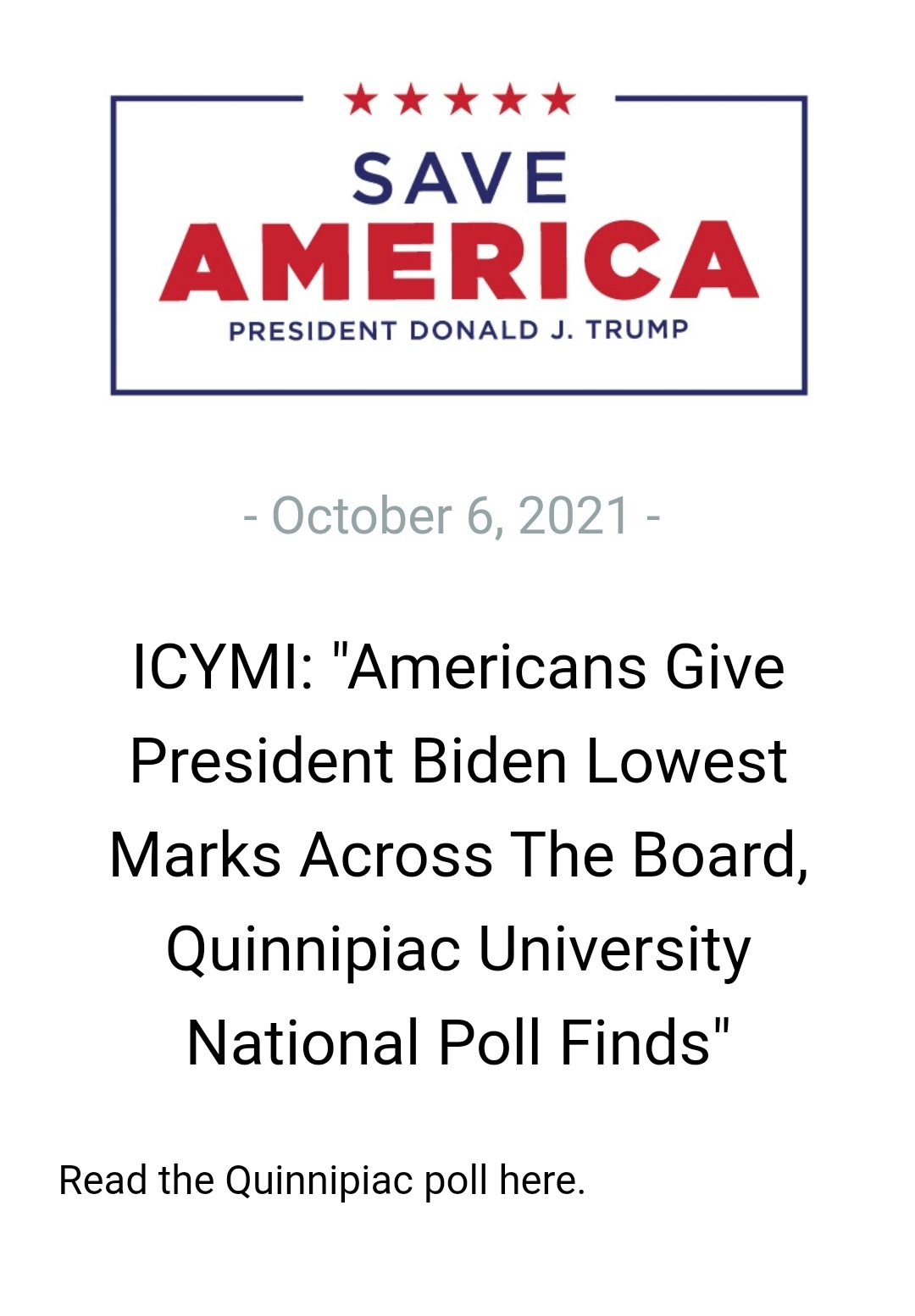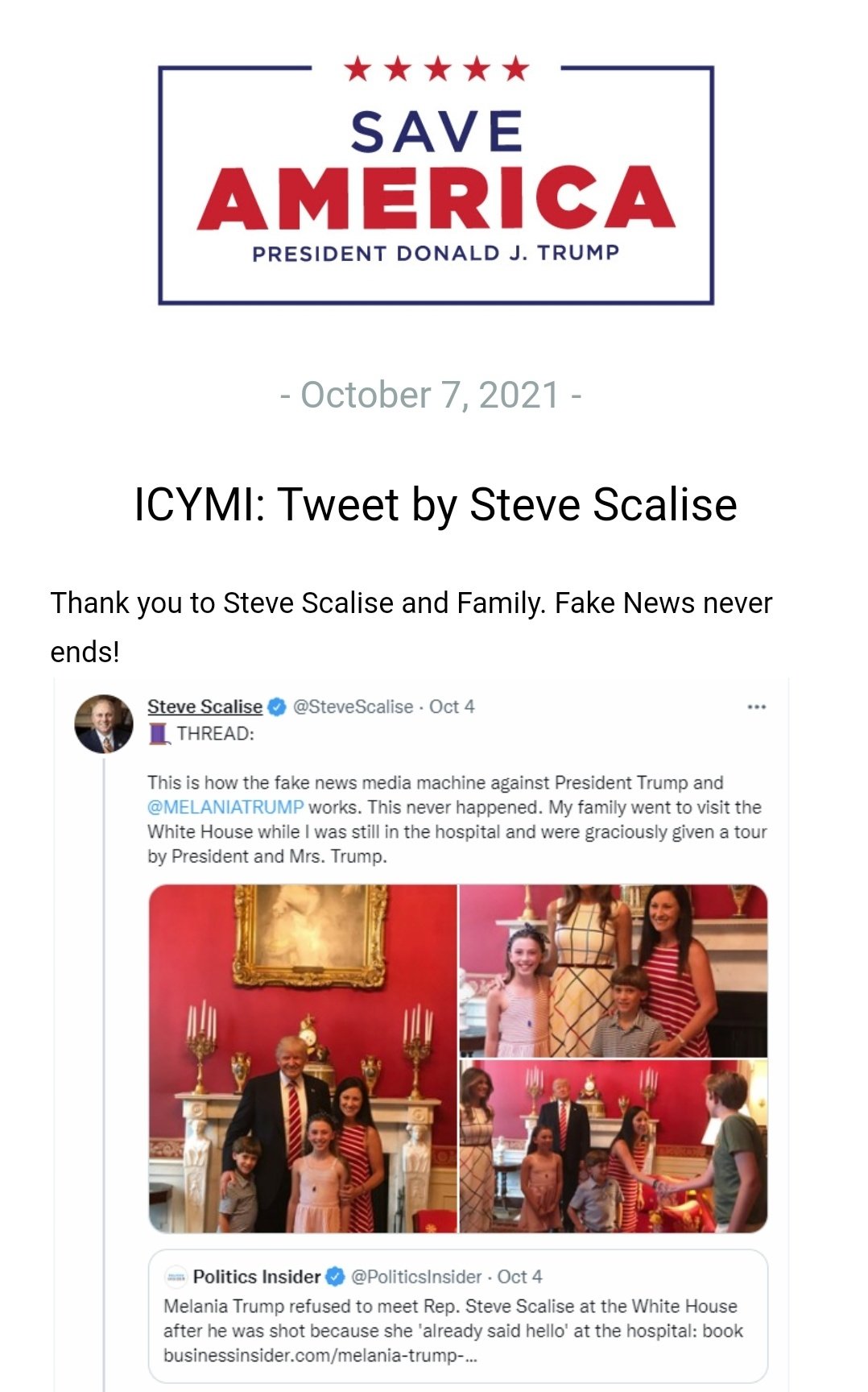 NEW: Flanked by 9 GOP Governors, TX Governor Greg Abbott says President Biden has refused to meet with them re: the border, and that Biden has never been to the border. Abbott says Biden must do 3 things.
1) Reinstate remain in MX
2) Finish the wall
3) Enforce Title 42@FoxNews pic.twitter.com/Yx6bah2uH5

— Bill Melugin (@BillFOXLA) October 6, 2021
---
Geopolitical/Police State
  The U.S. government is reportedly secretly issuing warrants for Google to provide user data on anyone typing in certain search terms, raising fears that innocent online users could get caught up in serious crime investigations at a greater frequency than previously thought.

In an attempt to track down criminals, federal investigators have started using new "keyword warrants" and used them to ask Google to provide them information on anyone who searched a victim's name or their address during a particular year, an accidentally unsealed court document that Forbes found shows.

Source: thegatewaypundit.com
Frances Haugen was part of the anti-Trump Facebook team that banned Hunter Biden content from their platforms in the run-up to the 2020 election.
Frances Haugen is a fraud.
 What's more, Haugen told the Wall Street Journal that she only joined Facebook in the first place because she wanted to fight "misinformation."
Source: thegatewaypundit.com
---
False Flags
Over 350 Seattle police officers haven't turned in vaccination records as deadline looms
According to SPD, out of the 354 police personnel that haven't submitted records, 237 of them are patrol officers or work in operations.
Source: thepostmillennial.com
[NEW YORK – Oct. 6, 2021] Project Veritas released the fifth video in its COVID vaccine investigative series today featuring a sit-down interview with Pfizer insider, Melissa Strickler. She leaked internal emails that show corporate executives telling staff to be secretive about the use of human fetal tissue in laboratory testing of the COVID vaccine. (read more)
.
Source: theconservativetreehouse.com
---
Q
I love this democratic narrative that @DanScavino is in "hiding." Ironic given I saw him yesterday at a 1000+ person Law Enforcement funeral for a dear mutual friend in New York. Dan was walking around, shaking hands… I don't know how much more public one could be.

— Eric Trump (@EricTrump) October 7, 2021
Democrats are holding a sham "hearing" trying to refute the DAMNING findings from the #AZAudit

These results are just the tip of the iceberg!https://t.co/94BzHIIPrF

— Liz Harrington (@realLizUSA) October 7, 2021
The Arizona Audit results are damning!

23,344 mail-in ballots from persons no longer living at that address

17,322 duplicate ballots, which surged AFTER the election

2,382 voters who voted in-person but had moved out of Maricopa Co

2,081 voters moved out of state

— Liz Harrington (@realLizUSA) September 26, 2021
Earlier today during a House Oversight and Government Reform Committee hearing on the Arizona vote outcome representative Andy Biggs (R-AZ) questioned Maricopa County officials about their deletion of 2020 election data in order to avoid a state senate subpoena for election records.
Maricopa County Board of Supervisors Chairman Jack Sellers and the boards vice chairman, Bill Gates, admitted they intentionally deleted election data to route it onto an archive file.  The archives of the county records were not subpoenaed, that way the county could avoid sending the full 2020 election data to the auditors.
Source: conservativetreehouse.com
Maricopa County admits they DELETED and moved the election data to hide it from auditors AFTER they got a subpoena

This is a total cover up, and they admit it! pic.twitter.com/W6jD2X8NwP

— Liz Harrington (@realLizUSA) October 7, 2021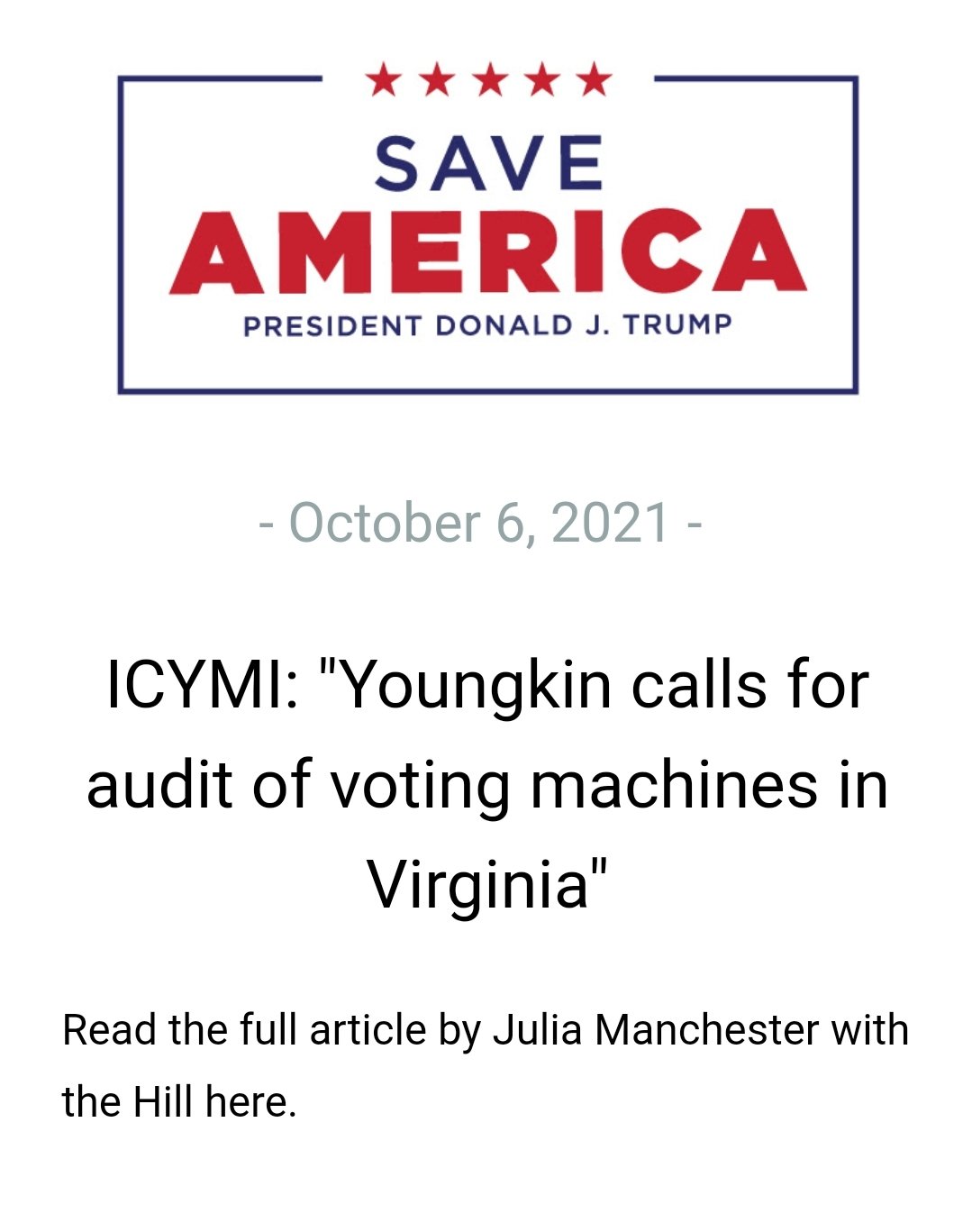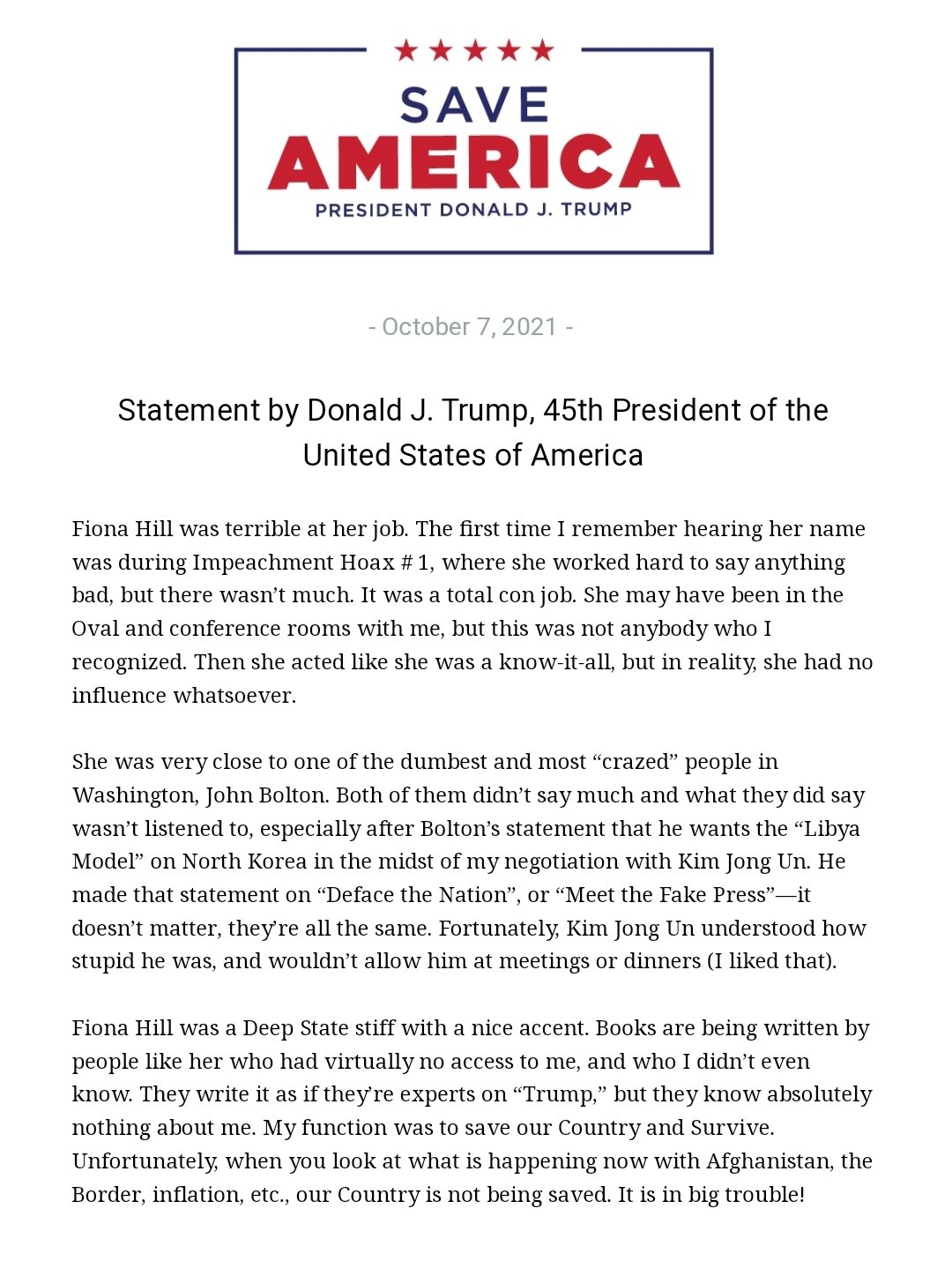 The Playbook
Let's talk about "Color Revolutions," how the political establishment has mastered them, and how they used their Color Revolution playbook domestically during Trump's presidency.
What is the definition & purpose of a Color Revolution?
As we go further, you'll see exactly what is meant by "state destabilization," but the biggest take away here is knowing all Color Revolutions closely follow the same template.  
"The state (and society as a whole) must combat a part of itself that is 'rising up' against the status quo, leading to a conflict of interest and a social civil war." Think back to the summer of 2020 and all the violent protesters. Can you think of any instances of mismanagement by the state in dealing with the protests? How many blue state governors did almost nothing to shut down the protests? Was it done on purpose to follow the Color Revolution playbook?
These articles help outline how our United States government has been using color revolutions over the years to implement regime changes without having to use an actual military "coup." Instead, they use street protests, disputed elections and a favorable media.
 The people considered to be "Color Revolution Experts" are the same people that were involved in trying to take down Trump during his 1st impeachment.
Norm Eisen is of particular interest. Here is a small sample of what Revolver news had to say.
…the very same regime change professionals who run Color Revolutions on behalf of the US Government in order to undermine or overthrow alleged 'authoritarian' governments overseas, are running the very same playbook to overturn Trump's 2016 victory and to pre-empt a repeat in 2020.
I'd like to provide some information to substantiate that statement. Let's look at the "criteria needed for a successful Color Revolution" and compare it to Donald Trump's presidency.
Let's break it down. From the above article:
"The incumbent leader of the regimes must be very unpopular and face the so-called 'Lame Duck Syndrome.'"
Even though it was never true, the political establishment started to build this narrative before Trump even entered office.
This narrative was created from the get-go and the authors of it never relented throughout Trump's first term. Poll after poll, one fake news story after the next, all used to create a narrative that Trump was very unpopular. The first criterion "needed for a successful Color Revolution" is met.
"The anti-regime forces are enforced by mass-media and foreign influences." Here is how E-International Relations explained it:
How much money has George Soros pumped into liberal organizations over the years? How many lies and fake news stories has the media pushed on us during Trump's first term? The second criterion "needed for a successful Color Revolution" is met.
"The revolution must not be ideological; it must be for the sake of better national integration, freedom, democracy and economic development."
How many times did the democrats say that Trump is a "threat to our Democracy"? That he was a dictator? That removing him from office was needed for the sake of saving America? The third criterion "needed for a successful Color Revolution" is met.
"he anti-regime forces should also be motivated by the grievances on the corrupted government which is supported by a foreign state which the people do not desire."
The Democrats and the media have been trying to paint Donald Trump as a Russian agent since before he took office. We're starting to see more evidence come out from Durham's investigation showing us just how big that conspiracy is. It's all part of the Color Revolution plan that the political establishment used against Trump. The fourth criterion "needed for a successful Color Revolution" is met.
4832
Q
!!Hs1Jq13jV6
10/07/2020 22:31:07
 ID: 3b43aa
Archive Bread/Post Links: 10975201 / 10975689
Direct Link: 10975689
4700
Q
!!Hs1Jq13jV6
09/14/2020 12:34:31
 ID: a54ff9
Archive Bread/Post Links: 10644330 / 10644532
Direct Link: 10644532
One of the more interesting and sinister developments that took place in 2020 was creation of the Transition Integrity Project (TIP). On August 3rd of 2020, the Transition Integrity Project released a report titled "Preventing a Disrupted Presidential Election and Transition." This 22 page document outlined a series of four "war game" election night scenarios. Here is what Revolver news had to say about the Transition Integrity Project.
Participants got too choose whether their involvement would be publicly disclosed . Note that Revolver news also reported that Norm Eisen participated in the event.
Remember that they claim that the Transition Integrity Project is "bi-partisan." Back to Revolver News:
Here are the four scenarios that were "war-gamed" by the Transition Integrity Project:
Th Revolver news broke down and analyzed the Transition Integrity Project's report. Remember, the TIP report was released in August of 2020, well before the November 3rd election. Compare this to what actually unfolded during the 2020 election.
You can clearly see a picture emerging that the report released by the Transition Integrity Project wasn't just some war gaming by political figures. This was right out of the playbook they used to steal the the 2020 election and they put it out there for the world to see. Why would they do that?
Try to think about this from Donald Trump's point of view. Trump and his team are not stupid. They knew exactly what was coming. The TIP report sent a clear message that even if Trump wins the election, the political establishment would sow chaos and turmoil for as long as it took until Trump was removed from office.
Trump   could either reveal the fraud and remain in office, or "walk away." What would have happened if Trump made the moves to prevent Joe Biden from taking office? The report from the Transition Integrity Project gave us the answer. There would have been violence in the streets. With tensions as high as they were, we would have had a civil war in our country. The exact type of brief civil war where civilians actually die and Trump would have been forced to act. This would have placed him squarely in a situation where he would undoubtedly be condemned no matter how he responded…that's how color revolutions work.
Trump really only had one option to save the country from that turmoil; he had to walk away in order to save lives.
Let's fast forward to after Biden's "inauguration," we see Elias enter the picture again in the fight against forensic audits. The Soros-funded Protect Democracy (who funded the Transition Integrity Project) hired Marc Elias to challenge the Arizona Forensic Audit.
How many other election laws were illegally changed based on lawsuits funded by George Soros or other NGOs?
What Now?
So how could Trump possibly go about defeating the political establishment– specifically a character like George Soros– who has been successfully influencing United States politics for years while carefully avoiding "crossing the line" into prosecutable interference?
Executive Order 13848 – Imposing Certain Sanctions in the Event of Foreign Interference in a United States Election.
EO 13848 mentions interfering or undermining public confidence in United States elections through "the covert distribution of propaganda and disinformation." The EO then goes on to give us some important definitions, including "foreign interference," with respect to an election, as well as what constitutes a "foreign government."
Does the Transition Integrity Project report fit the definition of foreign interference? 
 the same people from our own government who have implemented color revolutions abroad have also attempted to implement one here, as well.
When you look at Trump's presidency from a 40,000 ft. view, the massive scope of the swamp comes into focus. This is how one begins to see the picture of what Trump was up against.
Every single move made by the political establishment– from before Trump took office up until they stole the presidency for Joe Biden, and the subsequent events that have unfolded during Biden's time in "office"– have all been part of the "playbook."  Everything from Spygate to the Transition Integrity Project to current events…they are all clearly connected.
Devolution is just one aspect of Trump's plan to save America. Trump knew well before taking office how corrupt and entrenched the political establishment is. How do you defeat an enemy like that? How do you destroy it so it never returns? It's one thing to "cut the head off" but how do you make sure another doesn't grow in its place?
In order to obtain a total victory, you must first arm yourself with the proper "weapons" with which to do battle.
Source:  patelpatriot.substack.com
Devolution is the statutory delegation of powers from the central government of a sovereign state (Wash D.C.), to govern at a subnational level (50 States), or as a regional or even local level. It is a form of administrative decentralization from Federal Gov to State Gov.
Now if Trump implemented this process FEMA/Military leaders of designated areas would be placed to ensure the process of Government. This is to ensure that our day to day lives do not fall apart. Devolution would need to have a military code it is based upon and to follow. Possibly the Law of War Manual (11.3)?
What did Trump tell us today? that true insurrection happened (11.3)
I do not like to put out dates or timeframes, but 1/20/22 is when the application of the GC shall cease rendering the closing of Mil Operations (Trump & WH's)? 👀
Let's see what happens. 🇺🇸
@Qtah_17
DoD Manual: https://bit.ly/305gorO
34
Anonymous
11/01/2017 22:56:16
 ID: pGukiFmX
4chan Thread/Post: 147547939 / 147567888
Direct Link: 147567888
26
Anonymous
11/01/2017 01:41:54
 ID: grTMpzrL
4chan Thread/Post: 147433975 / 147449624
Direct Link: 147449624
_27-1_yes_USA94-2
_27-1_yes_USA58-A
_27-1_yes_USA04
_Conf_BECZ_y056-(3)_y
The_Castle_Runs_RED_yes
Godspeed.
Q