[DS] Color Revolution Never Ended, Playbook Known, Countermeasures Are In Place – Ep. 2596
Watch The X22 Report On Video
The job numbers are in and they are horrible, the people can see who is responsible. There is no escaping this, as the economy falls apart the blame will be on the [CB]/[JB]. Biden blames the people for the poor job numbers. The R's voting to raise the debt ceiling, big fail, Trump warned them not too. Supply chain and inflation is coming and [JB] will be to blame. The [DS] planned a color revolution and it has not ended. They are now pushing the next phase because the forensic audits & Durham are moving forward, nothing can stop this. The [DS] understands this, the next phase will to continue with the riots and blame it on Trump and his supporters. The narrative is already being built, censorship is in place. The patriots know the playbook, they know what they are attempting, this is why the counterinsurgency has been built, the military was the only way forward.
---
Economy
Source: zerohedge.com
BREAKING: The September jobs report badly misses expectations with payrolls increasing by just 194,000. https://t.co/qUwqDh64nQ pic.twitter.com/2bzUka3bnl

— CNBC (@CNBC) October 8, 2021
President Joe Biden blamed people who have not received the COVID-19 shot for the economic problems his administration created by lining Americans' pockets with cash.
"The unvaccinated also put our economy at risk because people are reluctant to go out," Biden said at a Clayco construction site in Elk Grove Village, Illinois, overlooking his role in pushing a massive spending bill that would cost trillions of dollars.
The economy under Biden is still a disaster and trying to recover from government-mandated lockdowns and unemployment benefits that have pushed key workers to stay home.
Source: thefederalist.com
So so we're clear: In the past two years government has told people they're not allowed to come to work, then paid them not to come to work, then begged them to come back to work, then fired them for refusing a vaccine.
Gun manufacturer Smith & Wesson to move headquarters from Massachusetts to Tennessee
Senate Minority Leader Mitch McConnell on Wednesday caved to Joe Biden and said he would agree to a debt limit increase through December.
Senate Majority Leader Chuck Schumer on Thursday filed cloture to end debate and the senate voted Thursday evening.
60 votes were needed to end debate and advance the $480 billion debt limit hike.  
Source: thegatewaypundit.com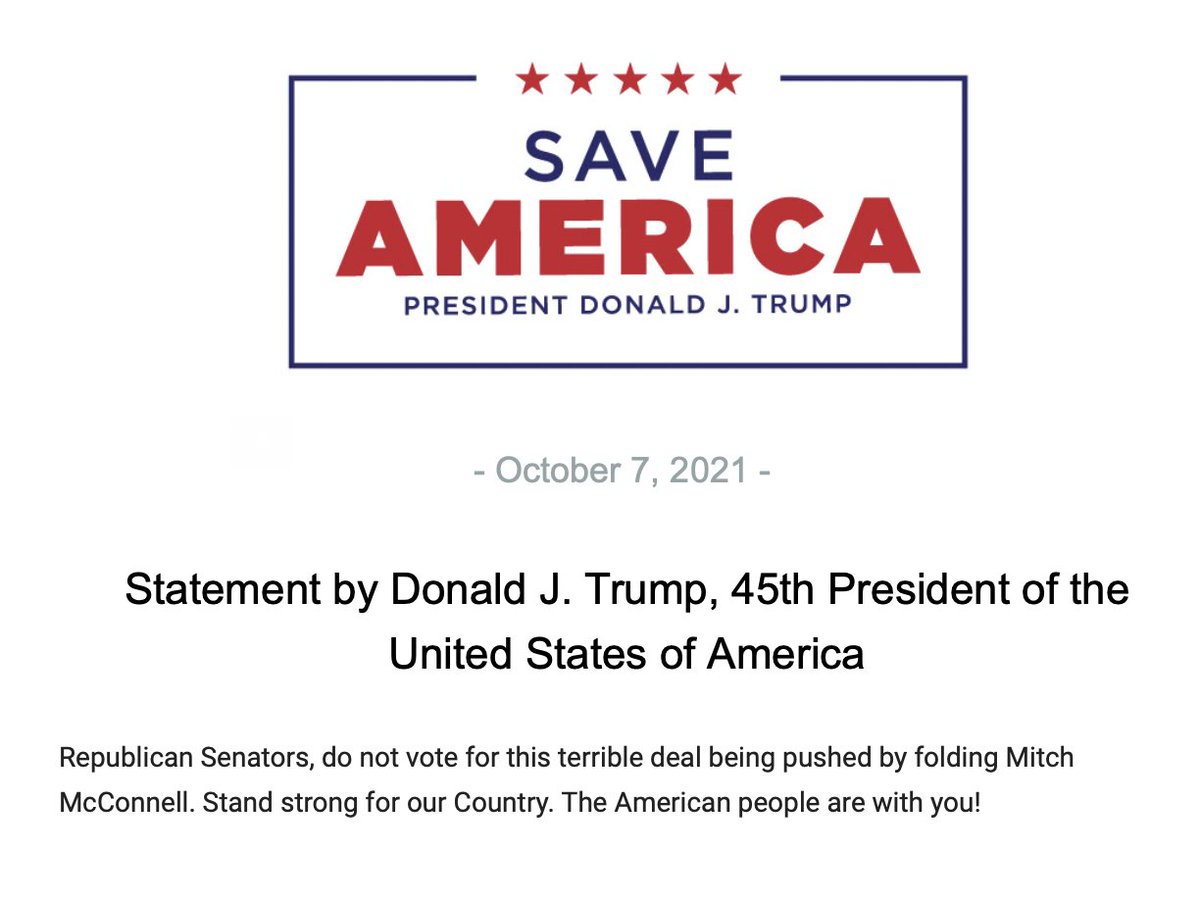 UK meat consumption falls by nearly a fifth in the last decade, as scientists warn reduction must be faster to hit climate target 
The UK's daily meat consumption has dropped by 17% over the last 10 years, an Oxford University study has found, as Britons seek to reduce the environmental impact of their diets to meet an ambitious 2030 climate target.
 However, despite the near one-fifth decline in meat consumption over the last decade, scientists warned that "more substantial" efforts are required to achieve the UK's goal of a 30% reduction by 2030. To hit that target, Stewart highlighted how Britons "don't have to be vegetarian" but could move to having "two meat-free days per week."
Source: rt.com
Raw material foodstuff price contracts are expiring, and the new purchasing prices will be significantly higher than current.  As these contracts refresh, the new higher prices immediately enter the food supply chain.  CTH has been warning readers to stock up on non-perishable items as this next wave of food price increases is going to be much bigger than even the prior 8%/avg jumps; and there is absolutely no end in sight.
Conagra is one of the large food conglomerates with control over products from field to fork.  Recently, Conagra executives announced they expect food prices to climb even higher due to all of the aforementioned impacts, along with large price increases in fuel and energy.
Wall Street Journal […] Conagra said Thursday it expects gross inflation—which doesn't take into account hedging—to be about 11% for fiscal 2022, versus its earlier estimate of 9%. The company plans to continue adjusting prices and cutting costs, and said its prices likely will rise 4% or more during the current fiscal year.
 
Source: theconservativetreehouse.com
---
Political/Rights
Gallup: Trust In The Media Sinks to 36 Percent, Second Lowest Ever

Can the mistrust of the media get much greater? Gallup pollsters reported on Thursday that American trust in the media "to report the news fully, accurately and fairly has edged down four percentage points since last year to 36 percent, making this year's reading the second lowest in Gallup's trend."

Overall, just seven percent of U.S. adults say they have "a great deal" and 29 percent "a fair amount" of trust and confidence in newspapers, television and radio news reporting — which, combined, is four points above the 32 percent record low in 2016, during the Donald Trump vs. Hillary Clinton battle.

More than half of respondents sound fed up: 29 percent of the public currently registers "not very much" trust and 34 percent say they have "none at all."
Of course, plenty of Democrats still trust the media. Why do you suppose that is?
Source: thegatewaypundit.com
President Joe Biden's 

poll numbers are tanking

, especially among independent voters. The American people do not like weak leaders, and they do not like the craziness that's infiltrating their daily lives.

 
Source: dailycaller.com
Source:  en-volve.com
Michael Sussman's lawyers enumerate the weaknesses in Special Counsel Durham's indictment tonight in their first substantive motion in the criminal case. https://documentcloud.org/documents/21079891-sussman-bill-of-particulars
Lmao. The only take away from this filing is that Sussmann is nervous AF because his lawyers aren't really sure who is cooperating (ie does mook have a deal, who else besides Baker is talking), and how much Durham knows (ie just Alfa bank or is this going to G2 too)😉 https://t.co/iPcWEb26Pz

— Mccabe's Porsche on Blocks (@Larry_Beech) October 7, 2021
---
Geopolitical/Police State
Google and YouTube announced a new policy Thursday demonetizing all content that denies the scientific consensus on climate change.
Google will no longer allow ads for "content that contradicts well-established scientific consensus around the existence and causes of climate change," the company announced in a support page added to its website Thursday. The policy, which Google will start enforcing next month, covers YouTube videos and websites that treat climate change as a "hoax or a scam," content "denying that long-term trends show the global climate is warming" and content "denying that greenhouse gas emissions or human activity contribute to climate change."
Source: dailycaller.com
BREAKING: Texas School Shooter Released On Bail — One Day After Teacher And Students Shot
The Texas student who allegedly shot and injured 4 people at his high school, including a teacher, was sprung from jail on Thursday afternoon, the New York Post reported.
Timothy George Simpkins, 18, who attends Timberview High School in Arlington, will report to home for a house arrest after he posted $75,000 bond at Tarrant County Jail, news station WFAA reported.
Source: bigleaguepolitics.com
People who waved a flag in the Capitol are being indefinitely detained, while a school shooter walks free.
---
War
---
False Flags
French Senate Introduces Bill to Mandate COVID-19 Vaccinations for All Beginning January 1, 2022 
Following in the footsteps of much of Europe, France has introduced several stringent vaccine mandates that have irrevocably changed the landscape of life in the nation. The city of lights has been illuminated with the allegorical ambiance of pitchforks and torches as massive protests have taken to the streets of Paris since President Emmanuel Macron announced measures on July 12th that require proof of vaccination to enter cafés, restaurants, and even hospitals. The forewarning of the outcries of those protesters has now reached its apotheosis as the Social Affairs Committee of the French Senate has introduced a bill that will require mandatory vaccinations against COVID-19 for all citizens beginning on January 1st, 2022.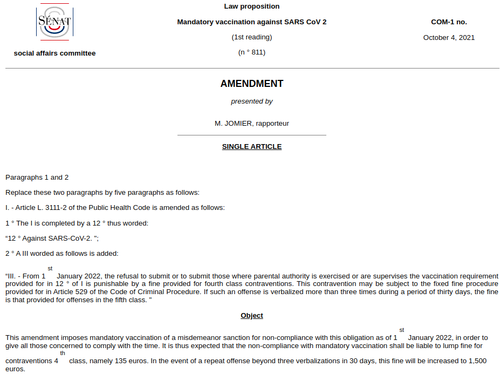 rtion of its population being vaccinated, they may provide them the momentum to become the first country to require vaccination against COVID-19.
Source: zerohedge.com
WOW! Fake News Giant NY Times Added 800,000 to Total of Children Hospitalized with Coronavirus
The New York Times reported  that they had overstated the number of children hospitalized with coronavirus by 800,000!
They also misreported on Denmark and Sweden's recent move to ban the vaccines from those under 30-years-old.
FOX News reported:
Source: thegatewaypundit.com
Biden's Lie About Federal Vaccine Mandate is So Ridiculous It Was Even Debunked by the CDC
"This study demonstrated that natural immunity confers longer lasting and stronger protection against infection, symptomatic disease and hospitalization caused by the Delta variant of SARS-CoV-2, compared to the BNT162b2 two-dose vaccine-induced immunity," an Israeli study's conclusions read.
The CDC's own figures estimate that at least 120 million Americans had been infected with Covid-19 by the end of May, thus possessing superior natural immunity. That figure can be projected to be at least 150 million currently, due to the Delta variant wave and the estimate that there are four cases for every one reported.
Thus, even as the survival rate for Covid-19 stands at 99.7%, the case fatality rate is likely to be much lower than is reported: 
Source: beckernews.com
Seems to me they went to 99% because they fired the people who weren't vaxed.

It's not that hard, unless you're a moron… https://t.co/U1YhSMpwZO

— Donald Trump Jr. (@DonaldJTrumpJr) October 7, 2021
Despite the incessant caterwauling of the mainstream media, Governor Ron DeSantis has once again shown that his Covid-19 policies for the State of Florida are based on common sense and sound science. Most importantly, they respect the constitutional rights of American citizens in the state.
Gov. DeSantis'   released the results from weeks of data that showed schools that obeyed the Florida law and allowed children to attend school without masks on saw no statistically significant difference in outcomes compared to the rogue school districts that imposed mask mandates in defiance of state law. Here are the results:
NEW PEDIATRIC CASES:

New COVID-19 cases for children ages 5-17 – the vast majority of the school-aged population – have decreased 79% in the month of September, in the 54 Florida counties where school districts have no masking policy or are following state law by honoring the parental opt-out rule.

For comparison, COVID-19 cases for children 5-17 in the 13 districts that imposed forced-masking in schools have decreased 77%, on average.
The State of Florida now has the second-lowest rate of Covid-19 infection in the country and hospitalizations are down 73% since mid-August.
Source: beckernews.com
Less than .0006 percent of the child population in this country has died of COVID over the last two years. Less than 1 percent of all child deaths during that period are attributed to COVID. There is no pandemic for our kids. There never has been. It's all a lie.

— Matt Walsh (@MattWalshBlog) October 8, 2021
ICELAND STOPS USE OF MODERNA VACCINE These vaccines are not safe for everyone. They should only be prescribed by your physician in accordance to your individual health and body autonomy. Mandatory mRNA VAX is dangerous and unethical.
Ellume is recalling nearly 200,000 rapid at-home COVID-19 antigen tests out of concerns over an abnormally high rate of false positives observed from certain lots of its tests.
Roughly 427,000 test kits, including thousands sent to retailers and some provided to the Department of Defense, have been impacted by the issue.
 Source: abcnews.com
REVEALED: Letter with Insider Information Shows the Teachers Union, AG Merrick Garland and the FBI's Plan to Monitor Parents was a Political Setup for Midterms
America First Legal published a letter to Inspector General Michael Horowitz to investigate improprieties related to Merrick Garland's October 4th threats to American parents of school children. 
The letter by America First Legal is fascinating. According to the letter the Supreme Court has repeatedly recognized American parents' fundamental liberty interest in and Constitutional right to control and direct the education of their own children.
** Key Biden Administration stakeholders, including the National Education Association, the American Federation of Teachers, and others, have combined to oppress, threaten, and intimidate parents to chill and prevent them from exercising the rights or privileges secured by the Constitution.5 To date these efforts, though extensive, have generally proven ineffectual.
The Biden administration and the teachers unions knew this would be a problem for the midterm elections. They knew they must act.
So there were meetings in the White House on how to target American parents of school children!
The group came up with a plan to chill and deter American parents of school children from speaking out.
** Upon information and belief, at the express direction of or with the express consent of Jane Doe #1, Jane Doe #2 and other Biden Administration officials developed a plan to use a letter from an outside group ("not the usual suspects") as pretext for federal action to chill, deter, and discourage parents from exercising their constitutional rights and privileges.
The liberal group then drafted and released a letter urging the government to use the Patriot Act to spy on American parents of school children.
** On or about September 29, citing legal authorities including the Patriot Act, the "National School Boards Association" made public a letter demanding federal action against parents citing authorities including the Patriot Act. The justification for federal action included, inter alia, parents were "posting watchlists against school boards and spreading misinformation (sic) that boards are adopting critical race theory curriculum and working to maintain online learning by haphazardly attributing it to COVID-19."6 It is not yet clear whether and to what extent drafts of this letter were shared with Biden Administration officials, including Jane Doe #1 and Jane Doe #2, and whether changes were suggested or made by them, prior to the ostensible public release date.
Then just days later AG Merrick Garland released his new plan to target and silence American parents of school children. Obviously, this was coordinated.
This attack on American parents of school children was hatched and implemented between teachers unions and Biden officials. It was all coordinated to silence anyone who speaks out against this immoral regime.
Source: thegatewaypundit.com
---
Q
Trump, Republicans concluded led by ranking member Sen. Chuck Grassley of Iowa, never directed agency officials to act outside the guidelines of what would be appropriate for department staff in the course of securing election integrity.
Source: thefederalist.com
Allies of former President Trump have missed a deadline to submit docs to Jan 6 Select House Committee. The next step could be a fight over executive privilege. Worth revisiting early DoD timeline which investigators can challenge/confirm through depositions or open testimony. https://t.co/Rc8CXZU2yG

— Catherine Herridge (@CBS_Herridge) October 8, 2021
Timeline: Trump's pressure campaign to overturn the 2020 election Aug 2021
Nine months after the Jan. 6 insurrection at the U.S. Capitol, we continue to learn many new details of those and related efforts.
Those details paint an increasingly clear picture of a concerted effort to overturn — and lay a predicate for overturning — the election, after President Donald Trump's claims almost universally failed in courts of law. The effort included attempts to politically weaponize the Justice Department and apply pressure on federal, state and local officials in the service of that goal.
The latest revelations: A Senate report showed Trump lamenting to then-acting attorney general Jeffrey Rosen that Rosen wouldn't help him "overturn the election," and a Trump loyalist at DOJ both threatened that Rosen would be replaced and suggested it might not happen if Rosen released a letter legitimizing Trump's voter-fraud claims, according to the testimony of Rosen and a top deputy.
Source: wapo.com
New bombshells show Trump's coup threat was real and hasn't passed sep 2021
The fresh evidence also shows what many people in Trump's inner circle knew in January: His case to stay in power was meritless, but an unchained commander in chief chose to listen to acolytes pushing wild conspiracies. Some of those who knew the truth refused to speak up, even as American democracy came under attack.
Just this week, it's been revealed that:
Trump had blueprints that the Republicans tried to use to prevent Congress from certifying President Joe Biden's clear and genuine victory, in the form of a memo that laid out a plan for then-Vice President Mike Pence to thwart Biden's Electoral College triumph. The memo was reported in the new book "Peril," by Washington Post reporters Bob Woodward and Robert Costa, and was later obtained by CNN.
Source: cnn.com
At this point in our investigation, we can say that, without a doubt, Donald Trump's efforts to spread his "Big Lie" and undermine the results of the election helped incite almost 1,000 Americans to breach the Capitol in a violent insurrection on January 6, 2021.

— Senate Judiciary Committee (@JudiciaryDems) October 7, 2021
Anybody Fighting Joe Biden Is Helping Trump's Next Coup Oct 6
 Source: nymag.com
EXCLUSIVE — Former President Donald Trump asked a federal judge Thursday to force Facebook to reinstate him as he seeks to use the social media giant to influence elections in 2022 — and possibly a 2024 bid of his own.
Source: news.yahoo.com