Message Sent,The Real Insurrection Happened Nov 3rd,The Presidential Election,Not Jan 6th – Ep. 2594
Watch The X22 Report On Video
The [CB]/WEF are moving forward with their great reset plan, Spain is now granting 400 euros to everyone who reaches the age  of 18. [BJ] just said the quiet part out loud, they will be changing the economic system, the current one is not working. [CB] supply chain issues is about to hit the world, buckle up.   The are walking down the path the patriots setup and they are destroying themselves. The [DS] is preparing for [zero-day], they have now weaponized social media with the fake whistleblower, this is to push censorship across the internet. Twitch data was breached, timing is very interesting. AG Garland daughter and son in law profit from CRT book contracts. Trump has now sent the message, you saw the fake insurrection on Jan 6th, now you will see the real insurrection, it was on No 3rd and the [DS] is not yet finished with the insurrection. Other Presidents have used the insurrection act and Trump is about to use it to stop the [DS].
---
Economy
Democrats are pushing to permanently expand monthly child tax credits in their spending package, but a new poll shows that just 35% of Americans support extending the payments beyond July 2022.
Source: dailywire.com
UK's Johnson says Britain embarking on new economic direction as nation hit by rising fuel prices and labour shortages
The British prime minister has vowed to take the UK economy in a new direction, defined by a movement towards "high wages and high skills" and away from cheap imported labour, amid fuel challenges and a shortage of workers.
On Wednesday, speaking to the Conservative faithful, Prime Minister Boris Johnson said his government would press on with tackling "long term structural weaknesses" in the economy.
"We're not going back to the same old broken model, with low wages, low growth, low skills and low productivity – all of it enabled, and assisted by uncontrolled immigration," Johnson stated, referencing the Britain's exit from the EU and its freedom of movement.
The prime minister contended it was a "long overdue" change of direction and the economy had to shift away from its reliance on cheap imported labour.
Source: rt.com
"Every part of the supply chain has reached capacity."

The supply chain crisis has hit the Bay Area. The ripple effect of all the epic cargo backups in Southern California will be felt for months to come.https://t.co/VtSR31h2Lx

— San Francisco Chronicle (@sfchronicle) October 5, 2021
There is a major storm brewing in the supply chain. It could dramatically impact everyone's life next year, but almost no one knows about it yet.

We are talking empty shelves, crazy inflation, etc.

Here's what I am learning about the problem from my contacts in China 🧵👇

— Mike Beckham (@mikebeckhamsm) September 29, 2021
As a communist country, China is centrally planned. That means that things like electricity usage are planned in Beijing by party officials instead of governed by the supply and demand of the market.

— Mike Beckham (@mikebeckhamsm) September 29, 2021
At the beginning of the year, China set electricity quotas for each province. As a result of supply chain disruptions from COVID and unprecedented factory demand, many of the provinces have used way more electricity than planned.

Now, China doesn't have enough coal power

— Mike Beckham (@mikebeckhamsm) September 29, 2021
The Chinese government has begun restricting electrical usage for the provinces based on how much electricity they have used so far this year. There is a green, yellow, red system that has been put in place. The map below shows the provinces and their color. pic.twitter.com/s6HtDGXj7n

— Mike Beckham (@mikebeckhamsm) September 29, 2021
Some of our primary production is in a yellow region. These partners now have electricity caps and can work 4 days a week instead of 6. Their production has been cut by 33% and these cuts are likely to last until Chinese New Year.

This is a BIG deal.

— Mike Beckham (@mikebeckhamsm) September 29, 2021
In stainless steel drinkware, 93% of the world's production happens in one province in China. Of that production, about half happens from now until Chinese New Year.

What that means is that almost 20% of the world's production isn't going to get built this year!

— Mike Beckham (@mikebeckhamsm) September 29, 2021
Products being produced in the more restricted "red" regions are going to be hit even harder. There are already stories about regions having to operate by candlelight due to the power rationing.https://t.co/pPqG9EB8Kv

— Mike Beckham (@mikebeckhamsm) September 29, 2021
The problem with COVID is that it has led to cascading failures throughout the supply chain.

If production drops so dramatically over the coming months then empty shelves will be commonplace. We are talking about a situation where many product types will be completely nuked.

— Mike Beckham (@mikebeckhamsm) September 29, 2021
Even more concerning is what will happen on the other side of Chinese New Year. The lack of production caused by the electrical shortages is going to cause an unprecedented amount of demand on Chinese factories in 2022.

— Mike Beckham (@mikebeckhamsm) September 29, 2021
It's very likely if that happens that we see the biggest traffic jam that the supply chain has ever experienced.

This year we got a taste of what happens when you apply pressure to the logistics supply chain. Next year we may see a full break in some places.

— Mike Beckham (@mikebeckhamsm) September 29, 2021
One additional point is that China is simultaneously rolling out its "2021-2022 Autumn and Winter Action Plan for Air Polution Mangement"

This plan curtails even more production from factories with higher pollution.

— Mike Beckham (@mikebeckhamsm) September 30, 2021
Over the past 24 hours I have learned that the problem is deeper than just planning. Electricity prices in China are regulated and capped. Recently the cost of coal has skyrocketed and Chinese power companies have a disincentive to produce more power because it is unprofitable

— Mike Beckham (@mikebeckhamsm) October 1, 2021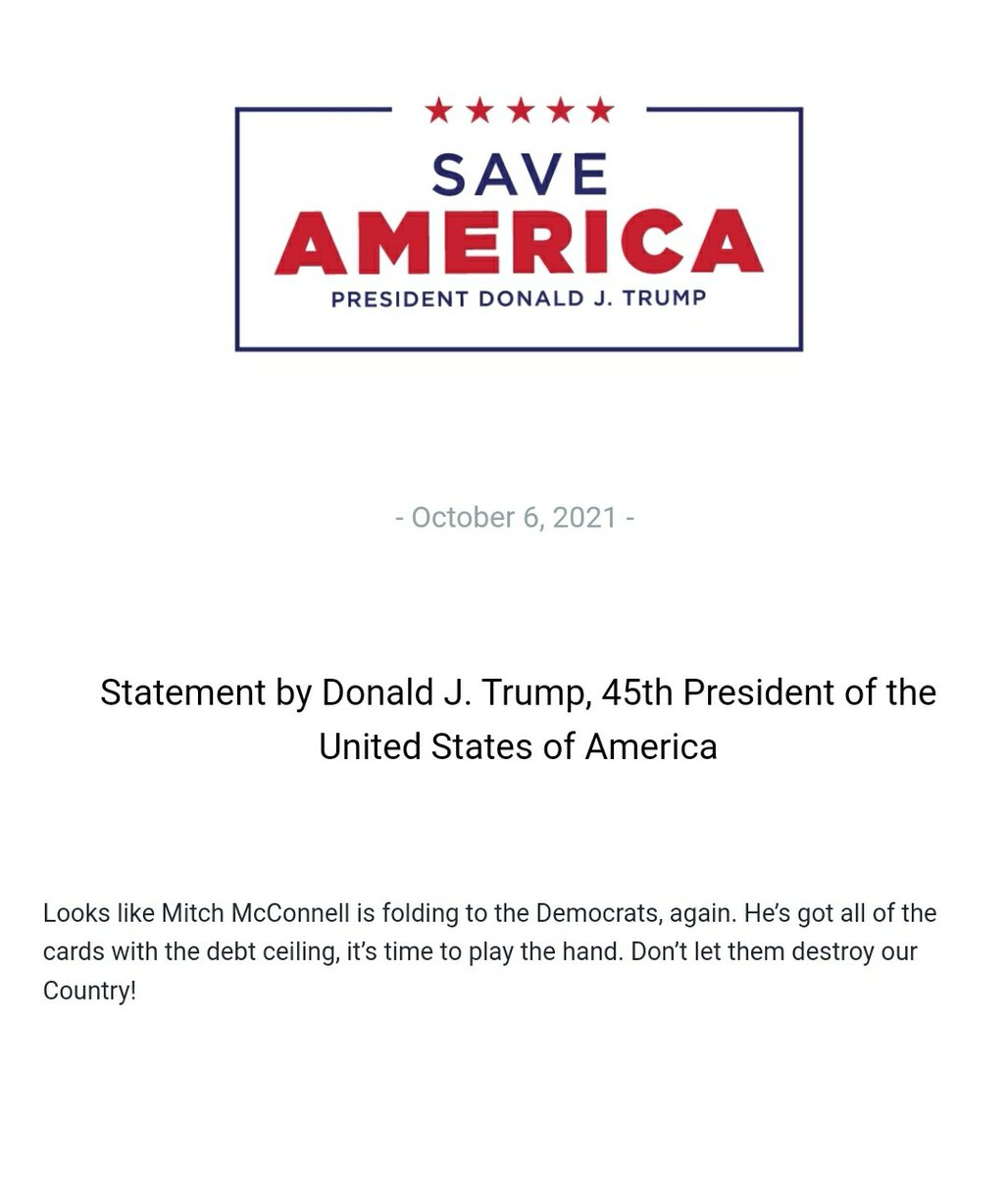 ---
Political/Rights
---
Geopolitical/Police State
Report: Amazon-Owned Twitch Suffers Massive Data Leak
The Amazon-owned streaming platform Twitch has reportedly suffered a massive data leak, which has disclosed confidential company information, as well as streamers' earnings, with more than 100GB of data posted to the internet on Wednesday.
The documents appear to show Twitch's top streamers have each made millions of dollars from the company in the past two years, according to a report by BBC News.
In addition to streamers' salary details, the documents reportedly do appear to contain Twitch's source code, as well as technical details for yet-to-be-released products and platforms.
Source: breitbart.com
The Facebook Whistleblower is not a whistleblower, listen to what she has said, does she have documents, is she showing us anything, Think about Zach Vorhies and the documents that he produced
So lets ask some questions about this fake whistleblower, reminds of impeachment hoax number, remember the fake whistleblower, that heard the call but got it completely wrong because trump countered it with releasing the call.
Why are Obama-era operatives consulting her?
All of sudden we heard about the whistleblower, she appeared on 60 minutes, in less than 24 hrs Facebook went down, crisis, bring attention to whistleblower, then 36 hrs later she is front of congress.
Facebook agrees with the whistleblower, calling for standard rules for the entire internet 
She also has connections to White House Press Secretary Jen Psaki's former PR firm Bryson Gillette, where Psaki worked as a senior adviser until September 2020. The Center for Humane Technology, a group pushing for Facebook to more tightly regulate political content, was one of Psaki's clients, according to ethics filings obtained by The Daily Wire.
"Despite having money for political donations, in January 2020, Haugen had a $44,000 federal tax lien placed against her for unpaid taxes, according to public records reviewed by The Daily Wire. The lien was released on May 17, 2021."

Her lawyers are now seeking to raise $50,000 on GoFundMe, money they say will go to covering legal expenses for the attorneys, who are otherwise working pro-bono.

Those lawyers are Whistleblower Aid, a group founded by Mark Zaid, who previously represented the national security official who alleged that Donald Trump inappropriately pressed the Ukraine president on a phone call to, in turn, investigate whether Joe Biden inappropriately pressed the country to drop an investigation into his son's firm, Burisma.
The plot thickens. The Facebook "whistleblower" who is not actually a "whistleblower" is tied through an advocacy group to the Trump impeachment "whistleblower" who was not actually a "whistleblower." The latter individual's identity, according to a recent book, is self-admittedly Lt. Col. Alexander Vindman.
Haugen is also currently coordinating with Democratic operative Bill Burton and his consulting firm Bryson Gillette.
Source: beckernews.com
---
War
---
False Flags
 
Yesterday, Prime Minister Jacinda Arden, announced that her cabinet decided to abandon their years long goal of COVID-zero.   They would no longer attempt to have zero cases, instead… almost two years later… they have decided to try and manage the virus. 
As a result of their change in direction, Prime Minister Arden has decreed that some people will be allowed to leave their lock down houses to see another family member; but strict rules must be followed or the citizen will be arrested.  New Zealanders will be permitted to visit one household of a family member at a time.  They must remain outside at all times, they must remain wearing masks and being socially distant, but they are permitted to see and talk to them.   
Source: theconservativetreehouse.com
JUST IN: More Americans have died from COVID-19 this year than from the virus in all of 2020, according to newly updated data from Johns Hopkins University. https://t.co/5Z4jQuICP3

— ABC News (@ABC) October 6, 2021
Lets go back in time, wasn't the fake news reporting on how many people  Trump personally murdered  while he was President
But Biden the don't report on this. 
A large New York health care system on Monday said it fired 1,400 workers because they declined to get a COVID-19 vaccine.
Northwell Health terminated approximately 2 percent of its workforce, which spans across New York City, Westchester, and Long Island.
 .
Source: thepochtimes.com
think of the people they are laying off, police, health care workers, its like they are trying to make the pay for not doing what they say, you will now suffer with more crime, less people to heal you etc…
NOW THIS… Fauci's Henchman Daszak Applied to Develop Novel Corona Virus with DARPA Dollars in Wuhan in 2018
 
The proposal was filed to the Defense Advanced Research Projects Agency (DARPA) by Daszak's EcoHealth Alliance, the Wuhan Institute of Virology (WIV), the University of North Carolina and Duke NUS in Singapore, the Telegraph reports.
The proposal was rejected, but similar research at WIV could explain why no natural ancestor of the Coronavirus has been found.
Source: thegatewaypundit.com
JUST IN – Sweden halts vaccinations against #COVID19 with Moderna's Spikevax for those born 1991 or later, citing side effects including heart muscle inflammation, according to public health authorities (Expressen)

— Disclose.tv (@disclosetv) October 6, 2021
The Parents Defending Education Organization that has 427,000 members from several parents organizations, has responded and released an epic joint letter to NSBA. The letter, written on behalf of its members, made clear that the NSBA's claims of "hate" and "terrorism" were shameful and it is a "thinly veiled threat, intended to intimidate into silence and submission the very constituents that your members ostensibly represent."
Here's an excerpt from the letter:
Citizens are angry that school boards and school officials around the country are restricting access to public meetings, limiting public comment, and in some cases conducting business via text messages in violation of state open meetings laws. They are angry that schools are charging them thousands of dollars in public records requests to view curriculum and training materials that impact their children and that should be open to the public by default. They are angry that pandemic-related learning losses have compounded the already-low reading, writing, and math proficiency rates in America's schools. They are angry that rather than focusing on declining student achievement, large numbers of districts have chosen to fund, often with hundreds of thousands of dollars in taxpayer money, "social justice" and "diversity, equity, and inclusion" programs with finite resources.

Your members refuse to listen to these concerns – and your association has chosen to smear their constituents rather than engage with them in good faith. It is appalling that you would choose to threaten your fellow Americans for having the courage to hold you accountable for your failures.

We will not be bullied. We will not have our speech chilled. We have a constitutional right to petition our elected officials, and we will continue to do so.
Source: thegatewaypundit.com
Source: thegatewaypundit.com
 
Attorney General Merrick Garland's daughter is Rebecca Garland.  In 2018 Rebecca Garland married Xan Tanner [LINK].  Mr. Xan Tanner is the current co-founder of a controversial education service company called Panorama Education. [LINK and LINK]  Panorama Education is the "social learning" resource material provider to school districts and teachers that teach Critical Race Theory.
Conflict of interest much?
Yes, the Attorney General is instructing the FBI to investigate parents who might pose a financial threat to the business of his daughter's husband.
Screen-grabs and citations below:
(Panorama Education Services Link)
(Panorama, Social Learning Link)
September 2021 – Panorama Education, which has built out a K-12 education software platform, has raised $60 million in a Series C round of funding led by General Atlantic.
Existing backers Owl Ventures, Emerson Collective, Uncork Capital, the Chan Zuckerberg Initiative and Tao Capital Partners also participated in the financing, which brings the Boston-based company's total raised since its 2012 inception to $105 million.
 
Over 50 of the largest 100 school districts and state agencies in the country use its platform. In total, more than 1,500 school districts are among its customers. Clients include the New York City Department of Education, Clark County School District in Nevada, Dallas ISD in Texas and the Hawaii Department of Education, among others.
 
Source: theconservativetreehouse.com
Trump slams DOJ plan to monitor parents fighting 'radical left school boards' over CRT in classrooms
Former President Donald Trump  denounced the Justice Department for asking the FBI to investigate parents who are pressuring school boards to stop teaching critical race theory, saying it was part of a larger leftist agenda to sideline moms and dads from having a say over their children's future.

"It's very tough because the parents are very wounded by what's taken place by, in many cases, radical left school boards," Trump said during an interview with Just the News on the John Solomon Reports podcast. "And you would certainly think they have a voice — and they have a voice — as to how their children are going to be educated, brought up and educated."
The consequences of their actions were devastating, resulting in 1,990 more homicides in urban centers this past year.
The Democrat War on Civil Society resulted in a 33% increase in homicides across the major urban centers across the United States.
 
The latest numbers show last year was worse than we thought. The US recorded its highest increase in the nation's homicide rate in the last 100 years!
Source: thegatewaypundit.com
Now they are laying off doctors, nurses, police, judges etc… 
---
Q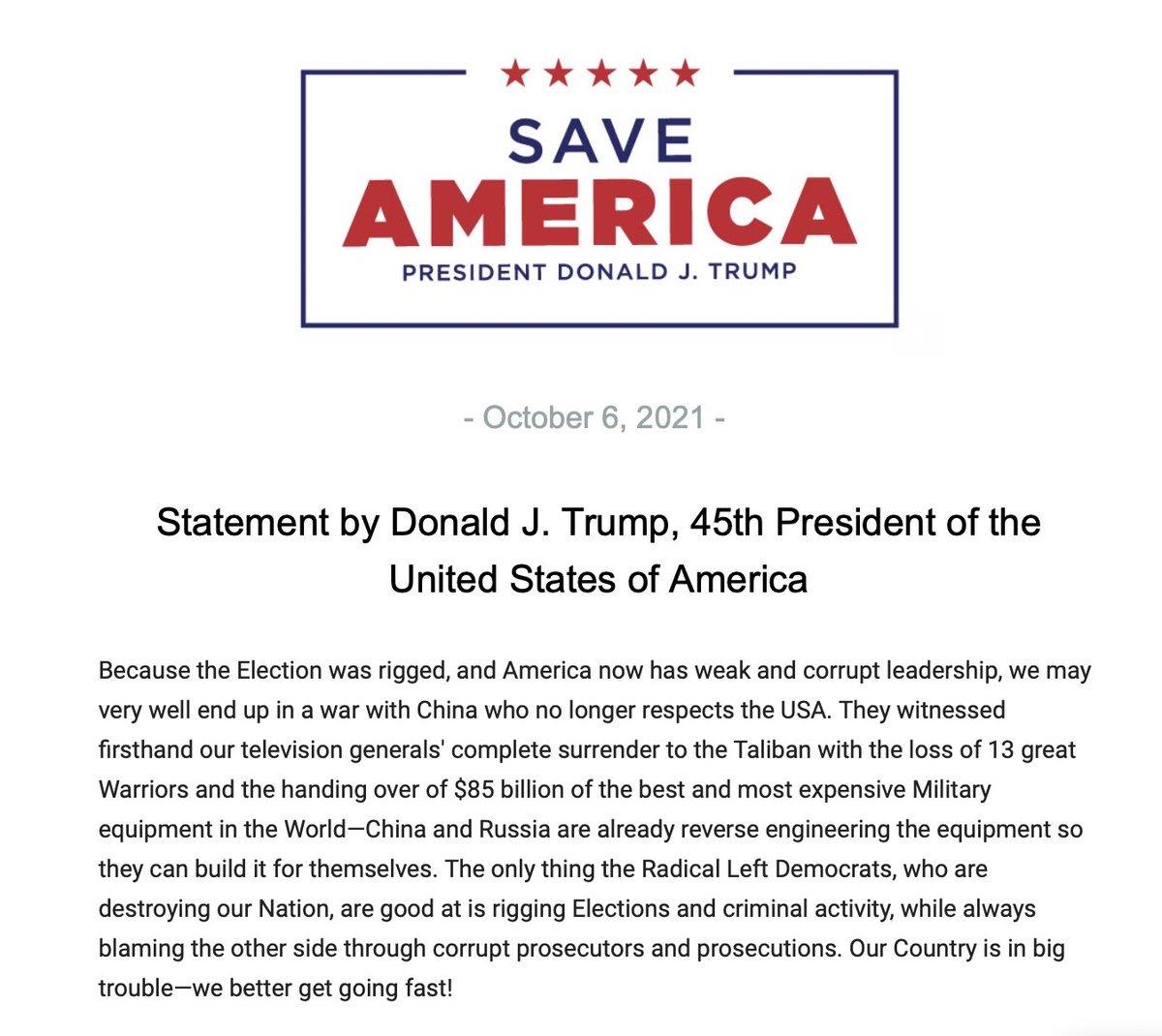 The former Trump White House chief of staff Mark Meadows and other top aides subpoenaed by the House select committee investigating the Capitol attack are expected to defy orders for documents and testimony related to 6 January, according to a source familiar with the matter.
The move to defy the subpoenas would mark the first major investigative hurdle faced by the select committee and threatens to touch off an extended legal battle as the former president pushes some of his most senior aides to undercut the inquiry.
All four Trump aides targeted by the select committee – Meadows, deputy chief of staff Dan Scavino, strategist Steve Bannon and defense department aide Kash Patel – are expected to resist the orders
Source: dailymail.co.uk
Pence warns of Biden policies' consequences: 'Weakness arouses evil'
"January 6 was a tragic day in history of our country. But thanks to the efforts of the Capitol Hill police, federal officials, the Capitol was secured and we finished our work. The president and I sat down a few days later and talked through all of it. I can tell you that we parted amicably at the end of the administration and we have talked a number of times since we both left office."
Pence said he and Trump are united in a focus toward the 2022 midterms, as well as races like Glenn Youngkin's gubernatorial bid in Virginia.
He said the media is trying to use his and Trump's relationship as a speculative wedge to distract from Biden's failures as well as to "demean the character and intentions of 74 million Americans who believed we could be strong again and prosperous again and supported our administration in 2016 and 2020."
Source: foxnews.com
Pence says media focus on Jan. 6 insurrection is to "demean" Trump supporters https://t.co/demRYaYjB9

— The Washington Post (@washingtonpost) October 5, 2021
Responds 
They. Tried. To. Kill. You. Mister. Vice. President. https://t.co/K6xsd2oBpr

— Adam Schiff (@RepAdamSchiff) October 5, 2021
Translation: we had antifa, and the FBI informatants and other agent procatuers and we tried to make it look like they were going to kill you, we tested the plan with Whitmere but both did not work, PANIC IN DC.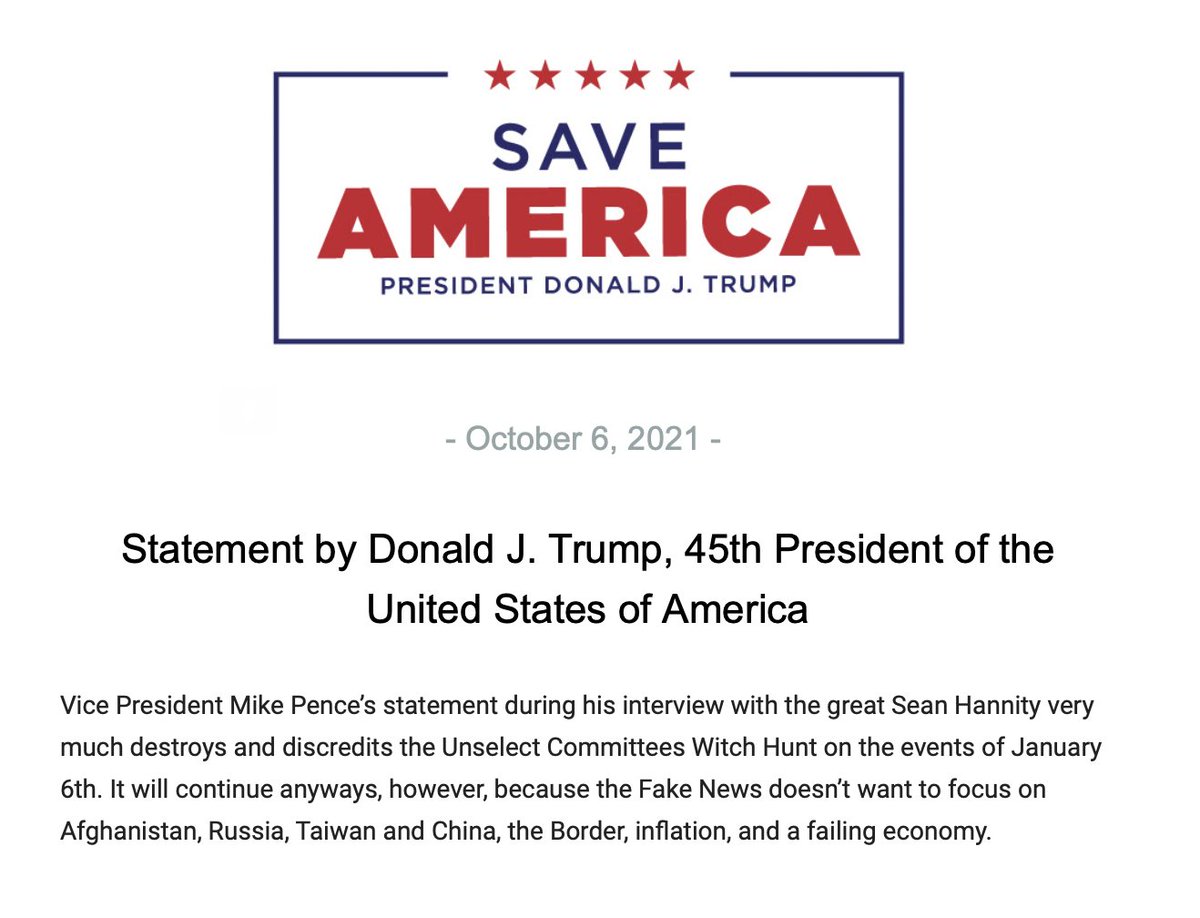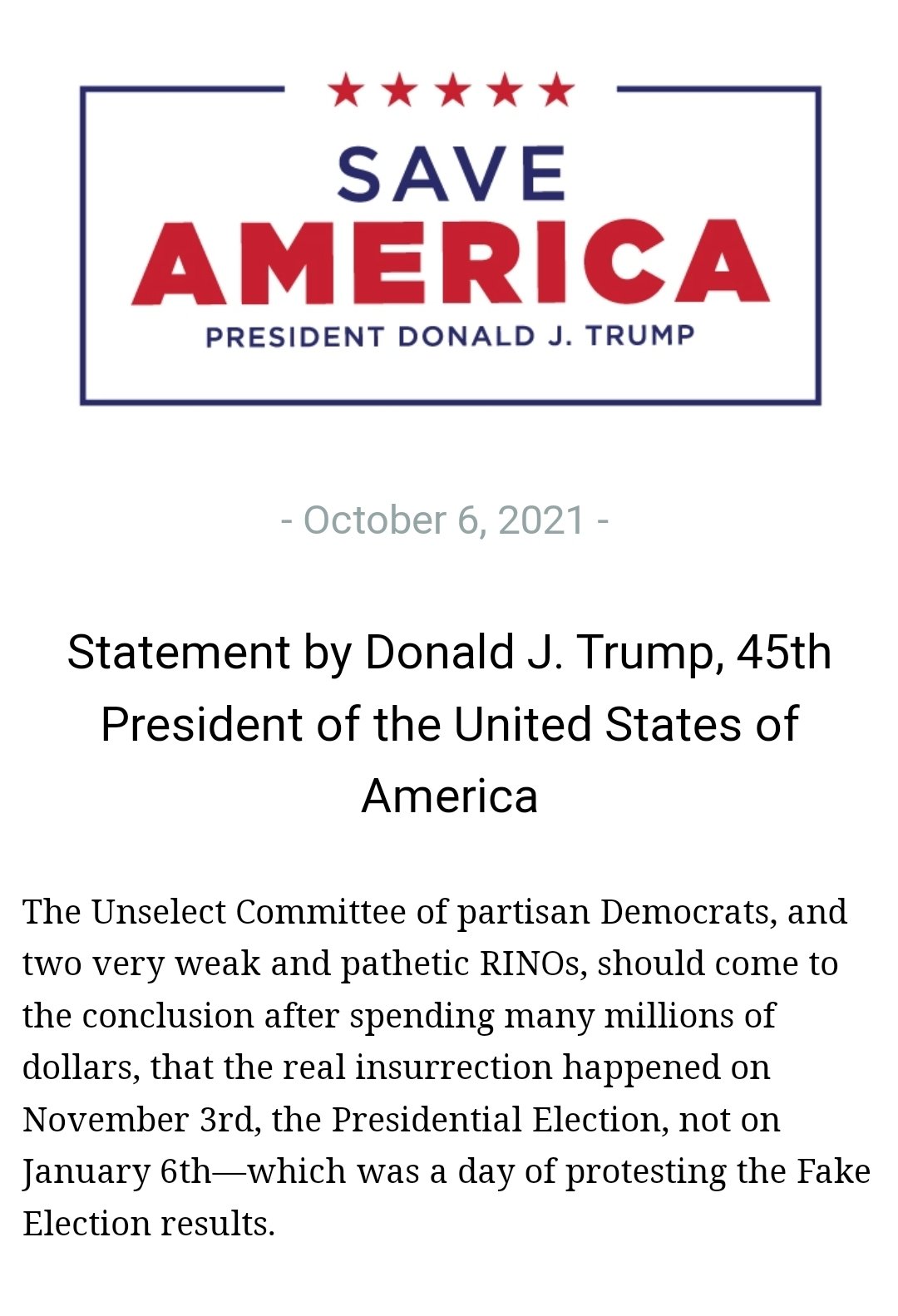 3900
Q !!Hs1Jq13jV6 03/26/2020 13:07:19  ID: 030019
Archive Bread/Post Links: 8572434 / 8572837
Direct Link: 8572837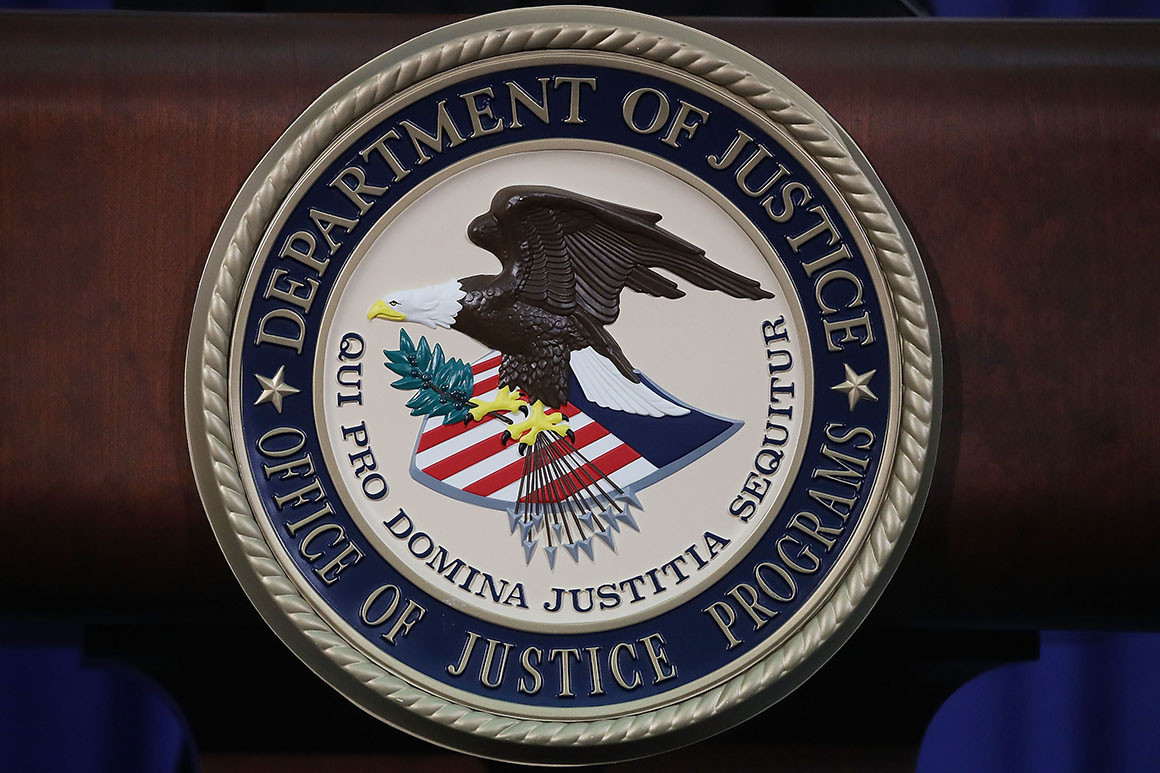 Image Name: 90.jpg
Filename: 1ffd0a96aaaf1a24cebbf0be49d6fae53fd8581d20d9b335616a8ec0f9ad55bf.jpg
https://www.nytimes.com/1863/09/16/archives/presidents-proclamation-the-habeas-corpus-suspended-throughout-the.html
2381.Treason.
2382.Misprision of treason.
2383.Rebellion or insurrection.
2384.Seditious conspiracy.
2385.Advocating overthrow of Government.
2386.Registration of certain organizations.
2387.Activities affecting armed forces generally.
2388.Activities affecting armed forces during war.
2389.Recruiting for service against United States.
2390.Enlistment to serve against United States.
https://uscode.house.gov/view.xhtml?path=/[email protected]/part1/chapter115&edition=prelim
Q
all.
§2383. Rebellion or insurrection
Whoever incites, sets on foot, assists, or engages in any rebellion or insurrection against the authority of the United States or the laws thereof, or gives aid or comfort thereto, shall be fined under this title or imprisoned not more than ten years, or both; and shall be incapable of holding any office under the United States.
4360
Q !!Hs1Jq13jV6 05/30/2020 18:11:47  ID: 63d310
Archive Bread/Post Links: 9382873 / 9383164
Direct Link: 9383164
Insurrection Act of 1807.
[Determination that the various state and local authorities are not up to the task of responding to the growing unrest]
Call the ball.
Q
Who controls the NG?
The details of Burr's plot were never clear, but it involved mustering an army to invade Mexico under the pretense of a war with Spain, and then keeping the conquered land for himself. Burr thought he had an ally in General James Wilkenson, commander of the U.S. Army and first governor of the Louisiana Territory, but when rumors of Burr's plot leaked into the newspapers, Wilkenson turned on his co-conspirator.
In a letter sent on October 21, 1806, Wilkenson spilled the details of the plot to Jefferson without mentioning Burr by name. But Jefferson had already grown concerned enough about Burr's strange activities that Jefferson had sent his own letter to Secretary of State James Madison asking if the Constitution granted him authority to deploy the army to stop a rebellion. In his reply, Madison said no. "It does not appear that regular Troops can be employed, under any legal provision agst. insurrections," So while the Insurrection Act was written expressly to foil Burr's plot, it wasn't used to capture him.
The very first time the Insurrection Act was actually invoked was a year later in 1808, when American merchant ships in the Great Lakes flouted Jefferson's trade embargo with the British. In response, Jefferson accused the rogue traders of "forming insurrections against the authority of the laws of the United States" and authorized the military to take action.
Since 1807, the Insurrection Act has been amended several times to meet different political challenges.
In 1861, Abraham Lincoln expanded the law to form the legal basis for waging the Civil War. Without it, he wouldn't have had the authority to send federal troops into a state without the governor's permission.