April Showers Brings Evidence Raining Down, [JB] Panic,Shot Heard Around The World – Ep. 3049
Podcast: Download (Duration: 1:18:56 — 34.8MB)
Watch The X22 Report On Video
The climate agenda being pushed by the [CB] establishment, this has already failed. Watch CA and Germany. LaGarde now pushing the idea inflation target will be higher than 2%. The D's/[CB] are trying to trap the R's and Trump by bringing down the market if the debt ceiling is not increased. The people see through this and are not agreeing with Biden. The [DS]/[JB] are now panicking over the evidence that is showering down. This cannot be stopped, the patriots are now exposing the crimes and it is just going to get worse. This will not end with [JB], evidence will lead to [HRC] and [BO], panic in DC. The people are soon going to hear the shot around the world.
---
Economy
---
Political/Rights
John Fetterman chaired a subcommittee hearing today.

Here is his opening statement. pic.twitter.com/Y6EHYkhkBZ

— Greg Price (@greg_price11) April 19, 2023
If Marjorie Taylor Greene is accurate, what she says about Biden is mind-blowing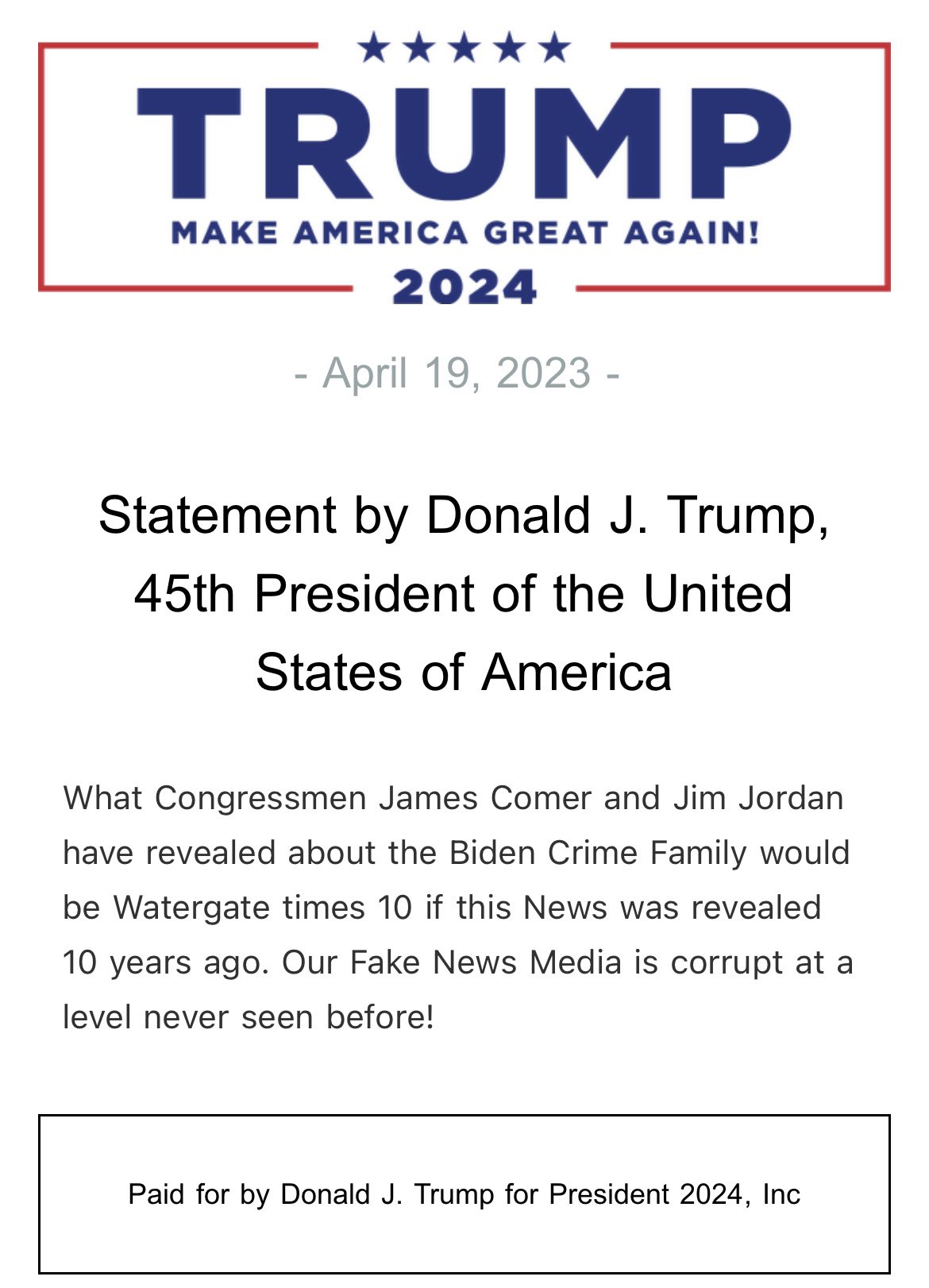 Marc Elias, Democratic Campaign Arm Hit With FEC Complaint For Allegedly Misclassifying Legal Payments
Democratic lawyer Marc Elias and the Democratic Congressional Campaign Committee (DCCC) are the subjects of a complaint to the Federal Election Commission (FEC) alleging that they misclassified payments.
The Elias Law Group was paid nearly $5.2 million by the DCCC from Oct. 2021 to July 2022 for legal services classified as "RECOUNT LEGAL SVCS," despite no federal recounts taking place in that time period, and months to go until the Nov. 2022 midterm elections, according to an FEC complaint brought on April 10 by the Committee to Defeat the President, an anti-Biden Super PAC.  
After July 2022, Elias' group received an additional $7.3 million for recount-related services for the midterm elections, the complaint alleges. Elias' firm was tasked with preparing for potential recounts, monitoring the conduct of the election and handling post-election disputes.
"The more likely explanation is the DCCC, with the cooperation of the Elias Law Group, misreported the purpose of some or all of this $5.2 million in payments to the Elias Law Group to shield their activities from public scrutiny," the complaint states.
In addition to the "recount" payments, the DCCC also paid Elias Law Group over $1 million for "legal services rendered" and "headquarters legal services" from 2021 to 2022 and reported the payments as "other federal operating expenditures."
Elias was let go by the Democratic National Committee (DNC) in April over "strategic differences," ending a relationship that began in 2009. He infamously spearheaded the 2016 Hillary Clinton campaign's work with opposition research firm Fusion GPS to create a dossier on then-candidate Donald Trump's alleged ties to Russia.
Several thousand Chinese are pouring over the borders to the north & the south every month, acc to Border Patrol & separately the Office of Field Operations who deal w official Ports of Entry. This Admin knows it. They are complicit in a foreign invasion. https://t.co/653sJdAwUB

— Lara Logan (@laralogan) April 18, 2023
---
Geopolitical/Police State
BREAKING: @ElonMusk estimates that roughly 80% of Twitter staff was involved in political "activism" and "censorship" instead of the nuts and bolts of running the platform. That's why he was able to lay off so many employees and still keep the site in operation

— Paul Sperry (@paulsperry_) April 18, 2023
The @DHSgov has veered from its counterterrorism mission into tracking social and political movements and monitoring First Amendment-protected activity of American citizens. This kind of abuse of power should terrify all of us regardless of which side of the aisle you are on. pic.twitter.com/6diEkQJ2H6

— Senator Rand Paul (@SenRandPaul) April 18, 2023
---
War
US military industry struggling to meet Ukraine demand – WSJ
A shortage of rocket motors is interrupting the supply of missiles to Kiev
---
False Flags
Yes, how strange

— Elon Musk (@elonmusk) April 19, 2023
Colorado becomes first transgender tourism state: Democratic Gov signs bill that allows children to travel for puberty blockers — even if drugs are banned where they live
A trio of new laws ensures that people traveling there for care won't be punished
Democrat-led Colorado is a liberal peninsula among a see of hostile red states 
New laws come about as over a dozen states curtail trans minors' access to care 
Source: dailymail.co.uk
---
Q
65% of US likely voters think it is likely that undercover agents provoked the Capitol Riot.

46% now say VERY LIKELY. That's up 7 points in just six weeks.

74% of Republicans say likely, 60% very.@TuckerCarlson @SpeakerMcCarthy @julie_kelly2 https://t.co/ZudRIhiXnh pic.twitter.com/dBh6oYRXsf

— Rasmussen Reports (@Rasmussen_Poll) April 19, 2023